[ad_1]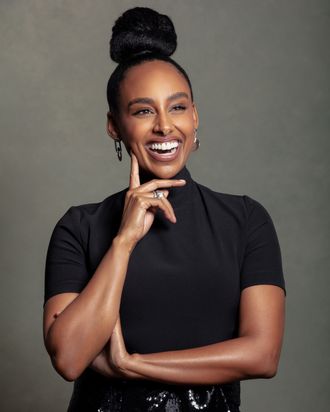 Photo: Karl Ferguson Jr./Courtesy of Delina Medhin
Makeup artist Delina Medhin's Instagram bio describes her best, as she's definitely an "authentic, passionate human." This shines through in everything she does, from being Issa Rae's makeup artist for the film The Photograph to doing makeup for 2 Dope Queens' Phoebe Robinson. Additionally, Medhin makes time for her podcast, It Takes a Village, where she discusses the ins and outs of entrepreneurship with industry leaders such as Daniel Martin and Katie Jane Hughes. Overall? It's her clients that keep her inspired. "I really love them. They are all powerful, incredible, and kind human beings," the North Carolina–raised, NYC-based artist tells the Cut. "My makeup career has been special because of my intentional choices."
Medhin got her start at the Crabtree Valley Mall M.A.C. Cosmetics Counter, in her hometown after graduating from North Carolina State University with a bachelor's in Chemistry. "My parents didn't understand. I was at the counter all the time, even on my days off," she says. "I had a deep desire to play all the time," be it with the face charts, colors, or brushes. "I wanted to make people feel beautiful," she adds. From there, Medhin established her own bridal clientele on the side of her nine-to-five job. After moving to New York in 2013, she decided to pursue makeup artistry full time. And, it's safe to say it all worked out, as Medhin has since worked with brands and people such as Anna Sui, The Row, and Ilana Glazer. "When I came to NYC, I saw that people were embracing individual style," she explains of what kept her hustling. "There is a rawness to makeup here. The aesthetic is a bit undone, not perfect, lived in, and, in my opinion, perfect for me."
And when the day is over and done with, Medhin makes time for a hydrating skin-care routine, a face mask, and, of course, meditation. "Self-care is restorative. It's meditation, it's moving my body and working out," she says. "It's all about connecting with myself and touching base with my thoughts and needs spiritually. Filling my cup first is important so that I am abundantly able to give to others."
My morning and evening routines change often. As an influencer, I am constantly given new products to try, so it is tempting to move new things in and take other things out. But below are the things I've been using consistently for the past couple of years and come back to often.
7:30 a.m.: I use the Sofie Pavitt Face Cleanser for 30 seconds. It's very easy to use. It has a slip to it, so it doesn't create friction on the skin. It completely cleanses my skin, and my skin got used to it immediately.
7:33 a.m.: I dry my face with Strip Makeup cleansing wipes. They have a really unique texture. It kind of reminds me of gauze (but softer). It wipes off any excess water, but also it has a way of getting rid of any texture. I know you're not supposed to pop pimples, but it grips the skin perfectly for it. It also takes off any extra dead skin cells so your serums and moisturizers sync right in.
7:34 a.m.: For my serum, I use the Clarins Double Serum. My mom actually loves this more than me. She told me the other day she got stopped outside of church and asked what she was using. She already has incredible skin, but this little boost of hydration is her obsession. I also use double serum once every couple days at least. It feels like water for the face and plays really well with other products. There is also a specific how-to apply the serum method. It's a press, not a rub, method that I learned from their team, and it's worth learning the technique. It makes a difference in how it sinks into the skin.
7:35 a.m.: Next, I go in with the Glow Recipe Avocado Ceramide Serum. If you need something to wear under makeup in the summer, but you don't want something heavy, this is perfect. It is gorgeous under makeup — makes the skin look hydrated but not wet. I press this into my skin gently.
7:36 a.m.: For my eye cream, I use the Alpyn Beauty Line Filling Eye Cream. It is incredible. It's a great boost for the skin under the eye, and it truly moisturizes it. I really see a plump happen.
7:37 a.m.: Also for the eyes, I love using the Wander Beauty Eye Masks for an extra boost under the eye. Great to wear as you do your makeup or leave them on as you eat breakfast and get ready for the day. I leave them on for at least 15 minutes.
7:39 a.m.: I have perpetually dry lips that are a little gray naturally so I like to use a lip balm that moisturizes and has a little tint. Extra Lip Bare Lip Tint by Bobbi Brown in Bare Pink is perfect for daytime. I also have one in my bag.
7:40 a.m.: Elta MD's SPF 46 is perfect for the daytime. I love this sunscreen. It's perfect for skin care. Other times, I also love using First Aid Beauty's Tinted Sunscreen. It's incredible!
7:42 a.m.: After all of this, I journal. I do a three-page journal session in the morning. It is called "the artist's way." This journal is incredible for creatives working through mental blocks and also removing the conversation from in our heads and putting it on paper. Getting to a place where we can be kind to ourselves is the first way I begin to give back to myself before giving back to others.
9:00 p.m.: I use KraveBeauty's Makeup Rewind Oil Cleanser. It comes in a squeeze tube and doesn't need water to activate. I use this to massage the makeup off my skin, and when you rinse, your skin feels clean but not stripped.
9:02 p.m.: When I don't use Sofie Pavitt, I like using the Glow Recipe Avocado Ceramide Cleanser. It's very easy to use and it has a slip to it so it doesn't create friction on the skin. It also smells incredible, and it gets rid of any congestion on my face, especially on my forehead, literally overnight.
9:03 p.m.: Some nights I use the Biologique Recherche Mask Vivant. She is pricey so it took me a while to get her but when I did, I noticed my skin looked incredible. It really pulls everything out of the skin, and it hydrates better than anything else I know. It is made of live yeast, so the best thing to do is put the expiry date on the bottle so you finish it before the expiration date. I was introduced to it when I was looking online for products to use for acne prone skin and someone had recommended their P50, and while I loved P50 and still do, Mask Vivant got a permanent position on my shelf.
9:20 p.m.: For Retinol, I'm using one from Shani Darden. If you haven't tried this yet, you are missing out. It gently resurfaces the skin but so quickly and easily that it looks good the next day. She also has a lactic acid that I sometimes use as well, but this product is the truth. I love it. I never have to worry about that raw feeling you get sometimes after using retinoids.
9:22 p.m.: I use the Charlotte Tilbury Magic Cream to moisturize. If you know you know. This is a gorgeous, rich cream that looks incredible on the skin and locks in all the juicy serums.
9:24 p.m.: I always put Aquaphor on my lips before I go to sleep. I buy the super-big jar so I don't accidentally put it in my bag and forget. It stays in my medicine cabinet.
9:25 p.m.: In the evening, I meditate. Sometimes guided meditation or complete silence. It helps me separate from the blue-screen energy that we have all day looking at screens.
Whew, confidence is such a good word. I believe confidence for me is transparency and always being gracious and kind. Not everyone is for me, but I am okay with that.
I don't like when anyone recommends a product they don't like just so they can make money. A lack of authenticity and integrity always makes me cringe.
I love the inclusivity. There is something for everyone. Every person can find a brand that is thinking about them in some way, and I think that is beautiful. Additionally, I wish kindness would exist. Everyone can wear makeup no matter their age, sex, gender, or sexual orientation, and I wish people would be more kind to others and themselves.
I love when people really take it there and go to the extreme, try different things and explore the art. I also really love when people teach on TikTok, I am a forever student.
An ingredient that is overhyped is probably titanium dioxide. I sadly cannot use most chemical sunscreens because of the additives but genuinely I'm an outlier. If you can use chemical sunscreen and it works for you, don't be persuaded to do something that doesn't make sense. Speaking of sunscreen, oxybenzone puts me into immediate hives. I literally break out and my skin gets itchy.
I like hydration. I want to go to bed dewy and wake up dewy when it comes to moisturizer. But when I put that makeup on I need it to be matte. Matte appears to be smoother and honestly I'm obsessed.
With newer brands, I have to have a connection with the founder. I have to see their story and understand WHY they created the product. If I feel like they filled a need I am interested in finding out more about the products. With my tried-and-true legacy brands, I almost always am going to try the product if I have had a good experience previously. But once I love your brand, whether it is designer or indie, I am always going to give your new product a chance. I have a podcast called It Takes A Village to Raise an Entrepreneur on which I talk to creative entrepreneurs about their business strategy, and it stemmed from my interest in origin stories.
I love Tracee Elis Ross. The minimalism with her makeup is amazing. It always looks perfect. I also really love how regal and classic Iman's makeup Looks.


[ad_2]
Source link