[ad_1]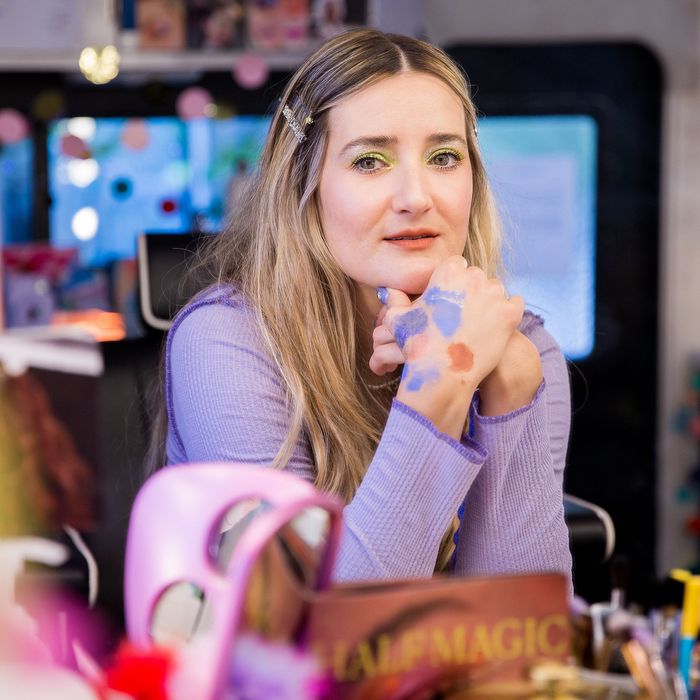 Euphoria makeup artist Donni Davy credits her motivation to her team. "Having such hardworking and supportive people around who fully understand my vision allows me to really hone in on the creative aspects of what I do," says the artist — who is not only known for her game-changing, glittery looks on the hit show's set, but also for her own incredible makeup brand, Half Magic. "My favorite thing is seeing the work pay off, whether it's a look that my team and I created on Euphoria or when a makeup product that I dreamed up finally lands in my hands," the Los Angeles–based creative adds.
Before she dove into the world of beauty, Davy thought photography would be her claim to fame. "But I ultimately didn't see a path forward working in commercial digital photography because I so missed drawing and painting," she explains. After graduating from the Pratt Institute in Brooklyn with a BFA in photography, her friend's mom suggested that she pursue a career as a film and TV makeup artist — the perfect mélange of all of her passions.
Davy then took a crash course in makeup artistry for film and TV with Jane Galli. She later began her career by answering makeup ads on Craigslist. "I took every job really seriously, whether I was doing makeup for corporate office headshots, or working on a student film that needed SFX, glam, natural," Davy recalls. Working on many smaller sets eventually led Davy to landing her first feature-film job — on the Academy Award–winning film Moonlight. Following this, she worked on set for Under the Silver Lake, "which was the first movie where I got to experiment with playful looks, and that film is why I was brought in to interview for my position on Euphoria."
At the end of the day, it's understandable why self-care would be so important to someone as busy as Davy. That said, she loves baths and watching ASMR lives on TikTok. But more than anything else, "self-care is all about letting myself be myself and finding joy in my work, even on stressful days," she explains. "I've learned to not be hard on myself — which is a major slay. I recently learned to just say, 'Oh well, I don't really have time to spiral about that, so let me just keep on keeping on.'"
7:30 — If I'm being honest, I'm not the best with routines. Most days I forget to put sunscreen on or eat breakfast. But when I'm consistent, I love using the iS Clinical Extreme Protect SPF. I've been really loving that it's tinted as well.
7:45 — My hair is super long and I wash it once per week which has really helped to make my scalp less oily. I use a ton of It's a 10 leave-in conditioner. I like to sleep in two braids to avoid tangling and create heatless waves.  My absolute favorite shampoo is the Tea Tree shampoo by Paul Mitchell. It makes your whole head tingle, and when I step out of the shower I feel like I've just been to a spa.
8:30 — I love using the Grippie Brow, which is a clear eyebrow gel by Half Magic Beauty. If my eyebrows are brushed up and perky, it literally gives me a pep in my step. Some people love eye definition. I don't care if my eyes are defined. I just need a big, tall, airy brow.
9:00 — I love to take baths with unscented epsom salt and a couple drops of lavender essential oil for relaxation and soothing my muscles.
9:45 — To remove makeup after a long day, I like to use the Elemis Pro-Collagen Cleansing Balm.
9:50 — I love watching ASMR lives on TikTok before bed. They feel like a massage for my brain.
Anything that feeds off of the fear of aging. Anything with "youth" or "anti-age" in its name. Creating this kind of fear of aging is evil. So much of the beauty industry preys on people's insecurities and it enrages me.
I'm happy that people appreciated the Euphoria makeup, and that it helped many to experiment with their makeup and find joy through that.
I hope we can make aging cool, and stop talking about it like it's a disease or something that needs to be fixed.
I can't stand when people use the aging filter and then respond to it like they are looking at something terrifying. It's so sad. Embrace your elder baddie — you will be her one day! Love her. Otherwise, I really love the sock waves trend — so clever and effective! And all the heatless curl and wave techniques. Also, using the Half Magic medical grade adhesive stick on studs as fake piercings is amazing.
Artificial fragrance in any product that is going on my face.
If any products have had some hype on the socials, I'll try them. If anything seems cute to me, or I'm drawn to a certain color, I'll try it! Now that I have my own makeup line and I'm involved in what our PR packages contain and how they look, I'm always noticing how other brands are doing theirs. It's actually so interesting to me, now that I know how much mailers really cost and what it takes to produce them, especially if there are super customized or fancy features.
I don't really do any of that stuff regularly, because I don't have much free time, but one little splurge I love to make is literally going to any salon while I'm out running errands and just getting my hair washed and styled (like loose waves) if I have to be on camera a lot for a few days in a row.
I just love seeing people in real life who are committed to their style, (seemingly) confidently moving through their lives. Whether this is being conveyed through makeup, hair, or style, it's regular people in life who inspire me.
[ad_2]
Source link