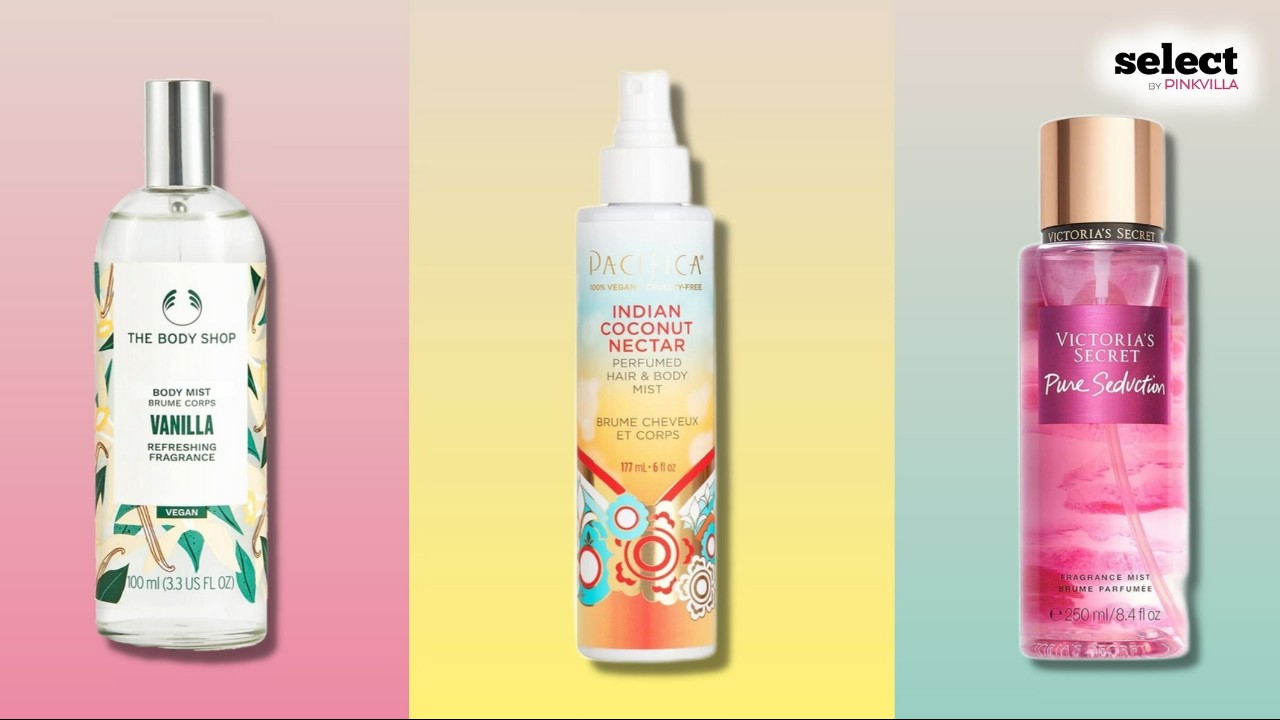 The products curated for this article are independently chosen by the
editorial team. If you make a purchase through the links mentioned below, we may receive a commission. Check out our product
research & curation process
Body mists have surely bounced back from the dead with the help of the glorious Y2k trend. But, unlike the sprays you used to spritz as teens, the best body mists chosen here are like sweet confections – opulent, deliciously exquisite, and oh-so-sophisticated. The 2000s body mists have returned with a bang and are here to stay for a good time. In short, consider the nostalgic body sprays of your childhood, but with a sophisticated, modern twist. 
These soul-uplifting mists and spritzers are much lighter, gentler, and less concentrated than perfume and provide a lovely all-over fragrance that is not overbearing. And to the cherry on top is that though the body mist's duration is less than that of perfume, it will hydrate your skin barrier to give attractive radiance. With many benefits to ripe, we tested the body mists to find the most phenomenal for you. 
Here are the greatest body mists right now, as well as expert-led techniques to keep you smelling great.
15 Best Body Mists Worth Investing for Subtle Fragrance
One of the best nose-tantalizing scents by Sol De Janeiro, this solar flower perfume mist infused with creamy coconut milk and pristine white florals evokes the warmth of sunlight on the skin. The body mist carries a playful mix of solar tuberose, leite de coco, and creamy sweet vanilla notes, which feel light and can layer with your signature perfume. It simply evokes the pleasant memories past when little dandelions lay on pavements and how softly hair brushed past you on a warm sunny day.
Pros
Vegan
Layerable scent
Recyclable packaging
Cruelty-free
Lush scent
Non-comedogenic
2
Best Natural Scent
Pacifica Beauty Indian Coconut Nectar Perfumed Hair & Body Mist
The Island Vanilla Perfumed Hair & Body Mist by Pacifica is blended with a mix of nutritious elements to leave hair with a healthy sheen. This mist is infused with coconut and exquisite creamy vanilla and is sure to make you fall in love at first spritz. When we tried the product, we found the not-so-skin-irritating mist filled with minimal notes of coconut, vanilla, and woodsy vetiver, making it the perfect summer mist. We consider it a go-to for effective beauty staples if you'd like some tropical vibes.
Pros
Affordable
Cruelty-free
Formulated without SLS
Alcohol-free
100% PCR packaging
3
Best Signature Scent
Bath And Body Works Into The Night Fine Fragrance Mist
Step 'into the night' with this brilliant body mist by Bath and Body Works. It harnesses a timeless, feminine, and alluring blend of dark berries, midnight jasmine, and rich amber, making it the perfect pick for night events. The tall bottle carries rich notes of bergamot champagne and a night-blooming water lilies scent that will boost your confidence to no end. We recommend this body mist to those who appreciate a woody and amber-like subtle scent!
Pros
Lush scent
Ideal for gifting
Cost-effective
Perfect for night events
4
Best for the Entire Body
Calgon Morning Glory Fragrance Body Mist
When you wear Calgon's Morning Glory scent, you'll be transported to an English garden full of lovely blossoms. This lush scent was released in 2003 and offers a delightful combination of floral notes, including geranium, jasmine, orchid, rose, and violet, that will excite your senses and produce an olfactory experience with each usage. Based on first-hand experience, the body mist did feel a little too much on the nose, but later on, eased into the skin making a charming mist if you wait for the magic!
Pros
Light scent
Perfect for someone with a refined taste
Lasts long
Vegan
5
Best Sweet Vanilla Scent
The Body Shop Vanilla Body Mist
Pleasant and cozy as a vanilla latte, this infamous scent by The Body Shop is a big hit for all age groups. Simple and familiar on the nose, the body mist carries subtle and strong notes of vanilla essence, very concentrated in this body mist, so it's good for those who love its scent. And the packaging is very classy – a beautiful vanilla flower adorns the bottle, topped with a fine mist dispenser. It sprays a thin mist and may be used sparingly if heading to work and freely if going on a casual day out.
Pros
Vegan
Recyclable packaging
Smells fresh
Cons
The sillage is unpleasant
6
Best Delicate Scent
De La Cruz Rose Water Body Mist
Those who treasure simplistic yet fruitful body scents will instantly be magnetized to this rose body mist by De La Cruz. This Rose Water Spray for Face contains natural rose petal extract, which provides a calming and invigorating perfume of freshly plucked roses. When we tried the product, we found it instantly helps you relax and gain delightful sleep if sprinkled and sprayed on bedsheets too. It's the perfect match for any occasion from relaxing to heading out for the day with a rosy dewy finish!
Pros
Free of alcohol
Ideal for all skin types
Hypoallergenic
Brings dewy finish
Cons
Might feel like cheap quality
7
Best Subtle Scent
Victoria's Secret BOMBSHELL INTENSE Body Mist
Alexa play *reputation by Taylor Swift* cause the mood just got intense. Bring on the hot vibes of a diva with this body mist by Victoria's Secret. The body mist encapsulates the wearer with a sweet cherry top note, a red peony middle note, and an oh-so-vanilla base note. Based on firsthand experience, the fragrance has moderate sillage and longevity. We recommend it best for fall and winter wear, either for day or night.
Pros
Ideal for nightwear
Sexy scent
Classy packaging
Giftable
8
Best Floral Scent
Pacifica Lavender Moon Body and Pillow Mist
This natural spray by Pacifica contains a finely balanced mixture of lavender and rose essential oils. Lavender is recognized for its capacity to relieve anxiety (especially if stressful thoughts and anxieties keep you up at night), whilst rose is believed to soothe jangled nerves and ease you into a more relaxed state. We love that the brand features its own signature plant-powered aromatherapy blend scented with lavender and vanilla. You can simply spray it on the pillow or even spritz it around yourself to emit sweet nectar floral vibe!
Pros
Cruelty-free
Lean formula
Vegan
Pleasant scent
Cons
Might inflame sensitive skin
9
Best Refreshing Scent
Perry Ellis 360 Coral Body Mist
360° Coral by Perry Ellis is an amber floral fragrance for women who love a burst of peachy fruity floral for daily wear. Launched in 2014, the body mist has this sparkling-like fruit soda vibe. Filled with top notes of Italian bergamot, peach prosecco, Asian apple pear, and pink pepper that create this sweet floral layer. It is followed with middle notes of peony, jasmine, and lily-of-the-valley, and the musky base notes of tonka bean and amber make this body mist a ball-park hit for women needing a simple gym mist.
Pros
High sillage
Lasts long
Ideal for all day-wear
Doesn't itch on the skin
Cons
Might smell too flowery for some
10
Best Everyday Scent
Good Chemistry Queen Bee Body Mist
Launched in 2018, the Queen Bee Body Mist by Good Chemistry offers a youthful and juvenile scent. The body mist envelops you with fruity top notes of black currant, middles notes of peony, and base notes of musk and amber wood. Though the fruity notes overpower the musky amber notes, the fragrance is perfect for teens if worn alone. After trying out the scent, we found it can be handsomely layered with woody perfumes and will smell delectable for day and night wear.
Pros
Cruelty-free
Vegan
Recyclable packaging
Dye-free
Cons
The bottle might break easily
11
De La Cruz Lavender Water Body Mist
Crafted with lavender essential oils, the body mist by De La Cruz is perfect for sensitive skin. The alcohol-free body mist helps hydrate your skin, and its light aroma will leave you smelling sumptuous and feeling fresh for the day ahead. As a bonus, the soothing scent is devoid of phthalates and dyes, which may tamper with your skin. We find the body mist spray perfect for any occasion, making it a great gift for your loved one or even for self-caring.
Pros
Gives a glowy shine to the skin
Available in a variety of scents
Not too overwhelming scent
Giftable
Cons
Requires constant re-spray
12
Love Beauty and Planet Coconut Water and Mimosa Flower Showerless Cleansing Mist
This luxury body mist by Love Beauty and Planet will make you feel like the star of the show! Infused with natural coconut water that's ethically sourced from the Philippines it is well known for its lightweight moisturizing properties that help keep your skin light and fresh. And fresh and delicious absolute of zesty Mimosa flowers from Morocco adds lovely citrus notes to the experience. This fragrant body mist is incredibly sensual, and the cool mist will keep you feeling calm and confident.
Pros
Vegan
Ethically sourced ingredients
Silicone-free
Moisturizes the skin
13
PURE FIJI Hydrating Dry Body Mist
Dry skin problems are the worries of the past with this hydrating body mist by Pure Fiji. Infused with coconut oil, this body mist is irresistible. Coconut oil reduces inflammation, keeps skin moisturized, and pure dilo leaf hydrosol soothes, firms, and strengthens skin. Addedly, it also incorporates silky notes of starfruit and glycerine, a highly emollient ingredient, locking in moisture and leaving skin soft and supple. We urge opting for this body mist for a refreshing skin prep before applying your favorite lotion or body butter to get the lustrous sheen.
Pros
Ideal for dry and mature skin
Nature-like scent
Deals with inflammation
Giftable
14
Bouquet Garni Pink Grapefruit Body Mist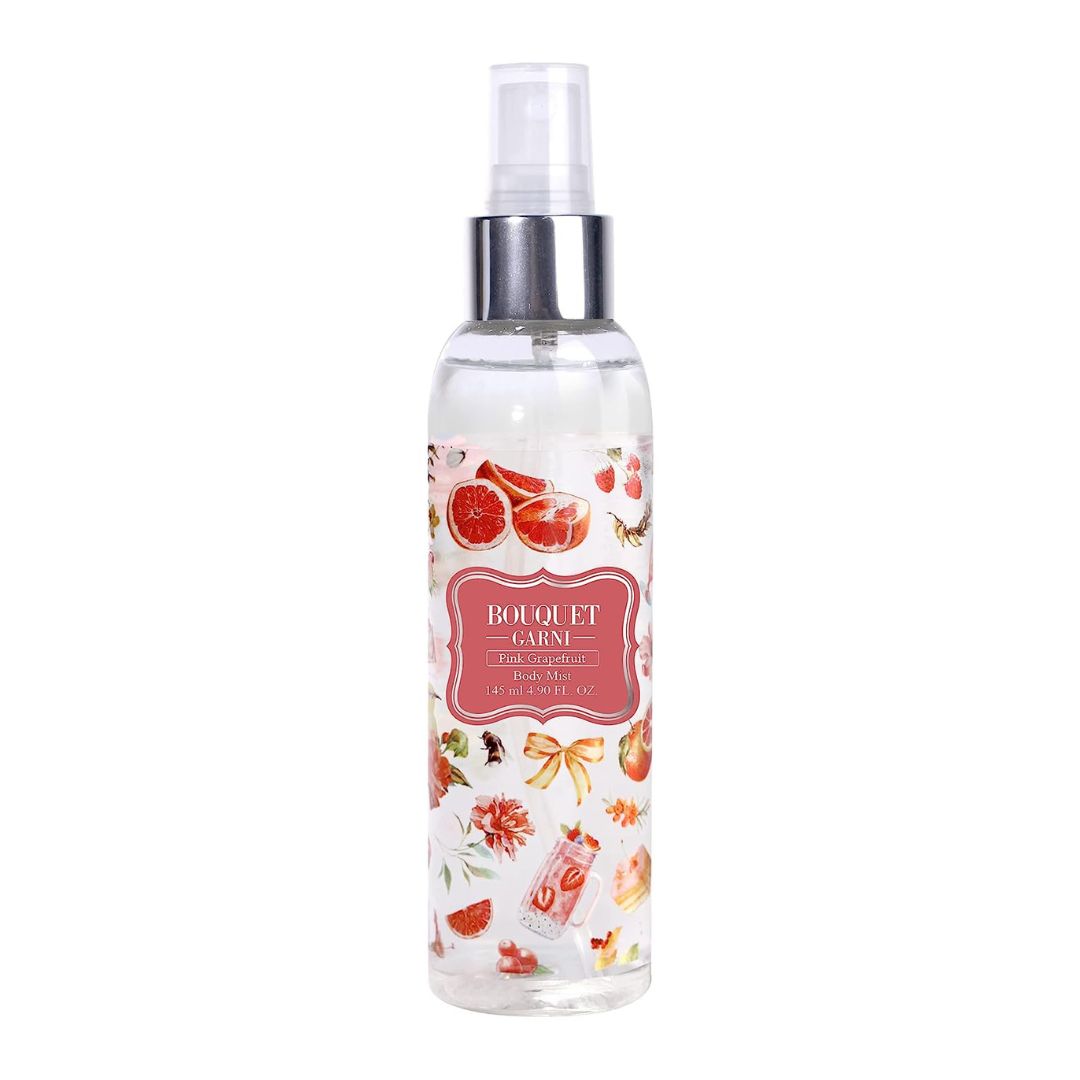 Those in search of a decadent body mist to replace your typical perfume must surely try out the Pink Grapefruit Body Mist by Bouquet Garni. Formulated with tocopheryl acetate, rich in vitamin C, leaves skin smooth and moisturized, and citric acid removes dead skin cells and pollutants. Apart from its skin-nourishing skin, the sweet and citrus notes of pink grapefruit are perfect for summer wear. Lastly, we found that the aroma of this hypoallergenic body spray lasts for a long time, making it one of the best long-lasting body mist for ladies!
Pros
Softens skin
Easy to dispense
Travel-friendly
Available in more scents
15
Camille Beckman Camille Fragrant Body Mist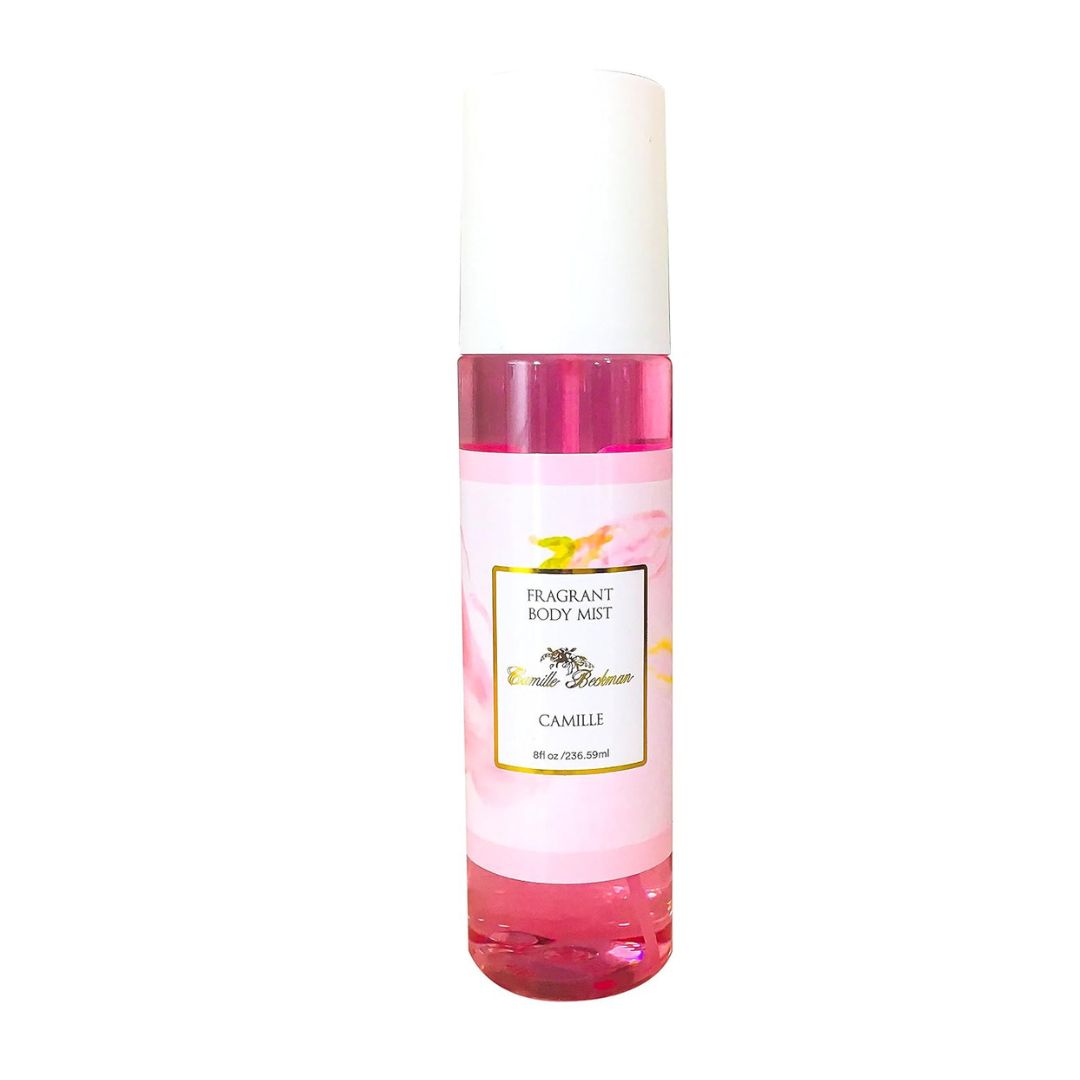 Daring and energizing, this body mist by Camille Beckman captures the essence of the empowered woman. Filled with pink carnations, soft cashmere, and white iris flower, it will surely transport you to the landscapes of Europe. This aromatic body spray, infused with Camille Beckman's herbal compound, refreshes and soothes the skin while avoiding the dryness of typical alcohol-based scents. This sensual body mist if the perfect fit for all ages and suitable for all skin types too!
Pros
Ideal for day and night wear
Gluten-free
Vegan
Cruelty-free
Now that we have discussed our best picks, we would like to highlight a few pointers on how to get the best pick for yourself!
How to Select the Best Body Mists?
Swipe through our little buying guide to get the best tips on selecting the best body mists.
Fragrance: When shopping for the ideal scent, it's important to focus on the notes. Fragrances can be fruity, floral, spicy, and more – each with its unique characteristics. Knowing these characteristics will help you select the perfect perfume. So don't let the smell of success pass you by – pay attention to the notes!
Essential Oils: Ensure you examine the elements of the body spray so it won't cause any skin discomfort. It is recommended to pick body sprays made from natural ingredients and essential oils instead of those with potentially harmful chemical compounds. By doing so, you can have an aroma with a serene effect. Be creative and humorous when making your selection.
Price: If you're scouring for a budget-friendly manner to spice up your everyday ensembles with a hint of fragrance, then a body mist is likely the perfect choice. When the components appear to be just perfect and you're delighted with the scent, snatch it up without hesitation! All the body mists have been selected with an eye to affordability, which is great news.
Occasion: When deciding on a body spray, it's essential to think about the situation. Ask yourself if you would be using it for a special occasion or daily and then make a choice. Use an informative, yet creative approach
When it comes to making a statement and standing out in a crowd, nothing does it better than a tantalizing body mist. Whether you're looking to make heads turn with your unique scent, or you're just looking to add something extra to your everyday routine, the right body mist can transform and elevate any look. The ones chosen by our beauty team are filled with essential oils and natural goodness making the perfect pick for all skin types and so on. So spritz on something special – discover the best body mists and make a statement with our top selections.
FAQ's
Does body mist make you smell good?
Yes it does, body mists are ideal for smelling great and feeling fresh for the day ahead.
Should I wear body mist every day?
Yes, there is no harm in wearing a body mist every day.
What's the difference between body spray and body mist?
Body sprays often include less fragrant oils and more alcohol, whereas body mists typically contain more aromatic oils.
Where should you apply body mist?
A body mist, like perfume, should be applied directly to the skin around the body.
Why is perfume better than body mist?
We believe both the items are good in their own way. If you're searching for an inexpensive approach to add a mild scent to your everyday look, a body spray is probably the best choice. Similarly, if you want something that will linger longer or have a greater influence on others around you, perfume is a preferable option.
Why Trust Pinkvilla
Our beauty author, Sayantani, expresses how body mists are a great addition to the arsenal. The best body mists feature products doused with essential oils and subtle fragrances that are sure to tantalise the noses wherever you go. She found Sol De Janeiro Body Mist to be a worthy pick for those who want the goodness of natural scent that can be layered with your own perfume. Nevertheless, the rest mentioned are also a great choice for those looking for diversity in scent and sillage. 
Our product experts study the specifications of every product we suggest and try them out to bring what's proven to be worthy of your money, time, and energy. We also have subject matter experts from various fields like Fashion, Skincare, Haircare, Home Decor, and Health & Fitness onboard to make sure our suggestions are credible and trustworthy. You can trust select to be your faithful shopping guide for all the right reasons!
Author BIO
Sayantani is a certified hair and makeup professional turned writer with 2+ years of experience in the same genre. Ap More
Source link