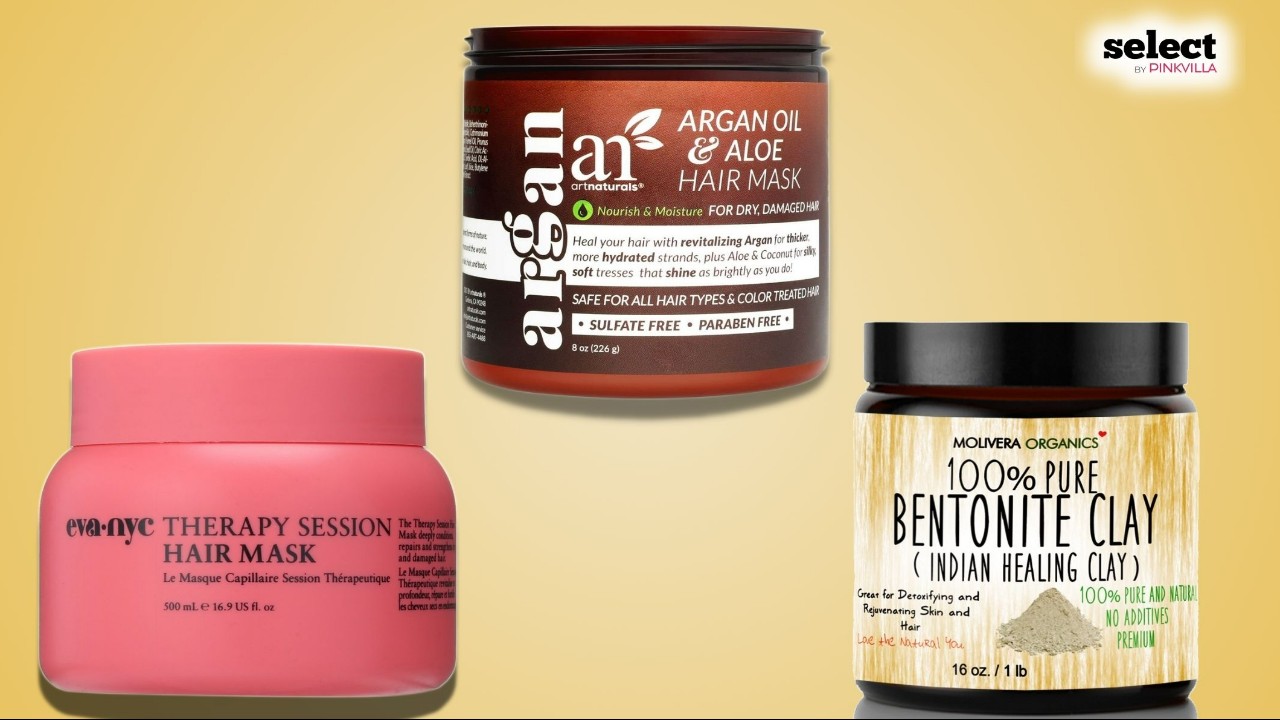 The products curated for this article are independently chosen by the
editorial team. If you make a purchase through the links mentioned below, we may receive a commission. Check out our product
research & curation process
"Good hair days make me feel like I can rule the world!" — This statement resonates with many of us who understand the transformative power of fabulous hair. If your hair tends to be on the oily side and you're searching for the perfect hair care solution, your search ends here as we've delved into the world of the best hair masks for oily hair designed specifically to deal with greasy locks.
Consider hair masks as a superfood for your hair. Similar to our bodies requiring a healthy diet, our hair also thirsts for nourishment. Oily hair can be tricky to manage because excess sebum can weigh it down, making it look flat and lifeless. This is where the best hair masks come into play, offering a harmonious balance of hydration and control.
To bring you this guide, we've meticulously tested and reviewed a range of hair masks, considering their attributes such as oil control, cleansing properties, and overall effectiveness. We've examined how they interact with different hair types and sensitivities, and most importantly, how they transform that pesky oily hair into a luscious, voluminous mane. So, whether you're battling excess oil due to genetics or environmental factors, rest assured, we've got you covered with our top picks. Say hello to the hair of your dreams!
Here are the Top 10 Hair Masks for Oily Hair You Need ASAP!
Artnaturals' hair mask stands out as a top choice for oily hair. This transformative treatment revitalizes tired locks, infusing them with the rejuvenating power of argan oil and aloe. The nourishing combo of argan oil and aloe vera delivers a surge of hydration, leaving hair silky, soft, and manageable. The rich blend of natural ingredients works to repair damaged strands while promoting a healthy scalp. This mask's lightweight formula doesn't weigh hair down, making it suitable for all hair types. With regular use, it revitalizes and strengthens, combating frizz and promoting a radiant, lustrous finish. We recommend it to those who seek salon-quality hair treatment at home.
Pros
Deeply nourishes and hydrates hair
Natural ingredients
Hypoallergenic
Strengthens and revitalizes damaged strands
Suitable for various hair types
Leaves hair soft, manageable, and lustrous
Vegan and cruelty-free
Cons
Some users may find the consistency too thick
2
Best for All Hair Types
Grace & Stella Rescue My Hair Mask
The Rescue My Hair Mask is a luxurious hair treatment designed to rescue and rejuvenate dull, damaged locks. Infused with natural ingredients like aloe vera, argan oil, and coconut oil, it deeply nourishes and hydrates, leaving hair noticeably softer and shinier. The mask's potent formula repairs split ends and strengthens brittle hair from root to tip. After use, expect a remarkable transformation — smoother, more manageable hair with a radiant, healthy glow. It's a must-have for those seeking salon-quality treatment at home, and a true game-changer for anyone looking to restore vitality and luster to their tresses.
Pros
Deeply nourishes and hydrates strands
Repairs and strengthens damaged strands
Leaves hair soft, smooth, and manageable
Contains natural ingredients
Easy to store
Cons
Slightly pricey compared to some other hair masks
3
Best for Frizzy Hair
Eva.NYC Therapy Session Hair Mask
In the realm of hair care, Therapy Session by Eva.NYC is regarded as a true gem. Its potent blend of Keravis protein, argan oil, and amino acid complex works wonders in restoring and strengthening hair. Keravis, a powerhouse protein, fortifies strands from within, minimizing breakage and ensuring a lustrous, resilient mane. Argan oil, rich in antioxidants and essential fatty acids, imparts deep hydration, leaving hair soft and brilliantly shiny. Also, the amino acid complex further enhances elasticity and combats frizz. Together, these ingredients form an elixir that revitalizes and nourishes, making it one of the best hair masks for oily hair to use occasionally.
Pros
Deeply nourishes
Strengthens hair
Restores elasticity, reducing breakage and frizz
Leaves hair soft, shiny, and more manageable
Suitable for all hair types
Cons
The scent may not be appealing to everyone
4
Best for Oily Scalp
Phyto Detox Pre-Shampoo Purifying Mask
This purifying hair mask, effortless to apply, proves revolutionary for oily hair types. Formulated with a potent blend of natural ingredients, including eucalyptus essential oil and clay, it effectively rids the scalp of excess sebum and impurities. This mask unclogs hair follicles, promoting a healthier, and more balanced scalp environment. After use, hair feels remarkably refreshed, with a lightweight, airy texture. It's an ideal pre-shampoo treatment that prepares the hair for cleansing, ensuring a more thorough wash. With regular use, expect reduced oiliness, improved volume, and a revitalized, lustrous finish. The Phyto Detox mask is a must-have for those seeking to combat excess oil production effectively.
Pros
Effectively removes excess oil and impurities
Ideal for sensitive scalps
Suitable for extremely oily hair
Contains natural ingredients
Prepares hair for a more thorough wash
Cons
May not provide enough hydration for dry hair
5
Best Lightweight Formula
VERB Ghost Hair Mask
The best hair mask for greasy hair, Ghost Hair Mask, is a versatile treatment for protecting and replenishing locks. This lightweight yet powerful mask is particularly beneficial for fine or oily hair. Infused with ingredients like moringa seed oil, glycerin, and glycolic acid, it deeply nourishes without weighing hair down. After use, expect hair to feel incredibly soft, manageable, and free from frizz. It's a transformative experience, adding a natural shine and bounce to your locks. With regular use, the Ghost Hair Mask helps to fortify and rejuvenate, making it an essential addition to your hair care routine, especially if you're looking to achieve a lightweight, healthy look.
Pros
Lightweight formula
Doesn't weigh down hair
Suitable for oily hair
Contains nourishing ingredients
Ideal for color-treated hair
Strengthens and revitalizes hair
6
Best for Travel
Enjoy Hair Mask
Unleash the magic of the Enjoy Hair Mask, an enchanting elixir designed for wavy and curled tresses. Infused with a blend of shea butter, argan oil, and coconut oil, this transformative potion lavishes moisture upon your locks, banishing frizz and revealing radiant, defined waves. After indulging in its luscious embrace, your curls will dance with newfound vitality, cascading in breathtaking spirals. Breathe life into your hair with this spellbinding concoction, tailored for those seeking to embrace their natural waves in a symphony of beauty and grace. Experience the alchemy where every strand finds its rhythm and radiance.
Pros
Intensely hydrates and revitalizes hair
Reduces frizz and improves manageability
Suitable for all hair types
Nourishing ingredients
Travel-friendly
Compact design
Cons
Results may vary based on individual hair condition
7
Best Vegan
FoxyBae Dont Hate, Hydrate Replenish Hair Mask
Indulge your locks with the Don't Hate, Hydrate Replenish Hair Mask, a luxurious potion crafted to elevate hair to its most radiant state. Perfect for all hair types, this transformative treatment boasts a rich blend of nourishing ingredients, including argan oil, avocado oil, and aloe vera. We generously applied it to damp hair, allowing this elixir to work its magic. With one rinse, we could feel the silkiness return and witness our hair transformed into a cascade of brilliance. The vegan mask replenishes moisture, restores vibrancy, and tames unruly strands, leaving your mane with an enviable shine. FoxyBae's hair mask is your key to hair that's impossible to resist.
Pros
Restores moisture to hair
Vegan
Natural ingredients
Helps reduce frizz
Improves manageability
Cons
Pricey compared to other brands
8
Best Natural Ingredients
TruePure Natural Hair Mask
Those in search of a potent yet mild treatment to rejuvenate and strengthen hair from root to tip must opt for this natural hair mask. Infused with a blend of natural ingredients like biotin, keratin, and coconut oil, it provides deep nourishment, promoting healthier, more resilient strands. This mask is particularly beneficial for those with thinning or damaged hair, as it helps reduce breakage and promote regrowth. After use, expect hair to feel noticeably softer, smoother, and with a renewed shine. TruePure's hair product is a trusted ally for anyone seeking to revitalize their locks and achieve a fuller, healthier head of hair.
Pros
Strengthens and revitalizes hair
Improves hair health
Suitable for all hair types
Promotes healthier, more resilient strands
Cruelty-free
Fragrance-free
9
Best for Oily Scalps
Creme of Nature Clay & Charcoal Pre-Shampoo Detoxifying Clay Mask
Crafted with a fusion of ingredients like Moroccan rhassoul clay, activated charcoal, and bentonite clay, this mask purifies your locks from deep within, bidding adieu to impurities, excess oil, and product buildup. The mask's mineral-rich concoction strengthens, revitalizes, and bestows a luxurious shine upon your tresses. As you rinse, marvel at your hair's newfound lightness, bounce, and resilience. We recommend individuals with oily and fine hair incorporate this pre-shampoo detoxifying clay mask into their haircare routine and witness their strands transformed into a masterpiece of vitality and grace.
Pros
Effectively detoxifies and removes impurities
Provides deep cleansing
Strengthens and revitalizes hair
Prepares hair for optimal shampooing
Affordable pricing
Cons
Slightly longer application process
10
Best Value
Hair Chemist Charcoal Detoxifying Hair Treatment Mask
This Charcoal Detoxifying Hair Treatment Mask is a boon for oily hair types. Infused with activated charcoal and citrus oil, it effectively draws out impurities and excess oil from the scalp, promoting a balanced, refreshed feel. This mask is enriched with essential oils like tea tree and peppermint, known for their clarifying properties, which improve hair health by removing impurities on the go. After use, expect a noticeable reduction in greasiness and a boost in volume. The mask's nourishing formula also imparts a smooth, manageable texture, making it an essential tool for those seeking to combat oiliness while revitalizing their locks.
Pros
Contains activated charcoal for deep cleansing
Removes impurities and excess oil
Contains essential oils
Suitable for all hair types
Promotes a balanced, refreshed scalp
Great value pricing
Cons
May require regular use for optimal effectiveness
After exploring the top recommendations, let's delve into a guide on selecting the most suitable hair masks for oily hair, ensuring you make an informed choice that caters to your specific needs.
How to Choose the Best Hair Masks for Oily Hair?
To choose the best hair masks for oily hair, follow these pointers for the best results:
Hair Type: Understanding your hair type is crucial for selecting the right hair mask. Fine, thick, or curly hair each has unique needs. Choose a mask tailored to your texture to effectively address your hair's specific requirements and maintain its health and appearance.
Oil-Control Ingredients: Another way to choose your hair mask is to read through the ingredients. Opt for masks containing ingredients like clay, tea tree oil, or salicylic acid to control excess oil production. Also, keep in mind that oily hair needs moisture too. So, keep an eye out for masks with hydrating ingredients like glycerin or hyaluronic acid to balance oil and hydration.
Lightweight Formulas: Choose masks with lightweight, non-greasy formulations that won't weigh down your hair. And, steer clear of masks with heavy oils like coconut or argan oil, as they can exacerbate oiliness.
Frequency of Use: Consider how often you'll be using the mask. Some are designed for daily use, while others are more suitable for weekly treatments.
Allergies and Sensitivities: And yes, it is always important to check whether your skin and scalp are compliant with the formulation of the hair mask. Be aware of any allergies or sensitivities you may have to specific ingredients and choose masks accordingly.
By following these steps, you can make an informed choice and find the best hair mask for your oily hair type.
The Right Way to Apply Hair Masks for Best Results
Here are the steps for applying hair masks for the best results:
Step 1: Start with Clean Hair
Before applying a hair mask, make sure your hair is clean. Use a mild shampoo to wash your hair and scalp, and gently pat your hair dry with a towel. Your hair should be damp but not soaking wet.
Step 2: Choose the Right Hair Mask
Select a hair mask that suits your hair type and addresses your specific hair concerns. There are masks available for various issues such as dryness, damage, frizz, or lack of volume. Read the instructions on the product to ensure it's appropriate for your needs.
Step 3: Section Your Hair
Divide your hair into sections using clips or your fingers. This will ensure that the hair mask is evenly distributed and reaches all parts of your hair.
Step 4: Apply the Hair Mask
Take a generous amount of the hair mask and start applying it to your hair, starting from the roots and working your way down to the tips. Use your fingers or a wide-toothed comb to distribute the product evenly. Pay extra attention to the ends of your hair, as they are often the most damaged part.
Step 5: Massage Your Scalp
If your hair mask is suitable for the scalp, gently massage it into your scalp using your fingertips. This can help improve circulation and promote hair growth.
Step 6: Comb Through
Use a wide-toothed comb to comb through your hair after applying the mask. This will help detangle your hair and ensure that the product is evenly distributed.
Step 7: Leave it On
Follow the recommended time on the product label for leaving the mask on your hair. Most masks require you to leave them on for 10-30 minutes, but it can vary depending on the product. 
Step 8: Rinse Thoroughly
After the recommended time has passed, rinse out the hair mask thoroughly with lukewarm water. Make sure there is no residue left in your hair.
Step 9: Use a Conditioner (Optional)
Depending on the type of hair mask you use, you may or may not need to follow up with a conditioner. If the mask is profoundly hydrating, you might skip the conditioner. However, if your hair still needs extra conditioning, apply a small amount of conditioner to the ends and rinse it out.
Step 10: Towel Dry Gently
Gently pat your hair dry with a towel. Avoid rubbing, as wet hair is more fragile and prone to damage.
Step 11: Style as Usual
You can now style your hair as usual, whether that involves air-drying, blow-drying, or using styling products.
How often you should use a hair mask depends on your hair's condition and the product's instructions, but generally, once a week is a good starting point. Also, keep in mind that overusing hair masks can lead to product buildup, so it's essential to find the right balance and use hair masks twice a week at most.
Tips for Managing Oily Hair
To keep your locks looking pristine, we have brought to you our 6 tips for managing oily hair:
1. Use a Gentle Shampoo: Opt for a mild, sulfate-free shampoo designed for oily hair. Avoid harsh shampoos, as they can strip your scalp of essential oils, causing it to produce even more oil.
2. Frequent Washing: Wash your hair regularly, ideally every other day or as needed. This helps remove excess oil and prevents it from accumulating.
3. Cold Water Rinse: Finish your hair with a cool water rinse. Cold water helps to close the hair cuticles and reduce oil production.
4. Avoid Over-Conditioning: Use conditioner sparingly and apply it mainly to the ends of your hair. Avoid the scalp, as excess conditioner can make your hair appear greasier.
5. Dry Shampoo: Keep a dry shampoo handy for in-between washes. It can absorb excess oil and give your hair a refreshed look.
6. Diet and Hydration: Maintain a balanced diet and stay hydrated. Eating right and drinking enough water can help regulate oil production from within.
By following these tips, you can better manage oily hair and keep it looking fresh and healthy.
In conclusion, finding the best hair masks for oily hair is a journey toward healthier, more beautiful hair. The right mask can work wonders, but it's essential to consider your hair type, specific needs, and any sensitivities. Whether you're combating dryness, or damage, or seeking extra hydration, there's a mask designed just for you. Don't forget to follow application instructions and maintain a balanced hair care routine to maximize results. Beautiful, nourished hair is achievable with the right hair mask, so invest in one that aligns with your hair's unique requirements and watch as your locks transform into their best, healthiest version. Happy shopping!
FAQ's
Can I use a hair mask for oily hair if I have a sensitive scalp?
Yes, you can use a hair mask for oily hair if you have a sensitive scalp, but choose a gentle, sulfate-free mask and avoid applying it directly to the scalp to prevent irritation.
How long should I leave the hair mask on for best results?
For best results, we recommend the users follow the product instructions, but typically, leave the hair mask on for 10-30 minutes. Also, the duration may vary depending on the mask's formulation and your hair's condition, so use the hair mask mindfully.
Can I use a hair mask in combination with other oily hair products?
Yes, you can use a hair mask in combination with other oily hair products, but choose those specifically designed for oily hair to maintain a balanced routine.
Will using a hair mask make my hair greasier in the long run?
No, using a hair mask appropriately won't make your hair greasier in the long run. It can improve hair health without increasing oiliness when used correctly.
Why Trust Pinkvilla
Our trusted source for haircare, Alvira, believes that hair masks are a great way to deal with greasy strands that tend to flatten the bouncy strands. While on the list, she inspected every nook and cranny to get the best products into your beauty regimen. And she tested them accordingly – texture, weight, formula, and use to get the ultimate results. From them, her heart was set on Creme of Nature Clay & Charcoal Pre-Shampoo Detoxifying Clay Mask for its magnificent formulation. Further on, she believes the list can be a helpful guide for biding adieu to all greasy hair problems.
Our product experts study the specifications of every product we suggest and try them out to bring what's proven to be worthy of your money, time, and energy. We also have subject matter experts from various fields like Fashion, Skincare, Haircare, Home Decor, and Health & Fitness onboard to make sure our suggestions are credible and trustworthy. You can trust select to be your faithful shopping guide for all the right reasons!
Author BIO
With a keen eye for detail and a passion for hairstyling, Alvira is a certified Hair Expert who brings the latest tre More
Source link