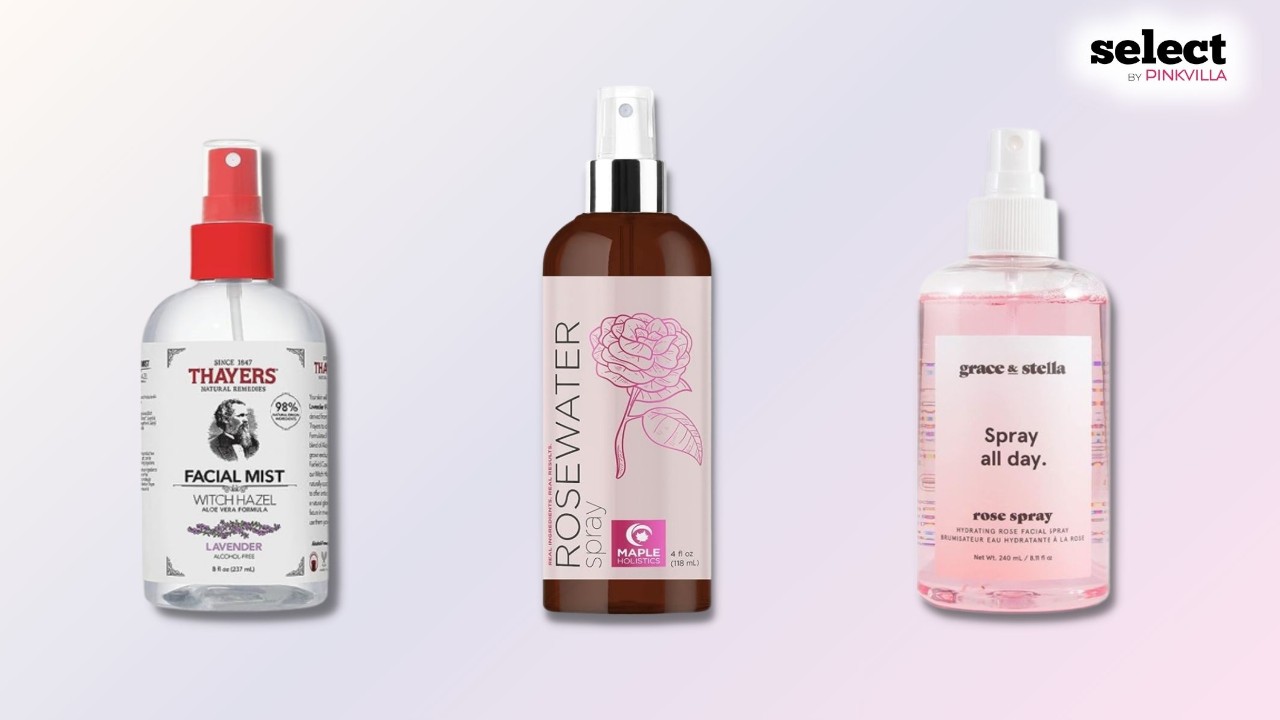 The products curated for this article are independently chosen by the
editorial team. If you make a purchase through the links mentioned below, we may receive a commission. Check out our product
research & curation process
Achieving a fresh and matte complexion can be a huge task for those with oily skin. Fortunately, the beauty industry has introduced a savior in the form of face mists specially formulated to cater to the unique needs of oily skin types. The best face mists for oily skin, are a game-changer for those seeking to balance excess oil production while nourishing and revitalizing their skin.
They typically feature lightweight, non-comedogenic formulas that hydrate without clogging pores. These mists usually contain ingredients like witch hazel, salicylic acid, and tea tree oil, renowned for their oil-regulating and pore-minimizing properties. A quick spritz of these mists can instantly refresh and mattify your skin, leaving you with a revitalized, shine-free complexion. 
They are perfect for on-the-go use, whether you need a midday pick-me-up or a post-workout refresher. Additionally, these mists can be used as a setting spray to help your makeup last longer while controlling oil breakthrough. Based on our experience, we have come up with a curated list of the 12 best facial mist for oily skin that promises a refreshing glow.
Our top picks
BEST FOR CURING SKIN ISSUES
What is a Face Mist And What Does it Do?
A face mist is a versatile skincare product that comes in a liquid form, typically dispensed through a spray nozzle. It is formulated to refresh and hydrate your skin, providing numerous benefits for various skin types, including oily skin. Face mists are composed of water-based solutions infused with a variety of beneficial ingredients such as vitamins, antioxidants, herbal extracts, and minerals. These ingredients serve several purposes:
Hydration
Face mists deliver an instant burst of moisture to your skin, helping to combat dryness and dehydration. For oily skin, this can be particularly beneficial because dehydration can lead to increased oil production.
Oil Control
Many face mists are formulated with ingredients like witch hazel or salicylic acid that help regulate oil production, reduce excess shine, and minimize the appearance of enlarged pores.
Setting Makeup
Face mists can be used to set makeup, providing a natural and dewy finish while helping your makeup last longer.
Refreshing
They offer a quick and revitalizing pick-me-up throughout the day, making them ideal for hot weather, post-workout, or when you need an energy boost.
Soothing and Calming
Some face mists contain ingredients like aloe vera or chamomile, which have soothing properties and can calm irritated or inflamed skin.
Protection
Antioxidant-rich face mists can help protect your skin from environmental stressors like pollution and UV damage.
Overall, a face mist is a versatile skincare product that can benefit oily skin by providing hydration, controlling excess oil, and offering a range of other skin-enhancing effects to keep your complexion balanced and refreshed. So, embrace the refreshing formulas and elevate your skincare routine today!!
12 Best Face Mists for Oily Skin That Give a Fresh Look
Designed to cleanse, tone, moisturize, and balance the pH level of the skin, this mist for oily skin by Thayers is formulated with certified organic Witch Hazel and Aloe Vera, and made with 98% natural origin ingredients. The facial mist is alcohol-free, paraben-free, and gluten-free. It is gentle and suitable for those with sensitive or dry skin. Moreover, the product works wonders in balancing and clarifying the skin, leaving it soothed, hydrated, and refreshed.
Pros
Even toning
Hydrating
Clean ingredients
Suits all skin types
2
BEST FOR CURING SKIN ISSUES
GRACE & STELLA Rose Spray
The rose facial spray by GRACE & STELLA is a facial mist made with rose water that helps maintain the skin's pH balance and increase elasticity and hydration. It has anti-inflammatory properties that help with acne, dermatitis, eczema, and healing scar tissue. The spray can be used as a makeup setting spray or as a skin refresher throughout the day. It is vegan and free from parabens, dyes, silicones, and sulfates.
Pros
Award-winning
Safe for daily use
Cures skin problems
Smells good
3
BEST REFRESHING
e.l.f. Cosmetics Hydrating Coconut Mist
The e.l.f. Hydrating Coconut Mist is a lightweight facial mist that moisturizes and refreshes the skin with an invigorating coconut scent. It contains thirst-quenching ingredients such as coconut oil and vitamins that nourish, calm, and soothe the skin instantly. The mist is perfect to use at the start or end of the day, or anytime you need a quick refresh. It can be used to hydrate the skin before applying makeup or to set makeup for a dewy finish.
Pros
Refreshing scent
Skin loving ingredients
Can be applied anytime
Vegan
4
BEST ORGANIC FORMULA
SeoulCeuticals Marine Mineral Pump & Glow Essence
Formulated to increase hydration and glow, this facial spray for oily skin is a unique blend of Tamarind extract, Japanese Green Tea, Aloe Vera, Cucumber Extract, and Marine Minerals. The lightweight formula absorbs quickly, leaving the skin refreshed and glowing. The product is infused with cucumber extract, marine minerals, and organic aloe that delivers a healthy and youthful glow to the skin. The hydrating prepping mist is an essential step in achieving glowing Korean skincare results.
Pros
Plump your skin
Youthful glow
Organic formula
Cruelty-free
Skin feels fresh
Can be used in multiple ways
Suitable for oily and acne-prone skin
Enriched with anti-oxidants
Formulated to provide instant refreshment and rejuvenation to oily, acne-prone, or combination skin, this facial mist by Plum is indeed revitalizing. It is enriched with the goodness of green tea extracts, aloe juice, ginger root, goji berry, and ginkgo biloba. The face mist is infused with antioxidants that help to combat acne and blemishes. It is a perfect balance of hydration and nourishment for the skin. The face mist is non-comedogenic, which means it does not clog pores. It is an instantly cooling, refreshing, and revitalizing face mist that can be used anytime, anywhere.
5
BEST ALCHOHOL-FREE TONER
MAPLE HOLISTICS Rose Water Spray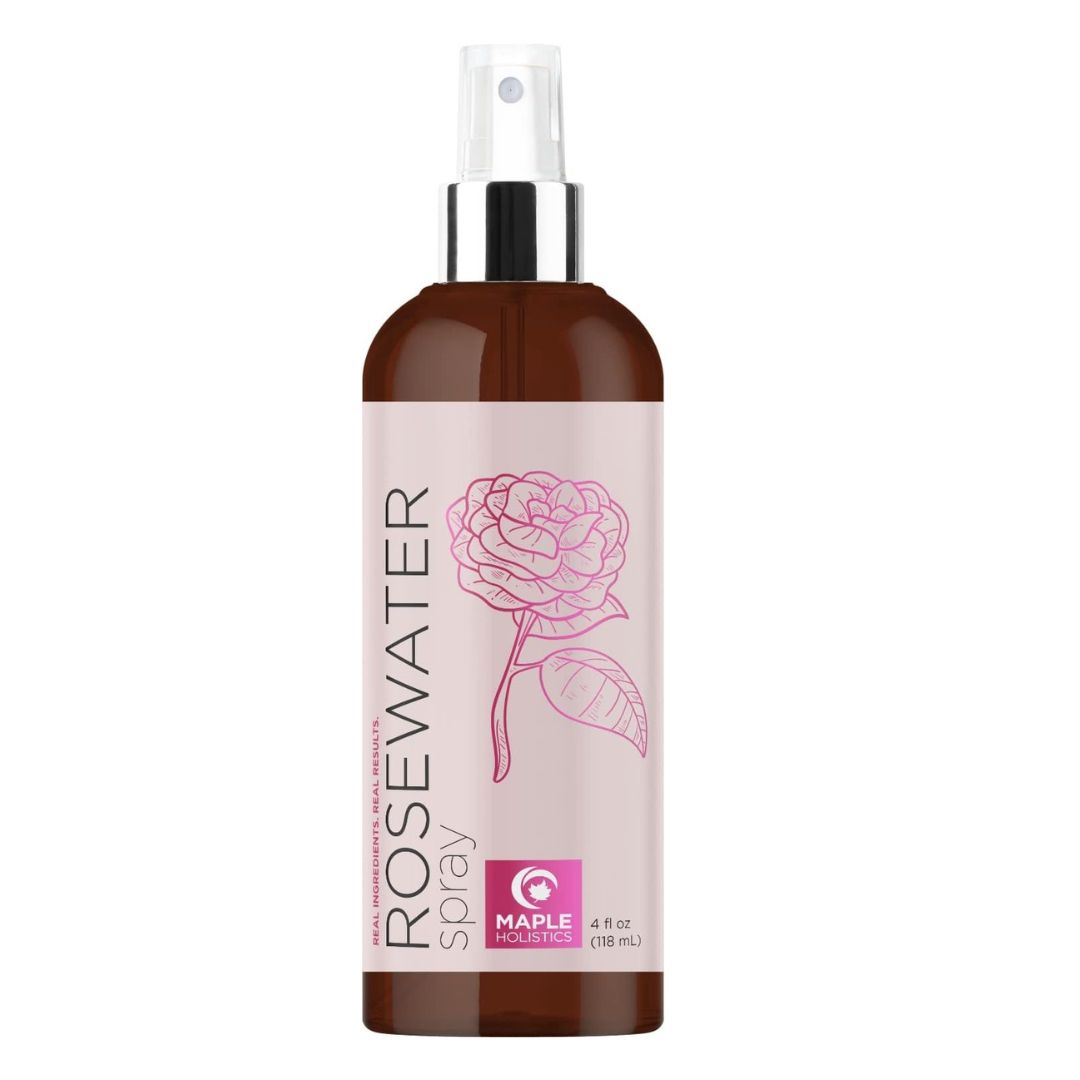 This face mist by Maple Holistics can be used to moisturize your face and hair, exfoliate, clean pores, and gently tone your complexion. The product is made with natural ingredients that provide instant results. The rose water spray is designed to provide greater clarity and radiant, hydrated skin. The product is free from alcohol, parabens, and dyes, making it suitable for all skin types.
Pros
Gentle on skin
Free from harsh chemicals
Alcohol-free toner
Natural formula
6
BEST MOISTURISING
Wet n Wild Take Your Vitamins Face Mist
The Wet n Wild Face Mist is a primer water that acts as the perfect prep for any skincare routine. It helps to hydrate, firm, and refresh the skin. The face mist is blended with skin-loving ingredients that include vitamins A, C, and E, as well as aloe vera and green tea extract. The ultra-fine, silky mist is gentle on the skin and can be used to prep the skin for flawless makeup application or to rejuvenate dull skin with a hydrating blend of skincare and an iridescent, dewy finish.
Pros
Affordable
Moisturising
Vitamin enriched
Nourishes
7
BEST DEWY FINISH
Ariul 7 Days Vitamin Mist
The Ariul 7 Days Vitamin Mist is a multi-functional mist that can be used as a facial toner, hydrating face mist, and makeup setting spray. It is hypoallergenic tested and suitable for all skin types. The mist is made of 100% natural ingredients, including Ariul's Apple Extract and Phyto-6 Complex, which is a blend of six natural ingredients. The product is designed to balance out moisture on bare skin and works as a daily face mist moisturizer for instant hydration, vitalization, and soothing sensation. The mist is rich in nutrients that calm undernourished skin and remove impurities.
Pros
Hydrating
Dewy finish
Suitable for all skin types
Natural face spray
Cons
May cause breakouts on sensitive skin
8
BEST INSTANT HYDRATION
Advanced Clinicals WAKE UP FACIAL MIST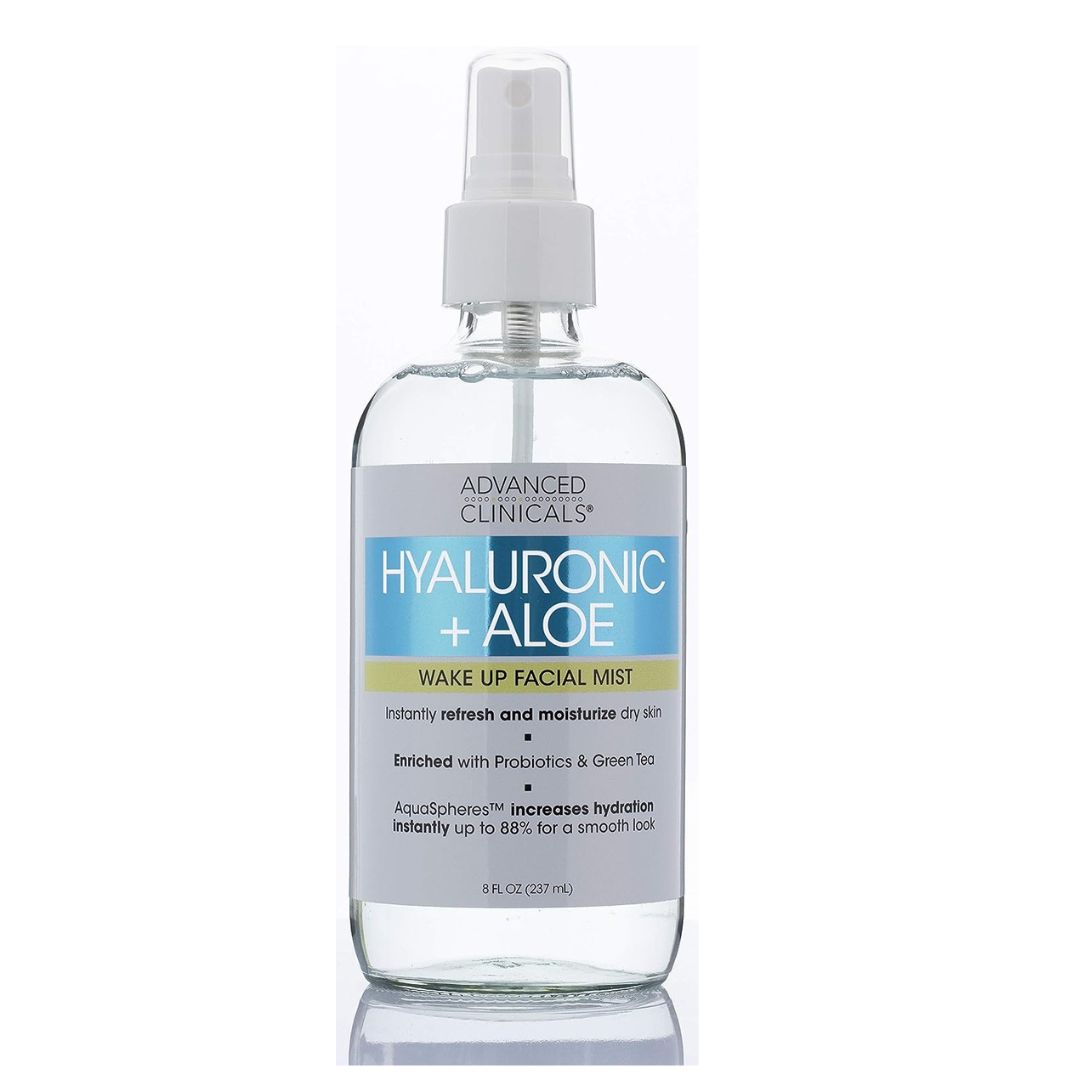 The Advanced Clinical Facial Mist is a lightweight spray that helps replenish radiance and allows your skin to retain healthy moisture. The product contains Hyaluronic Acid, which is essential to hydration, holding 1,000 times its weight in water. The body's Hyaluronic Acid production naturally decreases as you age, leaving skin dry with fine lines and rough spots. The facial mist also features Probiotics and Green Tea, which provide weightless moisture to the skin. The product is suitable for use anytime day or night to provide a moisturizing boost. To use, mist onto the face and neck with closed eyes as needed throughout the day for a refreshing and hydrating effect.
Pros
Non-Greasy
Instant hydration
Natural Extracts
Moisturizing
9
BEST VALUE FOR MONEY
CLEEN BEAUTY Coconut Water Face Mist
This Coconut Water Face Mist is a hydrating and refreshing face mist that is formulated with unique ingredients to nourish, tone, and moisturize the skin. The ultra-fine mist is infused with Coconut Water and Hibiscus Extract, which are known to nourish and tone the skin. Additionally, the mist contains Sodium Hyaluronate, which helps to boost the skin's hydration levels. The product is free from parabens and is suitable for all skin types.
Pros
Free from harsh chemicals
Hydrating
Affordable
Suits every skin type
10
Clean Beauty Deep Hydration Facial Mist
The Clean Beauty Deep Hydration Facial Mist provides refreshing hydration, soothes skin, and reduces fine lines and wrinkles. It contains rose, aloe vera, and hyaluronic acid. The aloe vera in the mist has anti-inflammatory properties that help to soothe and calm irritated skin. It can also help to reduce redness and irritation The mist is slightly heavier than water and moisturizes the skin. Additionally, it is also clinically tested and contains a prebiotic essence that floods the skin with good bacteria.
Pros
Smooth Fine Lines
Soothe Redness
Natural ingredients
Calms down redness
11
Best for Blemish Control
Truly Beauty Tansy Water Anti-Blemish Body Mist
This face mist for oily skin by Truly Beauty helps to tackle redness, inflammation, and body blemishes. It is formulated with a blend of blue tansy, blueberry, and salicylic acid that assists the body in fighting inflammation while promoting a nourished, brightened, and even complexion. The product is designed to fortify the skin barrier and limit the production of free radicals that can cause damage to the skin. It is a quick fix spritz for body acne.
Pros
Refreshing
Fights blemishes
Hydrating
Vegan
12
CLEAR BEAUTY FIRMING FACIAL MIST
The Clear Beauty Facial Mist is a hydrating and refreshing mist that provides nourishment and rejuvenation for the skin. It contains hyaluronic acid and collagen, which help to lock in moisture and improve skin elasticity. The mist visibly firms, hydrates, and provides an instant boost of radiance for devitalized skin. It is ideal for use before and after makeup application, as well as throughout the day to refresh and revitalize the skin.
Pros
Moisturizes
Calms Redness
For all skin types
Glowing Skin
How to Choose the Best Face Mist for Oily Skin?
Choosing the best face mist for oily skin can be straightforward when you follow these simple points:
Know Your Skin Type
Confirm that you have oily skin, characterized by excess sebum production, enlarged pores, and a tendency to become shiny.
Check Ingredients
Look for ingredients like witch hazel, salicylic acid, niacinamide, or tea tree oil, which are beneficial for oil control.
Non-comedogenic and Oil-Free
Ensure the face mist is labeled as non-comedogenic and oil-free to avoid clogging pores and worsening oiliness.
Additional Benefits
Consider if the mist offers extra advantages such as acne control, pore reduction, or soothing properties.
Mist Type
Choose a mist type (spray, aerosol, or pump) that you find convenient to use.
Read Reviews
Check online reviews and ask for recommendations from people with similar skin types for real-world feedback.
Budget-Friendly
Consider your budget and select a product within your price range.
Sample/Test
Try a sample or tester on a small area to ensure it doesn't cause irritation
How to Use Face Mist for Oily Skin?
Using a face mist for oily skin is a simple yet effective way to refresh and hydrate your skin while controlling excess oil throughout the day. Here's a detailed guide on how to use a face mist for oily skin:
Start with Clean Skin
Begin with a clean face. Use a gentle cleanser suitable for oily skin to remove any dirt, excess oil, and impurities. Pat your face dry with a clean towel.
Choose the Right Face Mist
Select a face mist specifically formulated for oily skin. Look for ingredients like witch hazel, salicylic acid, niacinamide, or tea tree oil, as these can help control excess oil.
Shake the Bottle
Before each use, give the face mist bottle a gentle shake. This ensures that the ingredients are well-mixed and evenly distributed.
Close Your Eyes and Mouth
Stand in front of a mirror and close your eyes and mouth to avoid getting the mist in your eyes or accidentally inhaling it.
Hold at the Right Distance
Hold the face mist bottle about 8-10 inches (20-25 centimeters) away from your face. This distance ensures even coverage without creating droplets on your skin.
Spray in a "T" Shape
Start by spraying the mist in a "T" shape. Begin at your forehead and move down to your chin. Then, spray across your cheeks from one side to the other.
Pat Gently
After spraying, use clean fingertips to gently pat the mist into your skin. This helps the product penetrate and absorb effectively.
Allow to Air Dry
Let the mist air dry on your skin. Avoid touching or rubbing your face to allow the mist to fully absorb.
You can use the face mist throughout the day whenever you feel the need to refresh your complexion or control oiliness. It's perfect for quick touch-ups.
Use as a Makeup Setting Spray (Optional)
If you wear makeup, you can use the face mist as a makeup setting spray. After applying your makeup, hold the mist a bit farther from your face and spritz lightly to set your makeup and keep it looking fresh.
1.Incorporate into Your Skincare Routine (Optional)
If desired, you can incorporate the face mist into your daily skincare routine. Use it after cleansing and before applying serums or moisturizers to add an extra layer of hydration and oil control.
2. Store Properly
Store your face mist in a cool, dry place, away from direct sunlight and heat, to maintain its effectiveness. Remember that the frequency of use can vary depending on your skin's needs. Some people may prefer to use it several times a day for oil control, while others may use it less frequently.
Benefits of Using Face Mist for Oily Skin
Using a face mist specifically designed for oily skin can offer a range of benefits. These mists are formulated with ingredients that address the unique challenges faced by individuals with excess sebum production. Here are the detailed benefits of using face mist for oily skin:
Oil Control
Face mists for oily skin often contain ingredients like witch hazel, salicylic acid, and tea tree oil, which have astringent properties. These ingredients help to regulate oil production by tightening the pores and reducing excess sebum, leading to a more matte and less shiny complexion.
Hydration without Greasiness
Oily skin still needs hydration, and face mists provide a lightweight and non-greasy way to deliver moisture to the skin. They contain humectants like glycerin or hyaluronic acid, which attract and retain water, ensuring your skin stays hydrated without feeling heavy.
Pore Minimization
Some face mists for oily skin include ingredients that help minimize the appearance of enlarged pores. This can create a smoother, more refined skin texture.
Refreshing and Revitalizing
A quick spritz of a face mist throughout the day can instantly refresh and revitalize your skin, providing relief from that feeling of oiliness and a more awake and vibrant complexion.
Setting Makeup
These mists can also be used as a setting spray. By locking in your makeup, they help it stay in place longer, preventing it from breaking down due to excess oil.
Anti-Acne Properties
Many face mists for oily skin contain anti-acne ingredients like salicylic acid, which can help prevent and treat breakouts, keeping your skin clearer.
Cooling and Soothing
Some mists contain ingredients like aloe vera or chamomile, which have soothing and calming properties. They can help reduce redness and irritation often associated with oily skin.
Convenience
Face mists are incredibly convenient. They can be used on the go, whether you're at work, at the gym, or traveling. They provide an instant pick-me-up for your skin without the need for a full skincare routine.
Multi-Purpose
Many face mists have multiple uses. They can be used as a toner after cleansing, a midday refresher, a makeup setting spray, or even as a quick hydrating step in your skincare routine.
Preventing Overdrying
Unlike some harsh products designed for oily skin that can strip away too much oil, a good face mist helps strike a balance. It controls excess oil while maintaining the skin's natural moisture barrier, preventing over-drying, and rebound oil production.
In conclusion, using a face mist for oily skin can help maintain a balanced, matte complexion while providing essential hydration and a range of other skincare benefits. It's a versatile and convenient addition to your skincare routine, helping you combat excess oil and keep your skin looking its best.
FAQ's
Should oily skin use a face mist?
Oily skin can use a face mist, but choose one formulated for oily or mattifying properties
Can you use a hydrating mist for oily skin?
It's best to use a hydrating mist designed for oily skin to maintain balance.
Is face mist better than toner?
Face mist and toner serve different purposes; choose based on your skincare needs.
What should you avoid in face mist?
Avoid face mists containing alcohol or harsh fragrances.
What are the disadvantages of face mist?
Disadvantages of face mist can include potential skin irritation and overuse leading to dryness.
Is it okay to use face mist every day?
It's generally safe to use a face mist daily if it suits your skin type.
Should I avoid face mists with alcohol if I have oily skin?
Yes, avoid face mists with alcohol if you have oily skin to prevent excessive drying.
How often should I use a face mist for oily skin?
Use a face mist for oily skin as needed, typically 2-3 times a day or as a refreshing touch-up.
Why Trust Pinkvilla
Sayantani Deb, the author is a mega beauty enthusiast. Tired of the daily struggles of oily skin, she set out on the search for the best products that can help her enhance her skincare routine. After meticulously going through several products, she has shortlisted the best facial mists for oily skin that promise smooth textured skin. Before recommendation, she has gone through each of the product's ingredient list, skin type, and customer reviews to bring you the best of all. Make these products a part of your daily skincare routine and let your oily skin reap the benefits of hydration and deep moisturization. 
Our product experts study the specifications of every product we suggest and try them out to bring what's proven to be worthy of your money, time, and energy. We also have subject matter experts from various fields like Fashion, Skincare, Haircare, Home Decor, and Health and fitness on board to make sure our suggestions are credible and trustworthy. You can trust Select to be your faithful shopping guide for all the right reasons!
Author BIO
Sayantani is a certified hair and makeup professional turned writer with 2+ years of experience in the same genre. Ap More
Source link