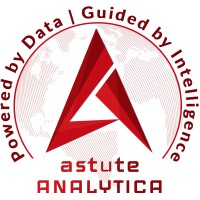 CHICAGO, UNITED STATES, September 12, 2023/EINPresswire.com/ — The United States Vitamin C Skincare Market generated sales of US$ 1,437.6 million. The market is expected to hit a market size of US$ 2,141.9 million by 2031, growing at a CAGR of 4.53% during the forecast period from 2023 to 2031.
𝐒𝐚𝐦𝐩𝐥𝐞 𝐨𝐟 𝐓𝐡𝐢𝐬 𝐒𝐭𝐫𝐚𝐭𝐞𝐠𝐢𝐜 𝐑𝐞𝐩𝐨𝐫𝐭@- https://www.astuteanalytica.com/request-sample/united-states-vitamin-c-skincare-market
In recent years, the U.S. vitamin C skincare market has seen a rapid transformation, solidifying its place as a crucial subset of the larger skincare business. Influencer marketing, celebrity endorsements, increased consumer knowledge of vitamin C's advantages, and technological developments in product composition are contributing to the market's expansion.
As per Astute Analytica, in 2022, nearly 73% of respondents to a countrywide study conducted were aware of the antioxidant properties of vitamin C. In-depth analysis of the data reveals that roughly 64% of respondents were also aware of vitamin C's crucial role in boosting collagen formation, which is crucial for preserving skin suppleness. As a result, increased consumer knowledge of vitamin C's inherent advantages is the main driver of the U.S. vitamin C skincare market.
According to a 2021 survey on consumer behavior, more than 55% of consumers over 50 bought at least one vitamin C skincare product, a 12% rise from the previous year. Additionally, the market is trending toward vitamin C solutions made from organic and sustainably produced ingredients, which reflects a larger industry shift toward clean beauty. In comparison to their conventional competitors, brands that emphasize eco-friendly packaging, cruelty-free testing, and transparent sourcing have recorded a 20% greater YoY growth.
In 2021, there was a 24% increase in content about vitamin C skincare routines on digital platforms, particularly Instagram and YouTube, indicating that the younger generation is becoming interested in this topic. These platforms, which are rife with endorsements, product evaluations, and tutorials, have been crucial in influencing end-user behaviors by directing them toward well-known companies and up-and-coming independent labels. Influencer marketing and celebrity endorsements. Thus, this fuels the market dynamics.
The market for vitamin C compounds derived from organic sources, mainly the Kakadu plum or the exotic camu camu fruit, is expanding. Their YoY growth rate is a strong 22%, which is remarkable. Additionally, businesses that prioritize R&D, emphasize cruelty-free operations, and support sustainable agricultural methods have seen a 15% increase in sales owing to the increased market acceptance. These figures reflect a deeper market revolution beauty coupled with accountability and are not merely statistical blips. Thus, the growing demand for natural and organic products will fuel market expansion.
L-ascorbic Acid Contributed About 43% of Market Revenue Share
In 2022, the L-ascorbic acid segment captured about 43% of the revenue share in the U.S. Vitamin C skincare market. A strong and well-liked version of vitamin C called L-ascorbic acid occupies the top position in the market hierarchy.
Topical use of this antioxidant, which occurs naturally in the skin, is essential for both collagen synthesis and free radical neutralization. The foundation of its strong market positioning is its precise efficacy, which is supported by research. L-ascorbic acid is expected to remain a staple in the years to come, with a predicted CAGR of 5.02%, further bolstered by developments that aim to increase its efficacy and lifespan.
Face and Eye Cream Attained a Revenue Share of 40%
In 2022, the face and eye cream accounted for about 40% of revenue share as a result of its antioxidant, brightening, and anti-aging qualities. Face and eye creams are currently the most direct means of obtaining these advantages because they are daily necessities.
The segment's highest expected CAGR of 5% reflects this trend. Vitamin C face & eye creams are positioned for even more significant market growth as consumers gravitate toward comprehensive skincare regimens.
The demand for face and eye creams containing vitamin C has also increased as a result of the increasing trend of layering skincare products. A powerful vitamin C cream is increasingly essential since customers follow complex skincare routines that include serums, toners, moisturizers, and sunscreens.
Vitamin C is Majorly Utilized for Skin Brightening
The skin brightening segment generated 39% of the revenue share in the US Vitamin C skincare market. Skin brightening highlights a common consumer desire: flawless, even-toned skin. Vitamin C is a sought-after component in the skin-brightening market due to its natural ability to prevent melanin synthesis and reduce hyperpigmentation.
The demand for solutions that promise lighter, more radiant skin is rising as the urban population is exposed to these skin aggressors more frequently. The statistics support this story. Vitamin C's use in skin-brightening cosmetics demonstrates how the industry has caught on to the wellness craze and how seamlessly health and beauty are intertwined.
𝐀𝐜𝐜𝐞𝐬𝐬 𝐭𝐨 𝐌𝐨𝐫𝐞 𝐅𝐮𝐥𝐥 𝐃𝐞𝐭𝐚𝐢𝐥𝐞𝐝 𝐑𝐞𝐩𝐨𝐫𝐭@- https://www.astuteanalytica.com/industry-report/united-states-vitamin-c-skincare-market
Competitive Scenario
A small number of well-established businesses and recent newcomers define the market. Companies have been diversifying their product lines by putting money into R&D, putting a focus on no-cruelty policies, and encouraging sustainable farming methods.
Some of the Prominent Players Include
• Loreal USA

• SkinCeuticals

• Sephora USA, Inc.

• Drunk Elephant

• Kiehl's

• Sugergoop

• La Roche-Posay

• Sunday Riley

• CeraVe

• Unilever Plc

• Mario Badescu

• Glow Recipe

• Ole Henriksen

• TruSkin Partners, Inc.

• Biossance Skincare

• Klur USA
Segmentation Outline
The United States Vitamin C skincare market segmentation focuses on Type, Product Type, Application, and Distribution Channel.
By Type

• L-Ascorbic Acid (Ascorbic Acid or Pure Acid)

o Ascorbyl Palmitate

o Sodium Ascorbyl Phosphate

o Magnesium Ascorbyl Phosphate

o Sodium Ascorbate

o Calcium Ascorbate

o Potassium Ascorbate

• Ethyl Ascorbic Acid

• Ascorbyl Glucoside

• Tetrahexyldecyl Ascorbate

• Others

By Product Type

• Serums & Essence

• Moisturizers

• Face and Eye Creams

• Face & Body Oils

• Cleansers

• Sheet Masks

• Skin Supplements

• Others

By Application

• Moisturization & Nourishment

• Anti-aging

• Skin Brightening

• Spot & Blemish Removal

• Skin Pores Cleansing

• Hyperpigmentation

• Others

By Distribution Channel

• Online

• Direct Selling

• Supermarkets

• Departmental & Beauty Stores

• Salons

• Drug Stores

• Others
𝐃𝐨𝐰𝐧𝐥𝐨𝐚𝐝 𝐑𝐞𝐪𝐮𝐞𝐬𝐭 𝐒𝐚𝐦𝐩𝐥𝐞 𝐂𝐨𝐩𝐲 𝐨𝐟 𝐒𝐭𝐫𝐚𝐭𝐞𝐠𝐢𝐜 𝐑𝐞𝐩𝐨𝐫𝐭@- https://www.astuteanalytica.com/request-sample/united-states-vitamin-c-skincare-market
𝐀𝐛𝐨𝐮𝐭 𝐀𝐬𝐭𝐮𝐭𝐞 𝐀𝐧𝐚𝐥𝐲𝐭𝐢𝐜𝐚:
Astute Analytica is a global analytics and advisory company that has built a solid reputation in a short period, thanks to the tangible outcomes we have delivered to our clients. We pride ourselves in generating unparalleled, in-depth, and uncannily accurate estimates and projections for our very demanding clients spread across different verticals. We have a long list of satisfied and repeat clients from a wide spectrum including technology, healthcare, chemicals, semiconductors, FMCG, and many more. These happy customers come to us from all across the globe.
They are able to make well-calibrated decisions and leverage highly lucrative opportunities while surmounting the fierce challenges all because we analyze for them the complex business environment, segment-wise existing and emerging possibilities, technology formations, growth estimates, and even the strategic choices available. In short, a complete package. All this is possible because we have a highly qualified, competent, and experienced team of professionals comprising business analysts, economists, consultants, and technology experts. In our list of priorities, you-our patron-come at the top. You can be sure of the best cost-effective, value-added package from us, should you decide to engage with us.

Aamir Beg
Astute Analytica
+1 888-429-6757
email us here
Visit us on social media:
Twitter
LinkedIn