[ad_1]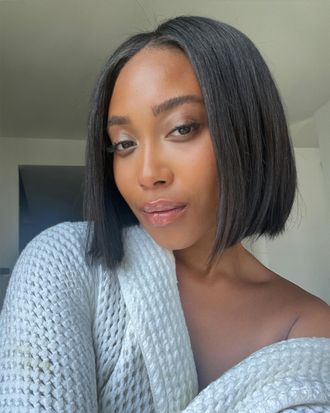 Content creator Morgan Brown's Instagram presence feels like a cozy, soothing corner filled with Black-girl joy and self-care. She invites you in with posts about everything from cupping and acupuncture to skin-care faves and even vulnerable posts about grief and healing. Other times, Brown can be found writing articles about keeping her mind and skin healthy for platforms like Byrdie or collaborating with brands such as Moncler Parfums. 
Brown has been in social-content creation since 2013, starting with her YouTube channel. "I was doing it for fun and as an outlet for my passion of videography, storytelling, and beauty," she says. It wasn't until she arrived at Wharton at UPenn, that she realized this could become a scalable business. After graduating in 2017, she moved to New York, and shortly thereafter her father passed away, spearheading her pursuit of self-care. "That's when I really dove into skin care and my overall health and wellness," she says. "Sharing my story with my audience really helped me cultivate an authentic community online," giving her the support to continue content creating and to develop her own skin-care brand, which will potentially launch in the next year.
In between working on her upcoming brand and creating content that inspires us all to make wellness a priority in our lives, Brown loves nightly baths and LED-light therapy. "The loss I experienced showed me self-care is survival," she says. "There are healing powers in our routines. In order for me to move through my grief, I've learned that self-care is like surrendering yourself to a process and creating space for more joy."
7:00 a.m.: I always check my Google Nest for my sleeping patterns. I do not play about the quality of my sleep, so this device is so helpful. It suggests a bedtime and an ideal time to wake up. It tracks your REM sleep, etc. I've been using it for a couple of months and my sleep has improved.
7:05 a.m.: Then I get out of bed and go make a cup of coffee. I'm an avid coffee drinker, and I do feel like if I don't have coffee, then I probably won't have a good day. So I'll do that then turn on the news. I think it's important to check in on what's going on in the world. It changes how we interact in the world and makes us more conscious.
7:15 a.m.: I start my skin-care routine by using a super-gentle cleanser from the Outset. I feel like that works better with my skin in the summertime.
7:17 a.m.: My toner is really great too. It's a conditioning tonic by Retrouve. It's super-hydrating and rebalances my skin after cleansing.
7:18 a.m.: Then I go in with my serum. I've been using a vitamin C serum by Naturium, and it also has hyaluronic acid and vitamin E. It feels really suitable for my sensitive skin.
7:20 a.m.: For moisturizer, I use Uruoi's Deep Moisture Gel. It relieves dryness, it's gentle, and it gives lasting hydration.
7:21 a.m.: And then my SPF is Shiseido. It's for the face and body. It's sheer; it layers really well with your other products.
9 p.m.: My nighttime skin care is essentially the same, but I might do an extra treatment. I really love LED-light therapy. I use the LED Light Shield mask. I also have one of those SolaWaves, which is handheld. These treatments really help with my inflammation. Other times, I'll do a mask at night. One of my favorite masks right now is this clay mask by the Outset.
9:30 p.m.: I love taking a bath at night. I like making a bath cocktail that includes some apple-cider vinegar, lemon slices, essential oil, a little lavender, and some Epsom salt.
My confidence started with my mom. I've come to know beauty through her and the healing powers that it gives us. My earliest memories are watching my mom get ready at her vanity. I always remember she had Elizabeth Arden cream. She would massage that into her skin. It was her "me time." She was gentle and careful — her pace was never rushed. And then I always remember her looking in the mirror after she was done with her routine — beauty, makeup, hair — and she was always smiling, which meant she felt good. Even now I see myself mirroring those same movements and mannerisms in my own routines, feeling just as confident, smiling, just the way she did.
I love that we're seeing the beauty industry become much more inclusive. But I would love to see more inclusive brands in the clean-beauty space. I think there's a growing demand for it, specifically for Black consumers. I would also love to see more Black-owned brands entering the beauty space.
I stay away from really strong acids, like AHAs and BHAs. I really don't believe in stripping the skin. I believe in replenishing. Those acids are too abrasive for my skin type. The skin is its own organ and regenerates on its own. So if you give it time to do that, you won't need certain treatments.
I would say SPF for sure. I love that people are starting to use it more and more daily on their faces, but I feel like we need to have the same approach for the body and applying the appropriate amount before you go out in the sun.
I love acupuncture. It's a game-changer for my body and emotional state. I do it twice a month at Wthn. I also love juicing. I've been an avid juicer for the last three years and I make one every day. I go to the farmers' market and pick my own vegetables and fruit, and I will make cucumber, green, apple, spinach, kale, lemon, and celery. I also am a lover of movement. It doesn't have to be anything crazy; it could even be a 30-minute walk.
It definitely has to be my skin care. There's nothing like someone complimenting your skin and telling you you're glowing! I almost prefer that over someone complimenting my outfit.


[ad_2]
Source link