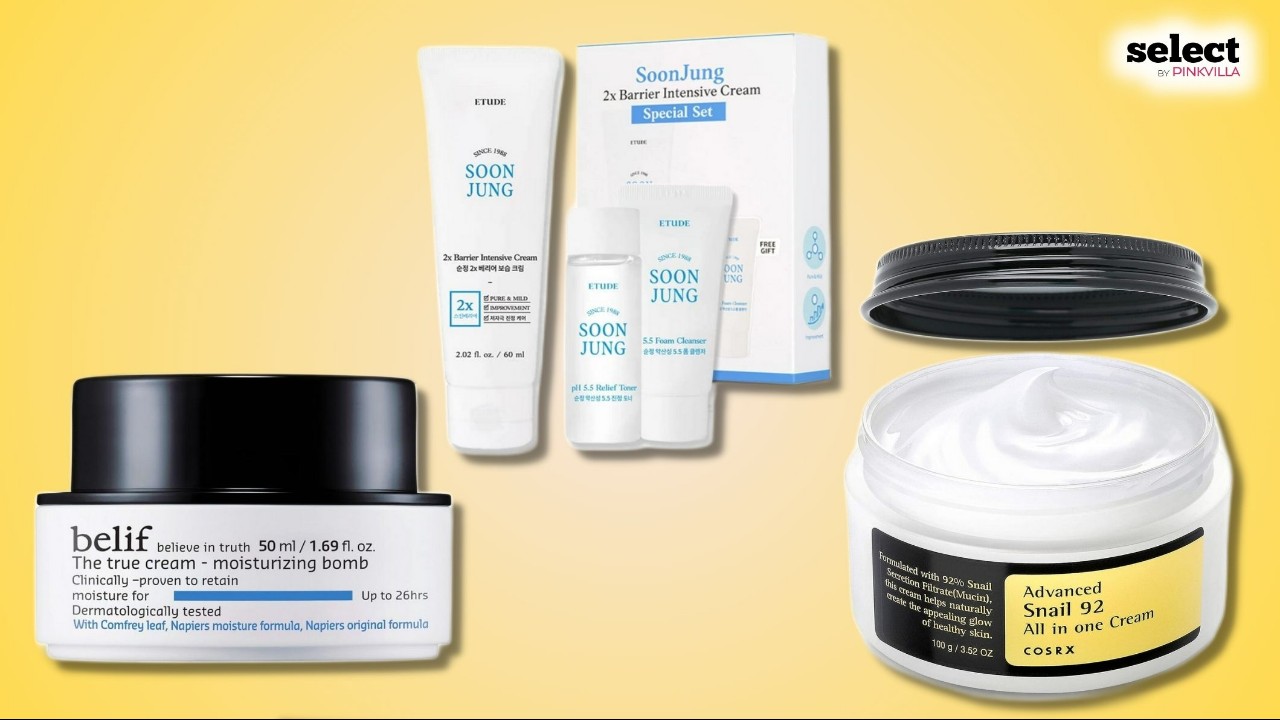 The products curated for this article are independently chosen by the
editorial team. If you make a purchase through the links mentioned below, we may receive a commission. Check out our product
research & curation process
The best Korean moisturizers for acne-prone skin all together have a distinctive fan following. The secret ingredients, potent formulation, and buttery-smooth texture make them a sheer winner when it comes to skincare products. Secondly, K-beauty moisturizers are hypoallergenic, non-comedogenic, and completely free from harsh chemicals and toxins. In addition, they do not contain parabens, sulfates, phthalates and artificial fragrances. What makes them so special and a clear must-have is their skin-soothing and healing abilities. They not only prevent breakouts, acne, blemishes, etc. but also rejuvenate your skin to let you unveil a youthful complexion. 
Koreans are loved for their smooth, clean, and clear glass-like skin. And if you too wish to attain the same and experience the K-beauty fad, take a look at our fanciful list of the best Korean moisturizers for acne-prone skin that you should think of investing in. Come on, jump on the bandwagon and flow along the Hallyu wave!
Our top picks
Most Soothing Moisturizer
13 Best Korean Moisturizers for Acne-prone Skin's Nourishment
Our very first recommendation is this Advanced Snail 92 All-in-one cream from the renowned Korean beauty brand COSRX. This moisturizer is enriched with the goodness of skin-friendly ingredients like snail mucin, hyaluronic acid, and betaine that leave your skin feeling healthy, plump, supple, and utterly hydrated. Moreover, this cream is suitable for those who are dealing with damaged, irritated, rosacea, and acne-prone skin. What we loved the most was its soothing gel-like texture that glides like butter onto your skin.
Pros
Hypoallergenic
Lightweight
Dermatologically-tested
Paraben-free
Sulfate-free
Cons
Might not suit very sensitive skin
2
Best for Everyday Use
Seoul Ceuticals Multi-function All-in-one Anti-aging Snail Repair Cream
The next on our list is Seoul Ceuticals's repair cream that is formulated with naturally derived ingredients like shea butter, aloe vera, jojoba oil, snail mucin filtrate, and vitamin E. What left us in awe is the fact that it has garnered more than 19 thousand ratings on Amazon for its non-comedogenic formula that takes you a step closer to achieving youthful skin. So, add this repair cream to your cart and stop your hunt for the best moisturizer for dry acne-prone skin for once and all.
Pros
Lightweight
Cruelty-free
Doesn't clog pores
Budget-friendly
3
Best Fragrance-free
Mizon Multi-function Formula All-in-one Snail Repair Cream
While researching for the best Korean moisturizer for acne-prone skin, we came across this repair cream from Mizon. It replenishes your dry, damaged, and acne-prone skin with its potent ingredients, such as snail mucin filtrate, centella asiatica, AHA, mugwort, and raspberry extracts. Furthermore, it is one of the Korean skincare products for acne that soothes irritated skin and promotes cell regeneration. In addition, it lays a protective blanket, balances sebum production, and diminishes wrinkles and blemishes.
Pros
Fragrance-free
Lightweight texture
Quick absorbent
Safe for sensitive skin
4
Most Cost-effective
Etude SoonJung 2x Barrier Intensive Cream Set
Etude's SoonJung 2x Barrier Intensive cream set is one of the most impeccable Korean skin care products for acne. It contains an intensive cream that aids in moisturizing your skin from within. Additionally, it rejuvenates your skin and leaves it smooth, soft, and plump. What makes it worth grabbing is the fact that it comes with 2 more K-beauty skincare essentials namely pH 5.5 relief toner and foam cleanser for utmost skin revitalization. Believe us, with this set, you need nothing else to soothe your acne-prone skin.
Pros
Cost-effective
Fragrance-free
Hypoallergenic
Sensitive skin-friendly
5
Best for All Skin Types
COSRX Oil-free Ultra-moisturizing Lotion
This alluring oil-free and ultra-moisturizing lotion from COSRX is highly loved for its long-lasting hydrating powers. It seamlessly quenches the thirst of your dehydrated skin and recharges it with much-needed antioxidants, nutrients, and vitamins. Furthermore, it is infused with natural willow bark water that aims to leave your acne-prone skin soft and smooth. What makes it one of the best Korean products for acne is its lightweight and non-greasy texture and quick-penetrating ability.
Pros
Best for all skin types
Paraben-free
Dermatologically-tested
Treats irritated skin
Hypoallergenic
Sulfate-free
6
Best Vegan
IUNIK Centella Calming Gel Cream
Based on our team's research, this vegan calming gel cream introduced by Iunik is entitled as the most effective moisturizer for acne skin for three reasons. First, it is power-packed with hydrating and skin-soothing botanical ingredients like Cica leaf water, tea tree extracts, and potent sprout extracts. Additionally, it contains niacinamide and adenosine that help in keeping your skin moisturized from AM to PM. Secondly, it is an ideal moisturizer that also works well on aging, irritated, and tired skin. Topping it all off, its flawless gel-like texture melts like butter!
Pros
Paraben-free
Fragrance-free
Cruelty-free
Inexpensive
Cons
Might not suit extremely sensitive skin
7
Best Lightweight
Belif The True Cream – Moisturizing Bomb
We glanced through the features of this moisturizing bomb introduced by the Korean brand Belif and were surprised to see that it has managed to earn more than 2 thousand ratings on Amazon. To start with, its soothing and 26-hour moisturizing ability will win you over. Next, it is enriched with a unique blend of skin-friendly herbs, oat extracts, comfrey leaf, and panthenol that moisturize, heal irritated and dry skin, and improve its overall quality. What makes this acne-safe moisturizer a sheer winner is its non-greasy texture and refreshing fragrance!
Pros
Ideal for everyday use
Lightweight
Suitable for melasma and mature skin
Strengthens skin barrier
8
Best Inexpensive
Purito Deep Sea Pure Water Cream
While patrolling the internet for the most effective moisturizer for dry acne-prone skin, we bumped into Purito's Deep Sea Pure Water cream. It is loaded with active ingredients like glycerin, capric triglyceride, panthenol, vitamin B3, niacinamide, and sodium hyaluronate. What we really like about this cream is its gel-like texture that feels light on the skin. Plus, this skincare essential prevents moisture loss, diminishes dullness, and strengthens the skin barrier to help you attain glowing and healthy skin.
Pros
Inexpensive
Vegan
Cruelty-free
Non-sticky
9
Most Soothing Moisturizer
JUMISO Have A Good Cream
Our findings show that Jumiso's soothing and calming moisturizer is a phenomenal product that suits all skin types. It is made from Centella and snail secretion extracts to revive your skin's health and texture. Moreover, the texture of the cream is super light in weight and non-sticky. It also improves your skin elasticity and prevents future dryness. Hence, while looking at the best Korean skincare products for acne, make sure you add this cream to your cart without any second thoughts.
Pros
Helps to fade hyperpigmentation
Pocket-friendly
Suitable for aging skin
Soothes irritation
Cons
Might not suit sensitive skin
10
Best Mild Formulation
SOME BY MI AHA BHA PHA 30 Days Miracle Cream
This AHA BHA PHA 30 Days Miracle cream from Some By Mi is an acne-friendly moisturizer that calms down skin irritation and acne-affected areas like magic. It is enriched with niacinamide, tea tree leaf oil, and high concentrations of pennywort extracts to promote the overall health of your skin. Additionally, it strengthens your skin barrier and nourishes dry, damaged, and dehydrated skin. So for all those who wish to take good care of their acne-prone skin, this is definitely a must-have Korean acne cream.
Pros
Dermatologically-tested
Best mild formulation
Safe for sensitive skin
Affordable
11
I DEW CARE Chill Kitten 24 hr Moisturizing Cactus Oil-free Cream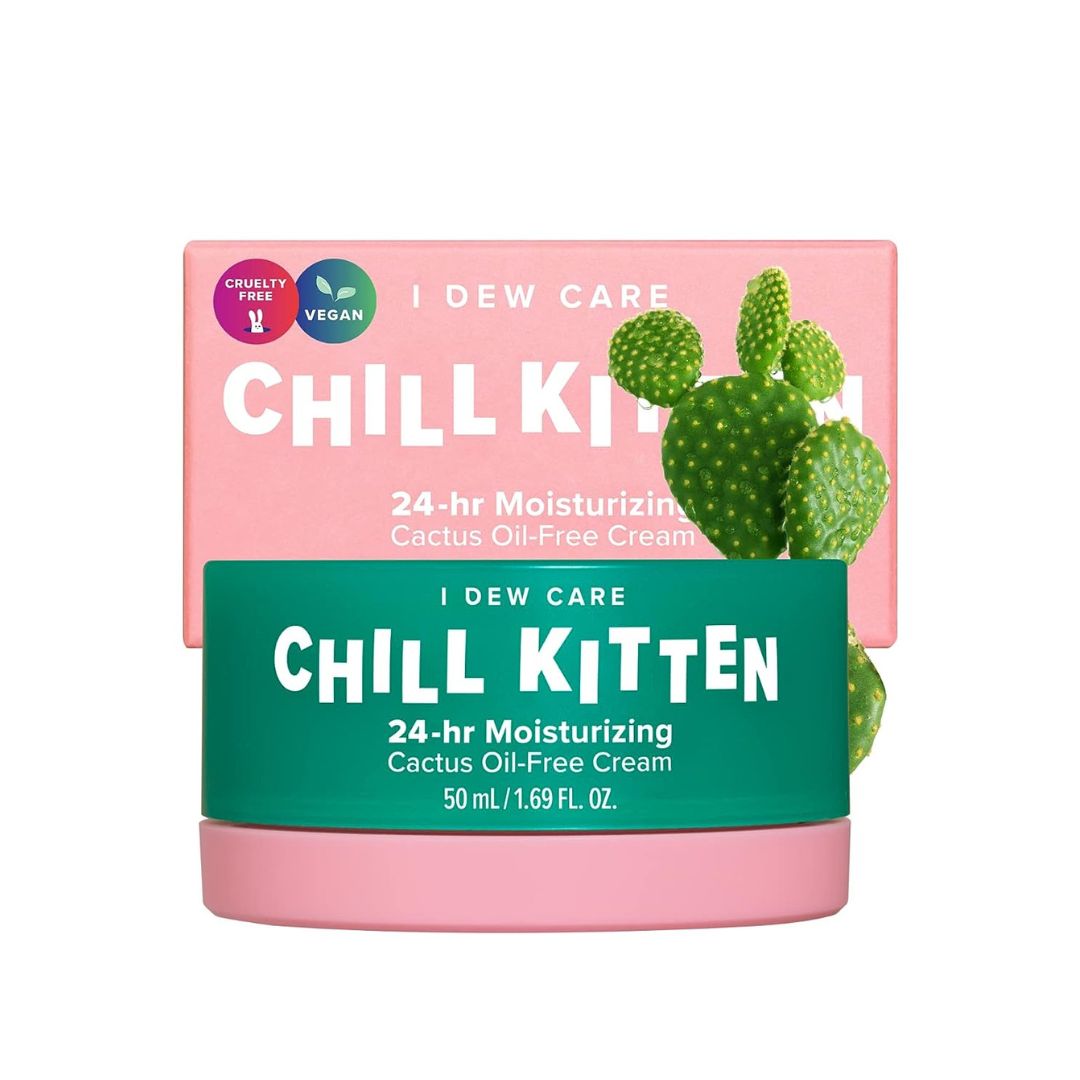 With prickly pear, aloe vera, and heartleaf extracts, I Dew Care's 24-hour moisturizing cream ticks off all boxes when it comes to taking care of acne-prone skin care. What left us in awe was its sulfate-free and lightweight gel-like formula that lends your skin an instant cooling effect. In addition, what makes it the best Korean product for acne is its ability to clarify, calm, and soothe irritated skin. Not just that, this moisturizer also paves the way for attaining a youthful complexion.
Pros
Free from parabens
Cruelty-free
Clinically tested results
Vegan
12
Peach Slices Acne Oil-Free Moisturizer
Here comes our next oil-free moisturizer from the K-beauty brand named Peach Slices. What made us recommend this skincare product to you is its flawless pore-minimizing ability that lends you clean, non-greasy, and smooth-looking skin. Secondly, this cream is infused with hyaluronic and salicylic acid that provide deep hydration. The best part — this Korean moisturizer for acne suits all skin types, aids in preventing breakouts, and reduces blackheads and inflammation.
Pros
Gentle formula
Matte finish
Reasonable
Sensitive skin-friendly
13
Dr. Belmeur Facial Moisturizer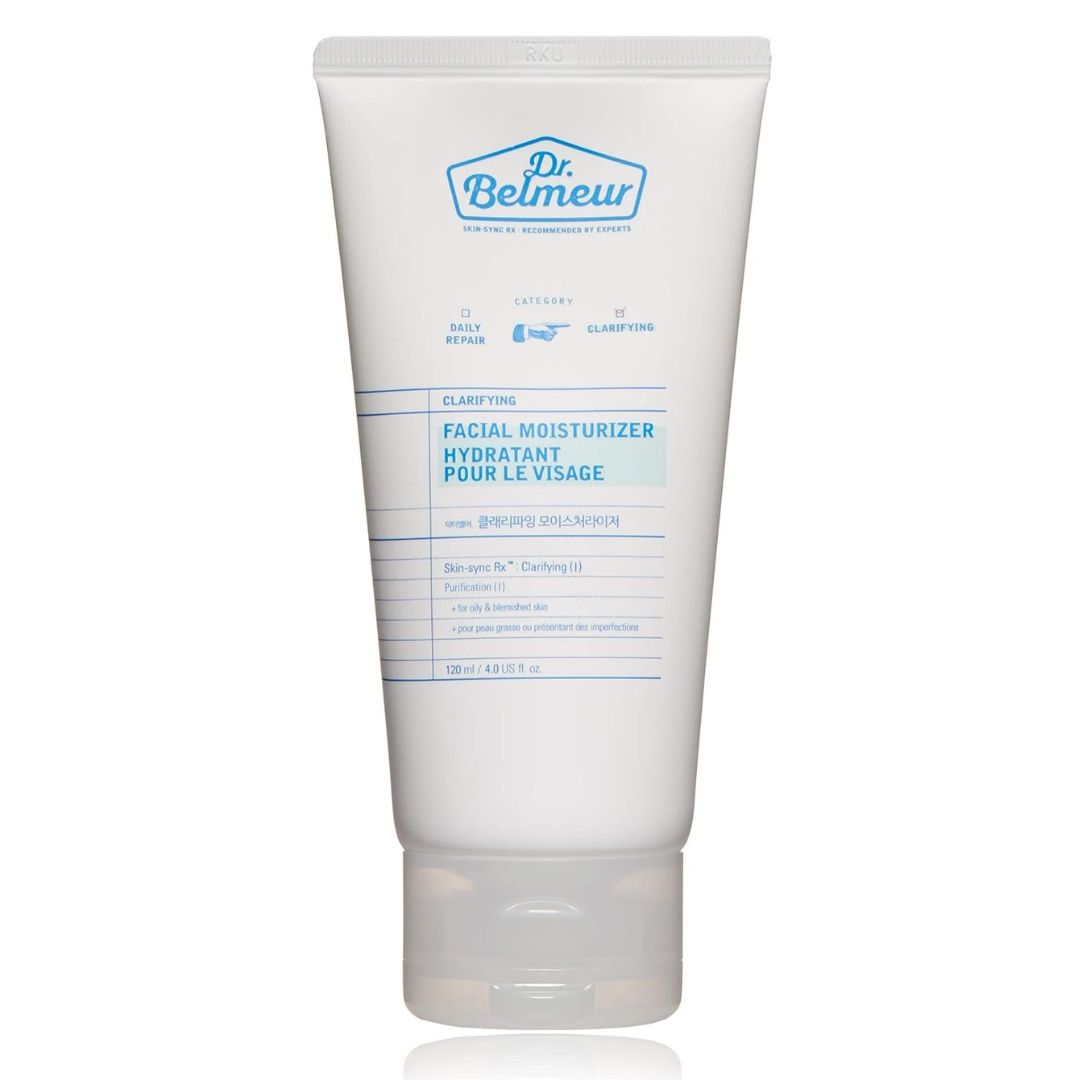 Lastly, we recommend Dr. Belmeur's fail-proof facial moisturizer that features a plant-based and low-irritant formula to suit your acne-prone skin. While researching for the best K-beauty products for acne, we came across this one and loved it instantly. What got our attention was its fabulous sebum-controlling and moisture-balancing abilities. Additionally, its dermatologically-tested and custom-made formula made it a sheer winner. The most impressive part — it is mild and gentle and hence, suitable for everyday use.
Pros
Suitable for blemished skin
Advanced formula
Great quantity
Ideal for teens and adults
That was our comprehensive list of the best acne-safe moisturizers. Now, let us run you through our detailed buying guide.
How to Choose the Best Korean Moisturizers for Acne-prone Skin?
Here are a few aspects that you should consider before splurging on the best face moisturizer for acne-prone skin – 
Skin Type: Make sure that you analyze your skin type before snagging the best non-comedogenic Korean moisturizer. For those possessing very sensitive skin, invest in a moisturizer that is gentle and mild. Likewise, for anyone with extremely oily and acne-prone skin, it is advisable to get your hands on an oil-free and mattifying moisturizer. 
Ingredients: The next important aspect is the list of ingredients. Ensure that you invest in the best moisturizer for acne that is enriched with potent ingredients, such as tea tree extracts, snail mucin filtrate, sprout extracts, niacinamide, hyaluronic acid, salicylic acid, etc. Do not buy moisturizers that are infused with sulfates, phthalates, gluten, parabens, and other such harsh ingredients. 
Formula: Always pay heed to the formula of the moisturizer you plan to purchase. It is advisable to buy a moisturizer that possesses a lightweight, easy-to-blend, non-sticky, non-greasy, hypoallergenic, and non-comedogenic formula. 
Texture: Analyze the texture of the moisturizer that you are investing in. There are three main types of moisturizers that differ on the basis of their texture — lotions, creams, and gels. For those who are looking for a lightweight, soothing moisturizer, it is wise to invest in a gel-based moisturizer as it easily penetrates into the skin layers. Creams generally have a thicker consistency, so for anyone who possesses dry acne-prone skin, a cream-based moisturizer will be an ideal pick.  
After taking note of the above-mentioned aspects, allow us to help you with the proper steps for using a korean moisturizer for acne-prone skin.
How to Use Korean Moisturizers for Acne-prone Skin?
The following are the steps for using the best moisturizer for acne-prone skin – 
Step 1: Cleanse your face with a face wash or a good quality cleanser. Damp your face with a microfiber towel.
Step 2: Apply your toner and serums, if any.  
Step 3: Wait for a minute to let your toner or serum sink into the skin.
Step 4: Pour a coin-sized amount of moisturizer on your palms and apply it on your face and neck. 
Step 5: Gently massage your skin for better and quicker penetration.
Tada, you are done! 
That was all about the best Korean moisturizers for acne-prone skin that you should think of snagging right away. These moisturizers will not only help you in taking good care of your acne-prone skin but also prevent future breakouts. Additionally, they will act as a protective barrier and reduce moisture loss and inflammation. To note more, their potent ingredients and high-grade formulation will take you a step closer to the Korean glass-like skin of your dreams. So, without any ado, incorporate the best K-beauty moisturizer into your skincare regime. Happy shopping!
FAQ's
Which Korean moisturizer is the best for acne-prone skin?
COSRX Advanced Snail 92 All-in-one cream is the best for acne-prone skin.
Should I moisturize at night?
Yes, you should moisturize your skin at night to keep it hydrated and well-nourished.
Which is the best non-greasy Korean moisturizer for acne-prone skin?
Belif The True Cream – Moisturizing Bomb is the best non-greasy Korean moisturizer for acne-prone skin.
What is the best Korean moisturizer for acne-prone skin during winter?
IUNIK Centella Calming Gel cream is the best Korean moisturizer for acne-prone skin to use during winter because it is enriched with potent ultra-hydrating ingredients.
Should I opt for a gel or cream-based moisturizer for acne-prone skin?
You may opt for a gel-based moisturizer for acne-prone skin as it tends to be lighter on the skin and soothing.
Can a moisturizer with SPF be used for acne-prone skin?
Yes, to protect your skin from the harmful rays of the sun, you should use a moisturizer with SPF.
Can a Korean moisturizer completely treat acne-prone skin?
No, Korean moisturizer will help in soothing your skin and preventing breakouts, however, it won't help in treating your acne-prone skin completely.
Why Trust Pinkvilla
Our certified skincare coach, Anoushka, is a K-beauty fan! She loves everything Korean, especially when it comes to attaining lustrous glass-like skin. Recently, she carried out meticulous research and enlisted the best of the best Korean moisturizers for acne-prone skin. Her personal choice is COSRX Advanced Snail 92 All-in-one Cream that soothes dry, damaged, and irritated skin like magic. If you too want to indulge deeper into the Korean skincare secrets, then pick one or two from her list of recommendations right away. 
Our product experts study the specifications of every product we suggest and try them out to bring what's proven to be worthy of your money, time, and energy. We also have subject matter experts from various fields like Fashion, Skincare, Haircare, Home Decor, and Health & Fitness onboard to make sure our suggestions are credible and trustworthy. You can trust select to be your faithful shopping guide for all the right reasons!
Author BIO

Anoushka is certified in Professional Skincare and is a Mass Media (Journalism) graduate from Mumbai University. As a More
Source link