[ad_1]
But co-founder and CEO Arthur Lam realised the company's expertise in quantifying energy-saving activities could be put to use on a broader scale.
"Buildings don't emit carbon emissions," he said. "It's the people who utilise the buildings. At the end of the day, we need to disrupt the people inside the buildings to be more sustainable, not the equipment."
To meet the government's goal of net zero carbon emissions by 2050, as laid out in former Chief Executive Carrie Lam Cheng Yuet-ngor's 2020 policy address, reducing emissions from the city's concrete jungle through actions such as optimising office air-conditioning systems, will not be enough.
Negawatt's Zero2 mobile application, which had its soft launch at the end of July, awards users points for carbon-saving activities including recycling plastic containers and uploading their energy bills for comparison to a benchmark.
These points can then be spent on products provided by more than 500 merchants, including restaurant chain operator Tsui Wah, headphone maker Urbanears and beauty and health product provider Choi Fung Hong.
The app amassed more than 16,000 users in the first two weeks of its launch, with its first 10,000 users being inhabitants of public housing estates thanks to a partnership with the Hong Kong Housing Society, which will be setting up recycling booths at certain estates through December as a way for residents to earn points in the app.
Negawatt, which aims to sign up 300,000 users by the end of 2023, receives a percentage of sales made through the platform, which Lam said offers more than HK$100 million in discounted products.
The Zero2 app has helped eliminate 260 tonnes of carbon emissions through August 30, equivalent to planting 10,811 trees, according to Lam.
In February, Negawatt signed a memorandum of understanding with Catalyst, a startup technology accelerator in the Abu Dhabi smart city of Masdar, to bring its sustainability reward platform and building optimisation solution to the district.
I2Cool: Cooling inspired by ants
Hong Kong start-up I2Cool, founded in 2021 by PhD students and research staff from City University, has patented a paint – inspired by ant skin – that helps cool the outside surfaces of buildings to reduce the need for air-conditioning.
First tried on subdivided flats in Sham Shui Po, the paint is now a commercial product that is helping to reduce emissions in cities in the GBA and Southeast Asia, as well as in Dubai.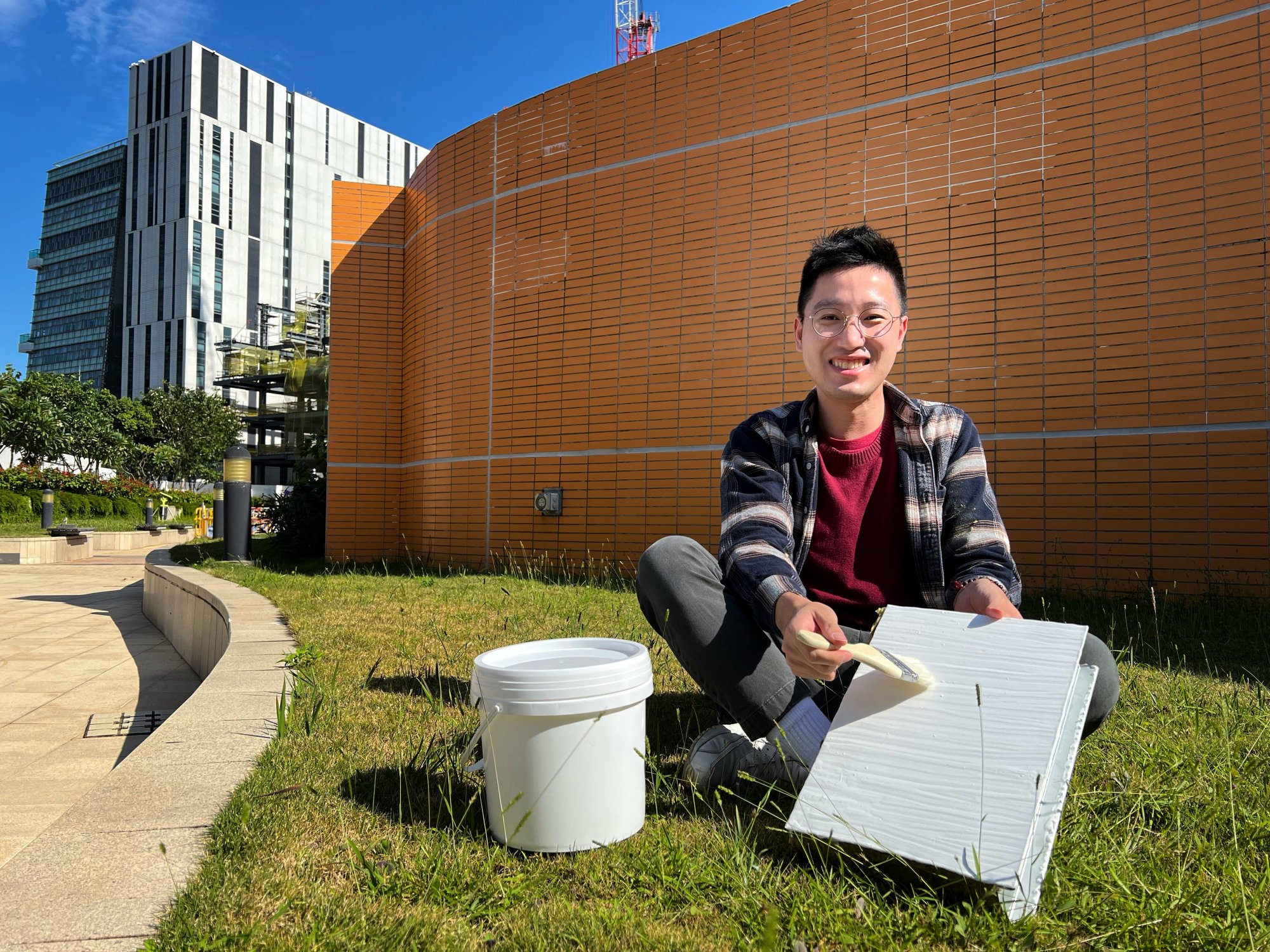 "Our research originated from a lab, but with industrial resources from the GBA, we have turned our technology into a product which can be supplied to other places," said co-founder Martin Zhu Yihao, who is also a member of the green technology and finance development committee set up in June by the financial secretary.
The paint, which is patented in Hong Kong, mainland China and other countries, was inspired by the self-cooling skin of Saharan silver ants. It reflects more than 95 per cent of solar radiation and emits heat energy as infrared radiation.
A square metre of the paint, costing about HK$100 to produce, can save at least 100kg of carbon-dioxide emissions per year, the company said.
In Hong Kong, about 150,000 sq ft of iPaint have been deployed on properties owned by major developers as well as public hospitals. It has contributed to around 251,800 kilowatt hours (kWh) of energy savings and around 226,660kg of carbon emissions reductions in the city as of the end of August.
Globally, 423,500 sq ft of the paint has saved around 711,650 kWh and 639,980kg of carbon emissions. The paint adorns shipping containers and factories in Southeast Asia, as well as a shopping centre in Dubai.
The company rented factory space in Guangzhou last September, with annual production capacity for enough paint to cover 8 million square metres, said Zhu.
I2Cool is also applying the cooling properties of its proprietary technology to fabrics. It has recently launched umbrellas and is working with mainland factories to produce apparel.
The company is also developing a new paint that can change colour according to the temperature: lighter during summer to reflect sunlight for cooling and darker during winter to absorb heat.
Zhu said Hong Kong's ability to support innovation has improved. "We now have a good ecosystem to implement our university research, relying on the industrial resources from the GBA to help us scale, providing lots of opportunities for knowledge transfer."
Link Spider: From spider silk to leather
Spider silk has long intrigued engineers and scientists for its combination of strength, elasticity and low weight. Now a Shenzhen-based start-up called Link Spider Technology is using protein from spider silk to make bio-fabricated leather for your next outfit or sofa.
Founded in 2019 by serial entrepreneur Suzan Liang and Wang Boxiang, a former scientist at Chinese genetics company BGI Genomics, Link Spider claims to be the world's first company producing spider silk-based leather at scale.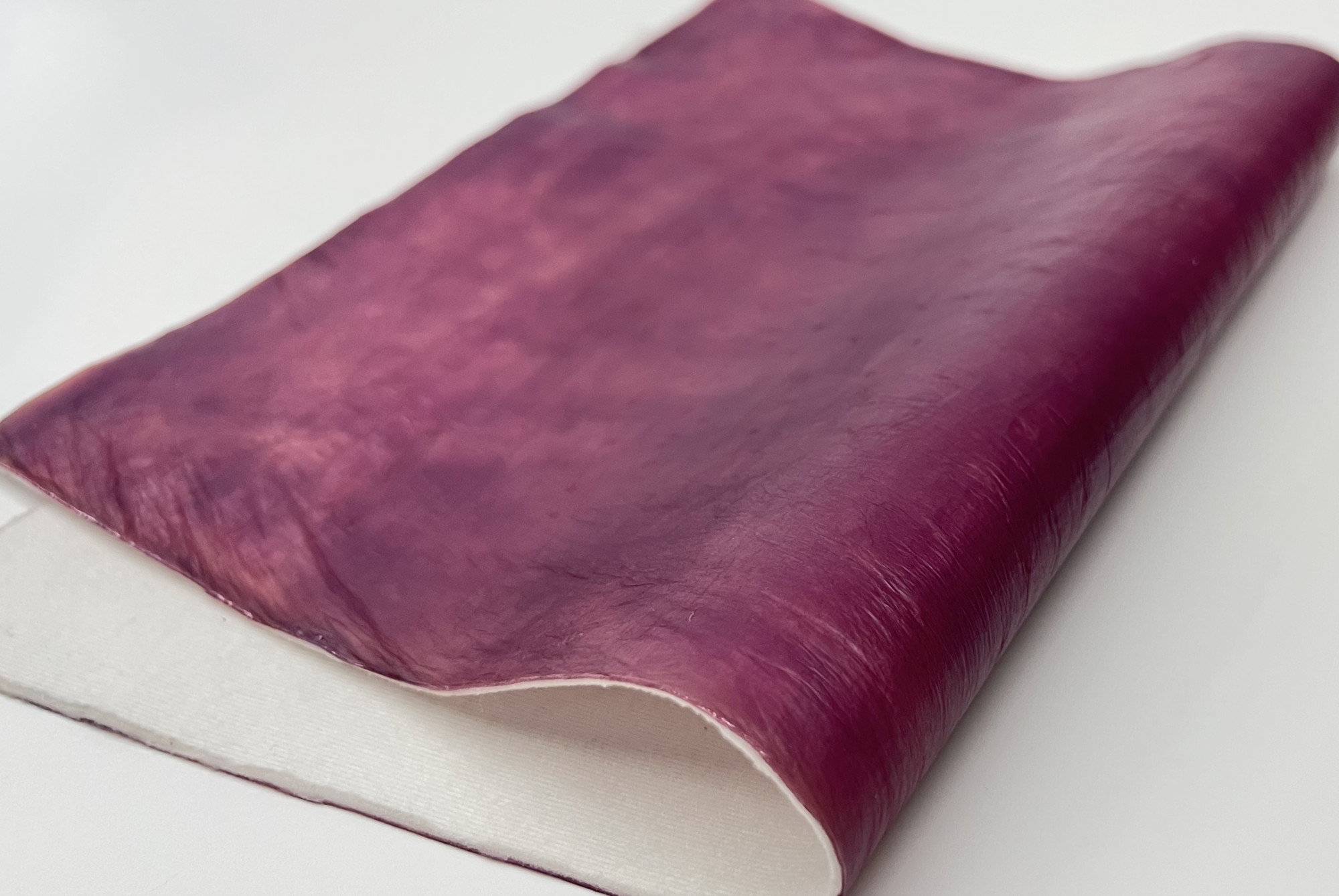 If you are picturing a room where workers harvest silk from thousands of enslaved spiders, never fear. The company produces its protein in bulk from a sample extracted from the silk of a single golden orb weaving spider captured at Tanglang Mountain in Shenzhen.
The company's leather alternative is elastic, skin-friendly, waterproof and fully biodegradable if buried in soil for 30 to 60 days, according to Wang. Since 2021, Link Spider has provided the leather to local electronics and home decor companies in Shenzhen to use in products including phone cases and furniture.
The environmental impact is far lower than traditional leather, because raising animals requires huge amounts of feed, water, pastureland and fossil fuels. Plus, the leather industry uses a variety of chemicals that can contaminate water sources. According to a report by the United Nations Industrial Development Organisation, a square metre of cow leather generates around 110kg of carbon dioxide equivalent, 93kg of which comes from raising the cattle.
"The amount of carbon emissions generated by microorganisms during our leather production process is several orders of magnitude smaller than the greenhouse gases emitted by cattle," said Wang.
Producing a square metre of spider silk-based leather consumes around 25 litres of water, compared with 17,000 litres for a roughly equivalent amount of cow leather, according to the company.
The price of the novel leather is higher than cow leather currently, but Wang expects to reduce costs and prices as the company upgrades its technology and expands production.
Globally, Japanese biotech company Spiber is also producing textiles made from spider silk fibers; clothing brand The North Face offered a parka made from its silk in 2019. Wang hopes that with more startups paying attention to spider silk as a sustainable alternative to traditional textiles, the biomaterial has the potential to be used in more sectors including medicine and aviation.
"Green and sustainable consumer materials are an inevitable trend in the future," Wang said. "The era of production at the expense of environmental destruction has passed."
Zence Object: Used tea leaves as raw material
Macau-based start-up Zence Object is turning discarded tea leaves into eco-friendly materials that can replace paper, plastic and wood.
The company, started in 2018, has developed technologies to transform some of the most familiar biodegradable wastes in Chinese culture, such as discarded tea leaves and used Chinese herbs, into materials similar to plastics, paper, and wood boards that can be used for packaging and home furnishings.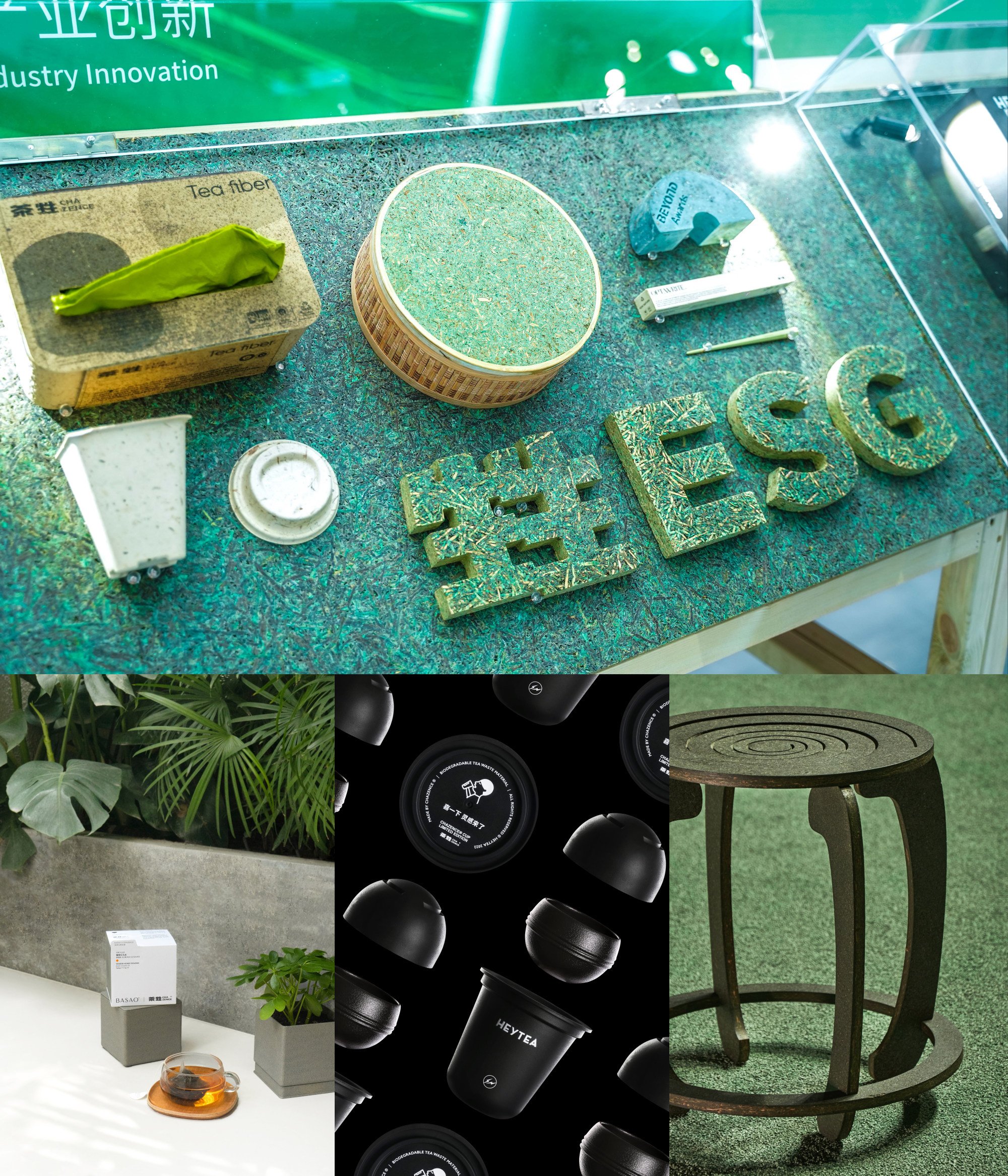 "Consumers have a natural affinity to tea as it is deeply rooted in Chinese culture," said 32-year-old founder Calvin Sio, who started his first venture in recycling timbers and later switched focus to tea waste after seeing the amount of discarded leaves generated each day by the ubiquitous bubble-tea shops. The world produces 6.3 million tonnes of tea per year, according to the United Nations' Food and Agriculture Organisation in 2021.
Zence Object has a production line in Shenzhen where it processes tea leaves that it sources from tea and beverage factories, as well as bubble-tea chains, in Fujian and Yunnan provinces. The company can produce five to eight tonnes per month of sustainable materials, Sio said.
Partners include Chinese tea chain Heytea on tea fibre-based cup sets, Japanese retail group Aeon on a pop-up store and the China Tea Museum on using tea-based materials for its interior design.
Last month, Zence Object received US$2.5 million in seed funding from Alibaba Group Holding-backed venture capital firm Gobi Partners to accelerate the pace of research and innovation, as well as expand its production capacity. Alibaba owns the Post.
The production cost of tea-based paper is already lower than paper pulp, and tea-based boards are on par with real wood, according to Sio, although the company's tea-based plastic is still around four to five times more costly than petroleum-based plastics.
Why China will dominate green energy supply chain for the next decade
The company plans to further innovate its technology and production lines to achieve more cost reductions, and to collect more data on the environmental benefits of its products, such as in carbon emissions reduction, Sio said.
"We hope to make full use of tea residue as a raw material," he said. "There are not only fibres but other nutrients in tea wastes that are beneficial to human health that can be utilised to achieve further sustainability."
[ad_2]
Source link