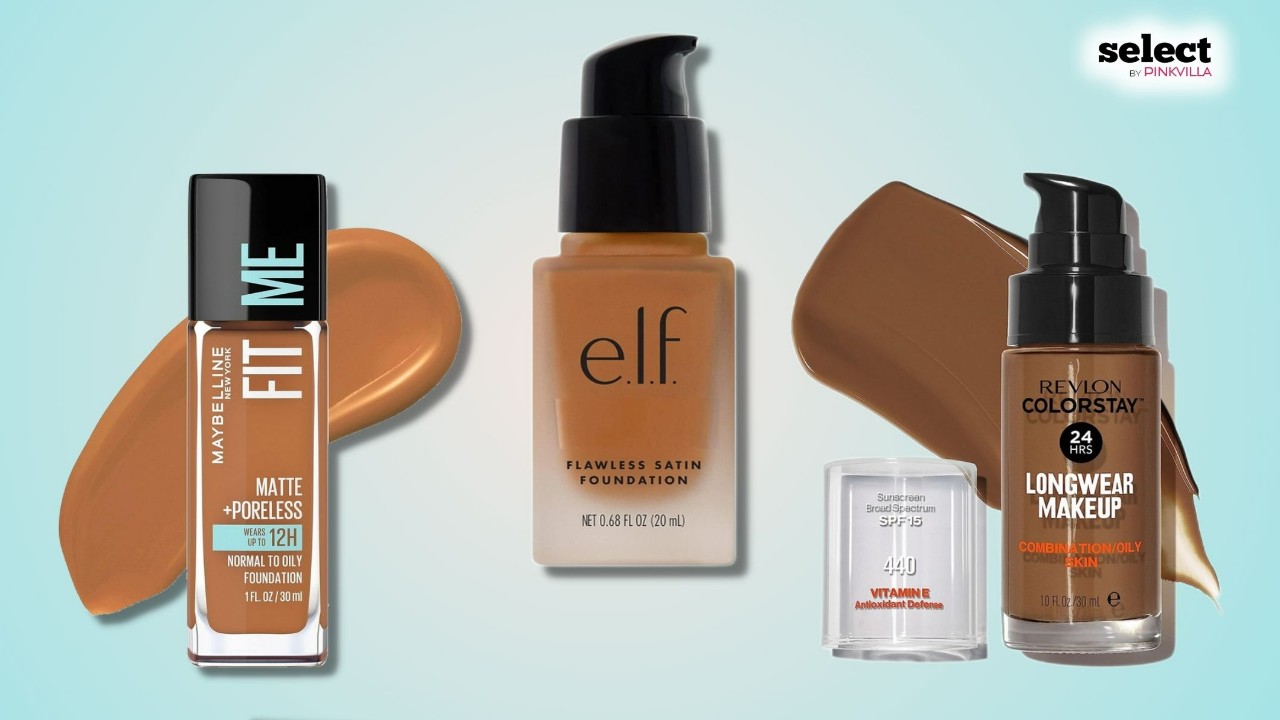 The products curated for this article are independently chosen by the
editorial team. If you make a purchase through the links mentioned below, we may receive a commission. Check out our product
research & curation process
Soft and dewy makeup looks and feels so flattering. However, acing a makeup look isn't easy with clogged pores and breakouts. Hence, we have curated a list of some of the best foundations for dark skin that have a smooth application and feel light on your skin. Using these foundations, you can get a mattifying finish without making your skin feel overwhelmed or cakey.
Dark skin tone is rich in melanin and might be more prone to pigmentation. These foundations offer a great buildable coverage that helps in covering dark circles and spots without making your face feel heavy or messy. Based on our observations, creating a flawless makeup look is easier when your foundation sets the base evenly. So, flaunt your natural skin tone and get ready for your glam-up moments effortlessly.
Owing to the varied composition, texture, and coverage offered by foundations, finding the one that suits you can be confusing. To help you choose the best for your skin type and natural tone, we have curated a list of our favorite products. Scroll away to see our picks.
Our top picks
Best Vegan-friendly Choice
Best Paraben-free Formula
12 Best Foundations for Dark Skin to Get an Amazing Makeup Look
Flaunt a beautiful matte look with this foundation by Maybelline. This lightweight foundation absorbs seamlessly into your skin and offers a smooth and even finish. Designed to refine pores, this oil-free foundation offers buildable coverage to cover dark spots, freckles, and sunburns — leaving your skin naturally clear and flawless. Say goodbye to the endless worries of finding the perfect foundation shade that suits you as there is a wide range of shades to choose from. Reflect a healthy glow without making your skin feel overwhelmed or cakey.
Pros
Non-comedogenic
Buildable coverage
Lightweight formula
Blends nicely
Makes your skin smooth
Comes in 40 shades
2
Best Vegan-friendly Choice
e.l.f. Flawless Satin Foundation
e.l.f. Flawless Satin Foundation is everybody's favorite, owing to its creamy texture and cruelty-free formula. This liquid foundation has a lightweight formula that offers medium-to-full coverage and blends into the skin with ease to improve uneven skin tone and texture. It has glycerin that makes this foundation perfect for giving your skin an extra dose of hydration for long-lasting and intense smoothness. Featuring a semi-matte finish, this easily blendable liquid beauty provides medium-to-full coverage to give your skin a dreamy glow.
Pros
Vegan
Cruelty-free
Creamy consistency
Doesn't cause breakouts
Lightweight formula
Smooth coverage
Cons
Defective pump
Unpleasant smell
3
Best Lightweight Formula
Revlon Color Stay Long Wear Makeup
This is the foundation you have been dreaming of to keep your skin moisturized! Revlon Color Stay Long Wear Makeup foundation is packed with vitamin E that nourishes the skin from within, leaving you with flawless and smoother skin. With a feathery consistency, this matte foundation feels light and comfortable on your skin without making your skin texture cakey. The oil-free composition of this long-wear foundation is perfect to radiate your natural glow and enhance the stay of your makeup. The added perk is that it contains SPF 15 to provide an extra layer of protection against sun exposure.
Pros
Moisturizing texture
Comes in 43 shades
Lightweight formula
Easy to wash off
Long-lasting stay
4
Best Creamy Texture
L'Oréal Paris True Match Super-Blendable Liquid Foundation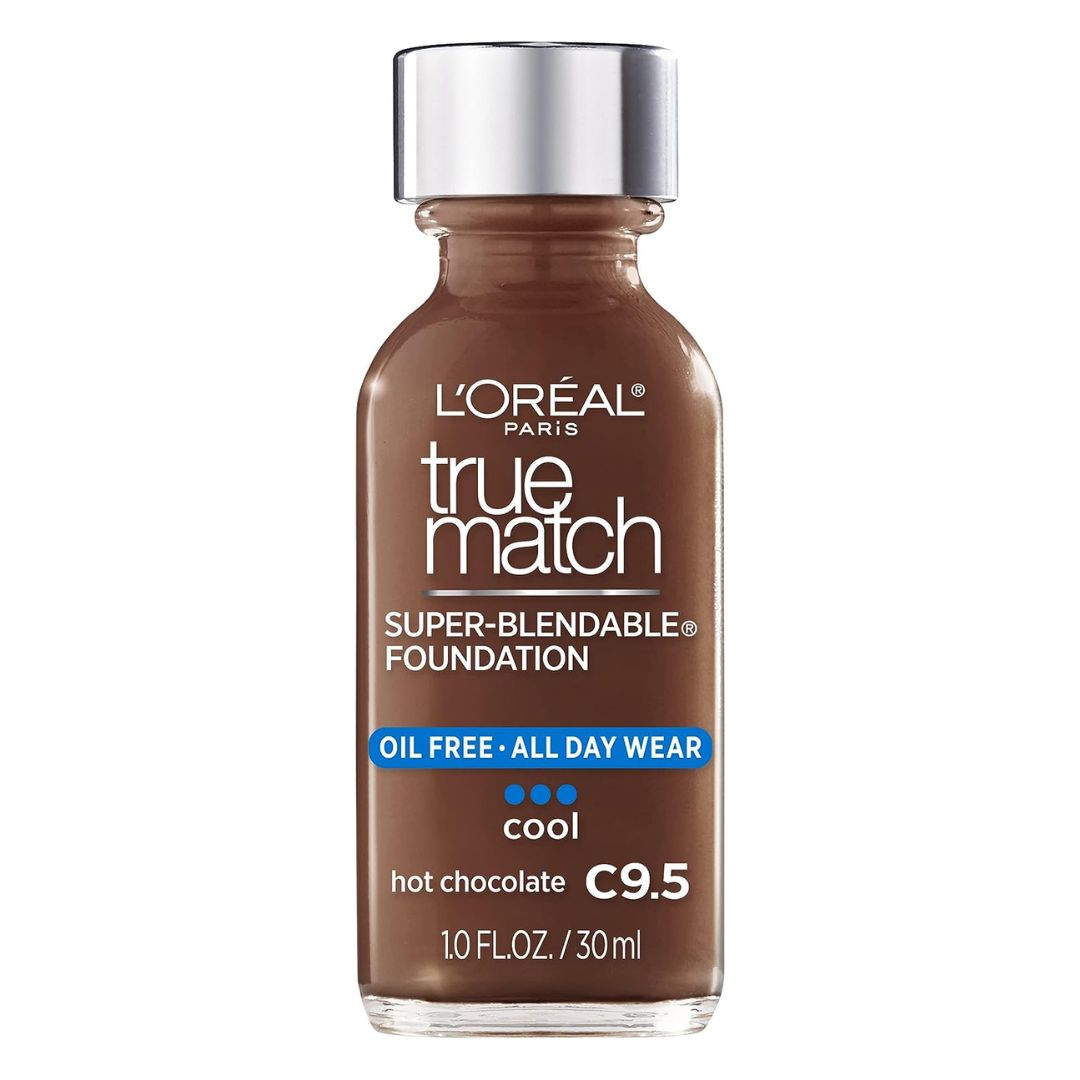 This super blendable liquid foundation by L'Oréal Paris is definitely a treat for your skin. It offers medium coverage and gives you a beautiful and smooth texture. The rich infusion of pro-vitamin B5 and vitamin E makes this creamy foundation perfect for rejuvenating your skin and exuding radiance. a velvety consistency, and blends seamlessly into your skin to compliment your skin's undertone. Flaunt your innate glow and charm with this foundation that is made to suit your skin perfectly.
Pros
Vitamin-rich formula
Creamy texture
Sheer and lightweight
Long-lasting wear
5
Best Non-greasy Formula
Covergirl Trublend Matte Foundation Made
The Covergirl Trublend matte made foundation is a makeup essential that works wonders in concealing dark spots and exuding a sparkling glow. The buttery texture of this foundation creates a strong yet smooth film on your skin without making it feel cakey or dry. Owing to the composition of this mattifying powder, the appearance of your pores is reduced and excess oil is absorbed to enhance the staying power of your makeup. The long-staying coverage of this powder foundation ensures your skin gets a polished look throughout your special moments.
Pros
Cruelty-free
Non-greasy
Settles smoothly
Weightless formula
Long-lasting
6
Best Pigmented Formula
Ruby Kisses Cream Foundation
Add glitz and glam to your dull days by smoothing your face with Ruby Kisses's cream foundation. Featuring a luscious texture, this foundation conceals under eye darkness and dark spots smoothly to give your face a pristine finish. The high-pigmented formula of this non-greasy foundation blends nicely into your skin without making your skin feel heavy or oily. Brighten up your face and make your special moments and every day look more appealing with this dark skin foundation that offers seamless coverage.
Pros
Oil-free formula
Vitamin-rich
Long-lasting
Covers acne scars nicely
7
Black Radiance Color Perfect Foundation Stick
Crafted with a rich formula, this foundation by Black Radiance is perfect to serve glamor goals. Featuring a highly pigmented formula, this foundation stick sculpts and adds a beautiful dimension to your face, ensuring your makeup is on fleek. Designed to offer a smooth and easy application, this stick comes with a soft brush to take care of your blending worries. Look no further as this beauty essential is designed to alleviate your makeup game.
Pros
Moisturizing formula
Smooths your skin
Comes with a soft brush
Blendable composition
8
Black Radiance Color Perfect Liquid Make-Up
Created with a lightweight formula to pamper your skin and provide full coverage, the Black Radiance liquid foundation is a must-have for those seeking a perfect natural-looking glow. Formulated to accentuate the beauty of your natural skin tone, this oil-free foundation glides on your skin smoothly to make your complexion polished and even. Offering full coverage, the liquid formula of this beauty gives a natural-looking finish that is perfect to slay your everyday looks. Don't be surprised if you fall for this makeup essential instantly while you serve beautiful looks effortlessly.
Pros
Lightweight formula
Natural-looking glow
Matchless coverage
Easy gliding application
Refines your skin texture
9
Best Paraben-free Formula
Fenty Beauty by Rihanna Pro Filt'r Soft Matte Foundation
A perfect match, this soft-matte foundation by Fenty Beauty offers your skin an immaculate finish. Featuring a lightweight texture, it feels weightless and smooth on your skin. The seamless coverage this mattifying foundation offers is perfect to cover pores and flaunt a subtle glow. Designed to adapt to humidity and sweat, this product is a must-have for alluring summer-day makeup looks. Get a spotless makeup finish with this velvety foundation and look absolutely stunning.
Pros
Paraben-free
Phthalates-free
Cruelty-free
Lightweight formula
10
IMAN Cosmetics Foundation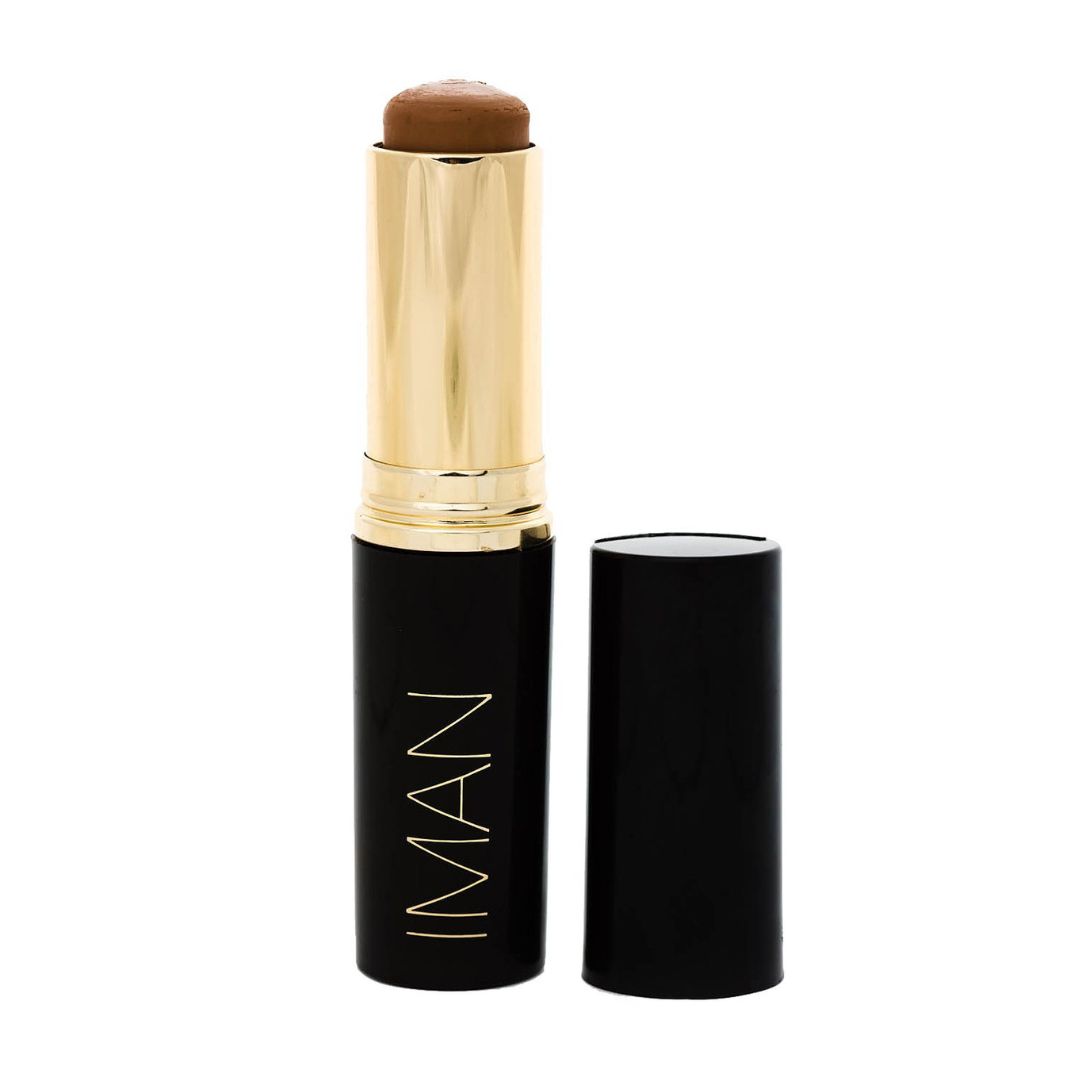 With this oil-free foundation by Iman, you can give your skin a magical brightening glow Infused with jojoba esters, this moisturizing foundation feels velvety smooth on your skin. Packed with vitamins and featuring an antioxidant formulation, this lightweight foundation makes your skin glow with a healthy radiance. The long-wearing matte finish suits your face tone for long-wear use without drying up. To ensure this beauty blends into your skin evenly, you may apply this with a sponge and then use your fingertips to get a natural finish.
Pros
Oil-free formula
Vitamin-rich
Long-lasting
Covers acne scars nicely
11
Best for Dry Skin
Urban Decay Powder Foundation
This weightless foundation offers buildable medium coverage and a matte finish that lasts up to 16 hours. You can not only boost skin radiance but also revitalize your skin with this magnificent foundation by Urban Decay — it is laden with moringa seed oil that protects your skin from environmental aggressors and treats signs of aging. Composed of a breathable and water-resistant formula, this powder foundation feels feathery-light on your skin without making your skin texture uneven or cakey. Offering a buildable medium coverage, this matte foundation blends evenly into your skin and feels natural. Featuring a sponge infused with charcoal, this product is a beauty essential to have for a purified makeup look.
Pros
Lightweight formula
Doesn't make your skin dry
Blends uniformly
Natural finish
Comes with a sponge
Cons
Defective container
May settle into your fine lines
12
Juvia's Place I Am Magic Velvety Matte Foundation
Radiating an enchanting glow can be effortless when you have this velvety foundation by Julia's Place. Designed to make your skin smooth, the lightweight texture of this lovely foundation blends into your skin easily without making your makeup look cakey or dry. This matte foundation features a sweat-proof formula that gives the perfect shade to create dreamy makeup looks without allowing sweat to ruin them. Get immaculate coverage and reflect your astonishing makeup skills with this buttery foundation that enhances the richness of your natural skin tone.
Pros
Paraben-free
Sulfate-free
Vegan
Blendable formula
Smooth coverage
Cons
Not suitable for oily skin
How to Choose the Best Foundation for Dark Skin?
Here are some of the factors to choose the best foundation for dark skin:
1. Match Your Skin Undertone: One of the most important factors to consider before buying a foundation is ensuring that it suits your skin's undertone. Using a shade that is slightly lighter than your dark skin tone can give you an even texture and take care of your worries about oxidation making it too dark. You may also like to give tan and soft tan shades a try for buildable coverage.
2. Know Your Skin Type: To ensure you get a natural-looking glow, it's important to buy the foundation that is formulated for your skin type. If you have an oily skin type, you may want to use liquid, powder, or serum-based foundations to keep your face oil-free and radiant. However, as per our experts, if you have dry skin, cream-based and pigmented formulations may be quite effective in giving your skin a smooth and dewy finish.
3. Check the Ingredients: Ensuring the ingredients used in the foundation aren't harmful to your skin is important to ensure your skin is protected from allergies and inflammation. You may avoid using foundations that contain parabens, formaldehyde, lead, sulfates, etc. to protect your skin from infections and other skin allergies.
How to Use Foundation for Dark Skin?
Step 1: Cleanse and moisturize your face properly to eliminate all impurities on your face and give it a smooth and supple texture.
Step 2: Apply a foundation that is slightly lighter than your skin tone. Ensure it feels natural and not too light to be distinguished from your skin's undertone.
Step 3: Blend the foundation nicely with a soft brush or sponges to get an even coverage. You may use your fingertips as well to ensure it blends nicely.
The glass makeup finish looks highly appealing. However, being easily targeted by pigmentation, dark spots, and blemishes, you may feel let down by foundations that feel cakey or unnatural on your dark skin. Hence, having a versatile list of the best foundations for dark skin to choose from that come in different shades allows you to find the best for your skin. With these foundations, you can create spot-on makeup looks without feeling overwhelmed by their application or texture. Ensure you go through the buying guide to get the best from the product. Happy shopping!
Step 4: Follow up by using a concealer to cover dark circles and blemishes.
Step 5: To enhance the staying power of your foundation and concealer, you can also use setting powder.
FAQ's
How do you pick a foundation color for dark skin?
You may pick a shade that is slightly lighter than your skin's undertone to give your skin a lighter appearance. Choosing a shade lighter than your natural complexion also ensures that oxidation doesn't make the shade too dark on your skin.
Should a foundation be lighter or darker than your skin?
A foundation should be slightly lighter than your skin to give a flawless finish. However, it shouldn't be too light as that may highlight your dark spots and give your face an unnatural look.
Which makeup brand is best for dark skin?
Maybelline, Revlon, L'oreal Paris, and Black Radiance, to name a few.
Does a lighter foundation make you look younger?
Yes, a lighter foundation may cover age spots and blemishes to give you a youthful glow.
How do I know if my foundation is too light?
When your foundation feels like an additional layer over your skin that can be easily distinguished from your face, that may indicate your foundation is too light.
Why Trust Pinkvilla
Sayantani, our in-house makeup expert, loves a smooth makeup application. However, being an expert, she understands how tricky finding a foundation for a flawless makeup look can be. She believes lightweight and easily blendable foundations with a good buildup coverage are perfect for dark skin shades to get an on-point makeup look. Hence, after experimenting thoroughly, she has curated this list of some of the best foundations that can make your skin texture even and polished for a lovely makeup look.
Our product experts study the specifications of every product we suggest and try them out to bring what's proven to be worthy of your money, time, and energy. We also have subject matter experts from various fields like Fashion, Skincare, Haircare, Home Decor, and Health & Fitness onboard to make sure our suggestions are credible and trustworthy. You can trust Select to be your faithful shopping guide for all the right reasons!
Author BIO
Sayantani is a certified hair and makeup professional turned writer with 2+ years of experience in the same genre. Ap More
Source link