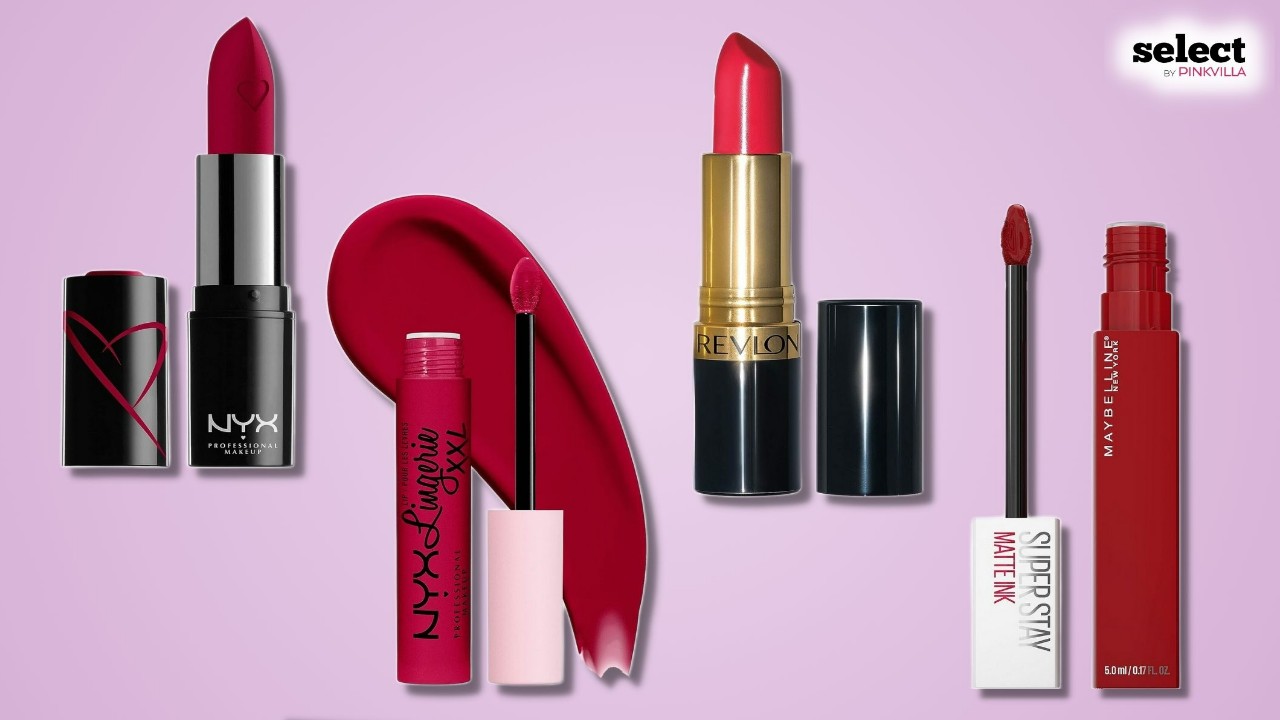 The products curated for this article are independently chosen by the
editorial team. If you make a purchase through the links mentioned below, we may receive a commission. Check out our product
research & curation process
No matter how many lipsticks an individual owns, the collection always seems incomplete without the best blue-based red lipstick. Cherry reds or bold burgundy, the best blue-toned red lipstick shades, help you nail the office presentation, Sunday brunch, or your college reunion look with negligible effort. Based on our research, we have discovered that women love blue-based red lipsticks because they make them feel confident, accentuate their lip contours, and suit all skin tones, outfits, and occasions. Although the natural nude makeup look may be gaining momentum over social media platforms because of its subtle finish, a few gentle swipes of a red lip tint always help elevate an individual's overall appearance. 
For someone new to lipstick expeditions, the undertones of red lip shades may be confusing when selecting the appropriate shade for one's skin tone. Pink undertone red lipsticks have a candy floss-like brightness, which is the love child of pink and red but not entirely maroon. Orange-toned red lip shades have a warmer, subtle finish attached to them and an evident element of peach in their hue. Meanwhile, orange-red lipsticks generally have a contrasting effect on fair skin tones, and pink-red shades complement medium and love skin tones.
Our top picks
Best Rub-resistant Option
Best for All Skin Undertones
Best for Remove Lip Pigmentation
What is Blue-based Red Lipstick?
Blue-based red lipsticks usually have cool undertones of blue, purple, and violet in them, and a classic example of a blue-based red shade is burgundy. But what makes red lipsticks with a blue undertone stand out is that they complement people with all skin tones and ages without making the lips look gaudy. But it is indeed disappointing to see your favorite burgundy running all over your face and transferring itself onto restaurant glasses or onto your bae's cheeks. Hence, after extensive online and groundwork research, our team of in-house skincare experts devised a list of the ten best blue-based red lipsticks that are lightweight, durable, and easy to carry. Keep scrolling to view your choicest recommendations and personify your makeup essentials.
10 Best Blue-based Red Lipsticks That Are as Nourishing as Lip Balms
Our in-house skincare experts believe that after purchasing this Maybelline New York Super Stay lipstick in the shade Ground Breaker, you will not need a lip primer additionally. Why? Because after trying this product for a few weeks, our experts concluded that the tint provides a 16-hour long-lasting, smudge-free matte finish, robustly immune to chipping, fading, and peeling. Moreover, it is transfer and kiss-proof and thus, one of the best options for mundane use. Lastly, it has a durable, ergonomic applicator that glides seamlessly onto the lip contours and gives an alluring satin matte finish without making the lips look overwhelming.
Pros
Does not color bleed
Locks in moisture
Non-shriveling
Non-messy application
Cons
The texture is a little sticky
2
Editor's Pick
REVLON Super Lustrous Lipstick (Love That Red)
Despite the mushroom growth of makeup companies, the brand Revlon has remained unbeatable. Like all other offspring of the brand, this alluring shade of red lipstick with a blue undertone is evidence of the expertise the brand has managed to garner over the years. It consists of vitamin E and avocado oil that moisturizes chapped and flaky lips without making them look too oily. Moreover, the lip tint consists of micro-fine pigments that provide sheer coverage without weighing the lips down. The best part? It is available in an alluring range of four spectacular finishes, namely pearl, cream, matte, and glass, to cater to people with varied preferences.
Pros
Highly pigmented
Cream-based moisturizing texture
Lightweight in nature
Smooth application
3
Best for all Complexions
MAYBELLINE NEW YORK Sensational Lipstick (Ruby For Me)
For people who wish to stick to the scarlet season throughout the year, this shade of blue-based red lipstick by Maybelline New York is a go-to choice. Based on our first-hand usage of the product, our skincare experts have discovered that the product offers a non-drying satin matte finish that complements all skin tones and is compatible with use both during the day and at night. Moreover, the product contains skin-friendly ingredients like honey nectar that helps to seal moisture within the lip cells and prevent them from withering and wrinkling. The best part? It is available in a sturdy bullet-like structure to make the application hassle-free.
Pros
Suits all complexions
Efficient twist mechanism
Satin matte finish
Sheaths lip discoloration
Cons
Tends to melt on improper storage
4
Best Spill-proof Option
NYX Lingerie XXL Matte Liquid Lipstick – (Stamina – Blue Red)
Get fuller-looking lips without injecting dermal fillers with this product by NYX. After conducting a few tests with the product, our in-house skincare experts concluded that it is one of the best blue-toned red lipsticks among all the other alternatives. Why? Because the product helps to accentuate lip contours and plumps up thin and shriveled lips without causing lip acne. Moreover, it has a potent no-budge, no-fade formulation that remains unaffected for 16 hours. Lastly, it is economically priced and is thus loved by teens and senior citizens alike.
Pros
Spill-proof
Cruelty-free
Crack-proof
Conceals fine lines on lips
5
Best for All Ages
NYX PROFESSIONAL MAKEUP Satin Lipstick (Wife Goals)
A one-swipe solution to cracking, flaking, fading, and budging of the lip tint and your lips respectively is this cool-toned red lipstick by NYX. It nourishes the lips with immense hydration and has an intense, vibrant color that doesn't settle into lines throughout the day. Moreover, it has a creamy formulation that helps to conceal lip fine lines and efficiently sheath lip scars. Lastly, it contains natural ingredients like mango and shea butter that help prevent moisture loss, making it feasible to be worn by people in frigid and frosty climates. 
Pros
Affordable
Melt-proof
Durably pigmented
In-built primer
6
Best for Dry Skin
THE LIP BAR Liquid Matte Lipstick (Bawse Lady)
The Bawse Lady blue undertone red lipstick has been one of the primary reasons for the brand, The Lip Bar, to be well known vividly among the masses. It has a quick-drying, kiss-proof formulation that resists sweat, water, and liquid emulsions for 8-12 hours. Furthermore, it is enriched with nature-picked and scientifically prepared emollients like jojoba oil and vitamin E, which help keep the lips plump and hydrated for a long time. For an Instagram-approved pout, our in-house skincare experts advise pairing the product with the lip liner of the same brand to prevent smudging, bleeding, and smearing. 
Pros
Best for all ages
Sturdy applicator
Paraben-free
Easy to remove
Cons
Colors slightly vary on purchase
7
Best for Scaly Lips
RK BY KISS MATTE LIPSTICK (Kiss Red)
The product description of this shade of red lipstick with a blue undertone says, "It provides a super-rich, long-lasting highly- pigmented color". After trying the product on themselves, our in-house skincare experts believe it is a blessing in disguise for people with super dry, flaky skin. Why? Because the lipstick provides a boldly pigmented color that does not budge, flake, peel, or cause any discomfort even for people with scaly lips. Moreover, it sets immediately onto the lips and delivers a vibrant finish in just one swipe, thus eliminating the need for reapplication. Lastly, it has a melt-proof, lightweight texture and is one of the most preferred options for use on the go.
Pros
Does not smear
Does not color bleed
Easy to apply
Does not transfer
Cons
Tends to get slightly cakey
8
Best Rub-resistant Option
DOSE OF COLORS Liquid Matte Lipstick (Merlot)
The vision behind creating the brand Dose of Colors was to develop products that need minimal effort and deliver maximum results. Like all other products from the brand, the Los Anjealous blue tone red lipstick has also lived the dream of its founding members. The precise tip applicator of the product embraces the lips in a luxurious, long-wearing color and provides an airy weight matte finish. Moreover, it has a vegan, paraben-free formulation which makes it a compatible choice for sensitive skin. Lastly, it helps to conceal lip wrinkles and sheath lip sores, making it an ideal choice for people with mature skin.
Pros
Defines your cupid's bow
Non-cakey
Rub-resistant
Non-comedogenic
Cons
Not oil and grease-resistant
9
Best for All Skin Undertones
FENTY BEAUTY Lip Paint (Perfect Universal Red)
When we speak of the best blue-based red lipsticks, it would be unfair if we don't mention the perfect universal red lip tint by Fenty Beauty. The shade is loved equally around the world, just like its founding lady Rihanna, because it has a soft matte finish that complements all skin tones and textures without becoming cakey. Moreover, it has a weightless, durable hold that remains undeterred by extreme weather conditions, oil, or grease. Lastly, it is lick-proof, kiss-proof, and immune to feathering and thus, worthy of the impressive 4.5-star rating on Amazon.
Pros
Long-lasting
Weightless
Suits all skin tones
Sturdy packaging
10
Best for Remove Lip Pigmentation
stila Stay All Day Liquid Lipstick (Fiery Red)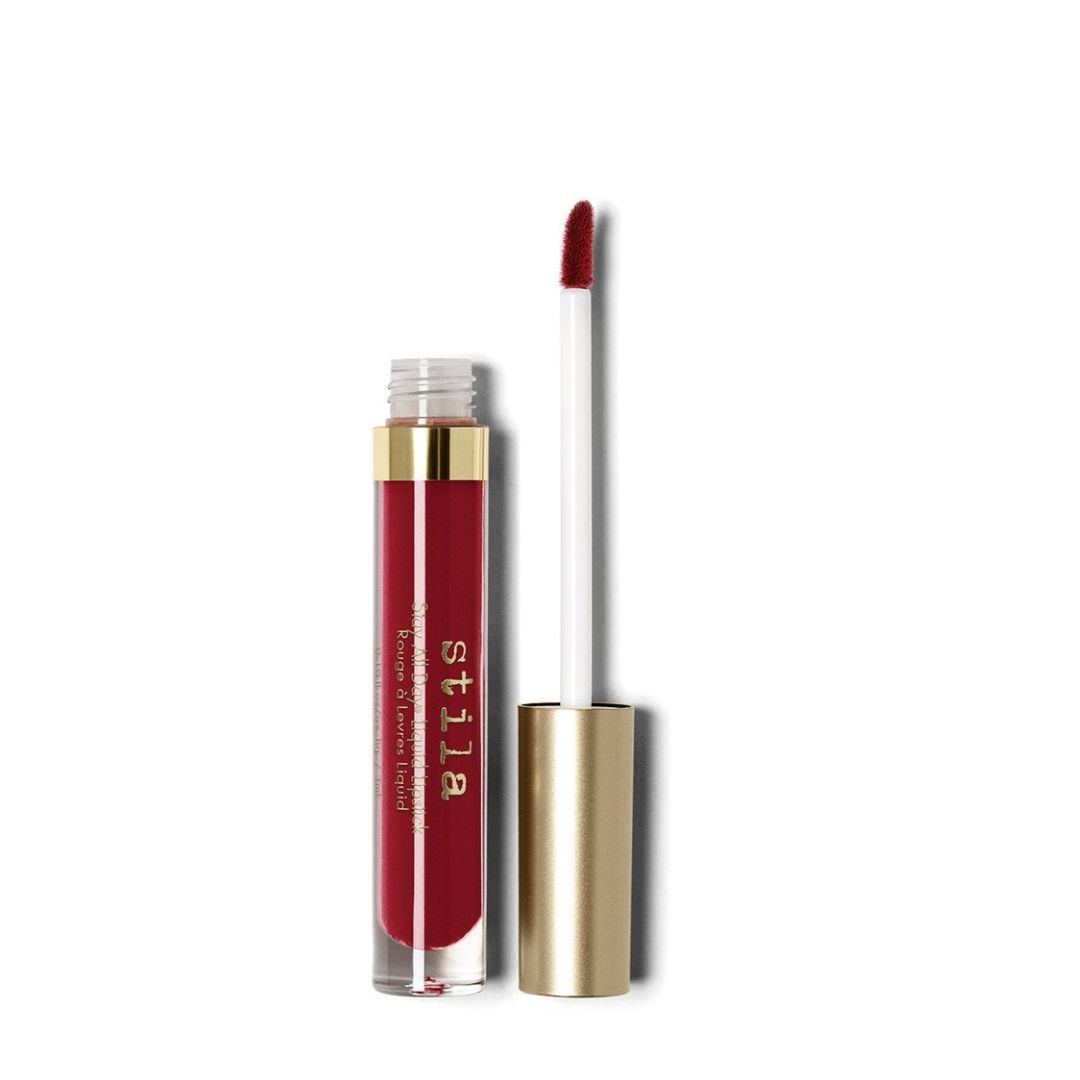 Intense moisturization with full coverage, minus the reluctant reapplication, and color bleeding, is assured by the minds behind the Stila Fiery lipstick. The product provides a shimmery matte finish that remains undeterred for up to 12 hours. To add on, it hydrates, softens, and conditions coarse lips, thereby improving their texture with every use. Overall, it is best suited for mature and aging lips as it helps conceal lip wrinkles, hydrates chapped lips, disguises lip fine lines, and sheaths lip pigmentation, providing uniform finish. 
Pros
Durable applicator
Intensely pigmented
Comfortable and non-itchy
Does not stain teeth
There is something mysteriously alluring about burgundy and ruby red lip tints, which is why no matter how many variations of the same blue-based red lipstick an individual procures, it never seems to be enough. But trying to procure the best blue-toned red lipstick should not be coupled with infections and allergies and come with an exorbitant price. Hence, after carefully considering all the factors, our team of in-house skincare experts has devised a few points that can help you with your purchase. 
How to Choose the Best Blue-based Red Lipstick?
Here is how you can choose the best blue-based red lipstick that matches your skin tone – 
1. Composition of Ingredients: While choosing a red lipstick with a blue undertone, it is important to check for the ingredients as certain ingredients present in the composition like sulfates, phthalates, and parabens may tend to cause allergies and lead to infections. The lipstick should contain generous amounts of humectants and emollients to provide ample moisture, prevent lip withering, and reduce the appearance of lip fine lines. 
2. Texture: The texture of the product should be easy to apply and remove, should not leave any residue, and be transfer, kiss, and smudge-proof to assure longevity. Moreover, it should also have a non-cakey finish to make the lips look appealing and attractive. 
3. Shade of the Product: Before concluding to choose a particular shade of red lipstick with a blue undertone, it is important to ascertain whether the shade is appropriate or not. It is important to find a shade that suits your skin tone and undertone. For that, we advise applying a little bit of the tint on the rear side of your palm to see if the color blends well or is overpowering as per the skin tone. 
4. Skin Type of the Individual: As skin types tend to be different, the lipstick properties as per the skin type also vary. While dry skin will need more humectants, emollients, and occlusives, oily skin will need a non-comedogenic formulation that does not cause lip acne or aggravate skin zits. 
For people who are new to lipstick expeditions and wish to experiment with the varied range of colorful lip tints, here are a few ways where with minimal effort, you can achieve a celebrity makeup artist-like finish if you possess a blue undertone red lipstick. 
How to Wear the Best Blue-based Red Lipstick?
Here are a few tips to wear the best blue-based red lipstick to perfection – 
1. Begin by Exfoliating Your Lips: Use a sugar scrub or any lip scrub to remove all possible traces of former makeup and dead cells and provide a clean surface.
2.  Moisturize Your Lips: Hydrate your lips with a lip balm and allow the lip balm to be absorbed into the skin to amplify hydration and prevent chapping of lips. 
3. Draw an Outline of the Lips: Start by taking a lip liner of the same shade and outline the lip contours to facilitate easy application of the lip tint. 
4. Apply the Lipstick: Start by applying the product from the cupid's bow toward the edge of the lips to facilitate maximum coverage. Take a tissue paper and dab sides of your lips to blotch off any excess product. Finish it with a makeup fixer to ensure longevity. 
Blue-based red lipsticks have always managed to gain an evident place in women's hearts as well as makeup vanities because of their ability to balance out the paleness reflected on our faces because of a diet plan, late-night Netflix binge-watching, or just some work-oriented stress. But, this effort undertaken to look our best should not be coupled with smeared textures and the constant anxiety of seeking a place for touch-ups. Hence, after a lot of extensive research, our in-house skincare experts have formulated a list of the best blue-based red lipsticks that are allergen-free, robustly pigmented, and easy to apply and remove. Do check out our buying guide before making a purchase.
FAQ's
How do you know if red lipstick is blue-based?
A warmer tone of red will have an evident portion of orange, yellow, and peach in its hue, whereas a blue-based lipstick will have a darker color. The easiest way to identify is to rub the shade on your hand in broad light and check for the element that is dominant.
Does red lipstick suit everyone?
Red is the only lipstick shade that is available in a range of varying undertones. The orange undertone is best suited for blondes, and people with fair skin tones with green undertones. The pink undertones complement medium and olive skin tones and brunettes, whereas blue-red lipsticks complement all skin tones.
Can blondes wear red lipstick?
Blondes, for a subtle natural finish, can opt for red lipstick with an orange or yellow undertone, whereas for a ravishing attractive finish, they must go for blue-based red lipsticks.
Why Trust Pinkvilla
Sayantani, our certified in-house makeup expert says, "You can sheath visible dullness and divert attention from the age spots, acne scars, and skin discoloration by playing around tactfully through the medium of lipsticks". But when it comes to recommending the best lipsticks for people of all ages and skin textures, she swears by the best blue-based red lipsticks as they help to amplify the flimsy shape of thin lips and also do not cause duck lips in people with naturally plump lips. Burgundy maroon and wine red are a few of the popular options she believes are effective for people of all ages. For more mind-boggling options, she suggests going through the recommendations given above. She, along with her team, after conducting specific tests with the above-mentioned products went on to distribute free samples of the lipsticks to have a better understanding of the first-hand user experience. She then presented samples of the best options to her friends, and relatives and then, curated the list of the best blue-based red lipsticks that are best suited for date nights, casual outings, movie dates, or just to click some social media flaunt-worthy photos. 
Our product experts study the specifications of every product we suggest and try them out to bring what's proven to be worthy of your money, time, and energy. We also have subject matter experts from various fields like Fashion, Skincare, Haircare, Home Decor, and Health and fitness on board to make sure our suggestions are credible and trustworthy. You can trust Select to be your faithful shopping guide for all the right reasons. Happy shopping!
Author BIO
Sayantani is a certified hair and makeup professional turned writer with 2+ years of experience in the same genre. Ap More
Source link