[ad_1]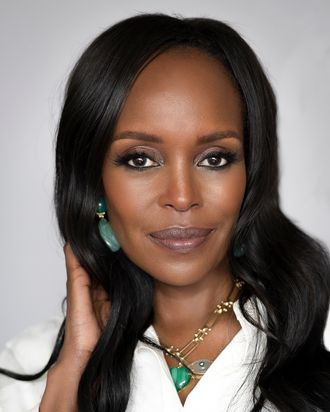 Nyakio Grieco co-founded the beauty retailer Thirteen Lune in 2020, which champions Black-owned brands and sells fan favorites such as Tracee Ellis Ross's Pattern Beauty and the coveted Ami Colé lip oil. More recently, Grieco launched a skin-care line of her own, Relevant, inspired by her desire to cater to all skin types with products like the Cleansing Serum and the One & Done Everyday Cream. On top of running multiple beauty businesses, she also co-hosts a podcast, The Beauty Vanguard, which discusses beauty as community and identity, and is a cultural celebration featuring a plethora of star-studded guests including LaLa Anthony and Tracee Ellis Ross. "I think educating people is my favorite and the most important part about what I do," the Los Angeles–based beauty founder says. "After 22 years of experience in the industry, it's been really exciting to finally have the autonomy and ability to create the brands I always wished I could."
Grieco's beauty journey began at 8 years old when she visited her cultural home, Kenya, for the first time. "My grandmother was a coffee farmer and taught me my first beauty secret," which included using Kenyan coffee beans, oils, and rods of sugarcane to exfoliate the skin. When she came to Los Angeles 27 years ago, she was working in the entertainment industry as an assistant at talent agency CAA, helping manage actors. "I enjoyed my work, but beauty and fashion were my true passions," she says. "I would get a lot of beauty products on my desk for the actresses who were often very generous with them and I got to test them out." At 27, Grieco had the idea to create her very own line of products, Nyakio Beauty, inspired by her grandmother's coffee scrubs and oils.
More recently, Thirteen Lune has gone from selling 13 brands to 180, and the team has opened 608 stores in JCPenney and a flagship store that opened a few months ago in L.A. Additionally, Relevant has expanded into the world of fragrance with 13 Stems, a clean floral-based fragrance with notes of amber, green pepper, and leather. Thanks to her self-care routine — for Grieco, that includes anything from nightly face masks to laughter with loved ones — she is able to have the energy to get it all done. "It's the most important type of care," Grieco says. "If you're not finding hobbies that you love, getting enough rest, or prioritizing your health, you're of no use to anyone else. I also see self-care as beyond physicality. I think friendships are a form of self-care, too. I really value my village and how we show up for one another."
7:00 – Every morning I try to drink a glass of hot water with lemon. If I don't do that, I definitely make sure to intake water first thing. The key to better-looking skin is hydration.
7:10 – For skin care, I always start with the Relevant Complete Cleansing Serum. It has banana fruit extract, which helps to balance out the pH in your skin.
7:12 – Then I move on to our Beam and Glow serum. I love it because it comes with a ceramic tip. I usually apply it around my eye and mouth area. It helps to tighten those areas and it's not too sticky or thick.
7:13 – I'm obsessed with vitamin C serums, and this one is one of the most stable forms of vitamin C out there and it doesn't go bad so quickly. It has a lot of superfruits and antioxidants. I love that it leaves my skin glowing.
7:14 – Lastly, I use the One and Done cream for moisturizing my skin. It does everything — it's a primer underneath makeup, and it has SPF that doesn't leave a white cast and also hyaluronic acid, plum oil, and niacinamide.
7:15 – For makeup, I'm obsessed with Ami Colé. I use their concealer. I use it under my eyes, around my mouth, and over any discoloration. I'm also loving her new blush sticks. It's great that you can use them on your lips too.
7:18 – Citizen Cosmetics just launched these new eye shadows. I love makeup, but I've never been great at doing my own eyes, and I feel like these help you feel like a pro. For mascara, I love using MeloWay. The applicator makes it really easy for people with shaky hands to use and it comes in fun colors.
7:22 – For my body, I apply Karité shea butter every day.
7:25 – I currently have goddess braids, so I've been loving the Pattern hydrating mist. I like all of the Pattern products, but the hydrating mist is my everyday go-to right now with this hairstyle.
8:30 – I love balm cleansers. It removes makeup and the texture feels smooth. I do this while I'm watching Netflix. I always believe in double-cleansing, so I follow up with the cleansing serum twice.
8:36 – I like to exfoliate at night with Sol Tone. I put a little on a cotton pad and swipe it on my face and neck.
8:37 – I apply the Lights Out mask and then the Sara Happ lip balm.
8:39 – I use a Canopy humidifier every night. It's next to my bed. And if I get to bed early enough, I like to treat myself with the DMH LED light mask. I just put it on and sit there and watch my shows.
I'm a recovering people pleaser. I've found that setting boundaries has definitely improved my confidence and is a form of self-care. I've also learned that you don't have to stay friends with people who aren't nice.
I'm proud of how much permission we have to be bold when it comes to really moving the needle with inclusion. Whether it's Aurora James with the 15 Percent Pledge or Sharon Chuter's Pull Up for Change initiative, I love seeing retailers trying to bring on more diverse brands to their shelves. There's definitely a lot of work left to be done, but I'm hopeful. I'd love to see diversity and inclusion being prioritized in the way it was in 2020, with people really walking the walk.
That people with oily skin should avoid oils. I really believe that those skin types are just overproducing and overcompensating for the oil and hydration their skin truly needs.
I definitely love getting my nails done. I feel like playing with my nail color is a form of art for me. I love the excitement of thinking about what I'm gonna do next. I also believe in trying to sweat every day. I find that movement helps me sleep better, even if it's just a 15-minute workout. I also think laughter really makes me feel beautiful. I feel more beautiful at 50 than I ever did when I was in my 20s, but that's because so much of my beauty has come from my strength and finding my joy, self-worth, and courage.
[ad_2]
Source link