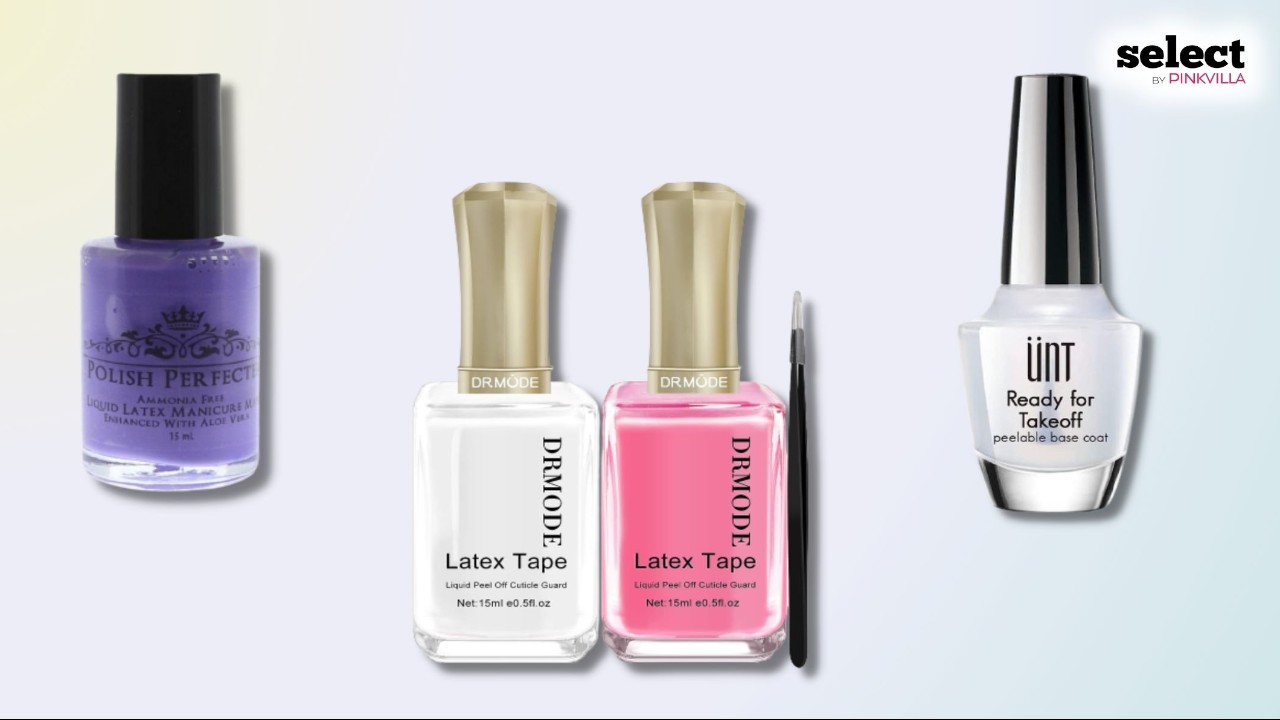 The products curated for this article are independently chosen by the
editorial team. If you make a purchase through the links mentioned below, we may receive a commission. Check out our product
research & curation process
Taking time off from your busy schedule for a salon manicure doesn't always seem feasible. But with the best peel-off nail polishes, you can get your favorite nail looks in just one go. It is made for nail enthusiasts who can't seem to make enough of 24 hours. These new-age formulas are perfect for on-the-go touch-ups. Just apply, set, and remove. It comes sans any drama and additional mess. 
As you know, the beauty world is full of revolutionary and innovative products that allure and attract fanatics like us. Peelable nail polishes are one example that are designed based on our needs. Whether you prefer wearing your desired shade throughout the year or love playing with colors, the peel-off nail formulas give you all. 
Based on our observations and having tried the products ourselves, we've prepared a list of the best peel-on-nail polishes you would love to flaunt everywhere. 
What is Peel-off Nail Polish, And How Does It Work?
Unlike regular polishes, peel-off polishes are advanced and easy-to-use formulas. As the name suggests, these can be peeled off to reveal the color. They can be applied directly to the nails, just like traditional nail polishes. The twist is you can strip off the layer whenever you want to change the color. Conventional nail polishes typically lead to stained and yellow nails when not used properly. But peel-off polishes come with base coats, and cuticle protectors, among others to keep such situations at bay. The best part is that you don't need acetone remover to dissolve the formula. All you have to do is pull that flexible film when you don't want the color anymore. That's it- you're all done!
10 Best Peel-off Nail Polish Options to Get Pretty And Colorful Nails
Topping our list, the UNT peel-off base coat is perfect for beginners and nail art lovers. You can create marble effects or stamp your preferred designs whenever you want. The peelable polish base coat is specially designed for glitter enthusiasts who like playing with different shimmery shades. A single coat below the applied polish lets you remove it anytime you wish to change the color. Besides, it does the task without damaging your beautiful nails and the surrounding skin for better maintenance. 
Pros
Harsh chemical-free
Great for amateurs
Easy to use
Dries quickly
No stingy smell
Cons
Slightly thin consistency for some
2
Best Skin-friendly
Drmode Liquid Latex for Nails
Bring a nail stylist to your home with a Drmode liquid latex nail set. The pack includes white and pink nail latex with stainless steel tweezers. It's a go-to manicure set for marbling, nail polishing, stamping, gradient sponging, creating chrome nail effects, and more. Each peel nail polish liquid latex is easy to apply, quick drying, and simple to remove. You can save tons of time without dissolving the nail color with acetone and other similar solvents. The antifreeze formula doesn't dry even in extremely cold weather, so you can apply it during winter. 
Pros
Safe formula
Skin-friendly
Keeps cuticles clean
Quick drying formula
Peels off in one piece
3
Best Vibrant Colors
Airdom Kids Nail Polish Set
The Airdom kid nail set lets your child explore his/her creative side. Featuring 8 different nail formulas, the set is a perfect gift for your girl's birthday. Each water-based nail coat is safe and hygienic. The glitter peel-off nail polishes are odorless and free from toxic chemicals which reduces the requirement for chemical nail color removers to keep small hands and feet secure. These vibrant and multi-purpose nail paints dry within the blink of an eye and don't stain clothes, walls, and other nearby objects. 
Pros
Fragrance-free
Adds instant pop of colors
Cruelty-free
Eco-friendly
3 minutes quick dry formula
Cons
Some colors might chip off
4
Best Non-toxic Formula
Abitzon Honey Healthy Nail Polish
Dazzle in gorgeous nail colors and steal the spotlight anywhere you go. The Abitzon easy peel-off nail polish set comes with 10 vibrant hues that are strong enough to get attention. All shades are water-based and free from nasty toxins, including formaldehyde, DBP (dibutyl phthalate), and toluene. Pick your desired color and soak your fingers to achieve your dream looks. What's unique is- you don't have to wait too long for the pigments to dry. Wait for at least 60 seconds, and you're all set to go. 
Pros
No lamp curing is needed
Easy to prep
Best for all occasions
Safe formula
Gives beautiful nails
Cons
Slightly thin consistency
5
Best Easy-to-use Polish
LLF Polish Perfecter
Infused with advanced botanical aloe vera extracts, the LLF latex tape is a must-have beauty staple in your manicure kit. The super versatile peeling nail polish is apt for all your mani needs. Whether you love ombre nails or any other nail art, the purple liquid manicure mask is perfect for all. It protects the cuticles and natural skin barrier from damage. Paint it on the areas you want free color, let it dry for a few minutes, and strip it off. Use this modern cleaning tool and avoid messy applications. 
Pros
Ammonia free
No irritating odor
Firm brush
Easy to spread
Low-cost
6
Best Water-based Formula
Bontime Water-based Healthy Nail Polish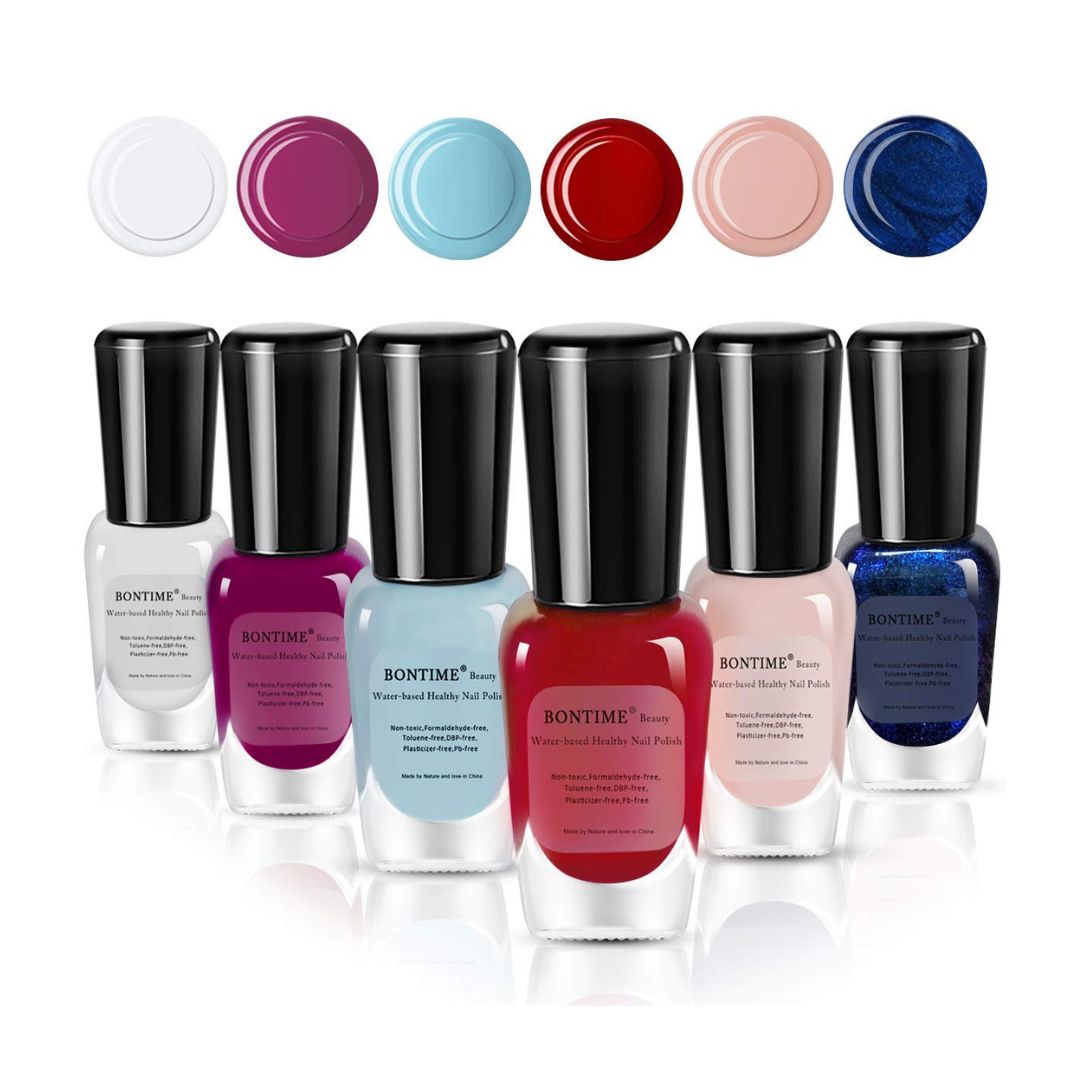 You can change your nail colors every season to match the surrounding vibes. And no, you don't need strong, chemical-based nail paint removers. Thanks to Bontime for launching this organic nail polish peel-off set that allows you to flip colors as per your mood. All 5 stunning shades are made with an aqueous solution, mineral pigments, and polyurethane to offer a natural-looking shade without damage. Every peel-off gel nail polish dries within 90 seconds and lasts 2-3 days or more. 
Pros
Thick brush
Smooth coverage
Excellent shine
Doesn't need a UV lamp
No buffing is required
7
Best Quick Drying
Tophany Honey Healthy Nail Polish
Level up your nail game with the Tophany gel peel-off nail polish set. From radiant reds to soothing blues and glittery shades, the set carries some of the most popular hues to bring on your nail styles. Each 1.2 fl oz water-based peelable nail polish bottle can run for up to 3 years. So now you can enjoy playing with your favorite nail colors as long as you want. These low-odor formulas are crafted with eco-friendly ingredients such as natural resins and mineral pigments. The colors are so captivating that you can't resist dolling your nails in. 
Pros
Non-toxic
Fast drying
Professional finish
6 latest colors
Convenient brush
Cons
Every single coat lasts for a few days
8
Best for Gel Manicure
Murron Peel-off Gel Base
The Murron peel-off nail polish base is built to extend the longevity of your nail color without compromising on hassle-free removal. It's ideal for gel polish and nail art lovers who hardly get time for salon manicure sessions. Popular for its high staying time power, you can cherish long-lasting nail designs without fear of damage. It stays intact for 2 to 3 weeks when applied on properly maintained nails. Our analysis of the product shows that the application requires curing under a UV lamp for 30 seconds so that it can adhere strongly to the nail surface. 
Pros
Odorless
Vegan
No nasty toxins included
Not tested on animals
Doesn't break natural nails or skin
Cons
A bit of sticky consistency
9
Best Peelable
Makartt Peel It Off Base Coat
For those seeking a clear peel-off nail polish, the Makartt base coat is ready to join your collection. Suitable for all nail types- gels, water marbling, French tips, gradients, etc., this sheer finish nail base is great for beginners and professional stylists. As it comes off in seconds, you would love using this for frequent or last-minute nail touch-ups. This 2-in-1 gel for nail art features the traits of a base coat and latex barrier. It's available with 2 complimentary wooden sticks that allow precise and easy application. 
Pros
Easily peelable
Natural resin blend
Soft brush
No smell
Contemporary bottle design
10
Best Antioxidant Rich
Sally Hansen Big Peel-Off Base Coat
There's a rationale for why Sally Hansen's products are popular in the nail styling world. Handpicked from its classic nail collection, the big peel-off base coat nail polish is a fast and easy solution to glitter and other special effects removal. With Sally Hansen's best peel-off base coat, reduce your dependency on acetone and chemical nail paint removers. Unlike commercially available nail polish dissolvers, this one is enriched with antioxidants and vitamin E that help strengthen nails and restore their natural shine. No matter how strong your polish is, this ultimate concoction removes it within a snap while maintaining your nail health. 
Pros
Sheer finish
No fuss formula
Smooth coats
Beginner friendly
Promotes healthy nail looks
Cons
Might take some time to dry
Don't wait to create your dream nail art designs; grab a suitable pick and begin your DIY manicure session. Our top recommended products for the best peel-off nail polishes will upgrade your nail care kit and offer the desired nail looks. Additionally, you can go through our user guide below to simplify your buying experience. 
How to Choose the Correct Peel-Off Nail Polish?
Below are a few factors you can go through while shopping for the best peel-off nail polish. 
Ingredients 
Checking the formulas' ingredients is the first step in your shopping journey. Get a formulation free from harmful ingredients such as formaldehyde, toluene, DBP, etc. Find something that is more gentle and safe to use. You can try fusions made from natural and organic stuff like resins, antioxidants, vitamins, etc. 
Format 
Peel-off nail formulas are available in different formats, from gels to water-based solutions. Heavy-duty gel polishes with peelable coats are excellent for salon-like manicure experiences. However, water-based no-toxin concoctions work well with children, teens, and pregnant women. Whatever formula you choose, ensure it's soothing and keeps discomfort and allergic reactions at bay. 
Color 
Nail polishes are all about colors. Hence, it won't be wise to ignore them. If you need your nails to be dressed up for a night out, then go for vibrant, bright, and glossy hues. Light and neutral shades look more subtle and professional and can be used for daily wear. For more dramatic and spicy looks, peelable glitter nail polishes can do the job. Those who frequently change colors may pick easy-to-remove formulas that have moderate staying power (maybe 2 to 3 days). 
Now that you have understood how to pick peel-off formulas, let's know how to apply them. 
How to Use Peel-Off Nail Polishes?
Here are a few steps you can follow to put a peel-off nail color. 
Prep and clean nails according to your needs. 
Apply a base coat and let it dry for a few minutes. 
Pick your favorite color and brush a few coats, maybe 2 or 3, for a better finish. Let them dry naturally or under a UV lamp depending on the formula. 
Apply a top coat to keep the color intact. 
Whenever you wish to change color, use a tweezer to loose the paint layer along the sides and peel it off. 
Follow the same steps with the next color. 
Some formulas may require a few different steps to be followed, so you can refer to the instructions for more precise and better application. 
Conclusion 
We all love to flaunt our stunning and sizzling nail colors. However, most of us find it difficult to remove and switch between colors. Here's when the best peel-off nail polishes come into the picture. These help you clear your existing color without using acetone and chemical-based removers. Whether you want radiant and vibrant hues or subtle and minimalistic colors, you can freely switch the shades whenever you want. The above-listed products let you do the same without visiting a salon every weekend. These are gentle and non-irritating and offer professional-like results. While choosing a peel-off nail formula, focus on some crucial points like ingredients, color, and format to make your investment worthwhile. 
FAQ's
Is peeling a peel-off nail polish bad?
Regular nail polishes are difficult to peel and might damage or weaken nails. However, peel-off polishes are meant for easy and safe peeling.
How long do peel-off polishes last?
The staying duration depends on the formula type. For instance, advanced and heavy-duty polishes may last up to a couple of weeks. Water-gel-based peel-off nail polishes may stay for 2 to 4 days.
How to increase the peel-off nail polishes' staying time?
Follow the given tips to make your polish last long; File and buff your nails gently and properly. Wash your hands thoroughly after using a remover to eliminate residue. Do not use excess nail polish to avoid mess.
How long does a peel-off base coat last?
Typically, a peel-off base coat may last for up to 5 to 10 days.
Why Trust Pinkvilla
Peel-off nail polishes are a perfect addition to our manicure kits. They instantly transform our dull nails and add life to them with vibrant colors. Our beauty expert, Sayantani Deb, tried various formulas and found that nail colors like Abitzon Honey Healthy Nail Polish offer stunning nail shades and a pro-like manicure experience. 
Our product experts study the specifications of every product we suggest and try them out to bring what's proven to be worthy of your money, time, and energy. We also have subject matter experts from various fields like Fashion, Skincare, Haircare, Home Decor, and Health and fitness onboard to make sure our suggestions are credible and trustworthy. You can trust Select to be your faithful shopping guide for all the right reasons!
Author BIO
Sayantani is a certified hair and makeup professional turned writer with 2+ years of experience in the same genre. Ap More
Source link