Saudi Arabia is rapidly emerging as a force to reckon with in the global fashion landscape, according to a new report that has revealed the Kingdom's plan to reduce reliance on overseas imports and put the country on the map of homegrown talent.
The report, 'The State of Fashion in the Kingdom of Saudi Arabia 2023', which is being unveiled in the Kingdom this week, highlights the extraordinary growth potential of the Saudi fashion industry, showcasing its rapid development, its strategic alignment with the nation's vision and how the Kingdom's youth are putting the country on the global fashion stage.
For all the latest headlines follow our Google News channel online or via the app.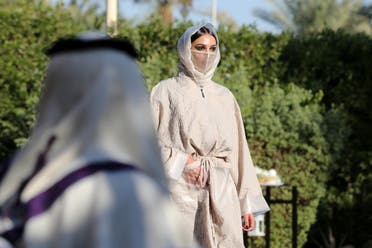 A Saudi model displays latest collection of abayas (Arabic female dresses) by Saudi Princess Safia Hussain, during a fashion show in Riyadh, Saudi Arabia, January 23, 2021. (Reuters)
Fostering a self-sufficient fashion value chain
The emergence of Saudi Arabia's domestic fashion industry is a pivotal element of Vision 2030, a comprehensive strategy aimed at diversifying the nation's economy and reducing its dependence on oil. The report underscores the vital role that a thriving fashion sector can play in achieving these goals. In the report, Saudi Fashion Commission CEO Burak Cakmak says: "We are building the foundations for the future of fashion right now, here in Saudi Arabia."
By fostering a self-sufficient fashion value chain encompassing design, manufacture, logistics and retail, Saudi Arabia aims to reduce its reliance on imported fashion goods.
This strategy will not only generate employment opportunities, but also bolster the non-oil gross domestic product (GDP), create jobs and enrich the nation's cultural fabric.
In 2021, Saudi Arabia's fashion industry accounted for a substantial expenditure of $7.3 billion on imported fashion goods, underscoring the potential economic impact of fostering domestic fashion capabilities.
As the sector matures, it is expected to make significant contributions to the Vision 2030 objectives, positioning Saudi Arabia as a global fashion player while showcasing its unique cultural heritage.
The report says that scale of the opportunity that now exists for Saudi Arabia's nascent domestic fashion industry can hardly be overstated.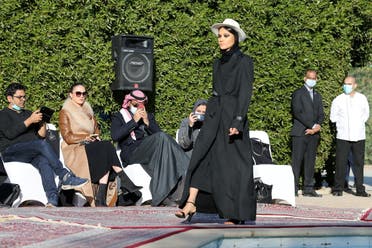 Saudi Princess Hana bint Khalid bin Saud Al-Faisal, a model, displays latest collection of abayas (Arabic female dresses) by Saudi Princess Safia Hussain, during a fashion show in Riyadh, Saudi Arabia January 23, 2021. (Reuters)
By cultivating a thriving fashion sector capable of overseeing and executing all aspects of the fashion value chain — from design and manufacture to logistics and retail — Saudi Arabia will reduce reliance on overseas fashion imports and create a wide range of fulfilling, creative and non-creative fashion-related employment opportunities, the report said.
Cakmak notes in the report that Saudi Arabia's retail sourcing profile is overwhelmingly import dependent.
The total trade deficit for the Kingdom's finished goods industry for fashion was $6.5 billion (SAR 24.4 billion) in 2021, an increase from $5.1 billion (SAR 19.1 bil-lion) in 2017. The bulk of this trade deficit is driven by apparel and footwear.
There are multiple underlying reasons for the Saudi fashion market's dependence on imports, including the Kingdom's open trade system, the market's global connectivity and local cost and skills challenges.
Based on the Kingdom's previous licensing system, which required joint venture operations in the Kingdom, retail holding companies often hold multiple mid-retail and luxury brand distribution licenses.
More recently, however, the licensing system has changed, and direct foreign ownership of retail operations has been allowed.
This has expanded Saudi Arabia's potential to become a major fashion shopping destination, as directly-owned branded stores are typically cheaper than joint venture or licensed operations.
International brands that have recently directly invested in the Kingdom include the Adidas Group and Nike Inc.
Kamal Osman Jamjoom is a case in point.
The mega retailer, which also sells international fashion labels in Saudi Arabia, has several inhouse brands, including Nayomi, Mikyajy, Mihyar, Moda by Nayomi and Dream. Nayomi, which means 'soft and delicate' in Arabic, was founded in Saudi Arabia in 1992 and has evolved into the Middle East's leading lingerie brand, with 184 stores and a successful e-commerce website.
Seasonal collections are also complemented by an extensive beauty and fragrance range.
"Developing our own brands has helped us deeply connect to the Saudi market," says the CEO of Kamal Osman Jamjoom, Hisham Al Amoudi. "Rapidly evolving market dynamics have driven the development of our product and broader fashion offer, ensuring we are well positioned to benefit from future market growth."
In the report, Cakmak notes that from traditional dress to global fashion players, the evolution of fashion in the Kingdom is having a defining moment.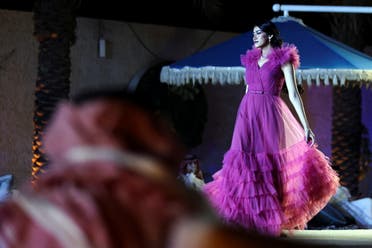 A model displays the latest collection during Jimmy Fashion show, where local and international fashion designers launched their collection for the 2022, in Riyadh, Saudi Arabia, August 25, 2022. (Reuters)
"In terms of pre-Vision 2030, you have to think about the diverse cultural history," he noted. "The Saudi state has a deep and diverse cultural heritage. Environmental and social factors continuously influenced and changed how people dressed — from the materials they used to the designs they created," Cakmak said.
"When travelling in Saudi Arabia, this variation in traditional dress is something that everyone notices. Then, 40-50 years ago, there was more exposure to international fashion, allowing for an evolution in fashion here."
That evolution is now peaking, thanks to Vision 2030 and also thanks to the large, young population, Cakmak noted.
Much of this young population have studied abroad and are coming home to be part of the Vision 2030 evolution. With that international exposure, they are bringing back different cultures and mixing it with their own, said Cakmak.
Driving change: A sector on the rise
The Saudi fashion industry has displayed remarkable growth, substantiated by tangi-ble economic contributions.
In 2022, the industry's GDP contribution had reached an impressive 1.4 percent, amounting to $12.5 billion. The sector also provided employment opportunities to 230,000 individuals, representing 1.8 percent of Saudi Arabia's total workforce.
This remarkable growth trajectory is further highlighted by the industry's value, which increased from $24.6 billion in 2021 to $46.9 billion in 2022, accoding to the report.
Furthermore, Saudi Arabia's commitment to gender diversity is evident, with 52 percent of the fashion industry's workforce comprising female employees. Additionally, 66 percent of all fashion jobs within the country are held by Saudi nationals, reflecting a commitment to local talent development and economic empowerment.
Designing a distinctive future
The confluence of traditional Saudi attire and contemporary global fashion influences is shaping a unique design aesthetic that holds immense promise for the Kingdom's fashion industry.
The emergence of younger Saudi designers, educated both domestically and internationally, is at the forefront of this cultural fusion.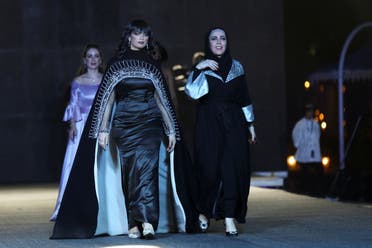 American fashion designer, Amina Ja'arah, walks on the catwalk during the Jimmy Fashion show, where local and international fashion designers launched their collections, in Riyadh, Saudi Arabia, August 25, 2022. (Reuters)
Local design schools and universities, such as King Abdulaziz University and Princ-es Nourah Bint Abdul Rahman University, are nurturing this creative energy, while international education bursaries enable Saudi creatives to imbue their designs with global perspectives.
Education: The foundation of future growth
Fashion education programs in Saudi Arabia are critical to the advancement of the fashion industry. Currently, 12 universities across the Kingdom offer fashion-related programs at various academic levels. These institutions not only equip students with essential skills, but also foster innovation and knowledge transfer.
While the growth in design-related courses is apparent, the report notes the challenge lies in developing technical skills critical for production, such as patter-making and garment technology.
Bridging this gap will require a concerted effort to attract students to technical fields within the fashion ecosystem. Partnerships between universities and industry players are fostering valuable industry exposure for graduates.
Cakmak said: "The Kingdom has been investing heavily in educating its youth for more than a decade, sending students overseas on full scholarships to study at the best academic institutions in the world. And that investment is now paying off with a fresh vision from leadership. Linked to this, however, is the challenge that the youth have not been able to access the full fashion value chain – meaning, there has been little opportunity to turn creativity into actual fashion products."
So, although the youth are technologically advanced and connected, the new fashion sector would benefit by having them gain experience in the whole value chain, Cakmak observed.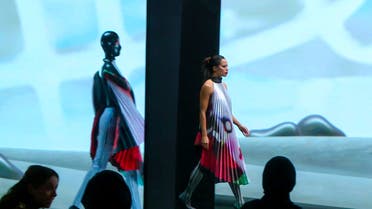 Saudi Fashion Commission launches a new digital fashion design program in partnership with the prestigious Istituto Marangoni. (Supplied)
"Most people in the industry also haven't yet had the opportunity to gain experience on how fashion sectors in other countries work. This is where the biggest opportunity lies: Connecting the people in the fashion industry to international institutions and vocational training programs with a deep understanding of the global fashion system."
Cakmak also sees a major opportunity to internationalise the market. This is being done through the Saudi 100 Brands program that offers visibility on the international fashion stage in Milan, New York and Paris.
"We also held our first ever international wholesale event with 100 Brands during Milan Fashion Week in September 2022. And we will continue to participate in in-ternational fashion events twice a year to allow our brands to have a presence for retail, wholesale and also to simply increase visibility on the global stage," Cakmak added.
Sustainability: A catalyst for circular principles
As the global fashion industry turns its attention to sustainability, Saudi Arabia is no exception. The Saudi Green Initiative, aligned with Vision 2030, emphasizes envi-ronmental protection, energy transition and sustainability. The nation's fashion industry is taking a proactive approach by incorporating sustainable practices into its fabric, from design to production.
The National Center for Waste Management's initiative to recycle discarded clothing, as well as the Fashion Commission's "swap shop" promoting second-hand clothing, reflect Saudi Arabia's commitment to circular fashion principles.
Collaboration with academic institutions, such as King Abdulaziz University's sustainable materials research center, illustrate the Kingdom's dedication to fostering innovation and sustainable material solutions.
As Cakmak noted, sustainability is transforming the global industry.
"As we speak, we are running a program for 100 creatives in fashion design to learn 3D software that can do their full pattern-making. If you think about just the sam-pling, this alone generates a lot of material waste, but by doing the sampling digitally, we are helping to cut down on the amount of waste."
According to Cakmak, over the last two years, international experts focused on sustainable design have been brought into the country. These experts are infusing their knowledge into all fashion education, including masterclasses and workshops that are conducted during the annual Fashion Futures event.
There is big investment in innovation as well. The focus area being sustainable material solutions, from recycled materials and other alternative materials. A sustainable materials research center has been set up at King Abdulaziz University's Science and Technology Center (KAUST) to help scale up solutions for more sustainable materials, not just for the benefit of Saudi Arabia, but for the rest of the world.
Partnering economic diversification
Saudi Arabia's fashion industry aims to be a critical component of the nation's determination to diversify its economy, create jobs and foster cultural enrichment.
So, what will the Saudi fashion industry look like in 2050?
Cakmak envisions a robust value chain set up in the Kingdom with all elements that are locally relevant, but also fully networked internationally.
"We need to develop the technical back-end of the industry as the retail front-end grows," he notes. "That includes everything, from what material we produce here and how much of it is circular and sustainable, to what products we design, develop and even manufacture here."
Cakmak also highlights the need for a robust regulatory system that supports all the efforts, while allowing the stakeholders to document and track the progress being made.
"We play a key role in supporting the GDP of the Kingdom, all the way from retail to brands and all of the elements across the value chain. 2050 will see local brands sharing their journey and their identity to the rest of the world," he said.
"We are proud to be the enabler of this exciting vision and we look forward to seeing local brands take center stage globally," he concluded.
Read more:
Photos: Rajwa al-Saif dons dress by Saudi designer for pre-wedding henna party
In photos: Saudi fashion designers showcase unique collections at Milan Fashion Week
Saudi Arabia hosts Jimmy Fashion International event featuring 18 designers
Source link