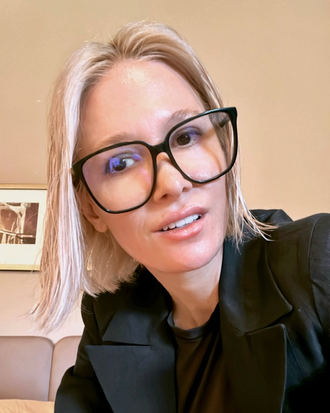 From her blunt bob to glowing skin, it's fair to say Cassandra Grey has great taste. Don't believe us? It's on display at her beauty retailer site, Violet Grey, that she founded in 2013. In an oversaturated and often overstimulating industry, the beauty site has certainly made a name for itself by cutting through the noise and amplifying top-of-the-line beauty products (think curated collections from Chanel, La Mer, Ami Colé, and more). Her team considers everything before promoting a product, from formulation down to the packaging. "I love getting to wear a lot of hats. But I also love the process of building out a team," the New York–based entrepreneur says. "It's important to bring in the proper expertise and realize you don't always know everything. Doing everything yourself also leads to burnout."
Grey has been working since she was 12 years old. "I've had a paper route, I've been a barista, a waitress, a bartender," she says. Her first introduction to entrepreneurship, though, was working in retail at a children's clothing store in San Francisco. "She really trusted me to take on responsibility," from keeping books to managing daily sales, Grey says of her boss. "This experience partially gave me the confidence to start my own business," she recalls of a time that consisted of constantly telling her dad that she wanted to build her own brand that celebrated her love of beauty and fashion. When she came to New York, she began working as a consultant and meanwhile began writing up the business plan for Violet Grey.
Lately, she's been thinking about the next chapter. Her company was acquired in 2022 by Farfetch, and Grey has taken on more of an advisory role now. And while she continues to meditate on her goals during this exciting time, Grey turns to self-care practices such as getting quality sleep, oil pulling, prayer, and more. "I lost my husband and brother. I've had a lot of big life experiences and pain," she says. "Those moments have definitely taught me that it's actually not cool to be constantly hustling and grinding. Hard work is great, but running ourselves into the ground and not taking care of ourselves isn't the answer."
5:30 a.m.: I like to wake up before my 7-year-old son so that I have some time to myself. I do not look at my phone. And then I head to the bathroom. I'm really into dental hygiene, so I brush my teeth with the Dr. Apa brush, floss with Cocofloss, and do oil pulling with the Dr. Saleh rinse. I think when your gums are healthy, it really makes a huge difference in the way you feel.
5:40 a.m.: I use the Eighth Day Resurfacing Tonic and follow up with the Eighth Day Regenerative Serum. 
5:42 a.m.: Afterwards, I like adding a few self-tanner drops from Tan Luxe in the Augustinus Bader Soothing Cream as I'm very pale right now.
5:44 a.m.: I use sunscreen from Dr. Dennis Gross's All-Physical SPF 30 for protection. It's great for maturing skin.
5:45 a.m.: For makeup, I use Westman Atelier's Complexion Drops for a tint, Chanel Baume Glow Stick for highlighting, and Jillian Dempsey Cheek Tint for blush.
5:50 a.m.: To contour, I reach for Westman Atelier's Face Trace and Tom Ford's Foundation Stick. 
5:53 a.m.: To blend it all in, I use the Beautyblender Pro and top everything off with Chanel's Powder Blush. 
6 a.m.: I drink water and then meditate for 20 minutes. I do a meditation on YouTube called Golden Light and light a candle.
6:20 a.m.: Then I have a coffee and look at my schedule for the day. I try not to look at text messages or emails until later unless it's something urgent.
6:30 a.m.: I wake up my son, Jule,s and get him ready for school and take him. That's probably the best part of my morning.
10 p.m.: I use the Dr. Barbara Sturm Enzyme Cleanser. It's my favorite. I love the powder exfoliating formula.
10:02 p.m.: I follow up with the Vintner's Daughter Botanical Serum and the Melanie Simon Vitamin C serum.
10:04 p.m.: I then use my Lyma Laser. I use it every night for 30 minutes and I really see a difference in my skin.
10:34 p.m.: Then I put on a night cream, the Augustinus Bader Face Cream Mask, and then I head to bed.
It's such an oversaturated industry. And I definitely think it's one that people think they can get rich off of quickly, so there's a lot of not-so-great products out there because of it. I personally really love things that are made with soul and love and intention. It's such a wasteful industry too, so the carbon footprint of it all definitely makes me cringe. I think there's certainly more awareness about this now. I also love how the consumer is more and more educated on topics like this and also how they hold brands accountable, when it comes to how businesses hire people and not celebrate racist people. I think people are now looking beyond quality products and also asking brands if they care about the planet or if they care about the people that they work with.
I really love products with glycolic acid in them. It's maybe not for everyone, but I think it's really effective for me. I love when there are skin-care benefits in makeup products. I'm also just attracted to technology and science.
We have an extensive testing process at Violet Grey. It's funny because we used to have to have a million calls to get brands like Chanel to partner with us, but now we just get bombarded with so many submissions per day. But the first step is for it to go through former Vogue beauty director and longtime journalist Sarah Brown and her team. She's an investigative reporter in her own right and she definitely knows what's good and what she feels is going to add to our edit or replace something in it. If she likes it, it goes through to further testing. I think we've done some data analysis before and it turned out that almost less than one percent of the things we tested actually ended up on our site. One of our goals is to ensure that we're not giving the consumer too many options to choose from. We don't want to overwhelm people.
I would call myself a mattress connoisseur. I love the Hastens mattress. It's the best one I've tried by far. It's also the one that Drake raves about. When he said, "I only love my bed and my mom, I'm sorry," he meant that. But in all seriousness, especially when you get older, your mattress matters more and more to you. It makes a world of a difference when it comes to quality sleep. It might seem silly to splurge on a mattress, but it is something you spend a lot of time on, so finding a good one is important. Lastly, sobriety has been a really important step in my journey and overall well-being.