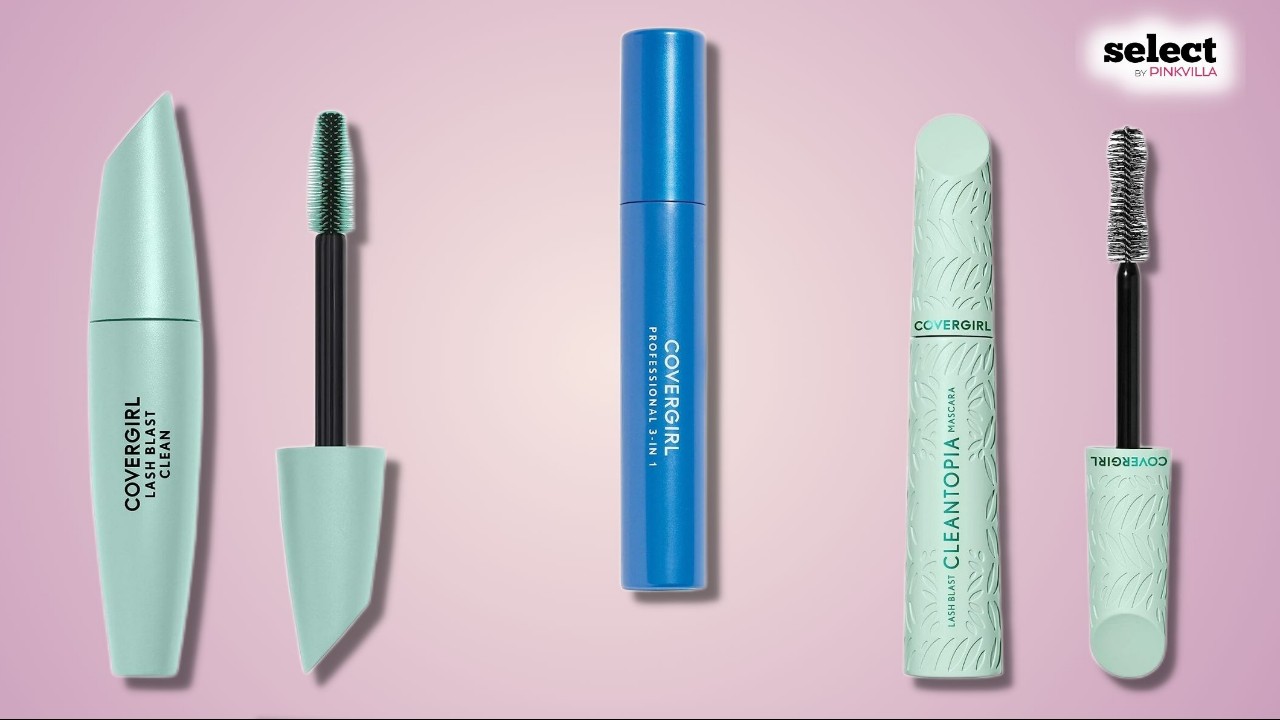 The products curated for this article are independently chosen by the
editorial team. If you make a purchase through the links mentioned below, we may receive a commission. Check out our product
research & curation process
With a legacy spanning decades, COVERGIRL has redefined cosmetics with its iconic and accessible approach. Since its inception in 1961, the brand has championed diversity, innovation, and empowerment. COVERGIRL's commitment to inclusivity and affordability has resonated worldwide, making it a household name trusted by generations. Among its wide array of beauty products, the best Covergirl mascaras are renowned for their impressive range and quality. 
With a variety of formulas and brush styles, they cater to different lash preferences. From volumizing to lengthening, each mascara offers a unique formula and brush design tailored to diverse lash desires. Join us in celebrating COVERGIRL's journey from its humble beginnings to becoming a global beauty authority, as we as per our expertise have come up with a list of the finest mascaras the brand has to offer. 
13 Best Covergirl Mascaras to Let Your Eyes Do All the Talking
The Covergirl Lash Blast Volume Mascara in Very Black is a mascara that is designed to give your lashes a dramatic and voluminous look. This mascara instantly gives your lashes ten times more volume than bare lashes. It is made to never clump or smudge, and it adds thickness and plumpness to your lashes. The mascara comes with a unique spin-shape brush that is designed to catch and coat even the tiniest lashes, ensuring that every part of your lashes is coated for instant volume. You can choose from three intense colors: blackest black, jet black, and dark brown. This drugstore mascara is hypoallergenic, meaning it is less likely to cause any allergic reactions. Rest assured that this mascara is not tested on animals. Ditch those false lashes and get naturally fuller lashes with this formula that is made to be long-lasting, so you can enjoy your voluminous lashes throughout the day.
Pros
Adds volume and length to lashes
Dries up quickly
Hypoallergenic formula
Affordable
Convenient mascara wand
2
BEST PLANT-BASED FORMULA
Covergirl Lash Blast Cleantopia Mascara
This Covergirl Mascara is a volumizing eye makeup that is designed to provide luscious lashes, making them appear fuller and thicker. The formula is smudge-proof, ensuring that the mascara stays in place throughout the day without flaking. The mascara is formulated with a vegan formula, making it suitable for those who prefer cruelty-free and animal-friendly products. Cleanotopia is the brand's first plant-powered clean vegan mascara, formulated with 100% cellulose plant fibers. Accentuate the straight lashes to get soft, fluttery lashes with just one coat of mascara. Moreover, the mascara is suitable for all eyelash types, providing volume and definition to lashes. It is infused with aloe leaf extract, ceramide, and sustainably sourced rainforest maracuja, which helps nourish and condition the lashes. 
Pros
Plant based
Smudge free
Paraben free
For all lash types
3
BEST CONDITIONING
COVERGIRL Lash Blast Clean Volume Mascara
This blast mascara is safe for sensitive eyes and has a clean, vegan formula that is free of parabens, sulfates, talc, and mineral oil. This plumping mascara is infused with argan and marula oils, which leave lashes feeling soft and conditioned. The product comes in the shade Very Black and is sold in a pack of 1. The mascara is designed to add volume to lashes, making them appear fuller and more dramatic.It is easy to apply and provides a clump-free finish for a natural look. With its clean formula and volumizing effect, the CoverGirl mascara is a great choice for those who want to enhance their lashes while also being mindful of the ingredients in their makeup products.
Pros
Clean Formula
Volumizing
Conditioning
Value for money
4
BEST INNOVATIVE BRUSH
COVERGIRL, Clump Crusher
Add drama to your lashes with the COVERGIRL Clump Crusher Mascara. This mascara is designed to provide showstopping volume with every stroke, while also preventing clumps. It features an innovative curved brush and fine-toothed comb that work together to evenly distribute the mascara and separate lashes. The mascara is ideal for those with naturally small lashes that need extra volume and length. The curved brush is designed to fit the shape of the eye, making it easy to apply the mascara to every lash. The mascara is also available in black-brown.
Pros
20 times more volume with every stroke
innovative curved brush
Vegan formula
Cons
Some users may find the mascara to be too dry and difficult to apply
5
BEST ALL-DAY WEAR
COVERGIRL Professional Mascara
Say hello to thick voluminous lashes with COVERGIRL'S Professional mascara. This mascara is designed to give you magnified lashes that still look natural, and it is available in curved brush and waterproof options. The mascara is a 3-in-1 all-day formula that lets you darken and define your lashes like a pro, providing volume, length, and definition without smearing or smudging. The straight brush finds every lash for maximum impact, and the formula is suitable for sensitive eyes and contact lens wearers.
Pros
Hypoallergenic formula
All day wear
No smudge
Easy application
6
BEST PACKAGING
COVERGIRL Full Lash Bloom Mascara
Bid goodbye to clumpy eye makeup with this mascara by COVERGIRL. The mascara is designed to provide exceptional full lashes that are soft to the touch. The formula includes natural beeswax, which helps prevent lashes from becoming stiff or brittle. The mascara is perfect for everyday wear and is suitable for those who want to experience dramatic lashes without weighing them down.The product features a new petal-shaped brush that is designed to help distribute the formula evenly and separate lashes for a fuller look. The brush is also designed to help coat each lash from root to tip, providing maximum coverage. Moreover, it has a volume and lengthening effect, making it ideal for those who want to enhance their lashes.
Pros
Nice packaging
Creates full, separated volume
Coats and separates lashes evenly
Makes lashes look full and long without clumps
7
BEST SMUDGE PROOF
Covergirl Lash Blast Fusion Mascara
Covergirl Lash Blast Fusion Mascara is a super-volumizing mascara that is designed to lengthen and thicken every lash. It has a fiber stretch formula with fiber stretch properties that make each and every lash look bigger, longer, and thicker. The mascara comes with an oversized brush that is specially designed to reach all lashes, including the ones in the corners and on the bottom of the eyes. The brush has gigantic bristles that help to coat each lash evenly and prevent clumping. The mascara is available in Very Black, a bold and intense shade that is perfect for creating a dramatic look. It is water-resistant, so you can keep those lashes looking great all day long, even in wet conditions. The mascara is also designed to be long-lasting, so you don't have to worry about touch-ups throughout the day. It is easy to apply and provides a bolder look that lasts all day long. It is perfect for anyone who wants to extend and thicken their lashes for a more dramatic look.
Pros
Provides natural-looking thick and long eyelashes
Doesn't give clumpy or spider lashes
Doesn't smudge and is long-lasting even in hot and humid weather
Great value for money
8
BEST CLINICALLY APPROVED
COVERGIRL So Lashy! blastPRO Mascara
The COVERGIRL So Lashy! Mascara in Black is a voluminous mascara that provides bold, dark volume for all lash types. The mascara features a ball tip that allows for easy application to the corner and hard-to-reach lashes. It is long-lasting and designed to last all day. The mascara is also available in a waterproof formula. It has a 3-in-1 brush that shapes, molds, and builds lashes, while the specialized ball tip helps to reach the corners and hard-to-reach lashes. The mascara is easy to remove with soap and water. It is ophthalmologically tested and suitable for contact lens wearers. It is a versatile and long-lasting mascara that provides bold and voluminous lashes for any lash type.
Pros
Easy to remove
Clinically approve
Innovative tip
Cons
Hard to apply on the lower lashes
9
BEST VERSATILE FORMULA
COVERGIRL Exhibitionist Mascara
With its innovative formula, the Exhibitionist Mascara coats each lash from root to tip, creating dramatic length and intense volume without clumping or smudging. The unique brush design enhances lash separation, ensuring that every lash is coated evenly for a bold and defined look. Whether you're aiming for a natural daytime allure or a sultry evening gaze, this mascara's buildable formula lets you customize your lash intensity with ease. The result is lashes that hold their curl, remain soft to the touch and resist flaking throughout the day. From its sleek packaging to its impressive performance, the mascara lives up to its name by delivering captivating lashes that command attention. Elevate your eye makeup routine with a mascara that amplifies your natural beauty, leaving you with voluminous and alluring lashes that make every moment an exhibition of confidence.
Pros
Hydrating
Cruelty-free
Versatile
Precise application
Cons
May not be suitable for those who prefer a more natural look
10
BEST DRAMATIC LOOK
COVERGIRL Bombshell Volume
Elevate your lash game to bombshell status with COVERGIRL's Bombshell Volume Mascara. This revolutionary mascara offers a double-ended approach that empowers you to achieve explosive volume and seductive intensity for your lashes. The first step features a volumizing base coat that thickens and primes your lashes, providing a strong foundation for the ultimate lash transformation. The second step introduces the intensifying top coat, designed to coat each lash with jet-black pigments, creating an alluring, bold look that demands attention. The dual-sided brush is expertly designed to ensure even application, separating and defining lashes while preventing clumping or smudging. The result is lashes that are both voluminous and strikingly defined, delivering a multidimensional effect that's perfect for special occasions or whenever you want to make a statement.
Pros
Dramatic look
Easy to apply
Nourishes the lashes
11
COVERGIRL Total Tease
The COVERGIRL's Total Tease Mascara is a true game-changer in achieving captivating and flirtatiously defined lashes. This innovative mascara features a unique brush that's specially designed to tease and separate each lash, delivering a mesmerizing fan-like effect. The precision comb brush comes equipped with a teasing tip that allows you to effortlessly reach even the tiniest lashes at the corners of your eyes. This ensures no lash is left untouched, resulting in a stunning, full-lash look that's both voluminous and dramatic. It empowers you to customize your lash intensity, from a subtle daytime allure to a seductive evening gaze. Whether you're aiming for an enhanced natural look or bold, head-turning drama, this mascara delivers with precision and flair.
Pros
Boost volume
Waterproof
Lasts all day
Easy application and removal
12
COVERGIRL Lash Exact Mascara
Discover the precision and definition you crave with COVERGIRL's Lash Exact Mascara. This mascara redefines your lash experience by delivering unparalleled accuracy and separation for an effortlessly polished look. The brush's finely bristled design ensures that each lash is coated individually, preventing clumping and ensuring a flawless finish. Whether you desire a subtle enhancement or a more pronounced effect, Lash Exact Mascara's versatile formula allows you to achieve your desired level of lash definition. Perfect for those who prefer a more natural appearance, this mascara conditions the lashes to add drama without overwhelming them. Its smudge-resistant formula ensures that your defined lashes remain intact throughout the day, resisting smearing and flaking.
Pros
Skin-friendly
Natural finish
Water-proof
Budget-friendly
Perfect mascara for daily wear
13
COVERGIRL Super Sizer by LashBlast
Embrace a lash transformation that commands attention with COVERGIRL's Super Sizer by LashBlast Mascara. Elevate your makeup routine with bold, dynamic lashes that enhance your natural beauty and radiate confidence. This cruelty-free international formula is ultra-black and buildable, allowing you to customize your lash intensity. The Super Sizer's innovative brush features micro-bristles that grip and coat each lash, stretching them to their fullest potential. This unique design allows for precision application, ensuring no lash is left untouched.
Pros
Hypoallergenic
Moisture resistant
Clump less results
Hassle-free application
Perfect everyday mascara
How To Choose The Right COVERGIRL Mascara?
Choosing the perfect COVERGIRL mascara involves considering your lash goals, preferences, and eye sensitivity. Here's a comprehensive guide in 10 points to help you make the right choice:
Ingredient List:  Look for ingredients that also includes castor oil that naturally enhances hair growth. 
Define Your Lash Goals:
Determine whether you want volume, length, definition, or a combination. COVERGIRL offers mascaras tailored to each effect.
Consider Your Eye Sensitivity:
If you have sensitive eyes, opt for hypoallergenic formulas like the Clean Sensitive Mascara to minimize irritation.
Know Your Mascara Formula:
COVERGIRL offers various formulas, like waterproof, volumizing, or lengthening. Choose based on your desired look and lifestyle.
Explore Brush Styles:
Different brush shapes contribute to varying effects. A fuller brush can provide volume, while a comb-like brush defines and separates.
Check for Specific Needs:
If you wear contact lenses or have oily lids, consider mascaras like LashBlast Volume that are suitable for both scenarios.
Read User Reviews:
Online reviews can offer insights into real experiences with different COVERGIRL mascaras and help guide your decision.
Consider Eye Color:
Some COVERGIRL mascaras are available in specific shades to complement different eye colors, enhancing their natural beauty.
Assess Longevity:
Determine how long you want your mascara to last. Waterproof options like the Exhibitionist Waterproof Mascara endure water and humidity.
Choose a Comfortable Wear:
If you prefer lightweight mascaras, opt for formulas like the Flourish Mascara, which offer subtle volume without heaviness.
Trial and Error:
Experimentation may be necessary to find your perfect match. Don't hesitate to try different COVERGIRL mascaras until you discover the one that suits you best.
By evaluating your lash goals, considering your needs, and exploring COVERGIRL's diverse range, you'll be equipped to select the ideal mascara that enhances your lashes and complements your unique style.From the revolutionary brush designs to the cutting-edge formulas, each mascara in their collection embodies the brand's dedication to enhancing natural beauty while embracing individuality. Whether you seek a subtle enhancement for daytime allure or a dramatic statement for special occasions, COVERGIRL has a mascara to match your every mood.
FAQ's
What COVERGIRL mascara doesn't smudge?
COVERGIRL LashBlast Volume Waterproof Mascara is known for its smudge-resistant formula, ideal for long-lasting wear.
Is the Covergirl Peacock Flare mascara good?
Covergirl Peacock Flare Mascara offers volume and separation, but individual experiences may vary.
How long does COVERGIRL mascara last?
COVERGIRL mascaras typically last throughout the day, offering reliable wear for various occasions.
Is COVERGIRL mascara oil-free?
Many COVERGIRL mascaras are oil-free, making them suitable for those with oily or sensitive skin.
Does COVERGIRL mascara have gluten?
COVERGIRL provides gluten-free options, ensuring accessibility for individuals with gluten sensitivities.
Is COVERGIRL mascara vegan?
Some COVERGIRL mascaras are vegan, but it's important to check product labels for specific ingredients.
Is COVERGIRL mascara good for sensitive eyes?
COVERGIRL offers mascaras designed for sensitive eyes, like Clean Sensitive Mascara, which reduces irritation.
Does COVERGIRL mascara have parabens?
Many COVERGIRL mascaras are formulated without parabens, catering to those who prefer paraben-free options.
Why Trust Pinkvilla
Sayantani Deb, the author meticulously goes through each product description, multiple customer testimonials, and various online reviews, before recommending any product. Here she has shortlisted the best  Covergirl mascaras that will give you long lasting lashes.
Our product experts study the specifications of every product we suggest and try them out to bring what's proven to be worthy of your money, time, and energy. We also have subject matter experts from various fields like Fashion, Skincare, Haircare, Home Decor, and Health & Fitness onboard to make sure our suggestions are credible and trustworthy. You can trust Select to be your faithful shopping guide for all the right reasons!
Author BIO
Sayantani is a certified hair and makeup professional turned writer with 2+ years of experience in the same genre. Ap More
Source link