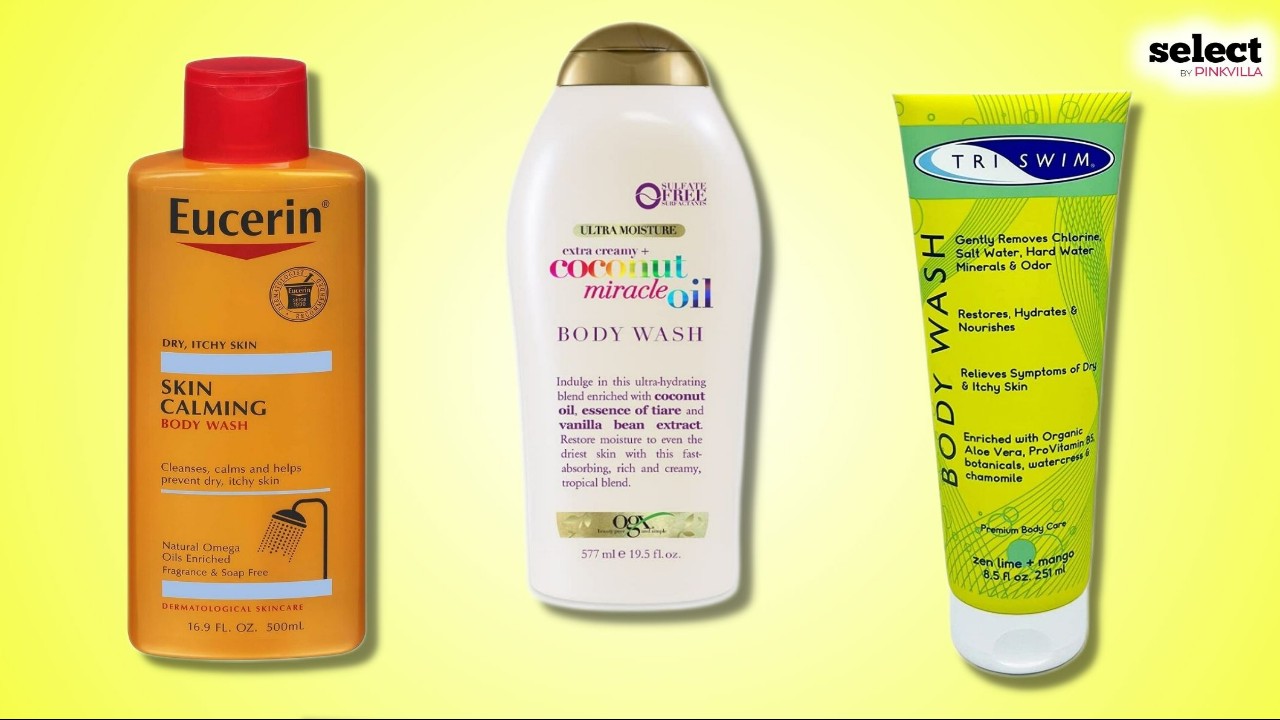 The products curated for this article are independently chosen by the
editorial team. If you make a purchase through the links mentioned below, we may receive a commission. Check out our product
research & curation process
Hard water can wreak havoc on your skin and hair, leaving them feeling dry, dull, and lifeless. Fortunately, there's a solution – the right body wash. Hard water is laden with minerals like calcium and magnesium, which can form deposits on your skin, leading to irritation and an uncomfortable, filmy residue. The best body wash for hard water is one that not only cleanses effectively but also softens and nourishes your skin while countering the adverse effects of mineral buildup.
Whether you're dealing with hard water in your city or traveling to regions with this water type, there is a hard water body wash to cater to all needs and preferences.
Say goodbye to the discomfort of hard water and welcome the refreshing, soothing sensation of a quality body wash. With our expert guidance, which is based on our prior experience, you'll discover the perfect body to restore your skin's natural radiance and leave you feeling refreshed every day.
11 Best Body Wash For Hard Water
Specially formulated to remove chlorine, saltwater, bromine, hard water minerals, and chemical odors from the skin, this soap for hard water by TRISWIM Is a must-have for all swimmers. It is an ideal product for all the regular swimmers and athletes who are exposed to these chemicals and minerals on a regular basis. The wash is effective in removing chlorine residue from the body after a swimming session. The body wash formula is designed to hydrate and nourish dry skin, leaving it feeling soft and smooth.
Pros
Citrusy scent
Lightweight formula
Protects skin from harsh chemicals
Affordable
Cons
Doesn't get rid of the chlorine smell
2
BEST MOISTURISING
Aveeno Skin Relief Body Wash
This gentle daily cleanser by Aveeno Skin Relief is formulated specifically for those with sensitive skin. This body wash boasts a soothing Triple Oat formula that cleanses the skin while leaving it feeling moisturized and soothed. It is sulfate-free and fragrance-free, making it ideal for those with itchy and dry skin. The creamy formula is gentle enough for daily use and effectively cleanses the skin without stripping it of its natural oils. This body wash is available in a 33 fl. oz bottle, providing a long-lasting supply for daily use.
Pros
It helps soothe itchy skin
Moisturises skin
Gentle cleans
Safe for daily use
3
BEST ORGANIC FORMULA
OGX Moisture Body Wash
Formulated to provide ultra-hydration to the skin, this hard water body wash by OGX is suitable for all skin types, including oily, dry, normal, and combination skin. The body wash contains coconut oil, essence of tiare, and vanilla bean extract, which work together to restore moisture to even the driest skin. The tropical blend is rich and creamy, making it a luxurious addition to any shower routine. To use, simply lather the body wash onto wet skin, rinse, and repeat as desired. The ultra-hydrating formula helps to leave skin feeling soft, smooth, and nourished.
Pros
Creamy formula
Organic ingredients
Ultra hydrating
Nourishing
4
BEST AFFORDABLE
Eucerin Skin Calming Body Wash
The Eucerin Skin Calming  Wash is a soap-free formula that gently soothes dry, itchy skin without over-drying or irritating it. The body wash effectively cleanses the skin, removing dirt and impurities. The formula contains natural lipids and omega oils that help calm and soothe dry, itchy skin. The body wash helps retain the skin's essential moisture, leaving it feeling soft and smooth. It is free of fragrances, making it suitable for sensitive skin. The soap-free formula helps prevent over-drying and irritation of the skin.
Pros
Prevents drying of skin
Gentle cleanse
Affordable
Suits skin sensitivities
5
BEST DETOXYFING
Alba Botanica Hawaiian Detox Body Wash
Elevate your shower routine to a tropical spa experience with Alba Botanica  Body Wash.Infused with the essence of Hawaiian beauty secrets, this body wash harnesses the power of volcanic clay to draw out impurities and toxins from deep within your pores, leaving your skin feeling refreshed and revitalized. The unique formula combines botanical extracts like coconut water, ginger root, and passionfruit to nourish and hydrate, delivering a radiant glow that echoes the islands' natural radiance. Free from harsh chemicals, sulfates, and synthetic fragrances, it prioritizes clean and cruelty-free ingredients, making it an ideal choice for those who seek a more natural and sustainable skincare routine.
Pros
Tropical scent
Detoxifying
Natural ingredients
Deep cleansing
6
BEST GENTLE CLEANSE
CeraVe Body Wash with Salicylic Acid
Experience a refreshing shower with CeraVe Body Wash with Salicylic Acid, a fragrance-free body wash designed to exfoliate rough and bumpy skin. It is formulated with ceramides to help restore the skin's natural barrier, hydrating hyaluronic acid, and niacinamide. The product combines these ingredients to help smooth and improve rough, bumpy skin. The body wash provides gentle, non-irritating cleansing plus exfoliation to improve skin texture without harsh microbeads that can scratch the skin. It features niacinamide to soothe the skin, hyaluronic acid to retain the skin's natural moisture, and three essential ceramides to maintain the skin's protective barrier.
Pros
High-quality ingredients
Allergy tested
Fragrance-free
Cons
The product does not contain AHAs or BHAs
7
BEST INGREDIENTS
Bliss Soapy Suds Body Wash – Lemon and Sage
The Bliss Soapy Suds Body Wash is a luxurious and hydrating body wash that leaves your skin feeling supremely soft. The body wash is scented with the iconic Lemon and Sage fragrance, which is revitalizing and citrusy. It contains ingredients like aloe leaf extract and glycerin, which help to hydrate, soothe, and soften the skin. When used, the body wash works into a silky lather that cleans and conditions the skin, leaving it smooth and clean. This body wash is also free from parabens, which are commonly used as preservatives in cosmetic products.
Pros
Nice citrusy smell
Doesn't dry out the skin
Cleans well
Foams well
Non-irritating
8
BEST FOAMING
Dove Body Wash with Pump Deep Moisture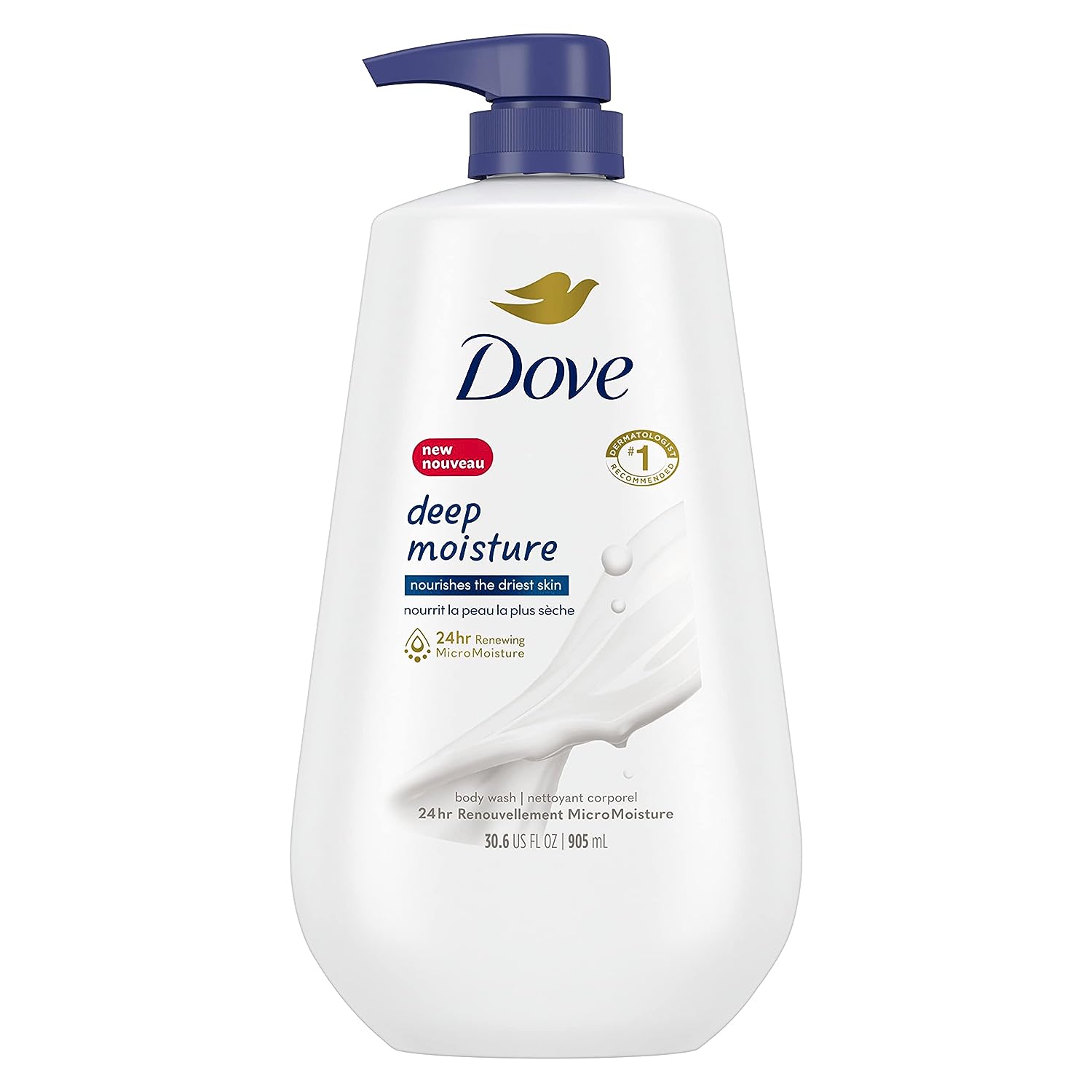 Experience the ultimate nourishment for your skin with Dove Deep Moisture Body Wash Indulge in a luxurious shower experience as this body wash replenishes and pampers your skin, leaving it irresistibly soft and deeply moisturized. Formulated with Dove's unique NutriumMoisture technology, this body wash goes beyond cleansing by delivering essential nutrients deep into the skin's layers. It effectively cleanses away impurities while simultaneously nourishing and hydrating your skin, making it an excellent choice, especially for those with dry or sensitive skin.
Pros
Convenient dispenser
Value for money
Moisturising
Best for dry skin
Cons
May not be suitable for those with sensitive skin
9
BEST SOOTHING
Tea Tree Body Wash
The Tea Tree Body Wash is a versatile and moisturizing shower gel that offers a range of benefits for both men and women. It effectively fights body odor, keeping you feeling fresh and clean throughout the day. This body wash contains tea tree oil, which has antibacterial properties that help combat acne and blemishes on the face, hands, and body. The soap for hard water is formulated to address common fungal infections like athlete's foot and jock itch, providing relief and preventing further irritation. With its soothing properties, this body wash can help alleviate dandruff and eczema, providing relief from itching and irritation.
Pros
Fights yeast infection
Safe for skin issues
Soothing
Natural antiseptics
10
BEST Ph Balanced
Nature By Canus Silky Body Wash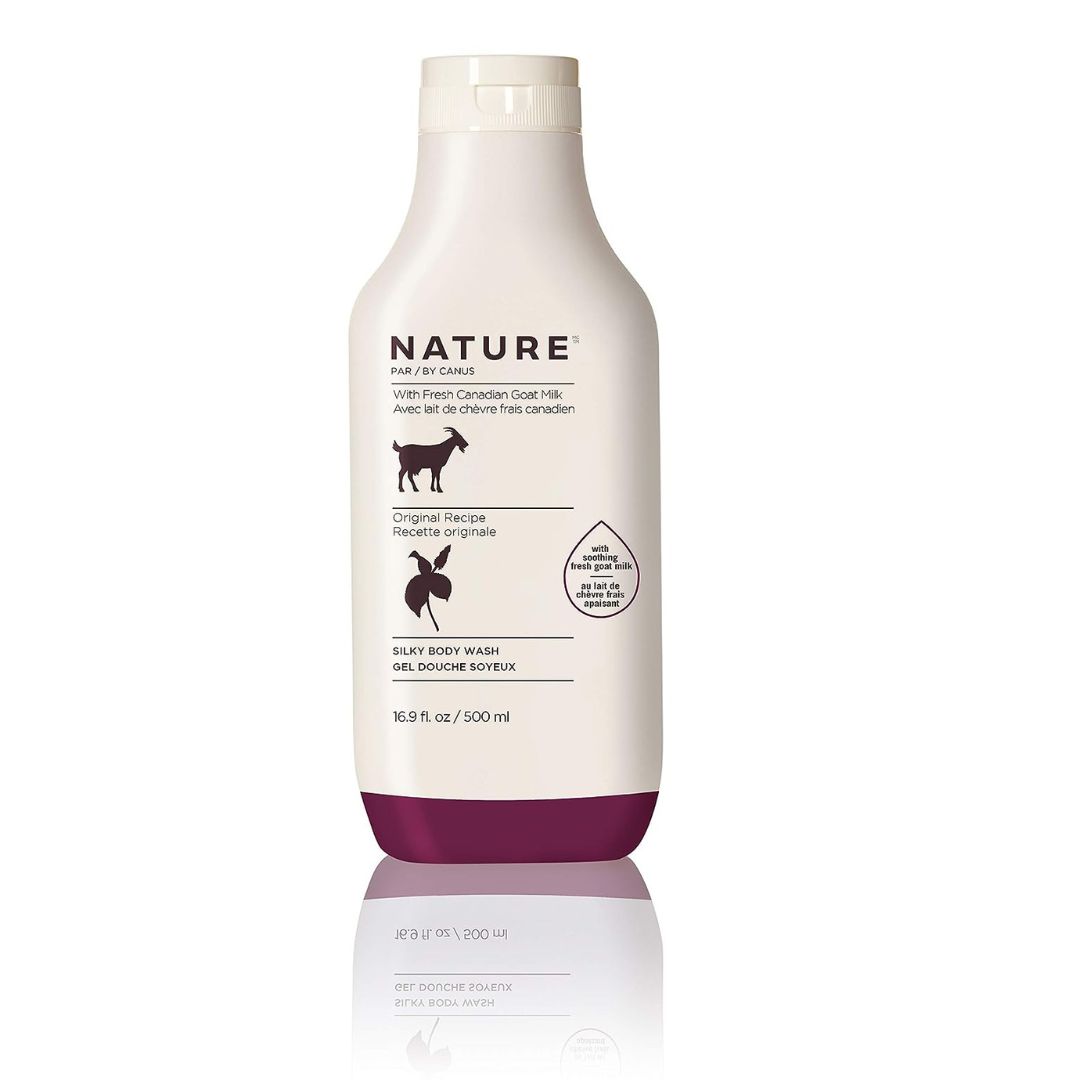 This nourishing body wash for hard water is specifically formulated for sensitive skin. The body wash is made with fresh goat milk, which is naturally packed with fatty acids and amino acids. Goat milk provides long-lasting protection and nourishment for sensitive and damaged skin. The body wash is moisturizing and helps to keep the skin hydrated. The product contains ingredients like shea butter, known for its nourishing and softening benefits. It leaves a sweet and flowery fragrance on the skin. The body wash is pH-balanced, making it suitable for sensitive skin types.
Pros
Moisturizing
Ph balanced
Suitable for all skin types
Enriched with nutrients
Cons
Some may not like the smell of goat milk
11
TRI HARD After Swim Body Wash
The TRIHARD After Swim Body Wash is a specialized body wash designed for swimmers with sensitive skin. It is formulated to remove chlorine and salt water while moisturizing dry skin. The product contains a proprietary formula called PLECOTECH, which includes botanical extracts, dead sea salts, and 100% natural red algae along with tea tree oil, chamomile, and mint. Other ingredients include magnesium chloride, biodegradable apricot scrub, coconut oil, almond oil, menthol, and aloe vera. Additionally, the body wash is infused with tea tree oil and menthol to remove chlorine odors completely and soothe irritated skin.
Pros
Suits sensitive skin
Moisturizing
Removes harsh buildup
Gentle formula
Benefits of Using Body Wash for Hard Water
Using a body wash specifically formulated for hard water can provide several benefits due to its unique formulations. Hard water contains high levels of minerals like calcium and magnesium, which can lead to mineral buildup on the skin and hair. Here's how a body wash for hard water can help mitigate these effects:
Mineral Removal: Hard water can leave mineral deposits on the skin, making it feel dry and rough. A specialized body wash helps break down and remove these mineral residues, leaving your skin feeling smoother.
Gentle Cleansing: Hard water can strip away natural oils from the skin, leading to dryness and irritation. A body wash formulated for hard water is often gentle, preserving the skin's moisture barrier while effectively cleansing.
Hydration: These body washes usually contain hydrating ingredients that counteract the drying effects of hard water. They help lock in moisture, keeping your skin soft and supple after each wash.
pH Balance: Hard water can alter the skin's pH balance, leading to sensitivity and discomfort. Body washes for hard water often have pH-balancing properties, maintaining your skin's natural equilibrium.
Improved Lathering: Hard water can inhibit lathering of traditional soaps and body washes. Specialized formulations for hard water ensure rich lathering, resulting in a luxurious and effective cleansing experience.
Reduced Irritation: The minerals in hard water can irritate sensitive skin, exacerbating conditions like eczema. These body washes are designed to soothe and calm irritated skin.
Hair Benefits: Using a body wash for hard water can also benefit your hair. It can prevent mineral buildup on the scalp and hair strands, leading to healthier-looking hair that's easier to manage.
Long-lasting Fragrance: Hard water can sometimes cause fragrances to dissipate quickly. Body washes formulated for hard water often have longer-lasting scents, ensuring you enjoy the fragrance throughout the day.
Enhanced Ingredients: These body washes often include ingredients like chelating agents that bind to minerals, preventing them from depositing on the skin. This helps maintain the skin's natural radiance.
Preventing Dullness: Hard water can make your skin appear dull due to the mineral buildup. Using a suitable body wash can help maintain the skin's natural glow and vibrancy.
Thorough Cleansing: The unique formulas of these body washes ensure thorough cleansing by breaking down oils, dirt, and minerals, leaving you feeling refreshed and rejuvenated.
Healthier Feeling Skin: With reduced mineral buildup and a gentler cleansing process, your skin can feel healthier, smoother, and more comfortable overall.
Remember to choose a body wash with the right ingredients that cater to your specific skin needs and concerns. While body washes for hard water offer numerous benefits, individual results may vary.
Things to Look When Buying Best Body Wash for Hard Water
When purchasing the best body wash for hard water, it's important to consider various factors to ensure you're getting a product that effectively addresses the challenges posed by mineral-rich water. Here are the key things to look for:
Chelating Agents: Look for body washes that contain chelating agents like EDTA or citric acid. These ingredients help bind to minerals and prevent them from depositing on your skin, ensuring a thorough cleanse.
pH-Balancing Formulas: Opt for body washes with pH-balancing properties to counteract the alkaline nature of hard water. A balanced pH helps maintain your skin's natural acidity, preventing dryness and irritation.
Hydrating Ingredients: Choose body washes with hydrating ingredients like glycerin, hyaluronic acid, or aloe vera. These help retain moisture and prevent your skin from drying out due to the harsh effects of hard water.
Sulfate-Free: Avoid body washes with harsh sulfates like SLS (sodium lauryl sulfate) as they can strip away your skin's natural oils, exacerbating the drying effects of hard water.
Natural Oils: Body washes containing natural oils like coconut oil, jojoba oil, or argan oil can provide an extra layer of hydration and nourishment, especially beneficial for those with dry or sensitive skin.
Gentle Cleansers: Look for mild, non-stripping cleansers like cocamidopropyl betaine or decyl glucoside. These ingredients effectively cleanse without over-drying your skin.
Mineral-Blocking Technology: Some body washes use innovative technologies to prevent mineral buildup on your skin. These formulas create a barrier that repels minerals, helping to keep your skin clean and soft.
Anti-Irritation Formulas: If you have sensitive or irritated skin, consider body washes with soothing ingredients like chamomile, oat extract, or allantoin to calm and alleviate discomfort.
Fragrance Longevity: Check reviews or product descriptions for information about the longevity of the fragrance. Hard water can sometimes cause scents to fade quickly, so a longer-lasting fragrance can be desirable.
Dermatologist-Tested: Opt for body washes that have been tested by dermatologists for safety and efficacy, especially if you have sensitive skin or specific skin conditions.
Reviews and Ratings: Look for customer reviews and ratings to get insights into real-world experiences with the product. This can help you gauge its effectiveness in dealing with hard water-related issues.
Suitability for Hair: If you're concerned about mineral buildup on your hair, consider a body wash that is also hair-friendly, helping to prevent dullness and residue on your scalp and strands.
Free of Harsh Additives: Avoid body washes with artificial fragrances, parabens, and other harsh additives that can further irritate your skin.
Brand Reputation: Consider well-known and reputable brands that specialize in skincare products. Established brands often invest in research and development to create effective solutions.
Packaging: Look for packaging that's convenient and easy to use in the shower, ensuring the body wash remains fresh and accessible.
How to Use Best Body Wash for Hard Water?
Using the best body wash for hard water is fairly straightforward. Here's a simple step-by-step guide to help you get the most out of your chosen body wash:
Wet Your Skin: Start by wetting your body with lukewarm water in the shower.
Dispense the Body Wash: Squeeze a small amount of the body wash onto your hands or a loofah. The amount you use will depend on your personal preference and the product's instructions.
Lather Up: Rub your hands together to create a rich lather, or if you're using a loofah, apply the body wash to the loofah and lather it up.
Apply to Your Body: Gently apply the lathered body wash to your skin. Begin with your arms, then move to your torso, legs, and feet. Use gentle, circular motions to cleanse your skin.
Focus on Rough Areas: Pay extra attention to areas that might accumulate more mineral buildup, such as elbows, knees, and heels.
Rinse Thoroughly: Once you've cleansed your entire body, thoroughly rinse off the body wash with lukewarm water. Make sure no residue is left behind.
Pat Dry: After rinsing, pat your skin dry with a clean, soft towel. Avoid rubbing your skin vigorously, as this can cause irritation.
Follow with Moisturizer: While your skin is still slightly damp, apply a moisturizer to lock in hydration. This is particularly important after using a body wash for hard water to combat any drying effects.
Hair Care (Optional): If your chosen body wash is also suitable for hair, you can apply it to your hair and scalp as well. Gently massage your scalp and hair, then rinse thoroughly.
Frequency: You can use the body wash daily or as often as needed, depending on your preference and your skin's requirements.
Store Properly: Make sure to close the body wash container properly after use to prevent contamination and keep the product fresh.
Consistency: For the best results, use the body wash consistently over time. Results may vary, so be patient as your skin adjusts to the product.
Remember, everyone's skin is different, so if you notice any adverse reactions or discomfort, consider adjusting the amount of product you use or the frequency of use. If the issues persist, consult a dermatologist for personalized advice. With these 11 best body washes for hard water, you're not just cleansing – you're nourishing, revitalizing, and embracing the power of personalized skincare. It's time to step into the shower with confidence, knowing that you've discovered the solution to hard water's challenges. Say hello to a world where your skin's health is uplifted, one relaxing shower at a time.
FAQ's
Is shower gel good for hard water?
Yes, some shower gels are specifically designed just for hard water, helping to minimize mineral buildup and maintain the skin's moisture balance.
What body wash should I use with hard water?
Choose a body wash with chelating agents, pH-balancing properties, and hydrating ingredients to counteract the effects of hard water.
How do you soften hard water for bathing?
Use water softeners or install a water filtration system to reduce mineral content in hard water, making it gentler on your skin.
Does soap work better with hard water?
Soap can react with minerals in hard water, reducing its effectiveness; specialized body washes are often more suitable.
Can I use regular body wash with hard water?
Regular body wash may not effectively combat mineral buildup; using a body wash formulated for hard water is recommended.
How often should I use body wash for hard water?
Use it according to your hygiene routine; daily or as needed to combat the effects of hard water on your skin.
Why Trust Pinkvilla
Anoushka Sinha, our author is a beauty expert. She meticulously goes through each product description, multiple customer testimonials, and various online reviews, before recommending any product. Here she has shortlisted the best body wash for hard water.
Our product experts study the specifications of every product we suggest and try them out to bring what's proven to be worthy of your money, time, and energy. We also have subject matter experts from various fields like Fashion, Skincare, Haircare, Home Decor, and Health & Fitness onboard to make sure our suggestions are credible and tr+ustworthy. You can trust Select to be your faithful shopping guide for all the right reasons!
Author BIO

Anoushka is certified in Professional Skincare and is a Mass Media (Journalism) graduate from Mumbai University. As a More
Source link