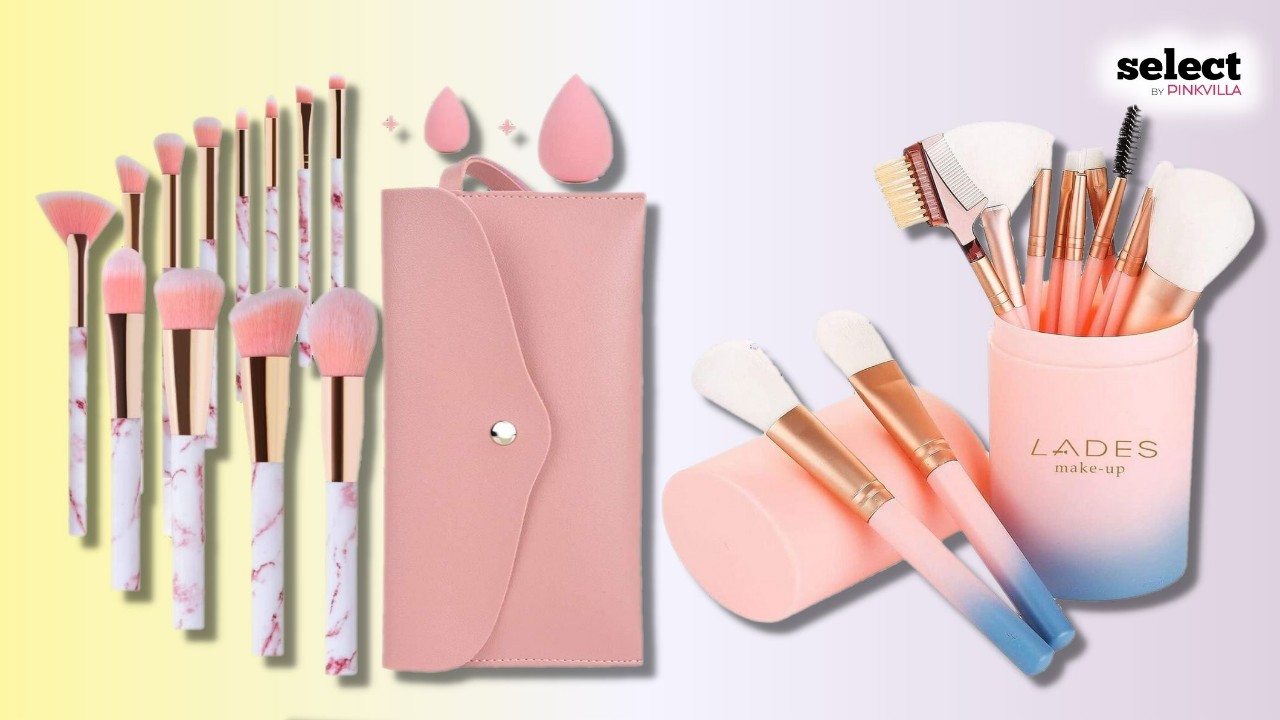 The products curated for this article are independently chosen by the
editorial team. If you make a purchase through the links mentioned below, we may receive a commission. Check out our product
research & curation process
From rendering an artsy eyeshadow and blending a creamy contour to fanning the glistening high points and dabbing on the rouge, the best makeup brush set for beginners is an essential invitee to the makeup party. As per our expertise, the right tool can be a game-changer when it comes to makeup. For applying makeup, a brush is a necessity at every step and must be carefully chosen. While weighing your options, look for soft bristles that are durable and suitable for all skin types. The brushes require regular cleansing and must be easy to wash. Know more about how to choose the right kit for your vanity and an array of brush sets that are specifically crafted for beginners, in the following sections.
Our top picks
Best travel makeup brush set
13 Best Makeup Brush Sets for Beginners to Achieve Makeup Perfection
Get a pro's style of makeup application, blending, and shading with the premium quality makeup brush set by BS-MALL. The skin-loving soft bristles are made of silky nylon, which also ensures the longevity of the product. To make the brush handling an easy job, high-end alloy, and wood materials have been used to create the handles. This set has 18 brushes, with various uses, from a foundation applier and eyeshadow blender to a lip brush and the eyeliner brush. There are brushes with varying densities, sizes, shapes, and angles for an accessible and precise makeup. These brushes have an elegant champagne-gold color and a chic black case, that makes this set perfect for gifting too.
Pros
For beginners to professionals
Affordable price
Great packaging
No hair shedding from brush
Very soft bristles
Compact box
Cons
May need to be washed before first use
2
Best makeup brush case
LADES Make-up 12 Pcs Makeup Brush Sets
For ease and convenience while you are starting out, this brush set of 12 tools by LADES Make-up is one for the job. The kit is packed with all the essential and basic brushes that are required for perfectly done makeup, for instance, blush brush and eye brushes. These premium quality tools are made of nylon and synthetic fiber hair. The handles are made of plating and plastic, which makes them durable, easy to grip, and lovely with ombre colors. From foundation blending and concealing to eyebrow shaping and highlighter dusting, there's a particular tool for every technique, offering smooth application and precision. The brushes are easily cleaned and dry up quickly for trouble-free maintenance, making them an ideal pick for a beginner.
Pros
Soft bristles
Amazing color
Pretty case
Travel-friendly size
Value for money
Cons
Eye shadow brushes are not thick enough
3
Best additional tools
Koccido Makeup Brushes 22 Pcs Makeup Kit
Equipped with 13 makeup brushes and more, this makeup arsenal by Koccido is all one needs for a wholesome makeup experience. The set includes a silicon face-pack brush, four makeup sponge eggs, two silicone lip scrubbers, a brush cleaning egg, and a silicone facial cleansing brush. From the face, eyes, and cheeks to the lips, these comfortable brushes have soft bristles made of fiber. The fluffy brushes are gentle on the skin and give a natural finish. Being durable, these brushes are meant to last long and remain hassle free without breaking or falling off.
Pros
Smaller size available for beginners
Value for money
Available in colors
Easy to clean
Cons
The lash curler is not top quality
4
Best vegan
Zoreya Makeup Brushes 15Pcs
Upgrade your makeup arsenal with the right tools. This 15 pieces brush kit by Zoreya is a combination of six big kabuki brushes and nine brushes for precision, so all your makeup needs are covered. The bristles are durable and made of synthetic fiber which is soft and silky. For great product holding, the brushes are made to be fine and dense with no shedding, which is also perfect for long-term use. The ergonomically designed brush handles are made of wood. The size fits perfectly into your hands and is easy to use and work with.
Pros
Vegan
Cruelty-free
Suitable for sensitive skin
For beginners and professionals
Cost-effective
Cons
Handle built could be better
5
Best for sensitive skin
Niré Beauty Artistry Set
This silver and black edition of seven eye makeup brushes, five face brushes, and a blending sponge is from the exclusive collection by Niré Beauty.  It comes encased within a luxe storage capsule, which is great for being portable and is used as a table keep. The ultra-soft, vegan brushes are designed with synthetic fibers that do not absorb liquid or cream formulas and other such beauty products. These tools are also antibacterial and hypoallergenic, making them completely suitable for sensitive skin. The PureForm brush cleaning tool is a great addition to help you cleanse the kit.
Pros
Ergonomic brush handles
Suitable for beginners to artists
Pretty colors available
Reasonable price
Soft and non-shedding bristles
Cons
Brushes may have a slight odor
6
SOLVE 32 Pieces Professional Makeup Brushes
Application is the key to flawless makeup and this can be achieved through the right set of brushes and tools. The 32 pieces set of makeup brushes by SOVE is one great option to consider for beginner and advanced stages alike. The synthetic fiber material of the bristles has a soft touch and feel on the skin. The bristles are of high quality — dense and soft and perfect to use with cream, gel, liquid, and powder products. The wooden handles and ferrules are durable with an easy grip, allowing effortless application, blending, and shading.
Pros
Lightweight
Good range of brushes
Cost-effective
Cons
No big fluffy brush included
7
Best variety of bushes
Real Perfection Makeup Brushes 24pcs
Whether you are looking for some tools to amp up your everyday makeup or going pro with advanced techniques, this 24 pieces makeup brush set by Real Perfection is the one for the job. The bristles are of high density and don't shed. The fibers pick up the product easily while being soft on the skin, causing no irritation. The makeup brushes come packed in a stylish wrapping bag which allows you to carry the set with you anywhere.
Pros
Durable
Expansive variety
Extremely soft
8
Best soft bristles
START MAKERS Professional 12Pcs Makeup Brush Set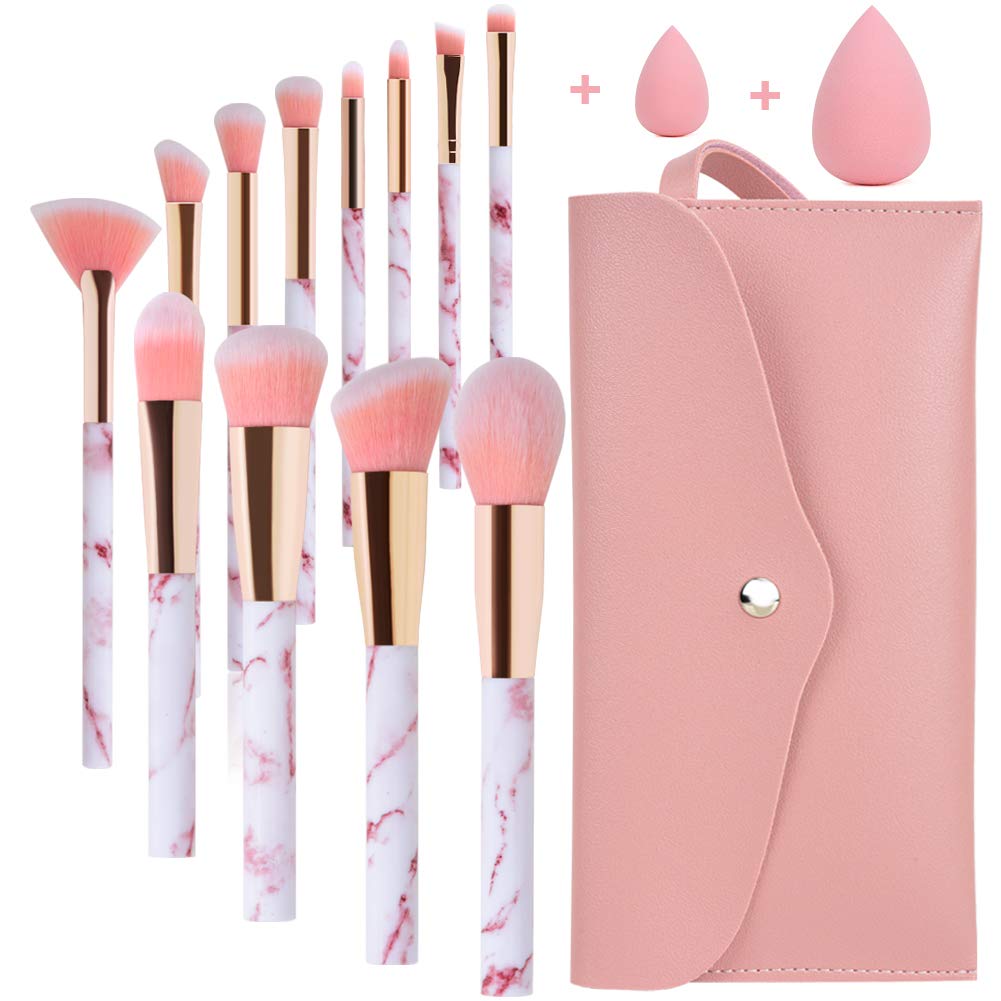 Here's featuring a pretty in pink makeup brush set to make your vanity look chic from the collection by START MAKERS. The kit offers 12 pieces of makeup brushes along with a pair of sponge puffs. These premium brushes are made of synthetic fiber that lends you lasting effects and an easy application. Appropriate for newbies and pros alike, this tool kit makes your experience luxe. The pink marble handles are made durable and offer a comfortable grip. The cute package makes it all the more of a perfect gift for any makeup enthusiast.
Pros
Comes with a handy makeup bag
Soft bristles
Value for money
Easily cleaned and dried
Cons
Not suitable for detailed work
9
Best hypoallergenic
Oscar Charles 17 Piece Beauty & Makeup Brush Set
Carefully handcrafted by industry experts, the 17 pieces makeup brush set by Oscar Charles is a must-have addition to your vanity for perfect application and a flawless finish. The design is meant to deliver a luxurious experience with its soft and silky, high-density synthetic fibers. Packed with 15 brushes, a beauty blender, and a brush cleaner, this kit is encased in a multipurpose, stylish box that is useful for storing, carrying, and placing on the station.
Pros
Hypoallergenic
Gentle on sensitive skin
Vegan-friendly
Cruelty-free
Numbered brushes for reference
10
Best travel makeup brush set
OMANIAC® Makeup Brushes Set
From your daily makeup essentials to professional makeup goals, this brush set by OMANIAC is meant to cover it all. The premium brushes are made of good quality fiber wool, which is fast-drying and doesn't shed. The bristles are soft and gentle on the skin, giving a natural finish. The ergonomic design offers high-end functionality and a comfortable grip. The brush handles are made of an aluminum tube for durability and a pearly shine for the looks. The pack is inclusive of a leather brush holder.
Pros
The polish doesn't fade
Travel-friendly size
Cost-effective
Great at blending
Cons
Not a very strong hold of product
11
SIXPLUS Makeup Brushes Set
Another pick under our radar is this 15 piece makeup brush set by SIXPLUS. The comprehensive kit has all the essential makeup brushes that one needs, whether a beginner or a professional. From kabuki to flat liner brush, liquid foundation applicator, and powder brush, you can find the most suitable ones for the right application and results. The skin-friendly bristles are soft on the skin, thanks to the natural hair fibers used. The brushes do not shed, have no chemical smell, and are easily stored in the case that accompanies the kit.
Pros
Suitable for all skin types
No irritation
Wood and alloy handle
Secure case
Travel-friendly
Reasonable price
Cons
Some brushes need extra product
12
Best on budget
TEXAMO Make Up Brushes
Straight from Barbie's land, these pearly-pastel pink brushes by TEXAMO are essential for a beginner's makeup routine. From layering your base to finishing up touches, or shading, there is a brush tool for every requirement. The beauty brushes use soft synthetic fibers that are suitable for sensitive skin too. The bristles are dense for better makeup application. These pretty brushes come in a lightweight, foldable, and travel-friendly bag. The perfect rose gold color makes this set a perfect gifting option as well.
Pros
Easy to blend
Washable
Doesn't fall out
13
Yuwaku Premium Synthetic 14pcs Kabuki Make Up Brush
Befitting for all kinds of makeup needs, this 14-piece brush set by Yuwaku comprises five big kabuki makeup brushes and nine eye makeup brushes. The nylon bristles have high quality and high density which offer appropriate application, blending, and other makeup techniques. The mixed design of the brush handle has a rose gold metal paired with a matte wooden handle. The compact size of the brushes makes them perfectly travel-friendly.
Pros
Versatile brushes
Soft bristles
Cost-effective
From this buffet of makeup brush kits, how you can pick the one that matches your palate? So, we have a mini guide to offer you. Whether you are freshly stepping into the makeup space and building your arsenal or looking to choose a gift for your dear one, peruse the pointers up ahead to make a reasonable purchase.
How to Choose the Best Makeup Brush Set?
Quality: When it comes to the skin, the quality matters the most. Since it will be in contact with your skin almost daily or quite frequently, it is important to overview its materials and feel on the skin. The finest brushes will last longer, have a gentle touch on the skin, will not shed, and have a good makeup-holding capacity. You may look for bristles made of synthetic fibers, wool fibers, or natural hair. The bristles must be soft and offer a flawless application. The durability and grip of the brush handles are also equally important as they will directly impact your makeup.
Care And Maintenance: Frequent cleansing and washing of the brushes is key to keeping your skin healthy and your makeup up to the mark. Look for brushes that are easy to clean and quickly dry up. It is essential to find bristles that do not fall off after washing them. Some kits come packed with washing tools — this could be a great option for an all-inclusive package. A good storage case that is portable and of good quality also plays a vital role in maintaining the quality of brushes. 
Variety: Even though you are looking for properties that cater to beginner or intermediate needs, make sure the brush kit has all the essential tools. Kabuki, fluffy, tapered blending brush, angled brush, round, big, small, fan brush, and many others are required at every step of the makeup for applying, blending, shading, etc. A wide variety of brushes, from a concealer brush to a crease brush, will aid your process and result in a finished, refined, and detailed look.
For makeup lovers and enthusiasts, makeup brushes are a must-have to upkeep their makeup vanity. For beginners, a brush kit must be packed with good quality tools that have soft bristles and are easy to maintain. Having a wide variety is equally important to enhance the application and usage of other products. For instance, your top-notch foundation will work best only when it is nicely blended on the skin, and this can be achieved with the right tool. Investing in your makeup brush kit will enhance your getting-ready experience and ease the process. The best makeup brush set for beginners will be a long-term beneficial addition to your makeup and beauty routine for certain.
FAQ's
How many makeup brushes does a beginner need?
A minimum of 7-8 brushes are required for different applications and are needed by a beginner in makeup.
How often should you clean your makeup brushes?
Brushes must be cleansed every 7 to 10 days.
Which is better: synthetic brushes or natural brushes?
The texture of synthetic bristles brushes like those made of nylon or polyester is softer than that of natural bristles, enabling a better application.
Are makeup brushes better to use or a sponge?
Once you have applied your foundation or concealer with a brush, a sponge can be used for further blending and reaching those points of the face where a brush cannot tap in, for instance, blending around the nose or under the eyes.
Can I use my fingers instead of brushes as a beginner?
Using a finger will not give a clean and evenly blended finish like a brush. For lightly dabbing or using some eyeshadow, fingers can be used in some instances.
Should I invest in an expensive brush set as a beginner?
An inexpensive makeup brush set does a good job for a beginner; once you have reached an advanced level, a professional makeup brush set or expensive kit will be essential.
Can I use one brush for multiple purposes?
Yes, some brushes are multifunctional and can be used interchangeably as required. For instance, a fluffy brush can be used to powder blushes and translucent powders.
Why Trust Pinkvilla
Sayantani, with her makeup expertise, delves into the importance of application, blending, and shading. Choosing the right tool is vital for achieving the right base and details for flawless makeup. Using these brushes requires a few checkpoints to be ticked off, and she not only helps you figure them out but also displays a well-curated list of products, most suitable for beginners. With in-depth research, analyzing reviews, and testing a variety of brushes, Sayantani has published this list to assist your makeup experience and brush shopping. 
Our product experts study the specifications of every product we suggest and try them out to bring what's proven to be worthy of your money, time, and energy. We also have subject matter experts from various fields like Fashion, Skincare, Haircare, Home Decor, and Health & Fitness onboard to make sure our suggestions are credible and trustworthy. You can trust Select to be your faithful shopping guide for all the right reasons!
Author BIO
Sayantani is a certified hair and makeup professional turned writer with 2+ years of experience in the same genre. Ap More
Source link