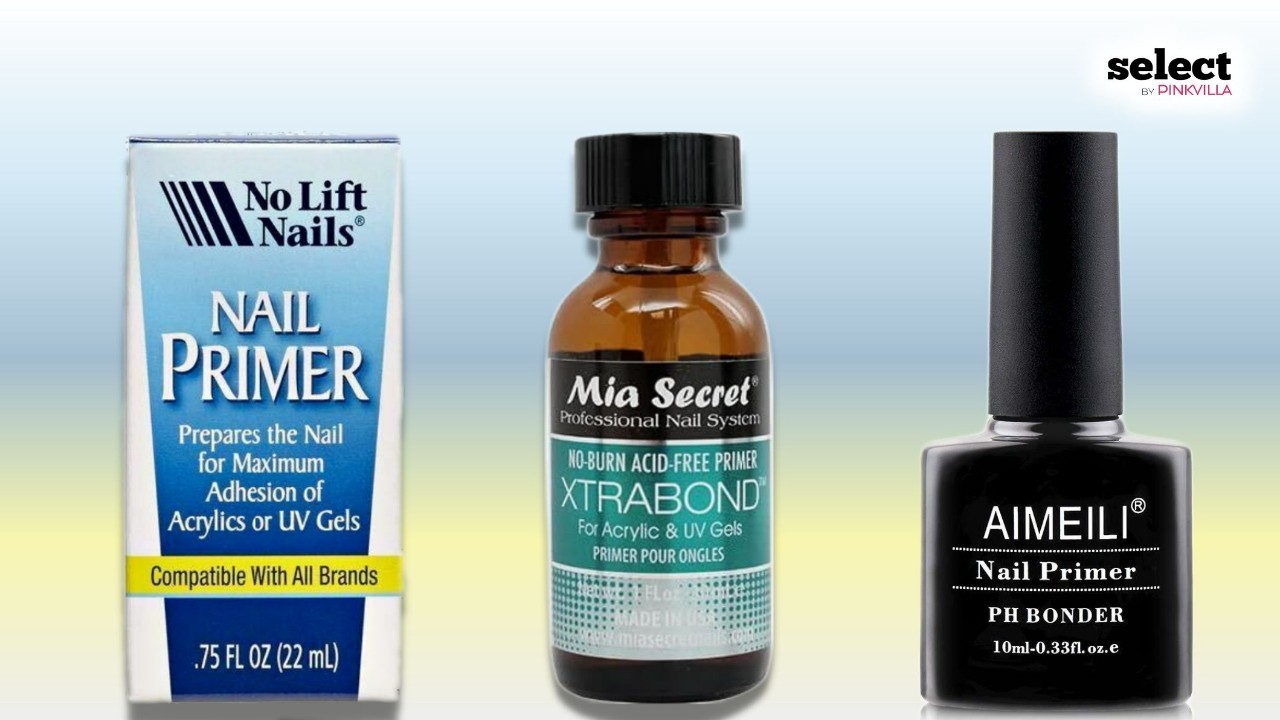 The products curated for this article are independently chosen by the
editorial team. If you make a purchase through the links mentioned below, we may receive a commission. Check out our product
research & curation process
Nail primers have become indispensable assets in the realm of nail care, offering a powerful tool to enhance the durability and beauty of our manicures. The best nail primers are formulated to create a smooth and adhesive base, addressing common nail concerns such as chipping and uneven polish application. For women who value impeccable nails, primers offer an array of benefits, from ensuring vibrant and lasting nail color to minimizing imperfections on the nail surface. They prove especially advantageous for individuals with weak nails, providing reinforcement and longevity. In a world where time is precious, nail primers save the day by extending the life of manicures, reducing the need for constant touch-ups. 
Our beauty expert found it just to try and give honest input on whether the shortlisted nail primers achieve a flawless manicure that stands the test of time. From texture to drying time, we put them with a head-to-head test and found the 12 finest nail primers. This listicle explores them, guiding women toward achieving manicures that withstand the demands of daily life.
Our top picks
Best User-Friendly Application
Best Mess-Free Application
Discover the 10 Best Nail Primers for Stunning Manicures
Modelones Nail Primer is a trusted nail care essential that lays the foundation for flawless manicures. Designed to enhance adhesion and longevity, this primer creates a smooth base, preventing chipping and improving nail polish application. Its versatile formula suits various nail types, from weak to brittle, fortifying them against breakage. From our first "hand" experience, we love the quick-drying properties, which streamline the manicure process. This nail primer is a must-have for individuals seeking vibrant and long-lasting nail art along with overall cuticle health.
Pros
Cost-effective
Easy to use
Non-toxic formula
Fragrance-free
Travel-friendly
Ideal for beginners
2
Best for UV Nails
VENALISA Acid-Free Primer
Step into a nail care adventure with Venalisa's acid-free nail primer! This product is your trusty sidekick in the quest for flawless nails. Say goodbye to dull and lackluster manicures — this primer's like a superhero cape for your nails, ensuring your nail polish stays put through all your daring escapades. Also, with no acids here, this is just pure nail-loving magic that grips your polish with an unbreakable bond. We recommend this for delicate nails that are ready to conquer the world, one vibrant and long-lasting color at a time!
Pros
Ideal for UV gels
Fragrance-free
Biodegradable formula
Long-lasting
Easy to utilize
Cons
Some may dislike the odor
3
Best Chip Resistant
Apres Acid-Free Gel Primer
Apres's nail primer offers a gentle solution for manicure enthusiasts. Its acid-free formula promotes nail health while providing adequate adhesion for everyday wear. The smooth application creates a flawless base for your favorite gel polishes, ensuring vibrant and long-lasting results that won't damage your nails. While suitable for standard daily activities, its gentleness could sacrifice some longevity in more extreme conditions. Additionally, users looking for rapid drying times might find this primer less convenient. Nevertheless, for those prioritizing nail care and regular wear, this gel primer remains a reliable and good choice.
Pros
Quick application
Chip-resistant
Long-lasting
Doesn't pop off nails
Cons
Less quantity for the value
4
Best for Professionals
AIMEILI Nail Primer PH Bonder
This bonder establishes the perfect pH balance, creating an impeccable foundation for your nail journey. Its formulation promotes strong adhesion, ensuring your manicure stays put for longer, making it a standout choice in your nail care arsenal. The primer's easy application minimizes ridges and enhances polish distribution, resulting in a professional finish. AIMEILI's primer is a must-have for those who prioritize both durability and aesthetics and don't mind waiting a bit for it to dry properly. 
Pros
Easy to apply
Cost-effective
Prevents nail breakage
Ideal for salon and home use
Ideal for acrylics and UV nails
5
Best for Delicate Nails
Mia Secret No Burn Acid Free Primer Xtra Bond
As an acid-free primer, the No-Burn Acid-Free Primer Xtra Bond by  Mia Secret prioritizes nail health while delivering exceptional adhesion. This primer's unique "no burn" formula is a relief for sensitive users. It provides a reliable foundation for both traditional and gel polishes, ensuring a lasting and flawless manicure. Although Mia Secret's primer offers remarkable adhesion, even up to 4 weeks in some cases, it might not cater to those seeking an ultra-strong bond for strenuous activities. Nevertheless, we consider it a standout choice for enthusiasts looking for performance and gentle care in one bottle.
Pros
Ideal for acrylics and UV nails
Portable
Acid-free
Protects the nail color
Compact design
Cons
Mild odor during application
6
Best User-Friendly Application
Gelish Pro Bond Acid-Free Primer
For nail enthusiasts seeking top-notch performance without compromising nail health, the Pro-Bond Acid-Free Primer by Gelish is a must. Its acid-free formulation ensures a gentle approach to adhesion, promoting long-lasting manicures without harming your natural nails. The primer's seamless application creates an even surface, enhancing the polish's vibrancy and longevity. Some reviewers mention they find this primer's drying process a tad longer. We recommend this clear and smooth applicating primer for salon-worthy kitty claws!
Pros
Non-acidic
Non-toxic formula
Used for hard gel or acrylics
Smooth application
Travel-friendly
7
Best Mess-Free Application
No Lift Nails Nail Primer
No Lift Nails Nail Primer — your nails' BFF! It's like a magic handshake that guarantees a hangout that sticks. Good vibes only, because this primer is all about partying without the chipping drama. The good: it's your nails' secret weapon for a polish that stays put and flaunts its colors like a boss. The bad: well, it's so good at its job that your other polishes might get jealous! Plus, its fast-drying charm gets you to the fun part quicker. So, if you're looking for the ultimate dance partner for your nail colors, the acrylic nail primer's your confidante!
Pros
Quick-drying formula
Adds sheen
Chip-resistant
Offers good adhesion
Ideal for UV gel nails
Cons
Some may dislike the odor
8
Best Fast-Drying Formula
ibd LED/UV Bonder Primer
Enter the realm of nail perfection with the ibd LED/UV Bonder Primer. This primer is your secret handshake to a nail journey that doesn't quit. Its dynamic dual-action formula ensures impeccable adhesion for LED and UV gel applications. It's the ultimate wingman, locking in your nail color with unwavering dedication. Your manicure will shine bright, unfazed by everyday antics. The downside? If you're not ready for long-lasting nail nirvana, you might need to keep some nail polish remover handy when change is on your agenda. Embrace the commitment — this nail acrylic primer keeps your nails in it for the long haul!
Pros
Easy to use
Helps prevent lifting
Works with LED/UV gel
Odorless
Manicure lasts long
Cons
Slightly thicker consistency
9
Best Budget-friendly
Morovan Acid-Free Primer
This primer is the rebel of the nail world, shattering norms and elevating manicures to celestial heights. Acid-free yet fiercely adhesive, it laughs in the face of chipping, scoffs at weak bonds, and boldly declares that your manicures are here to slay. After putting it through the test, we found this product optimum for a smooth and mess-free application. Lastly, beware: your nail polish collection might suffer from major FOMO, as Morovan's prowess ensures your nail art remains a loyal companion.
Pros
Cost-effective
Travel-friendly
Creates a strong base
Ideal for gel nails
Doesn't burn or itch
10
Best Manicure Set
Makartt Nail Dehydrator and Primer Set
The Makartt Nail Dehydrator and Primer set epitomize the confluence of innovation and precision in contemporary nail care. Through meticulous formulation, the nail dehydrator strategically prepares the nail bed by mitigating moisture and oils. This set transcends conventional aesthetics, embodying an intellectual approach to nail preparation. With tests, we found the quick-drying formula didn't require UV lights. In honesty, our beauty experts consider it as a backstage pass to a nail show that refuses to fade.
Pros
Cruelty-free
Sheer finish
Mess-free drying
Easy to apply
Best for professionals
Now that we have discussed the best picks, let's look into the points to help you get the best nail primer application. If you find you need some help getting your acrylics to stick, this guide is just for you.
How to Select the Best Nail Primer?
Here are a few pointers you may consider to select the cream of the crop a.k.a the best nail primer. 
Type of Primer: Nail primers come in various types, including bonding, acid-free, and non-acidic. Bonding primers are designed to create a strong bond between the natural nail and the polish. Acid-free and non-acidic primers are milder options that are suitable for those with sensitive nails.
Nail Condition: Consider the condition of your nails. If you have weak or brittle nails, opt for a primer that offers strengthening properties. For damaged nails, a restorative primer that promotes healing might be a good choice.
Ingredients: Check the ingredient list for any potential allergens or irritants. Look for primers that are free from harmful chemicals like formaldehyde, toluene, and DBP (dibutyl phthalate).
Adhesion and Longevity: The primary purpose of a nail primer is to enhance polish adhesion and increase the longevity of your manicure. Read reviews or seek recommendations to ensure that the primer you're considering delivers on these aspects.
Texture: Look for a primer with a smooth texture that evens out the nail surface and fills in any ridges or imperfections. This will contribute to a smoother and more polished final look.
All-in-One Primers: Some nail primers come with additional benefits, such as base coat and top coat properties. These multifunctional primers can simplify your manicure routine.
Personal Preferences: Consider any personal preferences you may have, such as vegan, cruelty-free, or eco-friendly options. Many brands now offer products that align with these values.
Price: Nail primers come in a range of price points. While cost doesn't always equate to quality, it's wise to find a primer that offers good value for its performance.
How to Use a Nail Primer?
After selecting the best nail primer, using a nail primer is a crucial step to ensure a long-lasting and professional-looking manicure. Follow these steps for effective application:
1. Prepare Your Nails: Begin with clean, dry nails. Remove any old nail polish and gently shape your nails.
2. Cleanse the Nails: If your primer is a bonding type, start by cleansing your nails with a gentle nail cleanser to remove oils and debris. This creates a clean surface for the primer to adhere to.
3. Apply a Thin Coat: Using the built-in brush applicator or a clean nail brush, apply a thin and even layer of the primer to your nails. Start at the base and move towards the tips, ensuring complete coverage.
4. Avoid Cuticle and Skin: Be careful not to get the primer on your cuticles or skin. If any primer does touch your skin, wipe it off with a cotton swab dipped in nail polish remover.
5. Allow to Dry: Allow the primer to air-dry for the recommended time mentioned on the product's packaging. Most primers dry relatively quickly.
6. Apply Nail Polish: Once the primer is dry, proceed to apply your chosen nail polish. The primer's adhesive properties will help the polish adhere better to the nails, resulting in a smoother and more even finish.
7. Follow with Top Coat: After applying the nail polish, follow up with a top coat to seal in the color and provide an added layer of protection.
Bonus tip: Opt for a nail primer that dries clear. This ensures that your manicure looks clean and natural, regardless of the nail polish color you apply.
Nail primers have emerged as a game-changing element in the world of nail care and beauty. Their ability to create a strong foundation for nail polish application, enhance adhesion, and address various nail concerns. Our expertise helped sort and asset the nail primers based on odor, texture, and finish and rate them with unbiased views. Whether aiming for a classic look or experimenting with intricate nail art, the best nail primers provided today can help you so on and forth. Enjoy long-lasting manicures without constant touch-ups. Happy shopping!
FAQ's
Is a nail primer the same as a nail base coat?
Unlike a base coat, a nail primer doesn't just add a layer; it enhances adhesion by clearing debris and forming a robust bond between acrylic and natural nails for lasting polish perfection.
Does nail primer prevent fungus?
No, nail primers mainly offer a good foundation for the nail color to last long.
How long does nail primer last?
Nail primers and dehydrators are essential for acrylics and gel polishes, extending their lifespan to three weeks or beyond.
Why does nail primer make nails feel like they are burning?
Excessive primer application on nails exposed to potent cleaning solutions, mishandled nail extension removal, or delicate nail beds might trigger a burning sensation. We recommend distinguishing whether the nail bed or cuticle area is affected by the discomfort and opting for acid-free nail primers.
Why Trust Pinkvilla
Sayantani is a certified hair and makeup professional turned writer with 2+ years of experience in the same genre. Apart from being passionate about imparting knowledge on the things she is enthusiastic about, Sayantani also has a knack for all things creative and aesthetic. She believes that nail primers create cohesion and visually enhance nail style and color. 
Our product experts study the specifications of every product we suggest and try them out to bring what's proven to be worthy of your money, time, and energy. We also have subject matter experts from various fields like Fashion, Skincare, Haircare, Home Decor, and Health & Fitness onboard to make sure our suggestions are credible and trustworthy. You can trust Select to be your faithful shopping guide for all the right reasons!
Author BIO
Sayantani is a certified hair and makeup professional turned writer with 2+ years of experience in the same genre. Ap More
Source link