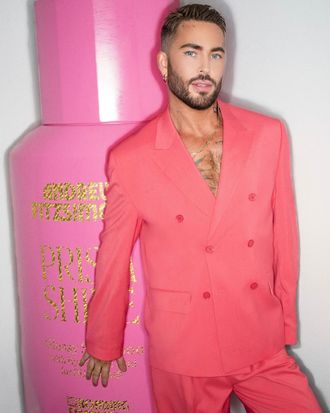 Photo: Andrew Fitzsimmons
Andrew Fitzsimmons, a hairdresser who got their start styling Adele during her 21 era, had a very rare talent: Fitzsimmons knew what they wanted to be from the age of 13. After working a summer job at a salon, Fitzsimmons left school to pursue their career in hairdressing. "My mom was a single mother who worked two jobs to support my sister and me, so I was eager to earn my own money," they say. Shortly thereafter, they began working as an apprentice in Ballinteer, Ireland, eventually leading them to work in major cities like Paris, Morocco, and New York, where they signed with an agent, Michelle Falvey. Testing and learning about different products over the years helped Fitzsimmons gain inspiration to start their own namesake line. "It's a truly inclusive, high-fashion, high-performance hair-care brand that serves all hair types at an accessible price point," they say of their brand.
Most recently, Fitzsimmons is partnering with Maesa — as a mentor and board advisor — to launch their first incubator program for beauty and wellness entrepreneurs for underserved communities. Between all the hard work, the pioneering hair guru knows downtime is essential, too. "I'm the type of person that if all my meals could be shakes and if I could take micro-naps instead of getting a full night's sleep, I would love it because I'd be able to say 'yes' to every single job, especially because I love what I do," Fitzsimmons says. "But I have had to acknowledge that I am a human being that requires maintenance. Being pushed past the point of exhaustion so many times in my career, and realizing how unsustainable that is, I had to figure out how to most effectively (and most enjoyably) recharge so I can show up as my best self."
5:00 a.m. – The first thing that happens in my day is coffee. I have a Nespresso machine.
5:00 – The first thing that happens in my day is coffee. I have a Nespresso machine.
5:10 – I'll usually answer messages on WhatsApp from my family and team. My mum and sister are in Ireland, and we have brand team members across Europe, so I'm used to communicating across different time zones.
5:20 – Right now, I'm using the Kylie Skin foaming face wash to cleanse my face in the mornings. I usually tone my skin with the Fenty Skin Fat Water.  On days where I notice redness in my skin, I'll use the Dr. Barbara Sturm Calming Serum after the toner. Kim very generously gifted me her SKKN line, and I've got to say I'm genuinely obsessed with these products. In the mornings, my go-tos are SKKN Vitamin C8 Serum, Eye Cream, and Face Cream. Of course, sunscreen every day. I change sunscreens all the time, but right now I'm trying the indē wild AM Sunscreen Glow Drops, which is super-lightweight.
5:32 – Even though I'm a hairstylist, my hair is usually the quickest step in my routine. When my hair is dyed, I like to use the Andrew Fitzsimons Virgin Repair Mask as an all-day styler: I use it to slick my hair back and it keeps my hair moisturized all day long.
5:35 – I throw any last-minute essentials into my bag for the day before my assistant picks me up for work. I like to keep things like hydrating mists around because I never know if the studios or sets where I'll be that day will be dry. Right now, I've got the Orpheus RESURRECTION Bio-Luminous Dewy Essence. I also keep a Touchland Power Mist in my kit; we're all taking hygiene super-seriously these days, and this one feels more luxurious than a standard hand sanitizer.
8:30 – My days tend to be really full and hectic, so I like to try to unwind and create a really relaxing environment when I'm home at night. I love to light my Diptyque Baies candle and put on some gentle music. My go-tos are classical jazz or neo-soul.
9:45 – At night, I like to double cleanse, so I'll start with something like the Community Sixty-Six Makeup Melting Balm Cleanser which helps to get all the sunscreen and grime from the day off. Then I follow with the SKKN Cleanser.
9:50 – A shower is a great way to unwind from the day. I'm using some lab samples of products we have in development for Andrew Fitzsimons Hair, but usually I'll wash my hair with the Andrew Fitzsimons Virgin Repair Shampoo, especially after I've dyed my hair. I love Necessaire's Body Wash in Sandalwood — it's one of those products that makes me feel like such a grown-up. I have a few tattoos, so I'll use the Reuzel TAT Hydrabalm on them to keep them moisturized.
10:05 – I usually go to bed fairly early because a lot of my call times are very early. My nighttime skin routine is really simple. If I'm trying to have better self-care, I'll sometimes do a Charlotte Tilbury sheet mask while I watch an episode of something on Netflix. I'm not as good at Vitamin A as I should be, but lately I've been trying to incorporate this more with the Medik8 Crystal Retinal. Then I use my Face Cream and call it a night.
Confidence is something that I had to figure out to fake, especially in my 20s. In doing that, I had to train myself how to see value in my vision and trust my instincts. I think the more hours of practice and hard work you put into your craft, the more you become a true expert. My confidence really came from learning to believe in myself, step by step.
Using fear tactics or capitalizing on insecurities to sell beauty products. Everyone is beautiful and should be able to celebrate their beauty.
It's definitely no mistake that I ended up in the beauty industry. I'm very proud to work in an industry that is predominantly female and queer. It's one of the reasons I gravitated toward beauty and fashion, because of the community. Being around so many brilliant people bringing so much light, color, and love to the world while still dealing with all the issues we have to deal with as "others" is really inspiring to me. Something I'd like to see more of is more ownership and decisions made by women, people of color, and queer people. That's why I'm happy to be supporting Maesa as part of the #MaesaMagicIncubator program; it's about time that we champion and celebrate the people who are truly the creators and consumers in the beauty industry.
Anyone experimenting with home hair dye is an immediate anxiety-inducer for me! I love a good before-and-after reveal, so I'm always obsessed with whatever the latest transition trend is.
When it comes to my kit and what I use on clients, there's a laundry list that I avoid like parabens, phthalates, SLS, and mineral oils. My clients are all very beauty savvy and discerning, so I try to use products that are as clean as possible.
For hair care, I love products that have reparative ingredients like protein complexes. For clients that dye their hair or have regular heat styling, this is a must.
My friend Ash Holm turned me onto Dripology LA, where I go for IV drips to stay healthy and hydrated. I also do Morpheus8 at Dripology and I'm obsessed with it — I wish I could do it every day. I also love to get Core to Floor treatments with Emsculpt NEO when I have time, it helps me feel so much stronger in my regular workouts.
Definitely Cher. She's one of those people who is a natural beauty all on her own, but she's also an amazing canvas and knows how to adorn herself with all the sparkles and accessories.
Source link