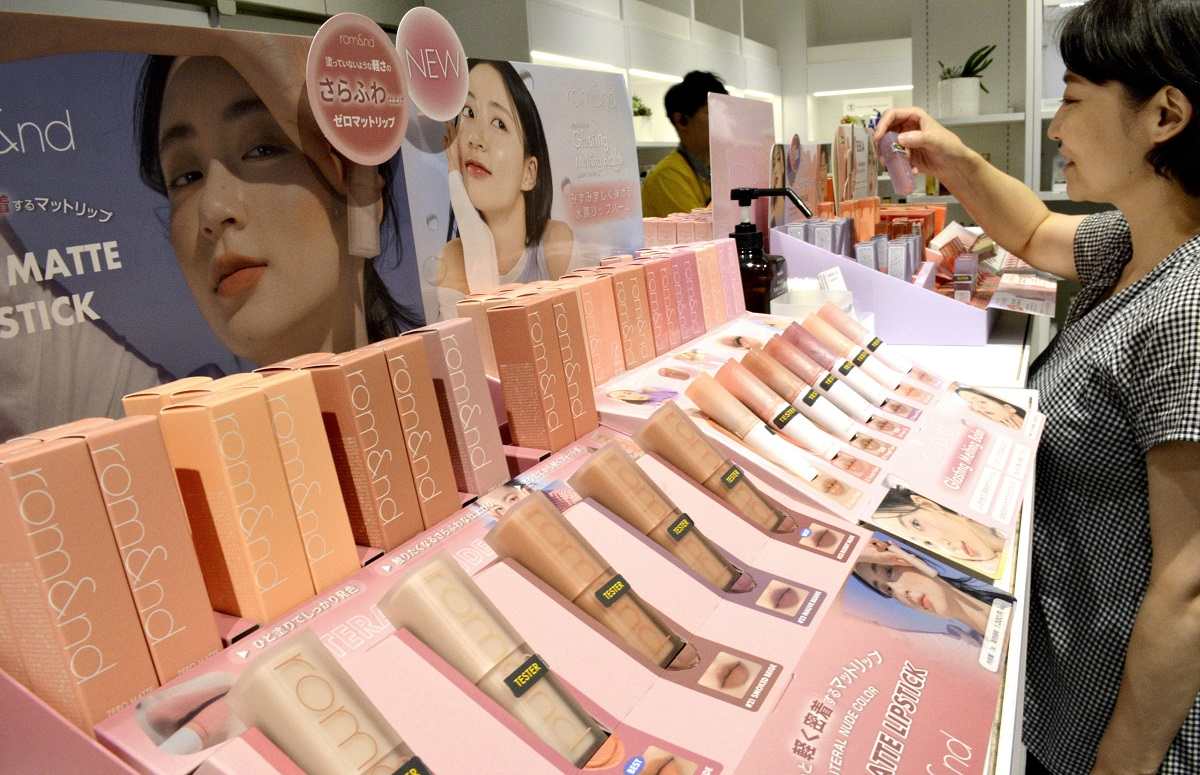 6:00 JST, August 16, 2023
South Korea's high-quality, affordable cosmetics are becoming more popular among men and women in Japan.
In 2022, the import value of South Korean cosmetics, or K-beauty products, surpassed that of France for the first time to become the top importer.
Cosmetics jointly developed by Lawson Inc. and South Korean brand Rom&nd became an instant hit after they were released at the end of March. The leading convenience store operator prepared enough for two months, but the company sold out of the products within three days.
A sales strategy of keeping prices at around ¥1,000 by reducing the product size by around two-thirds proved to be a success.
Sales of K-beauty products at Japan's leading general merchandise store The Loft Co. were also strong between March and June, up 60% compared to the same period the previous year. The company offers about 2,000 types of products from about 210 South Korean brands. Lipsticks and sheet masks are particularly popular.
According to the Cosmetic Importers Association of Japan (CIAJ), the value of cosmetics — including perfumes and shampoos — imported from South Korea in 2022 was ¥77.5 billion, exceeding the ¥76.4 billion worth of cosmetics imported from France.
France had been the top importer for nearly 30 years with its many luxury brands, including Lancome and Chanel, but imports from South Korea have grown six times compared to a decade ago.
The fact that Japanese companies are increasingly outsourcing production to South Korean manufacturers, which are willing to accept even small orders at relatively inexpensive prices, has also boosted the import value.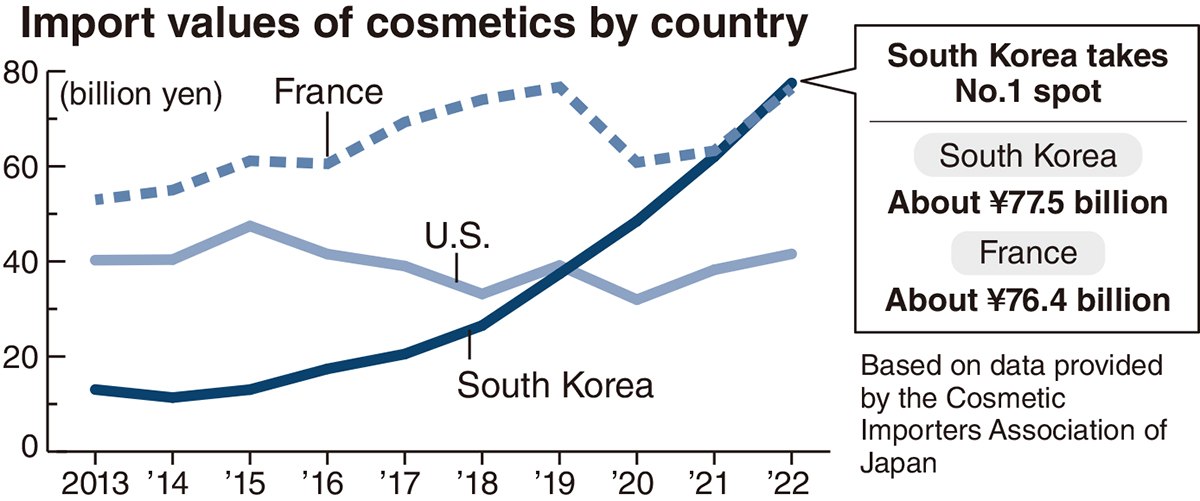 K-pop boom
South Korean cosmetics first started gaining traction in Japan around 2007. At around the same time, BB creams, which function as a moisturizer, primer and foundation, were also starting to become popular.
In Japan, customers tended to choose more high-end brands and were skeptical about the quality of South Korean cosmetics. However, with the rise in popularity of South Korean idols, young people began to buy K-beauty products on the grounds that they were affordable and used by their favorite idols.
"This was a major turning point for the import cosmetics industry," said the CIAJ's executive director. "South Korean cosmetics are not just a passing fad, they have firmly taken root."
Some ingredients in South Korean cosmetics are not approved in Japan, creating problems when products are imported by individuals and resold online. It is also said that there is a lot of misleading advertising around K-beauty products. However, taking appropriate countermeasures on those issues is expected to make South Korean cosmetics more accepted.
Source link