The products curated for this article are independently chosen by the
editorial team. If you make a purchase through the links mentioned below, we may receive a commission. Check out our product
research & curation process
Prep. Prime. Protect. The best primer with SPF will up the ante for your everyday skincare and makeup, as it harmoniously traverses through the two regimes. After the usual CTM (cleanse-tone-moisturize) comes your SPF for the day out, followed by the makeup base, including primer and foundation. A primer is the perfect transcendental product that lays the underwork for makeup as it finishes the skincare. Creamy, serum-like, gel-based, clear, or tinted, the primer works to minimize the pores, blur fine lines and wrinkles, hydrate the skin, and create a barrier that locks in all the skincare. You achieve a fresh base that grips the makeup and elongates its stay. A broad-spectrum SPF-infused primer performs the dual job of protection and prepping.
A generous application of primer-imbued SPF is like adding a film filter on your skin which mitigates the skin damage posed by UVA, UVB rays, and environmental stressors, while also perfecting the skin texture and complexion. Without any white cast, irritated skin, and clogged pores, you can make your flawless makeup last long, and lessen the routine steps. 
We too have prepped a coherent list of best primers with sunscreen for a seamless morning self-care session. Read on to navigate the top picks and a buying guide for your perusal.
Our top picks
best lightweight / mattifying
13 Best Primer With Sunscreen For Skin Perfecting Benefits
To start your day on the right foot, let the multitasking duo of sunscreen and primer prep your skin. The Supergoop sunscreen is a broad spectrum with SPF 40 and comes infused with primer properties to act as a non-greasy and glowy base for your makeup. The hydrating formula with hyaluronic acid, vitamin B5, and niacinamide helps in perfecting the skin complexion and texture, leaving a dewy, pearl-like finish. For satin-supple skin, you can use this primer as a bridging step between your skincare and makeup. Besides giving sound protection from UVA and UVB rays, it also filters blue light.
Pros
Good coverage
No white casting
Adds shine
Little amount required
Cons
Less quantity for the price
2
best lightweight / mattifying
NEW COVERGIRL Trublend Base Business
Transcending seamlessly between your skincare's sunscreen step into your makeup's priming step, this base blend by COVERGIRL is an indispensable tube in your self-care bag. For flawless and long-lasting results, try this face primer that is tailor-made for different skin types. The creamy formula is lightweight and caters to specific skin needs; for instance, the white is for skin smoothing, the green formula is for color neutralizing, the purple minimizes the pores, and the peach is made to illuminate the skin. All this goodness is coupled with SPF 20 to additionally offer sun protection.
Pros
Mattifying shine
Oil-free
Fragrance-free
Smooth feel
3
Best for face serum
Neutrogena Ultra Sheer Moisturizing Face Serum
For sun-drenching days, you need superior protection from scorching heat and sunburn along with minimal layers on your skin to feel light and airy. Enter, the face serum by Neutrogena with SPF 60+. The vitamin E-imbued formula with a soft texture provides your skin with intense hydration and broad-spectrum UVA and UVB protection. No surprise that this incredible formulation also functions as a makeup primer. The sheer product is non-comedogenic, perfect to create a flawless base for your makeup.
Pros
Dermatologist-recommended
Water-resistant for up to 80 minutes
Fragrance-free
Oxybenzone-free
Tiny amount required
No residue or white cast
4
Best drugstore pick
MAYBELLINE NEW YORK Master Prime
A drugstore go-to for many, Maybelline New York's primer is a water-soluble formula with active ingredients. For a refined look, this primer with SPF 30 blurs any skin imperfections to help you achieve a flawless, skin-perfected base. The multipurpose creamy emollient is lightweight, non-greasy, combats sun damage, and color-corrects the face. This enables an even base for a smooth and luminous makeup that grips and lasts long. From pore minimizing and redness control to smoothening and hydrating the skin, there's a goal-specific product in this range for you to choose from, based on your skin requirements.
Pros
Hydrating
Budget-friendly
Smooth skin texture
Sun protection
Non-oily
Cons
Non-matte finish
Doesn't fill fine lines
5
Best anti-aging
LA ROCHE-POSAY Anthelios Anti-Aging Primer with Sunscreen
Get this multi-faceted primer+sunscreen by LA ROCHE-Posay added to your skin-prepping line-up. The lightweight and buttery soft mousse texture provides the clubbed effect of anti-aging benefits and a broad spectrum SPF 50 protection. To be used daily for instant results, this mousse blurs signs of aging like fine lines, wrinkles, and pores. The shine-absorbing formula is perfect for a mattifying makeup base, to be used after a moisturizer. The oil-free and non-comedogenic whip-up evens out any skin imperfections.  Well-suited for all skin types, this duo is topped with cell-OX technology.
Pros
Dermatologist-tested
Allergy-tested
Suitable for sensitive skin
Paraben-free
Fragrance-free
Gentle
Non-greasy
6
Best skin finish
ALMAY Smart Shade CC Luminous Primer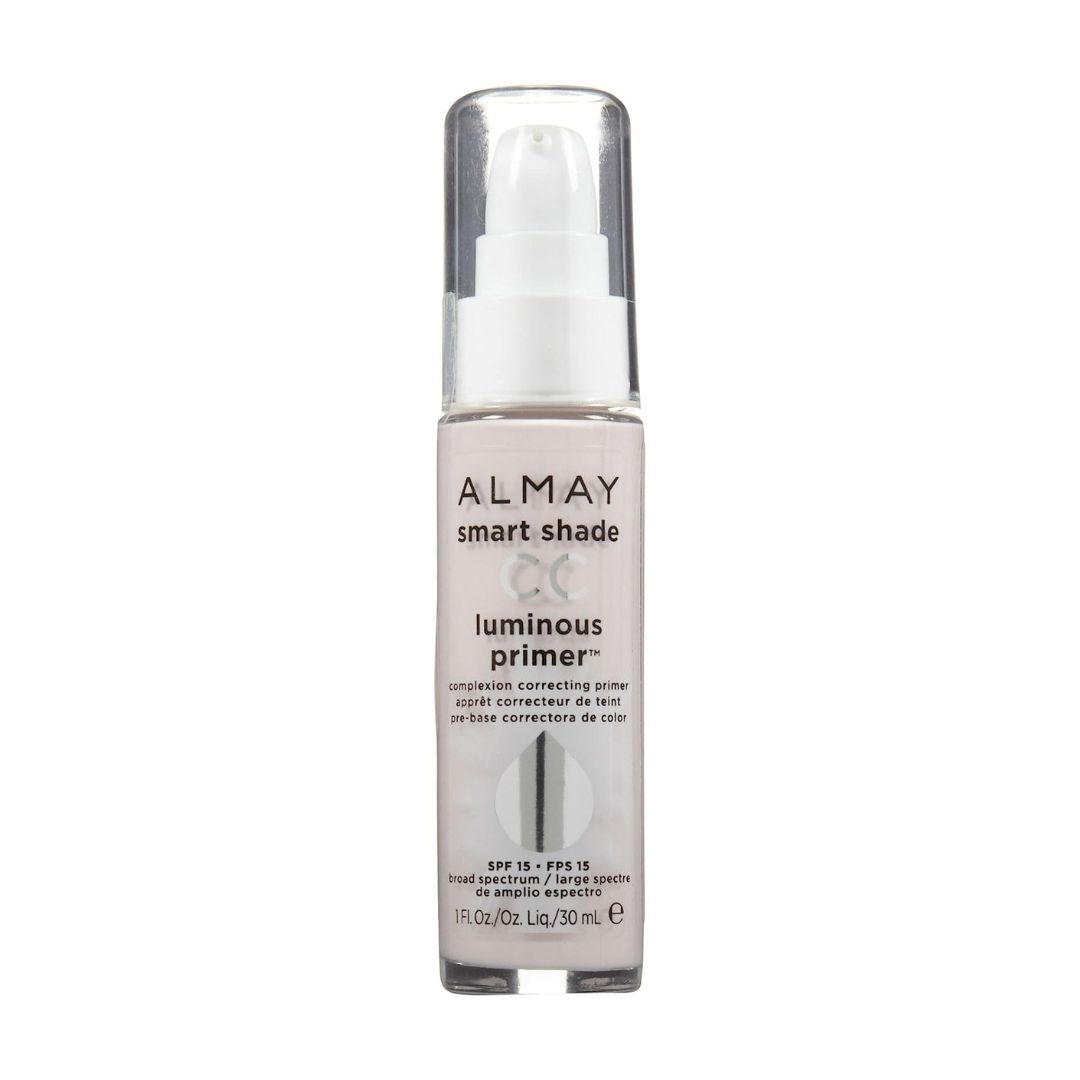 Complexion-correcting primer meets skincare with sun protection to perfect the skin. The ALMAY primer is a microspheres-based blend to deliver targeted results. The lavender microspheres are meant to even the skin tone and the green microspheres reduce the appearance of redness. This unique formula is lightweight, smoothening, hydrating, and mattifying. The luminous and brightening finish comes packed with SPF 15 and skin-prepping benefits. With a few brief pumps onto your fingertips, apply and blend the primer gently, let it dry, and move on to use your foundation.
Pros
Hypoallergenic
Oil-free
Smooth application
Gentle
Odorless
7
Best skincare benefits
Dermalogica Skinperfect Primer
The skin-perfecting primer by Dermalogica has a unique line-up of ingredients to cater to specific needs and give you a flawless skin prep. The pearl powder and natural earth minerals lend a neutral tint for an even skin tone, organic radiance, and luminescence on the skin. The soy protein is beneficial for smoothened skin texture. The potent peptide present in the velvety primer lends firmness to the skin for a lifted appearance. The broad-spectrum sunscreen protects the skin from sun damage by UV light. With a silken application, this primer can be used after moisturizing your skin and creating a smooth base for your foundation and makeup.
Pros
Absorbs well
Lightweight
Great coverage
Soothes skin
Eases foundation application
8
Best tinted primer
Glo Skin Beauty Tinted Primer
Prepping your skin with all the goodness is a must while practicing your skincare regimen. The tinted primer by Glo Skin Beauty offers sun protection with pure mineral sunscreen. The swift glide with full-day coverage and instant results is a valuable addition to your beauty shelf. With sheer radiance, this lightweight formula evens the skin tone, smoothens the complexion, and has a semi-matte finish. The oil-free primer blocks harmful UVA and UVB rays with its SPF 30+ formulation.
Pros
Wide shade range
Flexible coverage
Healthy glow
Easy to apply
9
Best for makeup
HOURGLASS Veil Mineral Primer
Enhance your makeup and your skincare all together with the mineral primer by HOURGLASS. This primer allows a smooth application of your foundation and also extends its wearability. It has complexion-perfecting properties to even texture, minimize pores, blur fine lines and wrinkles, and conceal redness. The broad spectrum SPF 15 protection is an added benefit that lessens the layers you need to put on the skin. Only a little a few drops are required to achieve the cloudy, airy, and silky texture finish.
Pros
Keeps the makeup put
Soft on skin
Fragrance-free
Suitable sensitive skin
Doesn't fade or melt
10
heimish Artless Glow Base SPF 50+ PA+++
Imbued with rosa canina fruit extract and peppermint leaf extract, this multipurpose primer by heimish is a tone-up cream with SPF 50+ PA++++ sunscreen. With a serum-like formula, the non-greasy and smooth texture is lightweight on the skin and smoothens fine lines. You can achieve a radiant complexion with a gold-pearl-like base that shimmers with a subtle glow with this one. A makeup base with a dewy and refreshing finish on the go is delivered by this primer which is perfect for everyday wear.
Pros
A range of colors
Attractive packaging
Cruelty-free
Paraben-free
Good for sensitive skin
11
Best pore blurring
PAULA'S CHOICE Smoothing Primer Serum
Glide on some skin-goodness on your face with this primer serum by PAULA'S CHOICE. The multi-tasking primer targets signs of aging like fine lines and wrinkles, enhances the skin tone, and evens the skin texture. With a combination of broad spectrum SPF 30, this formula protects against UV damage while creating a perfect base for your makeup with its silky texture. The presence of antioxidants also protects the skin from environmental damage. The fragrance-free and soothing serum is ideal for use twice a day for a wholesome skincare routine.
Pros
Absorbs well and fast
Lasts all day
Pore blurring
Lightweight
12
e.l.f. SKIN Suntouchable
Aloe, hyaluronic acid, and squalane come together in a tinted, skin-loving formula by e.l.f. to create the perfect primer that protects the skin from sun damage with broad-spectrum SPF 30. The lightweight formula with a hint of peach shimmer offers an instant glowy finish. The priming properties grip the makeup for long-lasting results while the SPF protects from UVA and UVB rays. The primer works to soothe, hydrate, and radiate the skin, and the sheer effect is perfect to layer beneath makeup.
Pros
Tint matches well
Everyday wear
Good coverage
Cons
The quantity could be more
13
IMAGE Skincare, Prevention+ Daily Perfecting Primer
Under our radar for good measure, this 100% mineral SPF 50 moisturizer by IMAGE Skincare is infused with a ferment-based ingredient that combats the damage caused by environmental stressors. The buildable formula has a seamless, sheer, and true-to-skin finish. It is ideal for a minimal routine that conjoins skincare and makeup. Get an even skin texture, softened wrinkles, a mattifying effect, and a silica-enhanced base for flawless skin. The formula is buildable and breathable, easy to blend, and features a natural citrusy scent.
Pros
Non-comedogenic formula
Moisturizing
High-quality
These primers are from our favorites archive and cater to most skin types and needs. To pick what's most suitable for you, here's a mini guide for your assistance.
How to Select a Primer With SPF?
Finish: To enhance the finish of your foundation on the skin, the finish of your primer plus SPF plays a vital role. Whether you like a dewy, glowy, semi-matte, cloudy, or matte look, a similar finish primer will allow you to achieve it effortlessly, while also improving the application and stay of your foundation. 
Skin type: If you have oily or combination skin, a mattifying and non-oily primer plus SPF, which is also lightweight shall compliment your skin. For normal to dry skin, a hydrating primer with a soft dewy finish would suit best. For mature skin, an anti-aging product that blurs and softens fine lines and wrinkles will help create a smoother base for further makeup. If you are looking for minimal makeup, a tinted primer and sunscreen fits the bill. 
Ingredients: For all skin types, particularly for sensitive skin, an SPF primer without harsh chemicals and skin irritants is ideal. Mineral-based sunscreen-infused primers or ones with natural ingredients, antioxidants, etc are beneficial. Also, make sure it's non-comedogenic, non-greasy, and lightweight for maintaining healthy skin.
Quick Tips on Using Primer With SPF
As you envelop your freshly treated and moisturized skin with SPF and step into prepping it for the makeup base, the sunscreen met primer will come in handy. 
After the CTM, bring out your primer SPF into action. 
A little amount goes a long way, so dispense a couple of pumps, apply it on your face gently, and ensure full coverage. 
Allow the primer to get absorbed and settle down for at least five minutes.
Finally, proceed to blend in the foundation. Now your skin is moisturized, hydrated, protected with broad spectrum SPF, and finished flawlessly with foundation. 
Pro Hack: If your primer and SPF are lesser than 30+ SPF, apply your regular sunscreen which has no white cast, is non-oily, and lightweight, along with primer and makeup. This will ensure your skin is protected with the adequate SPF required.
Minimize your makeup layers, product lineup, and steps by including multifunctional beauty recipes like the primer with SPF. The sunscreen's attributes help mitigate the damage caused by UV rays while the primer creates a smooth base by prepping the skin for makeup and foundation. Our list of primers with SPF includes the top-rated products that are suitable for all skin types, have varying textures, devoid of chemicals, and effectively deliver desired results. Based on your skin needs and personal preferences, pop the best primer with SPF on your AM skincare shelf.
FAQ's
Should I use a primer with SPF?
Yes, primer with SPF helps gain sun protection as well as create a base for your makeup.
Is there a primer with sunscreen?
Yes, there are many options available for a primer with sunscreen in the market. There are products for all skin types and skin finishes to choose from.
What is the best primer and sunscreen for sensitive skin?
A sunscreen with primer for sensitive skin must be devoid of harmful chemicals, and fragrances. Look for natural and clean ingredients that are gentle, hydrating, and non-comedogenic.
What is the correct order for moisturizer, sunscreen, and primer?
After moisturizing your skin, apply sunscreen, followed by the primer to set the base for makeup.
Why Trust Pinkvilla
Sayantani, our in-house beauty expert, is a firm believer in prepping your skin with drenched hydration and necessary protection before stepping out for the day. She is always on the hunt for better beauty products to enhance her self-care kit. The 2-in-1 primers with sunscreen caught her attention lately, and she went on to extensively research the beauty platforms for befitting products that are worth an investment. From valuable reviewers to trying out many products herself, she was able to capsulize her top picks in a list. With broad spectrum sun protection to achieving a flawless base, her selection of products is bound to find a spot on your shelf. 
Our product experts study the specifications of every product we suggest and try them out to bring what's proven to be worthy of your money, time, and energy. We also have subject matter experts from various fields like Fashion, Skincare, Haircare, Home Decor, and Health & Fitness onboard to make sure our suggestions are credible and trustworthy. You can trust Select to be your faithful shopping guide for all the right reasons!
Author BIO
Sayantani is a certified hair and makeup professional turned writer with 2+ years of experience in the same genre. Ap More
Source link