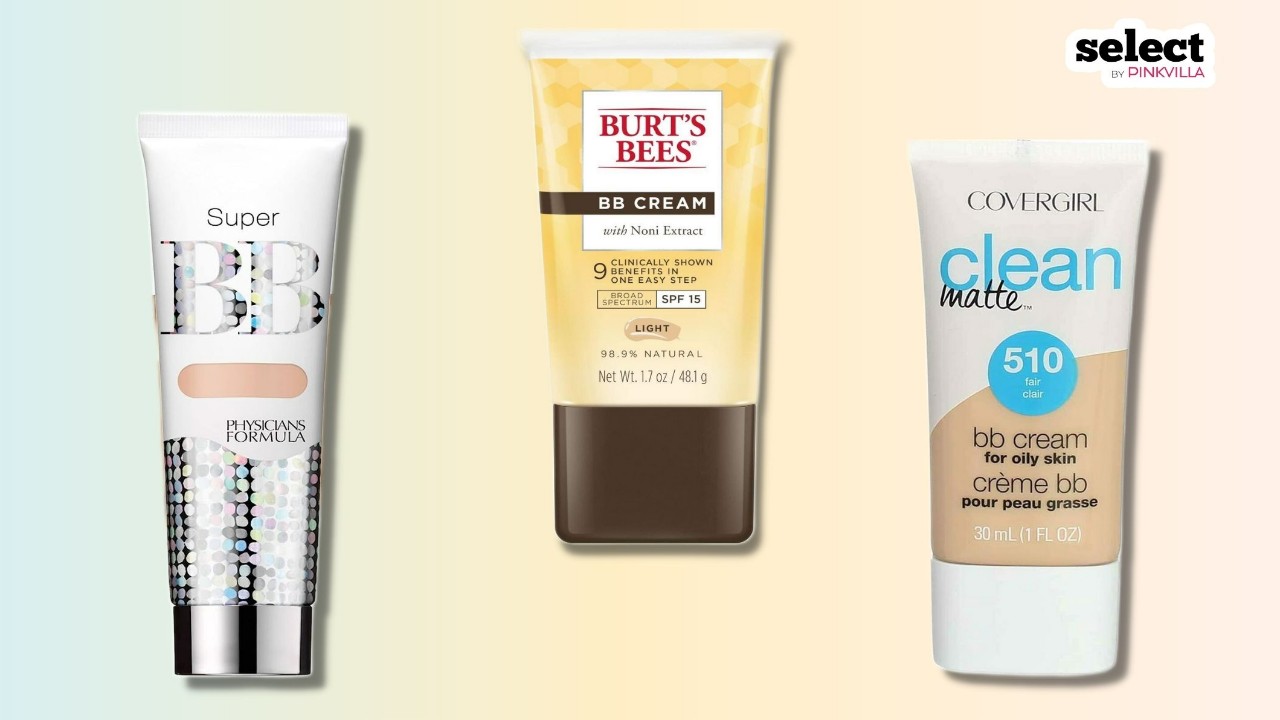 The products curated for this article are independently chosen by the
editorial team. If you make a purchase through the links mentioned below, we may receive a commission. Check out our product
research & curation process
Transform your skincare routine into a minimalist's dream with the power of BB creams. Unveil the magic of the best drugstore BB creams, carefully selected to give your skin a fresh, flawless glow without burning a hole in your pocket. Packed with top-notch ingredients, these beauty balms are easily available at nearby shops. They offer multiple benefits in one go, making your daily skincare routine simple and quick.
Crafted with skin-friendly, no-heavy ingredients like hyaluronic acid for hydration, SPF for protection, and pigments for coverage, they address a wide spectrum of skin concerns. No matter what your skin type or color is, there's a BB cream out there to highlight your individual beauty. It gives perfect, naturally glowing skin that looks as great as it feels. 
However, the true beauty of these products lies beyond their remarkable efficacy and affordability. They capture the essence of a fast-paced, modern lifestyle, eliminating unnecessary steps and products and saving you precious time each morning. The best drugstore BB creams ensure the promise of simplicity without compromise, effortlessly elevating your skincare routine while offering a practical, pocket-friendly solution. They stand as proof that luxury and efficacy need not always come with a hefty price tag.
Our top picks
Suitable for all skin types
15 Best Drugstore BB Creams to Achieve a Radiant Skin
Immerse your skin in the seamless blend of nourishment and color with L'Oréal Paris Magic Skin Beautifier BB Cream. A dreamy multi-tasking formulation, effortlessly primes and evens your skin tone, thereby revealing a healthier complexion. As a good drugstore BB cream, it soothes and hydrates for day-long moisture while meticulously hiding imperfections. Uniquely enriched with beautifying beads and transformative color pigments infused with potent antioxidants – Vitamins C and E, it gives you an instant flawless, bare-skin finish. The universal formula of this tinted cream matches and transforms to your perfect shade, making it an excellent choice for all skin tones.
Pros
Flawless finish
Day-long moisture
Skin-enhancing hydration
Color transformation
Skin nourishment
Versatile skin tone adaptability
Cons
May not be good for oily skin
2
Editor's Pick
MAYBELLINE NEW YORK DREAM BB FRESH Skin Hydrating Cream
Unveiling a truly magical amalgamation of skincare and light coverage with Maybelline New York Dream BB Fresh skin hydrating cream. This 8-in-1 perfecting top bb cream from drugstore is designed to hydrate, protect with SPF 30, brighten, blur imperfections, smooth, and enhance your skin while being oil-free. Additionally, this BB Cream can adjust with your skin tone, minimize open pores, and eliminates the appearance of redness. Infused with the soothing scent of aloe cera, it's available in five skin-tone perfecting shades, offering you the flexibility to curate any look with a perfect canvas.
Pros
SPF 30 protection
Pore minimization
Redness reduction
Aloe Vera scent
Oil-free composition
Skin-tone flexibility
3
Non-Comedogenic
COVERGIRL clean matte BB Cream For Oily Skin
Meet your skin's trusted companion from Covergirl, the best drugstore BB cream for oily skin. This water-based, lightweight cream foundation promises a shine-free look, while ensuring your skin's breathability. Known as a skin-friendly BB cream, it provides perfect coverage to even skin tone and hide blemishes without clogging your pores. Also, due to its oil-free and non-comedogenic composition, it never causes acne. The blendability of this BB cream is remarkable, allowing for a flawless application that results in a natural-looking skin, devoid of any visible makeup. Opt for this easy-to-apply product for a matte finish that radiates your natural skin.
Pros
Oil-free formula
Non-comedogenic
Blemish concealing
Skin-tone evener
Excellent blendability
Natural-looking finish
Cons
Not suitable for dry skin
4
MISSHA M PERFECT COVER BB CREAM
Presenting a game-changer for your skin, the MISSHA M Perfect Cover BB Cream. This product effortlessly conceals imperfections and balances skin tone, resulting in a youthful and perfected complexion. Its dewy finish makes it the best drugstore bb cream for oily acne prone skin, Besides, it keeps your skin moisturized with the aid of powerful ceramides, hyaluronic acid, and Gatuline RC. Further enriched with marine extracts, nourishing botanical essences, and plant oils, it replenishes the look and feel of your skin. The inclusion of Gatuline RC, hyaluronic acid, and ceramid help reduce the appearance of fine lines and wrinkles.
Pros
Flawless coverage
Moisturizing formula
Nourishing ingredients
Fine line reduction
Calming extracts
Suitable for acne-prone skin
5
BURT'S BEES BB CREAM with Noni Extract
Experience the amalgamation of a lightweight foundation and hydrating lotion with Burt's Bees BB Cream. Enriched with Noni Extract, this cream provides an antioxidant-rich, moisturizing formula that significantly reduces the appearance of fine lines and wrinkles. As a bonus, this is the best drugstore bb cream with SPF 15, offering dual benefits of moisturizing and sun protection. Available in three ultra-flattering shades, it illuminates your natural skin color, adding that perfect dewy finish. Following its composition of 98.9% natural ingredients, you can wear this beauty balm alone or pair it with your makeup.
Pros
Anti-wrinkle formula
SPF 15 included
Tinted moisturizer
Natural ingredients
Versatile application
Hydrating lotion
6
Garnier SkinActive BB Cream
Time to unveil the Garnier SkinActive BB Cream, your new go-to for an all-encompassing skincare solution. This is the best drugstore BB cream for mature skin combining the benefits of a tinted moisturizer with the protective properties of sunscreen, offering a multi-tasking formula that provides light coverage and an even skin tone. Besides working as a moisturizer, it also works in preventing spots caused by sun exposure. With consistent use, it will provide you a smooth, radiant and rejuvenated skin smoother. Its infusion of Vitamin C and Salicylic Acid furthermore contributes to improving the uneven texture of your skin. Committed to sustainable beauty, the brand also assures a healthier look for all skin types.
Pros
Tinted moisturizer
Sunscreen properties
Anti-aging benefits
Skin tone evenness
Texture improvement
Sustainable beauty
7
Best for Sensitive Skin
PHYSICIANS FORMULA SUPER BB Cream
Gift your skin the hydrating benefits of a primer and the color correction of a tinted moisturizer with Physicians Formula Super BB Cream. As one of the best drugstore BB creams, it delivers sheer coverage that promotes a soft, natural glow and offers lasting skin benefits. This BB Cream balances buildable coverage with priming, concealing, and brightening effects, efficiently evening out skin tone and blurring imperfections. Besides, it ensures a wholesome experience by offering long-wearing, lushly pigmented cosmetics void of harsh ingredients. Additionally, this brand caters to sensitive skin, and this specific BB cream is hypoallergenic and safe.
Pros
Hydrating formula
Color correcting
Perfecting skin cream
Concealing properties
Brightening effects
Hypoallergenic
8
Cruelty-free
PURITO Cica Clearing BB Cream
Step into the realm of skin-loving makeup with PURITO's Cica Clearing BB Cream. This vegan and cruelty-free formulation is designed to suit all skin types, lending a radiant glow and natural coverage to your complexion. The BB cream is not only a cosmetic product but also a daycare solution that caters to your skin's wellness. Furthermore, this non-greasy drugstore BB cream is devoid of essential oils and artificial fragrances, making it gentle and kind to your skin. Treat your skin to this BB cream's effortless blending and enriching care, which ensures a flawless look all day long.
Pros
Vegan formulation
Cruelty-free
Universal suitability
Glow-enhancing
Natural coverage
Fragrance-free
9
Lightweight Texture
NYX PROFESSIONAL MAKEUP BARE WITH ME Tinted Skin Veil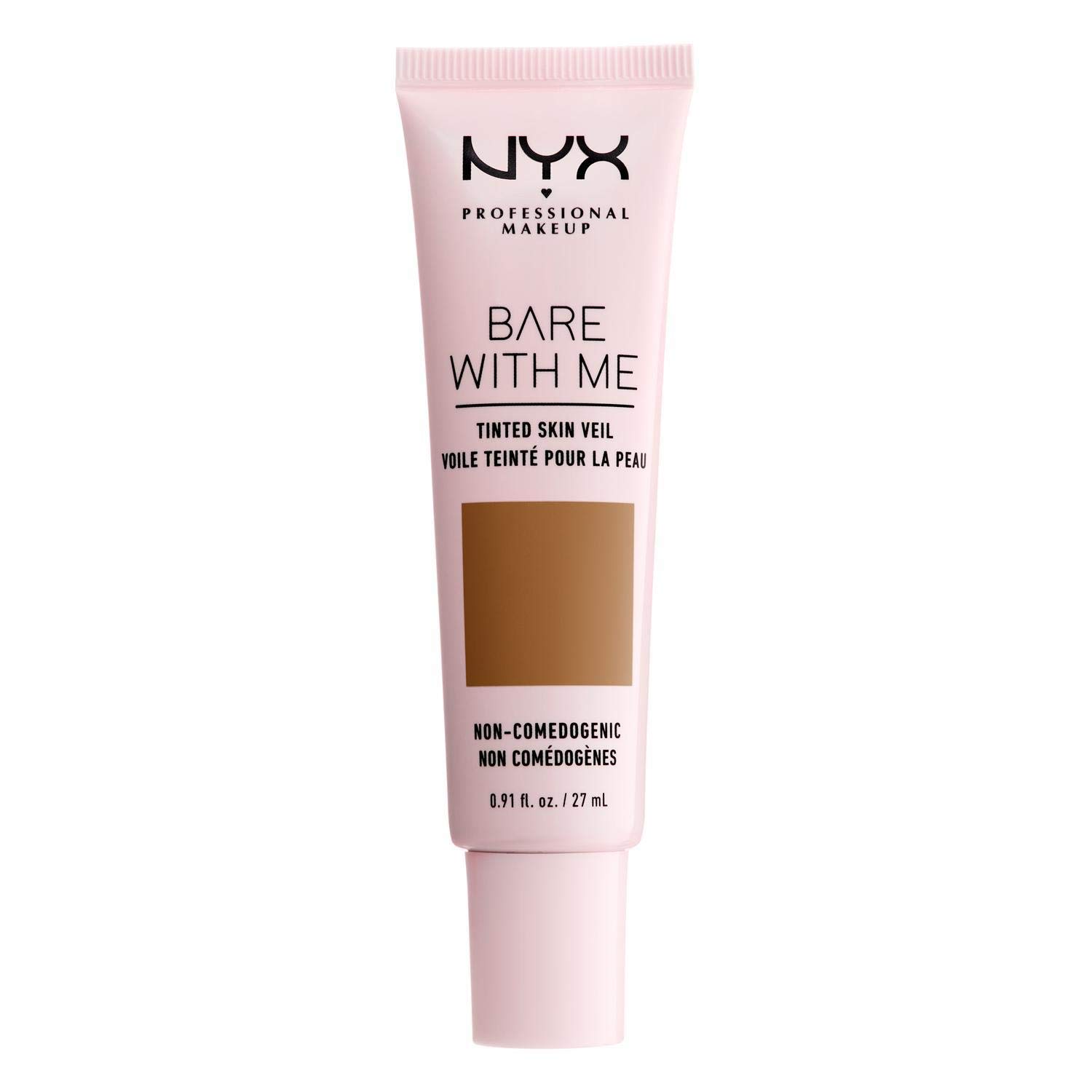 Experience the sheer joy of a 'no makeup' look with NYX Professional Makeup Bare With Me Tinted Skin Veil BB Cream. Unlike heavy foundations, this product is a combination of concealer and moisturizer, available in a variety of skin-tinting shades. Furthermore, the luminous finish ensures never-cakey, always-smooth skin, serving as a perfect base for foundation or as a standalone for a lit-up look. This cruelty-free, lightweight drugstore BB cream pledges not only makeup, but also animal love, demonstrating the brand's commitment to ethical beauty standards.
Pros
Satin finish
Cruelty-free
Versatile use
Variety of shades
All-skin suitability
Concealer plus moisturizer
10
Long-lasting
REVLON PHOTOREADY BB CREAM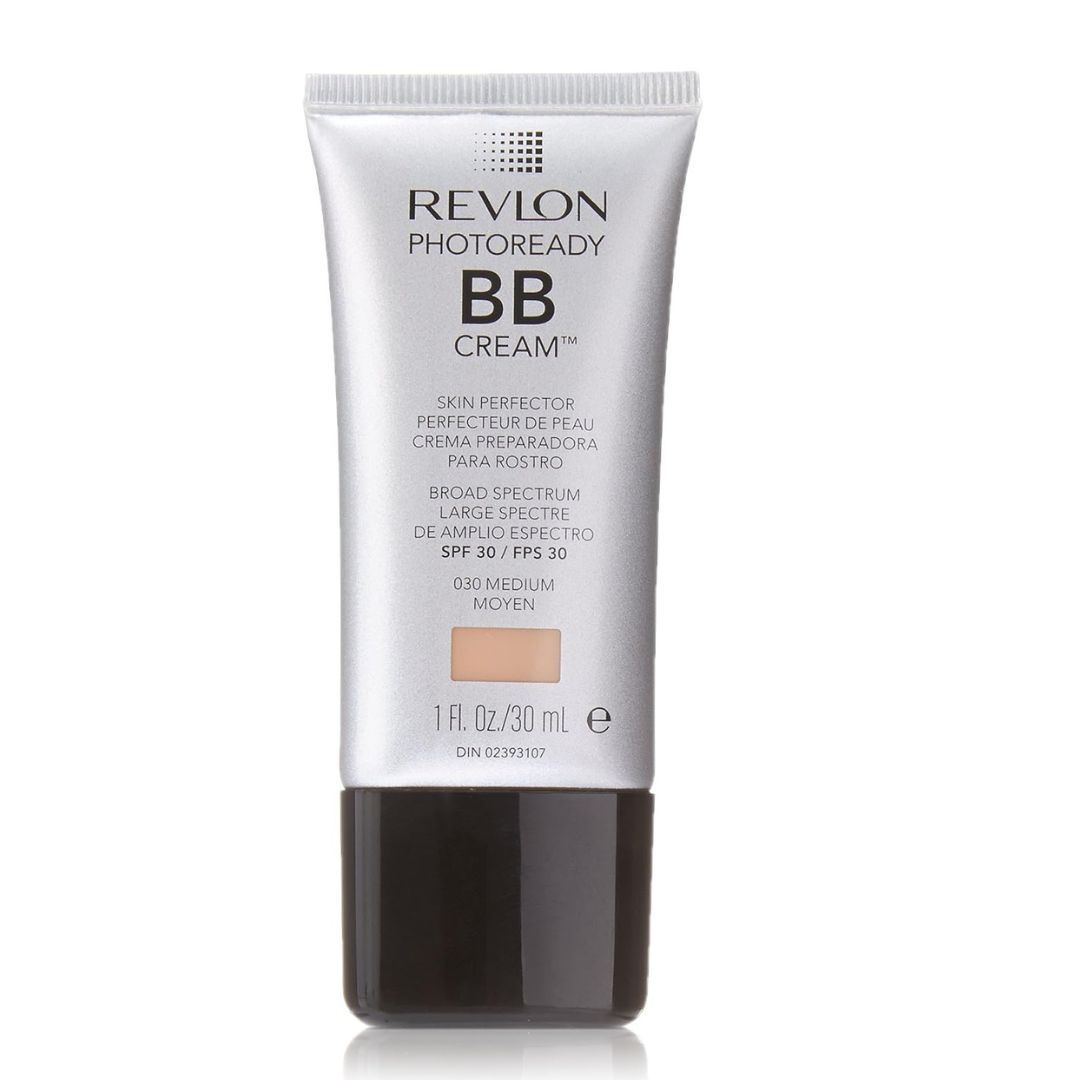 Introducing the multi-faceted Revlon PhotoReady BB Cream, a blend of skincare, makeup, and sunscreen all in one. This long-lasting drugstore BB cream is designed to hydrate like a moisturizer, smooth like a primer, cover like a foundation, and blur flaws like a concealer. Also, it does more than just perfect your skin; it brightens it. With SPF 30, it also ensures your skin's protection from harmful UV rays. Furthermore, multi-benefit cream with weightless formula is available in three perfecting shades for a radiant and flawless complexion. With this renowned brand, you can achieve a smooth complexion without the burden of layers.
Pros
Multi-benefit cream
Hydrating formula
SPF 30 protection
Flaw-blurring
Skin brightening
Three shade options
11
Suitable for all skin types
PACIFICA ALIGHT MULTI-MINERAL BB CREAM
Enriched with coconut water, hyaluronic acid, and plant stem cells, Pacifica Alight Multi-Mineral BB Cream is a genuine multitasker for your skincare regime. This light fluid formula not only hydrates skin but also primes, illuminates, and perfects your skin with a sheer finish. The result? A dewy, radiant, bare-faced glow that speaks of healthy skin. It goes beyond surface-level beauty, helping diminish open pores, fine lines, and uneven skin tone. This 100% vegan and cruelty-free drugstore BB cream is designed to suit all skin types, showcasing the brand's commitment to ethical and inclusive beauty.
Pros
Hydrating formula
Skin priming
Illuminating effect
Perfects skin
Vegan
All-skin suitability
12
Anti-Aging Effects
MIZON SNAIL REPAIR INTENSIVE BB Cream
The MIZON Snail Repair intensive BB Cream, enriched with Snail Mucin, offers both skincare and makeup benefits in one product. The glowy drugstore BB Cream, famed for its high coverage effect, shields your skin while providing refreshing, crack-free makeup coverage, even with several layers applied. Plus, the unique moisture capture system, infused with ultra-smoothing powder, balances moisture for a light, radiant, non-sticky finish. With triple-functional formula benefits, including tone correction, wrinkle improvement, and UV protection, this cream is available in four shades for a variety of skin tones. Free from parabens and fragrances, it is ideally suited for sensitive skin.
Pros
High coverage
Moisture balancing
Triple functional
UV protection
Suits all tones
Sensitive-skin friendly
13
IPKN Moist and Firm BB Cream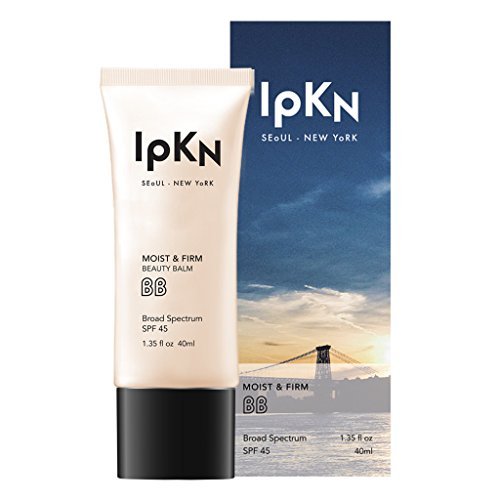 Redefine your skincare routine with IPKN Moisture Gel Matrix BB Cream, a comprehensive all-in-one solution designed for effective moisturization and coverage. Infused with ceramide and collagen, it targets skin elasticity and line reduction. This high-quality drugstore BB cream adheres perfectly to your skin, mimicking a natural feel while providing full coverage. Stress-induced blemishes, melasma, and freckles are efficiently managed. A moisture-resistant silicone barrier ensures a matte finish, eliminating the need for additional powder. Enhanced with Vitamin E, it heals scars and damaged skin cells while soothing the skin. Available in five shades, it caters to a wide spectrum of skin tones.
Pros
Full coverage
Scar healing
Effective moisturization
Enhances elasticity
Non-sticky matte
Variety of shades
Cons
Requires frequent reapplication
14
Hypoallergenic
FARMASi SKIN PERFECTING BALM BB CREAM
Achieve flawless skin with the FARMASi Skin Perfecting Balm BB Cream, a remarkable combination of skincare and makeup. With no harmful chemicals or gluten, this dermatologically tested product is a safe option for everyday wear. This ultra-lightweight formula is designed to cover skin imperfections without clogging your pores. With SPF 15, it provides protection against the skin from sun damage while ensuring your skin retains a smooth, semi-matte finish. This top-rated drugstore BB cream offers natural-looking coverage without creating a mask-like feeling on your skin. Also, note that this hypoallergenic product is good for any skin type.
Pros
Lightweight formula
SPF 15 protection
Semi-matte finish
High coverage
Hypoallergenic
Dermatologist-tested
Cons
Might not suit very oily skin
15
Skin-brightening
Erborian KOREAN SKIN THERAPY BB CREME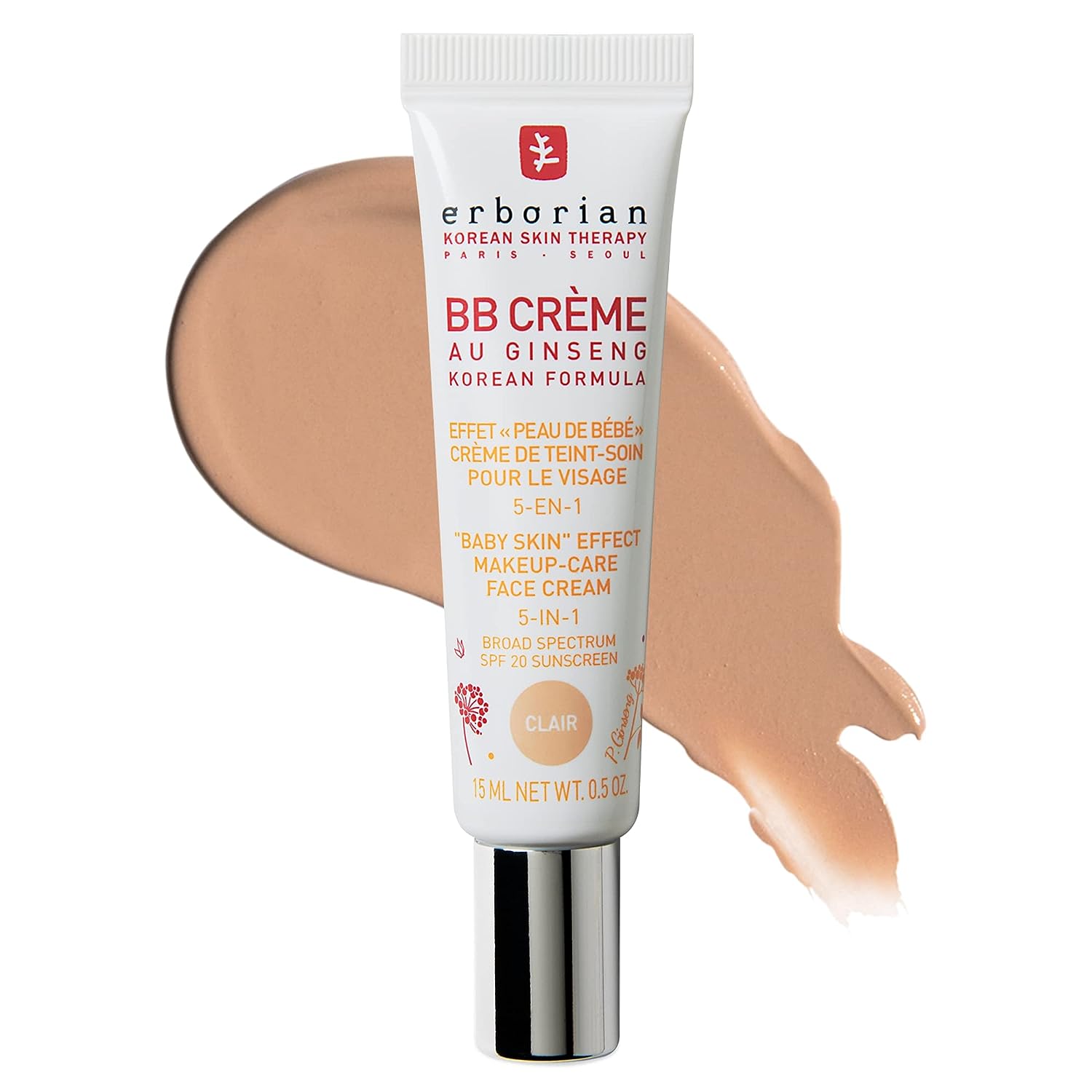 Unlock the secret of Korean beauty with Erborian's BB Creme, a product that masterfully blends skincare and foundation for a 'baby skin' effect. With its enriched Ginseng formulation, this BB cream promotes a harmonious light, medium or darker skin tone, discreetly conceals imperfections, and moisturizes, offering a seamless finish. Suitable for daily use, hydration, or as a prep step before applying makeup, it brings a gentle glow to your skin, making it look refreshed and well-cared for. Plus, this moisturizing drugstore BB cream is not just a cover-up. It's a skincare solution that brings out the natural charm of your skin.
Pros
Skin-evening
Moisturizing
Hides dark circles
Ginseng enriched
Versatile use
No appearance of imperfections
Cons
Might not suit extremely sensitive skin
Experience the beauty revelation of these 15 best drugstore BB creams, your go-to for an effortless yet effective skincare and makeup regimen. These beauty balms represent affordable luxury, transforming every day into an opportunity to flaunt a radiant, flawless complexion.
What to Look For in Drugstore BB Creams?
Choosing the perfect drugstore BB cream can take a little effort since so many options are available. Here's a handy guide that will help you traverse this landscape with confidence, ensuring that you find a BB cream that meets your skin's unique needs.
Skin's Best Friend
First and foremost, consider your skin type. Whether you have dry, oily, combination, or sensitive skin, there's a BB cream tailored to suit your specific needs. Dry skin will benefit from BB creams with hydrating ingredients, while oil-free, mattifying options are ideal for oilier complexions.
The SPF Powerhouse
One of the standout features of a good BB cream drugstore is sun protection. Look for a product that includes SPF to shield your skin from harmful UV rays. Remember, however, that the SPF in your BB cream shouldn't replace a dedicated sunscreen in your skincare routine.
The Coverage Maestro
Decide on the level of coverage you desire. BB creams typically offer light to medium coverage. If you prefer a natural look or need to even out minor imperfections, a BB cream could be your perfect match.
The Color Corrector
Pay attention to the shade range. Ensure the BB cream you choose offers color-transforming pigments that match your skin tone. Some brands offer a limited range, while others cater to a more diverse spectrum of light to medium skin tones.
Ingredient Intellect
Lastly, review the ingredient list of a BB cream. Always go for those BB creams enriched with amazing ingredients such as antioxidants and hyaluronic acid. Avoid products with potential irritants, especially if you own sensitive skin.
So, finding the perfect BB cream boils down to understanding your skin and knowing what you really expect from the product. As you take time and make a wise choice, you are one step closer to a flawless, radiant complexion.
How to Apply BB Cream for A Flawless Look?
BB creams are versatile and easy to use, with certain skin care benefits. This is the reason why they are getting popular. Adapting these steps based on your personal preferences and skin needs is important. Here's a how-to-apply guide for BB cream to ensure a flawless finish. 
Preparation is Key
Start with a clean, moisturized face. Cleanse and tone your skin, followed by a moisturizer, before applying any makeup products. If your BB cream doesn't contain SPF, apply sunscreen at this stage too.
Prime Time
Although it's not essential, applying a primer can help the BB cream adhere better to your skin and last longer. Focus the primer on areas where your makeup tends to fade first, such as the T-zone.
Less is More
Take a little amount of BB cream onto the back of your hand. BB cream typically offers light coverage, so start small and build up if necessary.
Application Art
For even application, you can use your fingers, a brush, or a makeup sponge. If using your fingers, apply the cream in a dotting motion and blend using outward strokes for a natural finish. A sponge will offer more dewy skin, while a brush can provide a bit more coverage.
Blend it Out
Make sure to blend the product well into your skin, paying special attention to the hairline and jawline to avoid any harsh lines.
Optional Set
In case you have oily skin or want your makeup to last longer, you can set your BB cream with a translucent powder. For a final touch, continue with your regular makeup routine to complete the look.
There is only one way to get radiant skin with BB cream, and that is knowing the right way of application. Achieving a flawless finish with BB cream is all about finding what works best for you!
It's high time to immerse yourself in the world of effortless beauty with the magical power of BB creams. The list of the best drugstore BB creams we have created as per our expertise presents a spectacular lineup of products, each promising to redefine your beauty routine with their all-in-one benefits. These beauty balms seamlessly integrate skincare and makeup for a flawless and healthy complexion. Whether your skin needs hydration, sun protection, or perfect coverage, it all comes in a handy tube. This amazing concoction enhances your unique beauty while addressing a wide array of skin concerns. Celebrate your skin with a cream that nourishes, protects, and elevates. So step into the world of simplicity, where beauty and affordability unite to create a magnificent experience for you.
FAQ's
Do you use moisturizer before BB cream?
Yes, it is recommended to apply moisturizer before using BB cream. Even though most BB creams are formulated with hydrating ingredients, moisturizing first helps prep your skin and ensure a smoother application.
Do you put powder over BB cream?
Yes. Applying a light layer of setting powder over BB cream can help extend its wear and combat shine.
Can we apply BB cream daily?
Absolutely. BB cream is designed for daily use. It provides light coverage and essential skin benefits like SPF and hydration, making it a perfect choice for everyday makeup routines.
Can you use BB cream to contour?
While BB cream can be used for overall coverage, it is typically not used for contouring. Contouring generally requires products with a heavier consistency and specific shades to create depth and definition.
Should I use a setting spray after BB cream?
Using a setting spray after applying BB cream can help lock in the product and extend its longevity. It also adds a final touch to your makeup, leaving your skin with a fresh, dewy glow.
What is BB cream used for?
BB cream, also known as beauty or blemish balm, is a versatile product that combines skincare and makeup. It offers light to medium coverage, hydrates the skin, evens out skin tone, and often includes SPF for sun protection.
What is the difference between CC cream and BB cream?
While both offer skincare benefits and coverage, BB cream is a lighter all-in-one product, and CC cream focuses more on color correction. CC creams often provide more coverage and are designed to address issues like redness or sallowness.
What is BB cream vs foundation?
BB cream provides lighter coverage and includes skincare benefits, making it perfect for daily use. On the other hand, the foundation offers more coverage and is used to create a smooth, even complexion, ideal for special occasions or for those who prefer a full makeup look.
Why Trust Pinkvilla
Anoushka Sinha, takes her skincare finds seriously and goes through each product description, multiple customer testimonials, and various online reviews, before recommending any product. Here she has shortlisted the best drugstore BB creams for a flawless finish. 
Our product experts study the specifications of every product we suggest and try them out to bring what's proven to be worthy of your money, time, and energy. We also have subject matter experts from various fields like Fashion, Skincare, Haircare, Home Decor, and Health & Fitness onboard to make sure our suggestions are credible and trustworthy. You can trust Select to be your faithful shopping guide for all the right reasons!
Author BIO

Anoushka is certified in Professional Skincare and is a Mass Media (Journalism) graduate from Mumbai University. As a More
Source link