[ad_1]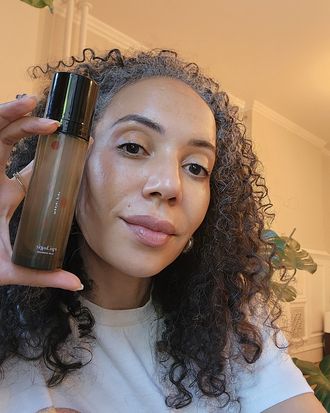 Photo: Courtesy of Dr. Chaneve Jeanniton
Brooklyn's go-to dermatologist and oculofacial plastic surgeon Dr. Chaneve Jeanniton is driven by her community. "I have the privilege of taking care of the coolest people on the planet," the New York–born and –raised skin-care expert tells the Cut. "On any given workday, I look at my schedule of appointments and get excited about catching up with them and hearing about what's inspiring them lately."
Speaking of inspiration, Dr. Jeanniton — who attended the Stony Brook School of Medicine and did her surgical training at St. Luke's–Roosevelt and the renowned New York Eye and Ear Infirmary — was motivated to open her own private practice, Brooklyn Face & Eye, in 2015 after feeling unfulfilled as a surgical consultant. "I wanted more control over how I cared for my patients," she explains. "As we all know, health care is deeply troubled, and I felt stifled by how it impacted my ability to deliver care. I saw opening my own practice as an opportunity to build relationships with my patients on my own terms."
In 2020, Jeanniton launched her own line of skin-care products for hyperpigmentation-prone and melanin-rich skin, epi.logic, which includes crowd favorites such as the True Calm Rosehip Gel Cleanser and the Even Balance Toner. "Epi.logic was born out of conversations with my patients about how disappointed they were with the beauty industry and their options," she shares. "Something that came up often was the lack of inclusivity in clinical skin care. It was hard to convince someone that time-tested clinical skin care was right for them when those product lines treated their skin and its nuances as afterthoughts." These days, she has been focusing on taking the epi.logic show on the road with pop-ups in New Orleans during Essence Fest, at Palm Heights on Grand Cayman, and more.
When not tending to her patients, Jeanitton enjoys Pilates and being intentional about doing her own skin-care routine during downtime. "I have a lot of noisy anxiety, and self-care is my way of silencing that noise," she says. "The time I dedicate to my beauty and fitness routines is when I feel embodied and integrated. I don't see them as indulgences but rather as critical to my sense of well-being."
7:30: I try not to set any alarms. I usually do some mindless scrolling on social media for a little while before I'm fully awake. I know that's bad for me and I aspire to be one of those people who meditates or journals first thing in the morning, but I'm just not there yet.
7:50: Most of my beauty routine centers on skin care. I start with epi.logic Clean Reveal. It pairs glycolic acid and gluconolactone for a juicy resurfacing cleanse.
7:52: I tone with Even Balance for its soothing antioxidant boost. It's full of skin goodies: CoQ10, superoxide dismutase, hyaluronic acid, and papaya extract.
7:53: I follow up with Daily Dose serum for quality Vitamin C's, niacinamide, and rainbow algae. I have hyperpigmentation, specifically melasma, so my routine is focused on keeping it at bay.
7: 54: I apply the Total Package moisturizer for a dewy finish.
7:55: I often switch up the sunscreen I'm using because I have so many favorites. But these days, it's either Beauty of Joseon or Krave Beauty Beet the Sun.
8:00: I'm not great at makeup and do the least. I use Glossier Boy Brow, Merit mascara, and Ami Colé Lip Oil.
8:03: My hair is either in braids or loose and curly. If in braids, I might oil my scalp with K18. I was really struggling with my hair until I started using this a few months ago. Before K18, it seemed like my hair was really dry and brittle regardless of how much love I gave it. It didn't make any sense to me. But since using it, my hair looks much healthier and my products seem to work again. Other times, I'll apply some mousse, depending on what I'm noticing. If my curls are loose, I'll refresh them with Davines Love Curl Revitalizer and perhaps DevaCurl Volumizing Foam if I'm looking flat.
8:07: I'm starting to get into fragrance again. (I had to give it up during my medical training as we had to be in a sterile environment.) Lately, I've been wearing Coriander, by D.S. & Durga. I was struck by how beautifully green it smelled when my patient came in wearing it one day. I spritz and then I'm out the door.
8:10: I look forward to my triple-shot almond-milk latte every morning from my local coffee shop, Bittersweet. The almond milk is homemade and unmatched!
8:30: I'm usually off to my office to see patients, but on my WFH days and weekends, I start my day with a Pilates Reformer class.
I don't feel like my journey to confidence is complete. Don't get me wrong, I know I look great. But I'm getting older, so my face and body are changing and I'm learning how to embrace those changes with grace. It's not easy! Especially since the beauty industry constantly bombards me to push messaging that we should all prize youth over everything. I just have no desire to be in a fight with my body for the rest of my life. That feels like a huge waste of energy. So honestly, on a daily basis, I'm navigating my love for beauty and my love for myself, and I'm learning to love the way my physicality is evolving over time.
I can't stand how eye creams are marketed. As an eye plastic surgeon, I chat daily with people who've sunk significant amounts of cash and hope into products touting to get rid of bags and puffiness when that's just not possible. I wish there were more honesty around claims in this area. Beauty is meant to empower, not deceive. It's not that eye creams don't work; it's just that they can't shrink tissue deep to the skin surface, which is where those changes are coming from. The right treatment for under-eye puffiness and bags depends on the cause. Solutions range anywhere from limiting salt intake, doing a gua sha massage, or treating allergies, to aesthetic procedures like fillers and surgery.
I've been pleasantly surprised by the amount of camaraderie and support I've personally come across. I had this preconceived notion that the beauty industry would be catty and cliquish, but it's been truly welcoming and supportive. It feels like we're all cheering each other on. But the faux inclusivity in the industry is really frustrating. I hate seeing beauty brands that are diverse in their marketing and flaunt beautiful Black faces in their campaigns and social feeds but don't maintain that commitment when it comes to product formulation, testing, or leadership.
I hate the "no chemicals" trend. Whether it's hating on chemical sunscreen or all chemicals, I have no patience for it. For example, chemical sunscreen may not be right for everyone, but for a lot of people, myself included, it's necessary for getting sufficient sun protection that's invisible and doesn't leave that awkward white cast. Blanket statements demonizing ingredients fuel misinformation and aren't backed by evidence, so it's just plain nonsense.
I've seen both skin flooding and mermaid skin on TikTok and love them both. I'm a big fan of dewy, ultrahydrated skin, and any trend that promotes it has my vote. There's a joke among the epi.logic team that the glow on our Zooms is unmistakable. We all do our epi.logic routines beforehand, and it shows. I'm definitely #teamdewy.
Plant stem cells often get touted for their rejuvenating and anti-aging properties, but there's little evidence supporting their impact on human skin in the way some claim. They can be great as antioxidants, but there are much more effective antioxidant options available: Vitamin C, CoQ10, and superoxide dismutase come to mind as my top antioxidant picks.
I love the industry's push toward regenerative aesthetics. Growth factors are at the center of that movement. They work by replenishing elements intrinsic to our skin and deliver benefits without risking stimulation or irritation. Growth factors are proteins intrinsic to our skin. They act like messengers to skin cells — which is why epi.logic named our proprietary growth-factor–and–peptide blend Cell Service. Basically, growth factors are key to helping skin go into repair mode. They stimulate collagen-and-elastin production, which increases skin thickness and results in plump, bouncy skin. By replenishing the skin's supply of growth factors, the skin looks smoother, firmer, and brighter. Acids — and their potential for irritation — are usually required to get these types of results, so growth factors are a stealthy way to circumvent risk on the way to great skin. They're truly the inclusive skin-care ingredient of the future.
I'm most drawn to expertise. The industry is supersaturated, and it seems like everyone and their cousin have their own line. I need to know the products were created out of a deep understanding of skin or ingredient technology and not a board meeting and an investor deck.
That's a toss-up. I have Sofwave skin tightening done to my lower face and neck every nine months at my practice and love everything about it. It's got no downtime and is virtually painless. It takes about three months for the results to kick in. The effect is subtle, but I love the lift it gives my face.
Then another treatment is lash-line enhancement. I get it done about once a year by Josh at Shen Beauty. It amazes me that by just making my lashes look fuller, somehow my whole face looks better. It's one of those things that when it wears off, you wonder how you ever existed without it.
[ad_2]
Source link