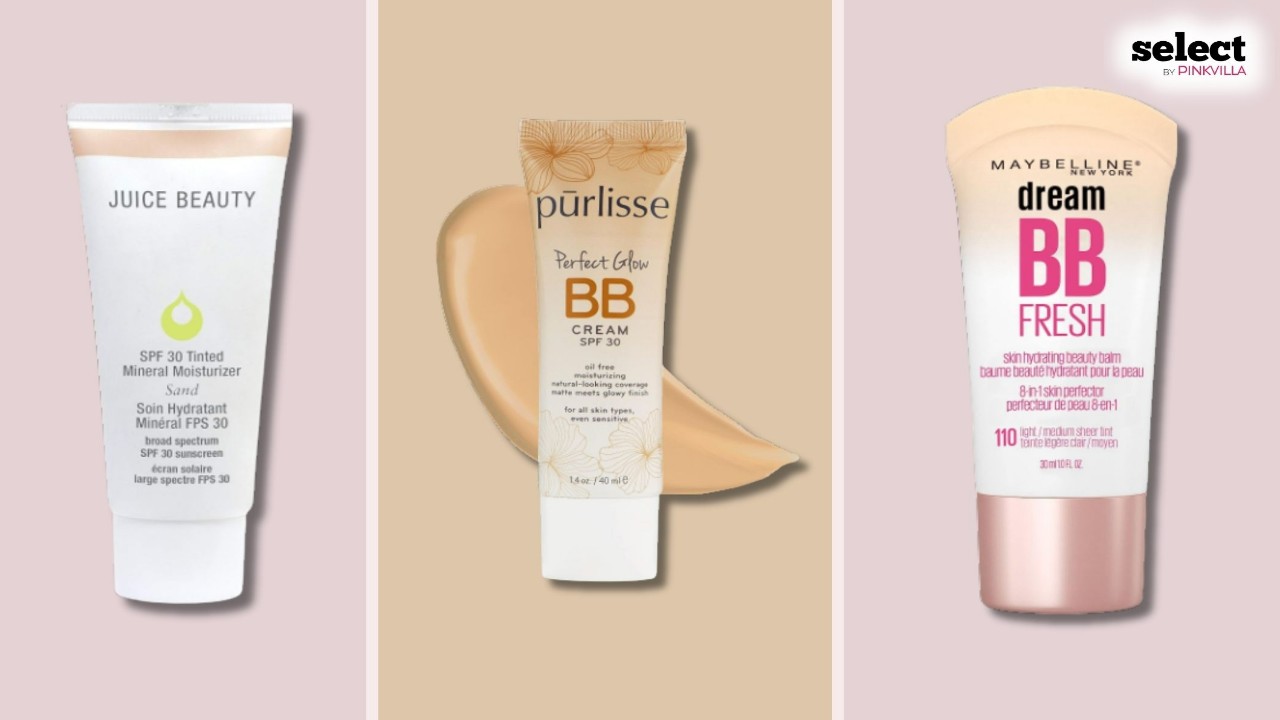 The products curated for this article are independently chosen by the
editorial team. If you make a purchase through the links mentioned below, we may receive a commission. Check out our product
research & curation process
Attaining a flawless complexion is a common beauty aspiration, especially for individuals with dry skin. The choice of the right BB cream can significantly impact the outcome. BB creams have gained popularity for their ability to provide multiple benefits in one product, combining moisturizer, sunscreen, and foundation. However, individuals with dry skin often face the challenge of finding a BB cream that not only offers adequate coverage but also delivers essential hydration without emphasizing dry patches or feeling heavy on the skin (1).
To help you navigate through the overwhelming options, we have meticulously curated a list of the 14 best BB creams for dry skin. These lotions are enhanced with premium components like hyaluronic acid and glycerin to strengthen their healing capabilities (2). With a focus on addressing the unique needs of dry skin, these BB creams offer buildable coverage that evens out the skin tone while maintaining a lightweight and comfortable feel.
The specialty of this cream is that it not only provides a flawless base but also provides skincare advantages like improving skin texture, lessening the appearance of fine wrinkles, and offering protection from UV radiation. Join us on this comprehensive journey as we delve into the world of the 14 most effective BB creams for dry skin.
Our top picks
Best Korean Skincare Cream
Best Fit for Most Skin Tones
Best Sun Protecting Formula
14 Best BB Creams to Soothe And Hydrate Dry Skin
This is one of the best BB creams for dry skin that is the ultimate 8-in-1 skin-perfecting blemish balm that delivers multiple benefits to enhance your complexion.After trying this product, we found that It blurs imperfections, evens skin tone, smoothens texture, hydrates, enhances natural features, and offers essential sun protection with SPF 30. Whether you prefer sheer, medium, or full coverage, the Dream Fresh BB Cream provides a versatile option to create your desired level of coverage. Moreover, it contains 0% oils or heavy ingredients, ensuring a lightweight and comfortable feel on your skin. It allows your skin to breathe while maintaining a fresh and natural finish.
Pros
Moisturizing
Reduces redness
Versatile shades available
Easy to apply and blend
Suitable for daily use
Suitable for sensitive skin
Offers broad-spectrum sun protection
Minimizes the appearance of pores
Cons
Product may oxidize
Lightweight formula is not lasting for oily skin
2
Best Korean Skincare Cream
MISSHA M Perfect Cover BB Cream SPF 42
Next in the line is this best Korean BB cream for dry skin that's also an all-in-one solution for your mature skin. Infused with hyaluronic acid (2) and ceramide, this BB cream effectively reduces fine lines and wrinkles, improving skin elasticity and tone for a more youthful and smooth complexion. The formula contains natural botanicals like rosemary extract, chamomile extract, and nutrient-rich marine extracts. These ingredients provide conditioning, soothing, and balancing properties, leaving your skin nourished and calm. With its powerful SPF 42 and PA+++ rating, the cream offers exceptional all-day sunscreen protection, safeguarding your skin from harmful UV rays, reducing dryness, and preventing sun damage.
Pros
Anti-aging
Powerful sun protection.
Lightweight formula
Long-lasting coverage
Suitable for all skin types
Blends well
Provides a natural finish
Convenient packaging
Cons
Strong scent
Requires setting powder for longer wear
3
Best Fit for Most Skin Tones
Purlisse Perfect Glow BB Cream SPF 30
This dewy BB cream for dry skin is designed to moisturize and protect the skin with powerful antioxidants. When we tried this product we found it to be a tinted face cream that not only provides sun protection but also evens out the skin tone and conceals imperfections. With its carefully selected ingredients, this BB cream helps restore the skin's radiance and protects it from environmental stressors. This BB cream complements most skin tones, thanks to its self-adjusting mineral-tint color. 
Pros
SPF 30
Lightweight
Easy to apply
Improves skin texture and tone
Chemical-free
Nanoparticle-free
Cons
Some users experienced breakouts
4
Best for Flawless Skin
Revlon PhotoReady BB Skin Cream Perfector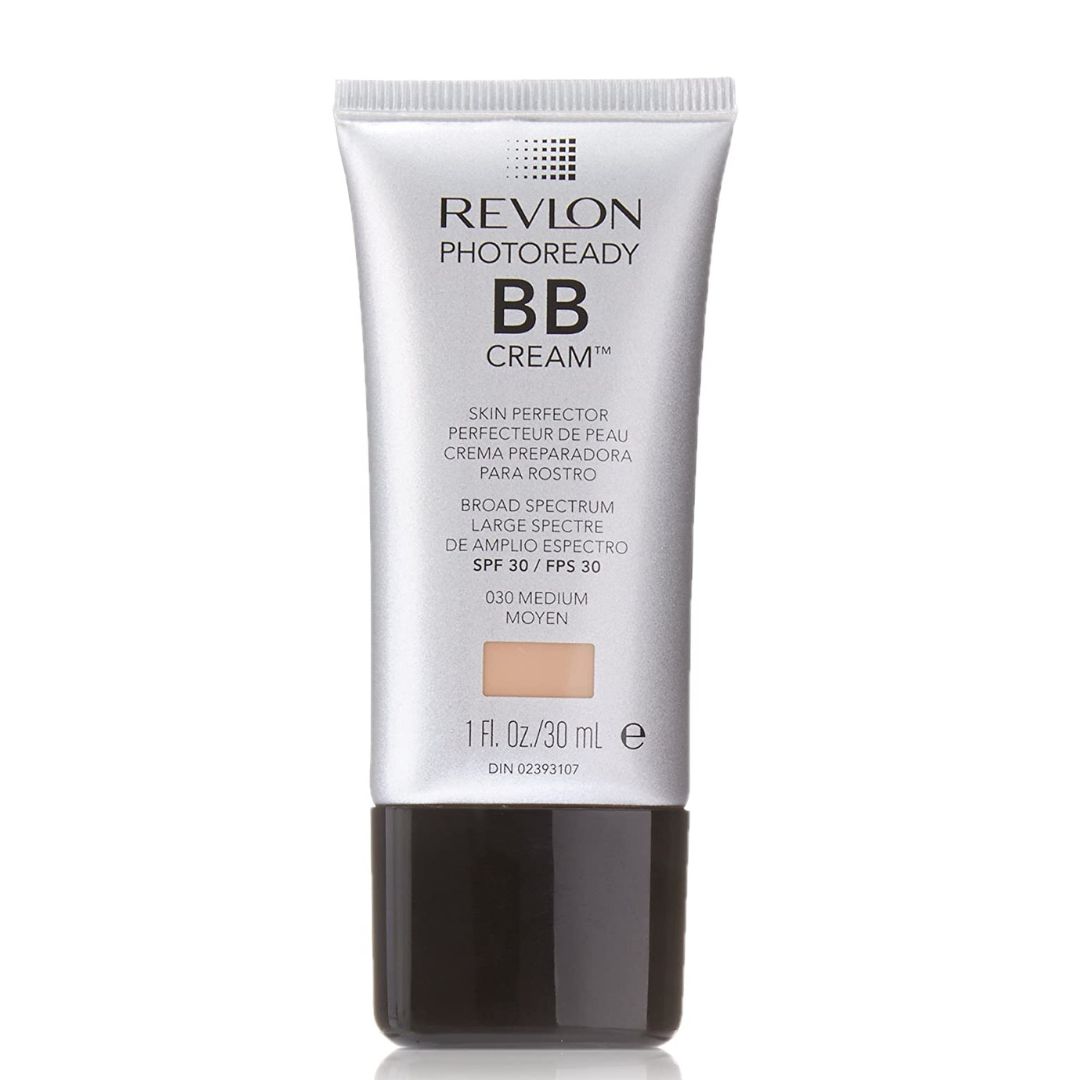 This BB cream comes with a lightweight formula and combines skincare, makeup, and sunscreen to provide you with a smooth and flawless complexion. It acts as a moisturizer, primer, foundation, concealer, and sunscreen, all in one. After putting it to the test, we found the product to be deeply hydrating your skin, leaving it nourished and supple. The smooth texture glides effortlessly onto the skin, acting as a primer to create a seamless canvas. The coverage provided is akin to a foundation, evening out your skin tone and blurring imperfections like a concealer.On top of all these benefits, it offers SPF 30 protection, shielding your skin from harmful UV rays. Available in three shades, you can find the perfect match for your skin tone. 
Pros
Easy to apply
Provides hydration
Brightens complexion
Simplifies the beauty routine
Suitable for all skin types
Cons
Some users experienced oxidization
May require touch-ups frequently
5
Best Make-up Base
FARMASi Make Up BB Cream SPF 15
Pros
Lightweight
Easy to apply
SPF 15
Long-lasting
Versatile
Provides hydration
Moisturizes skin
Cons
Limited shade range
Feel greasy on oily skin
6
Most Nourishing Formula
Juice Beauty Tinted Mineral Moisturizer BB Cream
This 4-in-1 multitasking BB cream is the ultimate hydrator for dry skin types. It combines chemical-free SPF 30 and tinted minerals for coverage. The mineral pigments provide light and glowing coverage. The formula contains coconut, sunflower, and jojoba organic plant oils that deeply hydrate your skin. Additionally, plant-derived hyaluronic acid replenishes moisture, leaving your skin nourished and supple (2).
The BB cream also contains a potent blend of antioxidant-rich Grape, Aloe, and Pomegranate juices. These ingredients help protect your skin from environmental damage and promote a healthy complexion. 
It is available in four shades, catering to a range of skin tones. The cream prevents premature signs of aging caused by daily sun exposure, ensuring your skin stays youthful and radiant.
Pros
Replenishes moisture
Suitable for all skin types
Reef safe
environmentally friendly
Easy to apply and blend
Gives a natural, radiant glow
Cons
May not provide heavy coverage
The scent may not be appealing
7
Best Natural Glow
Boobeen Hydrating BB Cream
Experience the all-in-one solution with Boobeen hydrating BB cream for dry skin. This versatile product combines the benefits of a concealer, foundation, and moisturizer in a single tube, simplifying your beauty routine. After experimenting with the product our team observed that the lightweight and smooth formula of this BB cream provides deep moisturization, improving the texture of the skin and leaving it with a radiant and hydrated glow. It effectively evens out your skin tone, softening the appearance of imperfections for a natural and flawless look. The long-lasting wear of this BB cream ensures 24-hour hydration and a natural glow, making it an ideal choice as your go-to foundation.
Pros
Deep moisturizer
Long-lasting
Lightweight
Provides natural glow
Skin hydrator
3 in 1 formula
Affordable
Cons
May not suit all skin types
Some may experience greasiness
Limited shade range
8
Best Non-comedogenic
TROIAREUKE Aesthetic BB Cream H+ Formula
This Korean BB cream not only works as a makeup foundation with medium coverage and a smooth finish but also doubles as an essential part of your daily skincare routine. It keeps your skin supple, hydrated and moisturized. It evens out uneven skin tone and covers imperfections, redness, and blemishes.
 The key ingredients in this BB cream include panthenol for hydration and moisturization (3), and sunflower seed oil for soothing and antioxidant properties. This non comedogenic BB cream for dry skin ensures it won't clog pores, while adhering seamlessly to your skin texture, providing a natural-looking radiance. With broad-spectrum UVA and UVB sun protection, it acts as a tinted sunscreen for your face. It creates an excellent base for makeup, enhancing its longevity.
Pros
Lightweight
Hygienic packaging
Suitable for various skin types
Dewy finish
Watery consistency
Cons
Limited shade range
Requires additional powder for oily skin types
9
Most Hydrating
ANNEMARIE BÖRLIND Moisturizing BB Cream
This tinted daycare product combines the advantages of makeup with lightweight coverage, giving your skin a radiant and even complexion. It also provides support against fine dust and blue light, ensuring your skin stays protected throughout the day. This perfect BB cream for dry skin is free from mineral oil derivatives and microbiome-friendly to the skin. Enriched with macadamia nut oil, this BB cream offers excellent skin protection (4) and effectively nourishes dry and flaky skin, restoring its suppleness. The presence of light-reflecting pigments visually softens fine lines and wrinkles. The anti-pollution active ingredient complex in this formula boosts cell metabolism and provides antioxidant effects, further enhancing your skin's well-being.
Pros
Light coverage
Protection against environmental influences
Silicon free
Cruelty-free
GMO
Skin moisturizer
Cons
Texture may not be suitable for all
Limited shade options
Expensive
10
Best Sun Protecting Formula
MDSolarSciences SPF 50 Oil-Free Tinted Matte BB Crème
This cream has a multifaceted mineral formula that offers sheer coverage, anti-aging benefits, and broad-spectrum sun protection. It is enriched with repair agents to help even your skin tone, making it suitable for acne-prone, and sensitive skin. The cream is infused with caffeine and niacinamide that minimizes skin discoloration and redness, leaving you with a brighter and more even complexion. 
The formula contains natural ingredients like green tea extract, cranberry fruit extract, pomegranate extract, vitamin C, and vitamin B5. These ingredients restore radiance, boost antioxidant and SPF protection, and promote collagen production and skin firmness. Additionally, these ingredients attract and retain moisture, providing essential hydration for your skin. With a matte finish that primes your skin flawlessly for makeup application.
Pros
Easily blendable
Water-resistant formula
Protects against UV damage
Glides on velvety-smooth
Enhances natural glow
Cons
Slightly expensive
Fragrance may be overpowering
11
Immetee BB Cream for Men
This natural BB cream for dry skin is a multi-functional tinted moisturizer designed specifically for men's skincare needs. It combines natural ingredients, versatility, and long-lasting performance to provide a flawless and even skin tone. With its lightweight formula and various shade options, it caters to different skin types and tones.
When we tried this product we found that this BB cream conceals, moisturizes, and regulates the skin. Infused with zinc and magnesium, it provides anti-aging benefits, free from harmful additives. This BB moisturizer is best for all skin types, especially acne-prone and sensitive skin. Hypoallergenic and fragrance-free for gentle application. It provides a dewy complexion without the heaviness or oiliness often associated with the foundation. 
Pros
Natural ingredients with anti-aging properties
Suitable for all skin types and tones
Lightweight
Waterproof and long-lasting
Hypoallergenic and fragrance-free
Multiple shade options
Affordable
Cons
Texture may not suit everyone
12
La Mav Organic BB Cream
This is an exceptional organic tinted moisturizer, foundation, and natural sunscreen in one. The clever color adaptive BB cream is formulated to create a radiant complexion, smoothing and evening out your uneven skin tone while concealing imperfections for a flawless and velvety matte finish. The formula contains natural sunscreen and age-defying bio-actives, nourishing your skin while providing effective coverage and long-lasting hydration. Infused with a powerful blend of pure vitamin C, organic rosehip oil, hyaluronic acid (2), and other age-defying bio-actives, this lightweight organic BB cream promotes a blemish-free and calm complexion. Vitamin C fights against free radicals, protecting your skin from premature aging, while rosehip oil and hyaluronic acid brighten and moisturize, providing lasting hydration.
Pros
Contains natural sunscreen
Nourishes and hydrates skin
Long-lasting coverage
Infused with bio-actives
Protects against premature aging
Brightens and moisturizes the skin
Suitable for all skin types
13
Bellapierre Moisturizing BB Cream with SPF 20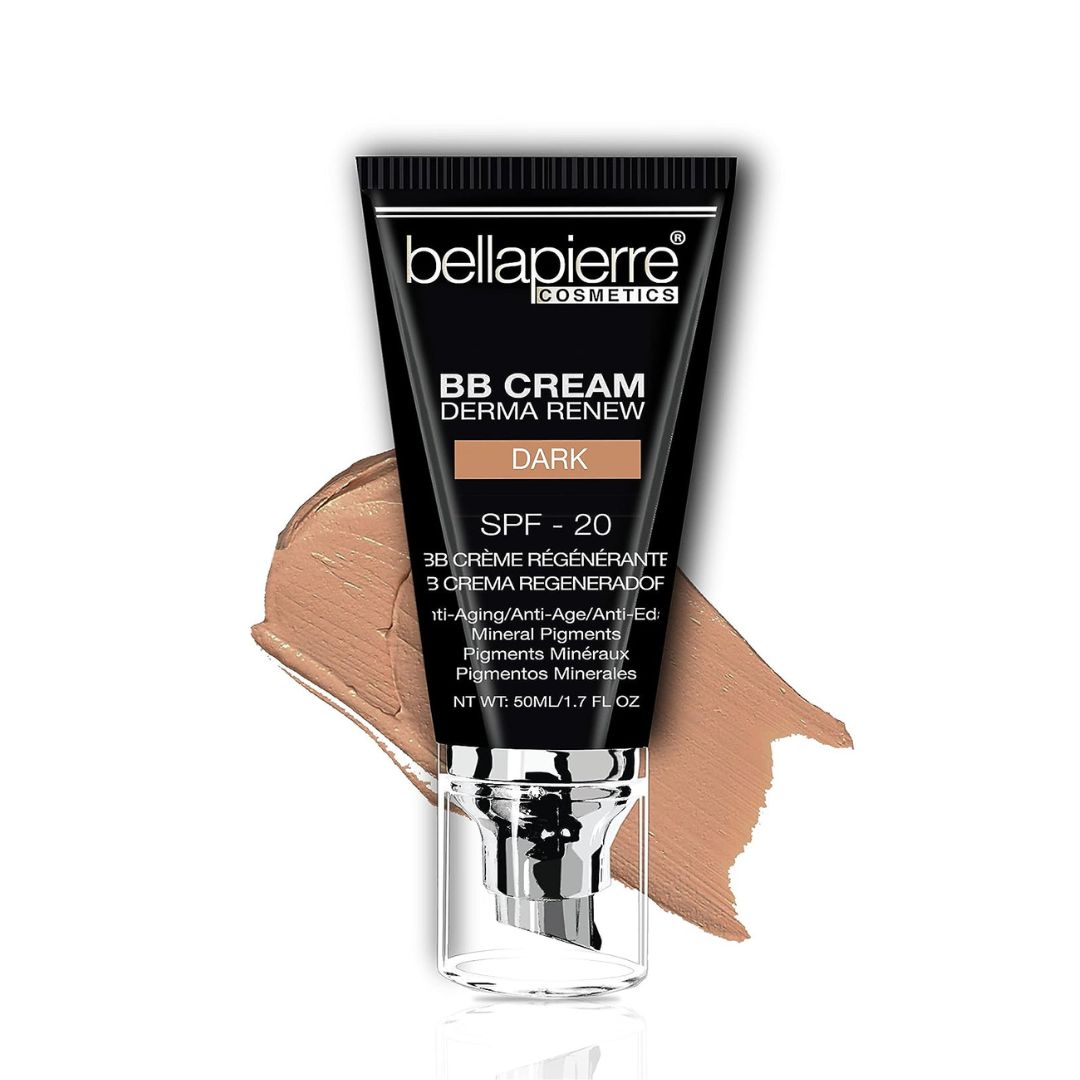 Bellapierre's BB Cream for dry skin with SPF 20 is a multitasking product that serves as a tinted sunscreen, concealer, foundation, and moisturizing face cream. With its new and improved formula, it provides full coverage while offering better protection against harmful UV rays. Achieve an unmatched finish with this mineral-based BB cream-tinted moisturizer that effectively covers imperfections without clogging pores. The pump top applicator provides effortless and mess-free application, a must-have for your makeup bag. Its versatile formula adds a gorgeous glow to any makeup look, making it a must-have item before stepping out of the house.
Pros
SPF 20
Mineral-based formula
Versatile
Easy to use
Long-lasting
Paraben-free
Cons
Expensive
May feel slightly heavy
14
Garnier Skin Naturals Classic Hyaluronic Aloe All-in-1 BB Cream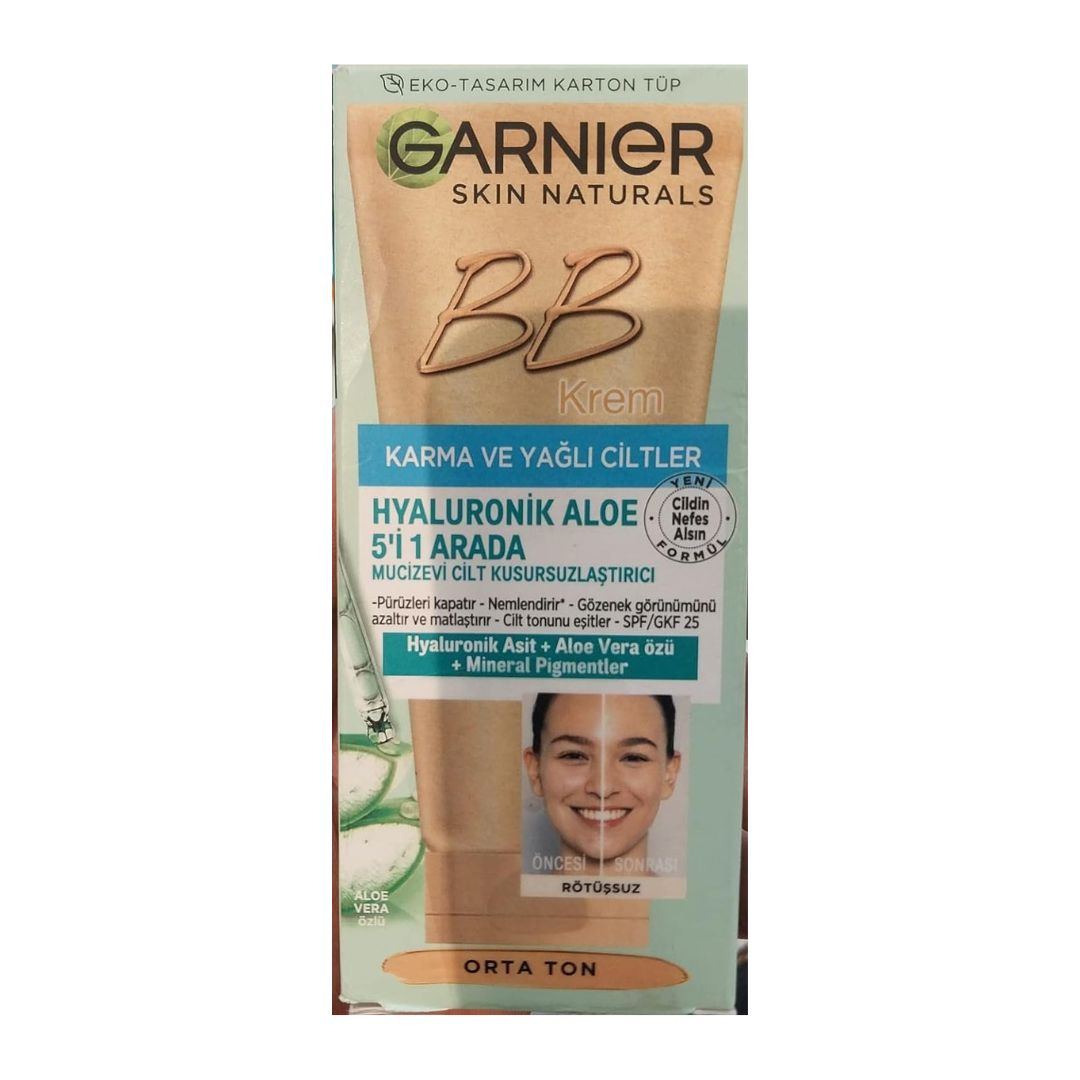 This BB cream for dry skin offers a range of benefits, combining the advantages of a foundation, a moisturizing cream, and sun protection with SPF25. It is all-in-one anti-age care that evens out your skin complexion but also softens fine lines and improves skin elasticity. 
It gives a natural finish and a hydrating feel with an enriched formula of ultra-thin Mineral pigments, hyaluronic acid, and Aloe. These ingredients work together to provide a lightweight coverage that leaves your skin looking flawless and feeling moisturized.
This cream is dermatologically tested and suitable for all skin types, including sensitive skin. We have found from using this product that, it delivers the desired results without causing any irritation or discomfort.
Pros
Lightweight
Provides natural-looking coverage
Suitable for sensitive skin
Evens out skin tone
Long-lasting formula
Great value for the price
Cons
Packaging can be prone to leakage
Now that we have a list of the best BB creams, let's delve into the process of finding and purchasing the one that suits your needs.
How to choose the best BB creams for dry skin?
Undoubtedly, several crucial factors should be taken into account when choosing the most suitable BB cream for dry skin. These include:
Hydration: Give priority to BB creams that highlight their hydrating properties or incorporate beneficial ingredients like hyaluronic acid or glycerin, which effectively replenish and retain moisture in the skin.
Coverage: Opt for BB creams with medium to full coverage to conceal dry patches and even out your skin tone effectively.
Formulation: Choose BB creams with creamy or dewy formulas that provide a luminous finish, as these can add a healthy glow to dry skin.
SPF Protection: Prioritize BB creams with built-in sun protection (SPF) to shield your skin from harmful UV rays and prevent further dryness.
Ingredients: Avoid BB creams containing alcohol, fragrance, or other potential irritants that can exacerbate dryness and sensitivity.
Shade Range: Ensure the BB cream you choose has a suitable shade range to match your skin tone, allowing for a natural and seamless application.
Reviews and Recommendations: Read reviews and seek recommendations from others with dry skin to identify BB creams that have worked well for them.
The process of finding the ideal BB cream for specific needs may require experimentation due to the unique characteristics of each individual's skin.
Conclusion:
In conclusion, the featured 14 best BB creams for dry skin not only prioritize hydration and coverage but also offer additional benefits. These expertly crafted creams successfully address the unique requirements of dry skin by supplying essential hydration and nourishment. These lotions are enhanced with premium components like hyaluronic acid and glycerin to strengthen their healing capabilities. With their lightweight and breathable formulas, they effortlessly blend into the skin, leaving a natural and radiant finish. 
The inclusion of SPF protection shields the skin from harmful UV rays, while their long-lasting formulas ensure all-day wear. Additionally, the diverse shade range accommodates various skin tones, allowing for a customized and seamless application. Elevate your skincare routine with these exceptional BB creams, unlocking a flawless and luminous complexion that truly reflects your unique beauty.
FAQ's
Can we use BB cream on dry skin?
Yes, BB cream can be used on dry skin. Many BB creams are specifically formulated with moisturizing properties that effectively hydrate and nourish dry skin. This provides not only coverage but also valuable skincare benefits.
Is BB cream or foundation better for dry skin?
Both BB cream and foundation can work well for dry skin, but BB cream is often a preferred choice. BB creams usually offer a lighter coverage compared to the foundation, and they often contain moisturizing ingredients that can benefit dry skin by providing hydration and a natural, dewy finish.
Is it OK to use BB cream daily?
Yes, it is generally safe to use BB cream daily. BB creams are lightweight formulations that provide a range of benefits, including coverage, sun protection, and skincare properties. Choosing an appropriate BB cream that matches your skin type and requirements is crucial. Particularly, to maintain healthy skin it is essential to clean skin thoroughly at the end of the day.
Can I apply BB cream without moisturizer?
People having dry skin are advised to prioritize applying separate moisturizers before using BB cream, despite the moisturizing properties typically found in BB creams. This helps ensure optimal hydration for dry skin. This additional step helps provide optimal hydration and nourishment to the skin. Moisturizer helps to hydrate the skin and create a smooth canvas for the BB cream, allowing for better application and a more even finish. Applying moisturizer first can also enhance the longevity of the BB cream throughout the day.
Why Trust Pinkvilla
Anoushka takes her skincare finds seriously and goes through each product description, multiple customer testimonials, and various online reviews, before recommending any product. Here she has shortlisted the best BB creams you can you to nourish your skin for an added glow. She is a fan of BB creams and swears by this list.
Our product experts study the specifications of every product we suggest and try them out to bring what's proven to be worthy of your money, time, and energy. We also have subject matter experts from various fields like Fashion, Skincare, Haircare, Home Decor, and Health & Fitness onboard to make sure our suggestions are credible and trustworthy. You can trust Select to be your faithful shopping guide for all the right reasons!
Author BIO

Anoushka is certified in Professional Skincare and is a Mass Media (Journalism) graduate from Mumbai University. As a More
Source link