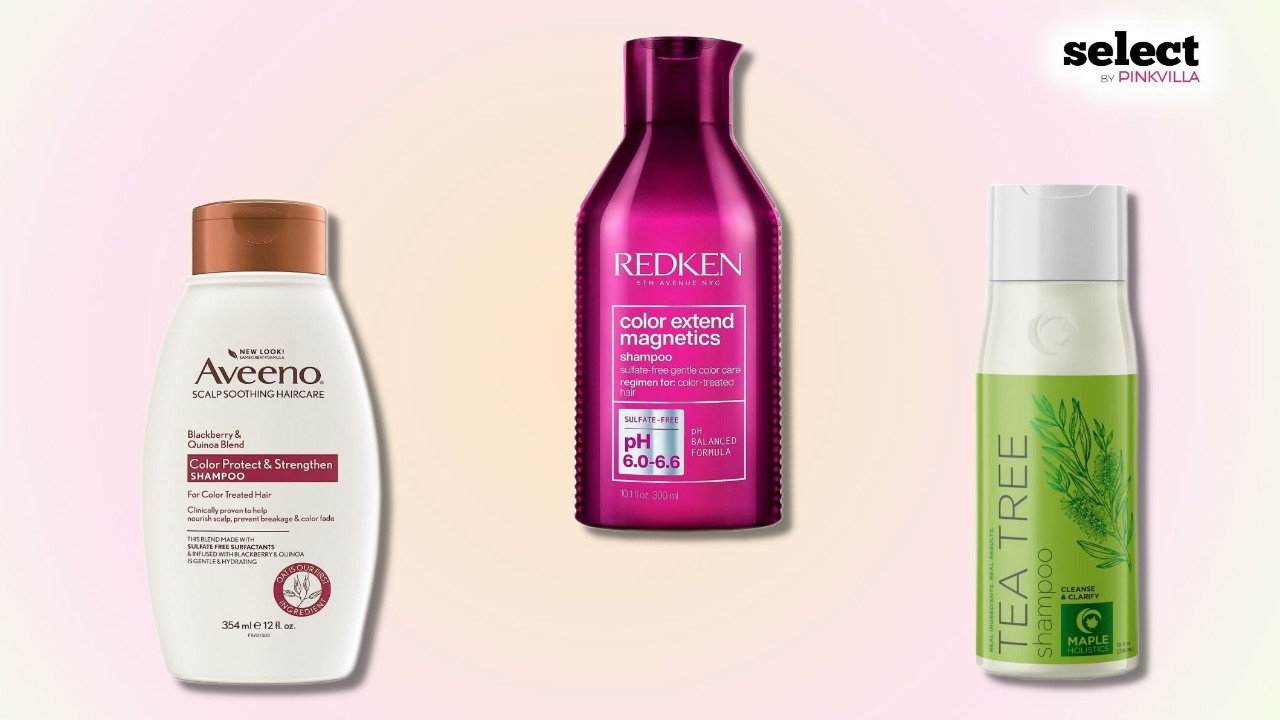 The products curated for this article are independently chosen by the
editorial team. If you make a purchase through the links mentioned below, we may receive a commission. Check out our product
research & curation process
Your money might be going down the drain (quite literally) because the sulfates in your shampoo can make your gorgeous hair color, which you spent so much time, money, and energy on, fade quicker than ever. But, fret not, you can prevent this from happening by adding the best sulfate free shampoos for colored hair to your everyday hair care routine. 
Sulfate free shampoos have gained popularity for their gentle cleansing action that doesn't strip your hair of its natural oils. It is said to be incredibly useful for color-treated hair and hair that has undergone chemical treatments (like keratin treatments) because it doesn't strip out the treatment or the components of hair dye, making them last longer. According to Jurga Rimukte, Creative Director (also stylist and colorist) at Lanphier, "If you have vibrant colors in your hair (or any other hair color), these colors tend to fade away from your hair the fastest. That's when it would be a good reason to use a sulfate free shampoo" (1). She further adds that these shampoos might not be for everyone, but those who fit the bill, aka people with colored hair, can expect excellent results.
So, if you are someone who changes hair colors with every season and your ever-changing mood, then you should join us as we explore the top-rated color safe sulfate free shampoos in the market. Our team has tested several products based on their ingredients, texture, cleansing action, suitability for color-treated hair, and price so that you can dazzle with vibrant locks for longer!
Our top picks
Best for Unruly/Frizzy Hair
What Does Sulfate-free Shampoo Do to Colored Hair?
The "free-from" claims are nothing new, and sulfates happen to be leading the trend. But what did sulfates ever do to any of us? 
Well, shampoos use cleansing agents called surfactants, responsible for making lather. Sodium Lauryl Sulfate (SLS) and Sodium Laureth Sulfate (SLES) are some of the most commonly used surfactants and also some of the most demonized ingredients (ever since 2009), particularly for colored hair (2). The bad rap of sulfates comes from them being harsh on hair and scalp. Therefore, many people made a conscious switch to sulfate free shampoos to lower the chances of irritation, dryness, contact allergy, and faster fading of hair dyes.  
According to a 2016 study presented during the MFUIC and KTCM International Conference on Advances in Medical & Health Sciences (3), sulfate free shampoos can slow down the fading process of artificial hair colors. Additionally, they were found to provide effective cleansing and make the hair soft.
If we were to get a bit science-y, color-treated hair becomes negatively charged because of the dyes, meanwhile, these shampoos typically use cationic surfactants which are positively charged. The positively charged cationic surfactants neutralize the negatively charged hair surface and neutralize them, reducing frizz and making hair softer (4). These surfactants also form a protective layer around colored hair strands (since opposites attract!) and prevent further hair damage and the color from fading (5).
13 Best Sulfate-free Shampoos for Colored Hair to Get Vibrant Mane
Formulated with pure tea tree oil as its star ingredient, this is the best sulfate free shampoo colored hair will absolutely love. Give your hair the tender loving and care it deserves with the thick and luxurious consistency of this clarifying shampoo from Maple Holistics. Its all-natural blend finds many takers for removing dandruff. Our analysis of this product revealed that it also helps with scalp infections including odor, itchiness, flaking, and bumps on the scalp.
Pros
Clarifies hair
Feels refreshing
Makes hair soft
Smells pleasant
Calms itchy scalp
Cruelty-free
Cons
May exacerbate dryness for some
Slight difficulty dispensing from the bottle
2
Best for Damaged Hair
Redken Color Extend Magnetics Shampoo
Introduce your hair to a gentle hair care system with the moisturizing and pH-balanced formula of Redken Color Extend Magnetics Shampoo. This sulfate free shampoo for colored hair comes in a vibrant pink bottle and offers to bring a similar kind of vibrancy to colored hair. It has a thick and creamy consistency that cleanses gently and nourishes the hair. We determined through our tests that it strengthens hair from root to tip, making it an ideal choice for damaged hair.
Pros
Smells amazing
Great for chemically treated hair
Adds shine
Conditioning formula
Highly recommended by hair stylists and colorists
Cons
Not for fine and thin hair
Pricey
3
Most Recommended
Nexxus Color Assure Shampoo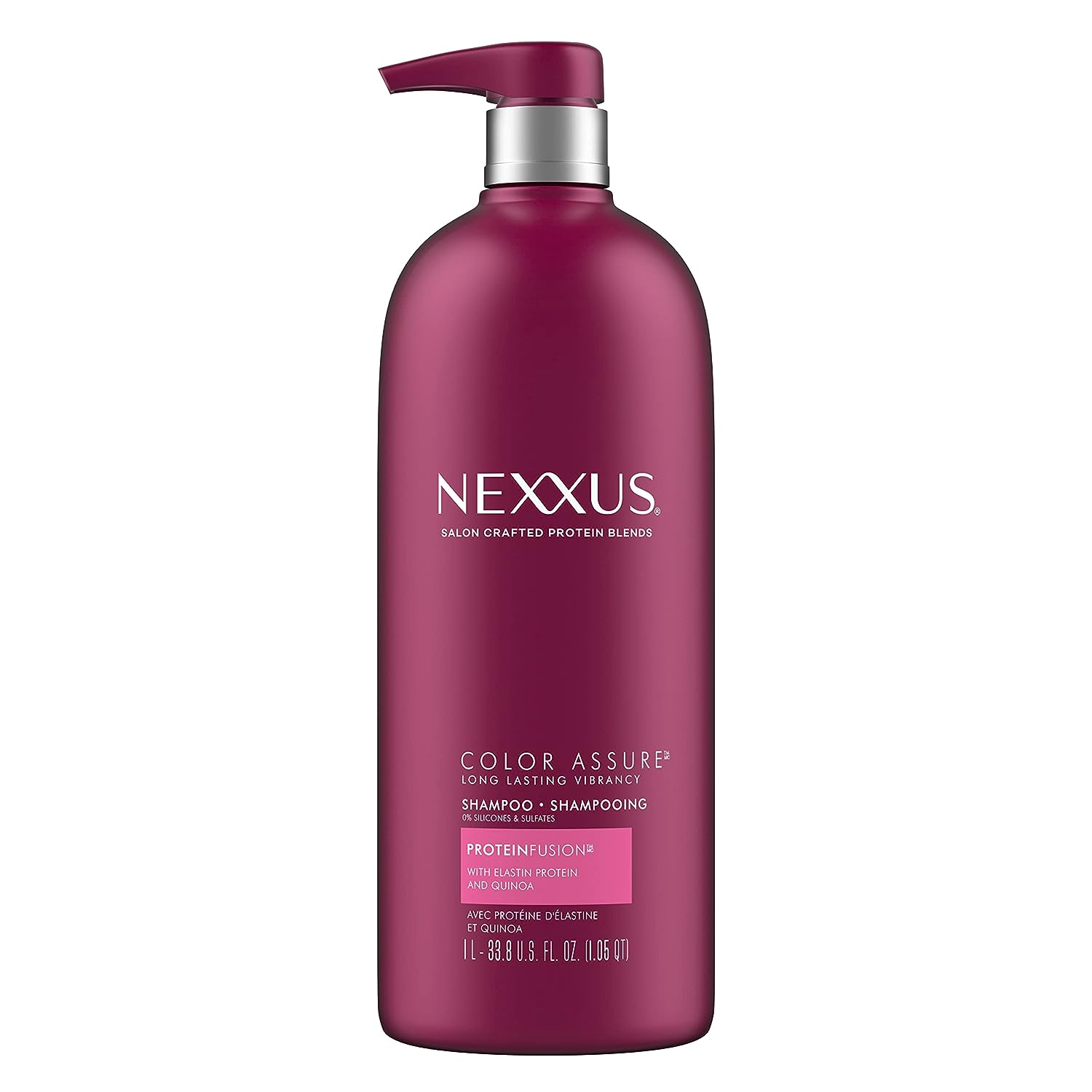 Get your hands on this sulfate free color safe shampoo from Nexxus that is recommended not only by hair stylists but also magazines like Glamour, Instyle, and Allure. Formulated with key ingredients, including elastin protein and quinoa, it brings dull and damaged color-treated hair back to life. It replenishes the nutrients and protein lost during the coloring process, making hair look and feel healthy, vibrant, and nourished. Based on our observations, you can expect salon-quality results from this shampoo.
Pros
Smells good
Comes in pump packaging
Makes hair soft
Suitable for bleached hair
Hair becomes manageable
4
Best Vegan Formula
Pureology Strength Cure Shampoo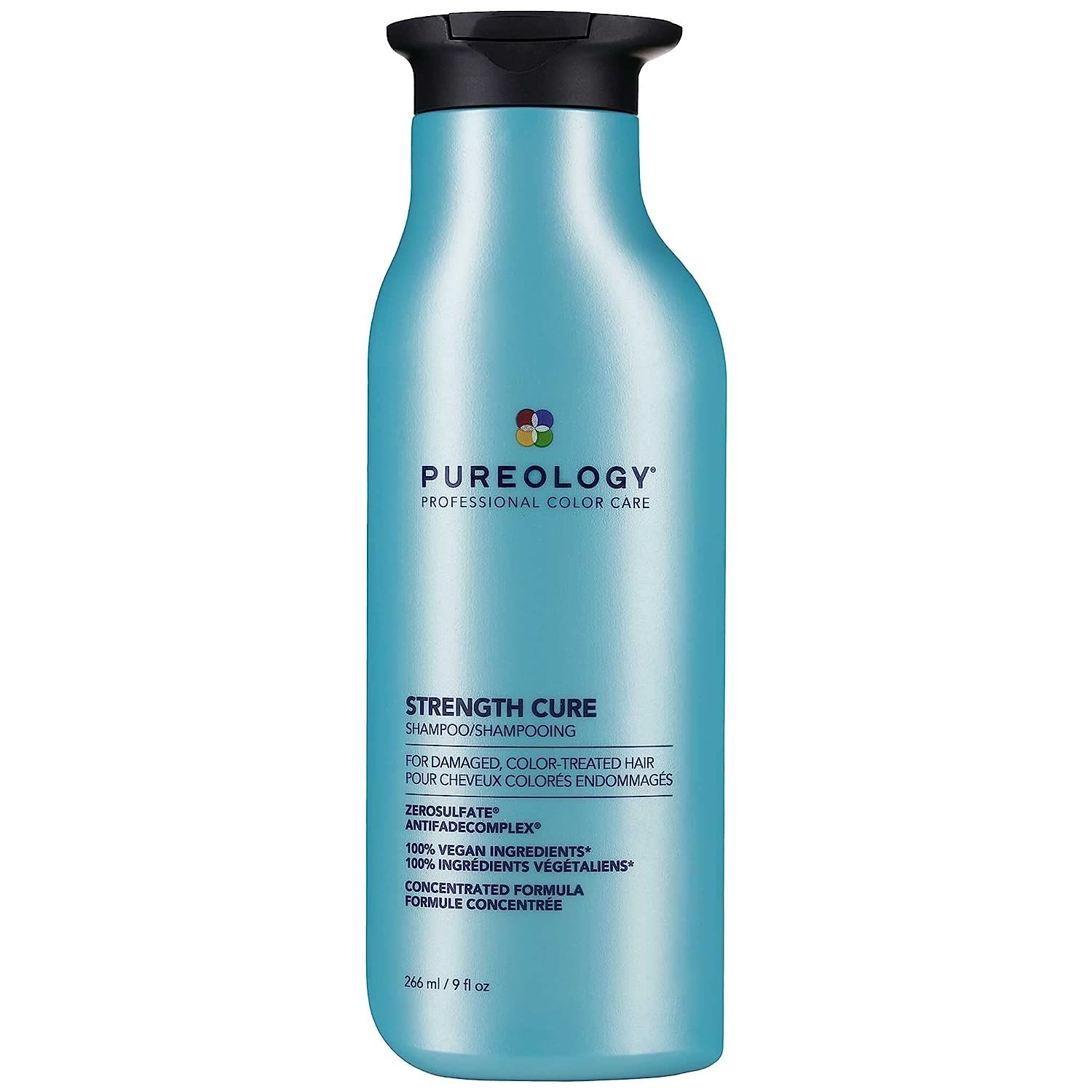 Revitalize and rejuvenate your colored hair with the Pureology Strength Cure Shampoo. Its protein-infused strengthening formula is gentle and helps in the maintenance of hair color and texture, especially for brittle hair. It is a sulfate free shampoo dyed hair will love and approve of. Highly recommended by hair stylists and colorists, it promises salon-like hair without shelling out the big bucks. We have found from using this product that it is a game-changer for unruly damaged hair and works great together with the conditioner from the same range.
Pros
Lathers easily
Conditioning
Vegan ingredients
Makes hair soft
Adds shine
Cons
Not suitable for fine hair
Strong fragrance
5
Best Drugstore
Aveeno Blackberry & Quinoa Blend Color Protect & Strengthen Shampoo
This sulfate free shampoo for color treated hair from the popular drugstore brand, Aveeno, works wonders in maintaining the vibrancy and longevity of colored hair. Its gentle and ph-balanced formula comes packed with the goodness of blackberry and quinoa protein, nourishing hair from the root to the tips. The star ingredient here is colloidal oat. After trying out this product, we found that it has a pearly white creamy texture that lathers quite well. With regular use, it also has a scalp-soothing effect.
Pros
Lathers easily
Cleanses well
Makes hair soft and shiny
Little goes a long way
Budget-friendly
Cons
Smell may not appeal everyone
6
Best Overall
COLOR WOW Color Security Shampoo
Achieve your hair goals with the COLOR WOW Color Security Shampoo which is true to its name and keeps the hair color secured like no other product. Whether you have highlights or a vibrant red color, this sulfate free shampoo for colored hair ensures the vibrancy and longevity of the dye job. Our findings show that it does an excellent job at cleansing without stripping the hair and scalp dry. More than that, it doesn't leave any residue behind, which is a problem with some sulfate free shampoos.
Pros
Light, pleasing scent
Little goes a long way
Rich lather
Makes hair soft and shiny
Works for hair extensions too
7
Best for Unruly/Frizzy Hair
LuxeOrganix Rejuvenating Argan Oil Shampoo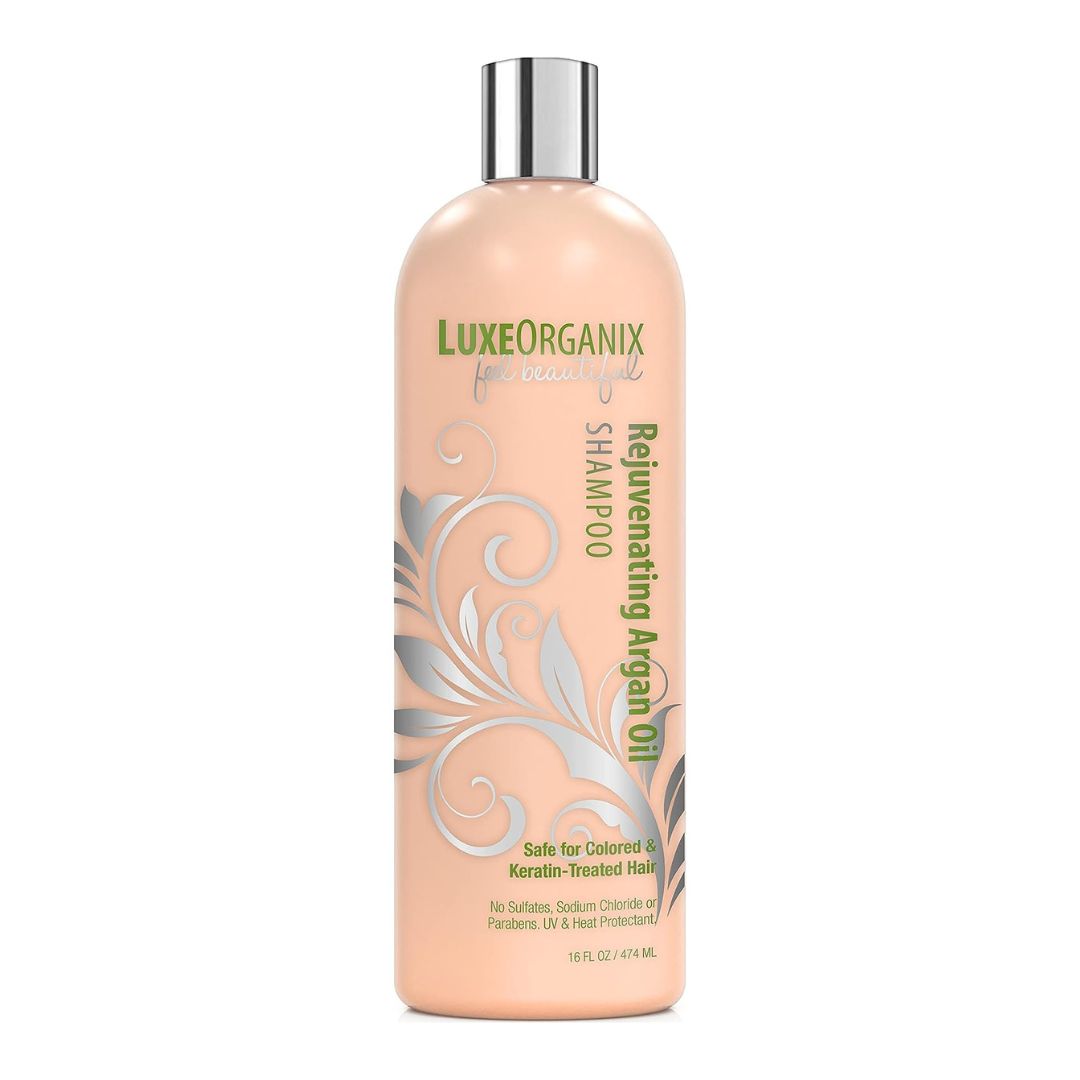 Elevate your hair care routine with this sulfate free color protecting shampoo from LuxeOrganix, which is formulated with Moroccan argan oil. It has an incredibly nourishing and moisturizing formula that goes a long way. It promotes a healthy scalp environment and protects the color from fading for a long time, giving you the appearance of healthy hair. It is also suitable for chemically-treated hair. Drawing from our experience, it reduces frizz and even helps in taming the flyaways that are a bane to the existence of so many of us.
Pros
Moisturizing
Adds bounce to hair
Lathers nicely
Works great for coarse and curly hair
Improves overall hair health
Cons
Smell may not be liked by everyone
Pricey
8
Best Clarifying
Love Beauty and Planet Blooming Color Sulfate-Free Shampoo
Add this sulfate free shampoo for dyed hair to your haircare arsenal for the shiniest hair of your dreams. It has a pearly white thin gel-like consistency that works up into a rich and satisfying lather. It combines the goodness of murumuru butter, Bulgarian rose, and coconut oil to give you nourished, moisturized, and healthy tresses. As indicated by our tests, this shampoo will leave you with silky, soft, and smooth hair without facing any color-fading issues.
Pros
Rinses out easily
Natural ingredients
Packaging made from recycled material
Budget-friendly
Cruelty-free
9
Best in Budget
Pantene Illuminating Color Care Sulfate Free Shampoo
Finding a sulfate free color protect shampoo that actually works for your hair and scalp cannot get any easier than this. The Pantene Illuminating Color Care Sulfate Free Shampoo is a pocket-friendly hair cleanser that does an incredible job of removing all the dirt, grime, and build-up accumulated daily. Our team discovered through using this product that it has a clear and light texture that goes on to lather adequately—not too much, not too less, just the right amount!
Pros
Has a crisp, refreshing fragrance
Makes hair silky
Small amount is sufficient
Effective color retention
Adds shine
Affordable
10
Best for Dry Hair
Framesi Color Lover Moisture Rich Shampoo
Give your hair the love they deserve with this color safe and sulfate free shampoo from Framesi. Formulated with nourishing and scalp-soothing ingredients like quinoa, aloe vera, plant proteins, and shea butter, it is a holy grail product for dry and dull hair. After putting it to the test, we can say that with its ultra-conditioning vitamin-rich formula, you can expect revitalized hair from the very first wash. No wonder, it is a popular choice in salons.
Pros
Makes hair soft and shiny
Light, pleasant scent
Keeps color vibrant
Good for textured hair
Soothes irritated scalp
Vegan
Cruelty-free
11
Oligo Professionnel Blacklight Blue Shampoo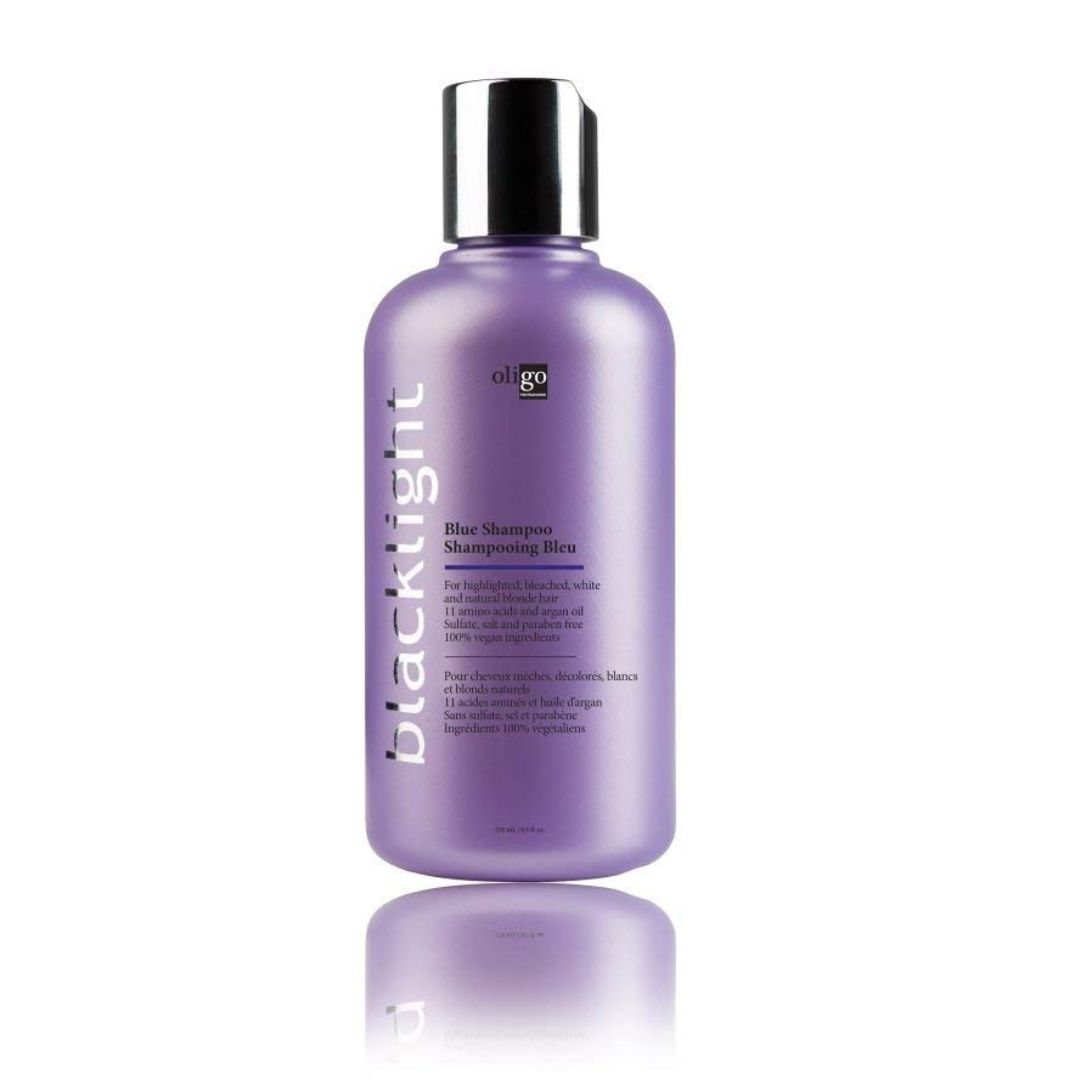 Specifically formulated with highlighted, prelighted, bleached, white, and natural blonde hair in mind, the Oligo Professionnel Blacklight Blue Shampoo takes care of the unwanted brassiness. Based on our firsthand experience, it is best suited for blonde hair and can rejuvenate it while maintaining the vibrancy of the hair color. This sulfate free shampoo for highlighted hair is enriched with eleven amino acids and the goodness of argan oil, which come together to moisturize, repair damage, and strengthen the hair structure.
Pros
Smells good
Offers deep cleansing
Brightens hair color
Does not weigh down hair
Prevents hair from breakage
Adds shine
12
Colorproof Moisture Shampoo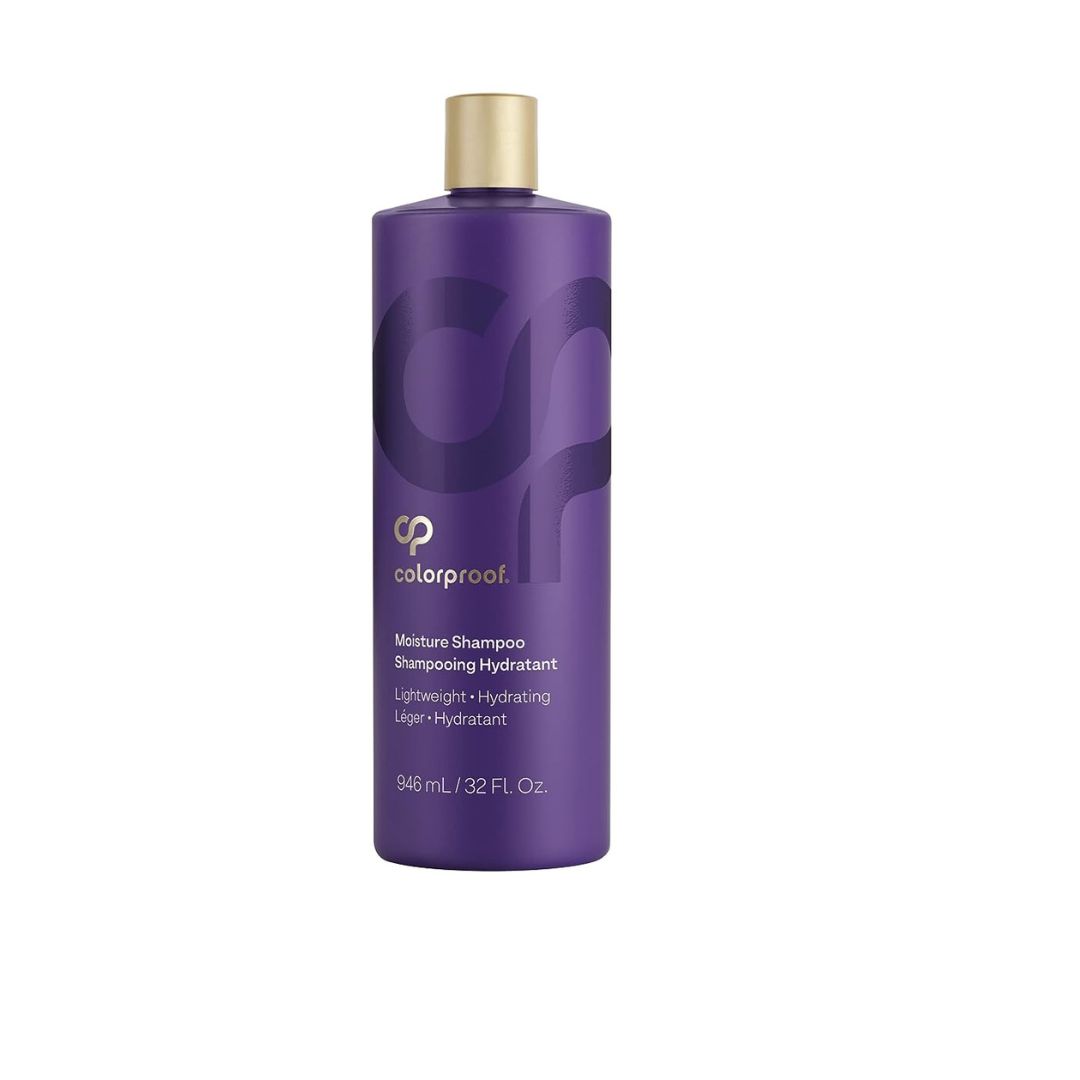 Keep your hair color fresh and looking like it's brand new with the Colorproof Moisture Shampoo that not only preserves the color for longer but also nourishes the hair. It is a good sulfate free shampoo colored hair is bound to appreciate, thanks to its powerful blend of proteins and antioxidants. It takes care of the overall hair and scalp health. When we trialed this product, we found that it makes the hair smooth, soft, and more manageable.
Pros
Smells good
Lathers well
Cleans without stripping
Good for bleached hair
Vegan
Cruelty-free
13
Mixed Chicks Sulfate-free Shampoo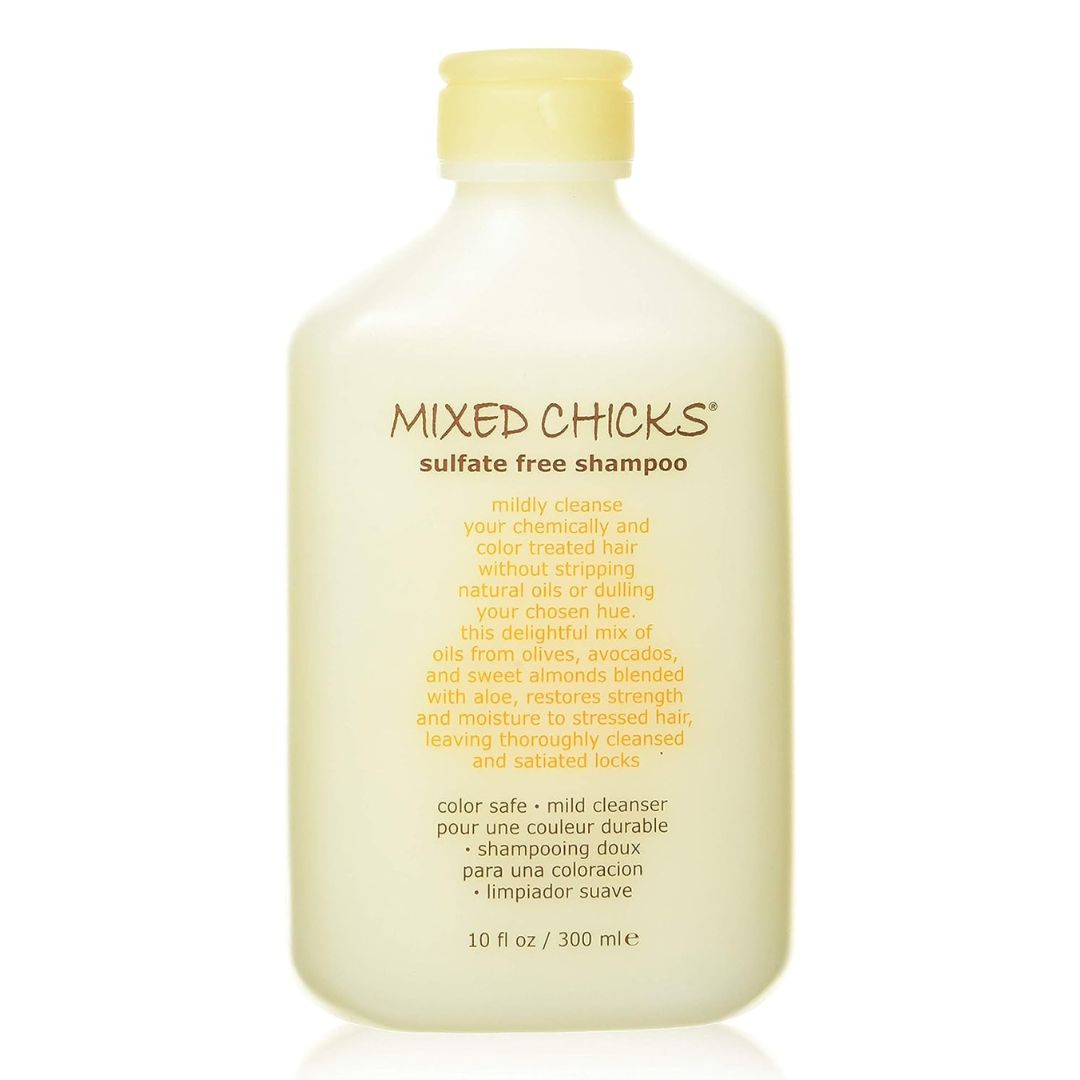 Color-treated hair requires special care and maintenance. The same can be said for curly hair. But, what happens when you have both? The answer is simple! Ditch your old sulfate shampoos and opt for this sulfate free shampoo for colored curly hair from Mixed Chicks instead. It has a thick consistency and cleanses gently without leaving any residue. Enriched with olive oil, avocado oil, sesame oil, panthenol, aloe vera, sesame oil, and sweet almond oil, this shampoo works wonders for hair that is kinky, coily, and wavy.
Pros
Smells good
Lathers well
Makes hair manageable
Softens hair
Adds shine
Improves hair elasticity
How to Choose the Best Sulfate-free Shampoos for Colored Hair?
The market is full of shampoos claiming to be sulfate free. But, which one is the best for you and your hair? Here are some additional things you must know before making your informed purchase: 
Scalp and Hair Type
Determine if you have a normal, dry, or oily scalp. The same goes for your hair. You may have a combination of two different types, i.e., an oily scalp and dry hair, or a dry scalp with oily hair. It is an important step when it comes to choosing shampoos or any other hair product for that matter because different types have different requirements.
Ingredients
When choosing the best shampoo for your hair, avoid harsh ingredients like citric acid and sodium chloride that can strip away your hair color. Look for what caters to your specific hair needs. Colored hair is prone to weakness and damage. Therefore, opt for ingredients like argan oil, amino acids, keratin, plant proteins (including wheat protein), etc., to help strengthen your hair follicles and repair damage. For scalp-soothing properties, seek ingredients like aloe vera and colloidal oat. Don't forget to check for shine-inducing ingredients like glycerin, panthenol, silicones, and natural oils. 
Sulfate-free Formula
Look for an explicit mention of "sulfate-free" on the shampoo's label. If it is not mentioned, you may also check the ingredient list for sulfates like sodium lauryl sulfate (SLS) and sodium laureth sulfate (SLES). 
Color-Protection
A shampoo's formulation dictates its impact on the hair. You must ensure that the shampoo you are picking is specifically formulated for color protection, since such a shampoo would be more gentle and would have ingredients that help sustain the color. Don't forget to invest in a serum that provides UV protection to aid your color protectant shampoo.
Cleansing Action
Not all shampoos are built the same. Some are moisturizing, while others are clarifying. Pick the one that best suits your needs. Some sulfate-free shampoos because of their mild cleansing action cannot clear scalp build-up. In such a case, invest in another gentle clarifying shampoo to be used once a week.
Price & Value
Compare the price and the quantity of the shampoo to ensure that you are getting the best value. Some shampoos are more expensive because of the larger size but you are also getting more shampoo. Some may be expensive, and the quantity would be less. Perhaps only a little amount is needed for them to work and would last a long time, covering the extra cost.
Customer Reviews
Read the reviews and feedback from users who have colored hair and/or the same hair concerns as you have to gain better insights into the effectiveness of the shampoo in protecting the color and its overall performance.
Sulfates are not the bad guys per se, but they can pose a threat to color-treated hair, leading to the emergence of sulfate free shampoos. The best sulfate free shampoos for colored hair protect the vibrancy of hair color and ensure its longevity, allowing you to make the most of your salon visit. "Sulfate-free" is not merely a buzzword but a revolution.  With their gentle cleansing action and conditioning properties, these shampoos become an essential part of the hair care routine for color-treated hair. With our handpicked recommendations, get ready to dazzle with a luscious and lasting color for weeks to come.
FAQ's
What is the safest sulfate-free shampoo for color-treated hair?
Haircare is subjective. So, the safest sulfate-free shampoo for color-treated hair is the one that works best for you. You may choose from Redken Color Extend Magnetics Shampoo, Nexxus Color Assure Shampoo, or the Pureology Strength Cure Shampoo among others for optimal results.
Is any sulfate-free shampoo okay for colored hair?
All shampoos are going to fade your hair color but sulfate-free shampoos are going to take their time, meaning, they won't be as harsh or quick in terms of fading color, as their conventional counterparts. Love Beauty and Planet Blooming Color Sulfate-Free Shampoo and Pantene Illuminating Color Care Sulfate Free Shampoo are two of the best options.
Can sulfate-free shampoos still effectively clean my hair and scalp?
Yes, sulfate-free shampoos can still effectively clean your hair and scalp.
Do sulfate-free shampoos produce a rich lather like regular shampoos?
No, sulfate-free shampoos don't produce a rich lather like regular shampoos.
Will sulfate-free shampoos weigh down my hair or make it feel greasy?
It will depend upon the ingredients and formulation of the shampoo.
How often should I use sulfate-free shampoo for colored hair?
The number of times you use a sulfate-free shampoo for colored hair must depend on your individual hair needs and requirements.
Are sulfate-free shampoos safe for sensitive scalps?
Yes, sulfate-free shampoos are largely safe for sensitive scalps.
How do you moisturize color-treated hair?
You can moisturize color-treated hair by opting for a sulfate free shampoo with a gentler cleanse and moisturizing formula. You can also try deep conditioning masks.
Why Trust Pinkvilla
Alvira, the author, is truly passionate about everything haircare. She dedicates her time to exploring the ever-changing world of haircare products and technologies. As a certified hair care expert, she recognizes the soaring popularity of colored hair and also the desire to prevent it from fading. So, she took it upon herself to curate a list of the best sulfate free shampoos for colored hair designed to protect color vibrancy and longevity, while safeguarding hair health.
Our product experts study the specifications of every product we suggest and try them out to bring what's proven to be worthy of your money, time, and energy. We also have subject matter experts from various fields like Fashion, Skincare, Haircare, Home Decor, and Health & Fitness onboard to make sure our suggestions are credible and trustworthy. You can trust Pinkvilla to be your faithful shopping guide for all the right reasons!
Author BIO
With a keen eye for detail and a passion for hairstyling, Alvira is a certified Hair Expert who brings the latest tre More
Source link