Written by
Alvira Dsouza
  | 
Updated on May 26, 2023   | 
23.6K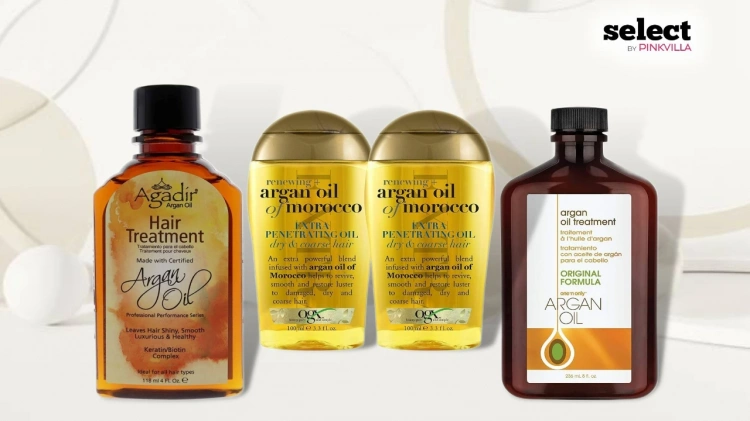 The products curated for this article are independently chosen by the
editorial team. If you make a purchase through the links mentioned below, we may receive a commission. Check out our product
research & curation process
Although the practice of soaking strands in nourishing oils dates back centuries ago, it is still a popular beauty routine for many women today. So when opting for the best nourishment, there's nothing better than the exotic argan oil. The best argan oil for hair growth, produced from the kernels of the argan tree, is jam-packed with antioxidants, vitamins, and fatty acids that can benefit both hair and skin.
What makes this oil so potent is the inclusion of phenols found in argan oil. These, combined with antioxidants, help to fortify hair follicles and stimulate cell growth on the scalp. This oil's vitamins create a healthy scalp, which not only encourages hair development but also ensures that the new hair strands are thicker and healthier. It promotes hair development by assisting in the creation of keratin.  
The finest argan oils offer fantastic cuticle healing and moisturizing characteristics that deliver obvious effects right away. Swipe down for a better glimpse of the selected bunch!
Our top picks
Best Argan Oil for Hair and Body
13 Best Argan Oils for Hair Growth Within Weeks!
Moroccanoil, a brand we are very familiar with for hair care, provides this little anecdote for rich hair treatments. Infused with antioxidant-rich argan oil and linseed (flax) seed extract, this iconic hair treatment instantly nourishes hair, leaving it looking and providing healthy hair growth with each use. The fast-absorbing formula also files frizz and flyaways, leaving hair more manageable, and boosting shine without any greasy residue. A small note- we believe this little argan oil treatment can do absolute wonders for straight hair!
Pros
Ideal for daily use
Absorbs quickly
No greasy feel
Easy to store
Travel-sized
2
Best Drugstore
OGX Extra Strength Renewing + Argan Oil of Morocco Hair Oil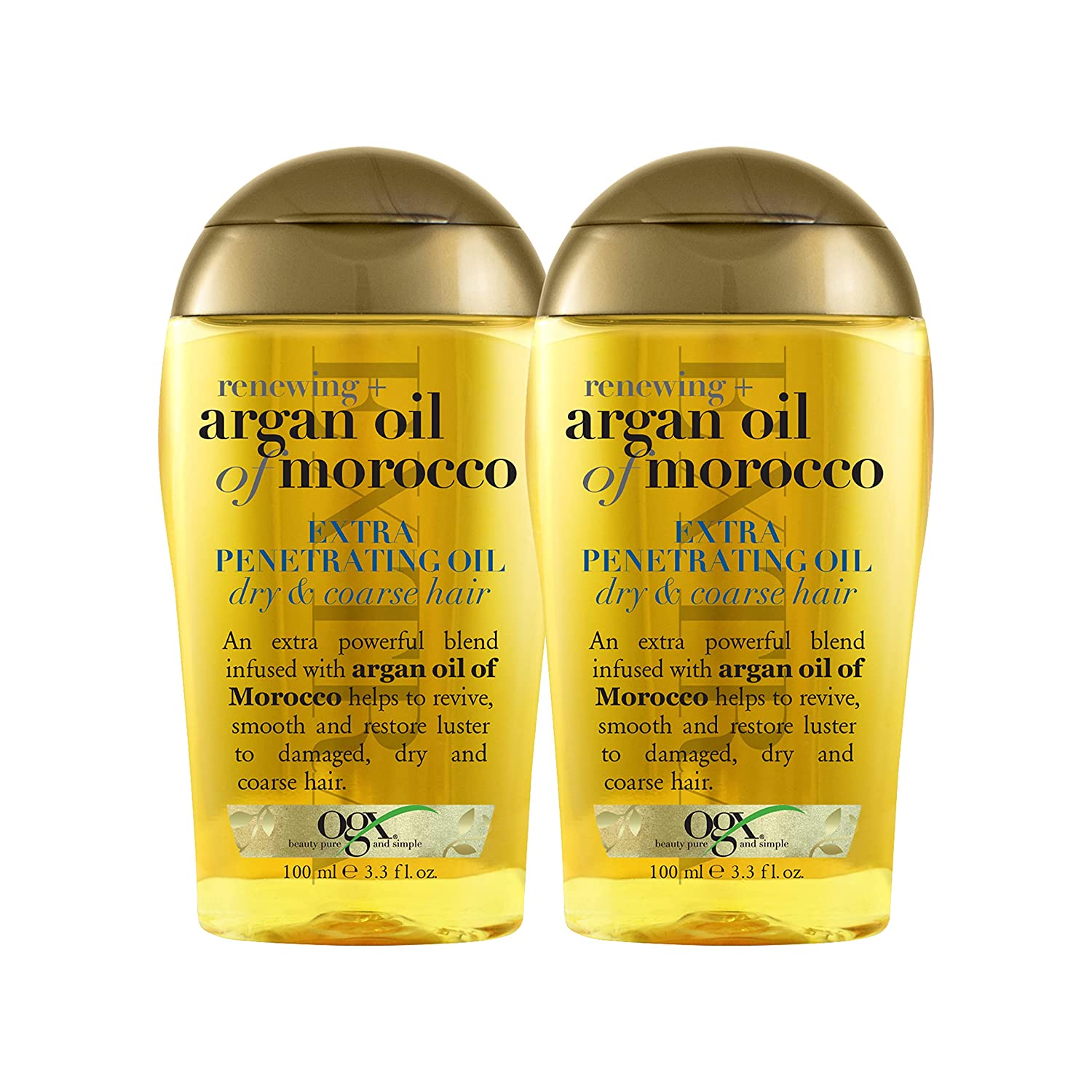 As the argan oil brand is founded by the likes of hair stylists, they understand salon-quality safety and ingredient standards. Apart from their diverse shampoo line, OGX provides this little elixir for smoothening hair and renewing the hair follicles.
Formulated with an extra-hydrating blend of water-based silk proteins, and rich cold-pressed Moroccan argan oil, it helps revive dry, damaged hair. The absorbent oil penetrates hair shafts to deliver a hair-strengthening boost like no other. That's not all, the nourishing oil pleases the olfactory senses with a smooth blend of oriental citrus and floral notes that are sure to freshen you in every use.
Pros
Hydrates the strands
Smoothens hair
Pleasant scent
More for less price
3
Best Vegan
Cliganic Organic Argan Oil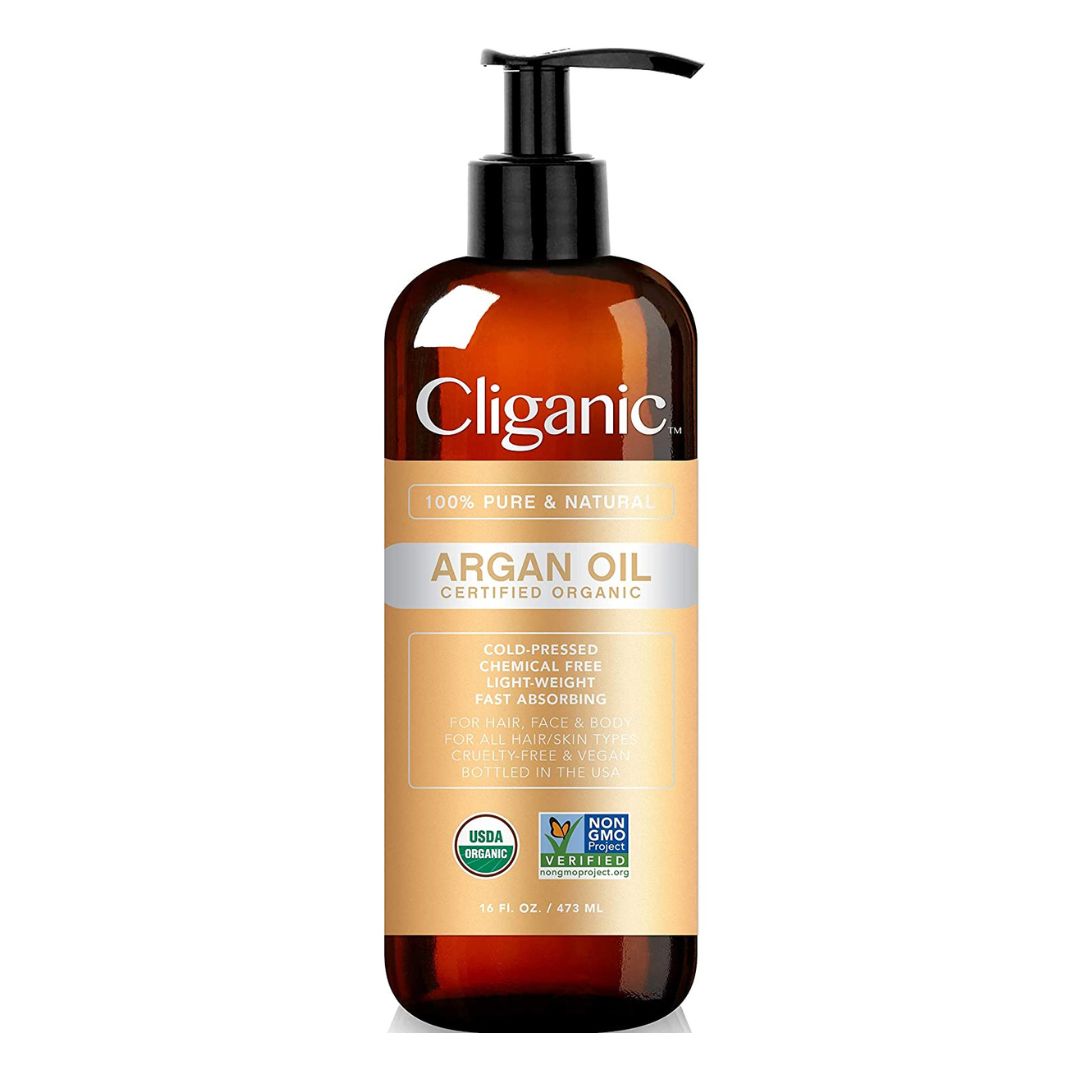 This argan oil for frizzy hair comes packaged in a simple dark bottle filled with 100% organic and cold-pressed oil. With nutrients such as antioxidants, vitamin E, and fatty acids, argan oil is ideal for soothing dry skin. Apart from being a great ingredient for enhancing hair growth, the oil also comes in handy for moisturizing nail cuticles, face, body, and beard (something in it for men too!) while being light on the skin and hair.
Pros
Cruelty-free
Ideal for skin and hair
Non-GMO
Vegan
4
Best Consistency
Aria Starr Beauty Organic Argan Oil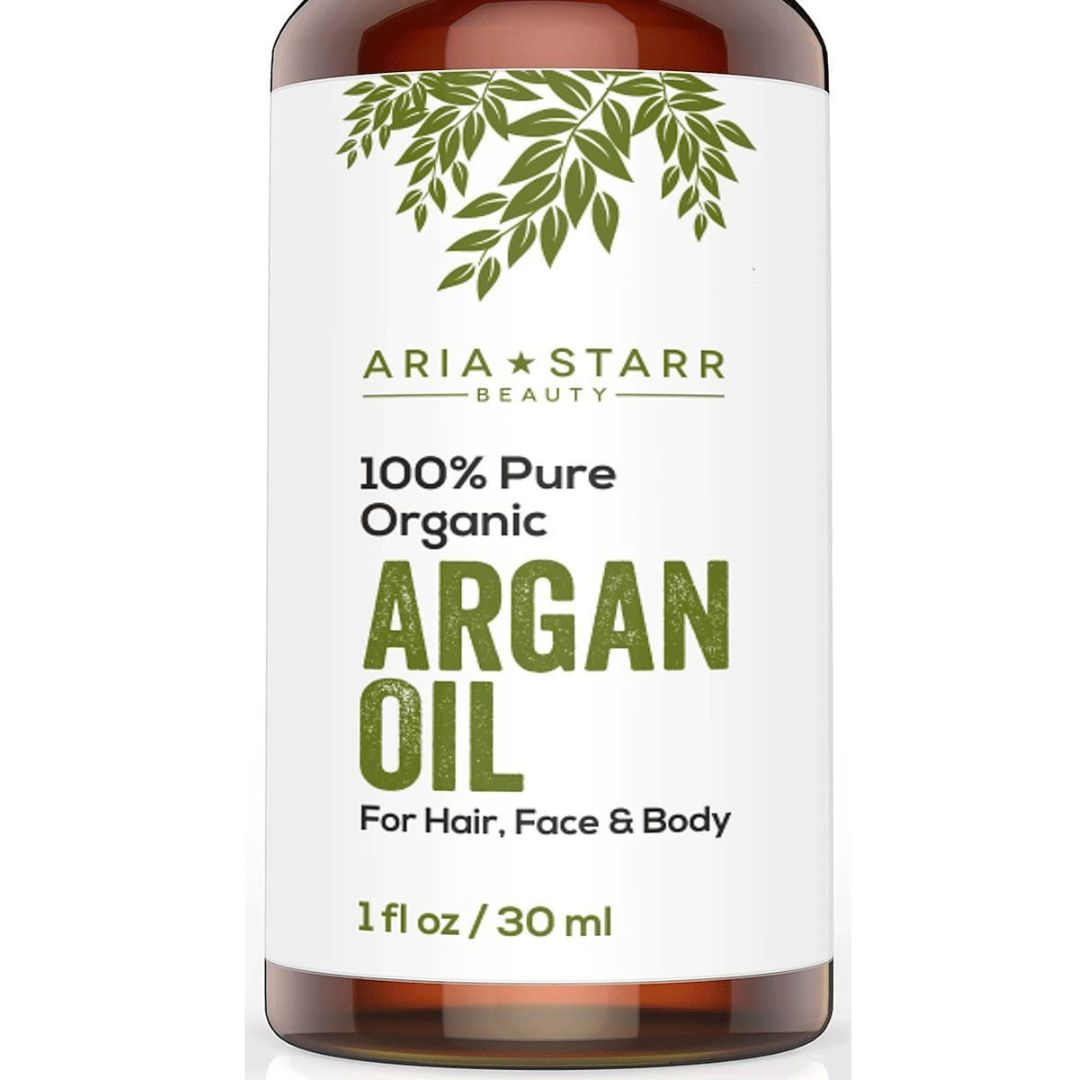 Derived naturally from argan kernels, Aria Starr Beauty provides organic argan oil without any nonsensical additives. The natural elements aid in the growth and maintenance of beautiful hair. If you have dry skin, you may use this oil as both a moisturizer and an anti-aging formula. Luckily, after using it as a hair oil you can use it to dilute all of your essential oils. Additionally, one can work the argan oil product into the ends of your hair to help prevent split ends before styling.
Pros
Ideal dry scalp and skin
Tames with frizz
Deals with split ends
Fragrance-free
Cons
May have a faulty dropper
5
Best for Dry Strands
Arvazallia Argan Oil for Hair Treatment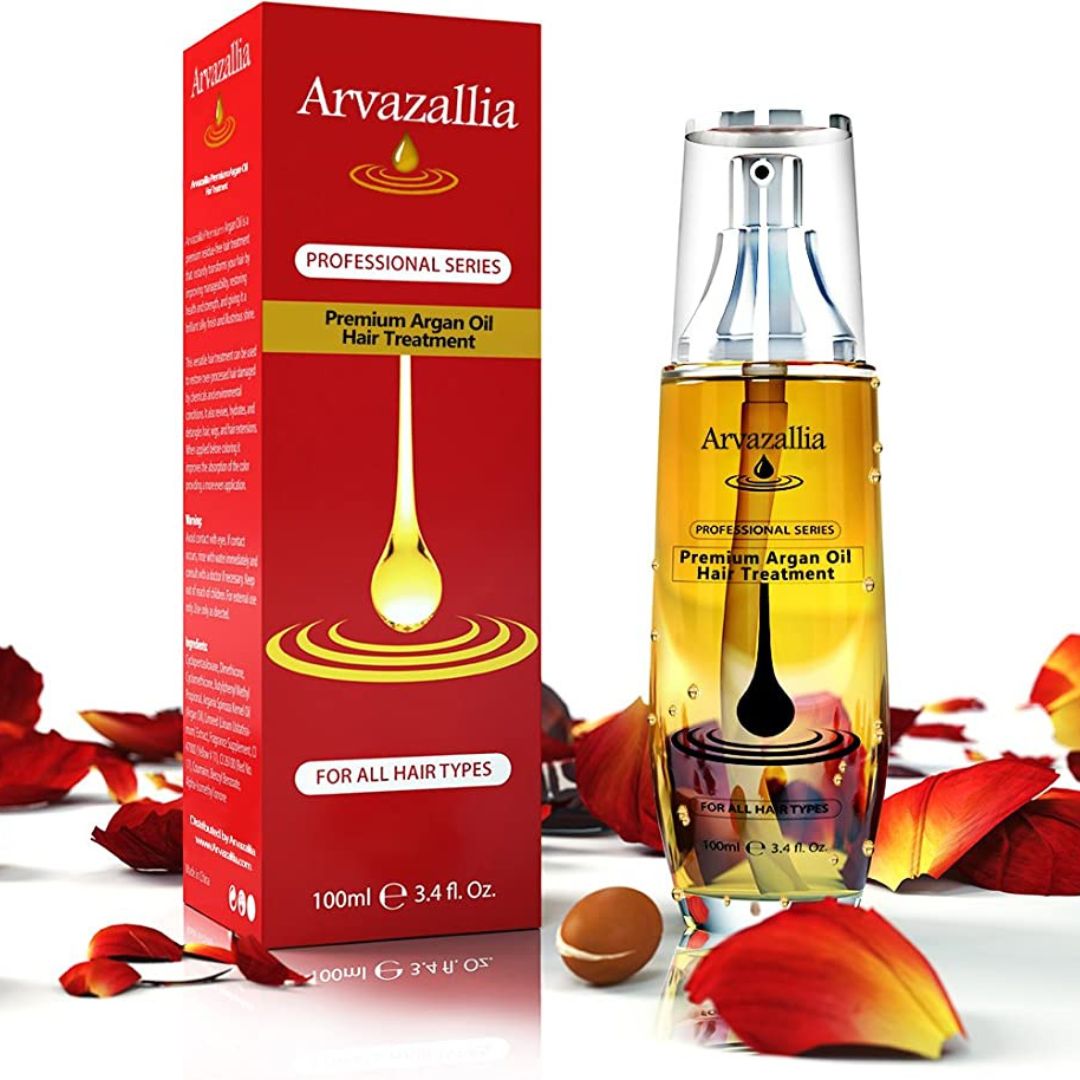 Arvazallia offers 100% organically sourced argan oil that tames your ferocious frizz and flyaways by using argan oil for mending, shining, and smoothing. The brand provides a nifty bottle filled with hair treatment-like qualities that use argan oil to repair, shine, and smooth your unruly flyaways. Based on our first hand experience, the hydrating and nourishing qualities tend to last for a day when applied thoroughly. This argan oil is the pick if you like fragrance-free hair products!
Pros
Strengthens damaged hair
Doesn't weigh down the hair
Stops breakage
Naturally sourced
6
Best Heat Protection
Agadir Argan Oil Hair Treatment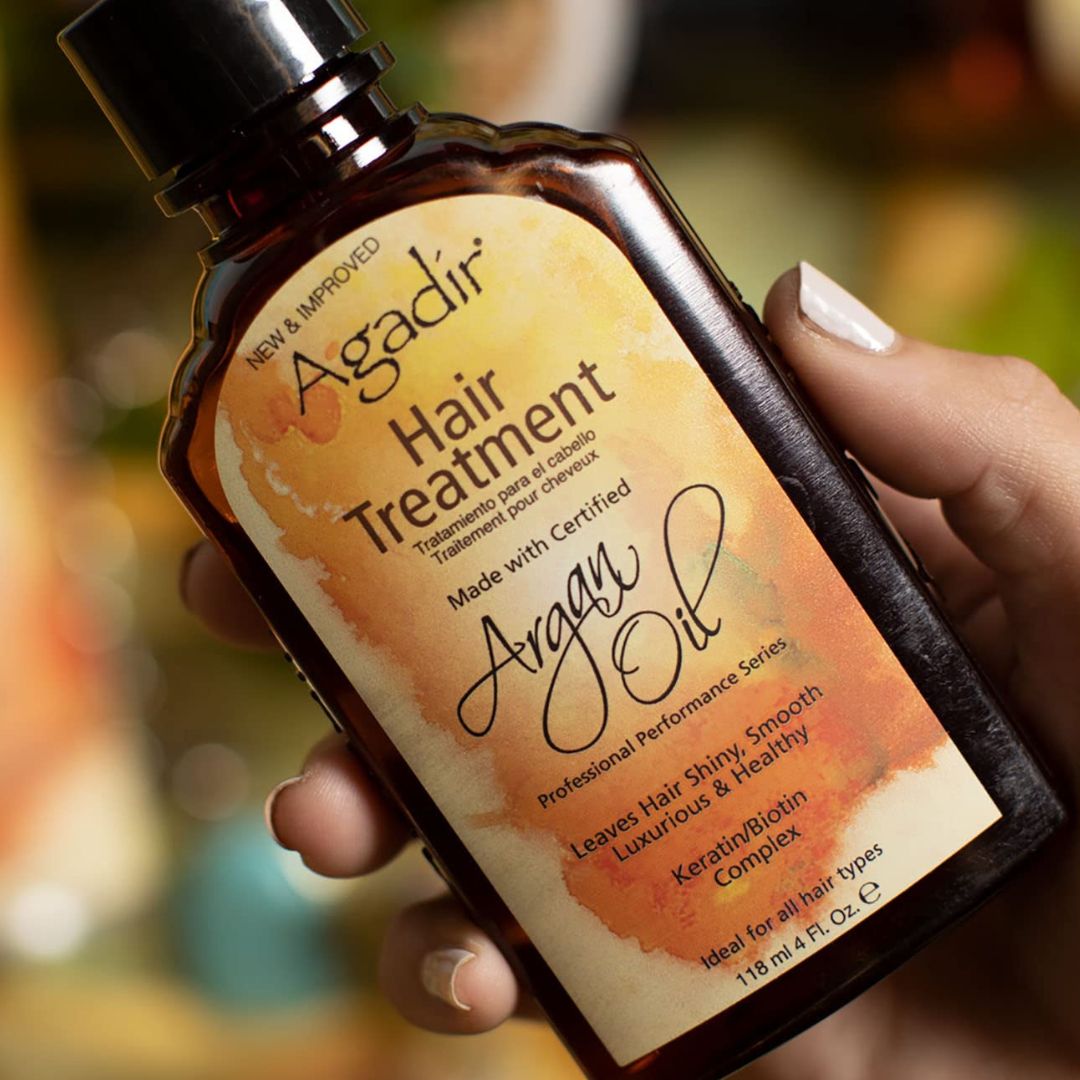 Though in the pricier range, Agadir Hair Treatment Argan Oil boasts an all-natural hair-nourishing experience. Super enriched with vitamin E, antioxidants, and essential fatty acids to keep hair healthy, it protects against damage from heat styling tools. In addition to its application to damp hair before blow-drying, you can use it as the layer beneath your facial moisturizer. It can also be dabbed on rough cuticles for its multi-faceted purpose. Lastly, after a thorough hair treatment, it leaves hair with a radiant shine.
Pros
Ideal for fine hair
Nourishes hair
Protect against heated tools
Washes away easily
7
Best Argan Oil for Hair and Body
Foxbrim Naturals Extra Virgin Argan Oil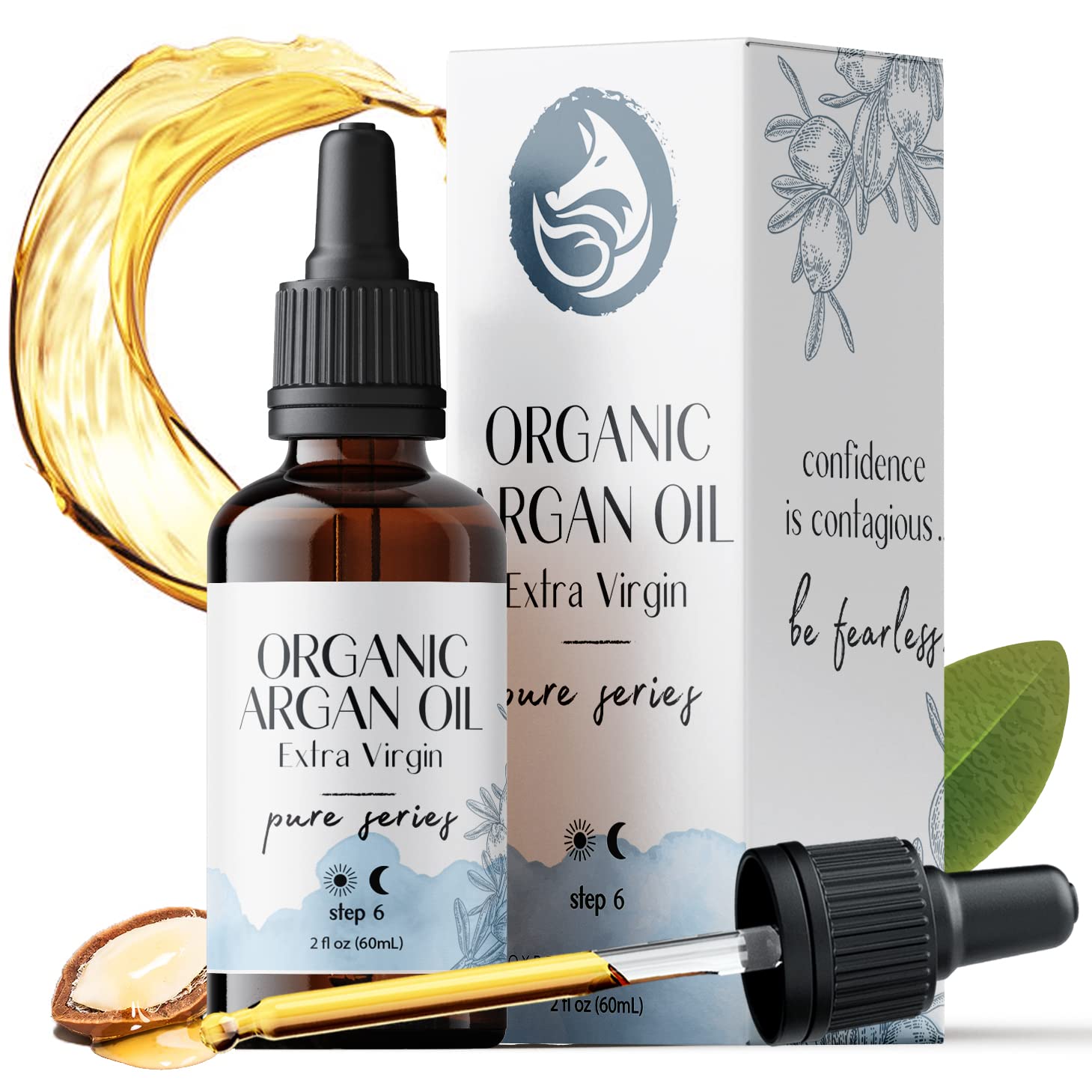 This unrefined and USDA-certified argan oil by Foxbrim Naturals is our go-to singular ingredient-based product. The nutrient-rich formula of argan oil, is an excellent raw solution for all hair types, providing essential hydration and nourishment that revitalizes dull, lifeless strands. Simultaneously, this argan oil boasts a skin-nourishing treatment too – by providing good riddance from redness, acne, pimples, scars, wrinkles, dark circles, fine lines, and skin irritation with its anti-aging properties.
Pros
Works for facial acne
Non-comedogenic
Ideal for face and hair
Absorbs quickly
8
Best for Split-Ends
One 'n Only Argan Oil Treatment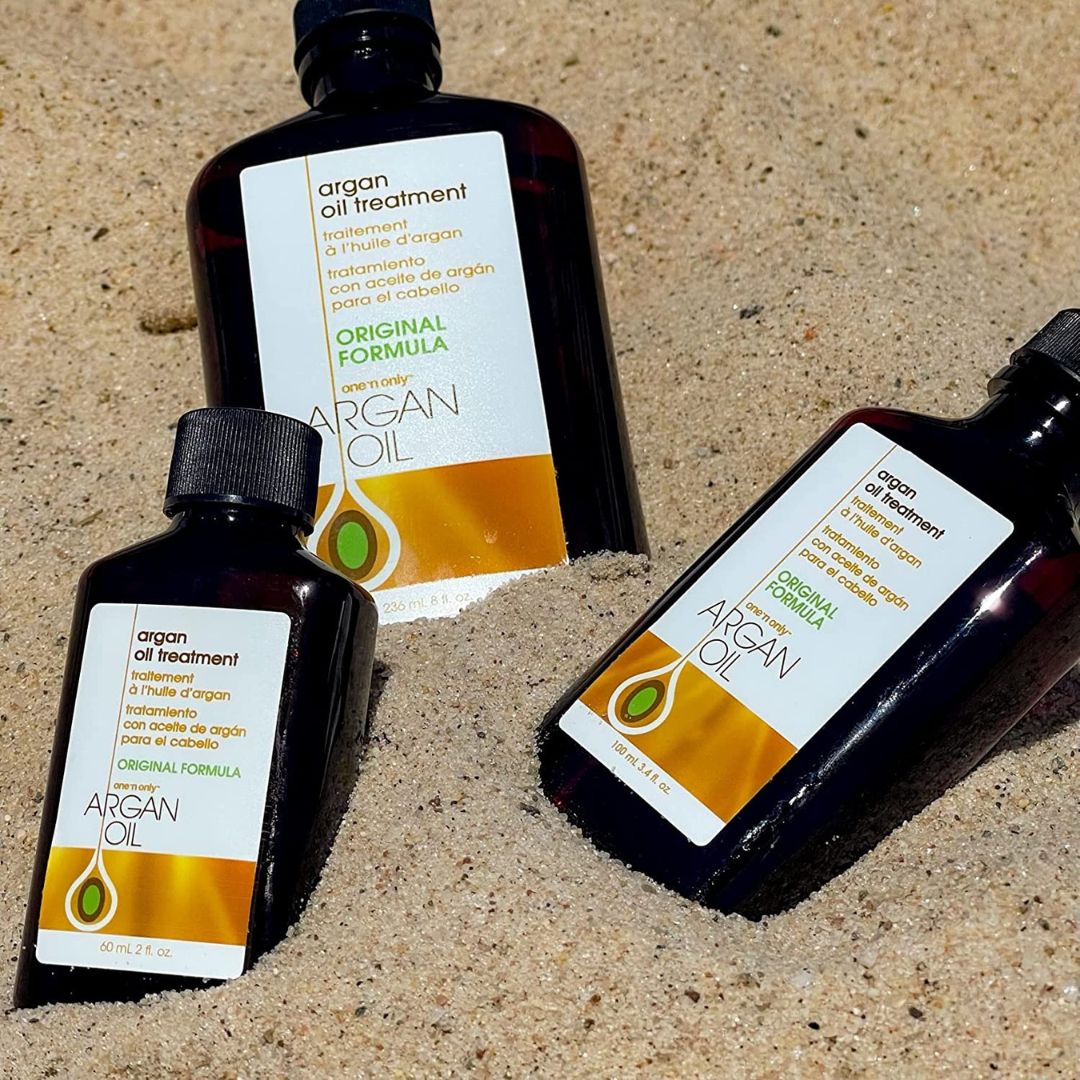 The One 'n Only hair treatment oil adds smoothness and lustrous shine in every use as a hair massaging oil or as an after-hair wash serum. Another plus is the alcohol-free formulation that eliminates frizz for dry and brittle hair strands while pushing the barriers to hair growth at the same time. A happy customer also mentions, "It only takes a small amount in your hair to give a nice shine. I like to put a little bit on my daughter's hair from time to time for added moisture."
Pros
Deals with split ends
Conditions hair
Free of sulfates and parabens
Ideal for all types of hair and wigs
Cons
Might take time to show results
9
Best for Fine Hair
The New Evolution Argan Oil Hair Serum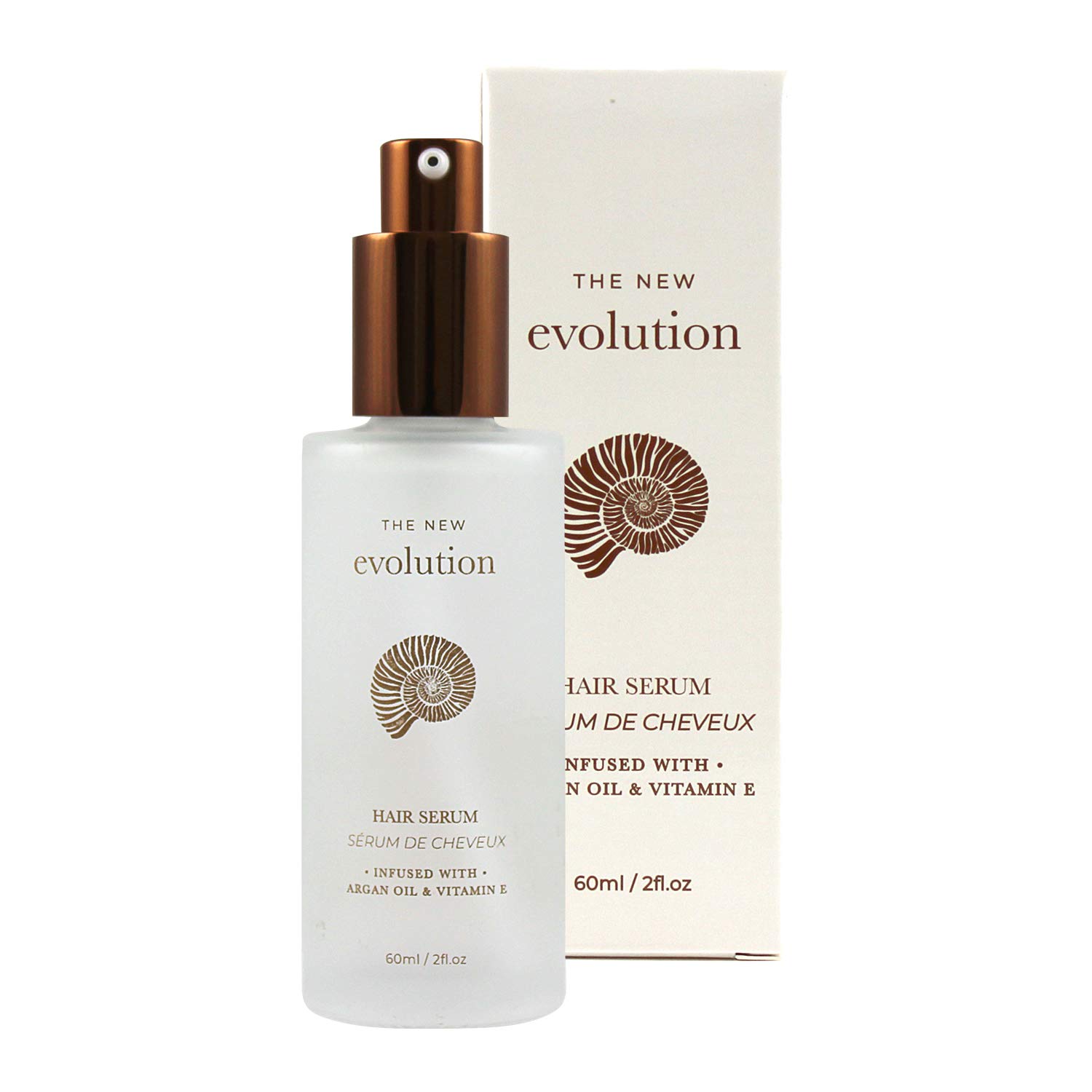 Those in search of saving grace for their fine, dull strands must look at The New Evolution Argan Oil Hair Serum. The serum, infused with the goodness of aloe vera (one of the best ingredients for hair care) and vitamin E, strengthens roots, stops breakage, and conditions hair. Furthermore, unlike many other argan oil hair treatments, it comes in a spray, which is especially beneficial if you have thin hair because it's nearly impossible to overuse it and wind up weighing down your strands by accident.
Pros
Ideal for fine hair
Effortless to use
Spreads evenly
Strengthens hair
10
Best Travel-friendly
Sun Bum Coconut Argan Oil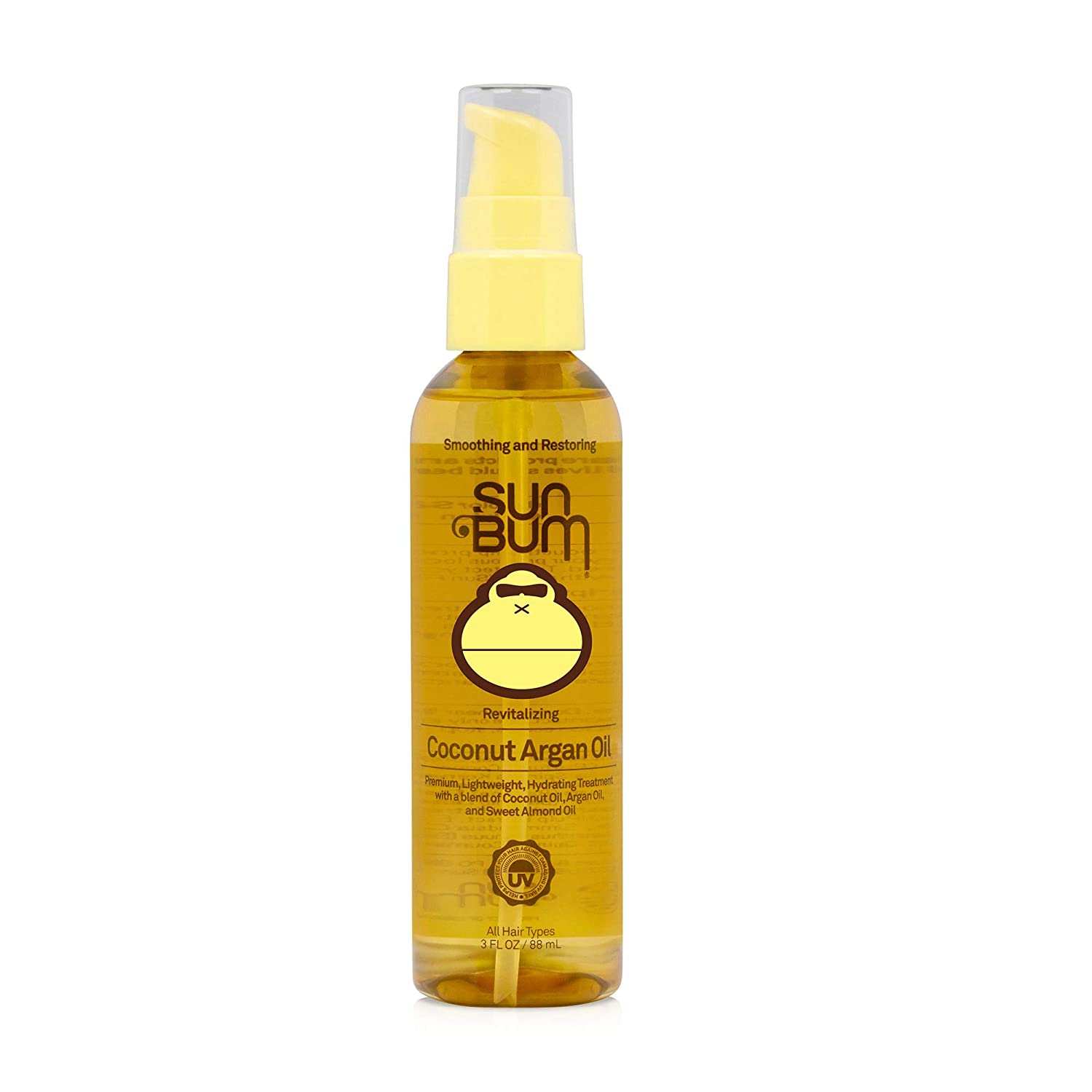 Here's something for the natural curls and wavy hairdos – Sun Bum Coconut Argan Oil delivers a high-gloss, tantalizing coconut scent, and nourishing oil to the locks instantly. Packed in a spray bottle, this lightweight hair treatment includes argan, sweet almond, and sunflower seeds, to help protect your hair from the elements while rebuilding and strengthening your mane. With the goodness of banana, sea kelp, and sunflower seeds, you get protection from the harsh UV rays, making this oil the best companion during the summer season!
Pros
Pleasant scent
Moisturizes hair and body
Effortless to use
Glossy shine
11
Poppy Austin Pure Argan Oil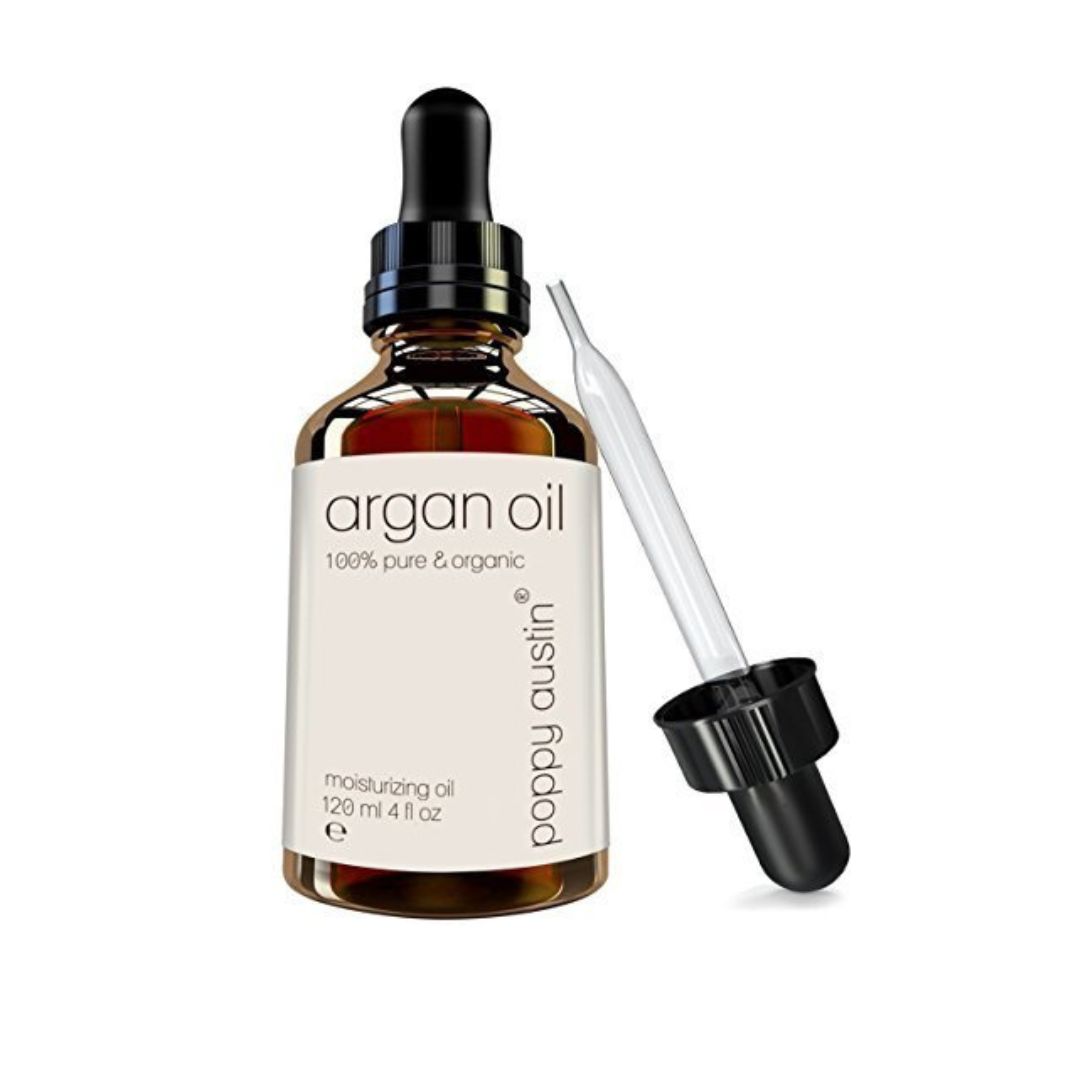 Those struggling with dull, limp, brittle hair, and over-treated hair, must try Poppy Austin's Pure argan oil. As a rich source of vitamin E, active triterpenoids, and essential fatty acids, this Moroccan liquid gold is created from sustainably sourced argan nuts that are precisely picked and manually cracked by Moroccan women. It's gaining popularity as a stretch mark treatment worth considering (it may also help skin keep suppleness). Here, our research indicates that this is a 100% pure version that is also ethically sourced, and harnesses the benefits of argan oil to the fullest – the perfect pick for the best pure argan oil.
Pros
Cruelty-free
Free of parabens and alcohol
Ideal for the whole body
Ideal for all hair types
12
Argan Magic Intensive Hair Oil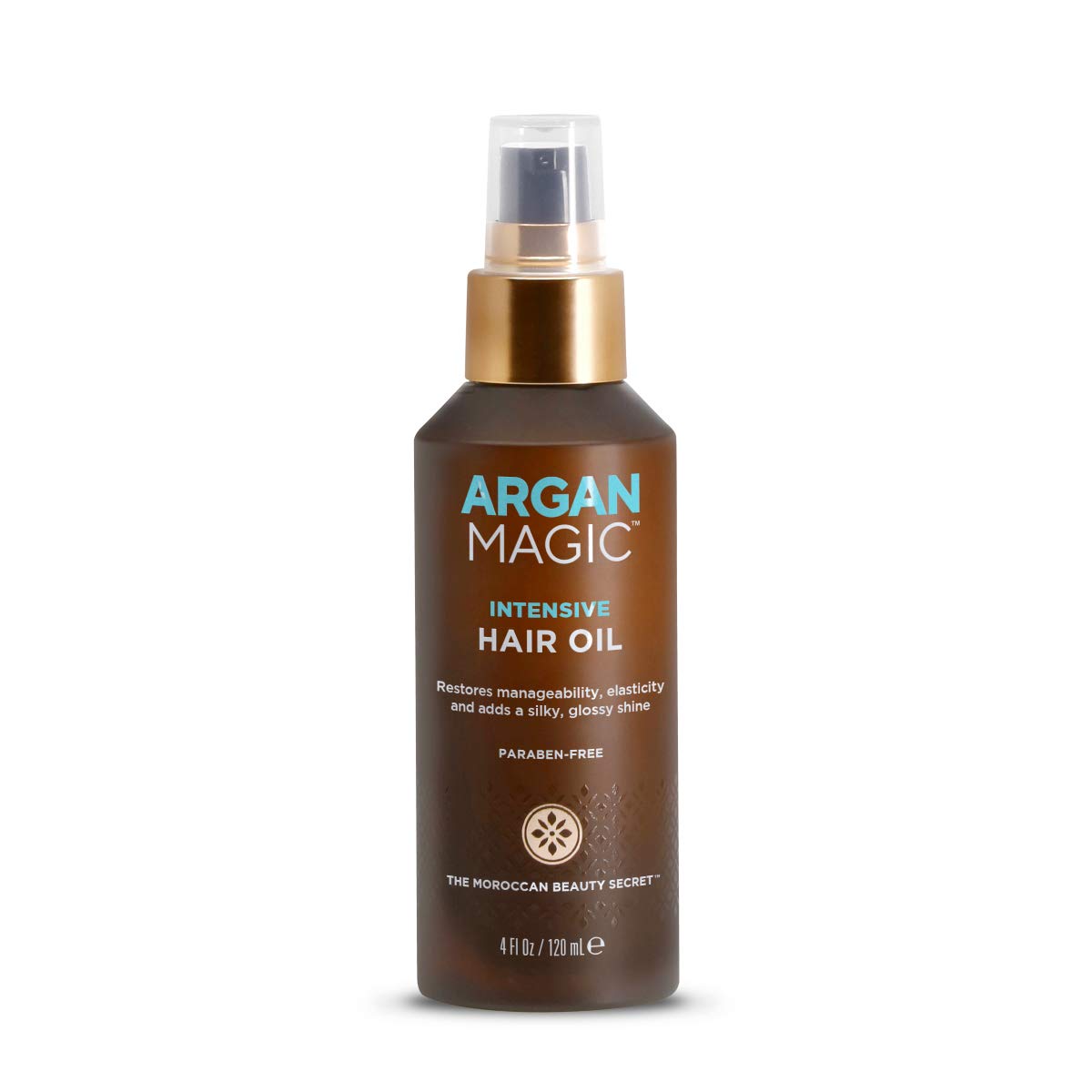 We love this travel- and budget-friendly treatment in a bottle by Argan Magic. Enriched with the highest quality ingredient, the argan kernels from southwest Morocco are the key to this rich yet light amber-hued glossy hair oil. The organic formulation boasts hair health restoration and increases the likeability of managed hair looks. We found from using the product that it is absolutely the best oil for curly or wavy, frizzy hair seeking to tame their frizz and coils immediately.
Pros
Ideal for frizzy and curly hair
Easy to use
Travel-friendly
Non-sticky
13
milk_shake glistening argan oil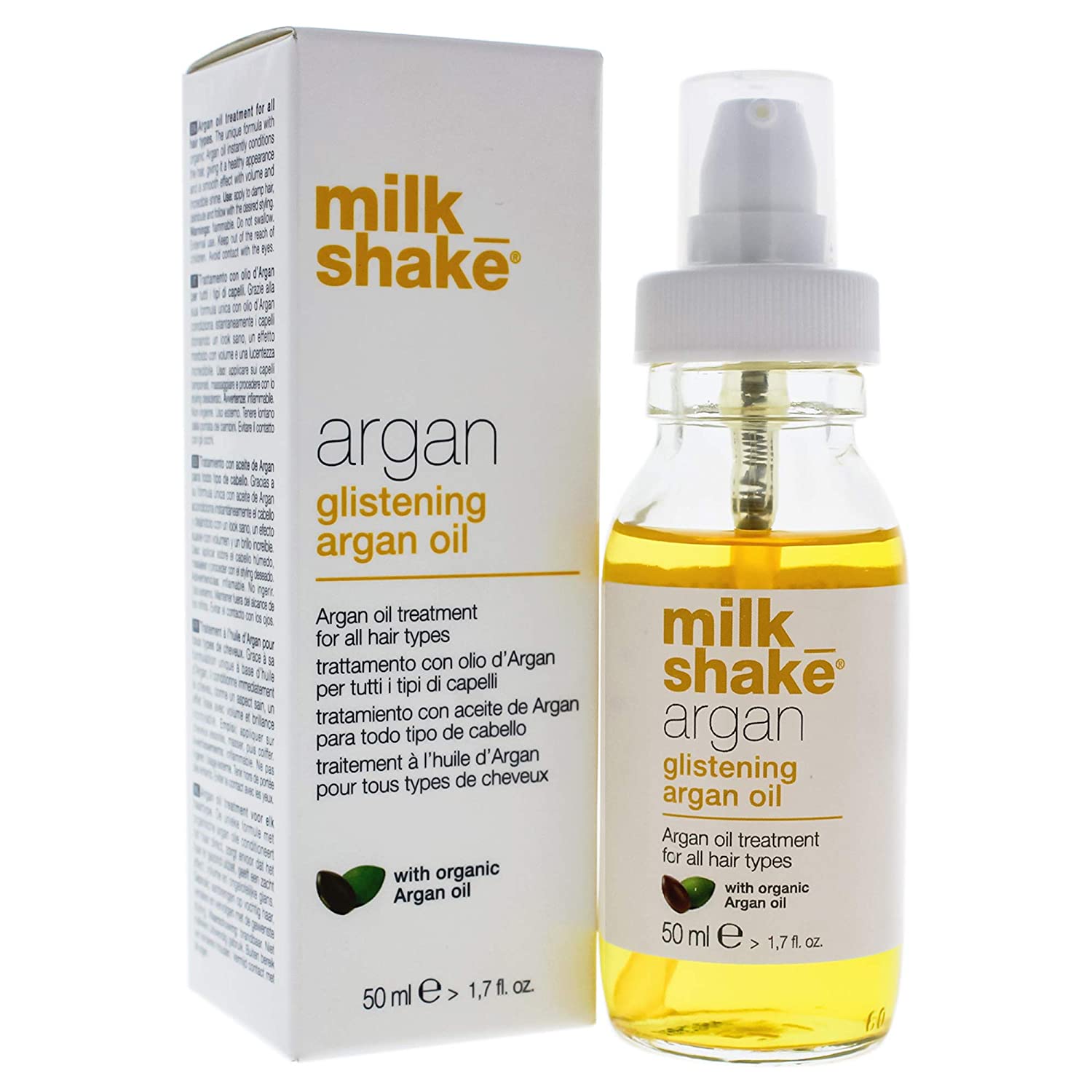 Considered one of the best argan oil for frizzy hair, milk_shake's glistening argan oil is the cult-favorite pick from the bunch. The brand owes it all to its signature ingredient, milk protein, in its hair care products due to the insane benefits of its amino acid content. Another plus is the amino acids contribute to improving the strength and structure of your hair. From this, you'll notice even more shine and softness, plus a far more manageable look!
Pros
Non-sticky
Lightweight
Volumizes hair
Budget-friendly
Cons
Some complain about the smell
How to Choose The Best Argan Oil for Hair Growth?
Now that you know the secret to healthy shine and hair locks, we also feel immense pride in sharing the ways to select and choose the best argan oils from the bunch:
Quality: Pure argan oil for cosmetic purposes should have no odor at all. Culinary argan oil has a nutty aroma, however low-quality argan oil may have a harsh, rancid odor. Don't be hasty — choose quality over quantity while opting for your next hair oil.
Ingredients: Though it isn't old news, one must always read the labels and check out the ingredients before every wise purchase. Consider choosing moisturizing characteristics that help build the skin barrier, as well as a high concentration of antioxidants and polyphenols that can protect against UVB-induced damage and photoaging. Luckily, you don't have to worry about nourishment as argan oils are full of it.
Packaging: We suggest opting for argan oils sold in dark brown or dark-colored bottles to preserve their benefits and stored in a dark-colored glass container. Clear glass bottles tend to attract more heat and may result in accelerating the expiry date.
Oiling your hair is the ultimate nourishment step in your hair care routine. This essential routine can be a saving grace to getting healthy hair growth. When chosen wisely, the finest argan oils can help elevate your hair strands to the level of hair care. Dry, brittle hair tends to be lackluster over time when the proper treatment isn't provided. Luckily, with our keen eyes, we were able to spot the best argan oils for hair growth, we hope you find the ideal pick that matches your vibe as well.
Author BIO
With a keen eye for detail and a passion for hairstyling, Alvira is a certified Hair Expert who brings the latest tre More
FAQ's
Does argan oil help hair growth?
Yes, though we do not guarantee it, the antioxidants in argan oil help strengthen hair follicles and promote cell production on the scalp.
Is it better to put argan oil on wet or dry hair?
There is no bias here, as argan oil does wonders on both wet and dry hair.
Which oil makes hair grow thicker and faster?
We would recommend argan oil and coconut oil as one of the best oils to choose for thicker hair growth.
Why Trust select
With a keen eye for detail, Alvira carefully selects the best in haircare to help you find the most efficient products and tools for your tresses. Here she has selected the best Argan oils for hair growth to help you revive your hair.
Our product experts study the specifications of every product we suggest and try them out to bring what's proven to be worthy of your money, time, and energy. We also have subject matter experts from various fields like Fashion, Skincare, Haircare, Home Decor, and Health & Fitness onboard to make sure our suggestions are credible and trustworthy. You can trust Select to be your faithful shopping guide for all the right reasons!
Source link