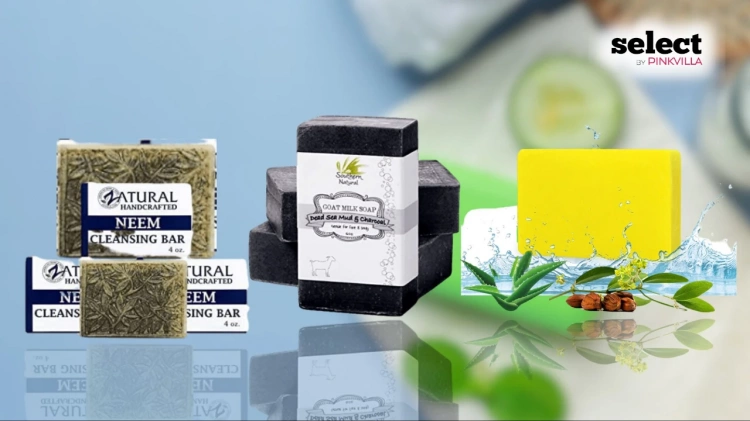 The products curated for this article are independently chosen by the
editorial team. If you make a purchase through the links mentioned below, we may receive a commission. Check out our product
research & curation process
We have all struggled with dreaded acne concerns at some point. This is where the best soaps for acne come in. Acne-fighting soaps have become increasingly popular, with beauty experts expressing their admiration for this lifesaver. These specialized soaps go beyond regular cleansing. They effectively absorb and control excess sebum, promoting balanced and toned skin. Packed with acne-fighting components, they remain gentle on your skin. Acne management often involves a range of treatments, and it all begins with your daily soap. Soaps play a vital role in addressing existing breakouts and maintaining skin balance to prevent future ones.
Amid countless skincare tips, product recommendations, and marketing jargon, navigating through the information overload can be overwhelming. But fret not! We're here to assist you. This comprehensive article presents a curated list of the top soaps for combating pimples, accompanied by an ultimate guide, helpful tips, and frequently asked questions to effectively care for acne-prone skin. Acne-fighting bar soaps stand apart from regular soaps. They are meticulously handcrafted, catering to the needs of sensitive and oily skin. Their gentle formulation and abundance of anti-inflammatory properties provide relief from skin irritation, proving to be effective in treating cystic acne. These soaps boast powerful yet delicate qualities, absorbing excess oil, balancing the skin's pH level, safeguarding against free radicals, and leaving your skin refreshed and toned. 
Below, you'll find the ultimate guide to selecting the best soap for combating acne and breakouts.
10 Best Soaps for Acne to Reveal a Clear And Glowing Skin
The Yellow Bird Dead Sea Mud Soap Bar is a highly effective solution for acne-prone skin. Made with mineral-rich mud from the Dead Sea, this natural soap for acne gently cleanses and detoxifies the skin, removing impurities and excess oil. The natural ingredients in this soap, including shea butter and essential oils, nourish and hydrate the skin, promoting a clear and healthy complexion. Regular use of it helps reduce acne breakouts, soothes inflammation, and improves overall skin texture. Treat your skin to the benefits of this luxurious soap, and enjoy a refreshed and revitalized appearance. Bonus points — it is ideal for both the face and body!
Pros
Made with natural ingredients
No added fragrance
Comes with an exfoliating pumice stone
Cost-effective
2
Best for Sensitive Skin
Southern Natural GOAT MILK SOAP
The powerful Southern Natural Soap Bar is specially formulated to combat acne and deeply cleanse the skin. The activated charcoal infused in it draws out impurities and toxins, while the gentle formula prevents excessive dryness and irritation. Infused with nourishing ingredients like dead sea mud and shea butter, it leaves your skin feeling refreshed and moisturized. This soap is suitable for both face and body, making it a versatile addition to your skincare routine. Enjoy clearer, smoother skin and say goodbye to acne with this invigorating charcoal soap for acne.
Pros
Long-lasting formula
Suits all skin types
Infused with essential oils
Removes toxins
3
Best Splurge Buy
GETRID Astringent Face & Body Soap
The Getrid Astringent Salicylic Cleansing Bar is a powerful solution for acne-prone skin. Formulated with salicylic acid, it deeply cleanses pores, unclogs trapped dirt and oil, and helps prevent future breakouts. This soap also contains astringent properties that tighten and refine the skin's texture, reducing the appearance of blemishes and enlarged pores. Enriched with soothing ingredients like aloe vera and chamomile, it calms and nourishes the skin, providing a gentle yet effective cleansing experience. Incorporate this cleansing bar into your daily skincare routine for clearer, healthier-looking skin with improved acne protection.
Pros
Antibacterial formula
Ideal for oily skin
Tightens pores
Heals blemishes
4
Best for Dry Skin
Zatural Neem Soap Bar
Experience gentle care for ultra-sensitive skin with the Zatural Neem Skin Soothing Therapy Bar. This soap is specially designed to relieve irritation and dryness, making it ideal for delicate and reactive skin types. Formulated with a blend of calming ingredients like oatmeal, chamomile, and shea butter, it nourishes and moisturizes the skin while reducing redness and discomfort. The fragrance-free and hypoallergenic formula ensures a soothing cleansing experience without causing further irritation. Pamper your skin with this therapeutic soap for sensitive skin and enjoy a refreshed and balanced complexion. Perfect for daily use and suitable for the whole family.
Pros
Hypoallergenic formula
Intensely moisturizes
Suits sensitive skin
Relieves inflammation
5
Best for All Skin Types
Sea Salt Handmade Bar Soap
Discover the rejuvenating power of Oniyea Sea Salt Soap to cure all acne woes. Infused with natural sea salt, this invigorating soap gently exfoliates and purifies your skin, leaving it soft, smooth, and radiant. The sea salt minerals help cleanse pores, remove impurities, and promote healthy circulation. Enriched with nourishing ingredients, this soap moisturizes and hydrates, preventing dryness and irritation. Its refreshing scent uplifts your senses, providing a luxurious spa-like experience. Suitable for all skin types, this 2-pack ensures long-lasting freshness and indulgence.
Pros
Cruelty-free and vegan formula
Affordable
Exfoliates and deeply cleans
For all skin types
6
Best Detoxing Soap
Simply Vedic Detoxifying Activated Charcoal with Eucalyptus Oil Soap Bar
Elevate your skincare routine with the Simply Vedic Detoxifying Soap Bar. Infused with activated charcoal and eucalyptus, this soap provides a deep cleanse and detoxification for your skin. The activated charcoal draws out impurities and toxins, while the invigorating scent of eucalyptus leaves you feeling refreshed and revitalized. This soap is specially formulated for acne-prone skin, helping to reduce breakouts and promote a clearer complexion. With its natural and nourishing ingredients, it leaves your skin feeling clean, balanced, and rejuvenated. Treat yourself to the purifying benefits of this detoxifying soap bar and unveil healthier-looking skin.
Pros
Suits sensitive skin
Balances the skin's pH level
Cruelty-free
Paraben-free
Moisturizing formula
Cons
Might not suit those with oily skin
7
Best Moisturizing Soap
Truly Clear One-Step Solution Acne Bar
Achieve truly clear skin with the Truly Clear One-Step Blemish Clearing Facial Cleanser. This innovative cleanser is specifically formulated to target acne and blemishes. Powered by a unique blend of ingredients including salicylic acid, tea tree oil, and witch hazel, it effectively fights acne-causing bacteria and reduces inflammation. The gentle yet potent formula cleanses deeply without stripping the skin's natural moisture barrier. With regular use, this cleanser helps to prevent future breakouts and promotes a clearer, smoother complexion. Experience the transformative power of this soap bar and enjoy a renewed sense of confidence in your skin.
Pros
Protects the skin barrier
Alcohol-free formula
Enriched with hyaluronic acid
Unclogs pores
Cons
Acne-clearing results take longer than usual
8
Best Budget Buy
Incredible BY NATURE African Black Soap
Experience the best quality African black soap for a revitalizing skincare routine. This authentic soap is crafted using traditional methods and natural ingredients, including shea butter, cocoa pod ash, and palm kernel oil. It effectively cleanses and exfoliates the skin, removing impurities and promoting a clearer complexion. The gentle formula is suitable for all skin types, including acne-prone and sensitive skin. With regular use, this soap helps to balance oil production, soothe irritation, and improve the overall texture of your skin.
Pros
Organic formula
Gives a skin-firming effect
Fresh, natural scent
Suits all skin types
9
Best for Eczema
Raw Black Soap From Ghana
Feel the authentic goodness of the African Raw Black Soap from Ghana. This traditional soap is handcrafted using age-old techniques and natural ingredients like shea butter, palm kernel oil, and cocoa pod ash. Known for its deep cleansing and exfoliating properties, this soap effectively removes impurities, unclogs pores, and promotes a clearer complexion. It is suitable for all skin types, including acne-prone and sensitive skin. The rich and moisturizing formula leaves your skin feeling nourished and rejuvenated. Treat yourself to the pure and raw beauty of this Ghanaian treasure and enjoy the remarkable benefits it brings to your skincare routine.
Pros
Treats eczema and dryness
Reduces the appearance of dark spots
Nourishing formula
Affordable
Cons
Might have side effects on sensitive skin
10
Best Natural Formula
Aroma Depot Moringa Black Soap
Immerse yourself in the soothing and nourishing properties of moringa in this Raw African Black Soap by Aroma Depot. Handmade with care, this soap for acne scars is specifically formulated to provide relief for psoriasis-prone skin. Enriched with natural ingredients like shea butter, and aloe vera, it helps to reduce inflammation, soothe itching, and promote healthy skin regeneration. This gentle and moisturizing formula is suitable for all skin types and can be used on the face and body. Treat your skin to the healing benefits of this soap for psoriasis and embrace a more comfortable and balanced complexion. Say goodbye to discomfort and hello to healthier skin with this exceptional cleanser.
Pros
Made with natural ingredients
Helps fade acne scars
Treats psoriasis
Affordable
Now that you have perused through our top picks, let us see how you can find the perfect soap for yourself.
How to Choose the Best Soap for Acne?
Choosing the best soap for acne is essential in maintaining a clear and healthy complexion. With numerous options available on the market, it can be overwhelming to find the right one for your skin. However, by considering a few key factors, you can make an informed decision and effectively combat acne.
Look for Acne-Fighting Ingredients: Seek out soaps that contain active ingredients known for their acne-fighting properties. These include salicylic acid, benzoyl peroxide, tea tree oil, sulfur, and charcoal. Salicylic acid helps to unclog pores and exfoliate dead skin cells, while benzoyl peroxide kills acne-causing bacteria. Tea tree oil has antibacterial and anti-inflammatory properties and sulfur and charcoal absorb excess oil and impurities from the skin.
Consider Your Skin Type: Determine your skin type before choosing a soap. If you have oily or combination skin, opt for a soap that balances oil production without stripping the skin. For dry or sensitive skin, choose a gentle and moisturizing soap that won't cause further irritation. Look for soaps labeled "non-comedogenic" or "suitable for acne-prone skin" to ensure they won't clog pores.
Avoid Harsh Ingredients: Harsh ingredients can irritate the skin and worsen your acne. Avoid soaps that contain artificial fragrances, dyes, or sulfates as these can strip the skin of its natural oils and disrupt its balance.
Seek Mild And pH-Balanced Formulas: Look for soaps that are mild and have a balanced pH. A pH-balanced soap helps maintain the skin's natural protective barrier, preventing excess oil production and bacterial growth.
Consider Additional Benefits: Some soaps offer additional benefits, such as exfoliation, hydration, or soothing properties. Exfoliating soaps with gentle ingredients like jojoba beads or natural fruit acids can help remove dead skin cells and unclog pores. Soaps with hydrating ingredients like hyaluronic acid or aloe vera can prevent excessive drying. For sensitive or inflamed skin, soaps with soothing ingredients like chamomile or calendula can provide relief.
Remember, finding the best soap for acne may involve trial and error. It's crucial to be patient and consistent with your skincare routine. If your acne persists or worsens, it's advisable to consult a dermatologist for professional guidance and treatment options. By considering these factors and understanding your skin's specific needs, you can choose a soap that effectively targets acne while maintaining your skin's overall health and balance.
If you have been avoiding bar soap due to concerns about skin dryness, it is time for an update. Gone are the days when bar soap had a drying reputation. Improved formulas have made the best soaps for acne just as effective, if not better, than liquid alternatives like body washes and facial cleansers. Imagine a gentle, soothing, hydrating, and highly effective cleansing experience. Especially if you have acne-prone or easily inflamed skin, a good bar soap for acne can help alleviate these skin troubles. Embrace the new wave of bar soaps that offer an uplifting skincare experience without disappointment!
Author BIO

Anoushka is certified in Professional Skincare and is a Mass Media (Journalism) graduate from Mumbai University. As a More
FAQ's
Can glycolic acid soap be effective for acne?
Glycolic acid helps exfoliate the skin by removing the upper layer without the need for any scrubbing. With its antibacterial and antioxidant activity, it is a useful treatment when it comes to preventing acne and fading acne scars.
How long does it take to see results when using acne soaps?
Acne soaps and in general all facial cleansers require at least two weeks of continuous usage before their results can be visibly observed. Full results tend to occur after three months of continued usage.
Are there any side effects of using acne soaps?
While there are generally no harmful reactions to using the right acne soaps for your skin type, one must always patch test before trying a new skin treatment. Side effects like dry skin, peeling, and redness might occur in adverse cases. Consult a dermatologist if faced with any of these side effects.
Why Trust select
Anoushka is certified in Professional Skincare and is a Mass Media (Journalism) graduate from Mumbai University. As an experienced writer, she is an advocate of sustainability in skincare, haircare, fashion, and lifestyle. She loves mind-stimulating conversations, trivial or intense, which fuel her creative ideas. In her leisure time, she enjoys yoga, sitcoms, reading, early morning beach walks, and cafe hopping. Here she has researched and listed her recommendations for the best soaps for acne. 
Our product experts study the specifications of every product we suggest and try them out to bring what's proven to be worthy of your money, time, and energy. We also have subject matter experts from various fields like Fashion, Skincare, Haircare, Home Decor, and Health & Fitness onboard to make sure our suggestions are credible and trustworthy. You can trust Select to be your faithful shopping guide for all the right reasons!
Source link