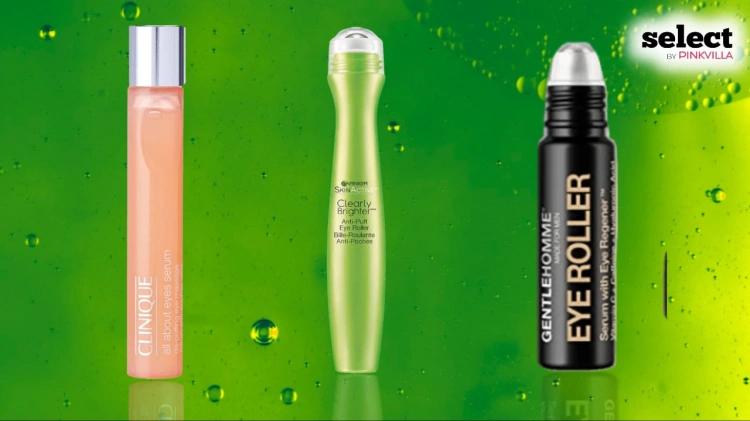 The products curated for this article are independently chosen by the
editorial team. If you make a purchase through the links mentioned below, we may receive a commission. Check out our product
research & curation process
We understand the struggle of waking up to under-eye bags that scream, "I stayed up way too late!" But fear not, because we've got your back (or rather, your under-eyes) covered.  Roll away the evidence of those late-night Netflix binges with our recommendations on the 15 best under-eye rollers that will transform your tired-looking eyes into a fresh and rejuvenated sight to behold. 
Under-eye rollers have gained popularity in the beauty and skincare industry for their ability to stimulate blood flow and lymphatic drainage, effectively reducing puffiness and dark circles. These compact and convenient tools offer a soothing massage-like experience, promoting relaxation while enhancing the overall condition of the delicate skin around the eyes.
From luxurious brands to affordable options, we have considered a range of factors such as effectiveness, ease of use, and customer reviews to bring you this comprehensive list. Get ready to explore the best under-eye rollers that can transform your daily skincare regimen and leave you looking and feeling refreshed.
Our top picks
Most Replenishing Formula
15 Best Under Eye Rollers to Calm Fatigued, Puffy Eyes
The Garnier eye roller comes with a handy rollerball applicator and is specially created to treat dark circles and under-eye puffiness. It massages the skin while applying a cooling gel solution that helps lessen inflammation. It contains caffeine, vitamin C, mint, and powerful antioxidants that reduce the appearance of under-eye bags and brighten the sensitive skin around the eyes. The roller helps to reduce the appearance of dark spots and smooth the appearance of fine lines while helping protect the skin from future discoloration.
Pros
Convenient roller application
Lightweight
Non-greasy
Hydrates and moisturizes skin
Anti-aging benefits
Absorbs quickly
Cons
Does not blend well with makeup
2
Most Rejuvenation Duo
beaueli COSMETICS Awaken CAFFEINE EYE ROLLER
The Beaueli eye roller offers an effective anti-aging eye treatment that restores the skin's youthful appearance. The convenient rollerball applicator helps in evenly applying the gel while reducing the appearance of under-eye bags. Additionally, it offers a relaxing massage to the irritated areas of your face. The roller helps heal age spots, dark spots, and skin darkening brought on by acne, wounds, scars, and stress. It provides significant benefits with regular usage, notably as a nighttime eye treatment, leading to healthier-looking skin with diminished creases, wrinkles, and dark circles.
Pros
Roller promotes blood circulation
Lightweight
Easy to use
Hydrates and nourishes skin
Suitable for all skin types
Cons
The roller may be fragile
3
The Icy Eye Energizer
L'OREAL PARIS MEN EXPERT HYDRA-ENERGETIC EYE ROLLER
This roller by L'Oreal addresses weary skin and counteracts signs of fatigue, notably targeting dark circles and eye bags. Peptido-complex, vitamin C, and caffeine are included in the formulation to offer several remedial effects and revitalize the under-eye area. These ingredients help improve skin elasticity, reduce the appearance of wrinkles and fine lines, and make your skin look glowing and hydrated. The roller applicator soothes and cools the skin near your eyes, which helps to minimize puffiness and produce a rejuvenated appearance. 
Pros
Easy-to-use
Moisturizes the delicate eye area
Lightweight texture
Non-greasy formula
Suitable for all skin types
Travel-friendly packaging
Cons
Overusing may cause the to product run down
4
Most Gentle Solution
OLAY EYES DEPUFFING EYE ROLLER
This eye roller by Olay has thin micro-rollers that softly massage a concentrated anti-aging therapy onto the skin, minimizing fine lines and wrinkles and decreasing puffiness. When massaged around the eyes, the metal micro-rollers help minimize fluid build-up, resulting in a reduction in the appearance of under-eye bags. This dermatologically-certified and non-comedogenic eye roller is suitable for all skin types and will not clog pores. The eye roller's formula with caffeine and peptide offers a revitalizing treatment for a more youthful and rejuvenated eye area by instantly perking tired-looking eyes and calming the skin. 
Pros
Convenient and easy application
Lightweight
Fast-absorbing formula
Suitable for all skin types
Can be used under makeup
Travel-friendly packaging
Dermatologist-tested
Affordable price point
Cons
The roller may get fragile with prolonged use
5
Most Effective Serum
CLINIQUE all about eyes serum de-puffing eye massage roll-on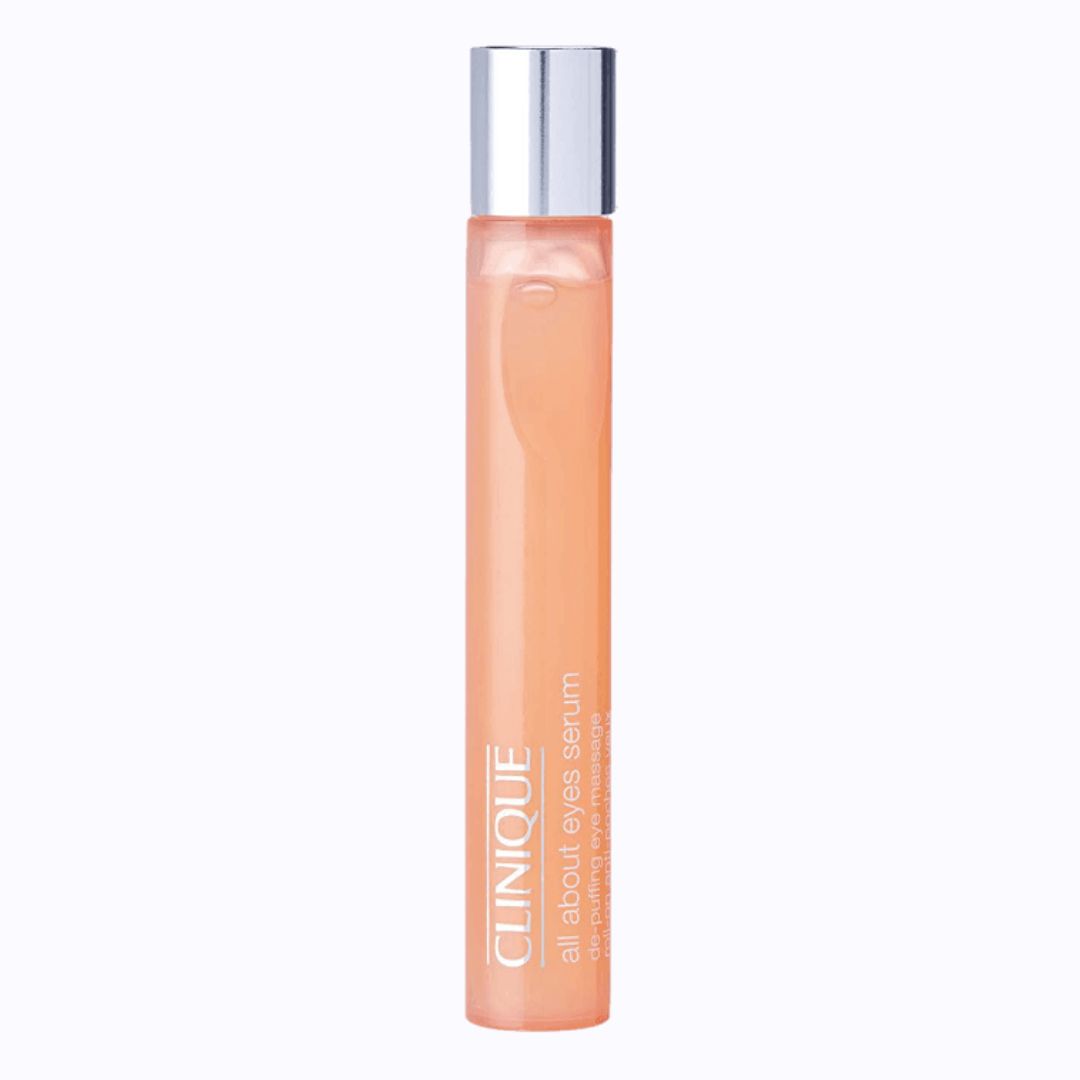 Clinique All About Serum is formulated by experts with a blend of ingredients that work harmoniously to address your skin's specific needs. The formula helps to combat environmental stressors, minimize the appearance of fine lines and wrinkles, and improve overall skin texture. The antioxidants shield your skin from free radicals making your skin look young. Hyaluronic acid deeply hydrates, plumping the skin and reducing dryness [1].Meanwhile, the peptides encourage collagen production, helping to firm and tone your skin. With its lightweight texture and fast-absorbing formula, this serum effortlessly glides onto your skin, delivering a burst of nourishment and hydration.
Pros
Dermatologist-tested
Fragrance-free
Allergy-tested
Oil-free
Non-comedogenic
6
Most Easy to Use
Huron Cool & DC..Puff EYE STICK
Introducing the next best under-eye roller for puffiness, Huron Eye Stick, the ultimate solution for dark circles, and fine lines. This under-eye roller is specifically designed to refresh, energize, and moisturize your delicate eye area upon contact. This roller lets you experience an instant revitalizing effect that leaves you looking more refreshed and awake. With its fragrance-free formula, this eye stick caters to those with sensitive skin or fragrance sensitivities. Made in the USA, it meets high-quality standards and guarantees a product you can trust.
Pros
Cruelty-free
Lightweight
Absorbs quickly
Non-greasy
Roller
Cons
Takes several applications for visible results
7
Most Invigorating Blend
OARS + ALPS NATURAL WAKE UP EYE STICK
This under-eye roller addresses puffiness and dark circles and helps to refresh and revitalize the delicate under-eye area, promoting a more rejuvenated appearance. It targets dark circles, minimizing their visibility and brightening the under-eye area. The formula contains natural ingredients, including caffeine, aloe vera, and vitamin E, which work together to refresh and revitalize the under-eye area. The caffeine helps to reduce puffiness and awaken the skin,  while aloe vera and vitamin E provide hydration and nourishment [2]. Lastly, it comes aloe vera scent packed in a beautiful blue bottle that looks cool to carry. 
Pros
Gives a soothing sensation
Lightweight
Non-greasy formula
Revitalizes tired eyes
Natural and clean ingredients
Absorbs quickly into the skin
Suitable for sensitive skin
8
Most Nourishing Formula
Aloe Vera & Fresh Collagen Eye Roller Serum
This roller has collagen that makes your skin look more youthful and vibrant while targeting puffiness, dark circles, and wrinkles. The formula contains hyaluronic acid that has anti-aging and moisturizing benefits. Aloe vera contributes to skin brightening, helping reduce the appearance of dark circles. The formula also has organic ingredients like green tea and chamomile to soothe and hydrate your skin. Its rapid absorption formula makes it easy to apply. The roller comes in two color variants- red and green.
Pros
Safe for all skin types
Lightweight
Rollerball applicator provides a cooling effect
Suitable under makeup
Travel-friendly packaging
Affordable price point
Pleasant fragrance
Cons
Rollerball may be too small
9
Best Cooling Sensation
e.l.f. COOLING UNDER EYE REFRESH ROLLER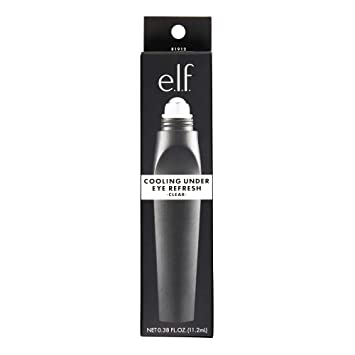 It is a remarkable eye treatment that revitalizes and awakens tired eyes. This unique formula combines rejuvenating ingredients to reduce puffiness and deliver a refreshing and cooling sensation. It is enriched with organic ingredients with cucumber, green tea, and aloe extracts. It feels nourishing and hydrating around the eyes, leaving them rejuvenated and refreshed. The convenient roll-on applicator ensures effortless, making it perfect for on-the-go use. This formula is lightweight and suitable for all skin types.
Pros
Helps reduce dark circles
Lightweight
Non-greasy formula
Moisturizes the eye area
Suitable for all skin types
Compact and travel-friendly packaging
Cons
Rollerball can get stuck or break over time
10
Most Replenishing Formula
pipette Look Awake Eye Gel
The Pipette Look Awake Eye Gel moisturizes the delicate skin under your eyes with a formula that addresses puffiness, wrinkles, dark circles, and eye bags. With its refreshing rollerball applicator and ingredients, the eye gel rejuvenates and visibly diminishes the appearance of dark circles. The formula incorporates a unique peptide extracted from the superfood quinoa, which has been clinically proven to have skin-replenishing benefits. [3] It helps visibly minimize under-eye bags and puffiness. Additionally, the presence of antioxidant-rich caffeine enhances microcirculation, providing a brightening boost to the eyes.
Pros
Fast action
Lightweight
Fast-absorbing gel formula
Suitable for all skin types
Vegan
Cruelty-free product
Fragrance-free
Can be used as a makeup base
Cons
Applicator might get stuck
11
GENTLEHOMME EYE ROLLER
Gentlehomme Eye Roller Serum is one of the best men's under-eye rollers. This serum contains natural ingredients like hyaluronic acid, caffeine, and vitamin C. These elements reduce puffiness and dark circles and brighten and nourish the skin. The serum also contains peptides that help to reduce wrinkles and fine lines. The roller applicator makes it easy to apply the serum directly to the under-eye area. With regular use, you'll notice a brighter and smoother complexion in no time.
Pros
Hydrating
Lightweight
Non-greasy formula
Absorbs quickly
Can be used as a base for grooming products
12
Dermisa ANTI-PUFF EYE ROLLER – Pack of 3
The Dermisa Anti-Puff Eye Roller effectively works in harmony with your skin and is one of the best eye roller for dark circles and puffiness. This formulation incorporates caffeine and peppermint, that help to restore your skin complexion. Caffeine promotes increased blood flow, thereby reducing the swelling or puffiness under the eye area and revealing the natural color of your skin. It also contains vitamins A, C, and E, which are known for their rejuvenating properties. These ingredients help to improve the overall texture and appearance of the delicate skin around the eyes. It aids in reducing the signs of aging, such as fine lines and wrinkles
Pros
Paraben-free
Fragrance-free
Sulfate-free
Works well under makeup
Lightweight
Moisturizing
Cons
Roller may break over time
13
Acuaiss ROLL ON PARPADOS
This refreshing and cooling roll-on is designed to rejuvenate the delicate under-eye area and is one of the best derma roller for under eyes. The hyaluronic acid in this eye roller helps to hydrate and plump the skin, reducing the appearance of puffiness and fine lines. It acts as a moisture magnet, attracting and retaining hydration for a smoother and more youthful-looking complexion. Vitamin B5 in the formula helps to improve the skin's natural barrier function, providing essential moisture and preventing moisture loss. This results in a more supple and revitalized eye area, with a reduction in dryness and fatigue. The convenient roll-on applicator allows for easy and precise application, gently massaging the product into the skin. Its cooling sensation provides an instant soothing effect, helping to alleviate any discomfort or irritation.
Pros
Lightweight and non-greasy formula
Suitable for all skin types
Can be used on eyelids
Absorbs quickly into the skin
Dermatologist-tested and safe
Travel-friendly packaging
Cons
Limited availability and purchase options
14
patchology ROLL MODEL
Patchology offers the best under-eye roller for dark circles as it effectively brightens and soothes puffy eyes. The cooling jade roller gently massages the skin, promoting lymphatic drainage and reducing puffiness for a refreshed and revitalized appearance. Infused with vitamin C, this eye roller delivers a potent dose of antioxidants to the skin [4].It helps to fade dark circles and even out skin tone, restoring a youthful and radiant look to your eyes. It also aids in collagen production, promoting elasticity and firmness, for a smoother and more supple eye area. You can incorporate this roller into your daily skincare routine for an instant rejuvenating boost in your under-eye area. 
Pros
Features a jade roller
Brightens the skin
Lightweight
Non-greasy formula
Moisturizes the eye area
15
FIRST AID BEAUTY DETOX EYE ROLLER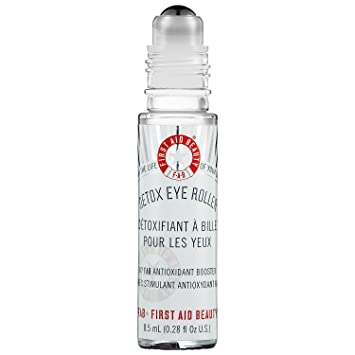 Last in the list is one of the best under-eye roller for puffiness by First Aid Beauty. The powerful combination of caffeine and the metal roller ball helps to reduce the appearance of puffiness, leaving your under-eye area looking revitalized and rejuvenated. The metal ball provides a cooling sensation that instantly refreshes and soothes. Its unique formula, enriched with sodium hyaluronate and peptides, diminishes the appearance of fine lines, ensuring a smoother and more youthful complexion. Additionally, the antioxidant booster works diligently to combat free radicals, safeguarding your delicate skin from environmental stressors. Lastly, this eye roller has undergone rigorous allergy testing, making it suitable for even the most sensitive skin types.
Pros
Nut-free
Oil-free
Soy-free
Paraben-free
Vegan
No artificial fragrance
So now that you have a list of the best under-eye rollers to choose from, let's explore how you can choose the right one that suits your skin needs and goals.
How to Select Best Under Eye Rollers?
There are three primary types of under-eye rollers, each serving a distinct purpose. Explore their unique features before making a purchase:
1. Serum Rollers: Serum rollers come in the form of tubes equipped with either metal or plastic roller balls. When you glide the roller beneath your eyes, it dispenses a serum or gel that deeply penetrates the skin, effectively addressing various concerns such as dark circles, puffiness, fine lines, and redness. Additionally, opt for a serum roller with a metal tip if you want a refreshing experience. 
2. Jade Rollers: If your main focus is reducing puffiness and alleviating dark circles, jade rollers are an excellent choice. Although they do not dispense serum, these rollers are crafted from 100% natural jade, providing a smooth rolling motion that enhances circulation. As a result, they effectively diminish dark circles and puffiness. Jade rollers can also be utilized for cold therapy. Simply place them in the freezer for 15-30 minutes to experience an instant cooling effect.
3. Ice Rollers: Specifically designed for cold therapies, ice rollers are perfect for relieving tension and stress around the eyes with just a few glides. Moreover, they effectively alleviate fine lines, puffiness, swelling, and headaches. The roller heads of ice rollers are detachable, allowing you to place them in the freezer and use them at your convenience.
You can pick amongst these options depending on what skin issue you need to tackle. The next important thing is to look at the formulation and ingredients of the under eye rollers before make the final purchase. 
What Are Some Ingredients to Look for in the Best Under-eye Roller Serum?
1. A serum can be considered potent when it is made of peptides, ceramides, hyaluronic acid, AHA(s), and niacinamide in the best of concentrations along with vitamins like A and E. Board-certified dermatologist Dr. Andrea Suarez says, "The ingredient that probably is your best bet is some form of topical vitamin A, whether it be retinol or retinaldehyde. Topical vitamin A when applied to the skin boosts collagen production and ultimately is going to smooth out wrinkles. It can help to remove sun-damaged skin cells and it can also help in removing model hyperpigmentation that also might be occurring in the under-eye area as a result of photoaging."  The coenzyme Q10 along with vitamin C provides sun protection and hence is anti-oxidizing resulting in a decrease in wrinkles. Retinoids can further reduce the appearance of wrinkles but it should be ensured that serums containing retinoids be only used as a night skincare routine.
2. However, people with sensitive or acne-prone skin may sometimes look for ingredients like chamomile, green tea extract, or witch hazel while glycerin can add value for people with dry skin.  So depending on the skin type these ingredients can be combined in various combinations and concentrations which makes it essential to first understand your skin and choose the serum accordingly. 
3. Under-eye rollers have become a popular skincare tool that can work wonders for reducing puffiness, dark circles, and signs of fatigue around the delicate under-eye area. We have explored the best under-eye rollers available in the market, each offering unique features and benefits. From the cooling effects of jade rollers to the innovative designs of vibrating rollers, there is a wide range of options to choose from based on personal preference and specific skincare needs. These rollers often incorporate additional ingredients like hyaluronic acid, vitamin C, and caffeine to provide enhanced results and nourishment to the skin. 
4. Regularly incorporating an under-eye roller into your skincare routine can help stimulate blood circulation, promote lymphatic drainage, and tighten the skin, resulting in a more refreshed and rejuvenated appearance. It's important to note that consistency is key when using under-eye rollers, as long-term use is necessary to see noticeable improvements.
Whether you prefer a cooling metal roller or a vibrating massaging tool, these 15 best under-eye rollers have proven their worth in delivering visible results and promoting a youthful, radiant appearance. Rollers work wonders in reducing puffiness, increasing hydration, and brightening the under-eye area.  So go ahead, find the perfect roller for you, and say goodbye to under-eye woes!
Author BIO
Anoushka is certified in Professional Skincare and is a Mass Media (Journalism) graduate from Mumbai University. As a More
FAQ's
What Roller is Best for Under Eye Bags?
Jade roller is the best roller for under-eye bags. By gently rolling the smaller end of the jade roller in upward and outward motions under your eyes daily, you can effectively minimize swelling and diminish the appearance of eye bags.
Are Under Eye Rollers Effective?
Rollers can boost blood circulation to your face, potentially giving your skin a brighter appearance. Rolling can also reduce puffiness, such as under-eye bags, by stimulating lymphatic drainage.
Do Eye Rollers Work for Dark Circles?
Yes, under-eye rollers can help reduce darkness under the eyes. As massaging the area with a roller facilitates blood movement which helps in relieving stress and restores skin's natural skin tone.
How Often Should You Use Eye Roller?
You can use the roller anytime and how many ever times you feel the need. Just make sure that you don't apply a lot of pressure and that the formula of the serum in the eye roller is free from toxic elements.
Why Trust select
Anoushka is certified in Professional Skincare and is a Mass Media (Journalism) graduate from Mumbai University. As an experienced writer, she is an advocate of sustainability in skincare, haircare, fashion, and lifestyle. She loves mind-stimulating conversations, trivial or intense, which fuel her creative ideas. In her leisure time, she enjoys yoga, sitcoms, reading, early morning beach walks, and cafe hopping. Here, she has researched and listed her recommendations for the best under-eye rollers. 
Our product experts study the specifications of every product we suggest and try them out to bring what's proven to be worthy of your money, time, and energy. We also have subject matter experts from various fields like Fashion, Skincare, Haircare, Home Decor, and Health & Fitness onboard to make sure our suggestions are credible and trustworthy. You can trust Select to be your faithful shopping guide for all the right reasons!
Source link