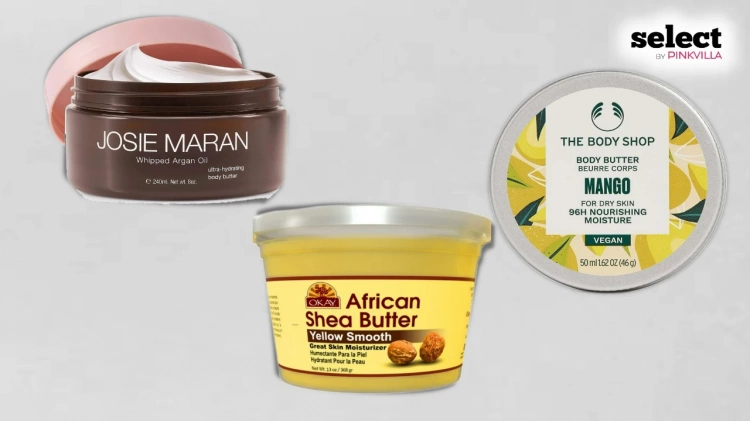 The products curated for this article are independently chosen by the
editorial team. If you make a purchase through the links mentioned below, we may receive a commission. Check out our product
research & curation process
Dry and dehydrated skin can leave you itchy and irritated. But it is time to ditch those moisturizers and opt for something that will definitely give you moisturized, radiant and glowing skin with just one use and that is the best body butter. This luxurious product is enriched with vitamins, antioxidants, and fatty acids that effectively lock in moisture. By providing deep nourishment, body butter leaves your skin feeling incredibly soft and smooth. 
To help you enhance your skincare routine, we have curated a list of 15 body butters. The list includes body butter for almost all skin types, from dry to normal, oily to melanin-rich. Whether you're seeking intense hydration, improved elasticity, or a delightful fragrance, these body butters have you covered.
Our top picks
Best for Melanin Rich Skin
15 Best Body Butter For Baby Soft Skin
Based on our observation, the following are the fifteen best body butter for glowing skin:
Discover the secret to luxuriously soft and radiant skin with Okay Smooth All Natural, 100% pure raw African shea butter, your daily skin moisturizer. This shea butter is enriched with vitamins A and E, which not only moisturizes the skin but also protects it from being damaged by the sun's harmful ultraviolet rays. The best part is that it is suitable for all skin types, and also reduces inflammation. It is also great for skin smoothing, wrinkle reduction, eczema, blemishes, wound healing, sunburn, and dermatitis. It also nourishes, replenishes, and heals your skin. Bid farewell to dryness and embrace a velvety-smooth complexion that glows with youthful vitality.
Pros
100% Pure Raw African Shea Butter
Moisturizes
Nourishes and heals
Contains vitamins A and E
Also suitable for acne-prone skin
Protects from UV rays
2
Best for normal skin
The Body Shop Mango Body Butter for Normal Skin
This creamy, vegan mango body butter from The Body Shop will moisturize and nourish your skin. The rich texture and high-fat content of this shea butter make it intensely moisturizing which can stay for up to 96 hours. The scent of a passionate mango comes from mango seed oil. 96% of the ingredients used in this body butter are of natural origin. It is non-sticky and non-greasy so you don't have to worry about residues before applying. Use it any time of the day or night. You will love the natural-looking glow of your skin. Not to forget, the product is 100% vegetarian and has not been tested on animals.
Pros
96% of ingredients are of natural origin
High-fat content of shea butter
Mango seed oil for fragrance
Contains Brazil nut oil
Rich texture
Vegan
Moisturizes and nourishes for up to 96 hours
Comes in recyclable packaging
Cons
Recommended only for normal skin
3
Best for dry skin
NIVEA Cocoa Butter Body Cream for Dry Skin
cSpecifically formulated for dry skin, this NIVEA cocoa butter body cream with a rich, creamy texture deeply nourishes your skin. Infused with Deep Moisture Serum, Cocoa Butter, and Vitamin E, it will keep your dry skin moisturized for up to 48 hours. Your skin starts looking radiant and lightly scented after just one application. Say goodbye to dryness and hello to smooth, supple skin that feels rejuvenated and replenished with this cocoa good body butter for dry skin. It can be used on the whole body. The special formula also makes it perfect for use as a hand or foot cream.
Pros
Deep Nourishing Serum
Cocoa Butter
Vitamin E
Moisturizes for up to 48 hours
Radiant looking skin
Lightly scented
Can be used as hand or foot cream
4
Best After Sun
Hawaiian Tropic After Sun Lotion Moisturizer and Hydrating Body Butter
Experience the ultimate tropical pampering with Hawaiian Tropic After-Sun Lotion Moisturizer. Enriched with coconut oil, shea butter, and avocado oil, it keeps your skin hydrated for up to 12 hours. The hydrating properties of coconut oil work their magic, restoring moisture and leaving your skin feeling irresistibly soft and silky smooth. Its sensuous and exotic coconut scent leaves your skin smelling gorgeous. It's dermatologist-tested, but no animal testing has been done on this product. This Hawaiian body butter also helps to preserve your tan after a day out in the sun.
Pros
Made with island botanicals
Contains coconut oil, shea butter, and avocado oil
Hydrates skin for up to 12 hours
Light tropical coconut scent
Free from oxybenzone and octinoxate
Dermatologist-tested
Helps preserve a tan
No animal testing
Cons
Not everyone likes the smell
5
Best organic
Mary Tylor Naturals Organic Shea Butter
Experience the incredible benefits of Mary Tylor Naturals shea butter. This USDA-certified organic, unrefined shea butter is sourced from Ghana, Africa. It offers amazing skin nourishment. It also provides relief for conditions like eczema and stretch marks and is good for overall body moisturization. No additives or preservatives have been used in this. The ultra-moisturizing Mary Tylor Naturals' shea body butter is loaded with natural vitamins and fatty acids and is also antioxidant-rich. You can even use it for your hair nourishment.
Pros
USDA-certified organic
Unrefined
Sourced from Ghana
Additives-free
Preservatives-free
Contains natural vitamins
Contains fatty acids
Antioxidant-rich
Can be used for body and hair
6
Super Hydrating
Smellgood African Shea Butter, 32 oz.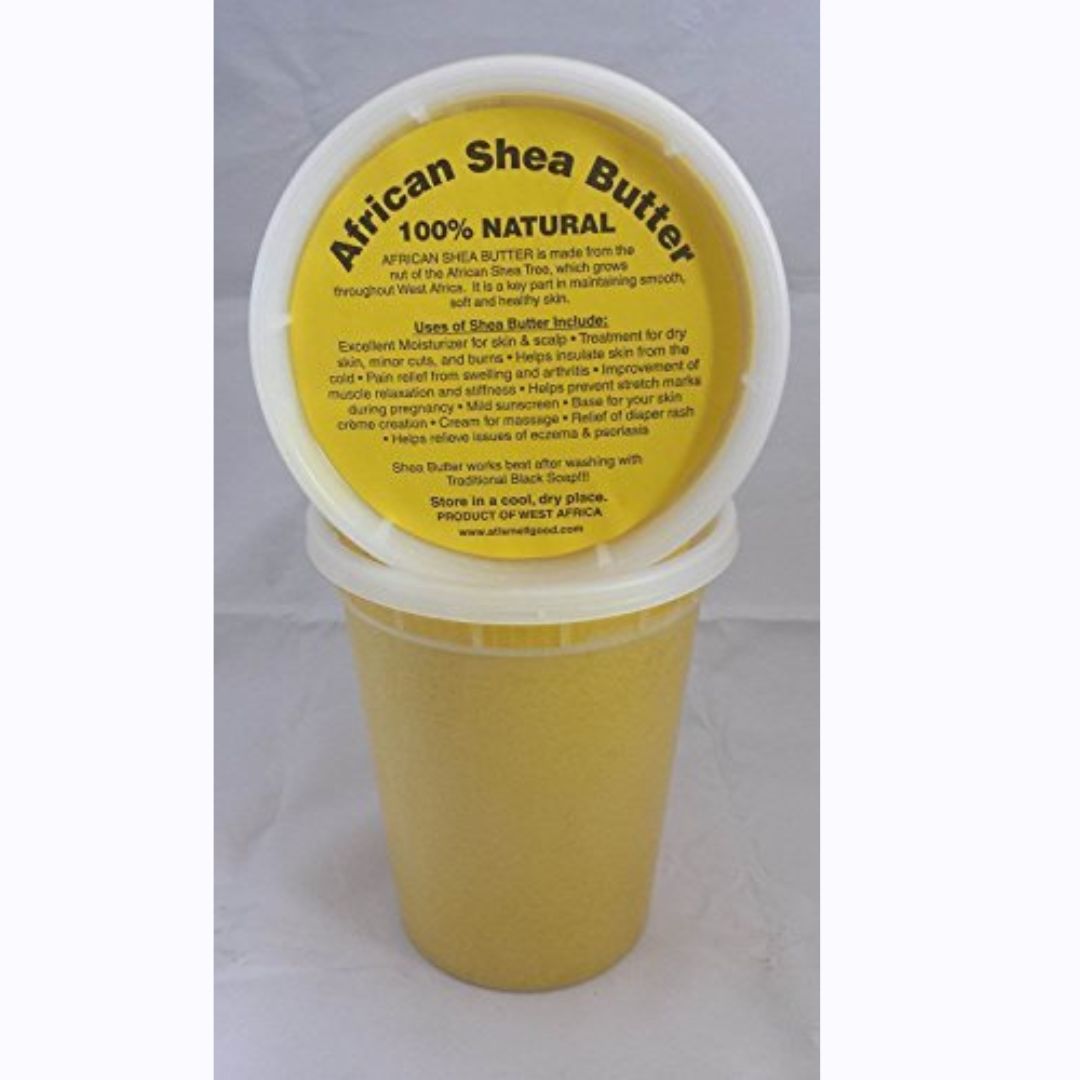 This generous 32 oz jar holds a treasure trove of pure, unrefined shea butter sourced from Africa. Indulge your senses as you discover the natural richness and captivating aroma of this 100% natural shea butter. It not only moisturizes your dry skin but also works on skin cracks, tough or rough skin on feet, skin peeling after training, blemishes and wrinkles, itching skin, sunburn, small skin wounds, insulation against cold, frost bites, stretch mark prevention during pregnancy, insect bites, muscle fatigue, aches and tension, and skin allergies such as poison ivy and oak, eczema, and dermatitis. Rich in vitamins A, D, E, and F, antioxidants, and essential fatty acids, it makes a great moisturizer not only for your skin but also for your hair.
Pros
Vitamins A, D, E, and F
Antioxidants
Essential fatty acids
Sourced from Africa
Prevents stretch marks
Prevents wrinkles
100% natural shea butter
7
Best Moisturizing
Ancient Greek Remedy Anti-Aging Facial and Body Butter for Men and Women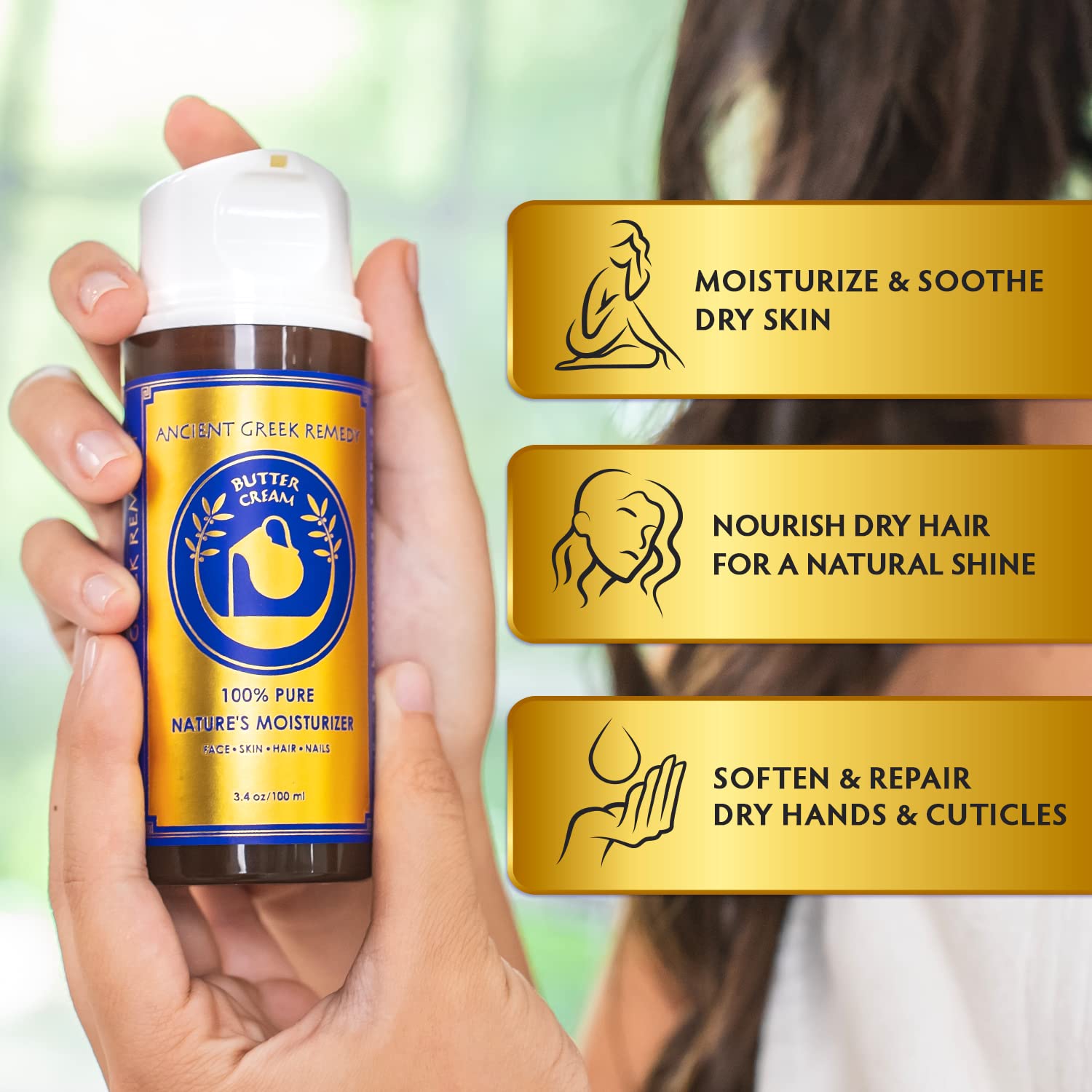 Revitalize your skin with organic anti-aging facial and body butter cream from Ancient Greek Remedy. This multi-purpose cream nourishes and rejuvenates your face, hair, hands, cuticles, and nails. It also hydrates the skin, giving it a soft, smooth, and firm look. 100% pure moisturizer body butter has 8 natural raw cold-pressed ingredients: extra virgin olive oil, almond, jojoba, castor, grapeseed, sunflower, vitamin E, and lavender essential oil. It is free from gluten, parabens, chemicals, and any preservatives. It also reduces the appearance of uneven skin tone, fine lines, wrinkles, dark spots, and frown lines.
Pros
Made with 100% cold-pressed oils
A great moisturizer
Hydrates skin
Improves skin tone
Has anti-aging properties
Minimizes the appearance of acne scars
Rejuvenates and thickens hair
Treats dry hands and cuticles
Cons
Does not get absorbed easily
8
Best Whipped
Josie Maran Whipped Argan Oil Body Butter
Made with 100% pure argan oil whipped to buttery perfection, the Josie Maran Whipped Argan Oil Body Butter revitalizes your skin, restores softness, and improves skin texture. Enriched with essential fatty acids and antioxidants, this ultra-hydrating body butter not only moisturizes but also nourishes your skin, leaving it smooth and firm-looking. It also contains shea butter, avocado oil, white tea extract, and other essential nutrients that give it a velvety texture for smooth application. It's lightweight and gets easily absorbed by the skin.
Pros
100% Pure Argan Oil
Contains shea butter and avocado oil
Contains white tea extract
Lightweight
Velvety texture
Gets absorbed easily
Cruelty-free
Vegan, Gluten-free
Paraben-free, sulfate-free
Suitable for the whole body
9
Best Restoring
Petal Fresh Pure Restoring Honey & Coconut Body Butter
Petal Fresh Pure Restoring Honey and Coconut Body Butter provide hydration for all skin types. Enriched with organic coconut oil, argan oil, and shea butter, this best coconut body butter nourishes your skin, leaving it incredibly soft and supple. The organic honey used in this shea butter has anti-microbial properties and it also protects your skin from sun damage. This vegetarian and cruelty-free body butter restores your skin's natural radiance, provides it with deep hydration, and leaves it feeling silky smooth to the touch. With no harsh preservatives or parabens, it's vegan and cruelty-free.
Pros
Contains organic coconut oil
Has argan oil and shea butter
Rich, creamy texture
Vegan
pH Balanced
Protects skin from free radicals
Hydrates skin
Maintains skin moisture
No added colors
Cruelty-free
Gluten-free
10
Best for Melanin Rich Skin
Vaseline Illuminate Me Whipped Body Butter for Melanin-Rich Skin
Vaseline Illuminate Me Body Butter is specially co-created with influential black women for the specific needs of melanin-rich skin. Made with glycerin, responsibly sourced shea butter, and Vaseline jelly, it contains no parabens. The rich, creamy texture leaves the skin soft, smooth, and hydrated. The body butter contains microdroplets of Vaseline Jelly to lock in moisture so that the dry skin remains moisturized for 24 hours. The whipped formula glides effortlessly onto your skin, absorbing quickly without leaving any greasy residue. Pamper yourself with the richness of Vaseline Illuminate Me Body Butter and reveal a more radiant, illuminated complexion.
Pros
Specially created for melanin-rich skin
Contains glycerin, shea butter, and Vaseline jelly
Rich, creamy texture
Hydrates the skin
Doesn't need frequent application
Provides 24-hour moisturization
Gives a shimmering glow
11
Weleda Skin Food Body Butter with Shea and Cocoa Butter
Experience the nourishing power of Weleda Skin Food Body Butter, a rich and indulgent formula enriched with shea and cocoa butter, sweet almond oil, and pansy extract. This body butter provides intense hydration and moisture for dry and rough skin. The combination of shea and cocoa butter deeply nourishes and softens the skin. Sunflower oil and pansy extract leave your skin feeling velvety soft and glowing. You can apply this anywhere on your body. It's smooth to apply, gently melts into the skin, and leaves no residue.
Pros
Contains shea and cocoa butter
Infused with sunflower oil and pansy extract
Perfect for dry and rough skin
Intense-hydration
Creamy texture
Gently melts with the skin
No residue
Parabens free
Cons
Check ingredients if you have allergy-prone skin
12
MAJESTIC PURE Whipped Argan Oil Body Butter for Women & Men with Ceramides
Get ready to indulge in the luxurious and velvety goodness of MAJESTIC PURE Whipped Argan Oil Body Butter. Formulated for both women and men, this body butter cream is infused with ceramides, vitamins A and E, and vegan collagen. The moisturizing ingredients like hyaluronic acid, vitamin E, and vegan collagen help your skin look supple and youthful. It absorbs quite quickly and holds in the moisturizer. The unique blend of ingredients can help reduce the appearance of fine lines, wrinkles, discolorations, dark spots, and skin blemishes. It is perfect for those looking to pamper themselves with a vegan and cruelty-free skincare option.
Pros
Pure Whipped Argan Oil Body Butter
Contains ceramides, vitamins E and A, and vegan collagen
Quick absorb moisturizer
Super hydrating
Can help reduce fine lines & wrinkles
Perfect for dry skin
Cruelty-free
13
3CayG Mango Butter All Natural Whipped Body Butter Lotion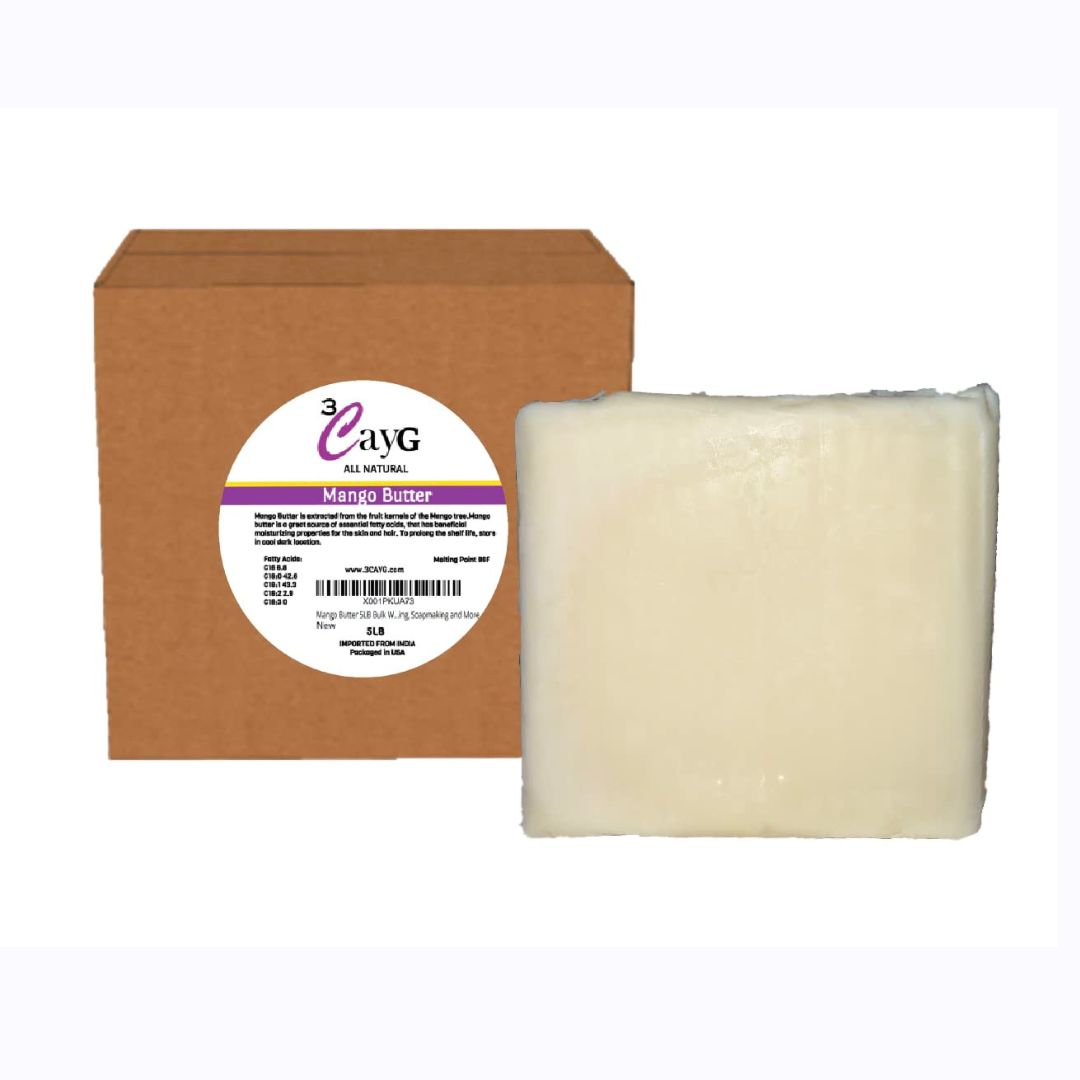 Made from wild-harvested, 100% pure mango natural body butter, it provides intense hydration and nourishment, leaving your skin feeling soft and supple. The fatty acids infused in this mango butter work to soften the skin and prevent it from feeling dry. It is quite effective in preventing inflammation and itching caused by dry skin. It is suitable for all skin types. As it contains essential fatty acids and antioxidants, it is even an excellent choice for mature skin. Use it as just a moisturizer for your body or as a hair conditioner to restore the moisture and shine of your lustrous hair.
Pros
100% pure mango body butter
Vegan friendly
Packed with vitamins A, C, and E
Intense Moisturization with UV protection
Works as a skin moisturizer
Can be used on hair
GMO and hexane-free
14
SEACRET Body Butter with Shea Butter, Cocoa Butter, Vitamins
Made from an ultra-rich and intensive blend of herbal extracts, SEACRET Body Butter Moisturizer Cream contains shea butter, cocoa butter, olive oil, vitamins, and Dead Sea minerals. The beautiful combination of these ingredients works together to replenish your skin, leaving it feeling silky smooth, and supple. Vitamins E and C have antioxidants that fight free radical damage, keeping your skin protected. It hydrates and provides all-day moisturizing to your body, thereby promoting softer and more toned-looking skin. As it has been hypoallergenic tested, it is considered safe for all skin types.
Pros
Contains shea and cocoa butter
Has olive oil
Antioxidants from vitamins E & C
Antioxidants from vitamins E & C
All-day moisturizing
Soothes skin
Promotes smoother skin
Cruelty-free
Gluten-free
15
AKWAABA Whipped Shea Butter – Body & Hair Moisturizer
Experience the tropical delight of AKWAABA Whipped Shea Butter in a Sweet Mango scent. This body and hair moisturizer is crafted with raw shea butter from Ghana, enriched with the goodness of vitamins A and E. Its natural yellow color comes from borututu, a traditional medicine. It is also rich in antioxidants and fatty acids. Its moisturizing properties leave your skin soft and supple. The sweet mango fragrance is a delightful treat for your senses. Made from natural ingredients, it is vegan, has no artificial coloring, no chemicals, and is cruelty-free. This beauty product enriched with Shea Butter is suitable for all skin types.
Pros
Raw shea butter from Ghana
Contains borututu
Natural ingredients used
Vitamins A and E
Rich in antioxidants
Rich in fatty acids
Moisturizes
Vegan
Cruelty-free
Cons
May temporarily stain before getting absorbed
How to Choose the Best Body Butter?
The following factors need to be considered while choosing the body butter for you:
Go for a body butter that contains natural, nourishing ingredients such as shea butter, cocoa butter, coconut oil, or jojoba oil. Products with harsh chemicals may irritate the skin and should be avoided.
Consider your skin type and specific needs. If you have dry or sensitive skin, opt for a body butter that offers intense hydration and soothing properties. Go for a lightweight and non-comedogenic formula if your skin is oily or acne-prone skin,
Body butter comes in various consistencies, from thick and rich to lighter and whipped. Decide based on your personal preference and the level of hydration your skin requires.
Consider whether you prefer scented or unscented body butter. If you like the fragrance, choose a product with a scent that appeals to you. But, make sure it's derived from natural sources.
Allergies and sensitivities
Take note of any specific allergies or sensitivities you have and avoid body butters that contain ingredients that may trigger a reaction.
Ultimately, the best body butter is one that suits your skin's needs, is easy to apply, and provides the desired level of hydration and nourishment.
How to Apply Body Butter?
To apply body butter, start by taking a small amount and rubbing it between your palms to warm it up. Then, gently massage it onto clean, dry skin in circular motions. Make sure to apply generously to areas prone to dryness, like elbows, knees, and heels. Allow the body butter to absorb into the skin for a few minutes before getting dressed. If the body butter feels too heavy, use a smaller amount, or mix it with a lighter lotion for a more lightweight application. Keep in mind that every product has a different texture and thickness. So, start with a small amount and add more if needed. It is recommended to use body butter after a bath or shower.
Body butter goes beyond being a mere nourishing agent. Apart from moisturizing and nourishing your skin, it can also effectively address certain skin concerns, like itchy skin. Experiment with different body butter options to find the one that works as best body butter for you. Look for a body butter that provides deep hydration and moisturization. Consider the texture of the body butter and also pay attention to the scent. 
You can also read customer reviews and testimonials online to learn how a particular product has worked for other people. But do not follow them blindly. Body butter is a must-have for smooth, supple, hydrated, and nourished skin. Add this to your skincare routine. Go butter yourself up!
Author BIO
Anoushka is certified in Professional Skincare and is a Mass Media (Journalism) graduate from Mumbai University. As a More
FAQ's
Which is better, body cream or body butter?
The better option between body cream and body butter depends on personal preference and the needs of your skin. Body creams have a lighter texture and absorb quickly, while body butter is thicker and provides intense hydration.
Is it OK to use body butter every day?
Yes, it is generally okay to use body butter every day, especially if you have dry or dehydrated skin. However, it is important to pay attention to how your skin reacts and adjust the usage accordingly.
CDoes body butter make your skin glow?
Body butter deeply moisturizes and nourishes the skin resulting in a more radiant and healthy appearance.
Do you wash off Body Butter?
No, body butter is typically not washed off. It is meant to be applied to clean skin and left on to be absorbed, providing long-lasting hydration and nourishment.No, body butter is typically not washed off. It is meant to be applied to clean skin and left on to be absorbed, providing long-lasting hydration and nourishment.
Can Body Butter replace moisturizer?
Body butter can be used as a moisturizer, but as its texture is generally thicker than a moisturizer, it may be too heavy for some people's facial skin.
Why Trust select
Anoushka is a certified skincare expert who keeps a tab on all the latest fads to ensure you get glowing skin in no time. A strong advocate of sustainability in skincare, Anoushka has personally curated this list of the best body butter for you to get soft, supple skin.  
Our product experts study the specifications of every product we suggest and try them out to bring what's proven to be worthy of your money, time, and energy. We also have subject matter experts from various fields like Fashion, Skincare, Haircare, Home Decor, and Health & Fitness onboard to make sure our suggestions are credible and trustworthy. You can trust select to be your faithful shopping guide for all the right reasons!
Source link