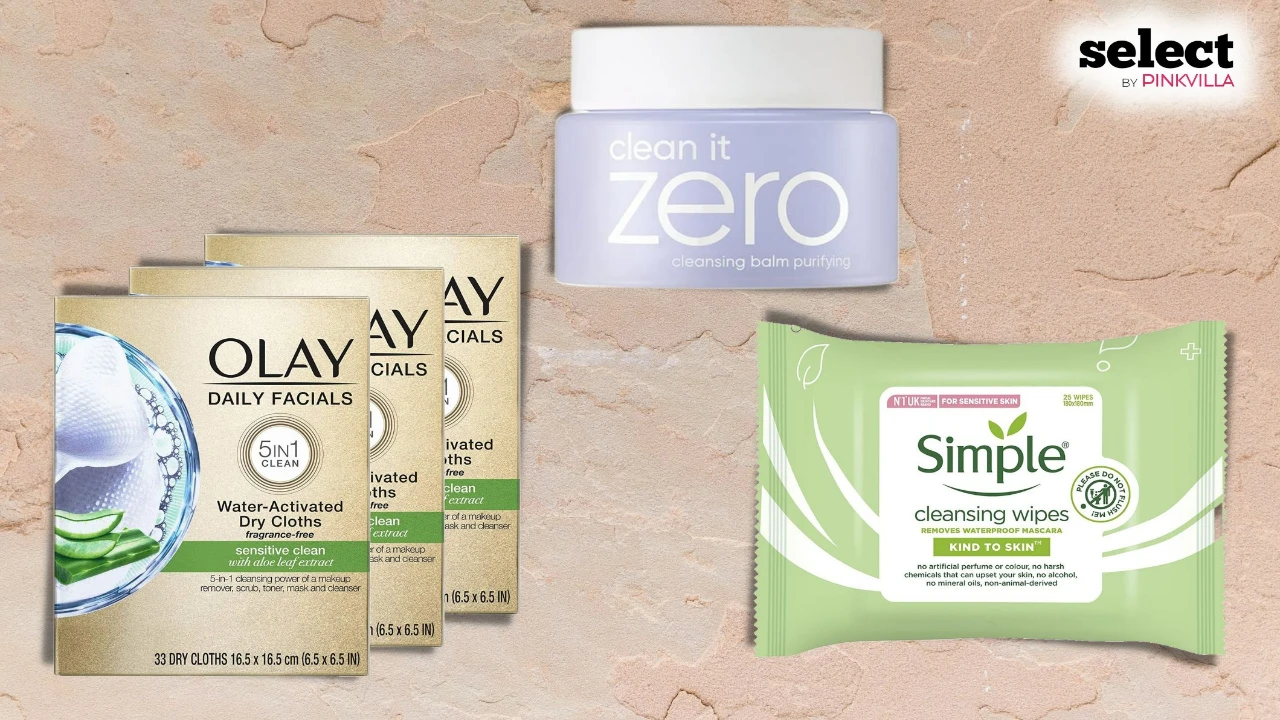 The products curated for this article are independently chosen by the
editorial team. If you make a purchase through the links mentioned below, we may receive a commission. Check out our product
research & curation process
As much as we love to apply makeup, we're well aware of the drawbacks of sleeping with makeup on. Moreover, leaving makeup on for longer hours can have an adverse effect, especially on sensitive skin. Yes, taking off the makeup is gruelling and requires a lot of effort, but not if you have the best makeup remover for sensitive skin. 
 As per dermatologist Jenny Liu, "Not removing makeup at day end can clog pores, increase skin aging, break down the skin barrier, increase skin inflammation, and flame your underlying skin conditions" Although it's essential to remove makeup yet some of these products might leave your skin itchy, red, or tight. This calls for an immediate need to look for the best makeup remover for sensitive skin.                                                                                                                                                                                    
We've narrowed down our favorite picks to help those of you who have sensitive skin. Scroll ahead to put an end to your makeup removal woes and give your sensitive skin the royal treatment that it deserves.
Our top picks
Best Pocket-friendly Option
Best for Waterproof Makeup
Best Oil-free Makeup Remover
Best Makeup Remover for Eyes
Best Makeup Remover for Wipes
Best Multi-purpose Makeup Remover
Loved worldwide by skin experts, makeup artists, beauty fanatics, etc, this non-greasy makeup remover for sensitive skin is a brilliant sunscreen. Preserving your natural skin barriers, this super gentle cleanser prevents the stripping of natural oils from your skin as well. Infused with the presence of fatty acid esters and constituent element of micelles, the physiological formulation effortlessly removes all the dirt, grime, dust, etc present on your skin along with the makeup products.
Pros
Travel-friendly
No need to be rinsed off
Super-hydrating
Affordable buy
The bottle contains an ample quantity
Soothing
Cons
Might be bothersome for those with sensitive skin around the eyes
2
most Hydrating Formula
Olay Daily Facials Makeup Remover Wipes for Clean Sensitive Skin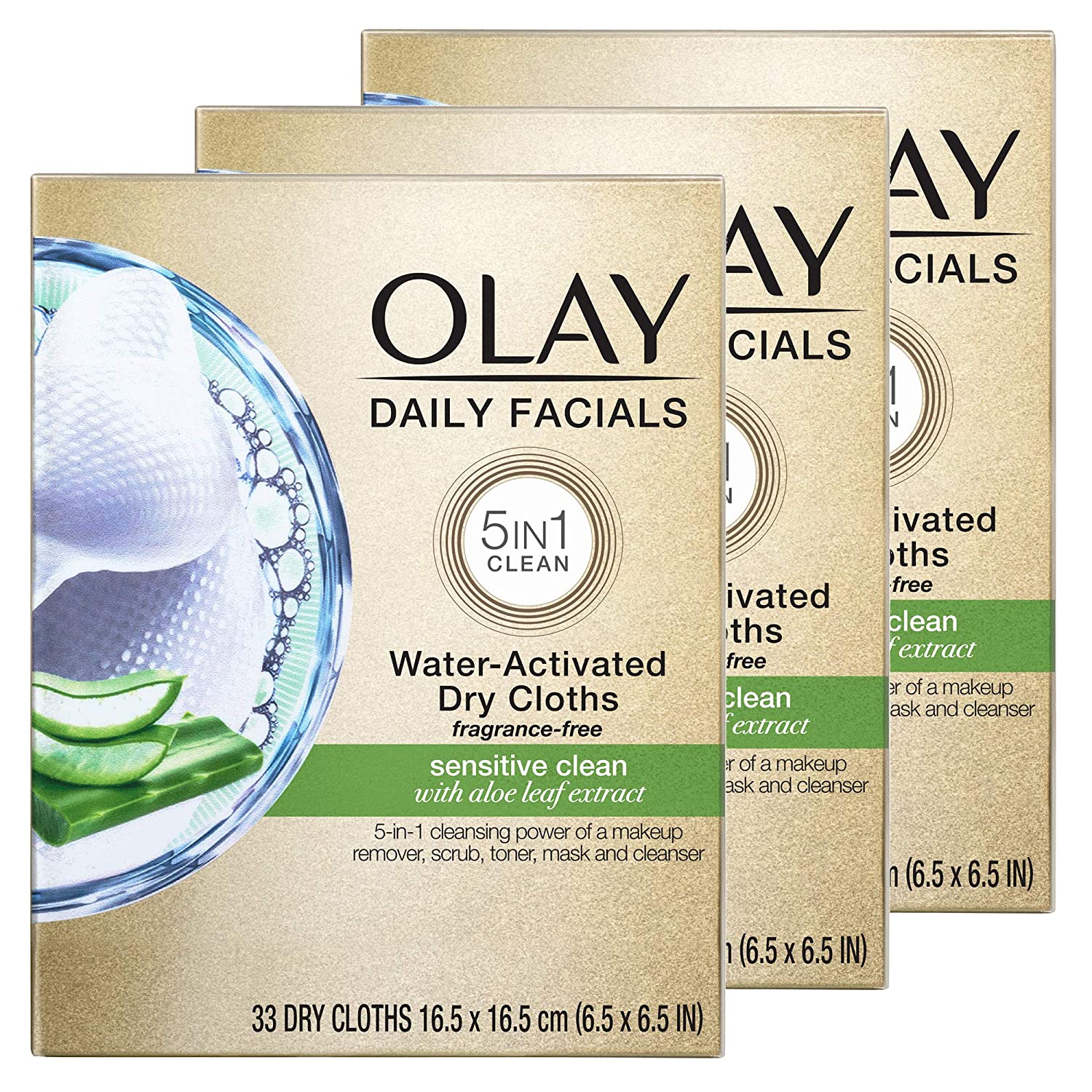 This multi-purpose cleansing cloth from Olay combines the power of an effective cleanser, toner, scrub, mask, and makeup wipes for sensitive skin, saving you from the clutter of managing multiple products in your vanity. The velvety soft design can tackle even the heaviest party makeup or post-workout grime with ease, without irritating your skin. Infused with the goodness of aloe vera extract, the cleansing cloth provides your skin with a calming and refreshing sensation.
Pros
Compact size
Suitable for all skin types
Deeply cleans your skin
Moisturizing
All-in-one cleansing cloth
Exfoliates skin well
Cons
The cleansing cloth is slightly thin
3
Best for Waterproof Makeup
Cetaphil Gentle Waterproof Makeup Remover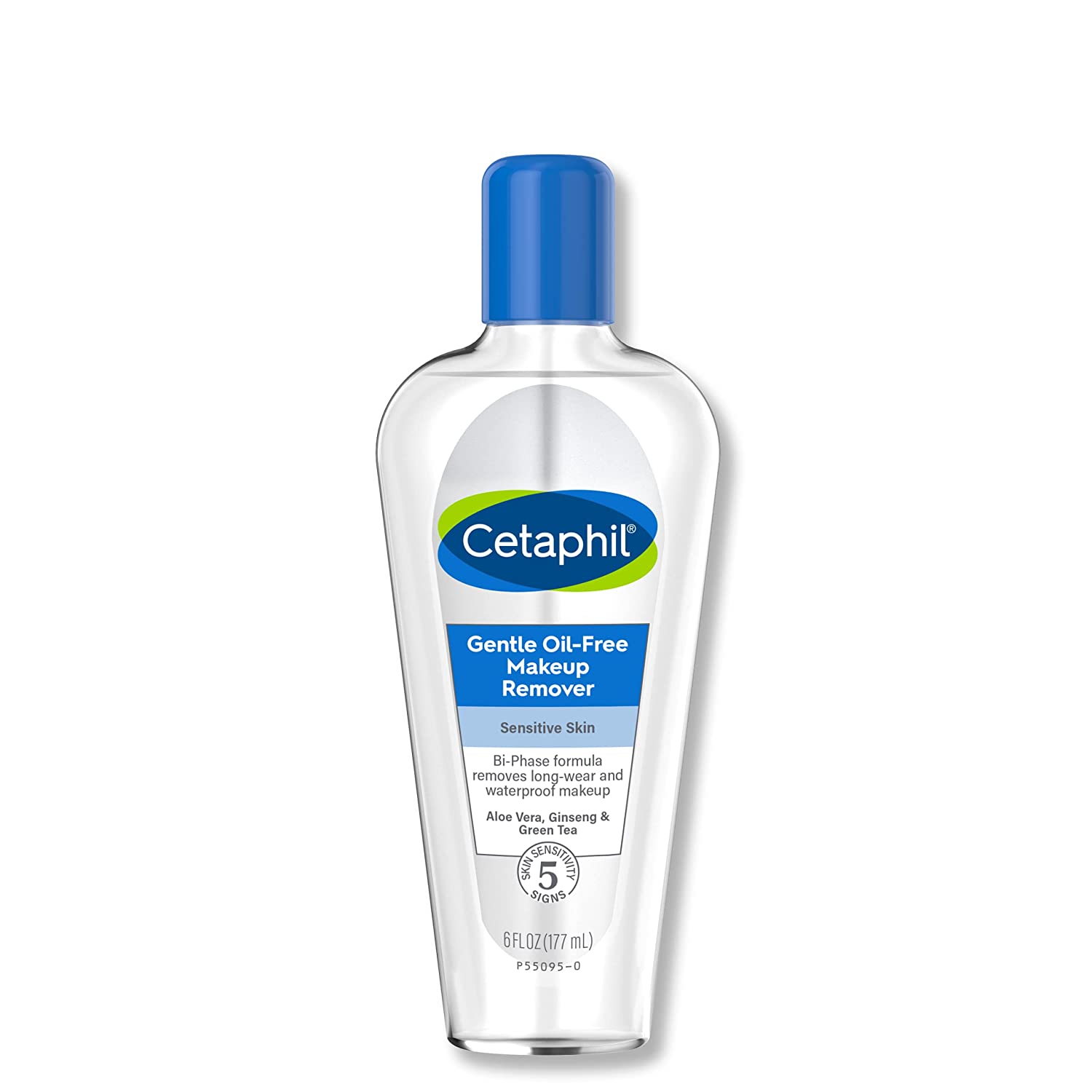 Dermatologically approved, this formulation by Cetaphil is one of the best drugstore makeup remover for sensitive skin. The hypoallergenic and fragrance-free cleanser is an ideal choice for removing makeup that's hard to get rid of, especially your eye makeup that leaves messy traces behind. The blend of green tea, ginseng, and aloe vera present in the makeup remover works amazingly well to calmly remove makeup from your skin without leaving any residue behind. Our team observed through using this product that, it does not cause any redness or irritation to your skin.
Pros
Oil-free
Uber-gentle cleanser
Fragrance-free
Dermatologist & Ophthalmologist tested
Non-comedogenic
Mild yet extremely effective
4
Best Oil-free Makeup Remover
Neutrogena Gentle Oil-Free Eye Makeup Remover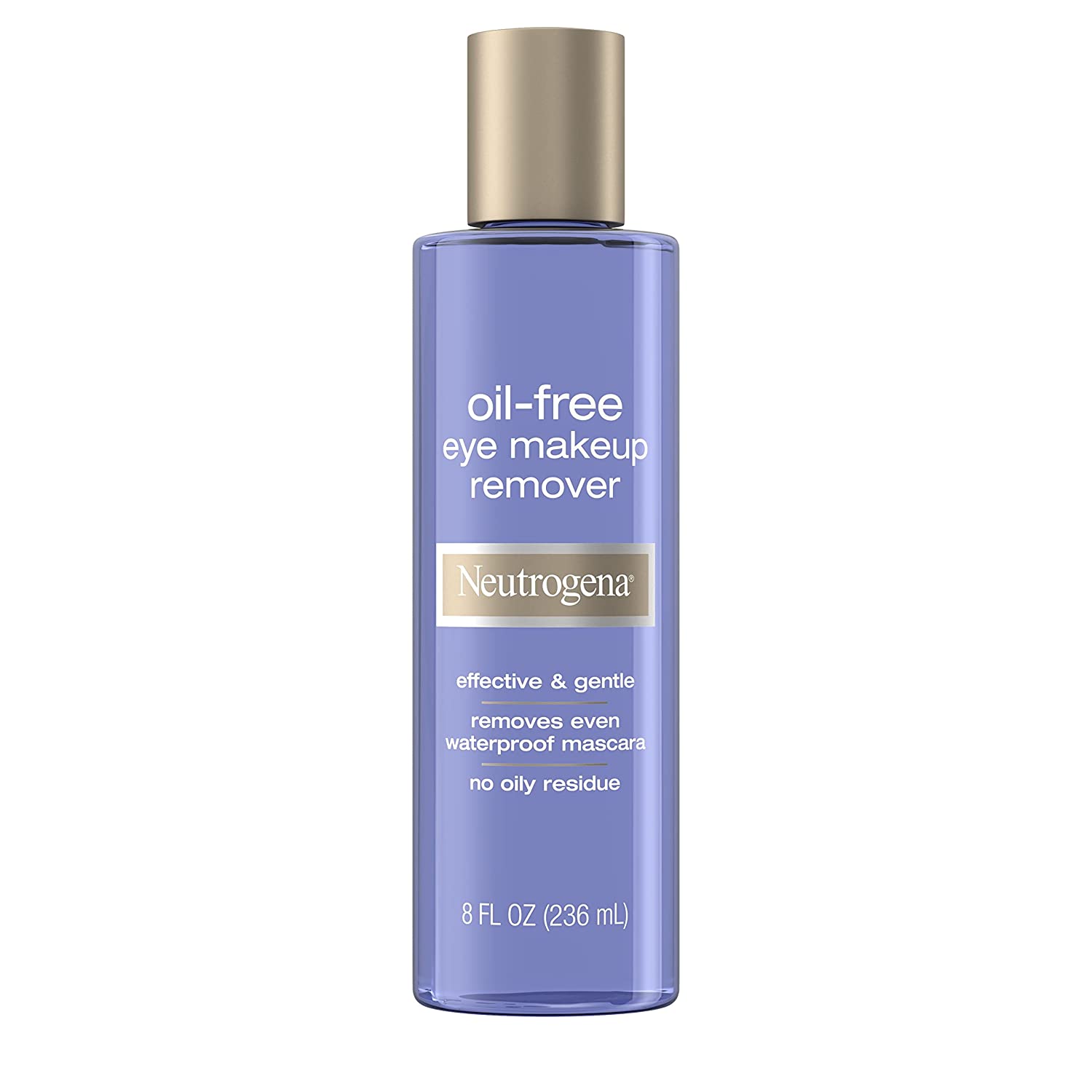 This oil-free eye makeup remover for sensitive skin is a tried-and-tested cleanser that has received raving reviews from customers worldwide. For those of you who struggle with removing your eye makeup with a micellar or wipes, this lightweight remover will work like magic for you, helping you remove all sorts of eye makeup including waterproof products as well. The ophthalmologist-tested product is infused with cooling agents such as cucumber and aloe vera.
Pros
Suitable for removing both eye and face makeup
Budget-friendly
No need for scrubbing or harshly rubbing your skin
Ophthalmologist tested
Fragrance-free
Contains a minimal amount of alcohol
5
BANILA CO Clean It Zero Purifying Cleansing Balm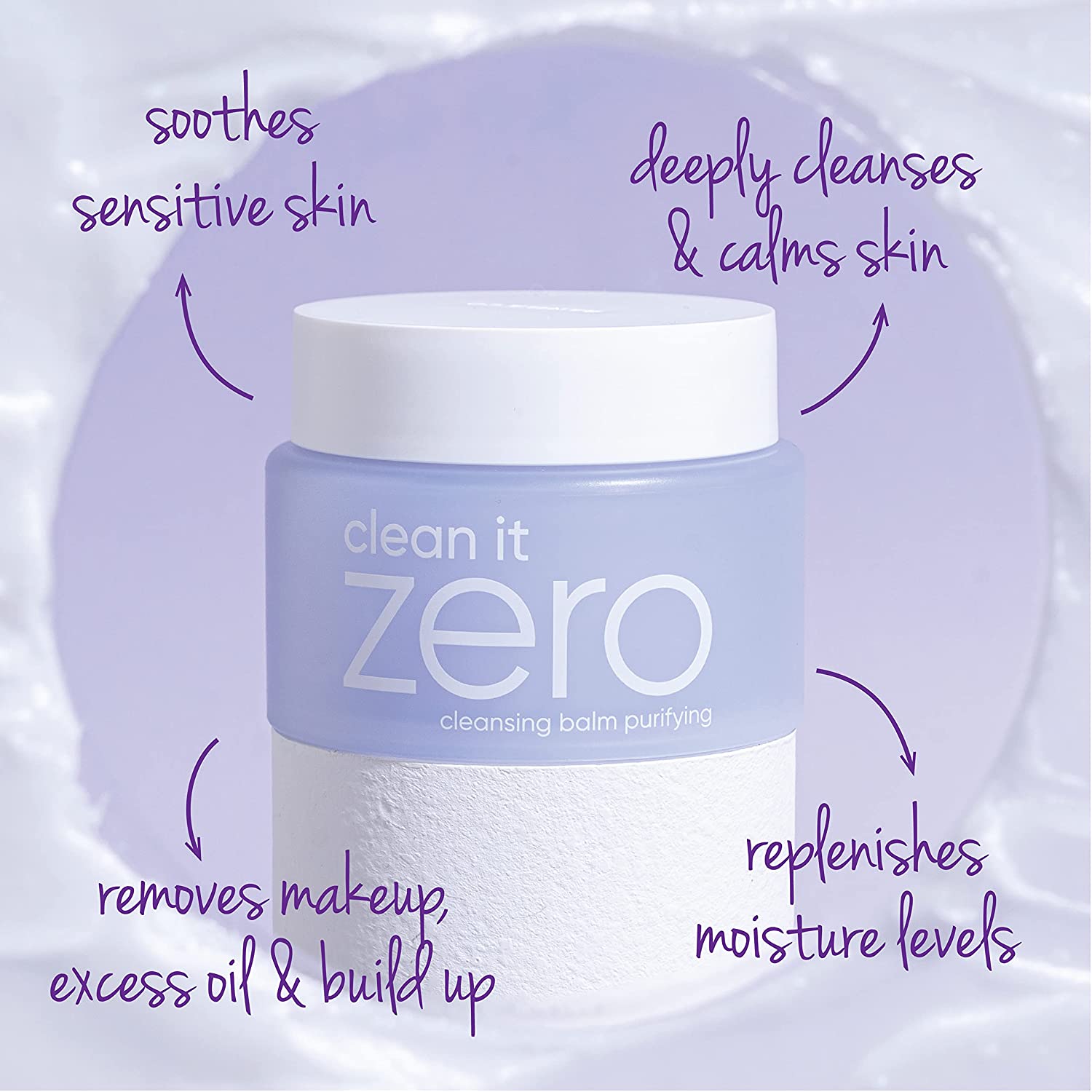 Enriched with excellent properties of seven botanical herbs such as centella, chamomile extract, and green tea extract, the Banila makeup remover balm for sensitive skin calms and balances your sensitive skin like no other skincare product. The balm also consists of essential nutrients such as Vitamin C and E, that provide your skin with radiant and healthy complexion. Free from all sorts of harsh chemicals and artificial coloring, this product is a boon for your sensitive skin.
Pros
Alcohol-free
Paraben and sulfate free
Instantly calms your irritated skin
Doesn't dry skin
Fragrance-free
Apt for all skin types
6
Best Choice for Travel
Burt's Bees Sensitive Skin Facial Towelettes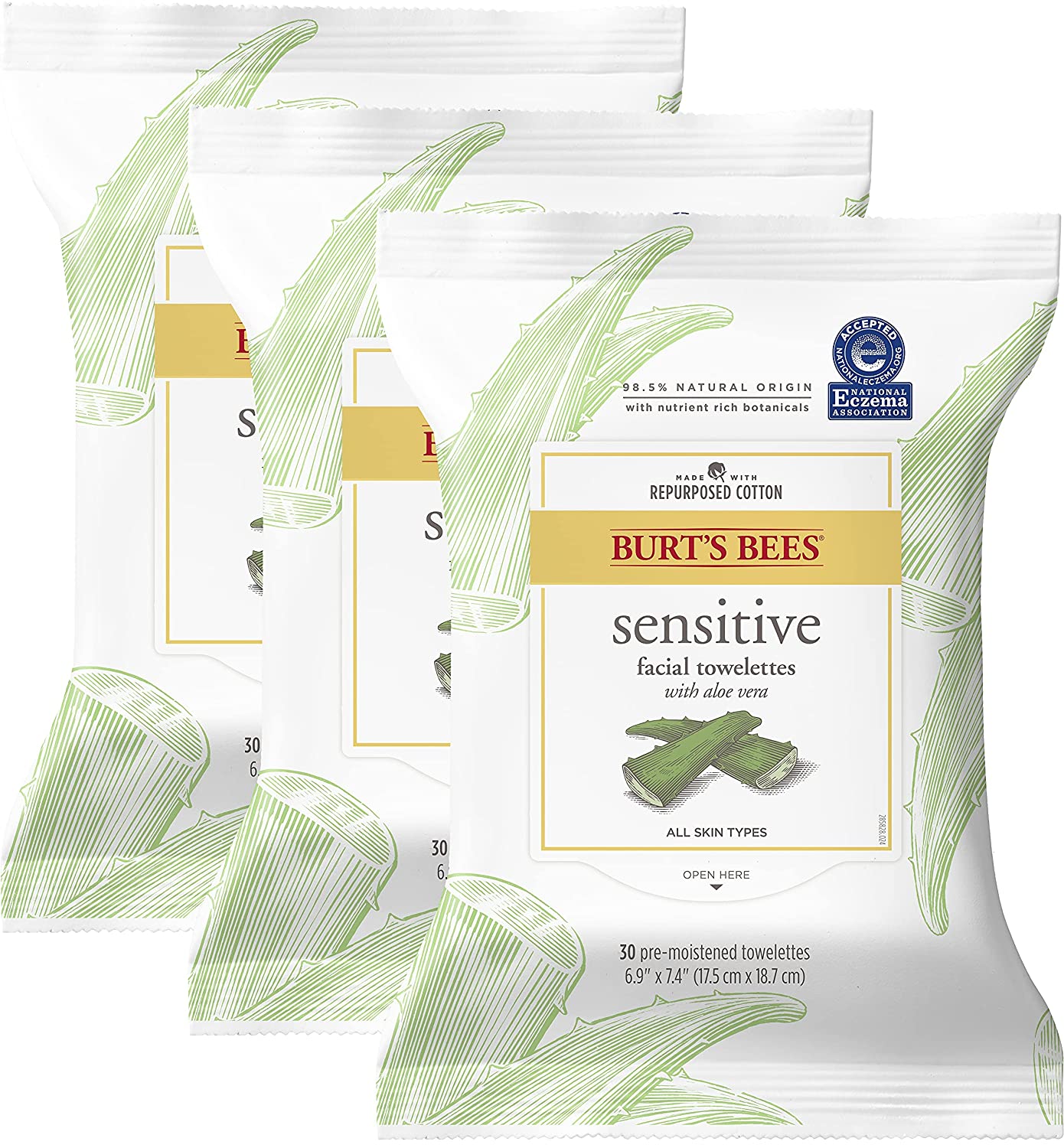 Made using 60% repurposed cotton, these facial cleansing towelettes remove all traces of face and eye makeup with accurate precision without causing any skin irritation or redness. Consisting of all, cotton, and rice extracts, the facial towelette gently soothes your sensitive skin and leaves it hydrated, soft, and gentle. Based on our observations, the hypoallergenic and fragrance-free wipes are a perfect choice for removing clogged-up dirt, grime, and oil from your skin. These disposable wipes are easy to carry around in your wallet for quick use whenever required.
Pros
Travel-friendly
Easy to dispose of
Dermatologist approved
Paraben-free
Infused with the super-effective hyaluronic acid
Combats acne naturally
Cons
Wipes dry out soon when exposed
7
Most Time-Saving Choice
Simple Kind To Skin Cleansing Facial Wipes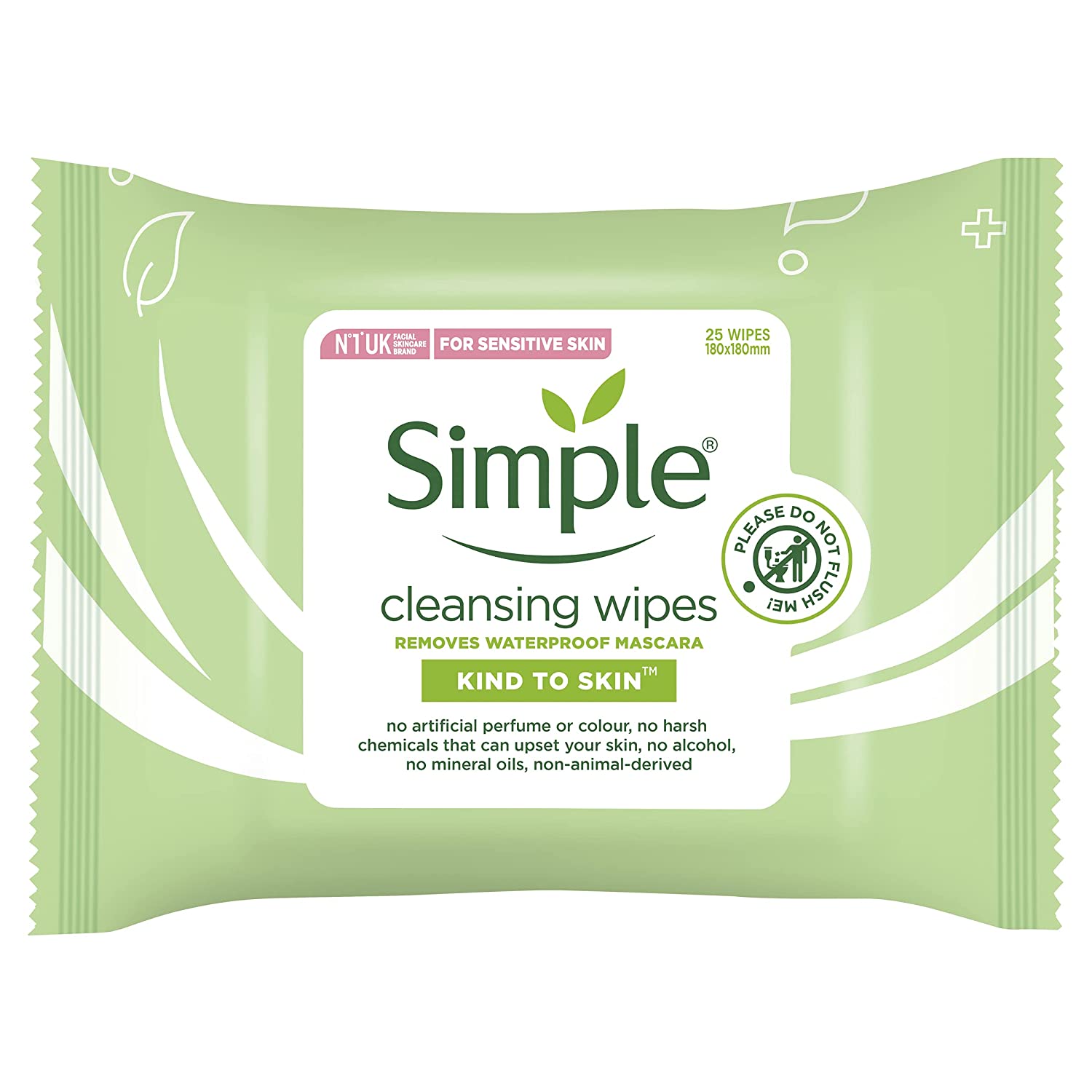 For those of you who find the lengthy evening skincare routine of scrubbing and rinsing makeup off gruesome and annoying, these zero-irritation makeup-removing wipes for sensitive skin are meant for you. Removing excess oil, dirt, impurities, and dust from your skin with ease, these facial wipes leave your skin feeling rejuvenated. Free from harsh chemicals, artificial perfumes, alcohol, and dyes, the wipes are effective for all sorts of makeup removal including the waterproof ones that are the messiest to get rid of. Skin-loving ingredients such as Vitamin B5 and E are present in abundance in these wipes.
Pros
Non-comedogenic
Ophthalmologist approved
Hypoallergenic
Aqua-lock ensures each wipe remains fresh
Perfect on-the-go use wipes
Suitable for waterproof makeup as well
8
Best Makeup Remover for Eyes
Marcelle Gentle Eye Make-Up Remover Pads for Sensitive Eyes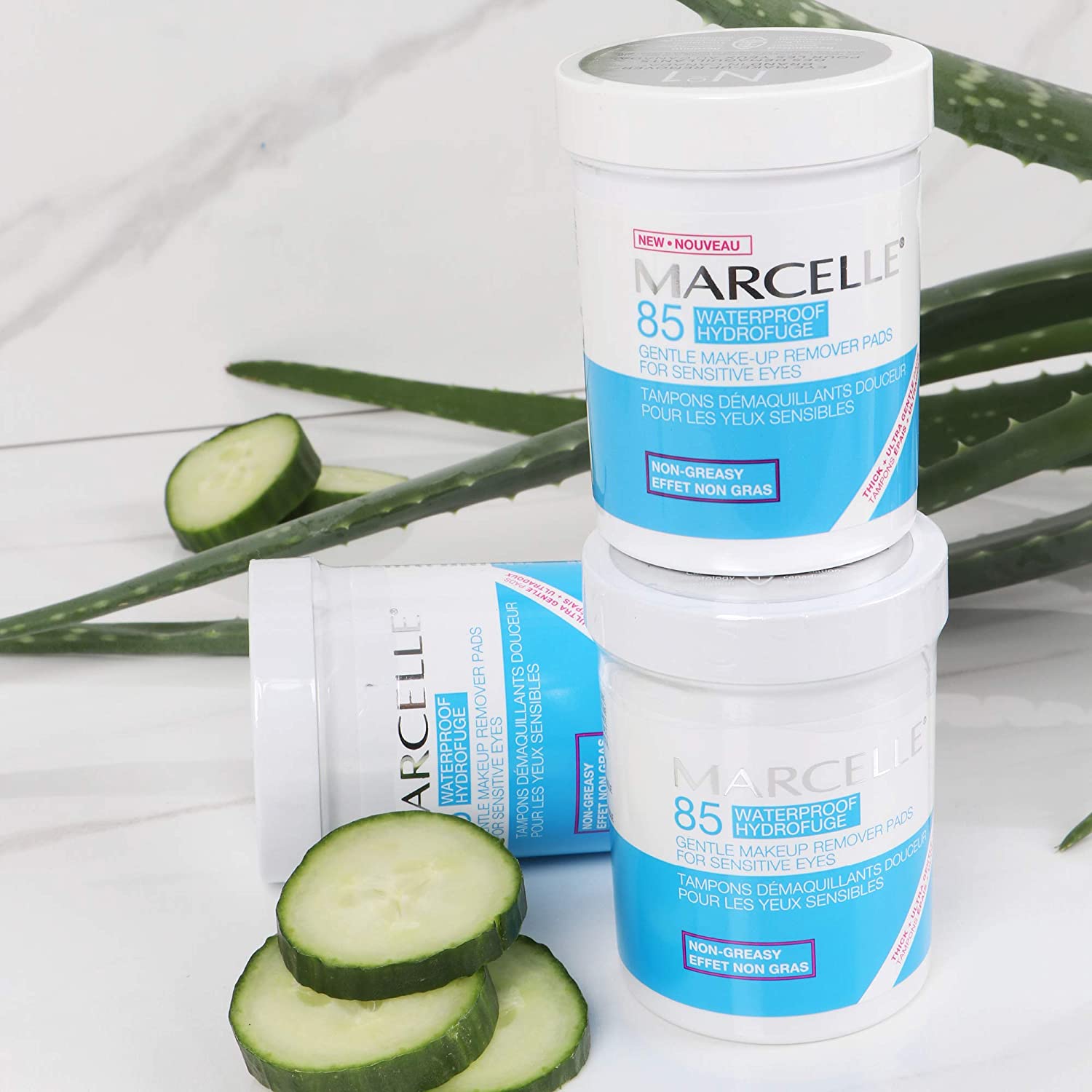 Designed especially for sensitive eyes, this friendly formulation will remove your long-wearing eye makeup without any fuss. This super gentle makeup remover for sensitive skin consists of convenient pads that are a must-have item for your night-time routine. Leaving no residue behind, these efficient pads make the removal of eye makeup a breeze. Just dab the pads on your closed eyes and lashes, and you'll have makeup-free eyes without any aggressive rinsing. Consisting of 85 pads, the makeup remover is a great choice for contact wearers as well.
Pros
Cruelty-free
Leaves no residue behind
Fragrance-free
Hypoallergenic
Works on waterproof formulas as well
Leaves skin feeling soft and fresh
9
NATWAG Reusable Makeup Removing Microfiber Cloth for Sensitive Skin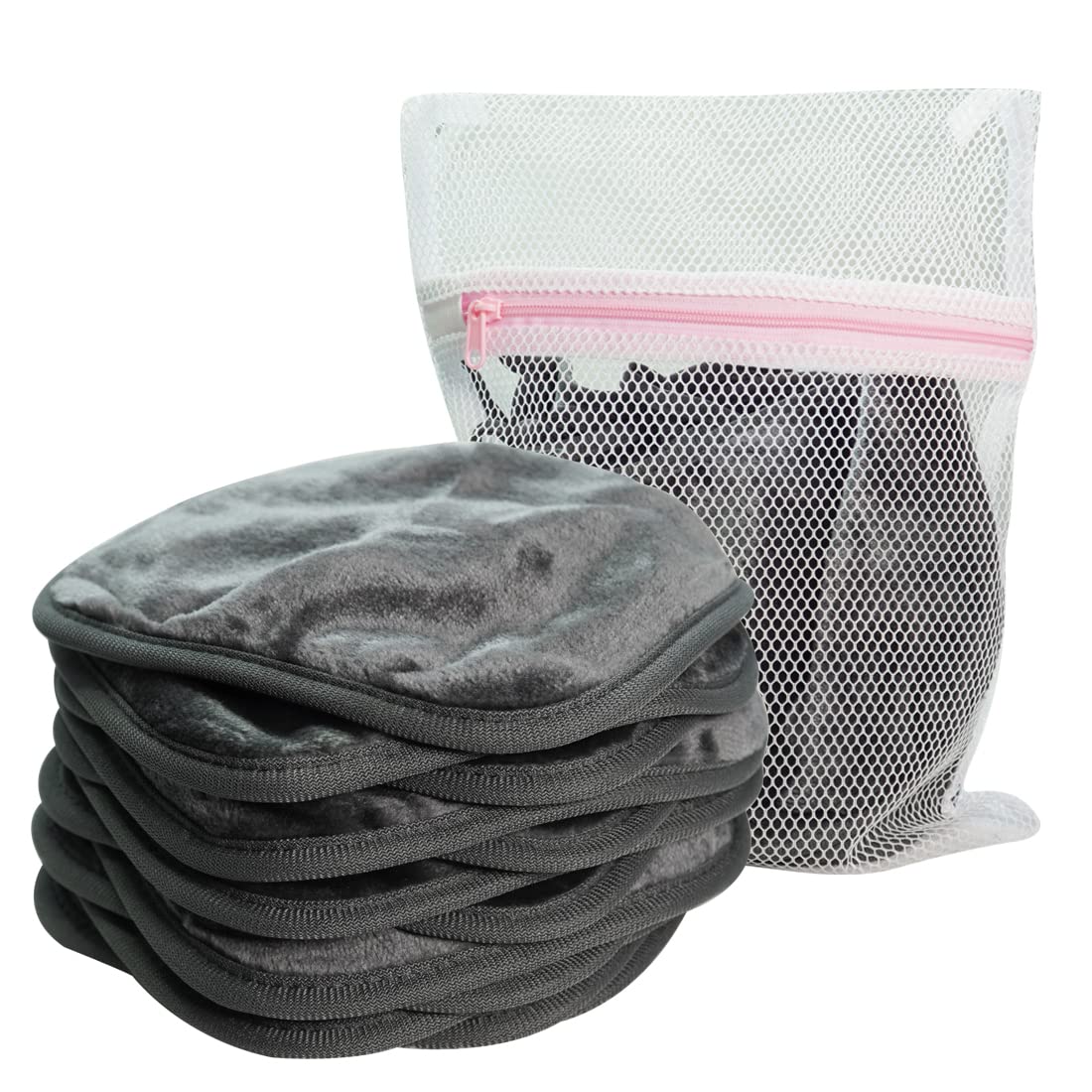 This multi-purpose reusable microfiber cloth effortlessly takes care of removing your complete makeup in a safe and healthy manner. Crafted with the utmost care, the cloth is made from premium-quality, ultra-fine microfibers, possessing unique resilience and high water absorption capabilities. The eco-friendly facial towel is free from all sorts of harmful substances and works on all types of skin including the most sensitive skin. Adding this cloth to your everyday makeup removal routine is a great way of embracing sustainability as well since it's reusable.
Pros
Easy to carry around
Appropriate size towel
Environment-friendly
Reusable
Supports both hand wash and machine wash
Available in four colors
Cons
Not a great choice for removing eye makeup
10
Best Makeup Remover for Wipes
AMIIR Makeup Remover Cleansing Wipes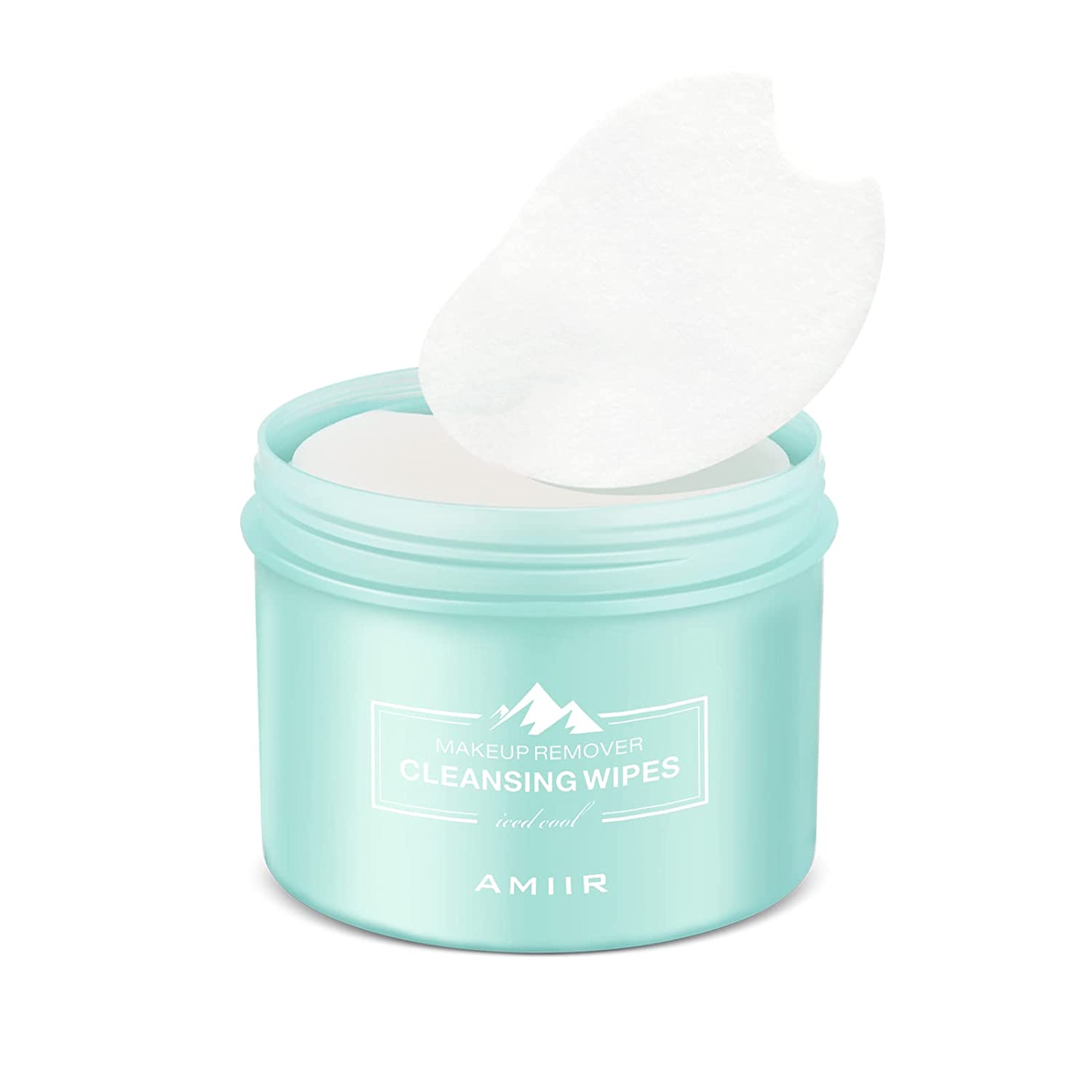 Simplify your skincare and cleansing regime with these soft makeup wipes for sensitive skin that combine the power of eye and facial makeup remover along with facial cleansing. The hassle-free makeup removal process is done within minutes, without flaring up your sensitive skin. Infused with the richness of natural plant ingredients, and botanical extracts, the wipes will leave your skin with an invigorating iced cool sensation. Catering to all skin types, the wipes will hydrate your skin, and leave it rejuvenated.
Pros
Has a subtle scent of plants
Compact design
Alcohol-free
Travel-friendly
Provides a calming sensation
Saves time and effort
Cons
Might cause a stinging sensation in the eyes
11
Best Makeup Remover Oil
Hanskin Pore Cleansing Oil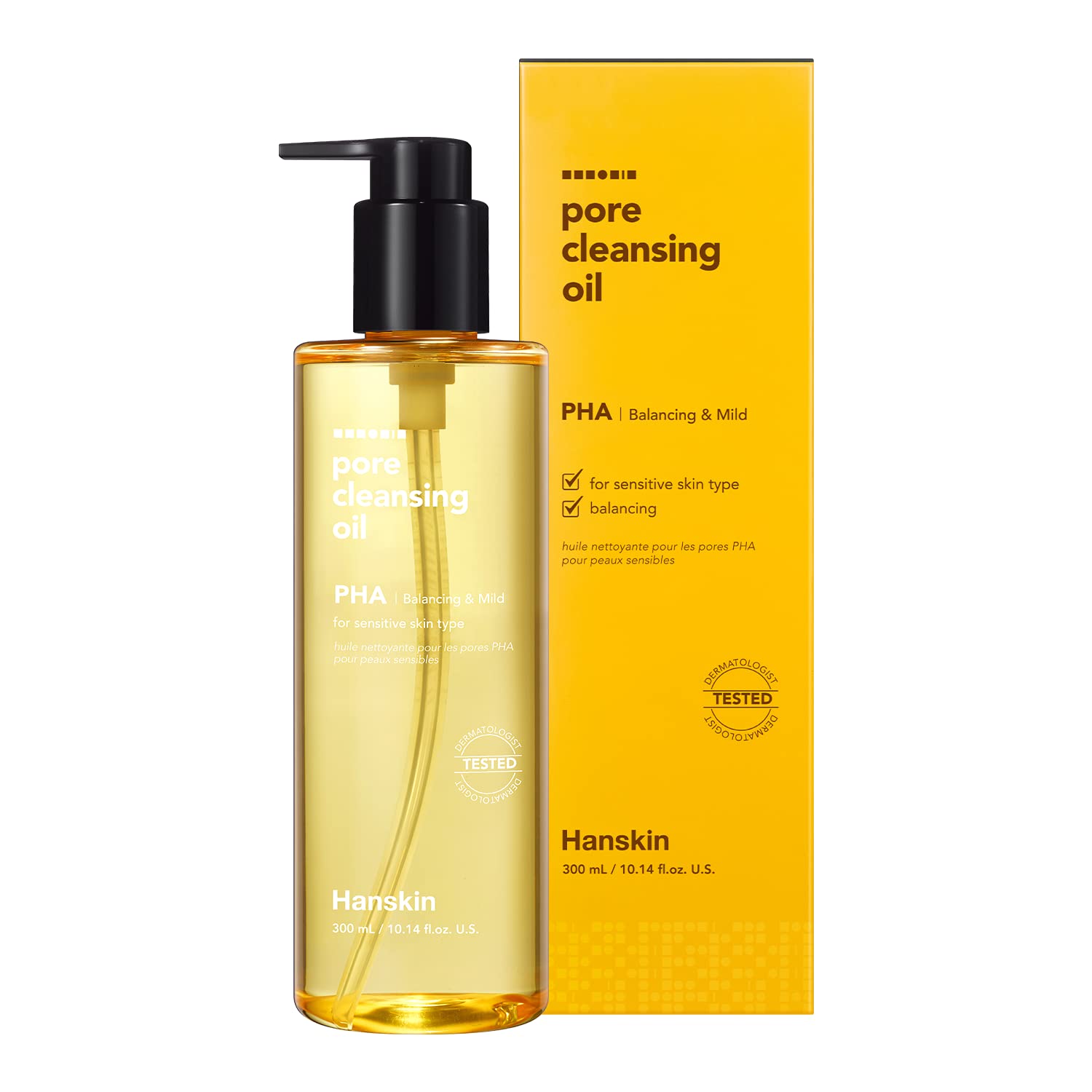 The 2-in-1 oil-based makeup remover for sensitive skin and pore cleansing oil gently exfoliates your skin aiding to eliminate dead skin cells and stubborn blackheads. The naturally derived plant oils present in the formulation remove all the clogged-up dirt and sebum from beneath your skin along with the multiple layers of makeup. We determined through our tests that the thoughtfully formulated product formulated with PHA is an excellent skincare product, especially for weak and sensitive skin types. The inclusion of jojoba, grapeseed, and olive oils, along with aloe vera and tea tree extract ensures uber-moisturized skin post-application.
Pros
Combats breakouts and acne flare-ups
Nourishes your skin
PHA ensures exfoliation with ease for delicate skin
Multi-purpose
Hydrating
Lightweight formula
12
Amisley Disposable Face Towel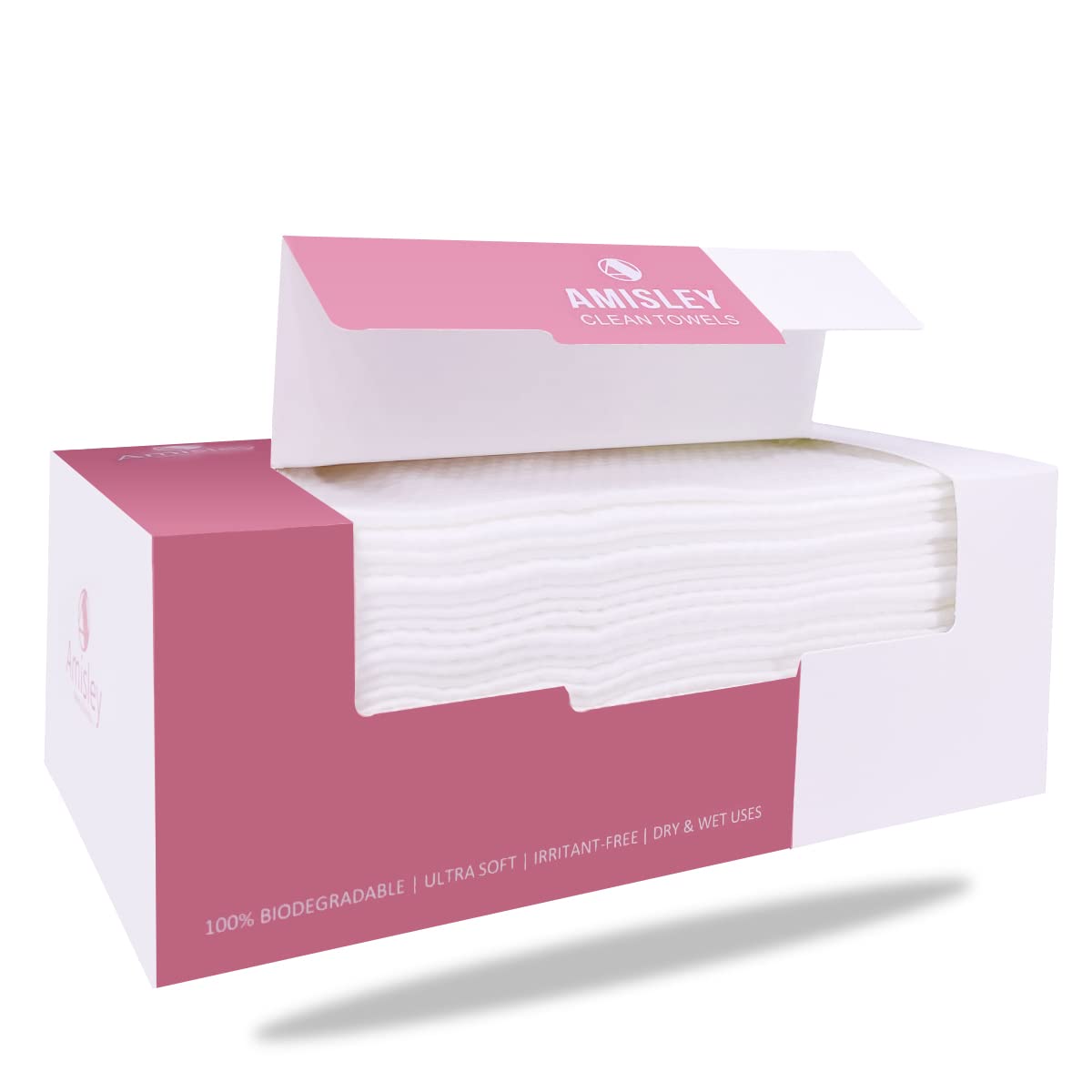 The disposable face towel is the ultimate choice for those who're dealing with messy makeup removal situations and inflamed sensitive skin issues. Made with 100% biodegradable, all-natural fabric, these dry wipes are a much better choice than your everyday bathroom towel that harbors dirt, grime, and whatnot. Resisting bacterial growth, the towel also claims to have excellent tensile strength and high water absorption capacity. The portable design of the eco-friendly pack makes it an ideal choice for travel purposes.
Pros
Easy to store
Eco-friendly
Apt for all skin types
Lint-free
Cruelty-free
Free from fragrance
13
Best Multi-purpose Makeup Remover
Curel Japanese Skin Care Makeup Cleansing Oil for Face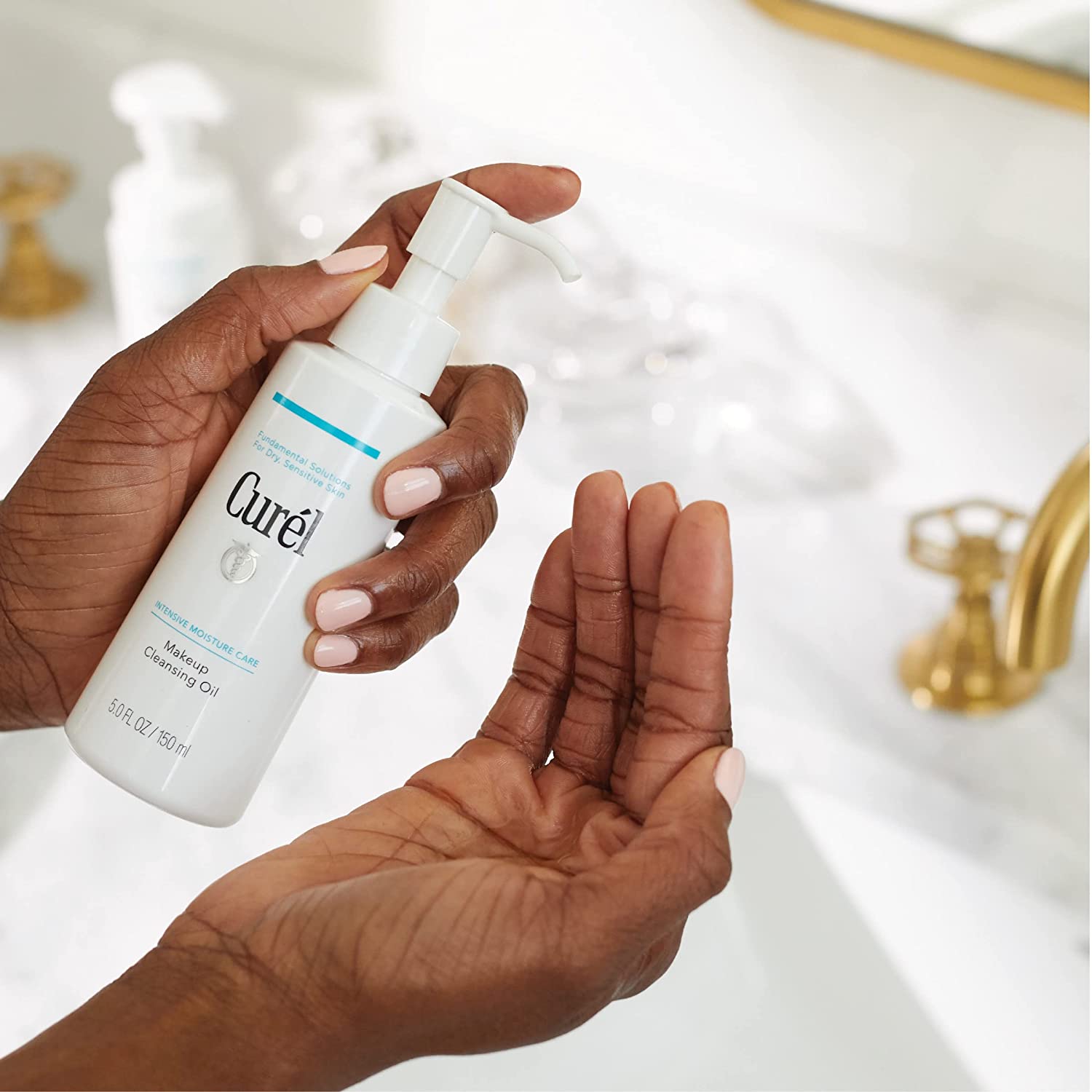 Designed to cleanse your skin without stripping it of its natural ceramides, the cleansing oil effortlessly removes your makeup with its milky texture without any need for intense scrubbing. The hydrating formulation caters best to the needs of dry, and sensitive skin, leaving it soft, dewy, and rejuvenated after each use. Free from fragrance, colorant, and all sorts of alcohol, the gentle oil-based makeup remover clears away all the build-up residue from your skin apart from getting every last bit off of your makeup.
Pros
Weightless
Milky texture requires no heavy rubbing1
Perfect for dry skin
Fragrance-free
Gentle-formula
Versatile2
Cons
Not suitable for oily skin
14
YADAH Cleansing Balm Makeup Remover
This sherbet-like cleansing makeup remover balm for sensitive skin has a smooth, rich texture that provides a satisfying cleansing experience for your skin. The balm effectively melts away multiple layers of your cakey makeup, sunscreen, and other impurities from your skin in a non-aggressive manner. Combining the nourishing properties of organic olive oil with the soothing green tea leaf, the antioxidant-rich formula leaves your skin refreshed, smooth, and uber-soft. Free from all harsh ingredients, the makeup remover serves as a great addition to your everyday skincare regime.
Pros
Rich in antioxidants
Extremely smooth texture
Sulfate-free
Free from alcohol
Free from synthetic fragrance
Doesn't clog pores
Cons
The container isn't handy
An effective makeup remover is indeed a great solution for all your messy and time-consuming makeup removal troubles. But it's even more essential to choose the best product from the different available options, especially if you have sensitive skin. Check ahead some important factors to consider before making your choice of a makeup remover for your sensitive skin.
Essential Factors to Consider While Selecting the Best Makeup Remover for Sensitive Skin
Determining your skin type can help you narrow down your options and save all the hassle of going through multiple options. Your sensitive skin can be either dry, oily or a combination, depending on which you must make your choice. While an oil-free cleanser is an ideal choice for oily skin, a moisturizing formula is recommended for dry-skinned people. 
Check the list of ingredients of a formula before finalizing it. Hydrating ingredients such as glycerin, plant oils, aloe vera, tea tree, etc add to the effectiveness of any cleansing makeup remover. Also, steer clear of any product that has harmful ingredients such as paraben, colorant, alcohol, artificial dye, sulfate, etc present in them. 
Different varieties of makeup removers are available out there some of which are wipes, towelettes, balm, micellar water, cleansing oil, etc. Consider all the options and opt for the one that's most convenient for you. Just make sure not to select any formulation that requires excessive rubbing of the skin as it could lead to inflamed and irritated skin. 
Take time to go through online consumer reviews of the product that you're interested in as it could help you understand if it's working for fellow sensitive-skin people or not. Those who've tried and tested the product can provide honest reviews about it, also highlighting whether it works for delicate skin or not. 
Choosing a makeup remover that's multifunctional and can also be used for other skincare benefits can help you clear your vanity from all the clutter of overflowing products. Some makeup removers are also effective in treating acne and can be used as sunscreen or a moisturizer.  
Those who have sensitive skin must be extra cautious while choosing any skin care product, especially a makeup remover. Make sure to look for a remover that has been tested by a dermatologist and approved for use on sensitive skin. This minimizes the risk of allergies and side effects on sensitive skin. 
Leaving your skin makeup free and bare at day's end is an extremely crucial step to assure glowing and blemish-free skin. This journey to achieving flawless skin starts with the inclusion of an effective makeup remover in your skincare routine. The best makeup remover for sensitive skin will strip it free from all those heavy layers of foundations, compact, powder, mascara, and whatnot that have been clung to your skin throughout the day. 
Choose a reliable option for yourself from the list that we've carefully handpicked, keeping the needs of your sensitive skin in mind. Tale care of all those makeup emergencies with any of these makeup removers that'll ensure fresh, radiant, smudge-free, and glowing skin. So, all you sensitive skin pals, wait no more and pamper your skin like never before.
Author BIO
Anoushka is certified in Professional Skincare and is a Mass Media (Journalism) graduate from Mumbai University. As a More
Why Trust select
Anoushka is a certified skincare professional who pays extra detail to the little things that can be done to get glowing skin. It is after thorough research that she has curated this list of the best makeup removers that are ideal for sensitive skin. 
Our product experts study the specifications of every product we suggest and try them out to bring what's proven to be worthy of your money, time, and energy. We also have subject matter experts from various fields like Fashion, Skincare, Haircare, Home Decor, and Health & Fitness onboard to make sure our suggestions are credible and trustworthy. You can trust select to be your faithful shopping guide for all the right reasons!
Source link