Written by
Sayantani Deb
  | 
Updated on May 16, 2023   | 
14K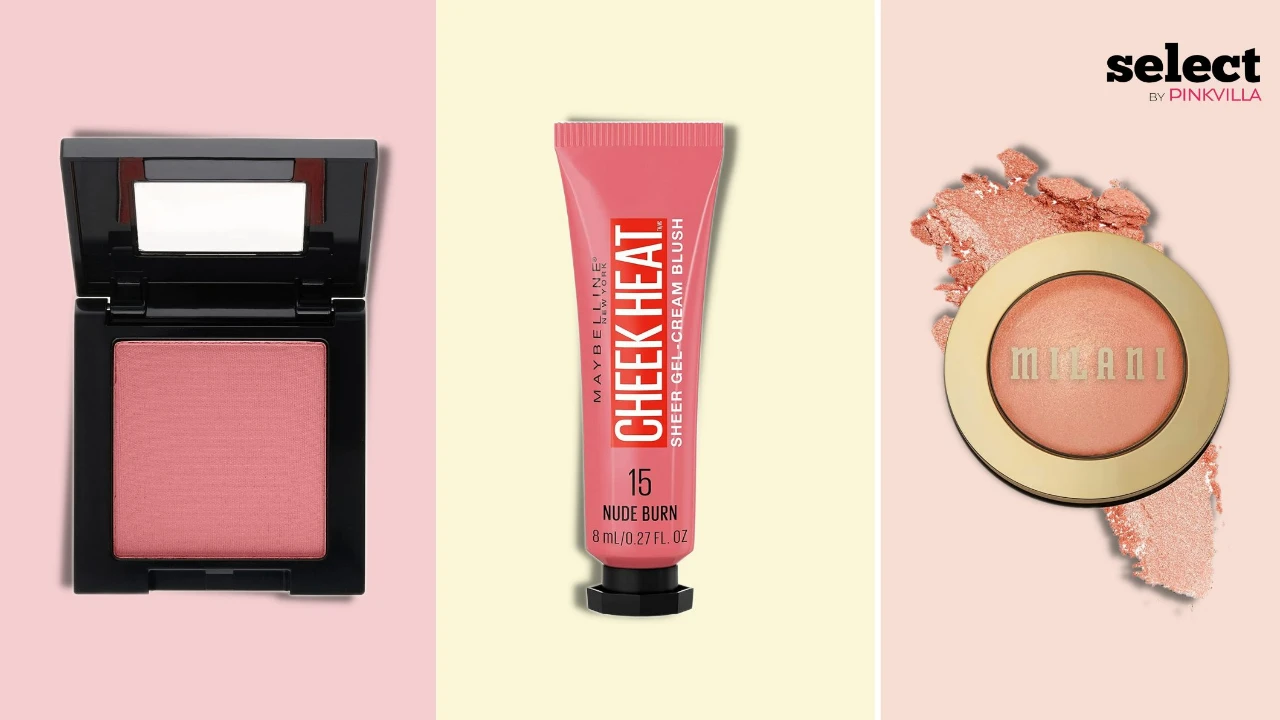 The products curated for this article are independently chosen by the
editorial team. If you make a purchase through the links mentioned below, we may receive a commission. Check out our product
research & curation process
Using a good blush gives a finishing touch to your makeup but unfortunately using the wrong blush can as easily give a clownish effect. The only choice you have to avoid this makeup blunder is to choose the best blush for olive skin. Olive skin can be rather tricky as a very bright shade of blush can give a painted look and a natural shade can be lost on your skin. So, of course, it finally depends on your exact skin tone and the look you prefer. As olive skin has greenish, yellow-green, or even gray undertones, you can't afford to go wrong with the shade of your blush.
According to  Ali Andreea, a professional makeup artist based in Paris, "Blush just like any other complexion product has to be tailored to your own needs." Often a blush that looks great on other skin tones may look garish on olive skin. The wrong blush can make you look either washed out or give your cheekbones an extremely gaudy color. So the idea is to get the perfect pop of color on your cheeks that gives your beautiful olive skin a healthy and radiant glow. We have tried to make it easier for you to navigate your way between the cream, powder, and liquid blushes for olive skin as you have a plethora of formulas to choose from.so, here goes our research into the 15 best blushes for olive skin.
Our top picks
Best Hypoallergenic Formula
Best in Natural Ingredients
15 Best Blush for Olive Skin for a Sensuous Glow
Baked on the ethnic terracotta tiles of Italy, the highly buildable and rich pigment of Milani Baked Blush is any makeup aficionado's delight. This matte and shimmery blush gives your cheeks just the right pop of color and adds a radiant glow to olive skin. Depending on the occasion, the buildable formula of this blush makes it one of the best blushes for olive skin. It allows you to play with a natural look or a rosier look. Applying this blush is as smooth as silk and gives a special contour and shape to your cheekbones while highlighting them. This luxurious powder blush is easy to use, has a sensuous texture, and adds luminosity to your face.
Key Ingredients: Talc, Mica, dimethicone, Octyldodecyl stearoyl stearate, Isopropyl myristate, polyacrylamide
Pros
Cruelty-free
Rich pigment
Highly buildable
Non-comedogenic
Smooth application
Available in 12 shades
Cons
Some may find it too shimmery
2
Best Creamy Texture
Maybelline New York Fit Me Blush – 55 Berry
Go for a lightweight, blendable, and smooth blush with Maybelline New York Fit Me Blush for long-lasting natural beauty throughout the day. When we trialed this product, we noticed the true tone feature of this blush color for olive skin wears evenly and gives a radiant glow to your skin. Its amazingly smooth and creamy texture blends seamlessly without clogging your pores. Give a natural pop of color to your face with this amazing blush for a supremely flattering look. The good news is that this hypoallergenic blush comes in a whole collection of different shades like Buff, Nude, Coral, and many others.
Key Ingredients: Talc, Magnesium stearate, Triisostearin, Phenyl trimethicone, Synthetic fluorphlogopite, Caprylyl glycol
Pros
Lightweight
Blendable
Long-lasting
Smooth application
Natural finish
Dermatologist-tested
3
Best Lightweight Blush
Maybelline New York Cheek Heat Sheer Gel-Cream Blush – Nude Burn
Give a dewy blush to your face with Maybelline New York Cheek Heat Sheer Gel-Cream Blush with its natural-looking, sheer flush of light color. Its oil-free and lightweight texture allows your skin to breathe as it is non-comedogenic. The water-based formula of this blush is enriched with soft pigment and glides smoothly across your skin. You need just a minute amount of this gel cream for a buildable flush that you can either tone up or down.  And it's available in 5 other beautiful shades — Coral Ember, Pink Scorch, Fuchsia Spark, Rose Flush, and Berry Fame. 
Key Ingredients: Tocopheryl acetate, Glycerin, Butylene glycol, Dipotassium glycyrrhizate, Ethylhexyl palmitate, Dimethicone
Pros
No alcohol
Fragrance-free
Lightweight
Dewy finish
Oil-free
Buildable
Cons
Some feel the pigment could be more
4
Best Blendable Blush
L'Oréal Paris True Match Super-Blendable Blush – Subtle Stable
Enjoy the delightfully soft, powder texture of  L'Oréal Paris True Match Super-Blendable Blush as it blends evenly to add radiance to your skin. Smooth as silk, it blends into your skin evenly for a healthy and luminous look. It's oil-free and non-comedogenic so you never have to worry about clogged pores. It's available in 12 natural, true-to-tone shades like Apricot Kiss and Baby Blossom among others, and includes a brush and mirror. Do try out this blush for olive skin for a natural and radiant flush of color as it seamlessly brings out your skin's tone and undertone!
Key Ingredients: Talc, Dimethicone, Nylon-12, Polymethylsilsesquioxane, Magnesium Stearate, Cetyl Dimethicone
Pros
Oil-free
Soft texture
Blends evenly
Non-comedogenic
Includes brush and mirror
Available in 12 natural shades
5
Best Illuminating Blush
Physicians Formula Happy Booster Glow and Mood Boosting Blush – Natural
Give your cheekbones that pop of color and a sculpted look with Physicians Formula Happy Booster Glow and Mood Boosting Blush. It gives your skin an illuminating radiance that highlights the contours of your face because of the many reflective pearls. The blendable and soft powder of this blush for olive skin gives your precious skin a healthy glow. The blend of this blush is infused with natural plant extracts which our findings show are known to promote a feeling of happiness by simulating endorphins and protecting the skin from environmental aggressors. It has a pleasant smell of violets and is available in a Rose shade as well.
Key Ingredients: Rhodiola rosea root extract, Rosemary leaf extract, Theobroma grandiflorum seed butter, Schinus terebinthifolius seed extract, Astrocaryum murumuru seed butter, sunflower seed oil
Pros
Hypoallergenic
Ultra soft
Contains natural extracts
Paraben-free
Non-comedogenic
Dermatologist-approved
6
Best Long-Wearing Blush
Laura Geller New York Baked Blush-n-Brighten Marbleized Blush- Apricot Berry
Get an instant radiant blush with Laura Geller New York Baked Blush-n-Brighten Marbleized Blush which after putting it to the test reveals that it's one of the best blushes for olive skin. The creamy and lightweight texture of its award-winning formula is infused with antioxidants and adjusts to your skin tone. So not only do you get a sensuous blush you are also blessed with healthier skin because it's enriched with Centella Asiatica and white tea extracts. The satin finish of this blush adds a hint of luminosity while highlighting your skin and is suitable for most skin types.
Key Ingredients: Mica, Dimethicone, Isopropyl palmitate, Jojoba seed oil, Centella Asiatica extract, Camellia sinensis leaf extract
Pros
Satin finish
Buildable
Lightweight coverage
Creamy texture
Long-wearing
Smooth coverage
Cons
May not be suitable for mature skin
7
Best Hypoallergenic Formula
BareMinerals Gen Nude Powder Blush – Call My Blush
The mineral-rich formula of BareMinerals Gen Nude Powder Blush not only gives you a natural blush, but it also diffuses light that camouflages skin imperfections with a soft focus effect. Its buildable color defines your cheekbones and adds brightness to your complexion. Its unique lightweight and hypoallergenic formula is super creamy and good for your skin. Its blendable and long-lasting formula is represented in 10 perfect nude shades that look completely natural.  Its hydrating formula is quite unique in being free of all harmful chemicals and toxins and lasts for up to 8 hours. This olive skin blush color is crafted with naturally derived pigments and helps you to look as fresh as a rose.
Key Ingredients: Synthetic fluorphlogopite, Diisostearyl malate, Dipentaerythrityl hexahydroxystearate, Lauroyl lysine, Vinyl dimethicone, Triethylhexanoin
Pros
Hypoallergenic
8-hour wear
Naturally derived pigments
Contains antioxidants
Hydrating formula
No harsh chemicals
8
Best Velvety Texture
NewBang 8 Colors Blush Palette
NewBang 8 Colors Blush Palette is by far one of the best blushes for olive skin with its beautiful and picture-perfect matte effect. With a range of 8 different colors, you can play around with different looks that look natural. Its fine velvety texture blends evenly giving an exquisite highlight to your cheekbones. Its rich color is smudge-proof and waterproof so you can do what you want without worrying about your makeup getting ruined because of sweating. The 8 long-lasting colors can be used alone or mixed to create the color you want and include a makeup brush and blush palette. You also have the option of using this versatile blush as a highlighter or eyeshadow as required and sometimes even as a bronzing powder.
Key Ingredients: Talc
Pros
Waterproof
Durable
Velvety texture
Rich color
Matte effect
Includes blush palette and makeup brush
Cons
Some may find the colors too dark
9
Best in Natural Ingredients
Jane Iredale Pure Pressed Blush – Cherry Blossom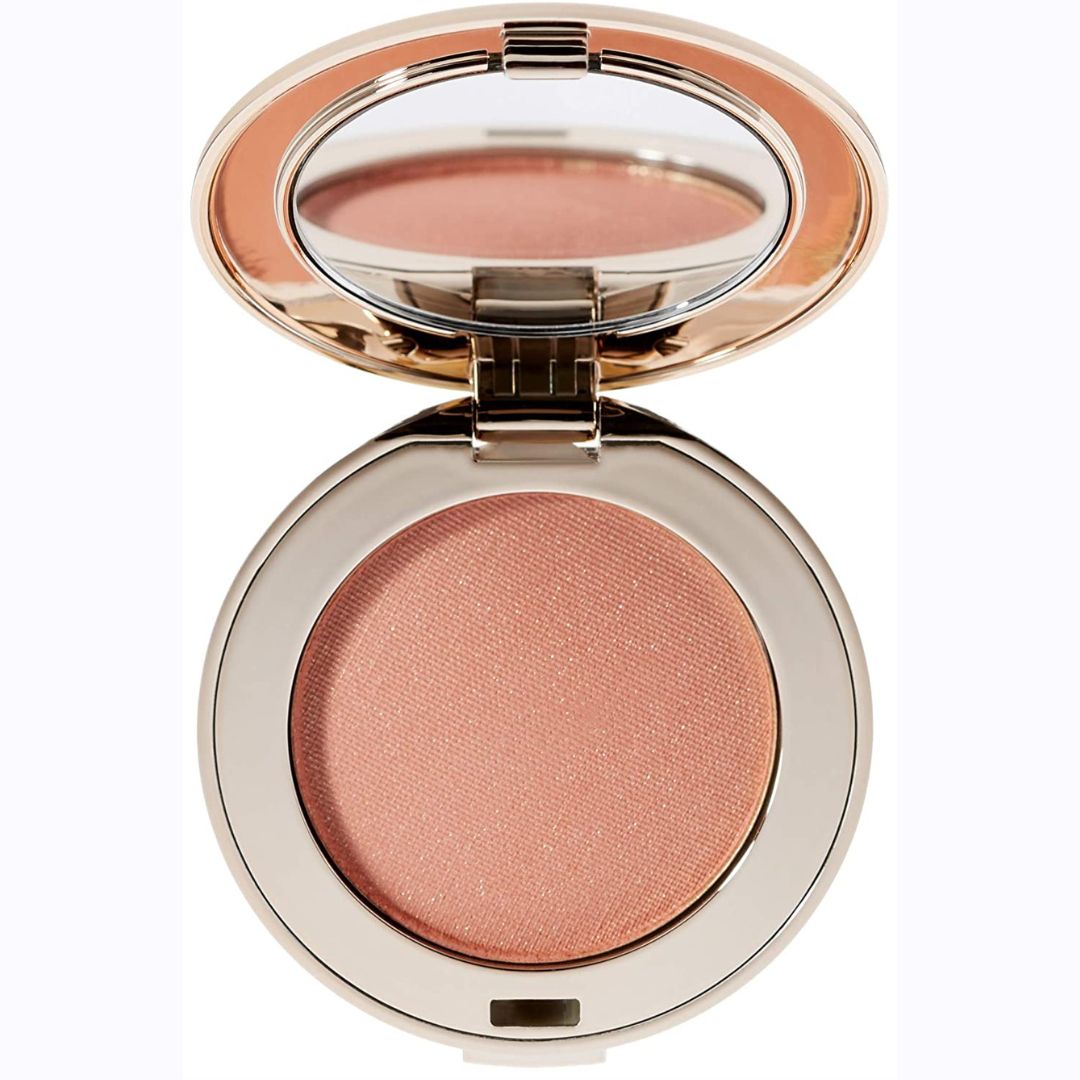 Enjoy the benefits of natural ingredients like pine bark extract and pomegranate extract in Jane Iredale Pure Pressed Blush which are potent antioxidants and soothe the skin. Other natural ingredients like mica, shea butter, and jojoba oil add to a breathtaking look. It also contains boron nitride, commonly known as the 'Rolls Royce' of minerals, which helps the color to glide smoothly onto your skin and diffuses light on the cheekbones for a luminous look. It comes with a dome fresh for smooth and better coverage. Get ready for envious looks with that just blushed look that adds radiance and glow to your face with this olive skin blush color.
Key Ingredients: Boron nitride, pomegranate extract, mica, pine bark extract, jojoba seed oil, shea butter
Pros
Contains minerals
Contains antioxidants
Non-comedogenic
Cruelty-free
Wheat-free
No harsh chemicals
10
Best Hydrating Blush
Shany Liquid Blush – Epic Final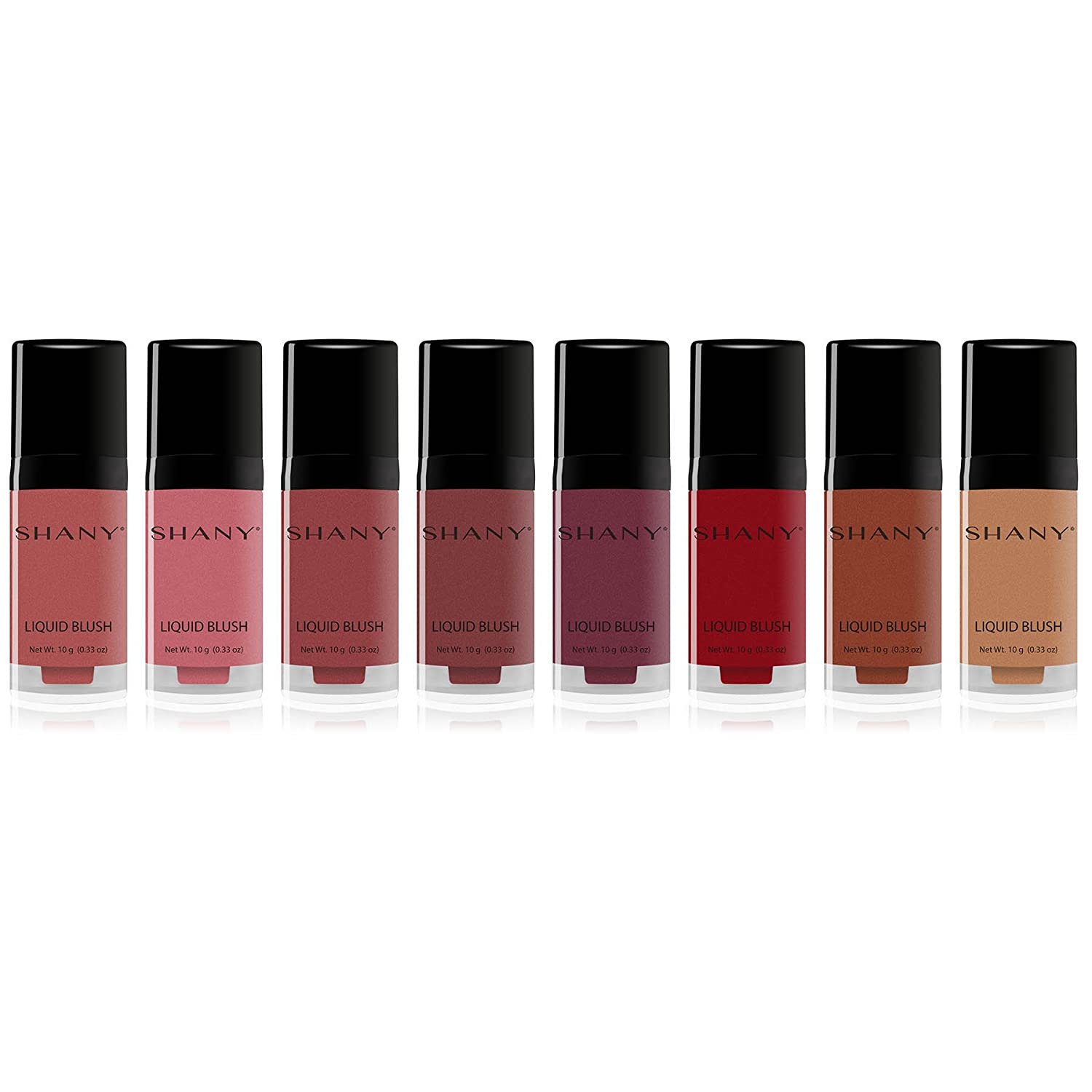 Just a few dabs of Shany Liquid Blush will go a long way in enhancing your skin color. Its hydrating formula gives your skin a healthy and radiant glow as it sculpts your cheekbones. Its cream-to-powder formula crafted with natural ingredients gives a satiny feel to your skin. Do try out this long-lasting and non-flaking blush for olive skin for a super-pigmented experience. As indicated by our tests, its silky texture glides onto your skin and blends easily by either using a brush or your fingers. You can stand apart with sheer natural coverage or build it up for an exotic look. This liquid blush is available in 4 other amazing colors — Angel Touch, Distinctive, On Duty, and Pure Joy.
Key Ingredients: Dimethicone, Polysilicone-11, Isononyl isononanoate, Pentaerythrityl tetraisostearate, Isodecyl neopentanoate, Lauroyl lysine
Pros
Buildable
Satin texture
Doesn't flake
Paraben-free
Not tested on animals
Suitable for all skin types
11
Han Skincare Cosmetics Blush – Toasted Nutmeg
Add a little blush to your cheeks with Han Skincare Cosmetics Blush multi stick or a pop of color on your eyes or lips. Say goodbye to synthetic colors and harsh ingredients and welcome the hydrating and nourishing goodness of antioxidants like vitamin E, shea butter, argan oil, and coconut oil.  The color is infused with certified organic ingredients and mineral and plant-based pigments for gorgeous color. This easy-to-apply blush for olive skin gives a natural healthy color with a beautiful matte finish. It's best to apply it lightly first and then add more as desired. You can buy it in 8 other beautiful shades like Bordeaux Glow and Cherry Cosmos among others.
Key Ingredients: Shea butter, Carnauba wax, Argan oil, Castor seed oil, Coconut oil, Theobroma grandiflorum
Pros
Vegan formula
Hydrating formula
Natural and organic ingredients
No harsh chemicals
Not tested on animals
Travel-friendly
Cons
Some may find it too sheer
12
Hourglass Ambient Lighting Blush – Dim Infusion
The unique and innovative Photoluminescent Technology of Hourglass Ambient Lighting Blush has added it to the ranks of one of the best blushes for olive skin. Far from being flat like traditional blushes, it has dimension and depth and blends seamlessly. Apart from being handmade, its powder is crafted by using an extremely advanced miscelare technique — which in Italian means 'to mix' — creating an amazing balance of powder and pigment by swirling your brush on the entire compact. Its formula is airy and lightweight and flatters your skin tone by giving it a multidimensional and soft-focus color. The transparent particles refract light so that your skin looks even and smooth. 
Key Ingredients: Mica, Synthetic fluorphlogopite, Boron nitride, Hdi/Trimethylol hexyllactone crosspolymer, Polymethyl methacrylate, Octyldodecanol
Pros
Multidimensional color
Vegan formula
Cruelty-free
Lightweight
Radiant finish
No parabens
Cons
Some feel it doesn't have much pigment
13
Benefit Cosmetics GALifornia Sunny Golden Pink Box O' Powder Blush
An amalgam of golden and pink powder blush, all you have to do is swirl the brush across the blush to pick up a bit of both the colors of Benefit Cosmetics GALifornia Sunny Golden Pink Box O' Powder Blush. Your cheeks get a soft flush of pink with an exotic golden glow. A mirror and a rounded blush brush are included for a diffused and soft application. After trying out this product we concluded that it's ideal for all skin tones. It also has a pleasant and mild fragrance with subtle notes of vanilla and pink grapefruit.  Do try this blush for olive skin for a radiant and luminous glow.
Key Ingredients: Talc, Mica, Zinc stearate, Magnesium myristate, Phenoxyethanol, Boron nitride
Pros
Mild fragrance
Shimmery finish
Contains natural ingredients
No harsh chemicals
Includes brush and mirror
Suitable for all skin tones
Cons
Brush comes with a learning curve
14
Bellapierre Cosmetics Mineral Blush – Suede
For a warm, rosy complexion with a healthy glow, you can't go wrong with Bellapierre Cosmetics Mineral Blush. This loose powder mineral blush is ideal to highlight and define your cheekbones and works well with all skin types. Our investigation determined that it lives up to its values of simplicity, purity, variety, and quality and is crafted with safe and cruelty-free ingredients. Very simple to use, this creamy blush for olive skin glides across your skin for a luminous glow. Made with 3 natural ingredients — titanium dioxide, iron oxide, and mica — it's the perfect blush for your makeup collection. This hypoallergenic blush is also available in 3 other amazing shades — Desert Rose, Autumn Glow, and Amaretto.
Key Ingredients: Mica, Titanium dioxide, Iron oxide, Zinc oxide
Pros
Hypoallergenic
No fragrance
Contains natural ingredients
No harsh chemicals
Cruelty-free
Easy to use
Cons
Some may find the color too orange
15
EX1 Cosmetics Blusher – Jet-Set Glow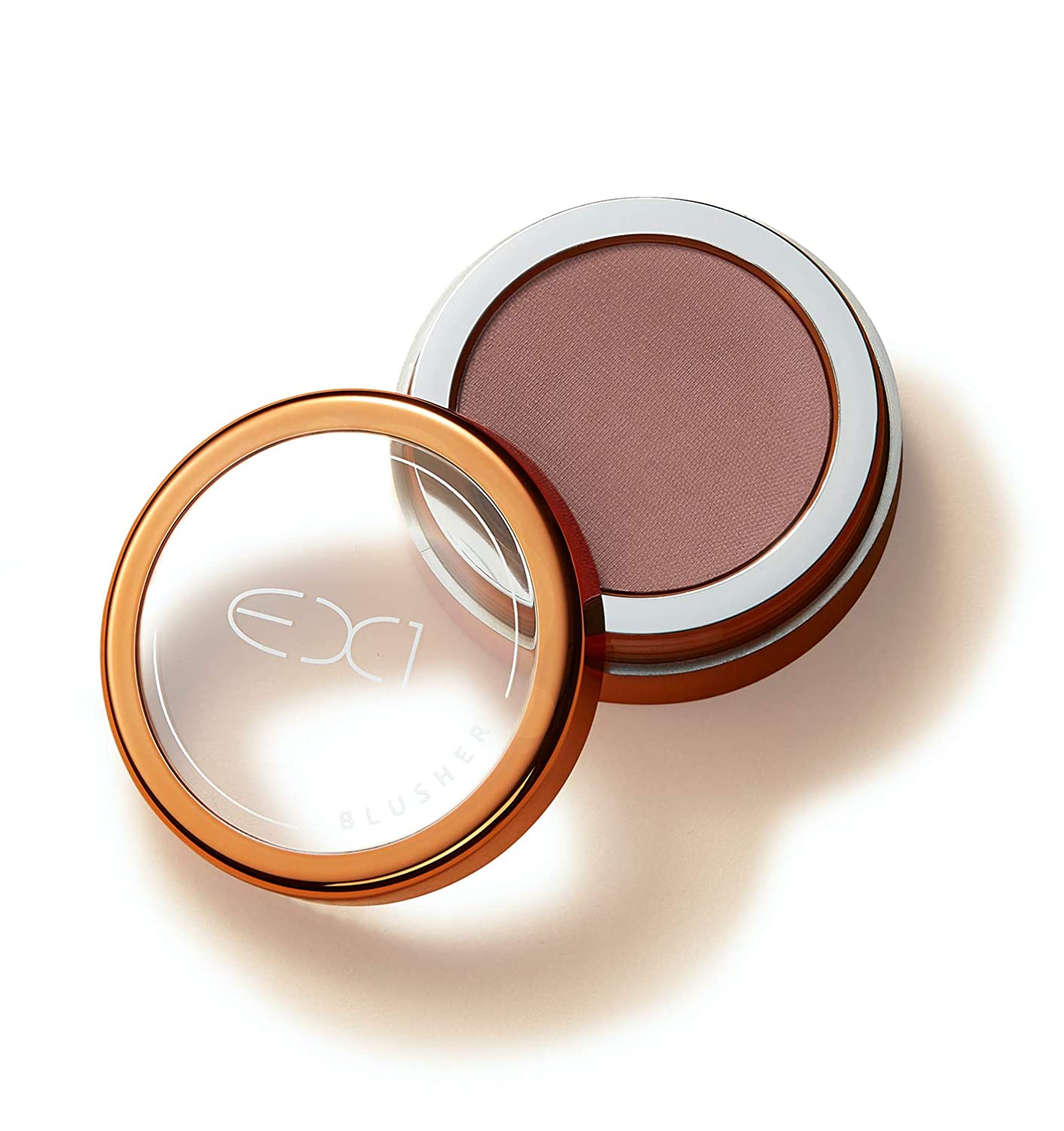 Be it Kylie Jenner or Kim Kardashian, EX1 Cosmetics Blusher has found its way into its beauty regimen. This blush for olive skin gives that awesome pop of color to your cheeks. Its silky-smooth and long-lasting formula blends effortlessly for a seamless finish. Blessed with a breathable and non-comedogenic formula that has been clinically tested, it's ideal for all skin types and tones. Depending on whether you are going for a subtle or more dramatic look, this vegan blush can be built up. Its high-color payoff adds luminosity as it glides on the skin evenly. The rich pigment of this blush is specially formulated to illuminate olive skin tones for a glowing and radiant complexion.
Key Ingredients: Pentylene glycol, Aluminum starch octenylsuccinate, Dimethicone, Cyclopentasiloxane, Propylene glycol, Tocopherol
Pros
Vegan formula
Non-comedogenic
Fragrance-free
Dermatologically-tested
Not tested on animals
Suitable for all skin tones
Cons
Contains polyethylene glycol
You should be having a fairly good idea of the importance of getting the best blush for olive skin so that your skin doesn't look garish or washed out. So let us walk you through a few simple tips to choose the perfect blush for your olive skin.
How to Choose the Best Blush for Olive Skin
So let's have a look at some of the important factors that you especially need to  keep in mind when dealing with a blush for olive skin.
Shade
If your olive skin has a warm tone, it's best to go for a blush with gold undertones as that brings out the rich and warm tones of your skin. On the other hand, if your olive skin has a cool tone, light plums and cool pinks with a shimmer of gold are perfect.
Finish
It's important to decide whether you want to go for a  matte or shimmery blush. A matte blush gives a pop of color without the glitter. They come as a cream, powder, or liquid that blends with the makeup. A shimmery blush adds texture and glitter to your cheekbones and is great if you are going for a dewy look. You have to be careful that the glitter isn't too chunky when choosing a shimmery blush as it isn't easy to blend.
Type
You can choose between a liquid, creamy, and powder blush depending on what suits you best.
A liquid blush has a texture like a serum and is soft and blendable. It's opaque in nature with a matte or dewy finish and usually includes an application brush so that you can dab on the product.
A cream blush usually comes in a pot or stick and is applied with a brush or sponge. Thicker than liquid blushes, it's easy to control the quantity of product you pick up on your brush. They are easy to apply and can be blended into your skin seamlessly. They are suited best for dry and oily skin, are long-lasting, and bind your makeup better.
If you are looking at a classic blush, a powder blush is by far the best option. High in pigment, it's available in both a matte and shimmer finish and glides onto your skin smoothly. They are best for oily skin. The main disadvantage of a powder blush is that you need to be particular about removing the excess powder from the brush or it can get quite messy.
Coverage
A blush with full coverage is better than one with a sheer look as they are more pigmented and you just need a little product for effect. Sheer blushes usually have medium coverage and might have to be retouched.
Ingredients
The best blushes for olive skin should contain skin-friendly ingredients, so you need to always go through the ingredients list and see if you are allergic or sensitive to any of the ingredients. The key ingredients of a blush are usually mica, talc, zinc oxide, and titanium oxide which are safe in a small amount. The blush should also have a non-comedogenic formula so that the skin pores do not get blocked. Ideally, it should contain nourishing ingredients like shea butter, coconut oil, and vitamin E. Harsh ingredients like parabens and artificial dyes should definitely be avoided.
Now that you know how to go about choosing the best blush for olive skin, it's as important to use it properly to get the best possible effect for sculpted and contoured cheekbones.
How to Use the Best Blush for Olive Skin
1. Your technique of applying the blush wholly depends on the shape of your face.
For a round or oval face, blend it on your cheekbones and move it upwards towards your temples. This adds definition to your face. For a long face, it's best to start at the apple of your cheek and then move it towards the ear, it works wonders when you blend it across the apples of your cheeks for an oval shape. It's perfect for softening the sharp angles of your face. For a heart-shaped face, you need to make a C-shape from the temple and blend it towards your cheekbones.
2. Apply blush in an angular motion rather than a circular motion and use medium strokes to blend your blush. Always use a blush brush as it works towards giving you a more defined look. Start on the outer edges of your cheekbones and move inwards for a more chiseled look. 
3. Blend your blush well for a more natural look. The more you blend it, the better the airbrushed look. Light strokes with a brush or even a damp sponge will do away with harsh lines and give you a natural blush. 
4. Don't go overboard with your blush or you may end up with a garish, painted look. You may feel you have not applied much, but in this case 'less is more' and you may lose the natural look. Always check the effect in sunlight and if you feel it's required, you can always apply more blush. In case you have overdone it, use translucent powder to manage the damage. 
5. You have to layer your makeup properly or you may end up with a makeup nightmare on your hands. Mixing and matching textures do not work so if you are going for a creamy foundation then you have to go with a creamy blush as well. If you are applying loose powder on your face, then you should ideally go for a powder blush.
Blushes give a finishing touch to your makeup. The best blush for olive skin adds a pop of color to your cheekbones and accentuates your natural complexion. They blend with your gorgeous skin seamlessly and do a great job of highlighting and contouring your features. They also do a great job of camouflaging blemishes and spots as they glide effortlessly across your skin keeping your skin radiant through the day.
Olive skins can be a bit tricky when it comes to blush because of the greenish undertones. It takes very little of the wrong blush to give a clownish effect so one has to be very careful. Luckily, there's a whole range of olive skin blushes available that do wonders in sculpting your cheekbones and giving definition to your face.
Author BIO
Sayantani is a certified hair and makeup professional turned writer with 2+ years of experience in the same genre. Ap More
FAQ's
How do you know what blush is right for you?
Go for a blush that brings out the warm undertones of your olive skin. The best blouses for olive skin colors would include mauve, orange, terracotta, and any brick shades. These shades give your cheeks an amazing pop of color without looking garish.
What colors to avoid for olive skin tone?
An olive skin has green undertones so you should avoid cool shades and go for warmer colors like yellow, peach, and gold.
What color blush makes you look younger?
A cream blush is more blendable and warm shades of rose gold or pink adds to a youthful look. If you're tired, a pink blush will brighten your face which makes you look younger. Applying a bright pink blush close to your eyes can make you look brighter and younger. When applying blush, blend it slightly outwards. This pulls the shape of your cheeks out slightly, which gives you a youthful look.
Why Trust select
Sayantani Deb, the author meticulously goes through each product description, multiple customer testimonials, and various online reviews, before recommending any product. Here she has shortlisted the best blushes for olive skin so that you get the flawless look you deserve.
Our product experts study the specifications of every product we suggest and try them out to bring what's proven to be worthy of your money, time, and energy. We also have subject matter experts from various fields like Fashion, Skincare, Haircare, Home Decor, and Health & Fitness onboard to make sure our suggestions are credible and trustworthy. You can trust Select to be your faithful shopping guide for all the right reasons!
Source link