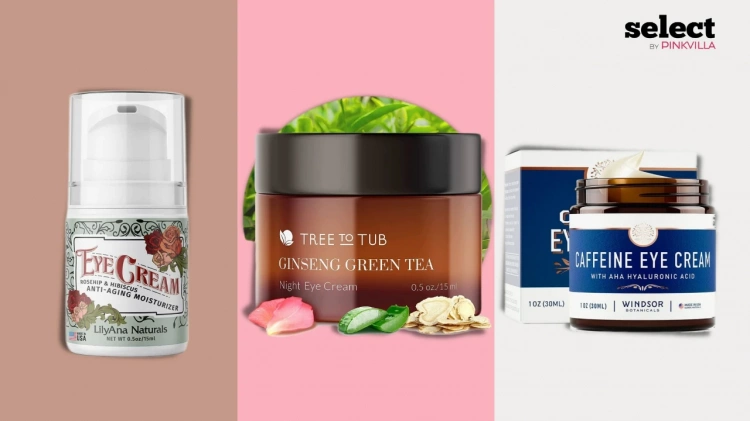 The products curated for this article are independently chosen by the
editorial team. If you make a purchase through the links mentioned below, we may receive a commission. Check out our product
research & curation process
Finding the best eye creams for eczema on eyelids can be quite a tricky task. Nothing can ruin your day like a sudden flare-up, resulting in inflammation and discomfort. You need to make sure to treat dry and flaky skin with a nourishing cream. The right eye cream can help you deal with various skin woes, ranging from fine lines and dark circles to crepey skin and inflammation. With the right formula, even those with sensitive skin can reap all the benefits of hydration without any irritation or redness.
As allergy season rounds the corner, the likelihood of getting eczema increases. Factors like excessive stress, weather fluctuation, and dehydration can also contribute to the inflammation. The skin around your eyes is especially sensitive and delicate, so it is advised to stick with fragrance-free eye creams that are infused with beneficial, skin-loving ingredients like aloe vera, squalene and ceramides. These not only offer intense hydration and lock in moisture but also help restore the skin barrier around the eyelids. We have got you covered with our list of Our favorites. Read on to find our top picks and a guide to help you choose one!
Our top picks
Best Dermat-approved Cream
Best Fragrance-free Formula
12 Best Eye Creams for Eczema on Eyelids that Nourish and Protect
This CeraVe Eye Repair Cream is hypoallergenic — meaning that it is free of any allergy-causing ingredients. It is also fragrance-free, so the chances of it irritating the sensitive skin surrounding your eyes are quite minimal. Formulated with three essential ceramides, hyaluronic acid, and niacinamide, the product effectively locks in moisture and allows your skin barrier to heal — making it one of the best under-eye eczema creams. With beneficial and moisturizing ingredients like aloe leaf extract and jojoba as well as a non-greasy formula, this cream might just be the ultimate solution for your inflamed skin!
Pros
Suits all skin types
Tested by ophthalmologists
Reduces puffiness
Non-greasy formula
Combats hyperpigmentation
Lightweight texture
Cons
Does not combat dark circles
2
Best Natural Formula
LilyAna Naturals Eye Cream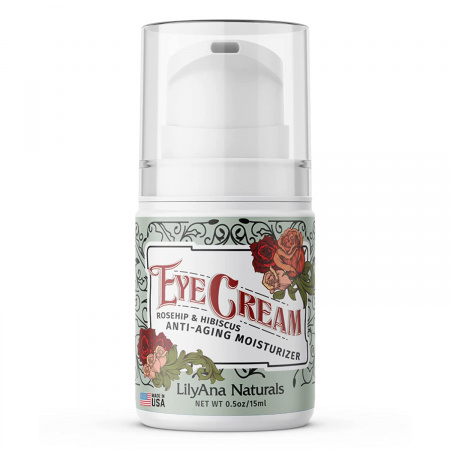 This eye cream by LilyAna Naturals is the ultimate solution for achieving bright, lifted, and youthful-looking eyes. Its multi-tasking formula quickly absorbs to rejuvenate the delicate eye area by firming the skin barrier, minimizing fine lines and wrinkles, and locking in moisture to combat dermatitis. With an advanced botanical formula, the light yet nourishing cream is packed with restorative botanicals and antioxidants like vitamin C, vitamin E, and hibiscus flower. This undereye cream provides lasting anti-aging benefits, addressing common aging skin frustrations such as dark circles, puffiness, crow's feet, and dryness. It is ideal for even the most sensitive skin and adds a refreshing boost to your appearance, almost instantly.
Pros
Reduces fine lines
Vegan formulation
Enriched with vitamins C and E
Brightens under eyes
Protects delicate skin
Enriched with hibiscus botanicals
Cons
Might not suit those with oily skin
3
Best Hydrating Formula
Neutrogena Hydro Boost Eye Gel Cream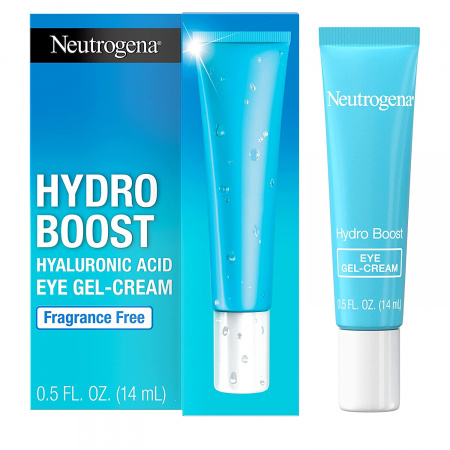 Experience the ultimate hydration for your delicate eye area with Neutrogena Hydro Boost Eye Gel Cream. The moisturizing eye cream is specifically designed to replenish and hydrate the skin around your eyes. Infused with hyaluronic acid, a natural hydrator, this daily-use formula holds water within the skin's surface to give you supple and smooth skin. The unique water gel formula absorbs instantly, providing intense and long-lasting moisture to keep your eyelids looking smooth and moisturized day after day. This gel is oil-free, fragrance-free, and dye-free, it can also be worn alone or under makeup.
Pros
Rich in humectants
Non-comedogenic
Long-lasting moisture
Gel texture suits all skin types
Ophthalmologist tested
Fragrance-free
Cons
Calls for frequent reapplication
4
CETAPHIL Deep Hydration Refreshing Eye Serum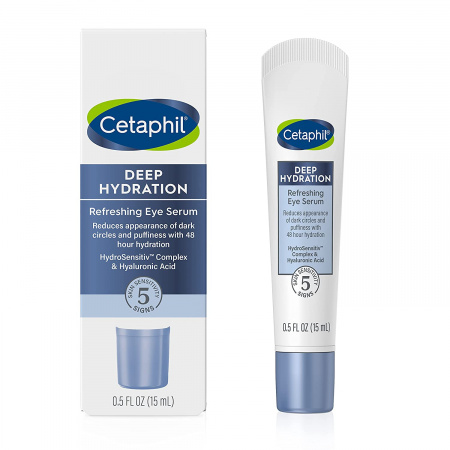 Get deep and long-lasting hydration for your delicate eye area with Cetaphil's Deep Hydration Refreshing Eye Serum. Powered by its exclusive HydroSensitiv complex, this serum-cream deeply replenishes your skin's hydration levels for up to 48 hours. It diffuses the appearance of fine lines caused by dryness and improves the quality of sensitive skin over time. The cream also reduces the appearance of dark circles and puffiness, leaving the under-eye area feeling deeply hydrated and refreshed. Plus, it is formulated with hyaluronic acid, peptides, vitamin B5, and antioxidant-rich vitamin E, which rehydrate and soothe skin to reduce its tightness and discomfort.
Pros
For all skin types
Dermatologist-approved
Promises 48-hour hydration
Affordable
Formulated with peptides
Travel-friendly
5
Best for Anti Aging
KissRedE Anti-Aging Eye Cream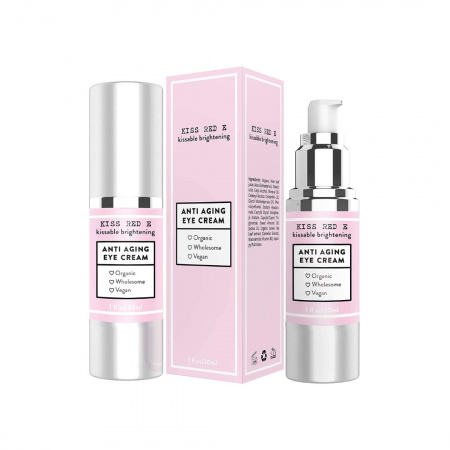 Get ready to say goodbye to dark circles, eye bags, fine lines, and puffiness with KissRedE Anti-Aging Eye Cream! The anti-aging eye cream is specifically designed to target wrinkles, crow's feet, and puffy eyes. This organic product is perfect for both men and women with sensitive skin. Developed using cruelty-free practices in a state-of-the-art lab using safe, quality, and top-of-the-line ingredients, it is compared with Korean skincare and is sure to leave your delicate skin around the eyes feeling rejuvenated and youthful. Its formula is ideal to combat eczema and any other signs of skin irritation.
Pros
Ultra-moisturizing formula
Reduces the appearance of fine lines
Vegan formula
Combats crow's feet
K-beauty favorite
Affordable
6
Best Dermat-approved Cream
Burt's Bees Sensitive Solutions Calming Eye Cream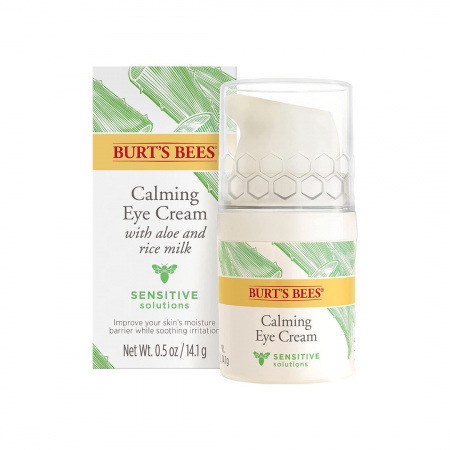 If you feel that eczema around your eyes is enhancing your fine lines, this calming eye cream Burt's Bees is among the best out there. With 98.9% all-natural ingredients including rice extracts, beetroot extract, and shea butter, one can consider this formula as a godsend! Thanks to its mild natural ingredients like aloe leaf juice and sunflower seed oil, it provides moisture and hydration without causing any irritation and does not clog the pores either. Owing to these benefits, you can make this an important part of your daily skincare regime!
Pros
Enriched with rice milk
Restores the skin barrier
Free from animal testing
Soothes redness
7
Best for Puffiness
Eight Saints All-In Eye Cream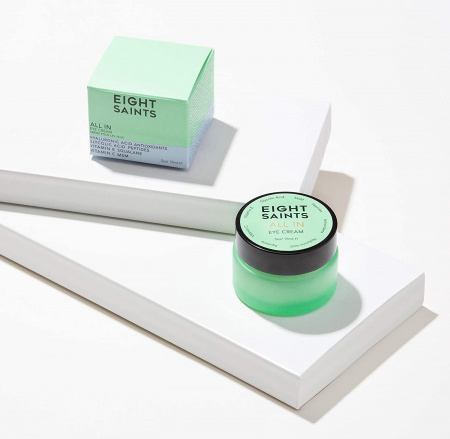 Experience the power of best-selling eye cream by Eight Saints which is designed to target expression lines, aging signs, dark circles, and under-eye bags. The lightweight formula of this product is perfect for all skin types, enriched with powerful hydration to smooth out all wrinkles and caffeine to reduce puffiness. Using only natural and organic ingredients, including aloe, protein peptides, hyaluronic acid, vitamin C, and green tea, it gives your eyes the love and care they deserve. Fragrance-free and cruelty-free, this eye cream is effective and natural in beating out dryness.
Pros
Organic formula
Reduces puffiness
Enriched with vitamin C
Lightweight texture
8
Best Soothing Formula
Dermactin-TS Upper Eyelid Cream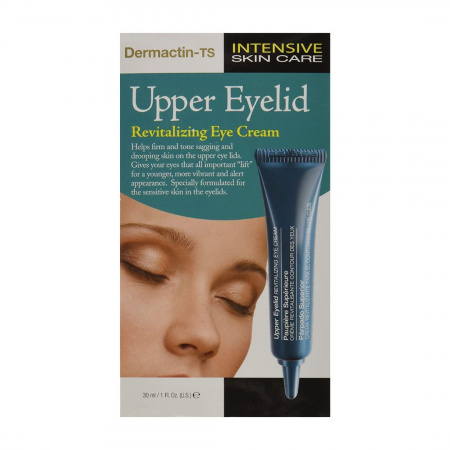 This Dermactin-TS Upper Eyelid Cream helps firm and tone the eye area, gives a lifted appearance, and is specially formulated for sensitive skin around the eyes. This cream is ideal for daily use as it instantly refreshes and awakens the eye area. The formula is hypoallergenic, quick-absorbing, and non-greasy, making it ideal to wear all day, even under makeup. Furthermore, it is enriched with avocado oil and eliminates fine lines and wrinkles while providing intense hydration that helps combat dermatitis and eczema from the very first use!
Pros
Lifts sagging skin
Hydrating formula
Brightens appearance
Affordable
9
Best for Wrinkles
Tree To Tub Retinol Under Eye Cream for Dark Circles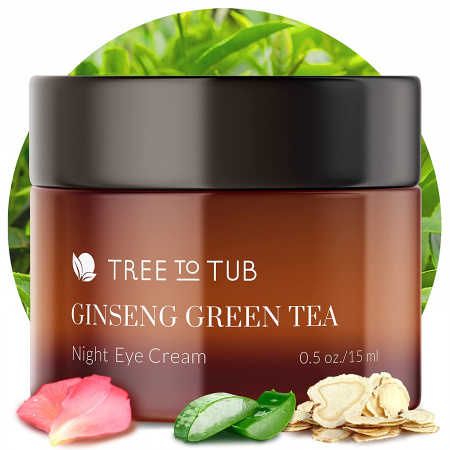 Brighten and energize your eyes with this organic Tree To Tub Under Eye Cream that is enriched with ginseng, green tea, and retinol for sensitive skin. This eye cream is loved by anti-aging skin experts for its ability to reduce the appearance of dark circles. With this product, you can bid adieu to puffiness as it is specially formulated to work while you sleep and reduce the appearance of tired eyes. With this cream, you can supercharge your skincare routine with this magic potion featuring retinol,  organic rose, and hyaluronic acid to smooth the appearance of fine lines and wrinkles. You can treat your skin to a  natural-looking lift with its Eastern Infusion blend filled with gentle ingredients.
Pros
Enriched with organic green tea
Reduces the appearance of wrinkles
Anti-aging
Affordable
Cons
Might not suit all skin types
10
Windsor Botanicals Caffeine Eye Cream for Dark Circles and Puffiness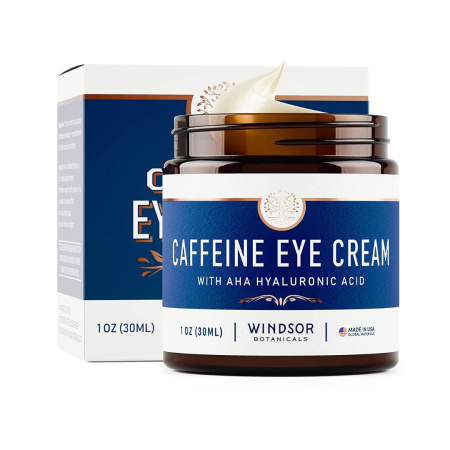 Look no further for a multi-tasking eye cream that will address a range of concerns including but not limited to eczema. This caffeine eye cream by Windsor Botanicals is formulated to nourish and protect, while also reducing the appearance of sun damage, eye bags, and other signs of aging. It is packed with scientifically-tested ingredients such as glycolic acid and hyaluronic acid, meaning, it gently lifts dead cells to reveal younger-looking skin. Furthermore, the coffee bean oil in it reduces puffiness and swelling around the eyes. This product goes on easily, leaving tired eyes looking revitalized.
Pros
Anti-aging formula
Hydrating formula
Sublime matte finish
Affordable
Cons
Not suitable for peeling skin
11
Best Fragrance-free Formula
PCA SKIN Ideal Complex Restorative Eye Cream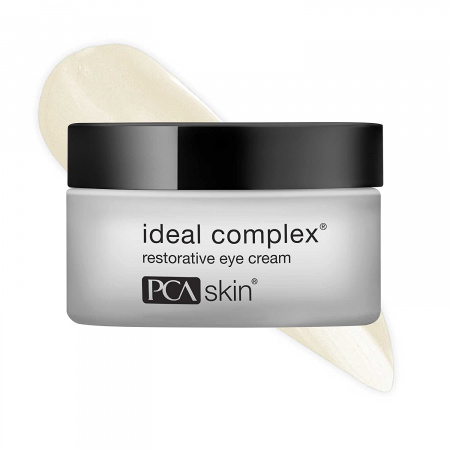 Revitalize your under-eye area with this restorative eye cream for eczema by PCA SKIN, the ultimate solution for dark circles, puffiness, and fine lines. Infused with powerful peptides, growth factors, and stem cell extracts, this anti-aging eye treatment provides deep hydration while restoring the skin's elasticity and reducing sagging. The optical diffusers in the product instantly brighten your complexion, leaving your eyes looking rejuvenated and youthful. A small quantity of this cream goes a long way. Use it in combination with a broad-spectrum SPF during the day and moisturizer at night for the best results.
Pros
Brightening formula
Reduces the appearance of dark circles
Deeply hydrating
Dermatologist approved
12
Best for a Lifted Look
Flexitol USA Face & Eyelid Eczema Cream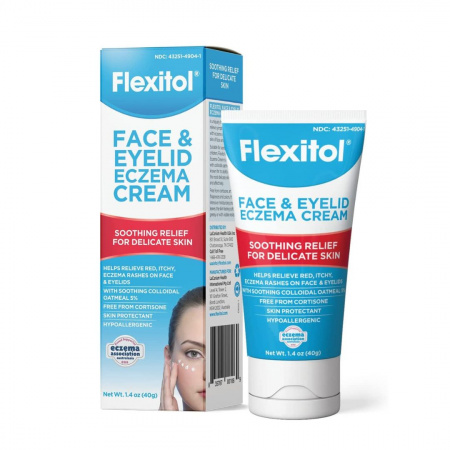 Flexitol USA's Face & Eyelid Eczema Cream is an ideal non-steroidal eyelid eczema treatment. The rich cream formula features gentle ingredients like 5% colloidal oatmeal to provide relief to delicate skin areas, without triggering comedones or lesions. It calms the skin and pumps it full of moisture. This clear cream is suitable for use under makeup and is perfect for daily and long-term use. Say goodbye to uncomfortable flare-ups and hello to soothed, healthy skin with this ultimate effective rash reliever.
Pros
Fragrance-free
Hypoallergenic
Non-greasy formula
Specially formulated for eczema
Affordable
Cons
Has a strong natural smell
Now that you've seen our product recommendations for the best eye creams for eczema, let us go through the following buying guide so you can make the best purchase.
How Do I Choose the Best Eye Cream for Eczema on Eyelids?
Choosing the best eye cream for eczema on eyelids can seem like a challenging task, especially with the increasing number of options on the market. Below are some factors for you to consider while you make your selection. 
Ingredients: Eye creams with gentle, fragrance-free formulas will best suit sensitive skin. Our findings show that it is best to avoid eye creams that contain harsh chemicals or irritants – ingredients like retinoids, alpha-hydroxy acids, and alcohol are best avoided for the eye areas. 
Moisturizing and Anti-inflammatory Properties: The chosen eye cream should have deep hydrating abilities that help lock in moisture to prevent any signs of dryness and itching. Adding on, creams containing anti-inflammatory ingredients such as chamomile, aloe vera, and colloidal oatmeal can be helpful in soothing irritation and inflammation. Hence, look for these properties carefully. 
Texture: A lightweight, non-greasy texture that quickly absorbs into the skin is ideal for eczema-prone eyelids. Heavy creams and ointments can clog your pores and hereby worsen eczema symptoms, so it is best to steer clear of them. 
Consult your Dermatologist: It is paramount to speak with your healthcare provider or dermatologist before you begin treating your eczema with any skincare product, especially if you have any pre-existing medical condition. 
Choosing the best eye cream for eye eczema can involve some trial and error. Remember to start with a small amount and patch-test the product before applying it to your eyelids – as the skin in that area can be very delicate and sensitive.
How Do I Get Rid of Eczema on Eyelids?
Getting rid of eczema on the eyelids depends on the severity of the condition and its underlying causes and the severity of the situation. As per our expertise, you can manage and reduce eczema symptoms by identifying and avoiding its triggers – common triggers include allergens, irritants, stress, and weather fluctuations.
Using gentle, fragrance-free skin care products that are free from any harsh chemicals or alcohol is also important to prevent irritation. Keeping the skin moisturized and hydrated with the use of eye creams can help reduce dryness. Experts would advise refrigerating your eye cream before use, for an extra cooling effect. If the symptoms are severe, it is imperative to consult your healthcare provider to get a prescription for medicated creams and oral medicines if need be. 
The best eye cream for eczema on eyelids paired with a proper skincare regimen can help those suffering from eczema find relief and manage its symptoms seamlessly. Rejuvenate your skin by adding these nifty products to your regimen that not only battle eczema but also combat signs of aging and sun damage to reveal a healthy glow! It is time to bid adieu to puffiness, dryness, and under-eye bags as you accept these elixirs as an essential part of your skincare routine. Happy shopping!
Author BIO
Anoushka is certified in Professional Skincare and is a Mass Media (Journalism) graduate from Mumbai University. As a More
FAQ's
Which Cream is Good for Eyelid Eczema?
The best cream for eyelid dermatitis varies from case to case, based on skin type. The all-round ideal solution to specifically treat eczema would be Flexitol USA Face & Eyelid Eczema Cream whereas Burt's Bees Calming Eye Cream is the best dermatologist-approved pick on the list.
Why Do I Get Eczema on My Eyelids?
Eczema can occur on various parts of the body, including eyelids. The causes of eczema can vary, they range from exposure to allergens, and contact with irritants, to genetics, and stress. If you are experiencing eczema, it is best to speak with your dermatologist to help understand the underlying causes.
How Do You Treat Eczema on Eyelids Naturally?
While natural remedies are not a substitute for professional medical care, you can use the following methods to reduce the effects of eczema at home. Based on firsthand experience, a cold compress can help reduce inflammation and itching. Aloe vera has soothing properties that can provide relief. Coconut oil and tea tree oil are also considered helpful due to their moisturizing and anti-inflammatory benefits.
Is Coconut Oil Good for Eyelid Eczema?
High-quality, cold-pressed coconut oil can help manage eczema symptoms on the eyelids as it has moisturizing and anti-inflammatory properties. It is known to help soothe dry and itchy skin, thereby reducing any redness and inflammation. However, it is important to note that coconut oil might not be suitable for everyone as some individuals could have an allergic reaction to it.
Why Trust select
Anoushka is certified in Professional Skincare and is a Mass Media (Journalism) graduate from Mumbai University. As an experienced writer, she is an advocate of sustainability in skincare, haircare, fashion, and lifestyle. She loves mind-stimulating conversations, trivial or intense, which fuel her creative ideas. In her leisure time, she enjoys yoga, sitcoms, reading, early morning beach walks, and cafe hopping. Here, she has meticulously curated a list of her top recommended eye creams for eczema on eyelids. 
Our product experts study the specifications of every product we suggest and try them out to bring what's proven to be worthy of your money, time, and energy. We also have subject matter experts from various fields like Fashion, Skincare, Haircare, Home Decor, and Health & Fitness onboard to make sure our suggestions are credible and trustworthy. You can trust Select to be your faithful shopping guide for all the right reasons!
Article Sources +
1. ALOE VERA: A SHORT REVIEW – PMC
https://www.ncbi.nlm.nih.gov/pmc/articles/PMC2763764/ 
2. Efficacy and Safety of Oral Green Tea Preparations in Skin Ailments: A Systematic Review of Clinical Studies. 
https://www.ncbi.nlm.nih.gov/pmc/articles/PMC9370301
Source link