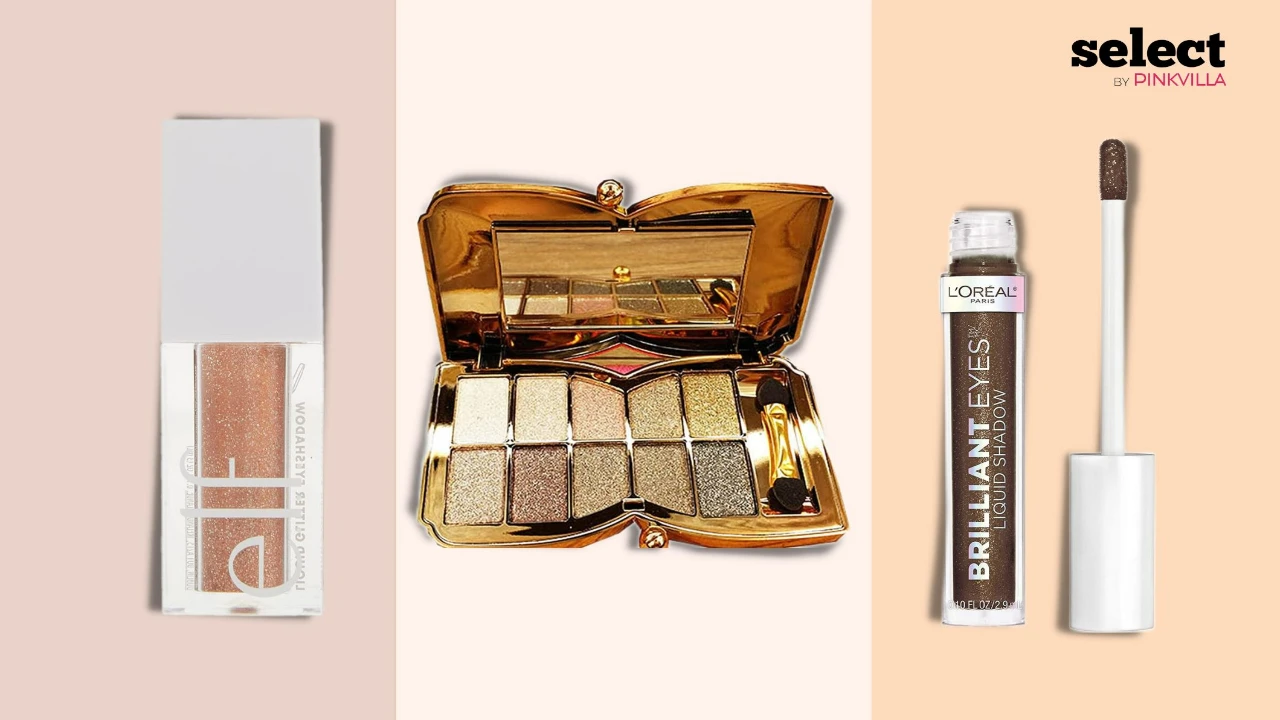 The products curated for this article are independently chosen by the
editorial team. If you make a purchase through the
links
mentioned below, we may receive a commission. Check out our
product
research & curation process
he world of beauty is never complete without the addition of glitter eyeshadows. These are a must-have for anyone who wants to add a touch of glamour to their look. With the vast array of colors, finishes, and textures available, there is a glitter eyeshadow that will suit every style and occasion. From bold and dramatic to subtle and romantic, the best glitter eyeshadows will make you stand out in any crowd. 
"You want your product to be super pigmented and super chunky," mentions makeup artist Jonet Williamson. "You should be able to see individual specks."
With so many options available on the market, finding the best one can be overwhelming. We have shortlisted 13 best products to help you find the perfect one for your needs. So go ahead and experiment with different shades and textures, and let your eyes sparkle and shine with the best one on the market.
Our top picks
Suitable For All Occasions
13 Best Glitter Eyeshadows You Must Try
It is the ultimate eye makeup essential for creating high-impact, multi-dimensional eye looks that last all day long. This long-lasting, quick-drying formula is made with a gel-based formula that provides an opaque finish for a bold and dramatic look. Its unique blend of glitter particles adds a touch of sparkle to your eyes, making them stand out in any crowd. You may be going for a glamorous evening look or a playful daytime look, this is the perfect choice for achieving a dazzling, eye-catching effect. So try it today and see the magic for yourself!
Pros
Cruelty-free
Vegan
Paraben-free
Long-lasting
Quick drying
Available in different shades
Cons
No depth of color
Difficult to apply
Add some shine to your eyes with this palette featuring 24 vibrant shades of glitter eyeshadows that are perfect for any occasion. Each color is highly pigmented and infused with minerals and ultra-shimmer for a long-lasting, dazzling effect. The press-on formula ensures easy application and a smooth finish. Create endless eye-catching looks with this versatile palette that is suitable for any skin tone. The compact size makes it easy to carry in your purse or makeup bag, so you can always be ready to sparkle on the go.
Pros
Waterproof
Long-lasting
Highly pigmented
Wide range of shades
Widely used
Great for gifting
Cons
Difficult to blend
A bit cakey
It is a must-have for anyone looking to take their eye makeup game to the next level. This stunning palette features 10 highly pigmented and long-lasting shades in a range of gold and shimmer tones. Each shade is crafted with utmost care to ensure that it delivers a dazzling sparkle and shimmer effect to your eyes. You may be going for a natural daytime look or a dramatic evening look, this palette has got you covered. The smooth and blendable formula makes it easy to create a flawless eye makeup look that lasts all day. Perfect for every occasion, this palette is a great gift for yourself or your loved ones who love to experiment with makeup.
Pros
Waterproof
Long-lasting
Non-toxic ingredients
Skin-friendly
Easy application and removal
Suitable for all occasions
Cons
Small size
Poor packaging
Let your inner sparkle shine bright. This liquid eyeshadow is specially designed to give your eyes a dazzling shimmer that lasts all day long. With its high-pigment formula, you can achieve a bold and dramatic look or a subtle and natural finish. The lightweight texture glides on smoothly, making it easy to blend and build up the intensity. You may be looking for a statement-making look or a touch of sparkle, this shimmer liquid eyeshadow is the perfect choice. Plus, it comes in a variety of shades to complement any skin tone and style.
Pros
Climate-pledge friendly
Excellent applicator
Easy to use
Non-greasy
Buildable formula
Transfer-resistant
Elevate your eye makeup game with this glitter eyeshadow. This high-quality eyeshadow is made with a unique blend of shimmering glitter pigments that create a dazzling and long-lasting effect on your eyelids. Its smooth and silky texture allows for easy application and blending, making it perfect for achieving a variety of eye-catching looks. Its compact design makes it easy to take with you on the go, so you can always have a touch of glam wherever you go.
Pros
Cruelty-free
Vegan
No paraben
Gluten-free
Hypoallergenic
Ultra-pigmented
Cons
Smaller size
May crease a bit
Get ready to turn heads with this glitter palette. This highly pigmented eyeshadow is infused with glitter particles to give your eyes a stunning and shimmering look. The smooth and creamy texture of the eyeshadow glides effortlessly on your lids, making it easy to apply and blend. The long-lasting formula ensures your eye makeup stays fresh and vibrant throughout the day or night. The rich, intense color of this eyeshadow is perfect for creating dramatic eye looks or adding a touch of sparkle to your everyday makeup routine.
Pros
Highly pigmented
Waterproof
Long-lasting
Perfect for all occasions
Multiple uses
Easy to remove
Cons
Difficulty to use
A bit dried up
Make a statement with it & add a touch of glamour to your eye makeup ! This highly pigmented and long-lasting liquid eyeshadow adds a touch of sparkle and glamour to your look.It is  a fun and versatile makeup product that can help you create a variety of eye-catching looks. The unique formula is easy to apply and dries quickly, preventing any smudging or creasing. The glitter particles are finely milled to provide a smooth and even application that doesn't feel heavy on the eyelids. Choose from a variety of vibrant shades that suit any skin tone and occasion.
Pros
Cruelty-free
Long-lasting
Multi-function
Pigmented
Non-irritating
Easy to apply and remove
Experience a whole new level of glam with it. This liquid eyeshadow is formulated to provide intense pigmentation and a metallic finish that will make your eyes pop. The lightweight and buildable formula makes it easy to create a variety of eye-catching looks. It's long-lasting, smudge-proof, and crease-resistant, making it the perfect choice for any occasion. The easy-to-use applicator ensures precise application, while the quick-drying formula ensures that your eye makeup stays in place all day.
Pros
Vegan
Cruelty-free
Highly pigmented
Long-lasting
Blendable
Wide range of shades
Cons
Glitter bleeds
Over expensive
Upgrade your eye makeup game today! This product is designed to give your eyes a bold and stunning pop of color with its highly pigmented metallic formula. The liquid texture glides on smoothly for an effortless application that dries quickly and stays put all day long. The eyeshadow is also infused with glitter particles that shimmer and shine with every movement, making it perfect for a night out or a special occasion. With a range of vibrant shades to choose from, it is a must-have for any makeup lover looking for a bold and eye-catching look.
Pros
Vegan
Cruelty-free
Long-lasting
Pigmented
Easy to use
Excellent applicator
Cons
May cause a little burning
Costly
Give your eyes the sparkle they deserve with this piece in your vanity. This stunning liquid eyeshadow boasts a long-lasting formula that's both crease and smudge resistant, making it ideal for any occasion. The richly pigmented glitter shades come in a variety of colors, ranging from vibrant blues and greens to subtle golds and pinks. The easy-to-use applicator tip allows for precise and effortless application, gliding smoothly onto your lids for a flawless finish. Try it out today and sparkle your way to effortless beauty!
Pros
Cruelty-free
Unscented
No creasing
Highly pigmented
Long-lasting
Travel-friendly
It is the ultimate choice for achieving a show-stopping eye makeup look. This palette features 12 versatile and highly pigmented shimmer eyeshadows that will take your makeup game to the next level. The colors range from neutral browns to bold pinks and blues, making it perfect for creating both daytime and nighttime looks. Each shade in it is infused with glitter particles for a dazzling finish that catches the light and adds dimension to your eyes. The formula is smooth and blendable, allowing you to create seamless transitions and endless combinations.
Pros
Waterproof
Long-lasting
Multiple colors
Easy to use
Widely used
Travel-size
Feel confident and beautiful with it. This innovative product combines the best of both worlds – the precision of eyeliner and the shimmer of a glitter eyeshadow, all in one versatile formula. With a smooth and easy-to-apply liquid texture, this product dries quickly and stays on all day without smudging or fading. The glitter particles are finely milled, providing a stunning sparkle that catches the light and adds a touch of glamour to any look. Plus, the glitter particles are ultra-fine, providing a smooth and comfortable application that won't irritate your eyes.
Pros
Climate-pledge friendly
Lightweight
Long-lasting
Fast drying
Non-sticky texture
Blendable
Be ready to unleash your inner glam with this liquid eyeshadow. With its silky smooth formula, this liquid eyeshadow will effortlessly glide onto your eyelids, delivering a burst of intense color that lasts all day long. Whether you're going for a bold and dramatic look or a subtle and sophisticated vibe, it has got you covered. This versatile product is perfect for creating a variety of eye-catching makeup looks, from sultry smoky eyes to shimmery metallic finishes. Plus, its long-lasting, smudge-proof formula ensures that your eye makeup stays put, even during the busiest of days.
Pros
Climate-pledge friendly
Long-lasting
Waterproof
Skin-friendly
Portable size
Suitable for daily use
How to Choose the Best Glitter Eyeshadow?
Ingredients: Glitter eyeshadows can be a bit tricky when it comes to ingredients, as some types of glitter can be harmful to the eyes. Look for glitter eyeshadows that are specifically formulated for use on the eyes and are free from harmful ingredients like microplastics.
Texture: Glitter eyeshadows come in different textures, including loose glitter, pressed glitter, and cream glitter. The texture you choose will depend on your preference and the look you want to achieve.
Shade range: Glitter eyeshadows come in a range of shades, from warm neutrals to bold and bright colors. When choosing a shade, consider your skin tone, eye color, and the occasion. Neutral shades like gold, bronze, and champagne work well for everyday wear, while bold colors like blue, green, and purple are perfect for special occasions.
Reviews: Before buying a glitter eyeshadow, look for reviews online. Read reviews from people who have the same skin type and tone as you. This will give you an idea of how the eyeshadow will look on you and if it's worth the investment.
Patch test: Lastly, test the eyeshadow before buying it. Swatch it on your hand and see how it looks in different lighting. This will give you an idea of the color and texture of the eyeshadow. If possible, try it on your eyelids to see how it looks on your eyes.
Glitter eye shadow is a trendy and fun way to add some sparkle and glam to your makeup look. It can be worn on its own for a bold statement or layered over other shades for a more subtle effect. Whether you prefer a subtle shimmer or a bold glitter statement, there are endless options to choose from our top-rated products. From golds and silvers to pinks and blues, the variety of shades available makes it easy to find the best shimmer eyeshadow to suit your style. With the right techniques and products, anyone can rock a dazzling glitter eyeshadow look.
Author BIO
Sayantani is a certified hair and makeup professional turned writer with 2+ years of experience in the same genre. Ap More
FAQ's
Which liquid glitter is best?
After testing and comparing different brands of liquid glitter, it is clear that each one has its own unique features and advantages. However, the best liquid glitter is the one that suits your personal preference and needs. Some may prefer a certain brand for its long-lasting effect, while others may opt for a brand that offers a wider range of colors.
Is liquid eyeshadow worth it?
Liquid eyeshadows offer a range of benefits such as easy application, long-lasting wear, and vibrant colors. However, they may not be suitable for everyone as they can be messy to apply and may not work well with certain eye shapes or skin types. Additionally, liquid eyeshadows tend to be more expensive compared to traditional powder eyeshadows. So weigh the pros and cons and perhaps try out a few liquid eyeshadows before deciding if they are worth investing in.
How do you keep glitter eyeshadow on your eyelids?
When applying the glitter eyeshadow, start with a good eyeshadow primer, followed by a cream eyeshadow base. Then use a flat brush and tap the product onto the lid instead of swiping it. Finally, a makeup setting powder can help to prolong the wear time of the glitter eyeshadow.
What is the difference between shimmer and glitter eye shadow?
Shimmer eye shadows have a subtle reflective quality that enhances the natural beauty of the eyes, while glitter eye shadows contain larger particles that create a more dramatic and statement-making look. When selecting an eye shadow, consider the occasion and your personal preference to determine which type of finish is best for you.
Why Trust select
Sayantani Deb, the author, likes to spend her time researching the best beauty and makeup finds trending across various online platforms to bring her readers a curation of the top picks. Here, she has carefully shortlisted a list of the best glitter eyeshadows to help you select the one most suitable for your needs and fancy.
Our product experts study the specifications of every product we suggest and try them out to bring what's proven to be worthy of your money, time, and energy. We also have subject matter experts from various fields like Fashion, Skincare, Haircare, Home Decor, and Health & Fitness onboard to make sure our suggestions are credible and trustworthy. You can trust select to be your faithful shopping guide for all the right reasons!
Source link