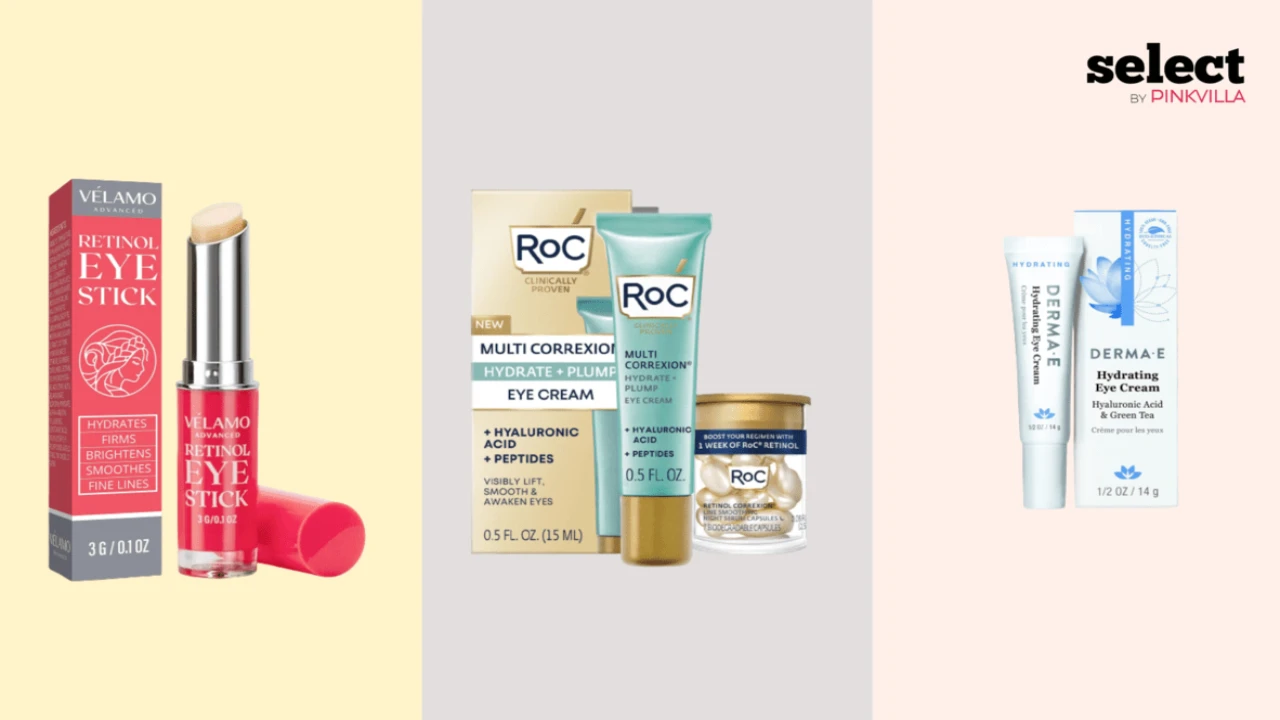 The products curated for this article are independently chosen by the
editorial team. If you make a purchase through the
links
mentioned below, we may receive a commission. Check out our
product
research & curation process
Wave goodbye to dull eyes and dark circles with the best eye cream for sensitive skin. No matter how much you take care of your skin, a little stress or a sleepless night instantly reflects on your eyes. Even at the slightest appearance of an under-eye shadow, we start hunting for hydrating eye creams for sensitive eyes. For those who wonder if eye creams are necessary, let us tell us – they are! Unlike the rest of your face, the dermis under your skin is highly sensitive and thin. It requires extra care and hydration to prevent sagging, fine lines, and wrinkles.
An eye cream not only moisturizes and softens the sensitive skin around the eyes, but also tackles issues like puffiness, dark circles, dryness, hyperpigmentation, and tired-looking eyes. Dr. Vanita Rattan, a Doctor in Medicine and Cosmetic Formulator, says, "We lose 1% of our collagen production from 21 years old onwards which leads to wrinkles around the eyes, so it is best to opt for eye creams that are slightly thinner and smoother but glide on easier around the eye area but also not something that's so runny that it runs into your eyes. It is good to include two ingredients – vitamin A and vitamin C fat soluble because these penetrate the dermis and help to restore collagen." With a plethora of options in the market, we decided to shortlist the best eye creams for sensitive skin for you to shop from.
Our top picks
Most Skin Restorative Formula
Best For Replenishing Properties
Best For Boosting Radiance
Best Tone Enhancing Formula
15 Best Eye Creams for Sensitive Skin To Keep Dark Circles Away
Soothe and calm your dull sensitive skin with the Burt's Bees Sensitive Solutions Calming Eye Cream. Developed with dermatologists, this eye cream for sensitive skin has numerous noted awards to its name. Enriched with a potent blend of oils, moisture-boosting humectants, and squalane that helps in enhancing and restoring skin's moisture barrier, this formula reduces visible signs of redness. It is formulated with nutrient-rich botanicals and a blend of aloe vera and rich which calm irritated skin along with the goodness of 75 vitamins and minerals in this formula. This eye cream for sensitive eyes is free from all types of toxins such as SLS, petrolatum, petrolatum, and even paraben. It is also approved by the National Eczema Association.
Pros
Improves skin's moisture barrier
Consists of natural ingredients
Hypoallergenic formula
Soothes sensitive skin
Allergy tested
Fragrance-free
Cons
Slightly runny consistency
May cause dry patches
Bid adieu to fine lines and dark circles with the VELAMO ADVANCED Retinol Eye Stick. This retinol-enriched eye cream for sensitive skin is a multi-treatment formula that promises you younger-looking, and well-rested eyes. Powered by a potent peptide complex, vegan squalane, astaxanthin along with retinol, this formula targets all the visible signs of aging. It is clinically proven to show effective results in less than a month and give you younger-looking skin. From hydrating, and brightening, to firming your skin, these eye creams for sensitive eyes eliminate crow's feet and wrinkles while locking in moisture for suppleness.
Pros
Firms skin and softens crow's feet
Anti-aging properties
Reduces puffiness
Locks in moisture
Easy to use
Vegan
Cons
Does not reduce under-eye puffiness
CeraVe Skin Renewing Eye Cream comes with a peptide complex that visibly firms your skin and reduces the appearance of crow's feet and fine lines. It is enriched with 3 essential ceramides – 1,3 and 6-II which aid in maintaining the skin's natural barrier. Along with niacinamide which visibly smoothens the fine lines and boosts radiance, the formula also contains caffeine that visibly reduces under-eye puffiness. It is not only the best eye cream for sensitive skin, but even works for oily to dry skin, and acne-prone skin types. The formula hydrates your skin to diminish signs of aging while firming it and restoring the protective skin barrier.
Pros
Suitable for contact lens wearers
Ophthalmologist tested
Ideal for all skin types
Fragrance-free
Allergy-tested
Paraben-free
The DERMA-E Hydrating Eye Cream is enriched with the potent properties of hyaluronic acid and green tea along with the powerful antioxidant vitamin E. Hyaluronic acid is known to be nature's moisture magnet which helps deliver antioxidants and essential hydration to your skin cells. Green tea in this formula helps in preventing and shielding your skin from showing any visible signs of aging, while vitamin E protects the skin against free radicals. This potent eyelid cream for sensitive skin infuses your eyelids and under-eye area with a blast of hydration. It is further enriched with Pycnogenol which has antioxidant properties to tackle puffiness.
Pros
Protects skin against free radicals
Powerful antioxidant properties
Non-toxic formula
Cruelty-free
Affordable
Vegan
Cons
The results are not dramatic
Packed with replenishing and hydrating properties, the RoC Multi Correxion Eye Cream awakens and elevates the skin around the eyes. This eye cream for sensitive eyes delivers three age-defying results – lifting, smoothening, and awakening your eyes. Enriched with peptides that firm and contour your eyes giving a lifting effect, infused with 1.5% hyaluronic acid, the formula visibly eradicates fine lines. While the caffeine in this formula depuffs your eyes and results in a more rejuvenated look around the eyes. With consistent use, this eye cream for sensitive skin fills the fine lines, and wrinkles, and diminishes the tiredness of your eyes.
Pros
Reduces undereye puffiness
Awakens tired looking eyes
Ophthalmologist tested
Anti-aging formula
Fragrance-free
Paraben-free
Cons
May cause mild irritation
Made with Avène Thermal spring water to soothe the sensitive skin around the eyes, Eau Thermale Avene Soothing Eye Contour Cream is a must-have! This lightweight formula provides intense hydration along with antioxidant protection. It decongests and helps in reducing the puffiness around the eyes. This eye cream for sensitive skin is enriched with calming chamomile and dextran sulfate which eradicate puffiness. It also contains hyaluronic acid that eliminates dehydrated skin and locks in hydration. With pre-tocopheryl, a rich source of photostable vitamin E, the formula is packed with antioxidants that protect your skin against free radicals. While the key ingredient – Avène Thermal spring water is clinically proven with 150 studies to calm, soften, and soothe hypersensitive skin.
Pros
Relieves under-eye puffiness
Hypoallergenic formula
Lightweight formula
Non-comedogenic
Fragrance-free
Paraben-free
Packed with the goodness of eight peptides, the Drunk Elephant C-Tango Multivitamin Eye Cream is a multivitamin cream with restorative properties. The formula is also enriched with five forms of vitamin C that aid in brightening your dull and uneven skin tone and makes it appear visibly firm. Meanwhile, the eight peptides help in rebuilding, strengthening, and reducing fine lines and wrinkles. To make the formula more potent, cucumber extract caters to help your skin look younger and well-rested. Along with the powerful combination of replenishing ceramides, antioxidants, and soothing actives, this eye cream for sensitive skin enhances natural radiance. It can be included in both AM and PM skin routines.
Pros
Removes skins of dullness
Evens the skin tones
Natural ingredients
Fragrance-free
Tightens skin
Cruelty-free
Cons
Does not work on dark circles or shadows
Expensive
Give your tired under eyes some TLC with the Sweet Chef Turmeric + Vitamin C Booster Eye Cream. Packed with antioxidants and calming properties, this is one of the best eye creams for sensitive skin that works wonders by enhancing your complexion while reducing puffiness and dark circles. The formula is enriched with the goodness of turmeric which has antioxidant properties that enhance skin complexion and brightens the under eyes. It also contains probiotics to restore the skin's microbiome, vitamin C, and ginger to diminish tired-looking skin. Ginger also has 40 antioxidant properties that cater to reducing signs of premature aging and fading hyperpigmentation.
Pros
Does not contain drying alcohol
No synthetic fragrances or dyes
Fades hyperpigmentation
Makeup friendly formula
Anti-aging properties
Toxin-free formula
Cons
Comes in a tiny container – less quantity than expected
Say goodbye to uneven skin tone and texture with Pond's Rejuveness Lifting & Brightening Eye Cream. Featuring a retinol complex, the formula is known to smoothen your wrinkles, fine lines, and uneven texture. It is further powered by vitamin B3 which improves skin's elasticity and visibly helps in giving a lifted and tightened skin appearance around the eyes. This eye cream for sensitive eyes has the goodness of blur technology that enhances and tightens your skin texture and tone. Perfect to boost hydration, this eye cream is suitable for all skin types and shows visible results within a few days of use.
Pros
Improves skin's tone and texture
Tightens and lifts sagging skin
Enhances skin's elasticity
Comes in a set of 3
Boosts hydration
Affordable
Cons
Not a hypoallergenic formula
May sting slightly
When moisturizing meets anti-aging properties, you know it is a bomb combination! Tree To Tub Ginseng Green Tea Night Eye Cream is not just that, but so much more. Packed with hyaluronic acid's moisturizing properties, and anti-aging properties from retinol, this best eye creams for sensitive skin is simply unmissable. With retinol being a stronger acid, it is prone to cause more damage to sensitive skin. But to balance it, the formula is enriched with vitamin E, along with other soothing organic botanicals. This pH-balancing formula eradicates under-eye puffiness and bags, along with all the signs of tiredness and dullness.
Pros
Eliminates tiredness and dullness
pH balancing formula
Anti-aging properties
Evens out skin tone
Soothing properties
Boosts hydration
The First Aid Beauty 5 in 1 Age Delay Eye Cream is a youth-restoring, multifunctional eye cream that tackles 5 signs of aging and tired eyes. The cream targets 5 concerns like dark circles, fine lines and wrinkles, dryness, uneven skin tone, and loss of elasticity. This 5 in 1 formula is loaded with active ingredients that benefit to smoothen, brighten, hydrate, correct, and protect your delicate eye area. The eye cream for sensitive skin is enriched with peptides that are a chain of amino acids. The alpha-arbutin in this formula helps in boosting radiance and even toning your delicate skin around the eyes.
Pros
Fights 5 signs of skin concern
Toxin-free formula
Nut and oil-free
Allergy-tested
Gluten-free
Vegan
Cons
Not suitable for those with eczema
Featuring exclusive peptide action and rare extracts to smoothen fine lines, try out the Perricone MD Hypoallergenic Firming Eye Cream. The deeply nourishing eye cream for sensitive skin is formulated with olive polyphenols which is a phytonutrient found in olives and has antioxidant properties. It hydrates your skin while fighting visible signs of aging and is highly effective using post-cosmetic procedures. The formula is further enriched with hyaluronic acid that promises you plump and supple skin, thanks to its moisturizing properties. To enhance the eye cream further, squalane effectively absorbs into the skin and provides intense hydration, and nourishes the surface cells.
Pros
Minimizes fine lines and wrinkles
Non-comedogenic formula
Antioxidant properties
Non-irritating formula
Lightweight formula
Hydrates the skin
The Honey Girl Organics Face & Eye Crème is made with natural and organic ingredients, this eye cream for sensitive skin nourishes it to boost natural radiance. It is formulated with the antibiotic and antioxidant properties of honey which is also a natural antiviral and humectant. The formula also contains beeswax which is a powerhouse of over 300 skin-beneficial micronutrients. Moreover, the vitamin A and vitamin E from the organic olive oil hydrates, soothes, and repairs dryness and damaged sensitive skin. It also contains propolis which heals and repairs skin, bee pollen that evens skin tone, and royal jelly to reverse the signs of aging. This naturally formulated eye cream works seamlessly even under makeup.
Pros
Promotes cell regeneration
Eliminates signs of aging
Enhances skin texture
Natural ingredients
Locks in hydration
Boosts radiance
Cons
Not suitable for oily skin
The formula might seem too greasy
Truly a cult favorite, the Bobbi Brown Hydrating Eye Cream is a highly moisturizing formula that instantly melts into the skin for a boost of nourishment. This formula preps the under-eye for makeup and leaves it feeling smooth, soft, and thoroughly refreshed. It's formulated with the brand's signature enriched mineral water blend that helps in hydrating, balancing, and reviving the skin. The formula is further enriched with squalane for hydration, along with jojoba seed oil and avocado oil for deep conditioning. Aloe vera and witch hazel extracts in this formula also help in keeping your skin supple for makeup application. This best eye creams for sensitive skin is formulated without any form of toxins.
Pros
Provides deep conditioning
Works best under makeup
Quick absorbing formula
Phthalates-free
Paraben-free
Sulfate-free
Cons
Contains fragrance and alcohol
Expensive
The Kate Somerville + Retinol Firming Eye Cream is clinically proven to improve skin elasticity and reduce the appearance of lines and wrinkles. This eye cream for sensitive eyes visibly firms, hydrates, and brightens the skin around your eyes. Enriched with retinol and lesser sensitive bio retinol to combat signs of aging, smoothen texture and enhance skin clarity, the formula also reduces skin's imperfections such as pores and dark circles. This blend mimics retinoids and fights against skin aging, boosts natural radiance, and firms the skin. This eye cream also has hyaluronic acid to boost hydration, lime pearl to loosen keratinized cells, and promote stimulation and renewal of skin cells.
Pros
Reduces pores and dark circles
Promotes skin cell renewal
Enhances skin's texture
Combat signs of aging
Phthalates-free
Paraben-free
Cons
Skin might feel stretched out
Highly expensive
These were some of the best eye cream for sensitive skin that promises to show effective results. However, knowing about the product isn't enough. There are a few more factors to consider before buying an under-eye cream for the sensitive skin around your eyes. Keep reading.
How to Choose the Best Eye Cream for Sensitive Skin
The skin under your eyes is highly sensitive and you simply cannot use any product on it. While some under-eye creams are highly beneficial, there are others that are loaded with chemicals that could hamper your sensitive skin. So, before blindly picking any under eye cream that claims to be the best, consider these key factors to pick the best eye cream for sensitive skin –
Ingredients
Reading the label before buying any skincare product is a habit you need to adopt. When it comes to eye creams, there are a few key ingredients that are highly beneficial and should be in the formula you pick for visibly good results. For instance, look for caffeine as it boosts blood circulation and reduces dark circles. To make sure your eye cream tackles wrinkles, fine lines, and other signs of aging, make sure it has hyaluronic acid for a boost of moisturization. Vitamin B3, or niacinamide are also some of the key ingredients to look for. When it comes to sensitive skin, you cannot go wrong if you pick natural or organic ingredients. Look for ingredients like aloe vera, and cucumber extracts that calm your skin, along with colloidal oatmeal, or chamomile for soothing properties. Other ingredients to look for are green tea, vitamin C, vitamin E, glycerin, or rosehip seed oil as they lock in moisture and enhance skin's elasticity.
Chemicals
To make sure your sensitive skin around the eyes is well taken care of, choosing products with chemical-free, natural, or organic ingredients is always a good idea. While most ingredients in eye creams are skin-friendly, still it is best to read the label before buying the product. Make sure there are no toxins or any other harmful ingredients. It should be free of alcohol, SLES, or phthalates. It is best to avoid exposing the sensitive skin around your eyes to chemicals that can lead to cause irritation.
Formula
The dermis around the eyes is thinner than the rest of your face, which makes it tender and sensitive. So, you need to make a wise choice and pick a mild formula, that does not clog pores, and is also allergy-tested. It should be highly hydrating and nourishing whilst being non-greasy. Make sure it is lightweight and glides smoothly on your skin and absorbs easily. Heavier eye creams may cause an oily texture and would be a hindrance if you plan on using makeup over it. Pick the best eye cream for sensitive eyelids that not only focuses on targeting one skin concern but is overall skin beneficial. It should cater to puffiness, dark circles, fine lines, and wrinkles, along with dryness, uneven skin tone, and tired eyes.
Easy to use
When you need to apply a certain product every day, you must consider its ease of usage. If the eye creams for sensitive eyes come in a container, make sure it is an airtight one. Products that are not in airtight contains are more prone to oxidization and don't tend to last longer. As per our expertise, it is best to invest in tubes or rollers as it eliminates the chances of contamination. For instance, when you dip your finger in to scoop out the eye cream, you end up contaminating it. The bacteria or germs on your finger can lead to irritation for sensitive eyes. Also, look for an eye cream for sensitive skin that works seamlessly under the makeup base.
Conclusion
The best eye creams for sensitive skin are the ones that help in catering to various concerns like dark circles, puffiness, wrinkles, and fine lines. After our thorough trial and error, we discovered that the ones formulated with natural and organic ingredients are the safest bet. Those with sensitive skin should focus on eye creams that are allergy-tested, do not clog pores, and are free from all forms of toxins. Make sure it is also a dermatologist-tested formula and can be worn under makeup too. The above-mentioned list has various options that help in tackling all these concerns along with boosting hydration and visibly firming your skin. Happy shopping!
Contributor: Dr. Vanita Rattan, Doctor in Medicine and Cosmetic Formulator
Author BIO
Anoushka is certified in Professional Skincare and is a Mass Media (Journalism) graduate from Mumbai University. As a More
FAQ's
What ingredients should I avoid in an eye cream for sensitive skin?
Sensitive skin is highly prone to toxins like paraben, alcohol, mineral oils, SLS, or phthalates. So, it is best to pick an eye cream for sensitive skin that is free from such toxins and irritants.
How often should I use eye cream for sensitive skin?
Eye creams are recommended to be used daily even if you have sensitive skin. however, if your eye cream contains actives like retinol, you can use it on alternating days (most preferably during the night) to avoid irritation or inflammation. For additional safety, consult a dermatologist or refer to the label of the cream.
Can eye cream help reduce dark circles and puffiness?
Yes, eye creams are formulated to target and combat concerns like dark circles, puffiness, uneven skin tones along with other visible signs of aging.
Why Trust select
Our product experts study the specifications of every product we suggest and try them out to bring what's proven to be worthy of your money, time, and energy. We also have subject matter experts from various fields like Fashion, Skincare, Haircare, Home Decor, and Health & Fitness onboard to make sure our suggestions are credible and trustworthy. You can trust select to be your faithful shopping guide for all the right reasons!
Source link