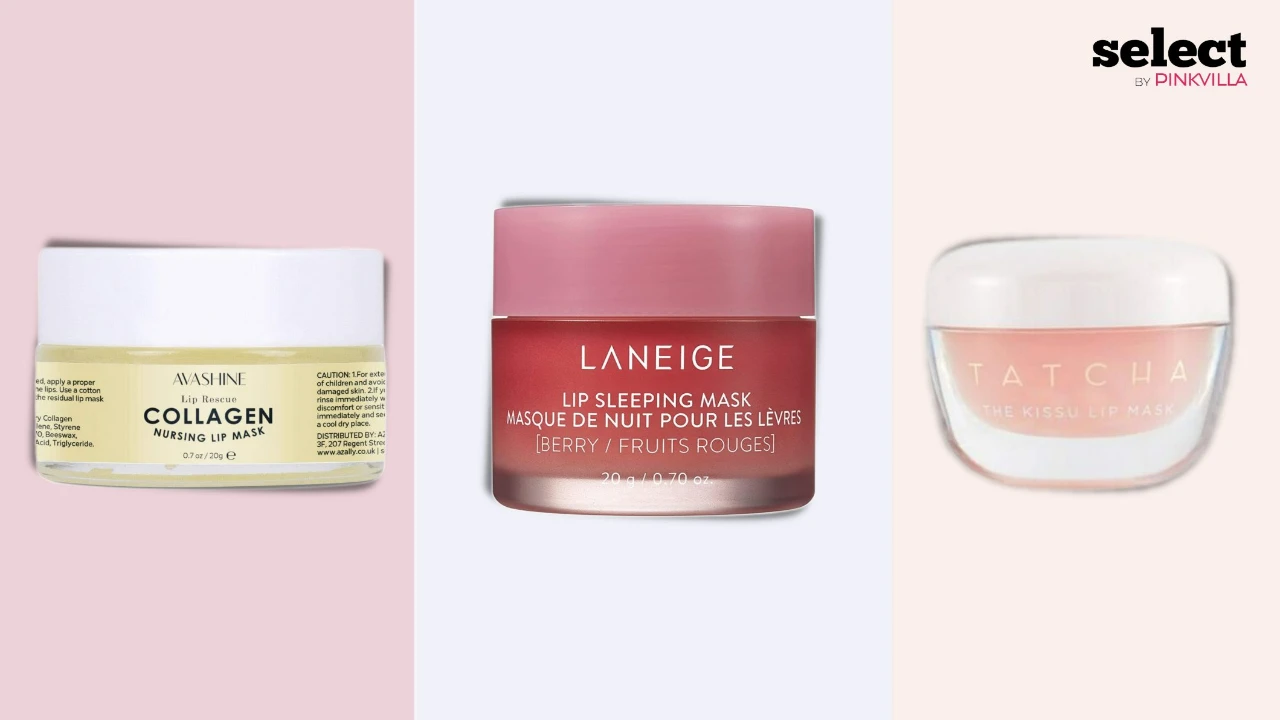 The products curated for this article are independently chosen by the
editorial team. If you make a purchase through the
links
mentioned below, we may receive a commission. Check out our
product
research & curation process
All of us rely on a good old chapstick or lip balm for that instant moisture boost during the day. With the best lip mask, however, you can treat and heal your lips while you get your beauty sleep and wake up with nourished, supple, pout-worthy lips.
Dr. L.J. Maxfield, a Certified Dermatologist, says, "What I like about the concept of lip masks, in general, is that you get a 6 hours opportunity to intensely hydrate your lips. And it's a missed opportunity if you don't." Lip masks function like conditioners for the delicate skin of our lips. Their purpose is to restore and lock in that moisture and transform cracked, dry lips into healthy-looking ones. They are thicker than regular lip balms and have a hydration-rich formulation. From Burt's Bees lip care to cult favorites Tatcha or Laneige treatments for lipcare, there are a variety of these moisture boosters available in the market. Well, since the options are plenty, this list will help you find out which one you should pick.
Our top picks
Most Eye-Catching Packaging
13 Best Lip Masks for Soft And Luscious Lips Overnight
If there was a pageant, the Laneige Lip Sleeping Mask would definitely be crowned as the winner with a tough competition with Laneige Lip Mask Ulta ​​A cult favorite among the beauty and skincare community, this is the best overnight lip mask. With a formula that glides like butter and melts seamlessly, it delivers intense hydration. Apply to clean lips overnight, and you will wake up with baby-soft lips in the morning. This lip mask is infused with rich antioxidants that make dry lips soft, supple, and smooth and protects them against external aggressors. The coconut oil, along with shea and murumuru butter, nourishes the lips from within and provides long-lasting moisturization. Although a thick consistency, it is non-greasy and leaves a gorgeous sheen finish.
Key Ingredients: Berry Fruit Complex, Vitamin C, Coconut Oil, Shea Butter, Murumuru Seed Butter
Size: 0.7 oz.
Pros
Provides long-lasting hydration
Non-sticky
Melts effortlessly
Great fragrance
Made with the goodness and benefits of natural ingredients, the Yuglo Peach Lip Mask is here for you to bid adieu to dry, chapped lips. It has a glossy finish and glides smoothly to create a moisture barrier to seal in hydration. It is ideal for overnight rejuvenation, but because it is lightweight, you can also wear it comfortably during the day. The formula contains coconut and jojoba oil which moisturizes the lips and protects them from environmental stressors. Shea butter further soothes the skin and helps diminish the look of fine lines. There are no harsh chemicals in this lip mask for dry lips. The final result? Plumper, youthful-looking, soft lips.
Key Ingredients: Vitamin E, Coconut Oil, Shea Butter, Peach Extract
Size: 0.7 oz.
Pros
Locks in moisture
Lightweight
No artificial fragrance
Cruelty-free
Bringing to you the secrets of Japanese skincare, Tatcha The Kissu Lip Mask is a leave-on jelly treatment that restores and hydrates the lips from within. A clean formulation, this is unquestionably one of the best lip sleeping masks. It contains squalane that gives immediate results in improving the skin barrier and minimizing dryness. The Japanese peach extract repairs dull and damaged lips while soothing irritation. The oleic acid, essential vitamins, and omegas 3, 6, and 9 found in camellia oil lock in the natural hydration to give long-lasting, soft and plump lips. This lip mask significantly enhances the texture of the lips in just a few weeks of regular use. So if you can splurge, go ahead because we give it a big fat thumbs up! 
Key Ingredients: Squalane, Japanese Camellia Oil, Japanese Peach Extract
Size: 0.32 oz.
Pros
Non-sticky
Melts easily
Longwearing
High-end packaging
Fed up with very dry and chapped lips? The Avashine Lip Rescue Collagen Nursing Lip Mask is developed to provide intense moisturization and give you flake-free, soft lips. It's your everyday lip care that can be used before bedtime as a deep hydration treatment or during the day underneath matte lipstick. The USP of this lip mask is collagen, which helps in skin firmness and tightening. In turn, it promotes hydration and the prevention of lines, cracks, and wrinkles. The formula also triggers new collagen fiber growth, which restores healthy, glossy smooth lips. This moisturizing lip mask also helps to even out and enrich lip tone with regular use. 
Key Ingredients: Proprietary Collagen, Peptides 3, 5, 7
Size: 0.7 oz.
Pros
Lightweight
Glides easily
Non-sticky
Cures chapped lips
Once Upon A Tea Matcha Moisturizing Lip Mask is another beautiful sleeping lip mask that delivers the benefits of hydration, nourishment, lip protection, and a velvety sheen. It has a jelly consistency, and a small amount goes a long way. The lip mask is enriched with natural ingredients like green tea extract, coconut oil, and vitamin E. This powerful blend targets dry and cracked lips and protects the lips against free-radical damage. The lip mask has a light green tea and lemon fragrance that is soothing and not overpowering. Final thoughts on this one – it's a non-sticky formulation loaded with nutrients, and if you have dry lips, you should definitely give this one a shot.
Key Ingredients: Vitamin E, Green Tea, Coconut Oil, Copernicia Cerifera Wax
Size: 0.7 oz.
Pros
Plumps lips
Comfortable wear
Comes with applicator
Budget-friendly
Cons
Not very long-lasting moisturization
From a brand that encourages experimentation and self-expression, we have the W7 Sweet Dreams Strawberry Overnight Lip Mask, suitable for all – beginners, teens, adults, and makeup geeks. It is a daily conditioner for the lips to achieve a perfect pout. At a reasonable price, this lip mask is infused with aloe vera and grape seed oil. These ingredients moisturize and nourish dry and chapped lips and make them more plump. Vitamin e, in turn, helps to boost circulation and supports skin health. This overnight lip mask comes in three variants – strawberry, grapefruit, and green apple. All of them have a sweet scent, and the consistency is slightly thicker than regular lip masks.
Key Ingredients: Vitamin E, Aloe Vera, Grape Seed Oil
Size: 0.42 oz.
Pros
Melts easily
Pleasant scent
Affordable
Cruelty-free
With spectacular and luxe packaging, the Milani Rose Butter Lip Mask is a thick lip mask for chapped lips. It is developed for overnight recovery and rejuvenation of your lips. Formulated with rich antioxidants like rose oil, shea butter, cupuacu butter, and hyaluronic acid, this balm-like rich lip butter  is ultra-nourishing and defends the lips against hydration loss. It will give you the best results of smooth and soft lips when applied after exfoliating the lips, however, because it is transparent, you can also wear it beneath lipstick during the day. After putting it to the test, we can conclude that this lip mask shows noticeable results in just a few days. 
Key Ingredients: Rose Oil, Shea Butter, Cupuacu Butter, Hyaluronic Acid 
Size: 0.24 oz.
Pros
Vegan
Paraben and talc free
Cruelty-free
Pleasant fragrance
Cons
Slightly thick and sticky
A hydrating lip mask that makes for a great gifting option or as a quick lip treatment when you are traveling is the Burt's Bees Moisturizing Lip Mask. A single-use packaging, this lip sheet mask is to be used like your regular sheet masks but for the lips! You receive a serum-loaded fiber paper that has to be kept on for five minutes and then massaged into the lips. No rinse is required afterward. Based on our first hand experience, we can confirm that this shows results immediately. It hydrates and nourishes the lips instantly, leaving them supple and smooth. What's more? There are no parabens, phthalates, petrolatum, and SLS in this mask. Hence, it is safe for all skin types.
Key Ingredients: Sweet Almond Oil, Meadowfoam Seed Oil, Sunflower Seed Oil, Rosemary Leaf Extract
Size: Single use – 0.02 oz.
Pros
Hydrating
100% natural
Paraben-free
Good for gifting
If you are a digger of cute packaging, the She Loves Moist Lip Mask will surely excite you. With an applicator shaped like a mini honey dipper, this lip mask makes for a wonderful gift, especially for teens and young adults. It is available in two variants – the honey is meant for daytime moisturization, and the sakura variant for overnight lip repair. The latter is thick, developed to tenderly hydrate the lips at night and peel off dry skin in the morning, leaving behind softer lips. The natural essence extract composition is nourishing and protects the lips from fine lines, lip wrinkles, and dryness. The scent is also light and comfortable.
Key Ingredients: Honey Extract, Cherry Blossom Extract, Beeswax, Vitamin E
Size: 0.4 oz.
Pros
Cost-effective
Good scent
Thick consistency
Treats lip wrinkles
Made in the USA with toxin-free natural ingredients, we have the Eight Saints Lip Trick. This lip plumping mask contains eight miracle ingredients that generate the majority of the benefits. Antioxidants, hyaluronic acid, vitamin C, vitamin E, peptides, squalene, MSM, and glycolic acid are these wonder elements. These components help to free radicals to prevent future damage from pollution and the sun. The organic beeswax works to deliver natural antibacterial benefits; vitamin E stimulates circulation and new skin cell generation, while coconut oil traps and seals moisture into the skin. There are no mineral oil, talc, silicone, gluten, or other harmful toxins in this product. Give it a try, and you will not be able to part ways from the yummy vanilla scent!
Key Ingredients: Coconut Oil, Vitamin E, Beeswax, Plant Stem Cells, Silk Amino Proteins
Size: 0.5 oz.
Pros
Very nourishing
No synthetics
Fragrance-free
Cruelty-free
We all love a fuller, plump, luscious pout, and the Lick Your Lips Lip Sleeping Mask is made just for that. With a glossy finish and berry aftertaste, this best lip mask for dry lips can be the perfect upgrade for your night skincare regime. Enriched with collagen and rose oil, it forms a protective layer on the lips and repairs damage while trapping moisture. The formulation goes a step ahead of regular lip care  to reduce the appearance of fine lines, and the hyaluronic acid works to give you fuller, plumper lips. This vegan-friendly lip mask has no ounce of phthalates, parabens, and sulfates. For best results, use a thick layer after lip exfoliation. 
Key Ingredients: Apple Stem Cell Extract, Hyaluronic Acid, Vitamin C, Berry Extract, Rose Flower Oil, Collagen
Size: 0.67 oz.
Pros
Boosts collagen production
Helps retain moisture
100% natural
Paraben-free
Enriched with the calming zest of chamomile, honey, and vanilla, the Sara Happ Dream Slip is a deeply nourishing and restorative overnight lip treatment. This ultra-luxe mask for lips helps to renew lip elasticity, so you wake up with a luscious pout in the morning. Containing anti-aging benefits, the hyaluronic acid in the formula gently plumps and softens the skin and repairs fine lines overnight. The nourishing blend of jojoba, macadamia, and sweet almond oils intensely hydrates dry and chapped lips, and the lip repair lipids containing fatty acids moisturize and gives a new life to the lips. Unlike gel masks for lips, this one has a smooth, thick, creamy consistency but does not weigh down your lips and delivers results from the first use.
Key Ingredients: Hyaluronic Acid, Jojoba Oil, Macadamia Seed Oil, Sweet Almond Oil, Light Repaid Lipids
Size: 0.67 oz.
Pros
Softens lips
Intense hydration
Long-lasting
Paraben-free
Created with a blend of botanical extracts and oils, the last product on our list is the Mario Badescu Lip Mask. This night treatment consists of acai berries which are infused with vitamins C and A and omega 3, 6, and 9 fatty acids. They also have anti-aging benefits and are potent moisturizing agents for all skin types. Further, the ultra-hydrating shea butter, nutrient-rich coconut oil, and skin-smoothing squalane help with lip softening and restoration. The mask has a sweet and relaxing vanilla scent that enhances the experience of using it. Because of the thick consistency, a little product is enough to lather the lips, making the product last longer. 
Key Ingredients: Coconut Oil, Shea Butter, Squalane
Size: 0.5 oz.
Pros
Vegan
Paraben and sulfate free
Gluten-free
Ultra-hydrating
Now that we've looked at the lipcare that's available, you may wonder if at all you need to invest in a lip mask. Let's put that wonderment to rest and help you clear your dilemma.
The Benefits of Using a Lip Mask
The lip mask is an Asian invention that has slowly been spreading its wings across the globe, with celebrities and makeup artists enjoying and advertising them. Essentially, lip masks are thicker, more hydrating, and long-lasting than your regular lip balms and chapsticks. If luscious, plump, fuller, pouty lips ring a bell, well, they can be easily achieved with this phenomenal invention. Here are some benefits of using the best lip mask –
Our lips are devoid of sweat glands, like other portions of the skin throughout our body. Lack of sweat glands impacts moisture retention, which in turn makes the lips dry and chapped. A moisturisng lip mask helps to hydrate and restore moisture to make the lips softer.
A lip mask also helps in collagen production or stimulation. Why is that important? It is because collagen is the key component that makes our lips appear fuller and plump.
Finally, a lip mask helps to infuse a blend of powerful ingredients into your skin at night without disturbance. This helps to build on the natural protective barrier against external radicals while repairing any damage caused by the climate, sun, pollutants, makeup, etc.
And this is why looking at the composition of your lip mask is crucial when selecting one. More about this in the next section. Keep on reading!
How To Choose The Best Lip Mask To Get Soft And Supple Lips
We all adore and want our lips to look pouty and full like Kylie Jenner's. But who has the money for expensive treatments? The best alternative on a budget is to grab the best lip mask and use it religiously to get the pouty lips of your dreams. You can keep these things in consideration when choosing a hydrating lip mask.
Ingredients
If you look at the ingredients when buying a moisturizer for your face, why skip it when choosing a lip mask? Ideally, you want an overnight lip mask or a lip sheet mask that is enriched with substances such as hyaluronic acid, oils, shea butter, etc., that not only add but also trap and seal in the hydration. Additional benefits could be exfoliation, pigmentation repair, etc. Special note for sensitive skin individuals – stay away from added fragrances and synthetics. Instead, go for a more natural option.
Reviews
Not only does everyone have a different skin type (including lip skin), but external factors such as climate and pollution also affect our skin health. Looking at reviews from customers and beauty experts in your geographical area and other similarities can help you make a buying decision, especially when purchasing a lip mask online. The feedback will also help you understand the longevity, consistency, and of course, the outcome of the product.
Packaging
Some individuals prefer the common tub packaging and applying the mask with their fingers. If you are concerned about hygiene, then look for a lip mask that comes with an applicator. However, you will have to clean the applicator after every use to not have external bacteria and build up cause more harm than good. 
Like facial oils, these masks for lips are not mandatory skincare essentials, but they are loaded with beneficial ingredients. Therefore, they help you level up your skincare game. And once you have chosen the best lip mask, the application is super simple. Gently apply a generous layer using your finger or the applicator and massage for a few seconds in a circular motion. You don't have to rinse it because it's meant for overnight repair. Now, catch up on your beauty sleep and wake up with luscious plump lips, ready for that perfect morning selfie!
Contributor: Dr. L.J. Maxfield, Certified Dermatologist
Author BIO
Anoushka is certified in Professional Skincare and is a Mass Media (Journalism) graduate from Mumbai University. As a More
FAQ's
Which lip mask is best?
This is a carefully curated list that highlights the top 13 lip masks in the market right now. However, if we were to handpick one out of the lot, we'd say the Laneige Lip Sleeping Mask surely lives up to its hype and can definitely be given a shot.
Do lip masks really work?
Yes, for sure. Due to many internal and external reasons, our lips tend to lose moisture and get dry and chapped. Lip masks help to restore hydration and make the lips softer and plump.
Are lip masks better than chapstick?
Majority of the lip masks are developed as night treatments. They are thicker than chapstick and are more hydrating. If you have very dry and chapped lips, you can replace chapstick with a hydrating lip mask.
What are the disadvantages of lip masks?
Lip masks are overnight magical potions that will rejuvenate your lips. However, they are not permanent lip treatments or solutions. Therefore, they will only show results till you are regularly using them.
How often should you use a lip mask?
Regular lip masks that don't mention otherwise, can be used every day, once or twice. Additionally, they will take your lip game to another level when used after exfoliation 1-2 times a week.
Is it okay to use a lip mask everyday?
Yes. Most lip masks are developed for everyday use, at night. However, follow the instructions of your lip mask for effective results.
Why Trust select
Our product experts study the specifications of every product we suggest and try them out to bring what's proven to be worthy of your money, time, and energy. We also have subject matter experts from various fields like Fashion, Skincare, Haircare, Home Decor, and Health & Fitness onboard to make sure our suggestions are credible and trustworthy. You can trust select to be your faithful shopping guide for all the right reasons!
Source link