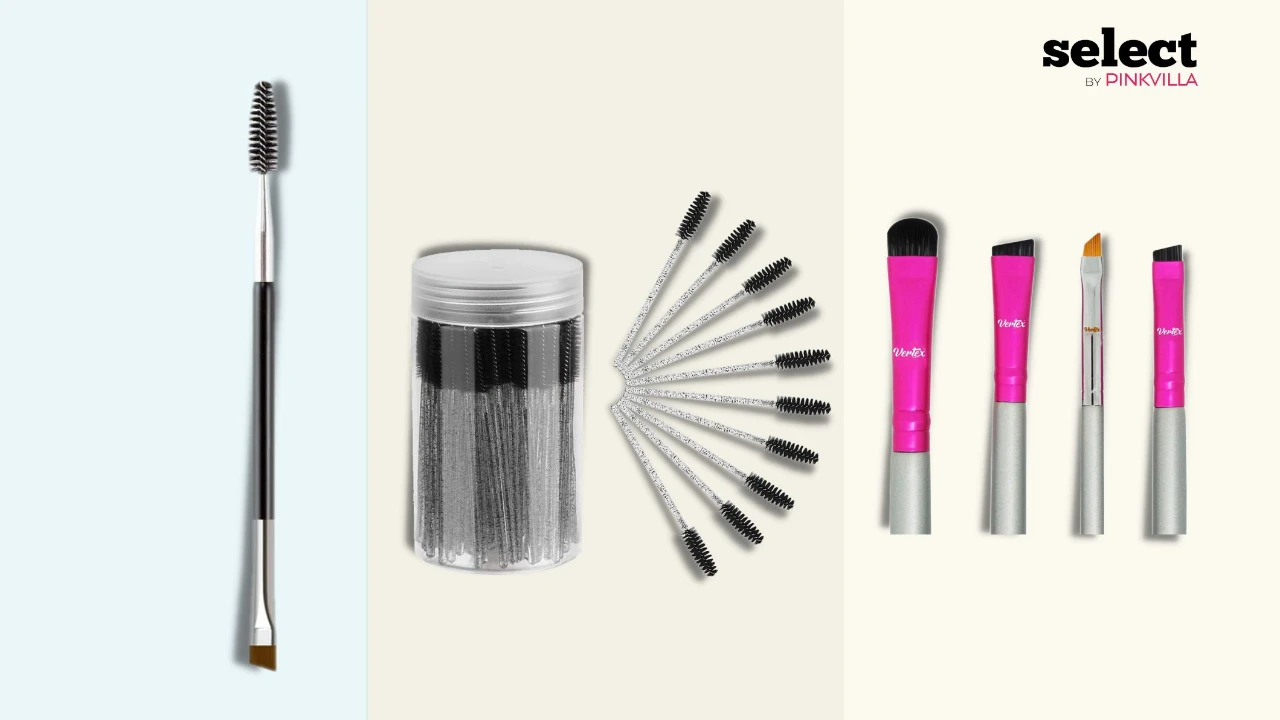 The products curated for this article are independently chosen by the
editorial team. If you make a purchase through the
links
mentioned below, we may receive a commission. Check out our
product
research & curation process
You might have heard of the cliche that eyebrows are the frame of the face. Just like a picture needs a sturdy frame to hold it up, your eyebrows need the perfect right tools to keep them looking groomed. Owning one of the best eyebrow brush adds a unique value to your makeup kit because it's an underrated makeup tool. 
As makeup artist Bobbi Brown once said, "The right brush can make applying makeup a pleasure," and it really does. Whether you want to look bold, dramatic, natural, or subtle, your eyebrows hold a uniqueness to give the perfect expression that you want to slay in, and to get your eyebrows done, a right eyebrow brush can make all the difference. 
You need an eyebrow brush to apply powder, an eyebrow spoolie to blend and soften, or an eyebrow comb to create a more uniform look or the best eyebrow brush for both application and blending. With the best eyebrow brush in hand, you'll be able to create the perfect frame for your face. So, let's take a look at the best 13 eyebrow brushes to groom up.
Our top picks
Perfect for Eyelash Extension
Multiple Grooming Brushes
13 Best Eyebrow Brush That Defines Your Brows
The KINGMAS Professional Double-Ended Angled Eye Brow Brush and Spoolie Brush is a versatile tool that helps you achieve perfect brows. The brush is made with quality synthetic fibres and it is really easy to clean. It features a professional-grade angled brow brush on one side for precise shaping and defining and a high-quality spoolie brush on the other side for blending and grooming.
Pros
Precise and defined strokes
Versatile double-ended design
Spoolie brush
Made with synthetic fibers
Cons
May not work as well for those with very thick or unruly eyebrows
Achieve perfectly groomed lashes and brows with ease using the KINGMAS 3Pcs Angled Eyebrow Brush, Eyelash Comb Curlers Spoolie Brush, and Steel Brow Brush Mascara Comb Makeup Grooming Tool. The metal eyelash comb's unique design makes it easy to brush upwards without twisting your hand, while the double-headed eyebrow brush allows for the even separation of eyebrow hair. If you are a professional make-up artist or someone who is looking for the best eyebrow brush for your personal use, this is suitable for both.
Pros
Ergonomically shaped
Easy to use
Versatile tool for enhancing lashes
Double-ended eyebrow brush for even separation
Cons
No additional brush heads or accessories included
The Real Perfection Makeup Brushes set is a complete 16-piece kit that includes 5 big basic face kabuki brushes, 11 small brushes, and 1 eyebrow razor. The brushes are made with synthetic hairs that are soft and dense, providing even product distribution and a flawless finish. The wood handles make it easy to hold and control while applying makeup. This affordable kit is perfect for beginners and enthusiasts alike and makes for an ideal gift.
Pros
Variety of brush sizes for all makeup application needs
Synthetic hairs are soft and dense
Provides even product distribution
Wood handles make it easy to hold
Cons
No color choice available
The Duo Eyebrow Brush by Keshima is a premium quality angled eyebrow brush and spoolie brush designed for shaping and defining eyebrows. Its firm bristles are perfect for filling in eyebrows, while the high-quality comb spoolie brush is great for grooming and blending. Made with AAA synthetic hair, the brush features a lightweight and strong wooden handle. This product comes with a 100% satisfaction guarantee.
Pros
Angled brow brush for precision
Easy grooming and blending
Firm bristles
Easy application
Cons
No cap or protective cover for bristles
Get salon-quality eyelash extensions and perfectly groomed eyebrows with CHEFBEE's 100PCS Disposable Eyelash Brush set. The package includes 100 sturdy and flexible spoolie brushes with a brilliant crystal plastic handle and soft fiber hair that can be bent slightly as needed. The screw-type head can be used to roll eyelashes, comb eyebrows, and even apply lash growth treatments. The brushes come in a reusable container, making them easy to store and organize at home or while traveling. Keep your mascara and eyelash extensions hygienic and your eyes look bigger and brighter with this one.
Pros
Reusable container
Sturdy brush
Flexible
Screw-type head can be used to roll eyelashes
Cons
Brushes may not be environmentally friendly.
The Docolor Duo Eyebrow Brush is a professional-grade tool for defining and filling eyebrows. With its double-headed design, one end features an angled brow brush for the precise application of eyebrow powder, while the other end features a premium spoolie brush for grooming and blending. The synthetic fibers are high quality and gentle on the skin, and the wooden handle is lightweight and easy to grip. Suitable for both men and women, this brush is perfect for creating perfectly shaped and coordinated eyebrows.
Pros
Double-headed design
High-quality synthetic fibers
Wooden handle
Suitable for both men and women
Cons
Multiple brush options not available
This makeup tool set includes 3 different styles of eyelash grooming brushes and 1 dual-use eyebrow brush. The brushes are designed to evenly separate and groom eyelashes and make eyebrows look more natural and tidy. Made of lightweight and durable materials including plastic, stainless steel, and rayon, these brushes are foldable for easy storage and convenient to carry for fixing makeup on the go. However, the pointed parts of the eyelash brush require careful handling and should be kept away from children.
Pros
Complete makeup grooming set
Lightweight and durable
Adaptable styling
Convenient portability
Cons
Not safe for children – contains pointed parts
Create flawless eyebrows with this best eyebrow brush kit that includes thinly angled and duo spoolie brushes. The hand-cut bristles and fine razor design of the brushes make for precise hair-like strokes and unique contours, allowing for the perfect brow definition. These shaping and reshaping brushes work on pomade, gel, cream, tint, and other wax-based products for filling brows of all shapes and sizes. The brushes are gentle on tender skin, hypoallergenic, and vegan, cruelty-free, and made in the USA. A versatile travel essential, this kit can also be used for contouring, highlighting, and mascara clump removal.
Pros
Precise and easy to use for brow makeup
Safe for the skin
Hypoallergenic
Multipurpose brushes
The Eyeliner Brush Set Pencil Liquid-Gel Liner Winged Makeup Brushes provide an effortless way to apply gel, liquid or pencil eyeliners, allowing you to create clean, dramatic or edgy looks with ease. This set includes four brushes – pencil precision, fine point, small angled winged liner, and flat definer – to cater to all your needs. The brushes are designed to prevent smudging and deliver precise lines. The synthetic hair bristles are gentle on the skin, vegan, and cruelty-free. They come with slim handles for ultimate control and are travel-friendly.
Pros
Versatile set
Ideal for beginners and experts
Gentle on the skin
Precision control
Cons
Doesn't give storage options
Achieve perfectly defined eyelashes and eyebrows with the JOSALINAS 2PCS Mascara Brushes. Made from high-quality materials, these easy-to-use applicators are designed to give you flawless results every time. These portable cosmetic brushes with the cap make it easy to carry them while traveling, ensuring that you always look your best no matter where you are. Don't forget to carry these travel-friendly cosmetic brushes with you to look flawless. 
Pros
Dual-sided brushes
Compact and portable
Long-lasting results
Hygienic
Get beautifully groomed eyebrows and lashes with this 3-in-1 Eyelash Comb and Eyebrow Brush Dual Comb. Made of quality steel and ABS material, this lightweight and easy-to-use makeup tool features a firm angled brush on one end and a combo brush and comb head on the opposite end for unparalleled versatility. The non-slip handle is easy to operate, and the carefully made brush head can define and modify the shape of eyebrows, while the precise angle of the comb can smoothly separate and lengthen your lashes.
Pros
Versatile 3-in-1 design
Made of quality steel
Washable and reusable
Non-slip handle
The KOOBA Makeup Eyebrow Brush & Eyelash Comb is a pack of two portable and lightweight beauty tools suitable for daily and travel use. The compact size of the brushes makes them perfect for on-the-go applications. In your Combo Pack, you get an eyelash comb that precisely separates and lengthens your eyelashes, while the eyebrow groomer you get features high-quality bristles that enhance the natural shape of your eyebrows. The brushes are washable and durable, and the brand offers a quality guarantee.
Pros
Compact size
Lightweight
Precise Angled
High-quality bristles
Achieve symmetry with ease using the versatile BROW Brush. This pack of two angled brushes is perfect for applying powder, henna, cream, tint, makeup, gel, lamination, and wax to your eyebrows. The ergonomic hardwood handle ensures comfort, control, and accuracy. The custom-blended fibers in the bristles are firm and springy, and have great shape retention, making them perfect for consistent strokes. The precision-angled profile makes outlining, filling, and blending easy. Satisfaction is guaranteed with a full refund available within 90 days.
Pros
Versatile eyebrow techniques
Ergonomic handle
Accuracy
Custom-blended
Groomed eyebrows can transform your entire look, and the right eyebrow brush is an absolute must-have in your beauty arsenal. So, here's your guide to choosing the best.
How To Choose Eyebrow Brush
Choosing the right eyebrow brush depends on your personal preferences and the type of eyebrow product you use. Here are some points to consider when selecting an eyebrow brush.
Bristles: Look for an eyebrow brush with firm, yet flexible bristles. The bristles should be able to create precise strokes and apply the product evenly.
Size and Shape: The size and shape of the brush should be based on the size and shape of your eyebrows. A smaller, angled brush is great for creating precise lines and filling in sparse areas, while a larger, rounded brush is better for blending and softening harsh lines.
Material: The material of the brush should be high-quality and durable. Synthetic bristles are a popular choice as they are easy to clean and do not absorb too much product.
Handle: The handle should be comfortable to hold and easy to manoeuvre. A longer handle can provide better control, while a shorter handle can be more portable.
Compatibility: Make sure the brush is compatible with the eyebrow product you use. Different products require different types of brushes, such as a spoolie for a brow gel or a stiff, angled brush for a pomade.
By considering these factors, you can choose an eyebrow brush that suits your needs and helps you achieve the desired look for your eyebrows.
Eyebrows are a crucial feature of our face, and well-groomed eyebrows can make a world of difference in our overall appearance. Whether you have sparse brows that need filling in or unruly brows that need taming, the best eyebrow brush is an indispensable tool for achieving the perfect look. Whether you prefer bold, dramatic brows or a more natural, subtle style, the right brow brush will help you achieve the perfect look with ease. Go ahead and elevate your daily routine with an indulgent, self-grooming experience that enhances your natural beauty and boosts your confidence. So treat yourself to the very best, and experience the joy of perfectly-groomed brows every day.
Author BIO
Sayantani is a certified hair and makeup professional turned writer with 2+ years of experience in the same genre. Ap More
FAQ's
What kind of brush do you use for eyebrows?
There are various types of brushes that can be used for grooming and shaping eyebrows, including eyebrow brushes, brow brushes, eyebrow spoolies, and angled eyebrow brushes.
Is it good to brush your eyebrows every day?
Yes, it is good to brush your eyebrows every day as it can help to groom and shape the hair, making them look neat and tidy.
How do you brush and fill your eyebrows?
To brush and fill your eyebrows, start by brushing your eyebrows with an eyebrow brush or spoolie. If you want to fill in your eyebrows, you can use an eyebrow product such as a pencil, powder, or pomade. Use the eyebrow brush or spoolie to blend the product into your eyebrows, using gentle, upward strokes. Repeat steps 2 and 3 as needed to achieve the desired level of definition and fullness.
Should eyebrows be brushed up or down?
When brushing eyebrows, it is generally best to brush them upwards in the direction of hair growth. This can help to create a fuller, more natural look by separating and fluffing up the hair.
Why Trust select
Our product experts study the specifications of every product we suggest and try them out to bring what's proven to be worthy of your money, time, and energy. We also have subject matter experts from various fields like Fashion, Skincare, Haircare, Home Decor, and Health & Fitness onboard to make sure our suggestions are credible and trustworthy. You can trust select to be your faithful shopping guide for all the right reasons!
Source link