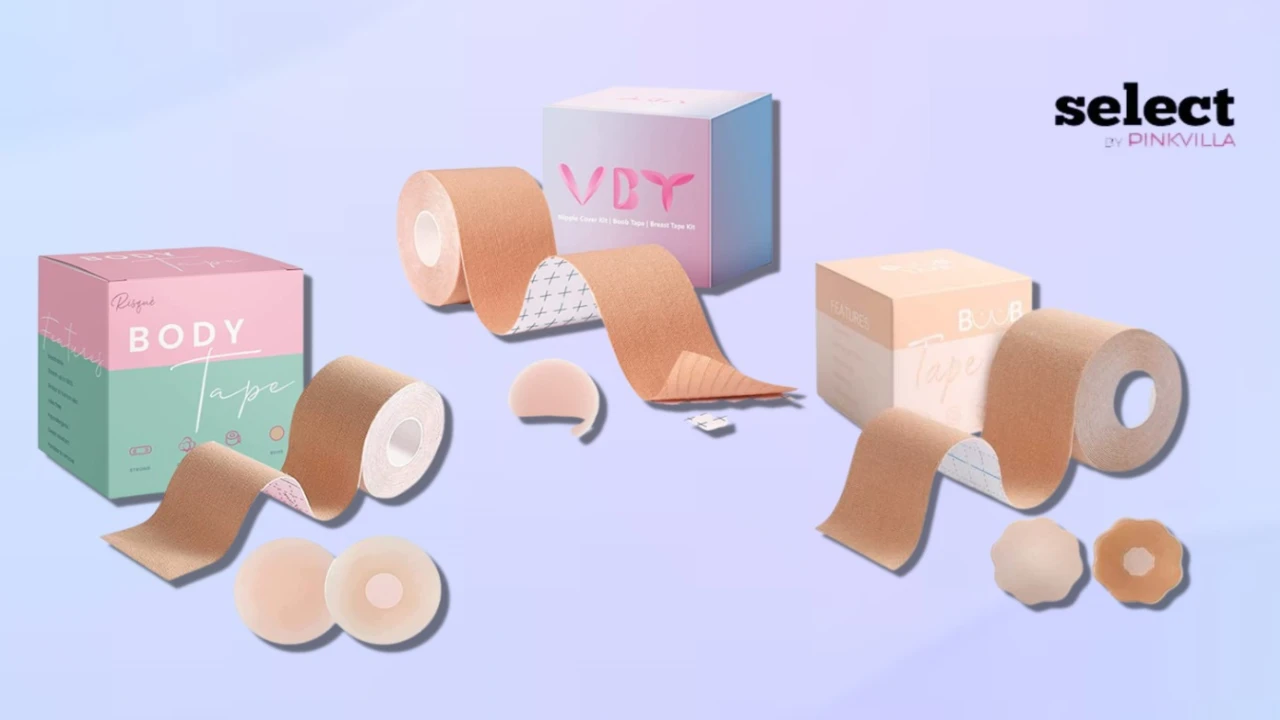 The products curated for this article are independently chosen by the
editorial team. If you make a purchase through the
links
mentioned below, we may receive a commission. Check out our
product
research & curation process
Boob tapes have become increasingly popular among women seeking an alternative to traditional bras. Designed to provide support and lift the breasts, boob tapes are adhesive strips of fabric that can help achieve a more sculpted and flattering appearance. 
Whether you're wearing a backless or strapless dress or top, boob tapes can support you without the discomfort of a traditional bra. With so many options available, it can be hard to choose the right one. That's why we have compiled a list of our top 10 picks for the best boob tapes to give you the perfect sculpted look you desire. These tapes are functional and stylish, ensuring that you look and feel your best in any outfit.
10 Best Boob Tapes to Sculpt Your Breasts for a Flattering Appearance!
Looking for a hassle-free solution to keep your breasts in place? These breast cups are the answer you've been searching for. Unlike traditional boob tapes that require multiple strips, these breast cups are designed to keep your breasts in place without additional support. They're the best boob tapes for low-cut or backless dresses, and the comfortable fabric ensures you can wear them for hours without discomfort. Customers who have tried these breast cups are highly impressed by their effectiveness in keeping the breasts in place, even during extended periods, high humidity, and lots of movement. 
Pros
Reusable nipple covers
Hypoallergenic
Waterproof
Breathable
The Okela boob tape has taken social media by storm due to its unique features and exceptional quality. Made of 95% cotton and 5% spandex, it is much safer than traditional tapes and has a hypoallergenic, soft and comfortable feel. The self-adhesive bra has a non-woven fabric outer surface and a premium silicone lining, ensuring strong adhesion and waterproofing. With a natural flesh-toned color and thin design, the tape is almost undetectable and perfect for backless, strapless, or deep-v outfits. Suitable for A-E cups, this tape provides lift and support, achieving the desired shape. It also doubles as a body tape to prevent shoe rubbing and protect muscles during exercise.
Pros
Second-skin feel
For all sizes
Hypoallergenic
Wide application
Brostown's boob tape offers a pull-on closure and comprises non-woven cotton and spandex. It also includes ten medical-grade silicone nipple covers. This eco-friendly tape is highly stretchable and shapes the breasts while providing long-lasting comfort. It is a good boob tape for cups ranging from A to DD and can be used under various types of clothing, including backless and plunging neck dresses, halter tops, and swimsuits. When removing the tape, it is advised to use oil or lotion, especially if you have dry skin, for pain-free removal.
Pros
Reusable nipple cover
Breathable
Waterproof
Long-lasting
Cons
Not for sensitive skin
Painful removal
VBT is a versatile solution for lifting your breasts that stays hidden under your most complicated outfits. Its lightweight, breathable, and sweat-resistant material provides all-day comfort and protection. You can use the boob tape not only for your chest but also as athletic tape or to protect your feet from shoe rubbing. The package includes two reusable adhesive bras, and you can choose from various colors, such as beige, brown, and black, to match your skin tone. 
Pros
Easy application
Skin-friendly
Natural looking
Long-lasting
Cons
Not waterproof
Adhesive weakens over time.
Achieve natural and waterproof breast lift with BearKig's tape! Its strong adhesion and cotton fabric material provide comfortable and discreet support for A-E cups, lifting even the heaviest breasts for the desired shape. The tape is perfect for backless, strapless wedding dresses, sports bras, and swimsuits, offering unlimited fashion possibilities. Its ergonomic design makes it feel like a second skin, while its waterproof feature ensures it stays in place even underwater. Bid farewell to bra limitations and show your unique charm with this breast lift tape.
Pros
Waterproof
Breathable
Supports bigger cup sizes
Skin-friendly
Cons
Moderate adhesive
Not for sensitive skin.
The Laneso Boob Tape is perfect for hot summer days, with strong adhesion that lasts all night without peeling off. It is comfortable and feels like you're not wearing anything at all. Made of soft, latex-free material, it is skin-friendly and even comes with a test tape for allergies. The grid on the back allows for easy customization to fit any breast size and clothing style. Suitable for A-G cups, it can be used in various ways, like preventing shoe rubbing and protecting muscles during exercise. Get the support you need with Laneso's boob tapes.
Pros
For all breast sizes
Strong adhesive
Long-lasting
Multi-purpose
Cons
Not for sensitive skin
Painful removal
Looking for a reliable breast lifter that can keep up with your busy lifestyle? Look no further than Auteek boob tape! Made with 95% cotton and 5% spandex, this extra-wide tape fits comfortably on large breasts and has sturdy medical adhesive to prevent peeling. The tape is hypoallergenic, breathable and comes with two high-quality, harmless lace reusable nipple covers for added protection. It's suitable for A-G cup sizes and shapes, making it a versatile alternative to traditional bras. Plus, it can hold for up to 8 hours, allowing you to wear your favorite strapless or backless outfits without any worries.
Pros
Holds larger breasts
Easy application
Long-lasting
Water resistant
Cons
Painful removal
Not for sensitive skin
Introducing Razonix Breast Tape – the perfect solution for women who want to achieve a natural-looking lift without wearing a bra. The medical-grade adhesive support is strong and long-lasting, keeping your breasts in place all day while waterproof and breathable. The ergonomic design ensures you won't feel like you're wearing anything. The 3-inch width fits cup size A-G; you can cut it to your desired length. With each purchase, you get a roll of breast lift tape, silicone nipple covers, fabric nipple covers, double-sided tape, a test patch, and instructions. The tape is easy to apply and remove, making it suitable for occasions like deep-V dresses, strapless tops, swimsuits, and more. You can even use it as sports tape or to prevent shoe rubbing.
Pros
Invisible
Strong adhesive
Sweatproof
Multi-purpose
Cons
Not for sensitive skin
Painful removal
GAKI Store offers high-quality and safe breast lift tape for its beloved customers. The boob lift tape uses Germany-Technology Glue, which is skin-friendly, low in sensitivity, and resistant to heat and humidity. This tape ensures excellent adhesion and does not peel off easily. The beige matte texture of the tape is breathable, adjustable, and blends into the skin. It is perfect for backless dresses, halter tops, wedding gowns, and sports bras. With humidity and heat resistance, nipple tape provides excellent support that allows the adhesive to stay in place. You can reuse the tape and nipple pasties after washing, providing an invisible and natural finish.
Pros
Breathable
Easy application
Heat resistant
Durable
Cons
Moderate adhesive
Insufficient support for bigger sizes.
So there you have it! These 10 best breast lift tapes will have your girls looking their best no matter what neckline you're rocking. So look at the pros and cons, and pick the perfect one for you and your outfit. With these tapes, you can flaunt your curves and confidently show off your silhouette.
How To Choose The Right Boob Tape?
Choosing the best bust lifting tape can make a world of difference when supporting and lifting your girlies. Here are some things to consider before making your purchase:
Size: Make sure to choose the right size according to your cup size. Most boob tapes come in various sizes to fit A-G cups.
Material: Look for a boob tape made of a breathable material such as cotton, which will help prevent discomfort or irritation.
Adhesion: Consider the level of adhesion you need based on the occasion and outfit. A stronger adhesive may be necessary for a night of dancing or a more revealing outfit.
Skin Sensitivity: If you have sensitive skin, opt for a hypoallergenic boob tape to prevent irritation or allergic reactions.
Reusability: If you're looking for a more sustainable option, consider purchasing a boob tape that can be reused multiple times, as this will save you money in the long run.
By considering these factors, you can find the perfect boob tape to support and lift your girls while feeling comfortable and confident in any outfit.
How Do You Apply Boob Tape?
Applying boob tape can be tricky, but with these simple steps, you can achieve a seamless, lifted look.
Cleanse: Start by washing your hands and the area where you want to apply the tape. Ensure your skin is dry, clean, and free of oils, lotions, or makeup residue.
Measure and Cut: Measure the length of the tape needed for your desired coverage, then cut it to size. Remember to cut the tape slightly longer than is necessary to avoid gaps.
Position: Lean forward slightly and position the tape under your breast, starting from the bottom and working your way up. Gently lift and support your breast with one hand while smoothing the tape with the other.
Secure: Once you've positioned the tape, hold it in one hand while you remove the backing paper with the other. Press the tape firmly onto your skin, ensuring no wrinkles or gaps.
Repeat: Repeat the same process on your other breast, ensuring both breasts are lifted and symmetrical.
Adjust: Once the tape is in place, adjust it to achieve your desired lift and shape. You can also use additional tape strips to smooth out any bulges or create more lift.
How Do You Remove A Boob Tape?
Removing a boob tape is as important as applying it. Here are the steps you need to follow to safely remove it without causing any harm or pain to your skin:
Gently pull the tape from the top down towards the nipple. Do not pull it off quickly; it can cause skin irritation and discomfort.
Hold your skin down with your other hand to ease the tension and help remove the tape more smoothly.
If you feel discomfort or pain while removing the tape, apply some oil or moisturizer to the edges to loosen the adhesive before removing it.
Take a warm shower or use a warm towel to help the tape release from your skin quickly.
If the tape does not come off quickly, use a cotton ball soaked in rubbing alcohol or adhesive remover to dissolve the adhesive slowly and gradually.
By following these simple steps, you can remove your Boob tape safely and comfortably without any damage to your skin.
Conclusion
Finding the right boob tape can be a game-changer for any outfit, and with the ten best boob tape options listed above, you're sure to find the perfect one for you. Whether you're looking for maximum lift, versatility, or comfort, these tapes have you covered. You can quickly achieve a flawless and flattering appearance with proper application and removal techniques.
Author BIO
Ankita is a budding journalist and a certified fashion expert. If the Fashion police were an official organization, A More
Why Trust select
Our product experts study the specifications of every product we suggest and try them out to bring what's proven to be worthy of your money, time, and energy. We also have subject matter experts from various fields like Fashion, Skincare, Haircare, Home Decor, and Health & Fitness onboard to make sure our suggestions are credible and trustworthy. You can trust select to be your faithful shopping guide for all the right reasons!
Source link