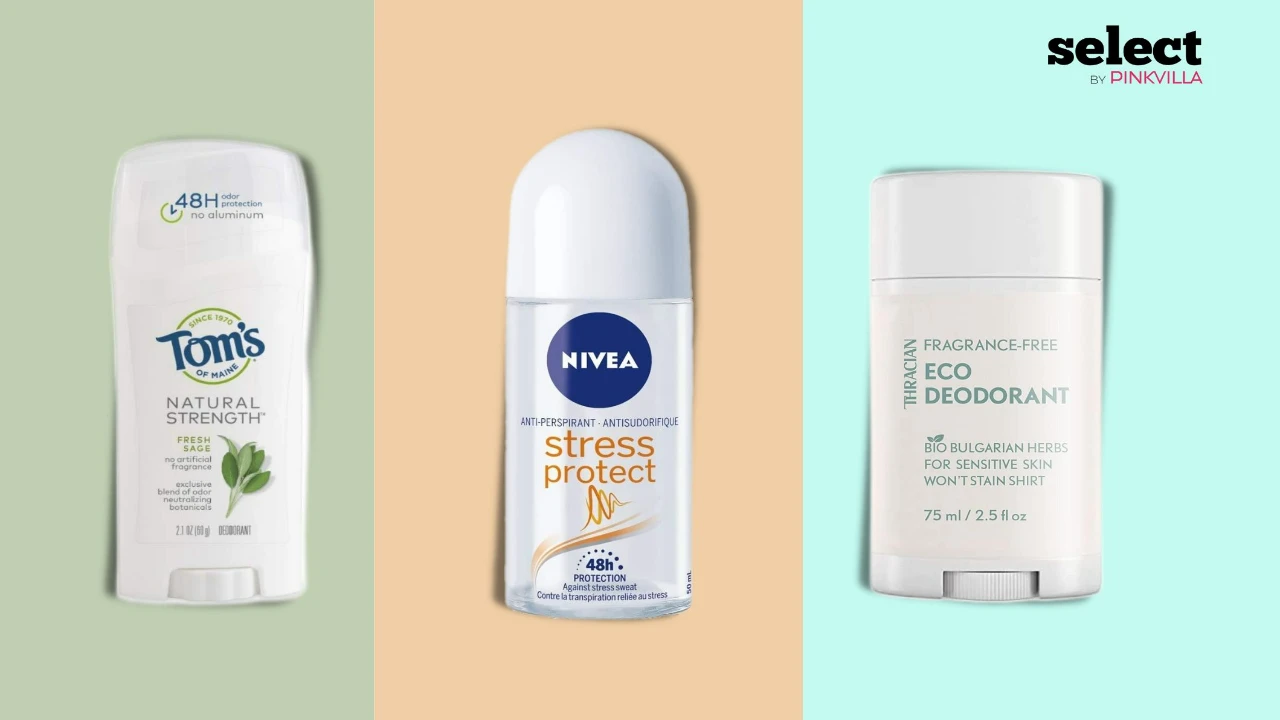 The products curated for this article are independently chosen by the
editorial team. If you make a purchase through the
links
mentioned below, we may receive a commission. Check out our
product
research & curation process
Your search for the best zinc oxide deodorant ends here. Smelling good is quintessential for social interactions, romantic relationships, or your inner self. Your smell is one of the foremost things people notice that directly affects your likeability. After all, rarely anyone likes to go on a second date with a person who smells weird. 
Everyone who takes small activities like brisk walking throughout the day knows the struggle of body odor and sweat. Dr. Sam Ellis, a Board-certified dermatologist says, " When sweat exists in the gland, it has no odor. . It's actually the intermingling of the sweat with the bacteria that reside on our skin that create a smell." It can often be embarrassing to be associated with the stench. However, you can't control your sweat, but you certainly manage the odor.  
Deodorants have fragrances that help mask the smell, but most contain baking soda as an ingredient that changes the pH balance and leads to skin rashes. On the other hand, zinc oxide is known for its anti-bacterial properties that inhibit the growth of microorganisms on your skin. Zinc oxide in deodorant helps in keeping your skin safe from allergies while neutralizing your body odor. It also has a long-lasting effect making you smell good no matter how much you sweat. To spare you from the long research for the best zinc oxide deodorant, we have compiled a list of options to help you out from the stinky situation.
Our top picks
Handles Stress Sweat the Best
Most Eco and Skin-Friendly
Healthiest for Your Armpits
9 Best Zinc Oxide Deodorants for Every Skin Type
The top pick in our list of best zinc oxide deodorants is Eco Deodorant by Thracian. It is chemical-free and a great defense against body odor and sweat all day and night. It is a natural zinc oxide antiperspirant that absorbs sweat keeping your skin dry and fresh. The moisturizing content in the deodorant makes it smooth and calm for your skin. The product is also available in Bulgarian rose an
Key Ingredients: 
Cocoa butter
Coconut oil
Arrowroot powder
Jojoba seed oil
Aloe vera extract
Magnesium hydroxide
d lavender scents.
Pros
Cruelty-free natural ingredients
Doesn't leave any stains
Suitable for all skin types and people of all ages
Does not leave a sticky or greasy residue
This deodorant by Tom's of Maine is a zinc oxide natural deodorant that claims to last 48 hours. It is an aluminum-free deodorant stick that lets your skin breathe and keeps it fresh all day. It helps you get through your day confidently without worrying about body odor. The deodorant is available in fresh powder, rose, and coconut scents. The scent is not overpowering. So if you are someone who can't bear extremely strong scents, this is the pick for you. 
Key ingredients: 
Elaeis guineensis (palm) kernel oil
Stearyl alcohol
Dicaprylyl ether
Hydrogenated castor oil
Hydrogenated soybean oil
Caprylic/capric triglyceride
Beeswax
Zinc oxide,
Natural fragrance
Pros
Long-lasting
Natural and sustainable
No artificial fragrances or preservatives
Gentle on skin and prevents irritation
Cons
The applicator is not easy to use
Deodorant sticks by Pretty Frank are reliable products with zinc oxide that keep odors at bay and keep you fresh. They are available in unscented and in scents like lavender, charcoal seaside, woodlands, coconut lime, orange vanilla, and jasmine. This deodorant produces baking soda-free products and combines magnesium and zinc in deodorant sticks. It is suitable for adults and teenagers alike and suits people with most skin types. This deodorant works well with everybody's body chemistry and that's a plus!
Key ingredients: 
Activated charcoal
zinc oxide 
Magnesium hydroxide 
Natural fragrance
Pros
Made with organic, natural, and cruelty-free substances
Baking soda-free and aluminum-free
Active ingredients make it a natural deodorizer
Absorbs wetness
Cons
Slightly expensive
Overuse may stain clothes
It usually happens that when you are stressed, you smell differently. We tend to produce more sweat, which can lead to more pungent body odor compared to when we're doing physical activities. But here's the good news – NIVEA Stress Protect Roll-On is specifically designed to tackle emotional sweating. Its unique anti-bacterial formula comprises stress-protect actives and zinc complex, which operate jointly to offer you dependable antiperspirant protection against sweat and body odor.
Key ingredients: 
Stress-protect activates
Zinc Complex
Pros
Suitable for sensitive skin
Antiperspirant
Long-lasting upto 48 hours
Easy to apply and use
Cons
Strong smelling
Leaves white residue
The Organic Island deodorant is natural, organic, baking soda free, aluminum free and vegan probiotics for odor control. If you have sensitive skin, then this is a good pick. It contains vegan probiotics that help in odor control naturally. It is also safe to use during pregnancy and breastfeeding. The packaging is BPA-free, recyclable, and thus environmentally friendly. It comes in different variants like sensitive / baking soda free, extra strength sensitive, and original paperboard. 
Key ingredients: 
Non-nano zinc oxide
Vegan shelf-stable probiotics
Wildcrafted candelilla wax
Organic jojoba oil
Organic arrowroot powder
Magnesium hydroxide
Kaolin clay
Organic coconut oil
Pros
Made from organic and chemical-free materials
Probiotic for sensitive skin
Suitable for everyone irrespective of gender, age, and skin type
Comes with a money-back guarantee
Cons
Leaves white residue if used excessively
Stains
With magnesium and zinc oxide usage, this deodorant battles odor-causing bacteria without harming the pH balance of our body. Simply swipe once or twice to get rid of the stink. The product comes in four scents – white lavender, white coconut, black lavender, and black rouge. It helps you sweat healthily, does not causes rashes and bumps, and also controls bad odor. It is environmentally sustainable and helps you reduce your carbon footprint. 
Key ingredients: 
Magnesium
Zinc oxide
Bentonite clay
Arrowroot powder
Pros
Suitable for sensitive skin
Contains no rash formula
Contains hemp seed oil that fights inflammation
Packaging is eco-friendly and is travel-friendly
Cons
Leaves white residue and clumps
Slightly expensive
The next on the list is MONA BRAND's hundred percent all-natural deodorant. It is suitable for men, women, and teenagers. It keeps your armpits healthy, moisturized, and fresh for 24 hours. The deodorant is zinc oxide and magnesium oxide enriched and absorbs sweat naturally. It is perfect for people with allergies and sensitive skin as it's chemical-free, paraben-free, and with all-natural fragrances. It does not causes rashes and breakouts. MONA BRAND's unique water-less formula keeps the pH of the body maintained. 
Key ingredients: 
Magnesium and zinc
Vitamin A, C, D, E, and F
Natural antioxidants
Natural deodorizers and sweat absorbers
Plant-based thickeners
Natural Fragrance
Pros
Won't stain clothes
Smooth glide application
Recyclable packaging
30-day money-back guarantee
This aluminum and paraben-free deodorant stick combines the power of zinc with floral scents. You can choose from scents like lavender, cedarwood and cypress, and, rose and ylang-ylang to fight body odor for long hours. The product is also available unscented. It is a deodorant with zinc oxide that is NPA A-rated and GMP certified. This implies that every aspect of the NOW manufacturing process has been examined, for stability, potency, and product formulation. 
Key ingredients: 
Coconut oil
Cetearyl alcohol
Zinc oxide
Cetearyl alcohol 
Cetearyl glucoside
Pros
Long-lasting scent
Does not stain your clothes
Easy application
Chemical and toxin-free
Cons
May form clumps if you have hairy armpits
Exfoliating beads on the applicator might irritate you if you have sensitive skin
There's a study by the Smell and Taste Institute in Chicago that indicates that men perceive women to be up to six years younger than they are when they catch the scent of grapefruit. Well, this handmade natural deodorant cream has got you covered. It is an aluminum, paraben, and sulfate-free cream that protects your sensitive underarms while keeping them smelling like grapefruit. It is also available in cedar and saffron scent if you do not like fruity smells. 
Key ingredients: 
Cocos nucifera (coconut) oil
Theobroma cacao (cocoa) seed butter
 arrowroot powder
Natural beeswax
Sodium bicarbonate (non-aluminum baking soda)
Zinc oxide
Pros
Smooth application
Lasts all-day
Works in summer and humid climate
Chemical free
Cons
Contains baking soda
Very expensive
Now that you have a comprehensive list of suggestions on the best zinc oxide deodorants, let's have a look at things like how products containing zinc oxide are good and safe for you. And see how you can start your switch from toxic to zinc oxide natural deodorants.
How to Choose the Best Zinc Oxide Deodorant for Yourself?
Now you know about some of our top picks for deodorants with zinc. However, you can choose what's best for you keeping your needs, skin type, and budget in mind. Here are a few things should you should consider before you make your choice: 
Look for natural deodorants that suit your skin type:
If you have sensitive skin, ensure the product does not contain allergens and toxic substances. If you have oily skin, you might want to use water-based matte finish deodorants. And if you have dry skin, deodorants with ingredients like shea butter or coconut oil that moisturize your skin might fit the best. Before you make the final purchase, look for reviews of people with a similar skin type to yours. 
Know what formulation you prefer the most:
Deodorants with zinc oxide come in various forms: sprays, sticks, and creams. You can consider which formulation works best for you. Choose spray deodorant if you prefer a quick and easy application. And a stick or cream might be a better alternative if you prefer a more controlled application. 
Make sure the product has all-natural materials:
Most deodorants have unhealthy and irritating chemicals in them. Hence, look for products containing raw materials sourced from plants and other inert materials like clay. Double-check all the ingredients even if the label says 'natural'. Ensure that it's close to 100%. 
Look for natural active ingredients that neutralize body odor:
It's crucial to seek out all-natural deodorizing agents like hops, eucalyptus, kaolin clay, and saccharomyces ferment. A natural deodorant will probably not work if it lacks some of these components in addition to zinc oxide. Aloe vera and shea butter are two ingredients that actively work to hydrate, calm, and heal your skin. They also moisturize and renew your skin, keeping your underarms smooth, silky, and irritation-free.
Ensure the deodorant is aluminum-free:
Aluminium, which is present in many antiperspirants, inhibits sweat glands. Sadly, this disrupts the body's cooling mechanism and, more significantly, may result in DNA abnormalities, tumor cells, and even Alzheimer's disease.
Avoid products with synthetic chemicals and toxins:
Check whether your deodorant contains any potentially dangerous synthetic compounds like parabens, phthalates, sulfates, or petrochemicals. Avoid anything with baking soda in it at all costs. Many natural deodorants still contain baking soda, which can irritate those with sensitive skin, hence be extremely careful while ensuring this.
How to Use Zinc Oxide Deodorants?
Using zinc oxide in deodorants is not very different than using regular deodorants. Keep the following things in mind while applying them: 
Make sure your underarms are clean and dry. Use gentle soap or cleanser and a clean towel to wipe them dry. 
Shake the deodorant to mix all of its components. 
While applying the product, ensure you use enough to give full coverage. Although, do not use it in excess quantity. It can stain your clothes. 
Wait for a few seconds to let the deodorant dry after applying it. Otherwise, the product might get transferred to your clothes, leaving a residue. 
Please note that if you have never tried natural deodorants before, it may take time for your body to adjust to these products. Also, if you have sensitive skin, it is better to try out the product in a small patch on your underarm for a couple of days. 
Elizabeth Taylor has rightly said, "The beauty of fragrance is that it speaks to your heart, and hopefully someone else's." Smelling good makes you feel happy, fulfilled, and self-confident. It also plays a huge role in people's perception of you. Fortunately, smelling good does not have to come at the cost of harming your skin with toxic deodorants. 
Clinical trials have revealed that zinc oxide is safe to use in deodorants. It has been used in various cosmetic products for several years now.  When we sweat, the natural bacteria on our skin grow. But this development of new germs is limited when using one of the best zinc oxide deodorants as it efficiently destroys odor-causing microorganisms. They provide a long-lasting solution to deal with sweat and body odor. They are both effective and safe to use. Zinc oxide also promotes wound healing and is quite helpful in treating tiny nicks and wounds on your armpits, particularly those caused by shaving. It is a cheap remedy for underarm odor and has antibacterial qualities.
Contributor: Dr. Sam Ellis, Board-certified Dermatologist
Author BIO
Anoushka is certified in Professional Skincare and is a Mass Media (Journalism) graduate from Mumbai University. As a More
FAQ's
Does zinc oxide deodorant stain clothes?
No, zinc oxide deodorants generally do not stain clothes. However, overusing the product, or not giving it enough time to dry might lead to staining.
Does zinc oxide change color?
Zinc oxide does not darken your underarms like other toxic deodorants. Zinc oxide usage does not cause a color change either on your skin or on your clothes.
How much zinc oxide to use in deodorant?
The amount of zinc oxide used in deodorant varies depending on the recipe. Some recipes call for 2 tablespoons of zinc oxide, while others suggest using 1.8g (0.06 Oz). Use non-nano particle zinc, as it remains on the skin's surface and does not penetrate it. It is recommended to start with a lower amount initially when you are making the shift to prevent skin irritation. Test it on a small patch of your skin before you start using it regularly on the larger area.
Why Trust select
Our product experts study the specifications of every product we suggest and try them out to bring what's proven to be worthy of your money, time, and energy. We also have subject matter experts from various fields like Fashion, Skincare, Haircare, Home Decor, and Health & Fitness onboard to make sure our suggestions are credible and trustworthy. You can trust select to be your faithful shopping guide for all the right reasons!
Source link