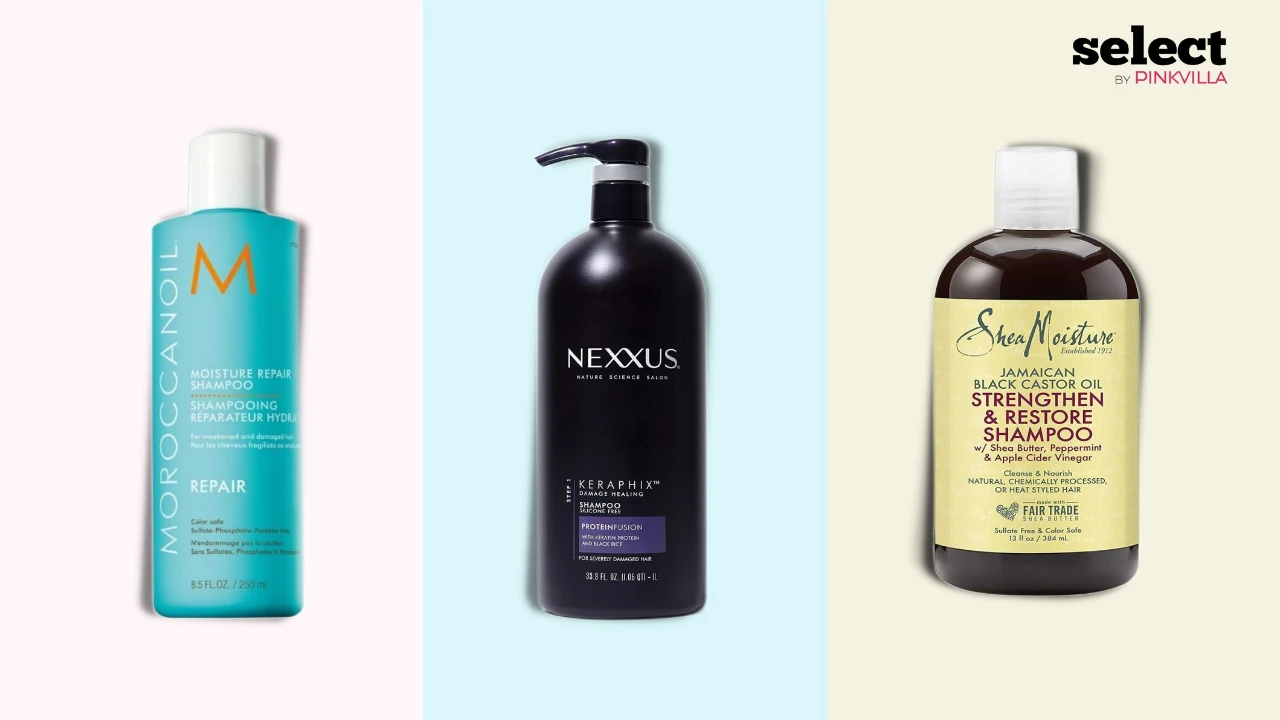 The products curated for this article are independently chosen by the
editorial team. If you make a purchase through the
links
mentioned below, we may receive a commission. Check out our
product
research & curation process
When confronted by lifeless locks and chemically damaged hair, one might consider going bald from frustration. Instead of chopping up your hair and starting fresh, why don't we suggest something better? The best shampoos for damaged hair! Dealing with hair harmed by coloring, heat styling, excessive combing, and other stresses is effortless with shampoos specially formulated for these hiccups. 
"Hair most times break as a result of our daily hair care habits and this loss can be a frustrating and painful moment for any woman," explains Ava White, an American author. To fight breakage and dead hair strands, take a gander at the best shampoos for damaged hair here to save the day with solutions for all kinds of hair types!
Our top picks
Best Strengthening Shampoo
Best Naturally-Derived Shampoo
Best Moisturizing Shampoo
15 Best Shampoos for Damaged Hair with Breakage and Split Ends
Those in search of clarifying and strengthening hair cleansers must undoubtedly choose the Sheamoisture Strengthen and Restore Shampoo. The shampoo encapsulates natural ingredients like Jamaican black castor oil, peppermint, apple cider vinegar, and organic shea butter that are blended to make this nourishing product. In complement to being color safe and sulfate-free, it's perfect for heat styling the hair as well as compliments natural hair types. It's a must-have for the best shampoo for damaged hair!
Pros
Strengthens hair
Cost-effective
Mineral oil-free
Phthalate-free
MOROCCANOIL Moisture Repair Shampoo carries the goodness of oils and keratin to restore the health of lifeless hair strands. Infused with antioxidant-rich argan oil and reconstructive keratin, the clarifying shampoo asserts to remove buildup while restoring elasticity, moisture, and shine. Just massage through wet hair and scalp, add water to activate a rich lather, and get smoother, healthier hair in no time. Dry and damaged hair most affected by humidity will love the nourishing formula of this hair repair shampoo.
Pros
Moisturizes hair
Reconstructs hair
Cruelty-free
Paraben-free
Nexxus Keraphix Shampoo is an impressive shampoo for damaged hair in need of the hearty goodness of keratin. Keratin is the protein that strengthens and when lost can lead to weaker hair strands(1). The formula turns the tables and provides you with keratin proteins and black rice, a rich source of glutamic acid—an amino acid linked to hair growth(2). And the pros? It improves smoothness and lessens breakage, frizz, dullness, and dryness that stand between you and gorgeously glossy hair!
Pros
Affordable
Best for thin hair
Less breakage
Deals with frizz
Add this chic and floral moisturizing shampoo by Love Beauty And Planet to bring hope to damaged hair. This vegan and sulfate-free shampoo comprises ethically sourced Ylang Ylang flower oil, that nourishes hair sabotaged by environment and pollution. Give your hair a vibrant boost of radiance, with moisturizing coconut oil that doesn't seem greasy or sticky. The shampoo performs to stop split ends for smooth and healthy-looking hair – making it the best shampoo for broken hair!
Pros
Cost-effective
Nourishes hair
Free of parabens and silicone
Cruelty-free
Briogeo's Don't Despair, Repair! Super Moisture Shampoo is an ultra-hydrating solution to super damaged hair. Fortified with ingredients like algae extracts and panthenol, it enriches hair elasticity and retain moisture, and flexibility. This shampoo features an innovative formula that merges intense cleansing with the deep conditioning of a hair mask without weighing the hair down or stripping the color. Add one of the best shampoos for super-damaged hair to your cart for less hair breakage and more repairing!
Pros
Moisturizes hair
Increases hair elasticity
Retains moisture
Lightweight
Repairing dull and brittle locks is like a walk in the park with OGX Extra Strength Hydrate & Repair + Shampoo. With over 7,000 positive reviews, the formulation claims to improve strength and elasticity while creating soft, touchable tresses. Cold-pressed Moroccan argan oil is infused into this shampoo where the rich oil helps in reviving hair strands. In addition to the moisturizing qualities, the coconut milk, tangerine, and vanilla scent leaves your hair smelling irresistibly good. It is the ideal shampoo for textured hair to restore its natural health and shine!
Pros
Very cost-effective
Softens hair
Pleasant scent
Sulfate-free
Cons
Might weigh down your hair
Procured from the farms of Italy – davines NOUNOU Shampoo is perfect for low-porosity and brittle, lifeless hair strands. Formulated with Fiaschetto tomato extracts – the hair cleanser is gentle on the scalp with hydrating properties. The tomatoes are full of vitamin C and antioxidants that strengthen and invigorate the hair locks from the roots to the tips(3). Plus, as one of the best shampoos for chemically damaged hair, it delivers the ultimate silky-smooth finish you desire.
Pros
Repairs damage
Softens hair
Fresh scent
Great for color-treated hair
Keratin is the primary component of your hair, and when lost it can lose the zeal and life your hair has. Vitamins Keratin Shampoo is designed specifically for dry and damaged hair and loaded with a combo of hydrating and repairing ingredients, biotin, keratin, collagen protein, and castor oil. The above-mentioned ingredients restore scalp pH balance and help stabilize the hair quality by dealing with split ends. Maybe this shampoo can give you the thorough detoxification therapy you've been looking for!
Pros
Stops breakage
Deals with split ends
Restores pH level
Hydrates dry hair
Cons
Not suitable for coarse hair
TRUSS Miracle Shampoo comes equipped with the power of Bio-Affinity Complex for damaged hair. It comprises ingredients like keratin and cysteine proteins to awaken hair and restore youthful hair locks. The proteins create a protective barrier, rebuild the cuticle, and repair hair damaged by chemicals and hair dying. This shampoo's formulation is lightweight and offers gentle cleansing, leaving no extra residue on your scalp or around your roots. It's the best shampoo for highlighted damaged hair!
Pros
Perfect for chemically treated hair
Paraben-free
Moisturizes the strands
Softens hair
Dove Intensive Repair Shampoo helps restore damaged and dry hair. It is among the gentlest shampoos available for achieving smooth, thick hair. The product, made with fibre actives, rapidly restores dry strands and damaged hair follicles with every hair wash. This shampoo's powerful damage repair mechanism keeps your hair from breaking and improves its health and beauty. Perfect for dry, color-treated, lifeless, and dull hair, both men and women can use this strengthening shampoo!
Pros
Adds shine
Strengthens the hair
Suitable for daily use
No parabens and dye
Improves the appearance of dry hair
Kerastase Resistance Bain Force Architecte Shampoo is the pick for the best shampoo for damaged frizzy hair. This bright teal bottle contains the enriching power your dry hair strands need for rejuvenation. The fundamental ingredients in this shampoo possess a pro-keratin complex, which combines several beneficial amino acids – serine, arginine, and glutamic acid for strengthening and improving hair health with regular wash. The outcome? One experiences more definition, luster, and the elimination of split ends.
Pros
Travel-friendly
Free of parabens
Deals with split ends
Thick consistency
For those on the lookout for spa-quality hair treatment but in a cost-effective range – BIOLAGE Strength Recovery Shampoo is the right choice! After just three applications, this nourishing shampoo will repair damage and enhance the health and beauty of your hair. Some may consider it the first choice for rescuing sensitized hair on the verge of damaging the strands. The vegan squalane as a natural emollient feels light on the hair and cleanses while adding softness and smoothness. It's the perfect pick to stop hair breakage!
Pros
Vegan
Budget-friendly
Reduces breakage
Softens hair
TRESemmé Ultra Keratin Repair Concentrate Shampoo is unique for keratin repair power. The 2x more washes feature removes excess oil and buildups, restores your healthy, vibrant hair, boosts volume, and seals split ends and unwanted tangles to make your hair manageable again. Your hair and scalp are gently cleansed as each strand is covered with a Fast-Lather Technology to help it seem thicker and feel healthier. We love that this repairing shampoo is cruelty-free and ideal for thin sleek strands.
Pros
Makes hair manageable
Removes grime
Perfect for volume
Cruelty-free
Cons
Not ideal for curls and coils
Wella Fusion Shampoo instantly helps to protect hair against breakage caused by combing. Enriched with silk amino acids and micronized lipids, the shampoo restores the luscious and vital strands with gentle cleansing and eases out the buildup of oils and sweat. It also contains moisturizing nutrients that nourish hair follicles to the core reducing any possible chances of frizz or breakage and leaving your hair smelling fresh as a daisy. Add to the cart if your strands need relief from damage and stress!
Pros
Fresh scent
Moisturizes hair
Detangles hair
Lathers well
Just as the name suggests this shampoo will "absolutely" repair and cleanse your hair with every use! The L'Oreal Professionnel Absolut Repair Shampoo contains gold quinoa and protein, that instantly cleanses and restructures damaged hair while leaving it with a lightweight feel. The mild, sulfate-free composition boosts the health of your hair with natural wheat proteins while safeguarding it from further harm and protecting its color. This hair cleanser is the perfect formulation for thin and weak strands needing a boost.
Pros
Lightweight
Rich in lather
Helps maintain hair color
Glossy hair
How to Choose a Shampoo for Damaged Hair
Ingredients:  Whatever we consume or use, can help strengthen weak, damaged hair. They can uplift the roots and help improve hair growth. The main ingredients needed to revitalize damaged hair are aloe vera, coconut oil, rosemary oil,  rice water, castor oil, jojoba oil, and tea tree oil. Others also include lavender oil,  fenugreek seeds, shikakai, gooseberry, salicylic acid, retinol, redensyl, anagain, eggs, etc are some proven ingredients for hair growth.
Moisture: Certain damage-repair shampoos may have a strong composition, and you may be advised to use less of those. Try to switch it up and alternate them during the week with another moisturizing shampoo. Be sure you properly follow the instructions. Look for hydrating and nourishing formulas for very dry and damaged hair to help regain moisture levels.
Safe formula: Damaged hair is very delicate to the touch, and cannot handle harsh chemicals as it may lead to hair fall, hair loss, or loss of color vibrancy. Choose wisely and avoid sulfates, alcohol, and parabens that may deplete the natural oils from your hair, causing dryness and breakage.
The longer the hair grows, the harder it gets to manage the lovely strands. Though problems are inevitable, we must learn to find solutions that are worth the value and cause. Dealing with damaged hair can be less stressful for the person when good products are suggested for their hair concerns. Opting for natural-ingredient-based products can be key to repairing damaged locks and nourishing the hair. The list consists of the best shampoos for damaged hair, and we recommend you share them with your friends if you think they need a helping hand!
Author BIO
With a keen eye for detail and a passion for lifestyle, Alvira is a certified Interior Designer who brings the More
FAQ's
Which shampoo is best for damaged hair?
The best shampoos for damaged hair must repair and restore frizzled and broken hair with the restorative powers of natural ingredients and sulfate-free formulations.
Can shampoo repair damaged hair?
Not necessarily, but to help regrow and rejuvenate the scalp, we suggest opting for mild and gentle formulation-based shampoos that might reverse the effects of damaged hair.
Which shampoo is best for daily use?
The best choice for cleansing your hair daily is choosing a shampoo with a light formulation that won't be harsh on your strands.
Why Trust select
Our product experts study the specifications of every product we suggest and try them out to bring what's proven to be worthy of your money, time, and energy. We also have subject matter experts from various fields like Fashion, Skincare, Haircare, Home Decor, and Health & Fitness onboard to make sure our suggestions are credible and trustworthy. You can trust select to be your faithful shopping guide for all the right reasons!
Source link