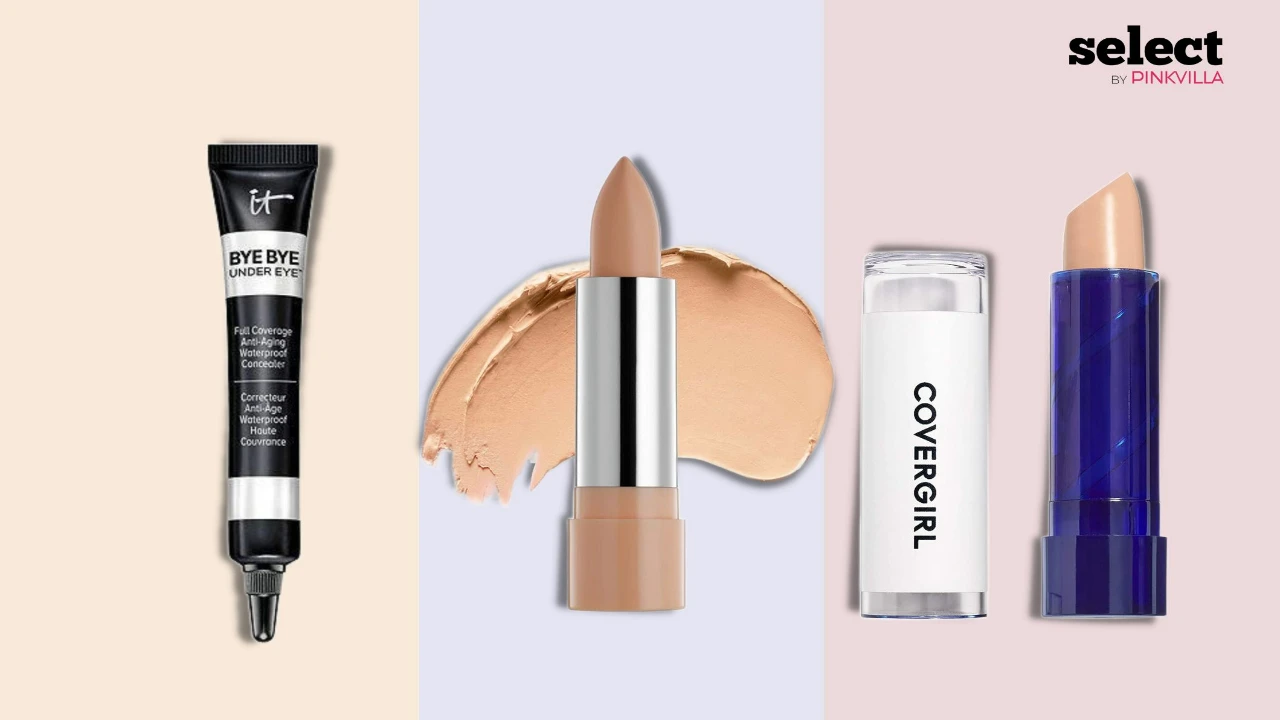 The products curated for this article are independently chosen by the
editorial team. If you make a purchase through the
links
mentioned below, we may receive a commission. Check out our
product
research & curation process
Thank god we have concealers! They are the reasons we confidently flaunt our faces even if we deal with pesky concerns like dullness, dark circles, pigmentations, fine lines, and acne scars. These best under-eye concealers for over 50 people are a boon to those who are dealing with advanced aging signs and have tried and tested products that are of no use! Packed with effective ingredients, the powerful formula of the products will camouflage all the imperfections and make your skin look youthful in no time.
When it comes to concealers for mature skin, Dr. Marina Peredo, a New York-based MD, stated, "Using a thinner consistency is better than using a thicker one, because it's less likely to settle into fine lines or creases." To keep this in mind, we have rounded off a list of the ones that work wonders on mature skin. Take a look—
12 Best Under Eye Concealers for Over 50 to Hide Imperfections
This cutesy bullet concealer comes in handy packaging that glides smoothly over the under-eye area to give you a flawless look. This is one of the best under-eye concealers for wrinkles that claim to settle down in the fine lines for a lifted look. Enriched with vitamin E, ginseng, and botanical extracts, this hypoallergenic product ensures a cruelty-free formula backed by dermatologist-tested ingredients to promise overall care. The lightweight concealer doesn't crease the under-eye area and provides a youthful look.
Pros
Suits sensitive skin
Dermatologist-tested
Lightweight
Botanical ingredients
Fragrance-free
Hypoallergenic
Cruelty-free
The PhotoReady Concealer Stick from Revlon indeed makes you ready for photographs when applied under the eyes. With a creamy formula, the lightweight concealer glides over the eye area without leaving a trace. A great amalgamation of High Definition Filter Technology with powerful ingredients stops reflecting light while covering and blurring the problematic area at the same time. The concealer stick is masterfully given an angled tip to ensure precise application and coverage. It has 6 shades that you can build according to your choice.
Pros
Camouflage imperfections
High Definition Filter technology
Angled tip
Medium to full coverage
Buildable
Lightweight
With a splash of hydration, the Hydro Boost Concealer from Neutrogena does much more than it is supposed to. Formulated with skin-friendly ingredients like hyaluronic acid, which is known as the most potent component to ensure moisturization, the blendable formula of the concealer spreads evenly under the eyes. Available in 5 shades, the concealer range provides an effortless application without getting cakey. The oil-free product is powered by non-comedogenic components to ensure a top-notch concealer stick.
Pros
Hydrating properties
5 available shades
Oil-free
Travel-friendly
Non-comedogenic
Effortless blending
Cons
The finish could be better
Physicians Formula comes with a bullet stick concealer that takes the upper hand at concealing skin imperfections, blemishes, and undereye circles. The creamy formula glides over the skin like a dream and ensures that it doesn't settle in fine lines, and that's why the ophthalmologist and dermatologist-tested formula makes it one of the best concealers for wrinkles. It has a non-comedogenic formula that doesn't get dry and keeps the gentle area remain hydrated for a youthful appearance.
Pros
Hides imperfections
Fragrance-free
Non-comedogenic
Dermatologist-tested
No harsh ingredients
Hypoallergenic
It Cosmetics comes with a waterproof formula that works best for people in a humid climate. Other than that, the powerful formulation can even withstand splashes of water on the face. The tube of anti-aging formula provides full coverage that is perfect to hide all the pigmentations and aging signs. With its creamy formula, the smooth texture glides over the skin like a dream to give you a flawless finish. The travel-friendly packaging is handy enough to carry with you in your bag for instant touch-ups as you please.
Pros
Creamy texture
Waterproof formula
Travel-friendly
Hides pigmentation
Gives a flawless finish
Handy
The ColorStay Skin Awake Concealer has an ultra-lightweight formula that won't feel heavy on your skin and this is exactly what is required for mature skin. With vitamin C and caffeine, the skin-loving ingredients of the concealer don't harm the delicate area while brightening and camouflaging the imperfection for a youthful glow. Along with concealing, it keeps the skin deeply hydrated for more than 24 hours. The buildable formula promises refreshing skin as you apply it to the skin.
Pros
Multitasking concealer
Stays for 24 hours
Lightweight formula
Sponge applicator
Transfer proof
Brightens skin
The concealer comes in a handy and compact packaging that allows you to take it with you anywhere you like. With natural coconut extract, the unique 3-in-1 formula provides three finishes- sheer, medium, and opaque to support your every desirable look. The creamy formula glides over the skin and blends like a dream without any lag! It has a cruelty-free and paraben-free formula that is an added benefit for people who care about the environment and their skin.
Pros
Vegan-friendly
Cruelty-free
Paraben-free
3-in-1 coverage
Natural formulation
Doesn't settle into the fine lines
With anti-aging ingredients like vitamin E, biotin, ceramide, and peptides, the Beauty Perfect Complexion Eye serum promises long-lasting hydration without settling in fine lines and wrinkles. The cruelty-free product boasts of erasing dark circles, puffiness, pigmentations, and aging scars for a flawless finish. It comes with a soft cushion tip applicator that makes the product more convenient for you to apply on the concerned area. Crafted masterfully with premium ingredients, the price tag won't burn holes in your pockets.
Pros
Hides imperfections
Doesn't get cakey
Buildable
Cruelty-free
Skin-friendly ingredients
Blendable
Cons
Applicator could be better
This variation of IT cosmetics concealer does more than just concealing your imperfections! It goes the extra mile and provides unwavering illumination to the undereye area. Infused with hydrolyzed collagen, vitamins, peptides, hyaluronic acid, and antioxidants, the concealer for aged skin takes care of wrinkles, dark circles, bags, hyperpigmentation, and redness single-handedly! It further provides an airbrushed finish to give the problematic area a second-skin-like finish. With attractive packaging, the product is best to carry along with you when you travel.
Pros
Buildable
Waterproof
Illuminates
Vitamin-infused
Travel-friendly
Attractive packaging
With bullet-like handy packaging, the Flower Color concealer provides you with ample convenience that makes it a great on-the-go product. The makeup product is infused with organic ingredients like jojoba oil, vitamin E, titanium dioxide, beeswax, calendula oil, chamomile oil, jojoba oil, and flower wax that don't make a harmful impact on your skin. The plant-powdered beauty glides smoothly over your skin to give a flawless finish while covering birthmarks, scars, and pigmentation at the same time.
Pros
Glides over smoothly
Plant-powered beauty
Blendable
Buildable
Handy packaging
Superb coverage
The high-end Touche Eclat Radiant Touch Concealer comes with attractive copper-gold packaging that will keep you hooked in the first place! It imparts a luminous appearance that provides a three-dimensional effect to highlight the features of your face. With its premium and fail-proof formula, this is indeed the best concealer for mature skin that you need in your stash. The product comes with an in-built applicator which makes a lot less hassle-free for you when you apply it under your eyes.
Pros
Paraben-free
Luminizing effect
Gives 3D effect
Easy-to-apply
Attractive packaging
Blends well
Sisley Paris can be your holy grail if you have oily skin and want a smooth finish without any crease! The instant dark-circle remover claims to be a long-wearing product that provides you with a natural finish. With botanical extracts, the premium beauty product ensures your skin stays away from all the nasty ingredients for full-proof protection. The packaging comes with a flat concealer to make it even more convenient for you to spread and diffuse the product on the concerned areas.
Pros
Botanical formula
Premium beauty
Instant dark circle remover
Natural finish
Contains a brush
No nasty ingredient
Factors to Consider Before Buying Under-eye Concealer for Over 50
a) Ingredients- Ingredients play an important role when you are buying concealer for mature skin. The more hydrating it is, the better! Ingredients like vitamins, peptides, ceramides, essential oils, and other hydrating ingredients are big yes! Similarly, harmful chemicals like paraben, phthalates, gluten, BHA, BHT, and PFA must be avoided to keep the delicate area free from harsh chemicals.
b) Formula- When you are picking a concealer for mature skin, lightweight formula is what you should ideally choose to avoid creasing and settling into the fine lines.
c) Shade- Picking the right shade while matching your undertone is a crucial part to get a flawless finish. Since mature skin tends to have more fine lines, it is best to not go overboard with the shade, and pick one that closely matches your own shade so that the problematic area doesn't get highlighted.
d) Skin type- Your skin type matters a lot when picking the right kind of product. If you have oily acne-prone skin, a lightweight liquid, and a non-comedogenic product is what should be your ideal pick. Similarly, for dry skin, a hydrating creamy stick concealer works wonders!
Steps to Apply Under-eye Concealer
a) Apply a lightweight silicon-based primer that fills in the fine lines and helps them to get blurred out.
b) Take your color corrector, and apply the peach corrector under your eyes to hide the imperfections more effectively.
c) Lightly dab a very little powder to set the entire corrector.
d) Take your foundation and apply it all over your face, however, it is recommended not to use your foundation under your eyes to avoid creasing because of unnecessary layers of products.
e) Pro tip: Take your beauty blender and apply a setting spray directly into it. Take that semi-wet sponge and dab the undereye concealer to push in the product so that it settles into the skin effortlessly.
f) Take your setting powder and dust off the excess to avoid cakiness, and lightly dab under the eye area to get the best results.
These best under-eye concealers for over 50 are some of the hidden gems that you can add to your makeup stash without thinking twice! They are lightweight, blendable, and don't settle into fine lines to ensure that your undereye area looks youthful and spot-free. Packed with effective ingredients, the concealers could be your answer for gorgeous makeup with a natural finish.
Author BIO
Sayantani is a certified hair and makeup professional turned writer with 2+ years of experience in the same genre. Ap More
FAQ's
How do you keep under-eye concealer from creasing mature skin?
First thing first, you can apply a lightweight primer to blur out the fine lines and then apply a concealer to minimize the appearance of aging signs, and then lightly apply powder over it to prevent it from creasing.
Should under-eye concealer be lighter or darker?
Undereye concealer should always be two tones lighter than your actual skin tone to highlight the area. However, if your concerns include hiding imperfections, a concealer that exactly matches your skin tone is what you need.
Should concealer go on before or after foundation?
It depends on the purpose! If you want to correct under your eye area, apply one before the foundation. For highlighting purposes, apply the concealer after the foundation.
Why Trust select
Our product experts study the specifications of every product we suggest and try them out to bring what's proven to be worthy of your money, time, and energy. We also have subject matter experts from various fields like Fashion, Skincare, Haircare, Home Decor, and Health & Fitness onboard to make sure our suggestions are credible and trustworthy. You can trust select to be your faithful shopping guide for all the right reasons!
Source link