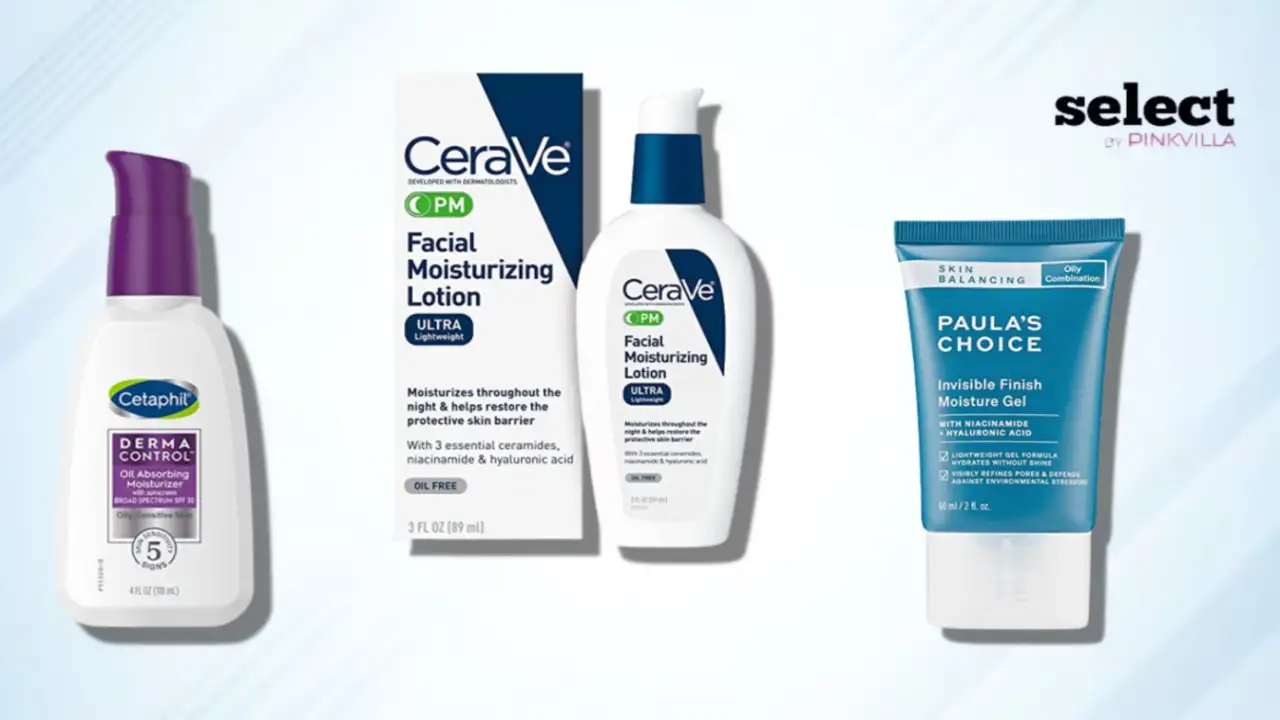 The products curated for this article are independently chosen by the
editorial team. If you make a purchase through the
links
mentioned below, we may receive a commission. Check out our
product
research & curation process
It may seem counterintuitive, but moisturizing your oily skin may be the best way to reduce the greasy sheen on it! This is because some skin types produce excess sebum as a signal of distress when they are dehydrated. "Even if your skin is oily, it can still be dehydrated, meaning it has enough oil but it lacks water", says board-certified dermatologist Dr. Sam Ellis. So, to replenish this water content and regulate sebum production, it is essential to use the best hydrating moisturizer for oily skin! 
"Oily skin that is dehydrated will look shiny or greasy but feet tight or dry", explains Ellis further. Hence, a product that is plush with humectants is ideal to draw water into the skin's surface, so it feels nourished and comfortable. And, the formulation of the product must be lightweight and non-greasy, which absorbs well and does not trigger comedones such as blackheads or sebaceous zits. 
As a matter of fact, oily skin does have an upper hand over other skin types since it ages slower and is less vulnerable to wrinkling. Hence, it is important that you don't aim for skin that is 'entirely' oil-free, but sufficiently hydrated and nourished. For all that, finding a product that fits all these criteria is a task and can involve a lot of guesswork, leading to bad choices. Therefore, we have listed our favorite hydrating products for oily skin below for your reference. Keep reading to know more! 
Our top picks
Best Naturally-formulated Moisturizer
Best Exfoliating Formulation
Best Revitalizing Formula
Cerave's moisturizing lotion is the best hydrating product we've ever come across for oily skin! Formulated with the brand's key ingredients — ceramides 1, 3, 6-II, the product replenishes the lipid barrier of your skin and defies its need to produce excess oil. And, you don't have to keep reapplying the product as its MVE technology provides a controlled release of moisture, which goes a long way! Moreover, the lotion is enriched with the goodness of other actives such as hyaluronic acid and niacinamide that intensively nourish and hydrate your skin.
Pros
Oil-free
Lightweight
Calms skin inflammation
Non-comedogenic
Non-irritating formula
Fragrance-free
Cost-effective
Improves collagen production
Prevents transepidermal water loss
We can keep going on and on about how good this cult-favorite moisturizer is for oily skin! To begin with, the formulation is sublimely lightweight and humectant-rich, so you don't have to worry about getting a greasy layer on your already oily skin. It flaunts the hydration power of hyaluronic acid — " a powerful skin active that can bind moisture up to 1000 times its water weight", according to board-certified dermatologist Dr. Davin Lim. To boot, the gel-based product is plush with other skin conditioners such as glycerin and yeast extract that pamper the skin further. All in all, this is a holy grail product to quench the thirst of your skin! 
Pros
Non-greasy
Penetrates deeper
Makes skin plump
Mild, fresh fragrance
Suits other skin types too
Gives instant hydration
Award-winning product
Sits well under makeup
Weightless occlusive properties
Cons
Bit expensive
Quantity is less
By leveraging its advanced micropearl technology, this oil-control lotion by Cetaphil absorbs excess sebum from your skin's surface to give a healthy, matte finish. Plus, formulated with skin conditioners such as allantoin, panthenol, and ceramides, the product provides sublime moisturization benefits to your skin. Besides that, sun filters such as zinc and avobenzone infused in the formula shield your skin from UVA and UVB rays. And, lastly, the product defends you against other signs of skin sensitivity such as dryness and irritation. 
Pros
Hypoallergenic
Fragrance-free
Doesn't clog pores
Replenishes lipid barrier
Broad spectrum SPF 30
Reduces tightness
Rich in vitamin B and E
Lightweight formula
To get rid of the dreaded oily sheen on your face, we recommend this lightweight drugstore moisturizer for oily skin as it boosts its water content without exacerbating its sebum production. The formula is free from harsh alcohols, fragrances, and oily ingredients — hence, it is safe and gentle for skin types with cystic acne and hormonal zits.  Furthermore, as this lotion is made with gentle skin conditioners such as glycerin and urea, it replenishes your skin with water and leaves it feeling rejuvenated. 
Pros
Non-greasy
Non-drying
Allergy-tested
Doesn't clog pores
Improves skin's texture
Great for rosacea-prone skin
Suitable for humid climates
Sits well under makeup
Gentle formulation
This water-based moisturizer for oily skin replenishes your skin with water to reduce tightness and discomfort caused by dehydration. It consists of skin-loving ingredients such as aloe extracts and hyaluronic acid, that attract moisture into the epidermal layer and soothes its surface (1) (2). Moreover, formulated by keeping oily skin needs in mind, the product effectively reduces oily sheen from your face and gives it a healthy, matte finish. Also, this hydrating liquid comes in a hygienic pump dispenser for efficient use. 
Pros
Refreshes the skin
Provides long-lasting hydration
Nourishes dehydrated areas
Alleviates environmental damage
Anti-inflammatory properties
Absorbs like a dream
Gives a fresh, glowy look
Cons
Denat alcohol can be a bit drying
Strong fragrance
We are in awe of how rejuvenating this gel moisturizer can be for oily skin. Its delectable formula is composed of 96% natural ingredients, including watermelon extracts that intensively nourish and hydrate your skin. In addition, the moisturizer bursts with the properties of active ingredients such as retinol and vitamin C, which boost collagen production in your skin, reduce signs of aging and protect your skin from sun damage (3) (4). Furthermore, the product sits well under your makeup and acts as an excellent morning moisturizer. 
Pros
Leaping Bunny certified
Pocket-friendly
Smells heavenly
Fights oxidative damage
Penetrates deep into skin layers
Rich in essential vitamins
Smoothes skin's texture
Cons
Sticky consistency
Not for the scent-sensitive
It is a little unusual to see a moisturizing product, like this one, to have salicylic acid in it, but that's exactly what makes it a holy grail for lean skincare regimen. Furthermore, what makes it one of the best moisturizing lotions for oily skin is that it treats acne and unclogs pores of dirt and sebum, to even out your skin texture. It also contains hyaluronic acid and vitamin C that splendidly boost hydration and shield your skin from external aggressors (2) (4). To see the best results, use this lotion once every two days. 
Pros
Exfoliation benefits
Brightens complexion
Fights free radicals
Reduces signs of aging
Allergy-tested
Dermatologically-tested
Absorbs quickly
Cons
Expensive
Not for daily use
This oily skin cream by Bliss makes one indulge in the revitalizing goodness of citrus extracts, which are a treat to your senses. Plus, by employing the goodness of vitamin C and the tri-peptide complex, the cream replenishes your skin barrier and stimulates collagen production to make your skin look plump and youthful (4). Also, the product is rich in antioxidants that keep free radicals and UV rays at bay, to provide ultimate skin protection! 
Pros
Brightens your complexion
Improves skin's elasticity
Refreshing fragrance
Provides a dewy glow
Diminishes imperfections
A little goes a long way
Cons
Quantity is too less
Heavy consistency
This powerful gel moisturizer by Belif is a fantastic luxury product for oily skin to take your beauty regime up a notch. It is packed with the goodness of exotic botanical ingredients such as horsetail and nettle extracts that soothe irritated skin while effectively fighting bacteria and free radicals (5) (6). Speaking of its hydration benefits, the product employs the properties of squalene and three essential ceramides that generously replenish the skin barrier while making it soft and supple. 
Pros
Comforting formulation
Lightweight
Prevents trans-epidermal water loss
Great for sensitive skin types
Cons
Strong fragrance
Overpriced
Among the best SPF moisturizers for oily skin, this product protects you from photodamage by leveraging the sun-reflecting minerals in it. In tandem with that, it contains green tea extracts and caffeine that energize and awaken your skin, which makes the product an incredible day cream. The product is also perfect for those who want to build a lean skincare regime as it combines multiple benefits in a single formula.
Pros
Broad spectrum SPF 30
Dermatologically-recommended
Sits well under makeup
Locks in hydration
Rich in antioxidants
Hygienic pump dispenser
Cons
Leaves a white cast
Difficult to spread
If you love products that give a cooling sensation, then this moisturizing cream is the perfect choice for your oily skin needs. To start with its hydration benefits, the product contains aloe vera, shea butter, coconut, olive extracts, and hyaluronic that provide all-around nourishment from replenishing water content to trapping moisture in the skin. And, it is rich in the properties of tea tree oil, ginseng, lavender, and rose extracts, that revitalize your skin as well as your olfactory senses! 
Pros
Clean formulation
Skin-friendly pH
Lightweight
Richly hydrating
Bursting with antioxidants
A little goes a long way
Cons
Bit too concentrated
Not for very sensitive skin
For oily skin types that are prone to painful acne and inflammations, this gel-based moisturizer by Paula's Choice is the perfect solution to invest in. It is rich in soothing ingredients such as oat and licorice root extracts, which alleviate redness and sensitivity. Moreover, with niacinamide, the formula promotes collagen synthesis to fill the pores and acne scars to make your skin even textured (7). To boot, the antioxidant complex of the product acts as a shield against environmental damage. 
Pros
Rich in vitamin B, C, and E
Provides long-lasting hydration
Reduces skin tightness
Prevents water loss
Lightweight formulation
Non-greasy texture
Cons
Very expensive
Frequent reapplication needed
This oil-free moisturizing cream by Majestic Pure consists of essential oils such as tea tree oil which help absorb excess sebum on your skin without drying it out. The formula also contains natural humectants such as aloe vera and hyaluronic acid that provide long-lasting hydration, so your skin doesn't feel tight or dehydrated. Besides, the peptide complexes and marine collagen in it work harmoniously to smoothen out fine lines and wrinkles on your skin. What's more, is that you can use this product for both your face and body. 
Pros
Gives a plump, dewy look
Absorbs like a dream
Smells refreshing
Prevents trans-epidermal water loss
Makes skin soft and smooth
Enriched with antioxidants
Luxuriously moisturizing
Cons
Oddly lumpy consistency
Not for dry skin
Another naturally-formulated product on the list, this oil-controlling face lotion by natural outcome is far more than a mere moisturizer! To begin with, the willow bark extracts infused in the formula gently exfoliate oil, grime, and dead skin cells from the skin's pores. This action of the product is mollified by humectants such as aloe vera, glycerin, and watermelon extracts that provide long-lasting hydration. Furthermore, green tea extracts energize dull skin to make you look fresh and revitalized. 
Pros
Cost-effective
Absorbs easily
Non-greasy
Soothing formula
Invigorating scent
Cruelty-free
Cons
Watered-down formula
Quantity is too little
What makes this oil-free moisturizer by Glo Skin special is its "feel-good" factor that rejuvenates your skin splendidly. But do not mistake the lightweight formula of this product for being ineffective as it consists of powerful humectants such as hyaluronic acid, jojoba oil, and algae extracts that provide long-lasting hydration to your skin, successfully reducing the tightness one feels when the skin is dehydrated! Plus, you can rest assured that the product won't clog your pores or trigger comedones while providing moisturization benefits. 
Pros
Lean formulation
Gentle on acne-prone skin
Rich in antioxidants
Sits comfortably
Softens skin's texture
Cons
Very expensive
Poor packaging
Now that you've seen our product recommendations for the best hydrating moisturizers for oily skin, let us go through the following buying guide and steps to use so you can shop wisely and make the best of the product. 
How to Select a Hydrating Moisturizer for Oily Skin?
Here are a few factors to consider when looking for a hydrating moisturizer for oily skin:
Rich Humectants
While oily skin types produce excess sebum, what they really need is to be replenished with water-based ingredients to restore their natural moisture content. Hence, more than rich emollients, it is important to prioritize humectants in a moisturizer for oily skin. Glycerin, urea, caprylyl glycol, panthenol, hyaluronic acid, cetyl alcohol, and lactic acid are some common humectants that you will find in most moisturizing products. However, you can tap the potential of naturally-derived ingredients such as aloe vera, algae extract, watermelon extract, calendula extract, pomegranate extracts, etc. for marvelous hydration benefits.
Non-greasy And Non-comedogenic Formulation
We don't want a product that contributes to the greasy layer that oily skin types already have, as it can worsen or make way for skin problems like acne. We also want to steer clear of formulations that clog the skin's pores – leading to comedones such as blackheads and sebum plugs. A good moisturizer for oily and combination skin should have a non-greasy formulation that doesn't feel too heavy on the skin and absorbs well. 
To prevent trans-epidermal water loss from oily skin, consider products infused with lightweight occlusives such as dimethicone cross polymers over richer ingredients such as petroleum or coconut oil. 
Active Ingredients
It always helps to spruce your skincare regime with active ingredients to suit your specific skin needs. If you want a product that purifies your skin and reduces blemishes, then a moisturizer infused with salicylic acid or glycolic acid goes a long way in benefiting oily skin. To increase collagen production, powerful actives like retinol and peptide complexes are the way to go. And to protect your skin from external aggressors, antioxidant complexes and mineral-based sun filters like zinc oxide and titanium dioxide work wonders! 
Labels
"(When looking for moisturizers for oily skin), I would rely on the packaging rather than looking exclusively at the ingredients", says Dr. Ellis. This is because many skincare companies create patent formulations keeping a skin type in mind, and focussing on specific ingredients that the whole mix can give you incorrect insights about how the product would actually work. Hence, a piece of great advice is to look for explicit labels such as "oil-free", "mattifying", "gel cream", or "for oily skin" to get the best for your skin. 
How to Use a Hydrating Moisturizer for Oily Skin?
Here are a few simple steps to use a hydrating moisturizer for oily skin
Step 1: Wash your face using a mild, water-based cleanser. Pat it dry. Follow up with a toner and any serums you may use on a regular basis. 
Step 2: Take a small amount of your favorite moisturizer and dot your face and neck. 
Step 3: Massage the product in a circular, upward direction till it absorbs into your skin. Let it settle for a few seconds. Re-apply as and when required. 
Step 4: Follow up with sunscreen, if you're stepping out. 
Conclusion
Now that you understand the needs of your oily skin better, we hope you won't skip using a moisturizer — especially with our above-mentioned product picks. These products are some of the best moisturizers for oily skin out there and tackle several problems the skin type commonly face: acne, blackheads, oily sheen, tightness, etc. But to find something that fits perfectly for your individual skin type, we recommend you thoroughly go through the product descriptions and check the ingredients list. And, do not skip reading our buying guide before investing in a product. Happy shopping! 
Author BIO
Anoushka is certified in Professional Skincare and is a Mass Media (Journalism) graduate from Mumbai University. As a More
FAQ's
What is the best hydrating cream for oily skin?
A. CeraVe Pm Facial Moisturizing Lotion and Neutrogena Hydro Boost Water Gel are some of the best hydrating creams for oily skin.
Why Trust select
Anoushka is certified in Professional Skincare and is a Mass Media (Journalism) graduate from Mumbai University. As an experienced writer, she is an advocate of sustainability in skincare, haircare, fashion, and lifestyle. She loves mind-stimulating conversations, trivial or intense, which fuel her creative ideas. In her leisure time, she enjoys yoga, sitcoms, reading, early morning beach walks, and cafe hopping.
Here, after thorough research, she has listed the best hydrating moisturizers for oily skin that tackle several problems like face acne, blackheads, oily sheen, tightness, etc.
Our product experts study the specifications of every product we suggest and try them out to bring what's proven to be worthy of your money, time, and energy. We also have subject matter experts from various fields like Fashion, Skincare, Haircare, Home Decor, and Health & Fitness onboard to make sure our suggestions are credible and trustworthy. You can trust Select to be your faithful shopping guide for all the right reasons!
Source link