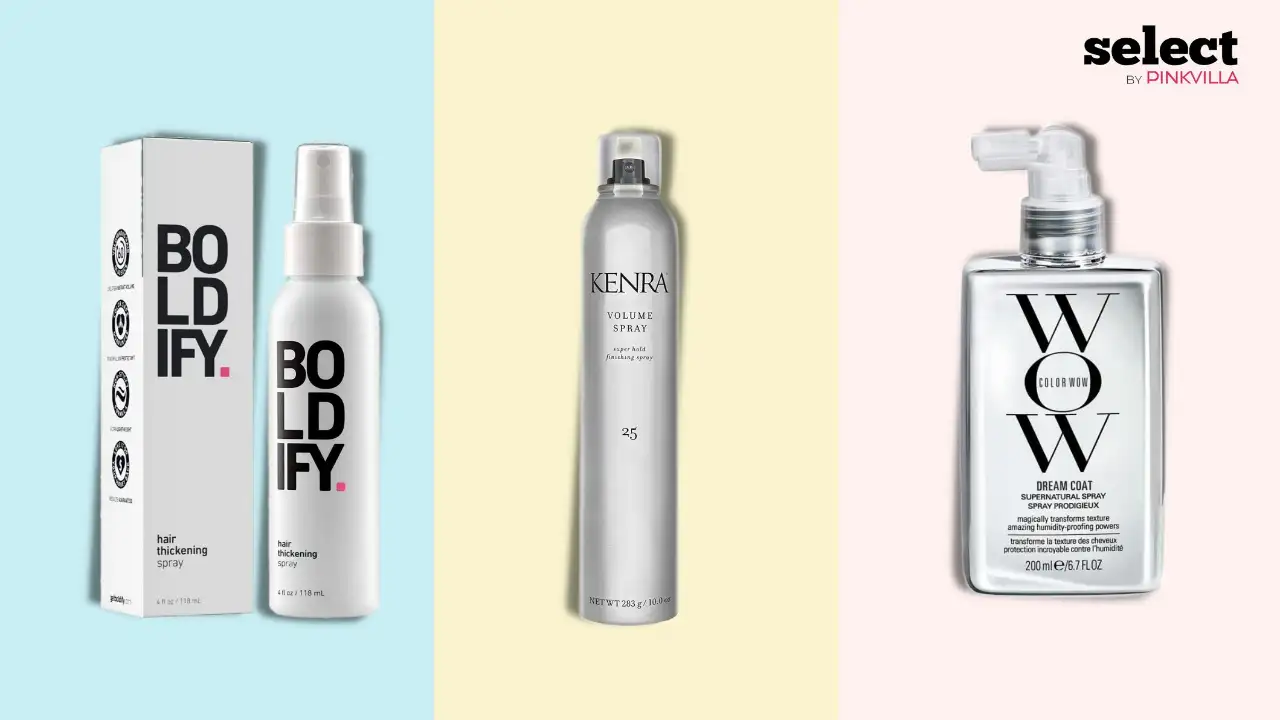 The products curated for this article are independently chosen by the
editorial team. If you make a purchase through the
links
mentioned below, we may receive a commission. Check out our
product
research & curation process
Alcohol-based hairsprays tend to damage the hair cuticles over time when used excessively. Because of their drying nature, alcohol-based hairsprays are a big no-no for their harmful effects on hair. To treat your hair better, here's a new alcohol-free hairspray collection in town that you need in your vanity kit. Adding the best alcohol-free hairsprays to your vanity kit is the best way to finish styling your hair without harsh chemicals.
It's time to upgrade to a better solution and give your hair a spritz of volume and definition with the goodness of natural ingredients. Swipe down to unlock Pandora's box of the best alcohol-free hairsprays for volumized locks and a lasting hold your hair will love!
Our top picks
Best Frizz-Fighting Spray
Best Non-Drying Hairspray
Best for Men's Hair Grooming
10 Best Alcohol-free Hairsprays for Natural Definition And Hold
Various people with color-treated hair are highly prone to frizz problems as a result of chemical treatments. The Dream Coat formulation, on the other hand, uses a heat-activated polymer that compresses, tightens, and closes the fiber to draw away the frizz. With a whopping 50,000+ positive reviews, the formulation covers each strand in a thin, water-resistant layer, causing water to bead up and roll off. The humidity-proofing treatment protects hair for up to 72 hours, making it the perfect alcohol-free hairspray on this list!
Pros
Controls frizz
Tangle-free hair
Glossy hair
Heat-protection
Long-lasting hold
Beyond the apt name, KENRA Volume Spray 25 is an alcohol-free hair spray delivering the maximum volume and hold possible. The slick grey bottle comprises volumizing components that leave the hair brushable and flake-free for versatile hair styling. The goodness of panthenol gives high humidity resistance for up to 24 hours and boasts wind resistance up to 25 MPH with the super hold for up to 120 hours. Those pursuing a professional touch must grab this product!
Pros
Silicone-free
Professional quality
Volumizes hair
Flake-free
Long-lasting hold
BOLDIFY Hair Thickening Spray makes your hair look fuller while keeping it pliable and natural-looking throughout the day. The superlight formulation won't leave a sticky residue or buildups like mousse or hair gel, so it doesn't weigh down tresses like other treatments. As the brand claims to provide volumized hair in 60 seconds, there are over 15k reviews raving about this promising feature. This hair spray for dry hair is perfect for natural definition, be it straight or curly.
Pros
Affordable
Mineral oil-free
Odourless
Absorbs excess oil
OGX Argan Oil of Morocco Sea Salt Spray is a cult favorite for its setting formulation and argan oil goodness. The leave-in styling spray contains sea salt extracts, which gives hair a gorgeous disheveled texture and hold while adding gloss in the end. The incorporation of argan oil and sea kelp satisfies all the worries as it tames the frizz and accentuates the curls. The easy-to-use spray functions well in every weather and is a savior for tousled hair making it the best hairspray without alcohol!
Pros
Affordable
Pleasant scent
Dairy-free
Ideal for curly hair
The alcohol-free formula by L'Oreal Paris Elnett Satin Hairspray adds a significant lift to your tresses. With no stiffness, residue, or flakes, the spray gives a natural definition to the locks for brushing and styling. The satin hairspray features a heat-resistant formulation for frizz-free hairstyling in humid conditions. Lastly, it comes in an assortment of sizes and formulations for all hair types making it a versatile choice in the list!
Pros
Sulfate-free
Unscented
Long-lasting hold
Great non-drying power
Color Wow Xtra Large Bombshell Volumizer is not your ordinary, traditional hair spray. This miracle volumizer safely douses the hair with a moisturizing ingredient like bamboo extracts and avoids hair-drying ingredients like sodium salts. The light, frothy formula is much suited for thin, fine hair that craves volume and drama. The alcohol-free hairspray formulation doesn't disturb the hair cuticles as the polymer tech sits on the top layer, keeping the cuticles hydrated and healthy.
Pros
Thickens hair
Bouncy feel
Glossy finish
Doesn't clog the pores
Does dry hair
Brickell Texturizing Sea Salt Spray focuses on men's grooming and lifts their natural hairstyle to add oomph to their ordinary hair routines. The spray provides a matte finish to the gorgeous locks of men seeking the best hair grooming. It's infused with sea salt, vitamin E, argan oil, and hydrolyzed proteins that lift and volumize hair from the roots to the tips. The hydrolyzed proteins encourage moisture retention keeping frizz problems out of the way. Vitamin E and panthenol assist in hair growth giving it a place in our neat list.
Pros
Natural ingredients
Ideal for all hair types
Long-lasting hold
Controls frizz
Another classic by KENRA, the Ultra Freeze Spray is a firm hair spray for tousled and unruly hair that can't seem to find the definition. This humid-resistant flexible hair spray keeps hairstyles in place while leaving them smooth and shiny with natural movement. The charming alcohol-free spray will make you fall in love with the definition and gloss it brings to your hair. With every single use, it dries instantly and keeps the hold for up to 30 hours perfect for professional and amateur styling too!
Pros
Cruelty-free
Pleasant scent
Great hold
Dries quickly
Travel-friendly
Those looking to style their hair for a Barbiecore aesthetic will love this pick. Cake Beauty The Hold Out offers a burst of volume to thin, fine hair in need of an upgrade. From styling updos to waterfall braids, the clean hairspray leaves the hair flexible and brushable without being stiff and dry. Free of parabens and sulfates, you can safely douse your hair with the goodness of Abyssinian oil, vitamin E, and vanilla extracts that leave you smelling like a dream. This fantastic formulation makes it one of the best alcohol-free hairsprays on the neat list!
Pros
Brushable
Great scent
No residue or buildups
Volumizes hair
Vegan
This moisturizing alcohol-free spray, infused with quinoa proteins, vitamin B5, and sea buckthorn extracts, repairs, and nourishes hair, giving it tousled beachy volume and control over the edges. The natural ingredients help heal and protect the hair from further damage adding a natural thickness that would make Rapunzel shy. Sunflower seed oil provides a natural barrier from UV and environmental damage, and green tea extracts will leave no harm to the hair cuticles. Add BYRD Texturizing Surfspray to your beauty arsenal for glossy, wavy curls.
Pros
Hydrating
Free of parabens
Pleasant scent
UV protection
Vegan
How to Choose the Best Alcohol-free Hairspray?
Ingredients: As the whole list suggests, opting for non-alcohol-based hair sprays is the key to better hair quality. Opting for natural ingredients like vitamin E, panthenol, green tea extracts, sea salt, hydrolyzed proteins, and argan oil can be key to volumizing and texturing all hair types without turning them dry or brittle.
Formula: The purpose of hairspray can be to style, hold, or volumize the strands depending on the formula. Thin and fine hair must search for thickening and volumizing benefits, and must not opt for hold-based hairsprays as they may not give the desired volume but definition. Choose hydrating and moisturizing alcohol-free hair sprays or deep conditioning hair sprays if your hair is dry and brittle in the end.
Harsh chemicals: Spare your hair from harsh chemicals like sulfates, resins, salts, parabens, and alcohol, as they could potentially ruin the texture and overall health of your hair. They may lead to breakage and even stiffness of the strands, making them look and feel like straws.
How to Use the Alcohol-free Hairspray?
First, style hair in your desired way, be it curls, waves, or poker-straight strands.
Then grab the alcohol-free hair spray and simply spray it 7 inches to 10 inches away from your head after you've done your hair. 
While the spray is settling in, smooth down any frizz or flyaways with your hands.
Viola, the alcohol-free hairspray will hold the beautiful locks in place for any event you decide to rock.
Hairsprays come in dozens and finding the best one is a tedious job. Alcohol-based hairsprays tend to carry along the tiresome problems of scalp irritation and inflammation that can be avoided with the above-said list. Enriching your hair with the best alcohol-free hair sprays is the solution to firm locks and eye-pleasing hair definition without destroying your hair cuticles. Be sure to opt for the ideal hairspray your hair desires!
Author BIO
With a keen eye for detail and a passion for lifestyle, Alvira is a certified Interior Designer who brings the More
FAQ's
Is hairspray with alcohol bad for your hair?
Alcohol-based hairsprays can be bad for hair cuticles as they can dry out the hair if used excessively.
What hairspray doesn't make your head itch?
The best choice would be to opt for sulfate-free and alcohol-free hairsprays for an itch-free experience that brings hold and definition to your locks.
Do all hairsprays contain alcohol?
With alcohol's fast-drying nature and firming hold, many hairsprays include alcohol in the formulation but it is not always safe. The above-mentioned hairsprays are alcohol-free and make for a better option.
Why Trust select
Alvira, the author of this article, carefully curates structured content to help our readers gain all the knowledge they require. Her expertise lies in the field of haircare and styling, and she's passionate about researching the best products available across online platforms. Here, she has suggested a list of some of the best alcohol-free hairsprays to help you get your desired hairstyle in place anytime.
Source link