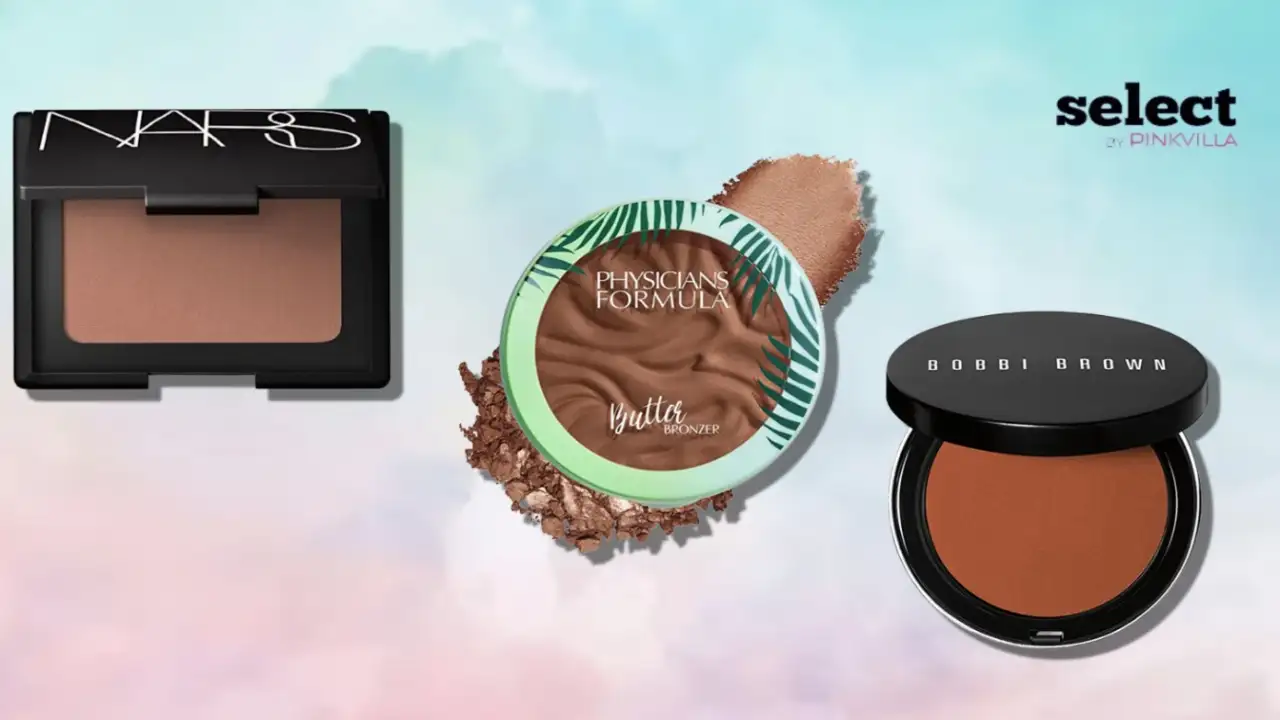 The products curated for this article are independently chosen by the
editorial team. If you make a purchase through the
links
mentioned below, we may receive a commission. Check out our
product
research & curation process
People with dark skin tones often wrongly believe that a bronzer won't do them any good to them when it comes to makeup. Well, they couldn't be more wrong and should definitely give the best bronzers for dark skin a try. That's because while dark skin already reflects a golden-ish hue in the sunlight, these products accentuate it further, making it feel like a beautifully highlighted tan. Plus, to ensure that your skin feels just like it naturally does, you can use the bronzer on your cheekbone, the bridge of your nose, the chin and even on the ends of your forehead. And, the bronzer will give these areas a more sharp and sculpted look.  
One of the most-favored benefits of bronzers is the fact that they don't make your skin look oily. You can even avoid looking like you've run a marathon because this product allows you to accentuate your features while looking a tad bit intentional, but completely effortless at the same time. For this, we've curated a list of 9 of the best bronzers for dark skin tones that are sure to give you the same effect. So why wait? Go check them out! 
Our top picks
Best Drugstore Bronzer for Dark Skin
Best High-end Bronzer for a Professional Look
Best Luxury Bronzer Powder
Best High-end Liquid Bronzer
Best Glitter-free Matte Bronzer
Best Bronzer Combo Palette
Best Bronzer for Neutral Undertones
Best Matte Bronzer Palette
Best Mineral-Rich Formula
9 Best Bronzers for Dark Skin Tones That Add the Extra Oomph
Physicians Formula Butter Bronzer is created along the lines of delivering a glow that befits a Brazilian goddess. This creamy bronzer comes packed with murumuru butter in addition to essential vitamins that give your skin a nourished, sun-kissed glow. Boasting natural ingredients with a soft, buttery finish and a wide range, this becomes one of the best bronzers for dark skin as well as neutral skin tones, alike. So, go on, enjoy the ultra-rich formula and day-long, moisturized, lasting coverage as you glide this bronzer effortlessly over your skin.  Another appreciative feature of this bronzer based on our observations is how closely it mimics other expensive products in terms of delivery, so you can look your best within budget.
Pros
Vegan and cruelty-free
Extremely pocket-friendly
Gluten-free
Mimics a high-end bronzer finish
Hypoallergenic
Suitable for sensitive skin
Cons
Unnecessarily bulky packaging
NARS Browning Powder in the shade Laguna is a high-end bronzer meant for those looking for luxury in their vanity case. The highly pigmented bronzer is easy to apply for those with dark skin tones as it covers up fine lines and gives their skin a highlighted finish for a sculpted look. You can explore the various tanned looks with a subtle shimmer for that coveted glow. The packaging of a square compact box works perfectly well to make this bronzer fit into a travel bag and touch up your face whenever you need an extra oomph.
Pros
High-end product
Fit for daily use
Pigmented for a professional look
Compact square packaging
Best for dark skin tones
Easy to carry
This shade of bronzing powder titled, 'Deep' by Bobby Brown allows your skin to get a sun-tanned look all year long. Especially due to its shade, this is quite a compatible bronzer for dark skin tones as the powder, while loosely based, gives a smooth finish with no shine whatsoever. It allows you to highlight your best features in a soft manner without making your undertone look too orange. It's not too pigmented and not too dark in color so that you get a glow that is just the perfect sun-kissed shade. Lastly, the brand's manufacturing process, as per our expertise, adds more years to the product's life so you can bank on its long-lasting features.
Pros
Easy to apply
Best for dark skin tones
Pigmented color
Long-lasting
Suitable for a professional look
This liquid bronzer by Lumene is one of the brand's products under the umbrella promise of being 'created out of light'. Its uniqueness is found in its liquid form which is quite different from the usual bronzer powders. Plus its sustainable manufacturing is in harmony with nature and might be appreciated by those looking for natural makeup products. The bronzer hydrates and nourishes your skin due to its water-based formula. Our research indicated that you can blend it as easily as you do your other makeup products and get a glow that is as luminescent as ever while getting that tanned look. 
Pros
Liquid bronzer
Pairs well with other products
Easy application
Sustainably created
Natural ingredients
Derived for Nordic beauty standards
This bronzer by Nyx Professional is made especially for all those looking to welcome the spring and summertime with open arms. It's also a good fit for those looking for a bronzer for dark skin tones as it comes in a pressed powder form and is easy to apply both with a brush and without it. Plus, the matte finish that this product provides can allow you to define your cheekbones, forehead area and any other areas in a smooth, easy manner. Furthermore, the fact that it is cruelty-free and ensures that no harm is done to animals will allow you to get that gram-worthy glow without having an iota of a guilty conscience. 
Pros
Glitter-free matte finish
Value for money
Professional look
Suitable for dark skin tones
Cruelty-free
Easy application
The brand's natural bronzer collection boasts four shades of bronzers for brown skin with the added feature of being completely waterproof. This variety allows you to choose a shade that matches your undertone. And, the creamy finish has a long-lasting effect thereby eliminating any  additional touch-ups. The SPF 15 added to the formula also ensures that your skin stays sun-kissed and protected at the same time. This bronzer powder also comes with a matte finish for that put-together look even on days when the sun doesn't peep out of the clouds in your town. However, the winning feature of this bronzer is its pocket-friendliness thereby making it a great drugstore purchase.
Pros
Dermatologically-tested
Value for money
Long-lasting
Widely available
Waterproof
Provides protection from UV rays
This bronzer powder promises to give your skin a dazzling finish all thanks to its matte texture. Also, you can consider this bronzer for tan skin due to its super fine particles that allow for a smooth application and provide a natural look. But if your skin's undertone is neutral or more on the warmer side, you can either contour or highlight the best areas of your face with this powder. Lastly, to be noted, this bronzer is made with an excess sebum control methodology that gives you an even-toned, soft, sun-kissed glow without leaving your skin with an ashy feel. 
Pros
Shine-free matte finish
Cruelty-free
Value for money
Vegan
Dual benefits of contour and bronzer
Flattering for warmer skin undertones
This palette is a three-in-one combo for those who'd like to pack a makeup punch, on the go. The packaging of this product is handy enough to put in your purse for a long day at work. Plus, the palette comes super-charged with a technology that is replete with collagen and peptides, both of which are essential ingredients to help retain moisture and give you that healthy glow. Lastly, the palette is a result of expert advice combined with dermatological care and ingredients that promise to leave you with a natural-looking skin tone.
Pros
Dermatologically-tested
Travel-friendly
3 products in one
Anti-aging properties
Long-wearing formula
Compact packaging
This bronzer is a part of the brand's exclusive collection that promises to make you look and feel like a queen. This bronzer for dark skin comes in a similarly tinted compact box that is shimmery on the outside. The product offers a healthy-looking, shimmery glow, especially to dark skin tones which it is specifically designed for. Furthermore, through trial and error, we discovered that the mineral-rich formula of the bronzer allows you to apply it in such a manner that mimics your skin's natural tone. 
Pros
Hypoallergenic
Available of multiple shades
Shimmery finish
Easy application
Special mineral-rich formula
Cons
Might be available in select stores
Now that you've read about some of the really powerful contenders that have the potential to become a perfect bronzer for dark skin, we're sure there are a couple of questions that may be plaguing your mind. So let's answer them. 
How to Choose the Best Bronzer for Dark Skin?
Before you begin to choose the best bronzer for your skin type, here are a few aspects to consider – 
Generally speaking, your skin has an undertone. And, this undertone can either be cool or warm depending on the kind of colors that look great on you. A simple way to find out what your undertone is to play around with two colors – gold and silver. You can use a mirror in order to determine which one of these two looks good on you. But before this, let us understand the science behind how these colors affect your overtone's reaction with your undertone. In simpler terms, it has everything to do with the amount of melatonin present in your skin and how the color looks against others. To conclude, if gold color suits your face, that means you have a warm undertone and if silver does, then you have a cooler one.  
A light bronzer will suit cooler undertones whereas a darker shade of bronzer will bring out the best for warm ones. Choosing a  bronzer that is at least one or two shades darker than your skin tone might help you achieve a natural look. Another way to choose a great bronzer is to observe and try to mimic how your skin looks when it is slightly tanned. 
How to Use the Best Bronzer for Dark Skin?
Having a dark skin tone or a light skin tone won't make much of a difference especially when you know how to use makeup for accentuating your best features. Similar is the case with bronzers for dark skin. Go for a brush applicator or keep it simple by using your fingers to apply the product to your face. First, identify all the areas where the sun hits and then mark them out and slowly and steadily try and blend the bronzer in such a manner that both highlights and sculpts. Easy, right? 
Conclusion
No matter the temperature outside your window, expressing yourself in full color always helps lift up the mood and enhance your LOTD. And, what better way to do it than sculpting your facial features with the best bronzers for dark skin tones? Bronzers are perfect to not only create a sunkissed glow but also add warmth to your face. So why wait? Choose the best one from our product picks mentioned above and change your makeup game for the better. 
Author BIO
Sayantani is a certified hair and makeup professional turned writer with 2+ years of experience in the same genre. Ap More
Why Trust select
Sayantani is a certified hair and makeup professional turned writer with 2+ years of experience in the same genre. Apart from being passionate about imparting knowledge on the things she is enthusiastic about, Sayantani also has a knack for all things creative and aesthetic. When not working, she relies on binge-watching beauty videos and social media surfing for her daily dose of entertainment. Here, she has listed the best bronzers for dark skin tones that are a must-have in your vanity. 
Our product experts study the specifications of every product we suggest and try them out to bring what's proven to be worthy of your money, time, and energy. We also have subject matter experts from various fields like Fashion, Skincare, Haircare, Home Decor, and Health & Fitness onboard to make sure our suggestions are credible and trustworthy. You can trust select to be your faithful shopping guide for all the right reasons!
Source link