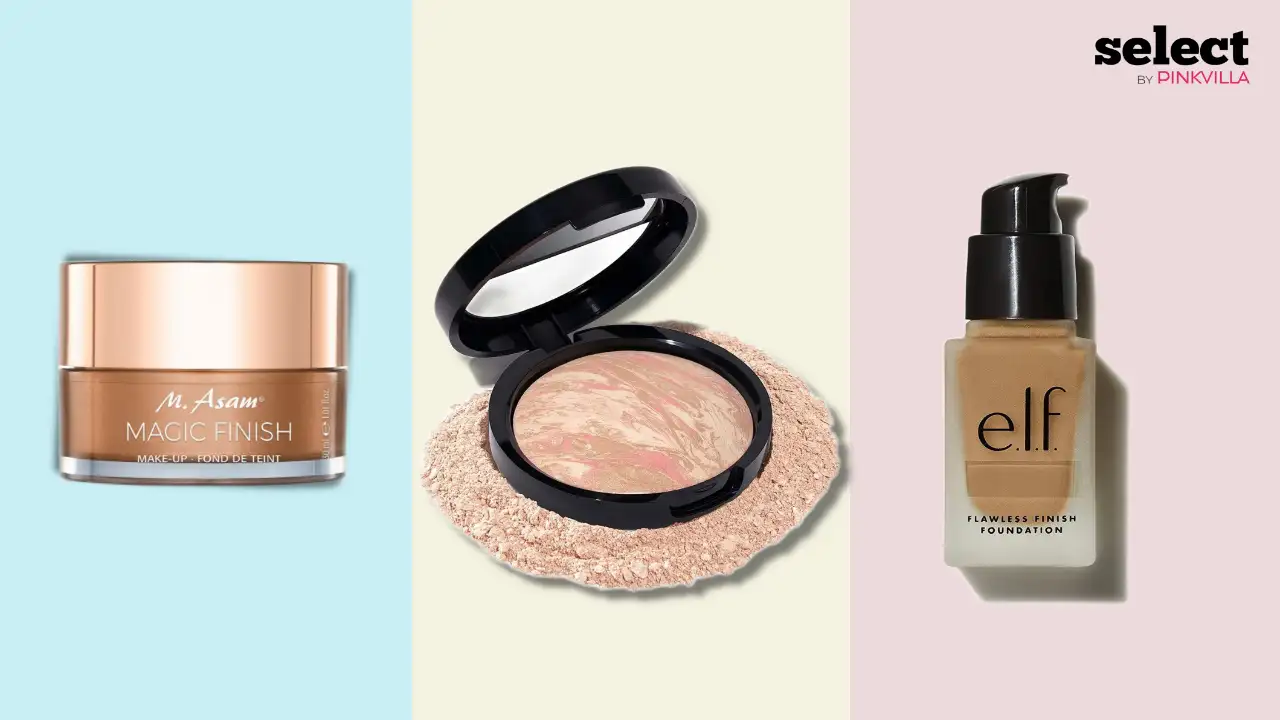 The products curated for this article are independently chosen by the
editorial team. If you make a purchase through the
links
mentioned below, we may receive a commission. Check out our
product
research & curation process
Everyone loves a makeup look so natural, that it looks just like your skin, but better. The best sheer foundations are a makeup must-have for this natural and minimalistic look. Foundations with light coverage can be a great addition to your workplace outfit because of their subtle presence on your skin. Not just that, you may even make them a part of your cozy romantic evenings, because like Francois Nars once said, "Transparency is more sexy than a full, pancake finish."
Choosing the right light coverage foundation for your skin requires tons of research and trial. Mostly because you are looking for a product that is not only lightweight for comfortable all-day wear, but must also be an incredible match to your shade and undertone. Besides, you might also want to go for formulas that have certain skincare benefits so that you can flaunt that natural beauty even after you take your makeup off. 
To help you with your journey toward your perfect match, we have brought together the 15 best foundations with sheer coverage and put them on this list. Time to ace that no-makeup makeup look like a pro!
Our top picks
Best Light-Coverage Powder Foundation
Best Light Coverage Mousse
Best Sheer Liquid Foundation
Best Lightweight Sheer Foundation
15 Best Sheer Foundations for a Natural Look!
The e.l.f. Flawless Finish Foundation brings a sheer foundation and sunscreen together and packs them in a formula that can do so much more than just giving you that flawless finish. This all-day-lasting sheer foundation with a semi-matte finish is your solution to achieve that naturally radiant look without burning a hole in your pocket. And, while at it, this magical product doesn't even clog your pores! Get your hands on this efficiently packaged and beautiful foundation today.
Pros
Not tested on animals
Contains SPF
Semi-matte finish
Oil-free
The Baked Balance-n-Brighten Color Correcting Powder Foundation by Laura Geller is handmade, of pressed powders, and is weightless. It is a wonderfully versatile product that assures a perfect canvas for your no-makeup makeup look, and also deals with fine lines and wrinkles like a wizard. It has been formulated without using paraben and delivers a powerful anti-aging effect. Packed with renowned antioxidants like white tea extracts and centella asiatic, there is no reason to not like this foundation.
Pros
Hydrating
Suitable for all skin types
Offsets ruddiness
No caking
Primer, foundation, concealer, and powder- take care of all these makeup steps with the help of just one product. We are talking about the M. Asam Magic Finish Make-up Mousse which is a revolutionary 4-in-one formula that delivers natural radiance to your skin and lasts an entire day. With this amazing formula, say goodbye to redness, dark spots, dark circles, pores, lines, and wrinkles, while also enjoying the blurring and smoothing effect of this sheer coverage foundation. It is vegan and made of natural minerals without using any parabens, talcs, or phthalate. The only flaw is that it is flawless!
Pros
Suitable for all skin types
Blends seamlessly
Cruelty-free
Light and silky consistency
The infamous naturally dewy glow now comes packaged along with nourishing goodness. Covergirl's Clean Fresh Skin Milk Foundation is infused with the magic of hydrating coconut milk and aloe extract. So, while the liquid formula helps you achieve that elegant sheer coverage, it also hydrates your skin and helps you with a naturally youthful finish. It is a cruelty-free product and no formaldehyde, phthalates, parabens, sulfates, or talc are used in its making. Kind to your skin, kinder to the animals, and a much sought-after part of any no-makeup makeup look.
Pros
Easy to apply
Buildable coverage
Works on all skin types
Hydrating
A tinted hydrating product that delivers the glamor of makeup with the nourishment of a skincare formula, the Neutrogena Hydro Boost Hydrating Tint is a phenomenal formula that is perfect for everyday wear. It is enriched with hyaluronic acid, an old friend that we all know to be a hydrating ingredient. It is a lightweight gel that smoothly glides on your skin and settles into fine lines without clogging pores. With wearability of up to 24 hours, you can restore the suppleness of your skin while also allowing it to breathe, with the help of this water gel product.
Pros
Great for dry skin
Lightweight
Hydrating
All-day wear
Cons
Available in only 10 shades
A foundation that delivers natural but radiant, flawless coverage that lasts for up to 16 hours- the L'Oreal Paris True Match Loose Powder Foundation is a must-have! The easily blendable color matches your skin tone for true-to-you coverage that looks amazing. It contains SPF15, which brilliantly protects your skin from sun damage. The formula is also a lifesaver for all sensitive-skinned readers because it does not clog pores, and is free from oil, perfume, and preservatives. After application, the foundation leaves a matte finish but feels so lightweight on your skin that you won't even know that you're wearing makeup.
Pros
Non-comedogenic
Oil-free
Travel-friendly packaging
Lets the skin breathe
The Liquid Foundation by Revlon and its 31 shades do a perfect job of bringing you the correct shade and undertone match! The foundation has a natural finish and lightweight feel, going on like a moisturizer for comfortable, lightweight, natural coverage. It creates medium, smooth coverage that looks amazing and feels even better. Plus, it shields against environmental damage including anti-pollution, antioxidant, and anti-blue light properties, keeping your skin protected and healthy.
Pros
Contains antioxidants
Buildable
Protects from pollution
Comfortable to wear
The Neutrogena Healthy Skin Liquid Makeup Foundation provides flawless, beautiful coverage across an array of skin types and tones, leaving you with a flawless finish that looks amazing. This liquid makeup is so lightweight and non-greasy, making it a dream to apply. It glides on effortlessly for a flawless finish, and its silky formula even helps improve your skin's luminosity, tone, and texture. And if that's not enough, this magical foundation also contains broad-spectrum SPF 20 sunscreen with titanium dioxide, that protects your skin from dangerous UVA/UVB rays that can burn and prematurely age skin.
Pros
Contains antioxidants
All-day wear
Silky finish
Luminous texture
The Skintone Matching Foundation by Almay is a  formula so revolutionary that it magically changes to match your ideal shade as you smooth this white cream on your skin. Thanks to Almay's Tonemimic technology, this product works by utilizing small spheres that burst open and release pigment as you blend the product onto your skin. This ensures that you'll always get the perfect match for your skin tone. The foundation provides natural-looking, streak-free, medium coverage, making it perfect for everyday use. Plus, it has SPF 15 broad-spectrum protection from harmful UV rays that are notorious for prematurely aging skin and also damaging it.
Pros
Dermatologist tested
Hypoallergenic
Fragrance-free
Cruelty-free
Less is more with the Dermablend Flawless Creator Liquid Foundation. It doesn't just live up to this statement in terms of coverage, but also in terms of quantity. All you need is a little bit of this foundation to achieve that beautiful sheer look for the whole of your face. The product has been tested for allergies and is formulated using only 10 ingredients, and that too without the inclusion of phthalates and triclosans. With its concentrated pigments and non-comedogenic formula, this sheer foundation for light coverage shines among the rest.
Pros
Suitable for acne-prone skin
Works for oily skin
Vegan formula
Paraben-free
You'll love the NARS Sheer Glow Foundation which provides sheer coverage while also hydrating and brightening your skin. The foundation match is almost identical in different light settings, so you don't have to worry about looking like a different person in different lighting. Plus, the finish is radiant and dewy, giving you that perfect glow. But wait, there's more! This foundation uses a complexion-brightening formulation to give your skin hydration and skincare benefits, SPF coverage, and medium coverage that's buildable and variable depending on your needs. It's a multi-use product that definitely justifies its cost.
Pros
Improves skin tone
Hydrating
Breathable
Contains vitamin C and turmeric
The PCA SKIN Sheer Tint is more than just a tinted product as it protects your skin like a warrior against UVA/UVB and keeps it safe from the sun's harmful rays. Not only that, but it also protects from free radical damage, so you're earning extra UV protection. This product has a lightweight formulation that blends beautifully into your skin, making it perfect for everyday use on its own or under makeup. It's also water resistant, so if you like to live an active lifestyle, this product won't get in the way.
Pros
Fit for everyday use
Protects from sun damage
Water-resistant
Works for all skin types
The Glo Skin Beauty Luminous Liquid Foundation is a  mineral foundation that gives you all-day radiance while also protecting your skin from aging environmental stressors thanks to its powerful antioxidants. It imparts sheer to medium coverage, smoothing and correcting any imperfections for a soft, luminous complexion that instantly revitalizes the skin with its soft focus effect. To give you a flawless, youthful complexion, this foundation is made with specialized moisturizing agents, broad-spectrum UV protection, and light-diffusing diamond Powder. These ingredients work together to give you the perfect finish that leaves your skin looking and feeling great.
Pros
Dewy finish
Contains SPF 18
Contains antioxidants
Luminous finish
Cons
Doesn't work for excessively oily skin
Wow, the Revlon ColorStay Light Cover Liquid Foundation is a game-changer! It's so natural-looking and doesn't overpower your face. On top of that, it even comes with SPF 34 to give you some extra sun protection. The light, fluid formula makes it super easy to apply and blend, and it's breathable even with foundation on. It also wears really well under powder, so you can get that matte finish if you want. This foundation is great for long wear, and it's perfect for dry skin because of its hydrating formula.
Pros
Paraben and phthalate free
No fragrance
Hydrating
Lightweight
The Mineral Fusion Sheer Tint Foundation is a mineral-infused formula that excels at giving you a radiant finish and an even skin tone. Plus, it's formulated with red tea, pomegranate, and sea kelp to provide age-defying antioxidant protection against radical damage. Not only will you get the coverage you want, but your skin will also benefit from the added skincare ingredients. This foundation is perfect for those who want to look flawless while also taking care of their skin.
Pros
Suits all skin types
Anti-aging properties
Radiant finish
Talc free
Sheer foundations have a charm that's hard to resist but before you get yourself one, here's what you need to remember.
How to Choose a Sheer Foundation?
Broadly, there are two kinds of makeup enthusiasts. Some like to wear makeup that looks so glamorous that they make heads turn every time they enter a room, and others like it so natural that it is hard to tell if they are wearing makeup at all! If you like to carry the no-makeup makeup look, it is important that you choose the best light coverage foundation for yourself. Let's see how you can pick one! 
Start with the Skin Type
Makeup products are only seldom suitable for all skin types. Since every type of skin has a different spectrum of needs, it is essential to pick skin-specific formulas. Before going out to find the perfect foundation for yourself, first thoroughly research the skin type you have. 
Shade Match is Very Important 
One of the biggest aims of picking foundations with light coverage is to achieve a makeup look so natural that you can't even tell if it's there. Picking a product that doesn't perfectly fit your shade defeats the purpose. Take your time choosing the right shades with the right undertones if you are trying to achieve a flawlessly natural finish. 
Try it Before You Buy It 
Before you take a light coverage foundation home, do test it out on your skin to see how comfortable it is to wear, whether you like consistency, and how the formula sits on your skin. Also, testing may also get you a better idea about how close the shade is to your skin. 
Picking the right foundation is already a demanding task because of a whole myriad of products available out there. But the best sheer foundations will deliver a no-makeup makeup look when they match flawlessly with your skin shade and do not become cakey after application. To ensure that you are picking the right product, tick all the checkboxes mentioned above. No matter how long your journey toward the perfect sheer foundation for light coverage is, the results are undoubtedly worth it. Everyone likes makeup to look so flawless, you forget that if it is even there. So, time to hop out of slumber and grab your perfectly matched foundation. Happy shopping!
Author BIO
Sayantani is a certified hair and makeup professional turned writer with 2+ years of experience in the same genre. Ap More
FAQ's
What is a sheer foundation?
We call a foundation sheer when it provides light coverage and only forms a thin layer on the skin, allowing it to breathe.
Which foundation is good for a natural look?
Sheer foundations are the best if you want to achieve a natural look.
How do you make the foundation look natural and not cakey?
To avoid a cakey-looking foundation, make sure to start with hydrating your skin. While applying it on your face, ensure blending your foundation well, and do not overuse powder.
Why Trust select
Our product experts study the specifications of every product we suggest and try them out to bring what's proven to be worthy of your money, time, and energy. We also have subject matter experts from various fields like Fashion, Skincare, Haircare, Home Decor, and Health & Fitness onboard to make sure our suggestions are credible and trustworthy. You can trust select to be your faithful shopping guide for all the right reasons!
Source link