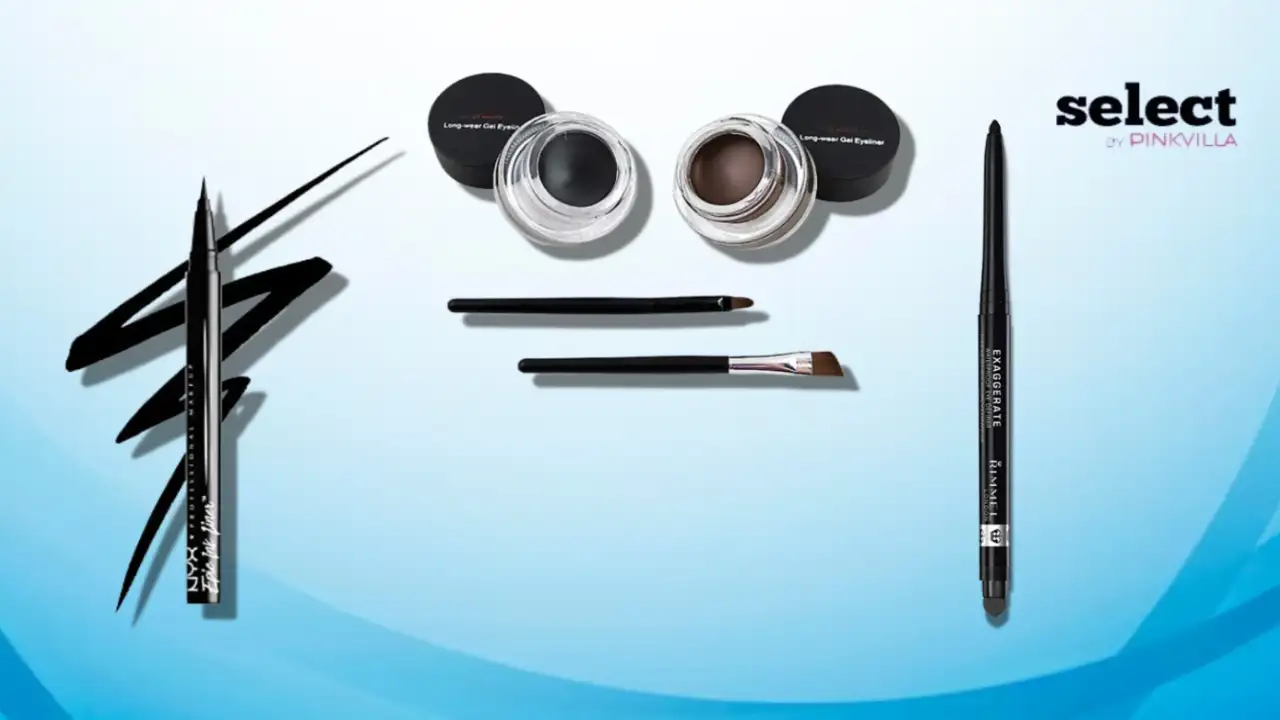 The products curated for this article are independently chosen by the
editorial team. If you make a purchase through the
links
mentioned below, we may receive a commission. Check out our
product
research & curation process
Your beauty stash is incomplete without the perfect eyeliner that doesn't smudge, flake, or transfer. And, it is quite fascinating how a simple line along the lashes can change your overall look and elevate the makeup game! Besides, these best drugstore waterproof eyeliners are a boon for people living in hotter climates as they are formulated to withstand even splashes of water on a blazing day while ensuring longevity and not compromising on the look.
"Using brighter colors that are complementary to your skin tone can emphasize your eyes and make your complexion a bit brighter," says professional makeup artist Jaleesa Jaikaran, and rightly so! Colors have a major role to play in how your eye makeup looks turn out! And, our list below contains some of the cult-favorite waterproof eyeliners that the beauty industry is currently going gaga over. Take a look at them – 
Our top picks
Ophthalmologically-tested
Offers an Array of Shades
13 Best Drugstore Waterproof Eyeliners to Beautify Your Eyes
Get instant dramatic eyes with this Epic Ink Liner from NYX Professional! The drugstore eyeliner comes in sleek handy packaging that is great to carry in your bag for an instant change in look. With every unbelievable stroke, the defined brush makes sure it bestows you with the ultimate thick lines that you have been dreaming for! Plus, the cruelty-free eyeliner is PETA-certified and ensures no test on living beings! Furthermore, it is waterproof which means it can withstand sweat and a splash of water too.
Pros
Precise tip
Easy to carry
Flexible wand
Easy to use
Matte finish
Cruelty-free
The Scandal'Eyes Gel Eyeliner comes with the creamiest formula that glides over the lids to give you the best finish! It has a smudge-proof formula that ensures no transfer between the lids. Plus, its ophthalmologically-tested formula promises you an intense look with high-intensity well-pigmented color. With a creamy consistency, the ultra-smooth formula also runs on your skin without any lag. In addition, the handy packaging is another plus point that is worth mentioning! Not to miss, the brand promises a safe and eye-friendly formula for people with sensitive eyes.
Pros
Smudge-proof
Glides smoothly
Suits sensitive eyes
Ophthalmologically-tested
Long-lasting
Creamy formula
This liquid eyeliner from Revlon has gotten some rave reviews online! It is considered to be one of the best drugstore waterproof eyeliners that features a smudge-free and smear-free formula. To be noted, its highly-pigmented formula provides you with the blackest of the black shade to allow you to create the coveted look from your wishlist without burning a hole in your pockets. Adding to that, with an ultra-fine flexible tip, getting that dream look is now an easy-peasy task. Last but not least, the brand claims to come up with an ophthalmologically-tested formula that is safe and doesn't cause any irritation.
Pros
Highly pigmented
Pack of 2
Smudge-proof
Precise tip
Long wearing
Ophthalmologically-tested
This eye definer is exactly what you need to achieve a dramatic makeup look in the most hassle-free way. While the brand provides you with compact packaging featuring a built-in smudger and sharpener, the product also comes with intensely pigmented shades for you to choose from. Furthermore, the eyeliner lets you create a strong statement with your makeup skills with its creamy and blendable formula when you wish to go creative!
Pros
Blendable
Versatile
Easy to use
Highly pigmented
Long-lasting
Compact packaging
The Mega Last Breakup Proof Eyeliner allows you to create the thinnest lines with its precise tip that glides smoothly over the lid to provide you with the desirable looks. Plus, the ergonomic packaging gives you the control to go wild with your creativity. The cruelty-free and vegan-friendly makeup product also provides a premium finish with an affordable price tag that further makes itself an all-time influencers' favorite product!
Pros
Richly pigmented
Smudge-proof
Flake-proof
Easy to use
Affordable
Precise tip
This set of two gel eyeliners by Ucanbe is revolutionary and allows you to create an array of looks that you have been bookmarking for so long! From smokey eyes to winged eyeliner, you will be mesmerized witnessing the color payoff the product provides for each of your looks. Moreover, it comes with a brown gel, black gel, angle liner brush, and regular liner brush. All in all, it is a top-rated drugstore waterproof smudge-proof eyeliner that is a must-have in your stash to create endless eye makeup looks.
Pros
Durable
Transfer-proof
Smudge-proof
Value for money
Supple texture
Long-lasting
The Ink It! eyeliner by Covergirl can be an easy option to add drama to your eyes without lagging, dragging, or pulling the eyes! With a creamy formula, the waterproof eyeliner ensures that it lasts for more than 12 hours without the need for touch-ups. Plus, the set of 2 products promises to enhance your look with a rich and vibrant color that won't fade with time. So, why wait? Pull off any look according to your mood with the help of these versatile liners that are also travel-friendly.
Pros
Rich pigmentation
Smooth texture
Precise tip
Self-sharpening feature
Lasts 12 hours
With 8 shades available, Docolor gives you a wide range of options to pick your best eyeliners from. It comes with a precise tip, intense color, and smudge-free formula that you require to get the ultimate glam over the lid. Plus, its water-resistant formula causes no allergies and suits even the most sensitive eyes! The brand, on the other hand, promises a cruelty-free formula that is approved by PETA. Adding to that, with a precise tip and smooth consistency, the liner provides a lag-free experience for a bold look.
Pros
Smudge-free
Intensely pigmented
Long-lasting
Compatible with sensitive eyes
Cruelty-free
PETA-approved
This waterproof liquid eyeliner has one of the most adorable packages that will keep you hooked for a long time. It comes with a smooth and fine tip that precisely glides over your eyelid to provide you with an eyeliner look that will fetch compliments! Plus, the made-in-Japan product promises great quality in an affordable range that is not unsafe for your eyes. Along with that, with ergonomic packaging that ensures a firm grip, the product promises you the ultimate look from your wishlist. The brand also claims the product to be tear-proof, sweat-proof, and oily-lid-proof for better longevity.
Pros
Smooth formula
Tear-proof
Precise tip
Glides smoothly
Pocket-friendly
Intensely pigmented
Kiko Milano's waterproof eyeliner is a must-have product in your vanity for a number of reasons. To begin with, the brand goes through clinical testing before coming up with the final product! Plus, it is loaded with ophthalmologically-tested ingredients to make the product a hypoallergenic one that suits even the most sensitive-eyed people. It is also non-comedogenic and formulated without ingredients that may cause allergic reactions. Besides, with a precise tip and intensely rich formula, the product provides envy-worthy lines that everyone will talk about.
Pros
Fine brush
Paraben-free formula
Easy to remove
Precise tip
Ophthalmologically-tested
Hypoallergenic
This INKcredible eyeliner by Laura Geller stands true to its name and gives you indeed the look that you deserve – flawless! And, trust us when we say, an effortless eye makeup look by this drugstore waterproof eyeliner is just a few strokes away! Plus, with a waterproof formula, the product promises to withstand humidity, sweat, tears, and rain effortlessly. So, go on, enhance your look with its highly-pigmented formula that comes in 9 shades to choose from. Lastly, to be noted, it contains a built-in sharpener for an even and precise tip that glides over without lag.
Pros
Built-in sharpener
Has a firm grip
Gentle on the skin
Array of shades
Smooth texture
Glides without lag
This Tattooed Eyeliner from Skone provides an insane finish in just one swipe that makes itself a 'go-to' product for many. Plus, with a creamy and smooth formula, the waterproof eyeliner's felt tip applicator glides smoothly over the lid to let you experience the difference! Adding to that, the quick-drying formula is another benefit that is perfect for people who are always in a hurry or cannot wait right after application. So, why wait? Go on and create mess-free dramatic eye looks with this luxe product that is worth your penny!
Pros
Ultra-pigmented
Smooth consistency
Promotes the on-the-go application
Precise tip
Budge-free
Quick drying formula
This waterproof eyeliner by Sephora, made with premium formula, is indeed here to add value to your beauty stash. The retractable liner comes with a built-in sharpener to allow you to experiment with your look and a smudge tip to let you add oomph to it whenever you please. Furthermore, with its creamy texture, the liner glides on the lid like a dream to provide you with an alluring look. Lastly, available in two variants, the eyeliner is a must-have if you want to create smokey or dramatic eyes!
Pros
Budge-resistant
In-built sharpener
Smudge-tip
Travel-friendly
Retractable
Smooth consistency
Cons
Could be more long-lasting
Now, as you have an array of options, take a look at how to pick the best one from them —
How to Choose the Best Drugstore Waterproof Eyeliner?
These proven tips and tricks will help you to get your hands on the best waterproof eyeliner–
a) Type- There are three types of eyeliners available in the market – gel, liquid, and pencil. You need to find your purpose before investing in the one best for you. For example, if you want a sharp wing that won't move and give a defined look to your eyes throughout the day, liquid eyeliners are what you should look for. On the other hand, if you want to have room for experimentation, a pencil eyeliner with a smudger can be your ideal option. A gel eyeliner serves a similar purpose as well. 
b) Applicator- Applicator plays the biggest role in ensuring the desirable eye makeup look. A felt tip liner has a pointy end that allows you to achieve perfection even without an unstable hand while a bristle brush requires a little more skill to glide over the lid for a precise look.
c) Finish- There are plenty of eyeliners available in the market with different finishes – matte, glossy, and shimmer. For regular wear, matte-finished ones look classier than its counterparts. For parties and date nights, there is always room for glossy and shimmer eyeliners.
Conclusion 
These best drugstore waterproof eyeliners can be the holy grail makeup products in your vanity if you have oily eyelids! With handy packaging and an ergonomic grip, they are excellent to carry along with you for an instant touch-up. In addition, the products are long-lasting and smudge-resistant which ensures your look remains the same throughout the day without moving.
Author BIO
Sayantani is a certified hair and makeup professional turned writer with 2+ years of experience in the same genre. Ap More
FAQ's
Are there really waterproof eyeliners?
Yes, our most-loved makeup brands are coming up with waterproof eyeliners to cater to our need of flaunting long-lasting dramatic eyes.
Is a liquid or pencil waterproof eyeliner better for waterline?
Pencil eyeliners are the best for the waterline as they don't mess with your eyes whereas, liquid eyeliners have a higher chance of getting inside the eyes and causing irritation.
Why Trust select
Sayantani Deb, the author, likes to spend her time researching the best beauty and makeup finds trending across various online platforms to bring her readers a curation of the top picks. Here, she has listed the best drugstore waterproof eyeliners that are a must-have in your vanity and don't burn a hole in your pockets. 
Our product experts study the specifications of every product we suggest and try them out to bring what's proven to be worthy of your money, time, and energy. We also have subject matter experts from various fields like Fashion, Skincare, Haircare, Home Decor, and Health & Fitness onboard to make sure our suggestions are credible and trustworthy. You can trust Select to be your faithful shopping guide for all the right reasons!
Source link