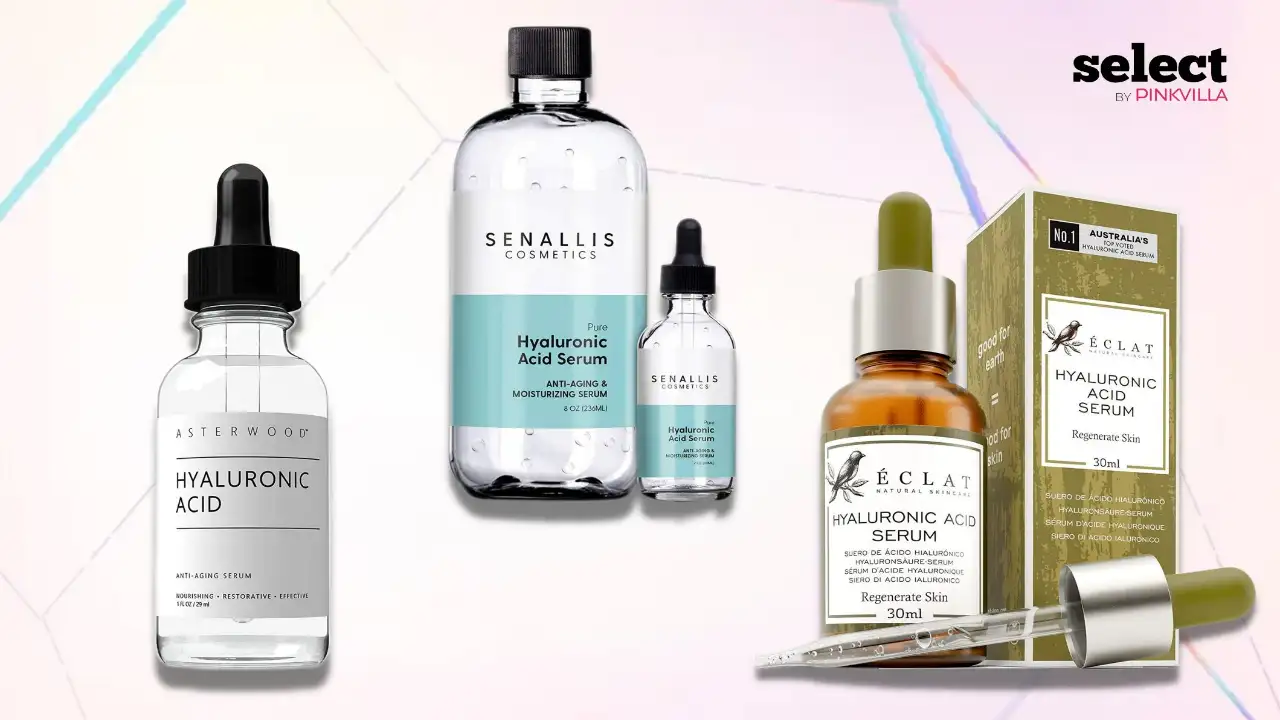 The products curated for this article are independently chosen by the
editorial team. If you make a purchase through the
links
mentioned below, we may receive a commission. Check out our
product
research & curation process
Every skincare aficionado is aware of the necessity of a serum in their daily routine. The best serums for dry skin are moisture-boosting elixirs that make your skin glow with health. They don't just add hydration but also help protect the skin from harsh elements, sun damage, dusty winds, and other common environmental aggressors. Healing dry skin requires both humectants and emollients – a humectant like hyaluronic acid draws moisture and holds 1000 times its weight in water, making your skin appear plump and bouncy; while an emollient like various oils helps to lock in that moisture.
Smaller molecules of antioxidants, peptides, ceramides, and a large variety of ingredients can be carried deep into the skin with the help of a good serum. Serums for dry skin penetrate deeply into the epidermis, carrying these active ingredients with them – where they can exert the most benefit. Another reason why these serums are loved by skincare novices and pros alike is the 'feel-good' factor they provide. They are perfect for layering beneath makeup and sunscreen, and over toner and eye cream, making the skin feel almost instantly healthier. Keeping the skin hydrated and moisturized is very important according to Dr. Daniel Sugai, a Board-certified Dermatologist, says. "The top layer of our skin can get dry and shriveled, which can cause accentuation of your wrinkles and add a dull look to the face." But don't worry, you can leave dry, peeling skin in the rearview by providing a dose of long-lasting hydration with a quality hydrating serum. Scroll to know more!
Our top picks
Best Quick Absorbing Serum
14 Best Serums For Dry Skin To Help You Revive Your Skin
Unveil softer and plumper skin with this Eclat Pure Hyaluronic Acid Serum. Its ultra-light formula features plant-based hyaluronic acid in its purest form to help you lock in moisture, smoothen out wrinkles, and reduce signs of hyperpigmentation. The formulation has added vitamins C and E to brighten the complexion and a potent blend of aloe vera that soothes and calms. This serum is a great choice for those struggling with dry skin, irritation, and eczema because it is packed with green tea extract to hydrate and calm the skin – promising over 16 hours of moisture.
Pros
Affordable
For all skin types
With vitamin C & E
Vegan
Cons
Cannot be layered with other actives
This CeraVe Hydrating Hyaluronic Acid Serum is formulated with the highest concentration of hyaluronic acid, a humectant that helps retain the skin's natural moisture. It makes the skin appear more hydrated and the complexion smoother. The lightweight, gel-like texture is ideal for layering under a moisturizer and sunscreen. The added vitamin B5 helps soothe the skin and CeraVe's patented ingredient-deliver technology provides all-day hydration. Formulated with three essential types of ceramides, this serum combats dry skin and maintains the natural skin barrier. Developed by dermatologists and suitable for sensitive skin, this cult-favorite serum deserves a spot in your skincare routine.
Pros
Soothes skin
With ceramides
Fragrance-free
Affordable
This SeoulCeauticals Day Glow Serum is a K-beauty favorite and promises results in as little as three weeks. The potent 20% vitamin C serum for dry skin comes with hyaluronic acid, providing the dual benefit of hydration and brightening. It also helps reduce the appearance of wrinkles, fine lines, and pesky crows feet. Beat out sun spots, discoloration, and dull complexion with this hydrating serum for dry skin. The ferulic ingredients also help shrink pores, clear acne breakouts, and minimize the appearance of acne scars to give you glassy skin. Don't forget to pair this serum with sunscreen during the day.
Pros
Reduces dark spots
With CE ferulic acid
Brightens skin
Shrinks pores
Cons
Might not suit sensitive skin
This Neutrogena Hydro Boost Hydrating Serum delivers very high hydration levels for skin that keep it glowing day after day. It contains hyaluronic acid to attract moisture and plump your skin's appearance. A bonus is that the gentle hydrating formula is both oil-free and non-comedogenic, so it prevents your pores from getting clogged. Smooth, supple skin that glows from within is at your fingertips with this elixir. Quench your skin and combat dryness with this serum and you can pair it with other products from the hydro-boost range to complete your at-home skincare routine!
Pros
Non-comedogenic
Oil-free
Boosts hydration
Makes complexion glow
Cons
Needs to be layered with a moisturizer
Often labeled as a moisture magnet, this Asterwood Pure Hyaluronic Acid Serum leaves your skin feeling plumper and calmer. Consistent usage helps prevent moisture loss by filling the gap between your skin cells. Its elasticity-restoring abilities make it a great serum to reduce the appearance of aging and wrinkles. Sun exposure, pollution, and winds can reduce the resilience of the skin – this serum penetrates the deepest levels of the skin to repair the barrier and reverse the damage. The vegan formula is gentle and pairs well with other actives, ranging from retinol to vitamin C.
Pros
Fragrance-free
Affordable
Plumping effect
Pairs well with actives
Cons
Needs to be layered with a moisturizer
This Cetaphil Deep Hydration 48-Hour Activation Serum specifically targets dry skin with its hydro-sensitive complex to deepen hydration and soothe sensitive skin. The hyaluronic acid rehydrates the skin to restore its appearance and feel. The lightweight texture means it absorbs instantly and can be used by itself or layered with a moisturizer to boost hydration levels. With sunflower seed oil and vitamins B5 and E, this elixir works as an antioxidant to soothe the skin. Effective yet gentle, it won't clog your pores or cause any irritation.
Pros
Deeply nourishing
For sensitive skin
Dermatologist recommended
With vitamin E
This RoC Multi Correxion Serum reveals visibly smoother luminous skin with its 10% vitamin C concentration. Its energizing nonapeptides make lifeless, dull skin look glowing and moisturized, combating the effects of environmental stressors. Often acting as a solution for wrinkles, fine lines, and dark circles – it restores the elasticity of the skin with its deep hydrating effects. With its moisturizing and brightening effects, this serum gently treats the skin with its multi-benefit abilities – making it the ideal starting point for skincare novices.
Pros
Corrects dark spots
Anti-aging
Brightening formula
Restores elasticity
Cons
Must be layered with SPF during daytime
The secret to ultra-hydrated and super soft skin, this Senalis Cosmetic Hyaluronic Acid serum draws out water from a moisturizer or damp skin and absorbs it – leaving your dry skin looking dewy and plump. The syrup-like consistency is thicker than most other serums and hydrates without causing any signs of irritation. The formulation is free of fragrances and parabens. A bonus is that this serum comes in a large bottle with a smaller travel size option, keeping you covered for all situations.
Pros
Anti-aging
Dewy finish
Thick consistency
Dual sized
The InstaNatural Hyaluronic Acid Serum delivers hydration and nourishment to dull, dry skin. Its one-of-a-kind blend of jojoba oil and plant extracts soothes the skin while vitamin C and hyaluronic acid work together to brighten the skin and discoloration. The green tea extract lends antioxidant support to defend the skin from environmental stressors like pollution, and aloe vera helps boost radiance. The formulation is vegan, sulfate, cruelty, and paraben-free – rendering it safe for most skin types. Beat out dehydrated and flaky skin with the supercharged serum!
Pros
Enriched with jojoba oil
Anti-aging
Brightens appearance
Vegan
Cons
Needs to be reapplied often
The Aveeno Calm + Restore Triple Oat Hydrating Face Serum is ideal for sensitive and irritated, dry skin. It puts in the work to instantly smoothen and fortify skin's moisture barrier to give you healthier-looking skin. Its lightweight texture absorbs quickly and leaves the skin feeling hydrated in moments. The hypoallergenic formula contains triple oat extract which effectively calms dry and inflamed skin while improving its long-term resilience and resisting the clogging of pores. This dermatologist-recommended elixir is paraben, fragrance, and alcohol-free.
Pros
Lightweight
Hypoallergenic
Calms skin
Made with oat extract
The holy grail of hydration, this Grace & Stella Hyaluronic Acid Serum helps you feel confident all day long by getting rid of hyperpigmentation and providing long-lasting hydration. Say goodbye to dry and flakey skin as hyaluronic acid grants a youthful appearance and boosts cell turnover and collagen to reduce the appearance of age signs. The formulation is vegan, made with gentle and effective clean ingredients. Along with providing lightweight moisture, this serum also reduces scarring, dark spots, and dark circles – making it a multi-use blessing!
Pros
Boosts collagen
Vegan
Treats fine lines
Brightening
Cons
Needs to be paired with an emollient
Vitamin B5 and hyaluronic acid work in tandem within this ZealSea 2% Hyaluronic Acid Serum – revealing soothed and nourished skin. The texture is non-sticky and quick-absorbing. Ideal for even the most sensitive skin, the serum supports the skin barrier, enhances its moisturizing abilities, and protects it from inflammation. Suitable for all daily use for all skin types, and it is also cruelty-free. The hydrating formula helps prevent the formation of fine lines on the face – gracing you with a more youthful appearance.
Pros
Suits sensitive skin
Anti-aging
Deeply moisturizing
With vitamin B5
Cons
Requires an additional moisturizer
This SheaMoisture Daily Hydration Hyaluronic Acid Serum is a lightweight face serum for sensitive skin, best suited for those struggling with dry skin. It is formulated with virgin coconut oil to hydrate parched and combination skin. It soaks right in to reveal a natural glow, boosting the smoothness of the texture. It makes a great choice for a massaging serum, getting your facial lymph flowing with the help of a gua sha or jade roller. The gentle serum is also cruelty-free and paraben-free.
Pros
Paraben-free
Enriched with coconut oil
Boosts smoothness
Suits sensitive skin
Cons
Might not suit those with oily skin
A concentrated solid serum made up of squalane and Japanese lemon balm that targets signs of aging and dryness instantly and over time, this Tatcha Serum Stick is perfect for keeping the skin and makeup fresh all day long. It smooths out dry fine lines instantly. It works perfectly to perk up the under eyes and address laugh lines where dehydration and dryness appear. The weightless formula glides on easily to lock in moisture. It also makes for a great primer as it creates a dewy cushion for makeup and melts into clean skin seamlessly!
Pros
Blurs fine lines
Smoothes skin
Stick formula
Deeply hydrating
The aforementioned serums for dry skin are specially formulated to help you lock in long-lasting moisture for a gorgeous, dewy look! From moisture-replenishing formula to brightening elixirs and everything in between, here's your guide to choosing the best serum.
How to Choose the Best Serum For Dry Skin?
Choosing the best serum for dry skin is not easy, luckily there is a variety of serums out there suited to your particular skin type and targeted concerns. 
Skin Type
Considering your skin type is the first step when it comes to looking for a serum. If you have acne-prone and oily skin, you might want to avoid strong emollients. A good humectant like a hyaluronic acid serum with some niacinamide should be good for you to keep dry skin at bay. You can pair this duo with a light, gel-based moisturizer at night if needed. 
Those with very dry skin should consider using a humectant and a generous helping of an emollient like seabuckthorn berry oil together, to provide their skin with adequate moisture – making sure it reaches the deepest layers of the skin and nourishes intensely. 
Combination skin can be treated with a humectant and a lightweight moisturizer, similar to those with oily skin. 
Primary Concern
Finding a serum to address your primary skin concern is the perfect first step when it comes to establishing a skincare routine. Those struggling with acne and excess oil production can opt for formulations with niacinamide and salicylic acid to slow down sebum production. Excessive dryness can be targeted with hyaluronic acid serum, oils, and ceramides. For anti-aging results, a serum with retinol or bakuchiol would be most suitable. Serums with Vitamin C can target dark spots and dull skin to reveal a natural, hydrated glow. A variety of actives that target specific skin concerns can be added to hydrating serums for all-around skin treatment.
There is no time like the present to introduce a supercharged hydrating serum to your regimen, as the ever-changing weather puts your skin to the test. The best serums for dry skin deliver a concentration of active ingredients to target a wide range of skin concerns in a single go, without causing any irritation to the skin. A thirst-quenching serum with quality enriching ingredients can act as a lightweight moisturizer and help strengthen and repair the skin barrier, which contributes to boosting collagen and increasing cell turnover. Using a face serum is definitely one step you should never skip when it comes to working towards flawless and naturally healthy skin. Giving your dry skin a nourishing glow that is glassy and bright has never been easier!
Contributors: Dr. Daniel Sugai, Board-certified Dermatologist
Author BIO
Anoushka is certified in Professional Skincare and is a Mass Media (Journalism) graduate from Mumbai University. As a More
Why Trust select
Our product experts study the specifications of every product we suggest and try them out to bring what's proven to be worthy of your money, time, and energy. We also have subject matter experts from various fields like Fashion, Skincare, Haircare, Home Decor, and Health & Fitness onboard to make sure our suggestions are credible and trustworthy. You can trust select to be your faithful shopping guide for all the right reasons!
Source link