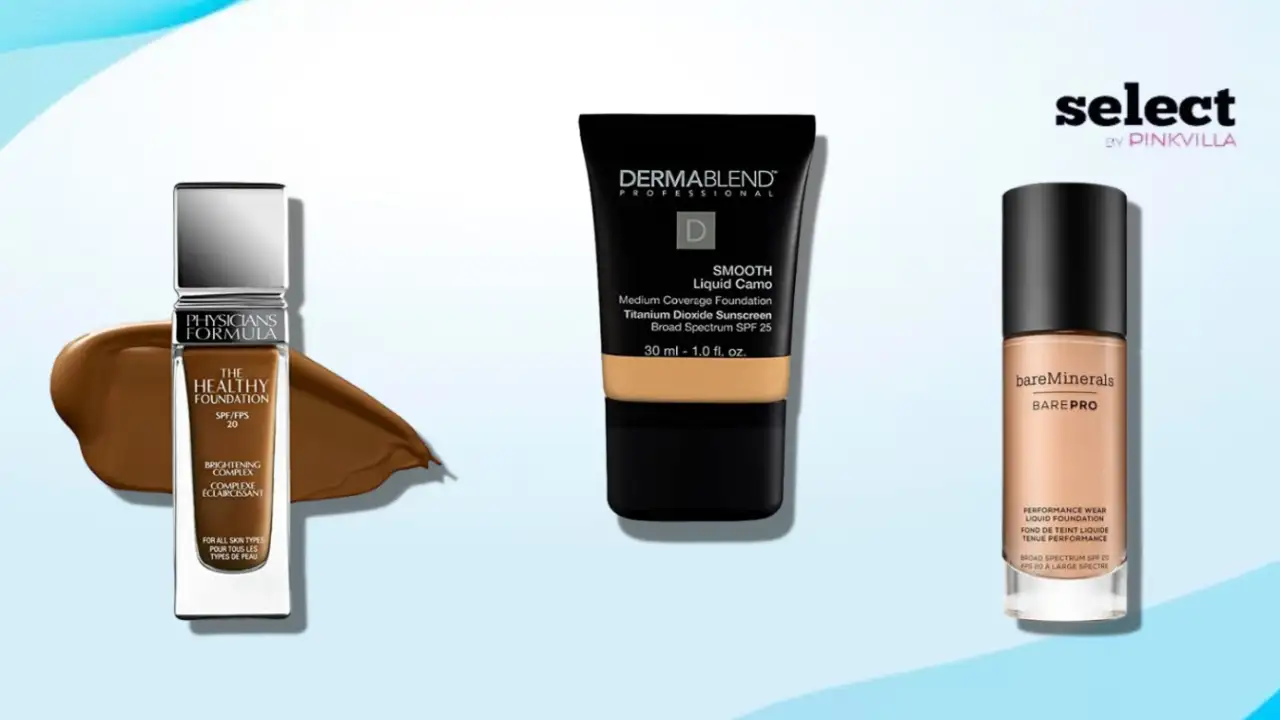 The products curated for this article are independently chosen by the
editorial team. If you make a purchase through the
links
mentioned below, we may receive a commission. Check out our
product
research & curation process
Rosacea paves way for several skin problems that you may wish to cover up — redness, painful acne, rashes, inflammation, visible blood vessels, etc. (1). However, the frequent skin irritation and allergy-like reactions, quite justifiably, make people with rosacea steer clear of makeup. Fortunately, with the best foundations for rosacea, one can diffuse the appearance of these imperfections without aggravating any skin conditions. 
Makeup products are always looked at with skepticism as sometimes, they can notoriously worsen your skin problems. But today, there are several foundations that are specifically formulated for rosacea to help soothe inflammations on your skin and protect it against environmental aggressors. In fact, some formulations pamper your skin better than skincare products, while covering the pesky bumps and discolorations on it. 
If this sounds too good to be true, then scroll away to see our foundation recommendations for rosacea listed below, to suit your makeup needs. 
Our top picks
Best Pocket-friendly Foundation
Best Hypoallergenic Formula
While you're looking for a foundation that does not irritate rosacea, this liquid makeup by Neutrogena takes these benefits up a notch by also protecting your skin from environmental factors such as UV rays and free radicals. And, in addition to covering the acne flare-ups on your skin, the foundation also has a calming effect on them owing to the properties of feverfew extracts infused in it (1). Moreover, its silky formula goes smoothly over sensitive skin and gives a luminous, dewy finish that you'll fall in love with! 
Pros
Lightweight
Non-greasy
Rich in vitamin E
Broad spectrum SPF 20
Lasts for up to 10 hours
Doesn't rub off on clothes
Fragrance-free
Medium, buildable coverage
Cons
Fewer shades available
Poor packaging
Infused with hyaluronic acid, this drugstore foundation for rosacea intensely hydrates your skin and works best when applied with a dampened makeup sponge. Adding to that, its brightening complex helps you achieve a delectable, glowy finish on your skin. The foundation also is highly blendable, which means a small amount can spread easily and cover your entire face — a good idea for days when you want to keep your makeup to a minimum. Besides, this advanced foundation also helps shield sensitive skin against environmental aggressors. 
Pros
Very buildable
Has SPF 20
Wide range of shades
Silky consistency
Dewy, satin finish
Efficient applicator
Stays on comfortably
Plush with natural extracts
Plush with natural extracts
Lasts the entire workday
Cons
Bit watered down
Strange smell
To conceal skin flare-ups and noticeable redness, this medium to full coverage foundation by Dermablend comes wonderfully handy. Its formula is highly buildable, which allows you to skip concealer on days when you're running late. Plus, the creamy formula dreamily hydrates your skin, feels as good as a moisturizer, and adds a dewy finish to your look. Adding to that, the broad-spectrum SPF 25 infused in it keeps sun damage at bay — ideal for rosacea-prone and sensitive skin. 
Pros
Natural finish
Cruelty-free
Allergy-tested
Non-greasy
Resists water
Highly pigmented
A little goes a long way
Wide range of shades
Covers scars and bruises
Lasts for about 16 hours
Cons
Very expensive
Bit tough to blend
You can trust this hypoallergenic foundation for rosacea to not aggravate any blemishes or sensitive patches on your skin. Plus, its formula is infused with titanium dioxide, iron oxides, and melanin to shield your skin against UV damage. We also love the advanced Tonemimic technology of the foundation that bursts open pigment particles on your skin as you blend it — meaning, a small quantity works sufficiently in covering your face. Moreover, while the formula goes on white on your skin, it senses and matches your natural skin tone once you give it a few seconds to settle. 
Pros
Lightweight
Very blendable
Cruelty-free
Fragrance-free
Lets your skin breathe
Covers pores and discoloration
Plush with revitalizing extracts
Cons
Subtle orange tone
Bit cakey
The skin benefits of this mineral foundation for rosacea are too many to count! To begin with, it is formulated with triple-milled minerals — zinc oxide, titanium dioxide, and boron nitride that protect your skin from UV rays and give it an airbrushed finish (2) (3). It also contains revitalizing botanical extracts of white tea, aloe vera, and cucumber to provide a soothing effect on acne flare-ups and skin inflammations. Moreover, the powder-based foundation has a fascinatingly buildable formula and looks like any liquid foundation would after drying up on your skin. To top off its benefits, the product is cruelty-free, talc-free, paraben-free, and fragrance-free. 
Pros
Hypoallergenic
Long-lasting
Plush with antioxidants
Soothes inflammation
Climate pledge friendly
Great for dark circles
Neutralizes hyperpigmentation
Suits oily and combination skin types
Cons
Shades are too light
Not for dry skin
Primping your sensitive skin will be a lot more inexpensive than what you had expected if you use this foundation by Almay. With its mattifying formulation, you can absorb excess oil and perspiration from your skin and give it a smooth, airbrushed finish. Plus, the foundation stays put for a long time and feels very comfortable on your skin (as the name suggests), especially if you're in a humid and sultry environment. Furthermore, you'll be pleasantly surprised to see how it doesn't require frequent touch-ups! 
Pros
Hypoallergenic
Cruelty-free
Pocket-friendly
Very blendable
Fragrance-free
Gives a flawless finish
Doesn't transfer onto clothes
Efficient applicator
Cons
Blotchy and tough to blend
Bit drying
Those who like using an airbrush tool must get their hands on this foundation set by Belloccio. Its formula is rich and creamy, which marvelously covers redness, enlarged pores, discolorations, acne scars, etc as effectively as a concealer. And, the product effortlessly lasts all day on your skin, so you don't have to sort to frequent touch-ups. Moreover, the formula shields your skin against environmental damage and gently hydrates it without clogging its pores. 
Pros
Hypoallergenic
Oil-free formulation
Diffuses fine lines
Conceals acne scars
Great for everyday use
Resists sweat and humidity
Fragrance-free
Cons
Sticky consistency
Thick formula can clog the airbrush tool
What sets this foundation apart from the lot is that its heavenly lightweight formula allows your skin to breathe and does not trigger comedones. Addedly, it has a refreshingly hydrating formula that does not make your skin feel dry and caked up like cheap theater makeup, making the product suitable for everyday use. And, last but not the least, It not only diffuses redness and discolorations but also resurfaces the skin by filling pores and uneven patches. 
Pros
Cruelty-free
Satiny finish
Full-coverage
Long-lasting
Blends seamlessly
Reduces oily sheen
Wide range of shades
Cons
Expensive
Slight orange tones
The efficient dropper of this serum-like foundation for sensitive skin makes application hygienic and helps you take an optimal quantity to ace your makeup game. In addition, it has a liquid formula with a silky consistency (as the name suggests), which is why blending it takes almost zero effort! What we love about this product is that its formula is enriched with skin conditioners such as squalene, botanical oils, aloe vera, and vegetable collagen that provide your skin with intensive nourishment and hydration — almost like a tinted moisturizer! 
Pros
Very hydrating
Weightless
Organically formulated
Improves skin's elasticity
Suits all skin types
Wide range of shades
Pocket-friendly
Cons
Coverage is quite sheer
Not ideal for mature skin
The natural humectants such as baker's yeast, grape seed extracts, and sea salts infused in this product refresh your skin and allow it to breathe like you have no makeup on! It also contains skin-friendly minerals like iron oxide which is a natural colorant and titanium dioxide which shields your skin from sun damage. Moreover, this soothing formula is free from any ingredients that can aggravate your sensitive skin, making it one of the best foundations for redness and rosacea. 
Pros
Cruelty-free
Boosts hydration
Fragrance-free
Calms inflammations
Weightless formula
Buildable coverage
Works as a tinted moisturizer
Inefficient pump dispenser
This foundation by BareMinerals diffuses the appearance of acne flare-ups and redness on your rosacea-prone skin, giving you a soft focus effect. Plus, its emollient-rich formula is highly blendable and goes on smoothly, which is why a small quantity is adequate to cover your face and neck. The foundation is also very lightweight and allows your skin to breathe, so at times you forget that you're wearing any makeup at all! Besides, the papaya and bamboo extracts infused in it provide overall nourishment to your skin. 
Pros
Rich in antioxidants
Easy to blend
Excellent coverage
Gives a luminous finish
Efficient brush applicator
Non-greasy formula
Cons
Leaky container
Bit watered down
Another pressed powder foundation on the list, this mineral-based makeup by Inika gives a satin finish to your skin without over-drying it. Plus, formulated with earth-derived titanium dioxide and zinc oxide, the product prevents your skin from getting irritated due to UV damage. And, it has an intensely pigmented formulation that beautifully covers dark circles, redness, acne scars, and visible blood vessels. Moreover, buffing this powder on your face is more satisfying and easy than meticulously blending thick and viscose foundations. 
Pros
Long-lasting
Has SPF 25
Cruelty-free
Absorbs excess oil
Looks very natural
Cons
Feels heavy on the skin
Coverage is quite sheer
Now that you've seen our product recommendations for the best foundations for rosacea, go through the following buying guide and make an informed shopping decision. 
How to Select the Best Foundation for Rosacea?
Here are a few factors to consider when looking for a foundation for rosacea
Shade
 Choosing the right shade is the most important and difficult step in buying any base makeup product. Any minor deviation from your original skin tone can make your makeup look very artificial and unflattering. Hence, be sure of your skin color and undertone and do your research to see whether the product you have your eyes on has a shade to suit the same. 
Buildability
When you have rosacea, your skin becomes prone to acne, redness, and visible blood vessels. Hence, you need a medium to full-coverage foundation with buildable consistency to layer up on such areas and make them less noticeable. And, a good buildable foundation will smooth out your face and neck while preparing it for other makeup products. 
Blendability
A good blendable formulation does not get too cakey on your skin's surface and goes on smoothly. Also, when a foundation is very blendable, a very small quantity of it works adequately in covering your face and neck. This gives an effortlessly flawless look to your skin and is a feature that should be prioritized when looking for a foundation. 
Lasting Power
No one wants to keep reapplying their makeup every two hours! Hence, considering the lasting power of the foundation is very important before making a purchase. Invest in a product that stays put on your skin for at least 8 hours without having to reapply. 
Skin Protection
Rosacea gets flared up easily with external aggressors such as sun exposure, pollution, free radicals, etc. Hence, it is a great idea to invest in a foundation that is infused with sun-resistant minerals such as titanium dioxide and zinc oxide that reflect UV rays to protect your skin from it. It should also be rich in antioxidants from ingredients such as vitamins C, and E, green tea extracts, etc. to keep oxidative stress and free radical damage at bay. 
No Harsh Ingredients
The foundations for rosacea should be free from the following ingredients as they can be harsh on the skin:
Fragrance
Mineral oil and petroleum
Phthalates
AHAs or BHA
Alcohols
Chemical sunscreens like avobenzone, octinoxate, and oxybenzone
Labels
To prevent any side effects or reactions on your skin, it is best to go for foundations that are labeled as "hypoallergenic", "allergy-tested", "non-comedogenic", "suitable for sensitive skin" and "dermatologically-tested". 
Conclusion
Having rosacea-prone skin can be tough, but with the best foundations for rosacea as listed above, you can conceal your imperfections without aggravating the condition. Here, we have combined popular drugstore products, dermatologically-recommended picks, and high-end luxury products to suit different needs. Most of these products are rich in antioxidants and infused with mineral-based sunscreens to protect your skin from environmental aggressors. And, each of them contains some humectants to hydrate and soothe your skin. So, to find your best pick from the list, we recommend you to go through our buying guide and understand your needs before you make an investment. Happy shopping! 
Author BIO
Sayantani is a certified hair and makeup professional turned writer with 2+ years of experience in the same genre. Ap More
FAQ's
What kind of foundation is best for rosacea?
A. A foundation that does not aggravate sensitive skin and contains protective ingredients like sunscreen and antioxidants is ideal for rosacea. Also, look for formulations that are lightweight and non-greasy.
Can I use a powder foundation for rosacea?
A. Pressed powder foundations like the one from Mineral Fusion are actually great choices for rosacea, as they are formulated with protective minerals like titanium dioxide and zinc oxide, natural colorants like iron oxide, and powdered clays to absorb excess oil from your skin. These ingredients are skin-friendly, making such foundations highly recommended for skin conditions like rosacea.
Should I use a primer before applying a foundation for rosacea?
A. Prepping your skin with a primer is a non-negotiable step when applying any makeup product on any skin type. And, when it comes to sensitive skin conditions like rosacea, these steps become all the more important to prevent the penetration of harsh ingredients and environmental aggressors into your skin.
Why Trust select
Sayantani Deb, the author, likes to spend her time researching the best beauty and makeup finds trending across various online platforms to bring her readers a curation of the top picks.
After thorough research, here, she has listed the best foundations for rosacea that work wonders on your skin and help get rid of any blemishes, or redness. 
Our product experts study the specifications of every product we suggest and try them out to bring what's proven to be worthy of your money, time, and energy. We also have subject matter experts from various fields like Fashion, Skincare, Haircare, Home Decor, and Health & Fitness onboard to make sure our suggestions are credible and trustworthy. You can trust Select to be your faithful shopping guide for all the right reasons!
Source link