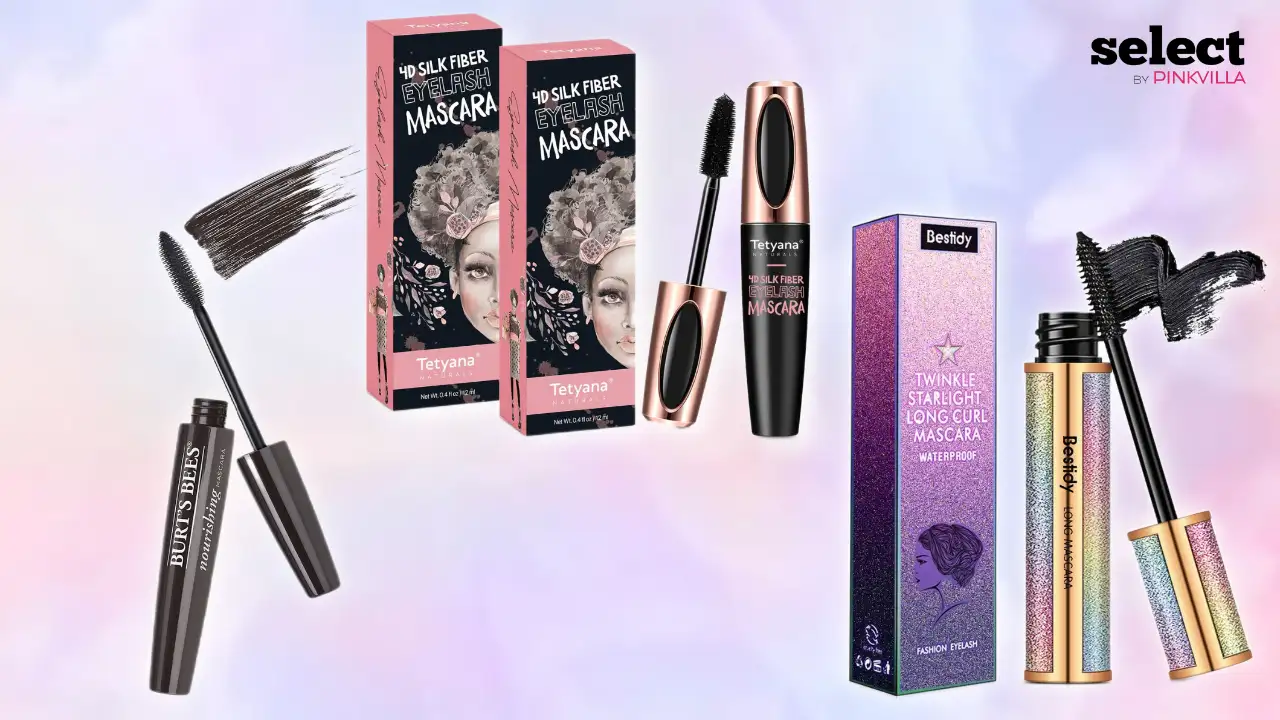 The products curated for this article are independently chosen by the
editorial team. If you make a purchase through the
links
mentioned below, we may receive a commission. Check out our
product
research & curation process
If  you are tired of trying mascaras that just don't work as they claim to, it's time you get your hands on some of the best natural mascara available! Whether you want to run a quick errand or slay your party looks, one stroke of mascara can make a lot of difference! With the 'clean girl look' being a popular trend these days, mascara plays quite an important role in everyone's makeup routine to achieve this look. Natural mascaras promise you no clumping, flaking, or smudging while giving you dramatic and fluttery lashes.
Natural mascaras are usually formulated sans harsh and chemical ingredients that tend to cause a lot of damage to the eyes. Usually, toxins like parabens or phthalates are commonly found in many beauty products; and mascaras are no different. These harmful ingredients are suspected to be hormone disruptors (1). As per our expertise, natural mascaras are the best pick as they cause no harm to your eyes and are gentle towards even the most delicate and sensitive eyes. As Charlotte Tilbury once said, "Every woman deserves a man to ruin her lipstick, not her mascara," let's make the best use of this magic wand. So, for those looking for mascaras that are natural-looking, and can volumize or lengthen your lashes, we have them listed below for you.
Our top picks
Best for Contact Lens Wearers
Best Hypoallergenic Formula
For Natural-Looking Lashes
Best for Nourishing Formula
Best Conditioning Mascara
For Eyebrows and Eyelashes
10 Best Natural Mascara for Those with Sensitive Eyes
Add instant volume and length to your lashes with the Bestidy Twinkle Starlight Long Curl Mascara. This hypoallergenic mascara defines your lash length with a single stroke. It fans out your lashes and makes them appear voluminous and thicker. The waterproof formula makes this clean waterproof mascara last for hours without budging. It does not smudge or wash away even through sweat, rain, or tears. The creamy and smooth texture allows you to sweep across your lashes without clumping, drying out, or flaking. It's perfect for a clean makeup look. In fact, based on our observation, this mascara is safe even for contact lens wearers and those who have extremely sensitive eyes.
Pros
Affordable
Easy to remove
Flake-free formula
Waterproof formula
Thickening and lengthening mascara
Cons
Formula dries out quickly
Get long-lasting and well-defined lashes with the Burt's Bees 100% Natural Origin Nourishing Mascara. This nontoxic mascara comes with an easy-to-use applicator that fans out your lashes without clumping in a single swift stroke. Formulated with jojoba oil along with naturally moisturizing glycerin, this is one of the best natural mascara for those with delicate and sensitive eyes. The formula nourishes the lashes and softens them with its conditioning properties. The shade – black and brown looks perfect for every skin tone and eye color. Made with clean ingredients, this mascara has no toxins or harmful ingredients and is also suitable for contact lens wearers.
Pros
Fans out lashes
Toxin-free formula
Conditions lashes
Ophthalmologically tested
Provides long-lasting definition
Known for its defining, volumizing, curling, and lengthening properties, it's time you get your hands on the Gaya Cosmetics Vegan Mascara for Sensitive Eyes. This cleanest drugstore mascara comes with a curved silicone brush which with a single stroke adds oodles of volume and length to your lashes. The unique curved brush subtly curls your lashes to make them appear as if you are using an eyelash extension. Even though long-lasting, unlike conventional mascaras, the formula is gentle on the eyes and can be removed easily even for contact lens wearers. The formula is buildable for a more defined look, and its smooth texture does not clump after multiple coats.
Pros
SLS-free
Paraben-free
Defining and volumizing
Ophthalmologically-tested
Suitable for sensitive eyes
Cons
Prone to smudging
Lashes become stiff
The Tetyana Naturals 4D Silk Fiber Eyelash Mascara gives your lashes a boost of length and volume with just a few swipes. The hypoallergenic formula gives intense pigmentation with fuller-looking lashes. Moreover, this nontoxic mascara is gentle for those who have extremely sensitive eyes and also for those who wear contact lenses every day. It lasts all day without smudging or smearing and gives a defined look even after all-day wear. This natural waterproof mascara does not flake, or clump and promises you long-lasting fanned-out feathery lashes with a smooth finish. The formula is smooth and easy to apply and remove with warm water.
Pros
No clumping
Natural finish
Long lasting formula
Hypoallergenic formula
Comes in a pack of 2
Get smooth and natural-looking lashes with the Fifth & Skin Naturlash Mineral Mascara. This is one of the best natural mascara for sensitive eyes which gives you thicker and natural-looking eyelashes without any lash fallout. The formula gives you a smooth application that is comfortable and gentle for those with sensitive eyes or who wear contact lenses. It is enriched with botanical oils like olive, sunflower, and jojoba, along with carnauba wax, and bayberry fruit wax. This gentle, hypoallergenic mascara is not completely waterproof but sustains for long hours without smearing. It is formulated with no preservatives, or toxins and is even gluten-free.
Pros
No tears formula
Stops lash fallout
Lengthening properties
Voluminous appearance
Silky smooth application
Cons
Expensive
Not waterproof formula
If you want to enhance the length of your lashes, then Organic Mascara By Physicians Formula might just be the product for you! This lightweight nontoxic mascara contains an organic lash-boosting complex which is further powered by an organic olive extract that nourishes and conditions the lashes. The formula has volumizing and lengthening properties which gives you a thicker and fuller effect. It separates each lash and gives you a fanned-out dramatic effect with a natural finish. This best nourishing mascara comes with a recyclable eco-brush made with ultra-soft plastic bristles that do not harm even the most sensitive eyes or contact lens wearers. It is approved for safe use by ophthalmologists and is also clinically tested.
Pros
Gluten-free
Fragrance-free
Lightweight formula
Hypoallergenic formula
Suitable for contact lens wearers
Cons
Not smudge-free
Requires multiple application
Enriched with a blend of nourishing oils and waxes, the Ere Perez Avocado Waterproof Mascara promises you statement-making lashes. This is the best clean mascara with a unique dry formula that is waterproof and long-lasting. It has the goodness of mamey oil that regenerates while avocado oils that strengthen and kickstart lash growth. With full coverage, this natural mascara gives smudge-free and defined lashes. It does not contain any kind of GMO or other harmful toxins that may cause harm to the eyes. Moreover, the mascara gives a glossy finish to your eyelashes and gives you perfectly dramatic, and fluttering lashes.
Pros
Full coverage
Waterproof formula
Strengthens lashes
Boosts lash growth
Long lasting formula
Perfect to add that oomph and volume to our lashes, the WELL People Expressionist Volumizing Mascara is going to be your go-to! This buildable formula does justice to its name and bestows some thick and voluminous lashes with just a couple of strokes. It comes with a dense hourglass-shaped brush that evenly coats your lashes and gives them an instant lift. It is one of the best natural mascara that is powered by plant-based goodness like castor seed oil which hydrates the lashes and supports healthy growth. Along with sunflower seed oil which locks in nourishment for long hours. Keeping all toxins and harmful chemicals at bay, this nontoxic mascara is developed by dermatologists.
Pros
Buildable formula
Does not flake
Conditioning formula
Suitable for sensitive eyes
Hourglass-shaped brush
The CoverGirl Professional Natural Lash Mascara is a clear gel formula that acts as a primer for your lashes. The versatile formula allows you to use this covergirl clear mascara as it is for a natural look, or can be used as a base for other colorful mascaras. The curved and dense brush smoothly separates your lashes for a fanned-out and natural-looking finish. The formula is effortless to apply and easy to wash off with warm water. Thanks to its clear natural mascara, it can also be used as an eyebrow gel to tame unruly brows. The hypoallergenic formula is very gentle on sensitive eyes.
Pros
Cruelty-free
Versatile formula
Works for eyebrows
Hypoallergenic formula
Suitable for sensitive eyes
Cons
Does not add length to the lashes
Juice Beauty Phyto-Pigments Mascara is an ultra-natural formula that is loaded with a potent blend of plant-derived pigments and organic ingredients. This clean waterproof mascara has a rich creamy texture with a non-drying consistency that won't flake all through the day! It consists of volumizing nutrient-rich plant-derived phyto-pigments which give your lashes a feathery and soft finish. Even after multiple coats, this buildable formula keeps your lashes feeling smooth and natural looking. To top that, this best non toxic mascara comes with a unique brush that has curved bristles. It picks up just the right amount of mascara for a flawless and natural-looking application.
Pros
Plant-derived and organic ingredients
Curved bristle brush
Non-drying formula
Buildable formula
Easy to apply
Cons
Expensive
Prone to slight smudging
These were some of the best natural mascaras that are making their mark in the market. If you have already made your pick, then hold that thought! Picking a mascara based on ratings isn't the wisest approach, there are a few more factors that must be considered. Want to know about them? Keep scrolling.
How To Choose the Best Natural Mascara?
Choosing the best natural mascara is not easy. There are tons of brands that claim to have the best, however, it is not the brand name, but a few factors that make mascara the best in business. Lucky for you, we have got you covered with these factors that you need to consider before investing in this makeup essential.
Ingredients
No matter what beauty product you pick, always read through the fine print. Natural mascaras have the goal to give your more defined lashes with no harmful chemicals in them. This is why the top-notch formulas commonly use carnauba wax, candelilla wax, or beeswax which make the formula smooth and easy to apply. These waxes have an intensely hydrating effect on your lashes which makes the mascara the best pic. Look for natural ingredients mascara that have botanical extracts and oils like avocado, olive, or jojoba. These help in conditioning your lashes for a fuller and thicker appearance.
Formula
There are numerous mascaras that are enriched with the best and most highly beneficial natural ingredients. Not only are these healthy mascaras hypoallergenic and extremely safe for sensitive eyes but are also suitable for contact lens wearers. Make sure you pick the best natural mascara with a long-lasting formula, that also nourishes, strengthens your lashes, and prevents them from fallouts. The formula must be smooth and creamy so that it does not clump or dry instantly. It should not only be waterproof, but also smudge resistant, and should not flake.
Ease of application
No one wants a mascara that leaves flakes or has a clumpy residue that sticks your lashes together. This is exactly why; one must pick a mascara with a silky and smooth consistency that gives you a natural-looking finish. For natural-looking lashes, pick a mascara that has a dense brush with the right volume and length. This makes sure there is no clumping and the mascara is evenly applied on your lashes with ease. Also, while the application is a necessary factor to consider, make sure the formula is equally easy to remove and does not lead to lash fallout!
Chemicals
When picking natural mascaras, look for a cruelty-free product. It is safer to look for labels that mention the formula being vegan, gluten-free, and free from other toxins or mineral oils. Avoid products with GMOs, PEG, SLS, or other chemicals as they can harm your eyes.
So, from a list of the best natural mascara to factors to consider while picking it, we have it all for you! Mascara is an essential beauty product that can instantly lighten up your eyes even on the dullest of days. One stroke of the best mascara can make your lashes look longer, thicker, and curlier. However, it surely can be a daunting task to pick the best mascara when multiple variants of the products are available. So, go through the buying guide and the list mentioned above and pick the one that caters to your needs in the best way possible. Happy shopping!
Author BIO
Sayantani is a certified hair and makeup professional turned writer with 2+ years of experience in the same genre. Ap More
FAQ's
Is natural mascara safe?
Yes, natural mascaras are made with clean and naturally-derived ingredients which have no side effects. They are completely safe even for the most sensitive eyes.
Is it safe to use mascara daily?
It is absolutely safe to use a mascara every day and it's safer if it's a nontoxic mascara.
When should a girl wear mascara?
Although it is completely upon one's individual preference and choice. But for those who love having thicker, longer lashes, you can add a couple of swipes of mascara and have fuller lashes instantly!
How often should I replace mascara?
It is best to replace your mascara every three to four months.
Why Trust select
Our product experts study the specifications of every product we suggest and try them out to bring what's proven to be worthy of your money, time, and energy. We also have subject matter experts from various fields like Fashion, Skincare, Haircare, Home Decor, and Health & Fitness onboard to make sure our suggestions are credible and trustworthy. You can trust select to be your faithful shopping guide for all the right reasons!
Article Sources +
1. Interference of Paraben Compounds with Estrogen Metabolism
Source link