ST. ALBANS — Four years after handing out her body butters as gifts to her family, Cynthia Wojtyna is opening her first official storefront. 
The owner of BelleRose Organic Body Nourishments, Wojtyna plans on opening her new place at 268 N. Main St. in the coming months to continue selling her 100% certified organic alternatives to standard beauty products.
"So there's no preservatives in it besides natural preservatives like lemon juice," Wojtyna said. "And with all the stuff that is in the stores, half the ingredients I can't even read. I'm not putting stuff on my body that I can't read."
Wotjyna's first line of products were her body butters, but she's been busy over the last four years, expanding into 70 different product lines, including healing balms, makeup, hair serums and candles.
Everything is 100% certified organic and made by Wojtyna, and her approach involves making small batches after her three kids go to bed. She initially named her business BelleRose after the names of her two daughters.
"They go to bed and I'm like, this is my batch time, what do I want to make?" she said.
Developing products, however, takes the longest time to get right. Wojtyna focuses on making her products with all organic ingredients, so it usually takes more than a few experiments before she has something that works as intended.
The goal for her is to usually make something that is better than what she can find in the beauty aisle of Walgreens. 
"It takes some hiccups and some some misses to get right, but once you have it, You're golden and you just write the recipe down," she said.
Her bronzer, for example, is made up of a combination of cinnamon, nutmeg, cacao powder and gelusil powder. And that's it.
As she's developed her business, she's adapted additional organic ingredients into makeup, skincare, body butter, body cribs, perfumes, sinus and sleep easy ointments, lava stone bracelets, essential oils, crystal craniums, candles, milk baths, eyeshadows, mascaras as well as hair serums, beard balms and beard oils.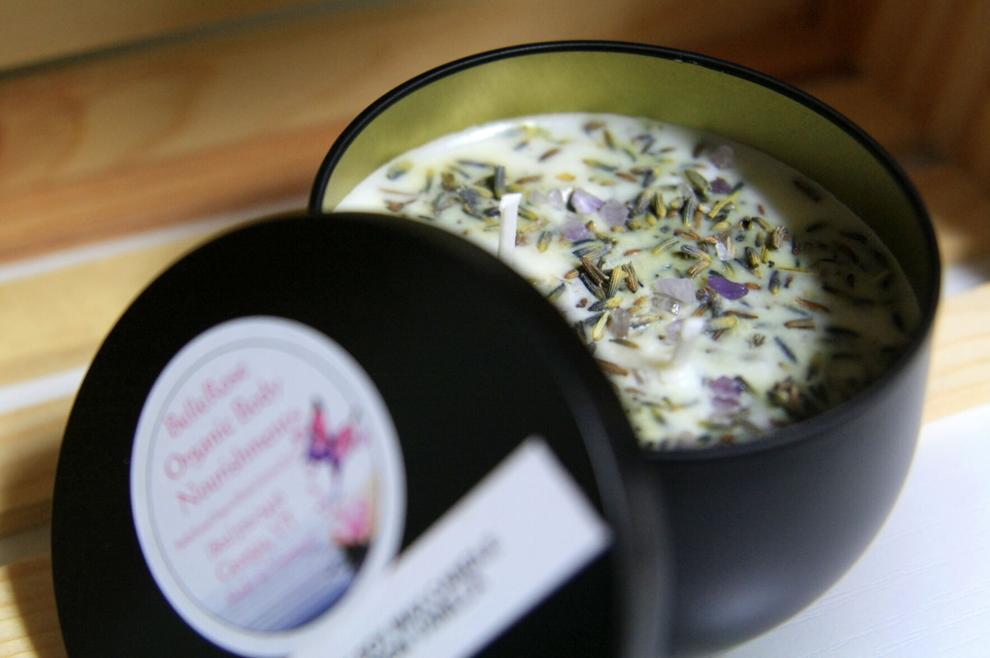 The different colors and scents for each product are also all derived organically. A big part of product development for Wojtyna is combing through lists of different USDA-certified organic ingredients to find what could be adapted for a specific product.
For green eye shadow, for example, she eventually came up with the idea to use mocha tea grounded down, which took a lot of experimentation before it came out right.
As for how she's using her new shop, Wojtyna adapted an old office into her storefront, and she plans on setting up a waiting room for customers who come in during her open hours, which are flexible because of her three young children.
When she's available, she'll be sending out messages to her online customers to let them know when they can come in to buy new products. Over the years, she's been able to develop a dedicated group of people who use her products by marketing her business through social media and Etsy over the last four years.
Her products can also be found in 10 stores – soon to be 13 – across the region. Locally, that includes Devyn's Creemee Stand in Swanton and Barn Owl Bistro & Goods in Berkshire. 
A few local tattoo parlors also sell her organic healing balms that help soothe irritated skin. 
"It's good for just about anything – bug bites, tattoos, burns  – anything like that, it works amazing," she said.
Her healing balms remain some of her most popular products even after she's branched out into different products. She said she'll use the lotion to help her children deal with eczema outbreaks, and in her experience, it can be more effective than other non-organic creams.
"Anything I make I just try to make it better," she said. "I add as much as I can without destroying it, or it being too much….  I mean, each year I'm trying to make more things. I'm actually going to make a dry shampoo made out of dry powder. There's a couple other things I want to make."